No Code is a new paradigm in software development that has been gaining popularity over the last few years. It is an alternative to traditional coding, which many see as old-fashioned and time-consuming. No Code uses visual tools to create applications with drag-and-drop functionality without any programming knowledge required. This article will explore what No Code is, how it works behind the scenes, what kinds of tools are out there, and about their business applications.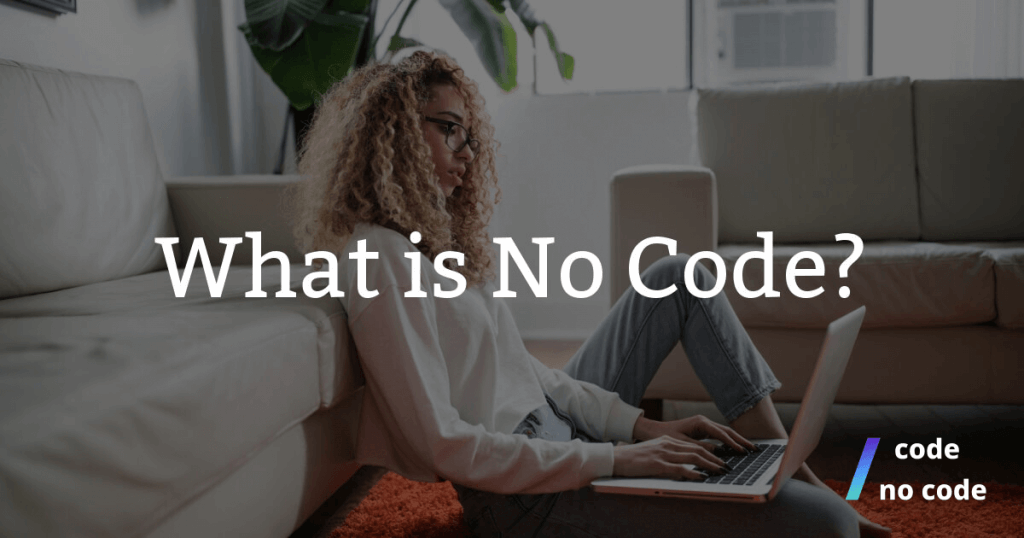 We'll also discuss the benefits and drawbacks of No Code, the pros and cons of learning to use No Code by yourself versus hiring an agency or freelancer, the future of the industry, price comparisons with traditional coding methods, and where it's headed next!
What is No Code Development?
No Code is a new development paradigm that has been gaining popularity over the last few years. It's an alternative to traditional coding, which many see as old-fashioned and time-consuming.
The No Code approach uses visual tools to create applications with drag-and-drop functionality without any programming knowledge required. This includes graphical user interfaces (GUIs) and visual programming languages, which allow users to develop applications by dragging-and-dropping elements onto a screen.
Developing an application through No Code does not require the use of code in any way. Instead, it uses tools that generate code automatically so you can build your apps without writing them! This is how it's different from traditional coding - instead of using text files to create software with specific functions, No Code allows you to visually design what you want your app or website to look like before creating the underlying program behind it all.
No Code works by converting high-level concepts into understandable steps for completing complex tasks efficiently while also allowing programmers/developers to write their own custom scripts within the structure provided by its interface(s).
How does it actually work?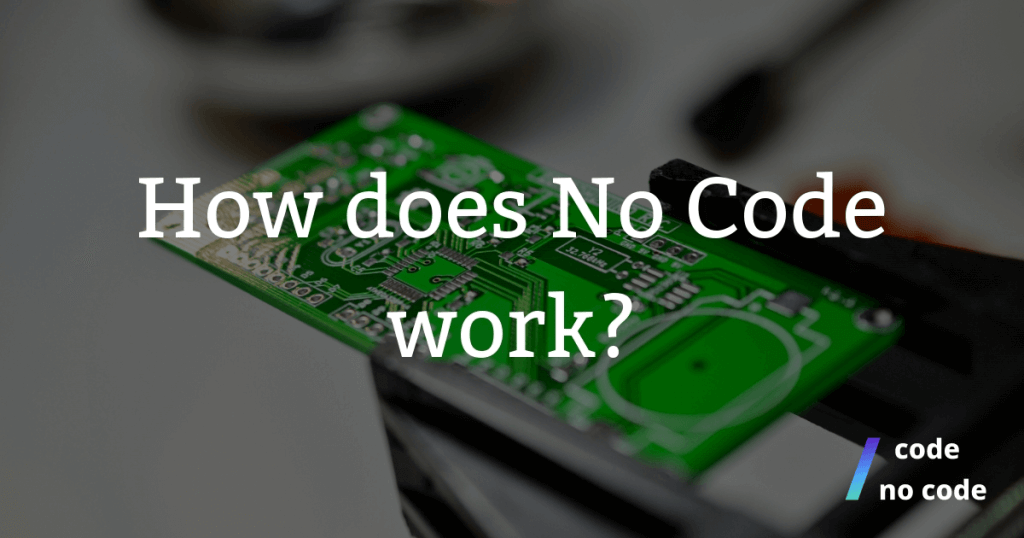 No Code tools are essentially applications that express lines of code into visual 'blocks', which can be used to easily set up the logic behind your creation. This is called the back-end of an application. The blocks contain pre-written code that you can string together to create conditional logic ("if this, then that").
The visual development principle applies on the front-end too - the part of your application that the user sees. No Code tools usually have templates and pre-made elements (buttons, headers, sections) that make setting up the looks of the website a doddle.
Choose an element from a menu, drag and drop it on the website, done. That's how easy it is.
All that's left is to link the logical elements to the things your user sees on their screen and voila - you have a functioning app/website.
Is this a new idea?
The history of No Code began with the advent of software development, however, the term itself only came into use decades later.
The very idea of empowering users without coding skills to program computers and create software is not new. Software companies have been trying to create platforms we now call No Code tools for decades, but they have always been stifled by the hardware capabilities of their time.
The first mainstream tool that allowed software development through a visual interface was Microsoft Visual Basic, released in 1991. This was an early Low Code platform, as its users still had to learn a little code to make full use of the platform.
Looking from today's perspective, the platform was certainly flawed: it was difficult to change up the code of a program while it was running, the number of control options visible on the screen at the same time was limited, the editor itself wasn't to everyone's taste, there were instances of inconsistent syntax and so on.
It should be mentioned that these flaws would be discovered when comparing the method to coding languages. For amateur developers, there was simply nothing like it at the time, no other reliable way to create software without code.
It should be mentioned that professional developers did not (and still don't) like Visual Basic, as to them it feels more limiting than liberating. As a result, Visual Basic ranked as the most hated development language in Stack Overflow's annual developer polls of 2016, 2017, and 2018[1].
The first No Code platform as we understand them now was Betty Blocks, released in 2010. The Dutch-developed platform enabled the development of fully-fledged apps without writing a single line of code and exists to this day.
What had begun with a conversation between two brothers in a small Dutch village in 2007, became one of the first No Code tools ever and still remains one of the most popular in the enterprise app segment today.
Fourteen years later, in 2021, Betty Blocks has a yearly revenue of around $9 million and has raised an investment round of $33 million[2]. Among its users are the Dutch National Police, TaskUs, and Clifford Chance.
Betty Blocks is currently working towards the goal of "letting anyone create an application" by 2023[3].
The term No Code only really came into the public eye circa 2019[4], with the take-off of arguably the most well-known tools in the segment, Bubble.io, and Webflow.
The Webflow team organized their first No Code Conference that year, which shed a lot more light on the industry, its goals, and capabilities.
Makerpad, a platform for educating people to use No Code, came out around that time as well, introducing individual, tech-savvy users to the sphere.
Product Hunt, a unique social network for makers (creators of products), was also instrumental in testing and popularising No Code, as the community behind the website was the perfect breeding ground for the industry - many makers want to create digital products, but do not really know how to code.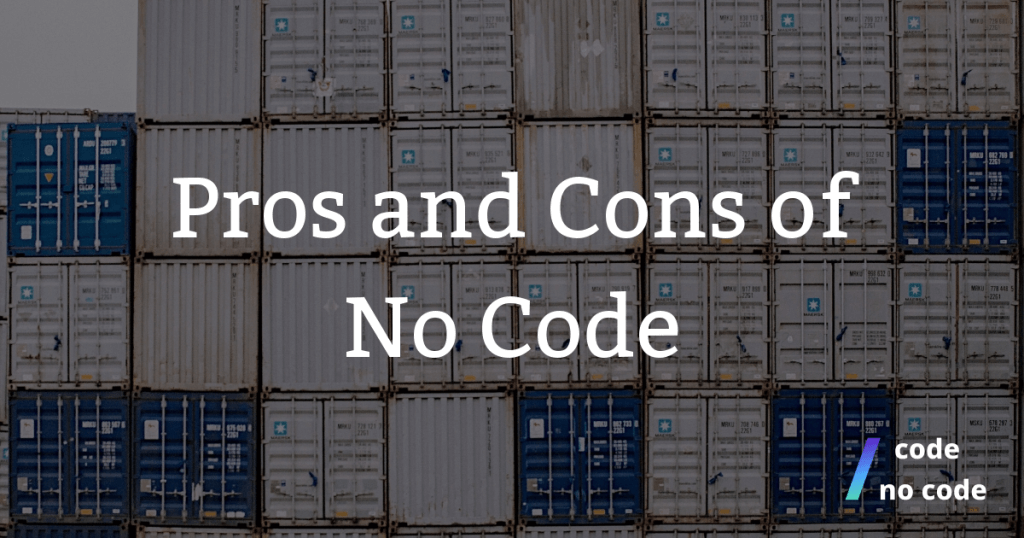 Pros of No Code
To sum up, what are the benefits of No Code?
It's quick and easy to learn. You don't need years of formal training or expensive classes in order to begin building your own software.
Various templates are available on all No Code platforms which can be used to give you a head start on the implementation of your idea.
Because it uses visual tools rather than text files, the code generated by No Code development has less chance of containing code errors that humans inevitably make.
Making web apps with No Code comes with a simple monthly price, as the software you make is hosted on the servers of the tool you used, no need to worry about buying servers and other infrastructure.
The code in these tools is written by professional developers, which ensures your app will be secure as long as you follow the best software development practices.
There are numerous APIs available that let you connect your app to external services like Salesforce, Stripe, Gmail, etc., without writing code.
Cons of No Code
Even though No Code has evolved significantly since the days of MS Visual Basic, it still has some drawbacks:
No Code lacks the flexibility of coding languages. If you are an experienced software developer and want to significantly customise your app, you're better off choosing Low Code, more on that in the next section.
Even though some No Code tools have the option to export the code behind your application, creations built on most No Code platforms have to stay there, they cannot be copied to another platform, for example.
The tools still require learning. Even though software can be built very quickly with No Code, making good software requires knowledge of database structures, backend interdependencies and knowing how to circumvent the limitations of the tool you are using. All of these things can be learned on their own, but they do take time.
We have gone in-depth on more cons in our article on No Code Drawbacks.
Low Code vs No Code
In short, No Code platforms are created to make software development fully user-friendly, while Low Code platforms give up some of that accessibility for greater customization capabilities.
Low Code platforms are essentially the same No Code tools but with more options to use your own custom code, graphic elements, etc. Their user interface is usually more detailed and harder to understand for amateur users.
If you're still not sure what the differences are, you can read more about them in our dedicated article on Low Code vs No Code.
Do No Code Tools Make Developers Obsolete?
Even though these new tools greatly reduce the dependency of non-technical users on developers, it does not make them wholly obsolete.
Simply put, even though people will be able to create software with No Code tools, there will still have to be people that code the tools themselves.
Secondly, there are still countless fields where software development requires advanced knowledge of coding languages, in the automation of manufacturing processes, for example. Even though No Code solutions exist even for tasks of this complexity, they are often better done with code as it can be adapted to the unique circumstances of each manufacturing process.
Finally, even though No Code tools make the job easier for both amateur and professional developers by reducing human error in code creation to a minimum, amateur developers are still more likely to make mistakes. Yes, anyone can create an app with No Code, but there is no guarantee that it will be usable.
Choosing No Code specialists (either freelancers or agencies) to develop a solution for you can be a nice compromise between hiring an expensive traditional IT company and spending time to learn to build something yourself. We will outline the possibilities of the different ways of adopting No Code software in your organization in the next chapter.
How to Take Advantage of No Code?
Not sure where to start your No Code journey? There are three main ways to adopt No Code for yourself or your organization.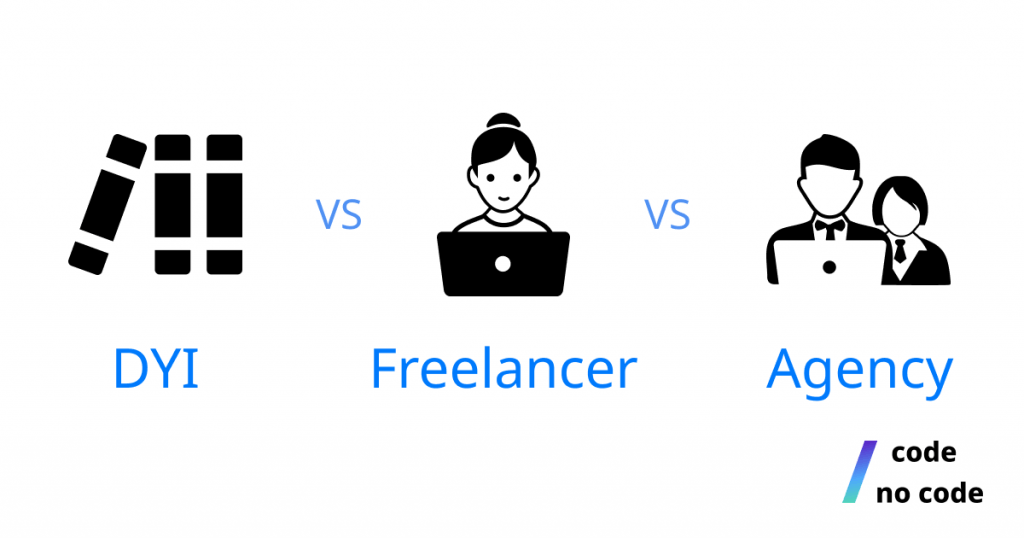 Learn to use it yourself
The cheapest way to get into No Code is obviously by learning to use it yourself. Most tools in the niche have a free version and a wide knowledge base for self-improvement, so the first steps can be taken at almost no cost at all.
No Code tools are specifically designed to be user-friendly and easy to learn, so any person adept at logical thinking can start building within hours of registering on a platform.
There are usually a few different ways each tool provides information to amateur users:
Tutorial videos for general tips and step-by-step development
Help docs for specific issues/features
Blogs for inspiration and seeing what the tool is capable of
Forums for user-to-user tips and feedback
Interactive lessons to get you used to the UI/UX of the tool
Bootcamps if you need a helping hand
Templates for getting you off the ground faster.
Of course, mastering a tool does take time - you won't become an expert overnight, but you will save a lot of money by not having to rely on external developers. Practice does make perfect in the end.
The next two steps feature hiring professionals with experience in building applications using the tools that are right for your idea. An agency or freelance developer can take responsibility for every aspect of development - creating both the technical side (the app's core) as well as designing its interface.
Contract a freelancer
The first alternative to learning No Code by yourself is hiring a freelancer. No Code freelancers are experts that can be hired to complete a project or on an hourly basis.
They are usually cheaper than our next alternative, development agencies. However, since they are singular people, the amount of work they can do is limited to a degree - if a single freelancer is hired to take on the development of a full app, they will take a much longer time than an agency would.
Managing freelancers is also harder, as to make an app, you will need a wireframe (a visual mock-up of the app), which is created by a designer and then handed off to a developer. In this instance, you will have to be the manager and intermediary between these people who do not know each other.
On the positive side, you will be in direct contact with the people who are building your app, which will most likely result in a fully transparent process where issues can be fixed in an instant, a lower level of miscommunication is present and communication is quicker overall.
Partner with a trustworthy agency
The second alternative to learning No Code is hiring an agency. An official software development company can build you the app of your dreams much faster than any freelancer or yourself could manage, as they employ dozens if not hundreds of employees with expertise in No Code development and design.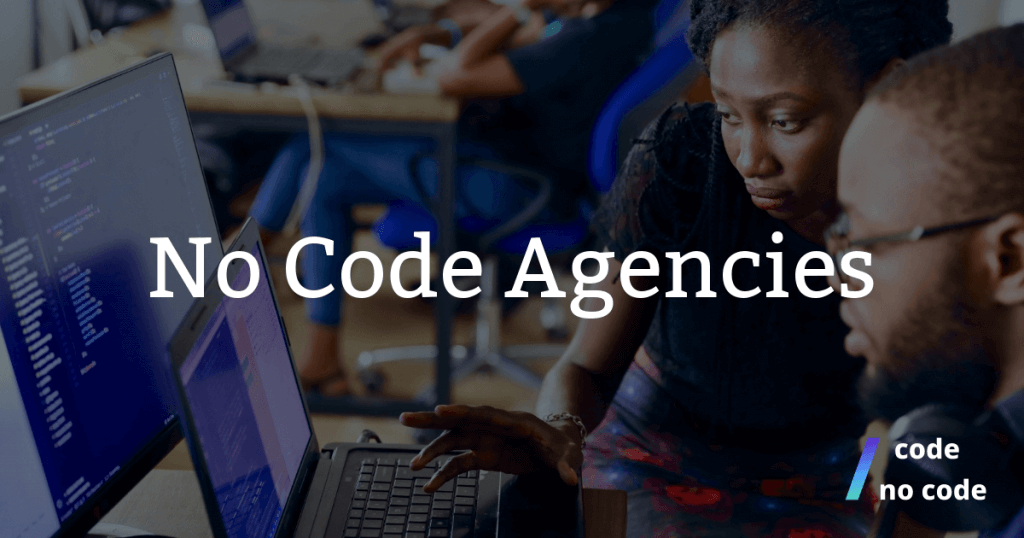 Agency prices are often higher for this reason - many companies offer discounts on their basic services, but once customized features are added, the price increases significantly. Some agencies even have minimum project size requirements (usually around ten thousand US Dollars), which means that working together will be worthwhile only if your idea is big enough to warrant it.
On the other hand, full-service agencies take responsibility for every step of creating an application from scratch - from wireframing all the way to submitting it on app stores. This speeds up development and makes communication clear, as an agency has a single point of contact for each aspect of development - a project manager who can relay information from designers to developers, which saves a significant chunk of your time compared to hiring freelancers.
Another benefit of agencies is since their processes are usually standardized, they are able to provide a fixed-price offer after scoping your project. This means that you will know exactly what the project is going to cost before it even starts. Since the agency makes a promise of how much the project is going to cost, they have a higher probability of finishing your project on time, as falling behind deadlines directly results in financial losses.
What Can You Do With No Code?
Nowadays these tools are more powerful than they have ever been before. A wide variety of applications and websites can be created with them: eCommerce websites, internal company tools, social networks, native mobile apps, and so on. Small tasks like automating processes or designing and setting up emails are also made easier and faster with No Code.
To make the applications of No Code easier to understand, we divided them into different business categories.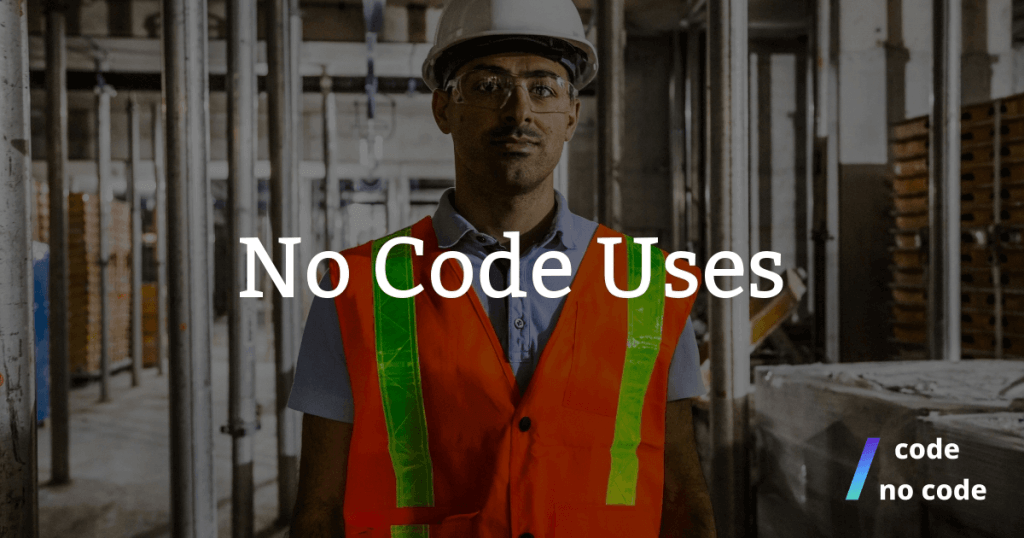 No Code Automation Tools
No Code automation tools are used to speed up repetitive tasks that require the same sequence of steps.
These tools are like glue that you can apply between two or more different online apps, joining them together with conditional logic. A very simple example would be this "if-then" logical chain - if a customer completes a lead-gen form on your website, then he gets an introductory email from your company right away.
The steps can be anything from emails like newsletters, transactional emails (order confirmation), or appointment reminders to automated customer support chatbots and data input into your CRM systems.
These apps save hours upon hours of work for businesses large and small if they use them correctly.
In this segment, Integromat is a tool that we like a lot. It has more than 1000 pre-made integrations with the most popular apps, its free plan is the most powerful and it has the cheapest 1-minute data refresh.
Integromat also features a UI that is the most pleasing to the eye, in our personal opinion.
You can learn more in our article on No Code Automation.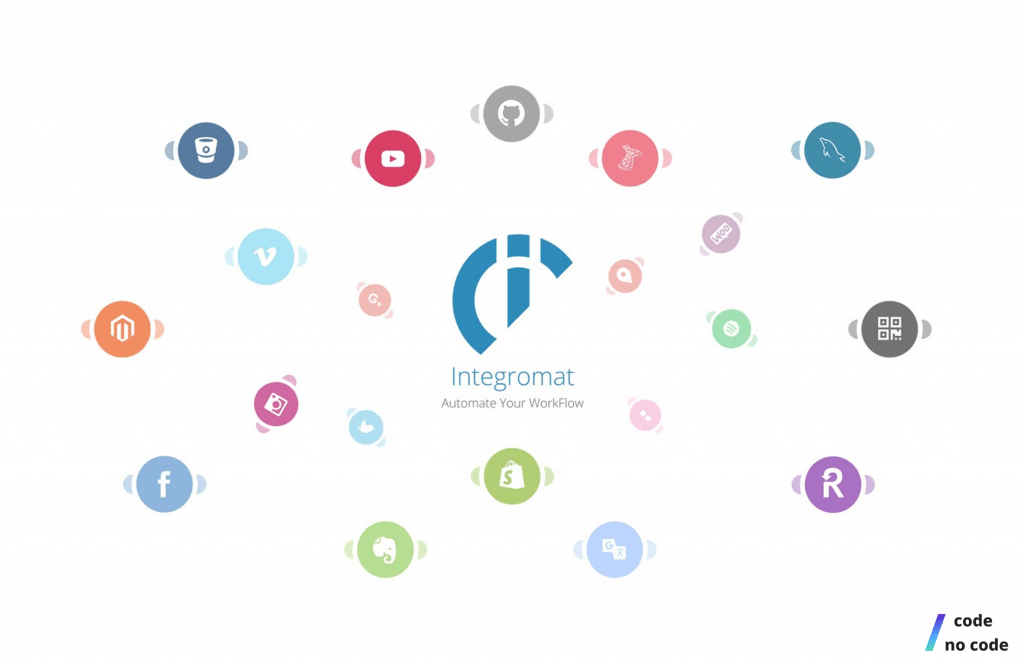 No Code Human Resources Tools
Human resources is a massive industry with many aspects that can be automated by No Code tools.
From more efficient employee time tracking to staff scheduling and payroll calculations, HR companies can save a lot of money using these apps on a daily basis.
Even though there are not many purely HR-focused tools on the market, general-purpose tools and even tools originally made for other goals can be repurposed to serve HR.
One of the most creative examples of such repurposing would be using PipeDrive, a No Code sales tool, for turning the sales funnel into a hiring funnel.
These two vital parts of everyday business operations are more similar than one might think - both feature a funnel that has fewer people in later stages due to both sides gradually clarifying their expectations, budgets, and 'selling' themselves to the other party.
In the end, only a few potential customers/applicants remain, those who will be a perfect fit.
PipeDrive features tracking of all of your communications (emails, messages, calls), automation with AI support, automatic prospect imports from chatbots and forms, integration with other CRMs, and detailed analytics with built-in goal tracking.
Interested to learn more? We have a separate article with other examples of No Code HR Tools.
No Code Marketing Tools
No Code marketing tools are used to boost brand awareness and improve customer experience.
Social media management or email automation apps can increase the efficiency of a company's advertising campaign and save you a lot of time.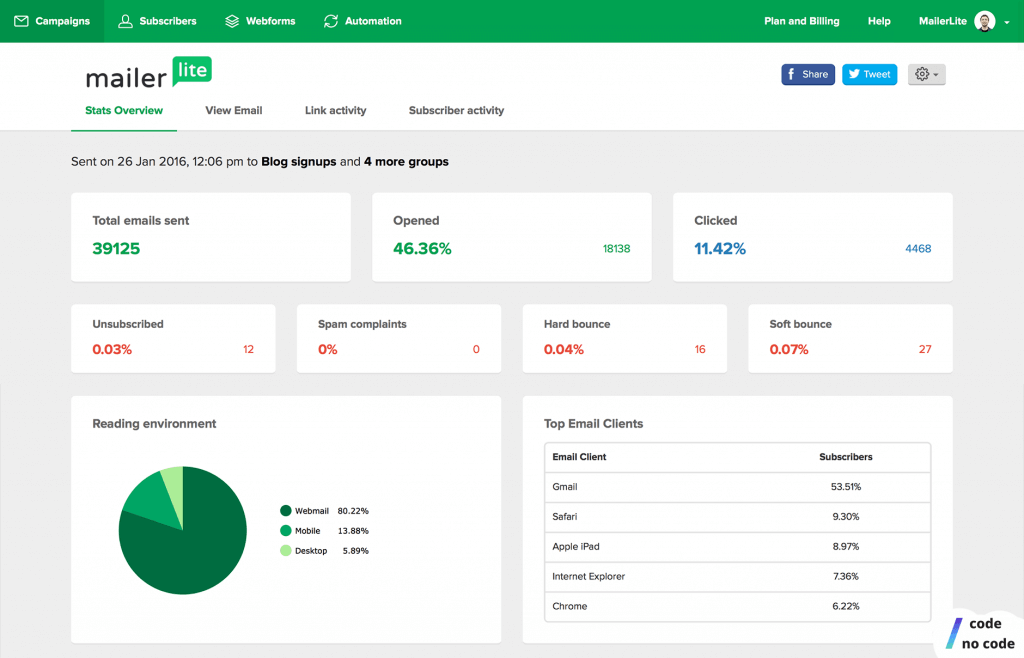 Mailerlite is our personal favorite when it comes to email marketing. The tool can be used for automating email campaigns: setting up conditional workflows for sending emails with delay timers, different emails according to subscribers' actions, moving emails to other email lists, or removing them altogether.
These campaigns can also be used for your customers and sending corporate emails, they are not just limited to newsletters.
Their email design tool is also very useful, as users can design aesthetic and interactive emails without any knowledge of HTML. There are numerous templates available that make starting an email an absolute doddle.
Further information on this topic can be found in our article on No Code Marketing Tools.
No Code Sales Tools
No Code sales tools are used to make the selling process more efficient. They can be anything from a simple CRM system, which helps companies manage their relationships with prospects and customers by keeping track of customer activities in a centralized digital space or lead scoring apps that determine the potential value for each prospect based on different data points - these can be used to prioritize prospects and focus sales teams on the most valuable leads.
SalesManago can be mentioned as an example of one of these platforms. In essence, it is the place where all of your customer data can be aggregated together, which is achieved via numerous integrations with the most popular CRMs such as Salesforce and Hubspot.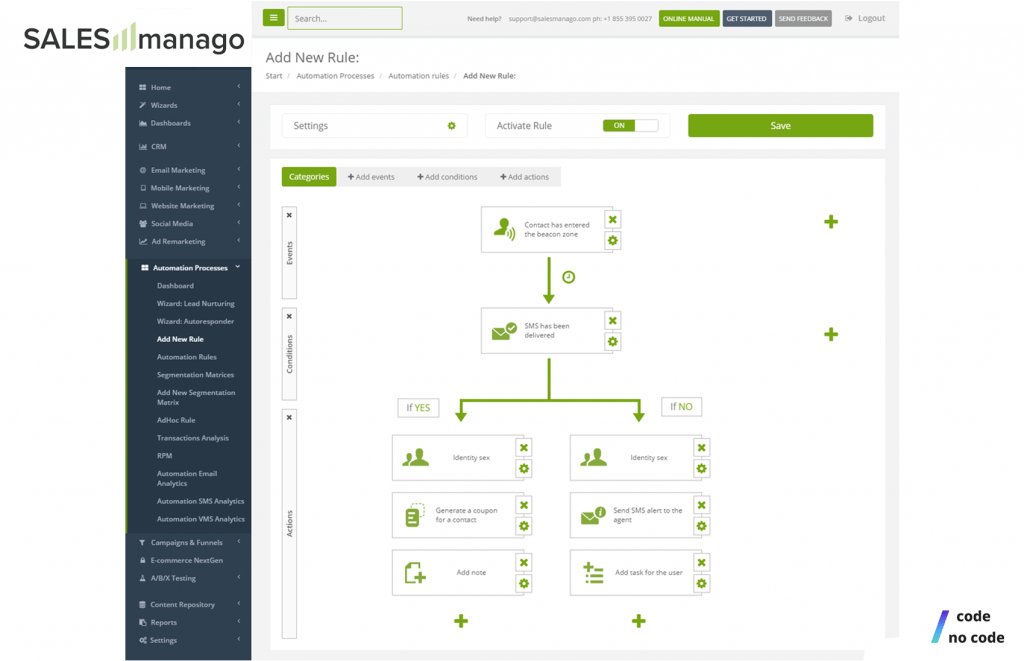 SalesManago can also be classified as an AI tool because it then uses your customer data in order to recommend you the optimal communication strategies for the different stages in your funnel.
It can also be used to automate your messages, emails, ad campaigns, perform A/B tests, and hyper-segment customers/visitors based on both actual data and AI predictions.
Read more about this topic in our publication on No Code Sales Tools.
No Code Project Managemenent Tools
Project management is a crucial aspect of the business world. With No Code project management apps, companies can keep track of their projects' KPIs without any hassle and achieve more with fewer resources.
One of the most popular recent No Code project management tools is Coda.io, a flexible all-in-one platform for makings customized, collaborative docs for your team and/or clients.
Users can build regular, text-based docs, complex tables with formulas, filters, and customized views in different parts of a team's workspace, and so on.
There is an abundance of templates available, with kanban tables, voting platforms, product/project roadmaps, calendars, and more reachable with a few clicks.
No Code AI Tools
AI tools are used to automate important decisions that usually require data analysis. No Code AI tools are platforms that let you set up data analysis or machine learning algorithms without coding at all.
There are a few types of AI No Code tools available:
Chatbots, which can be integrated into a company's website or social media platforms and provide quick information about their services.
These chatbots can be trained to recognize questions that a human asks and associate them with pre-programmed answers in the database.
On the company's side, user analytics are available to see whether website visitors engage with the bot, where, when, and how often they drop-off, how many questions they ask, and more.
A good example of a No Code AI chatbot would be Boost.ai. With its templates designed for automating support, customer service, and sales functions, the bot can be set up relatively easily and of course, without any coding.
Its integrations with Slack, Facebook Messenger, Microsoft Teams, and other popular platforms provide additional flexibility that's easy to reach.
Predictive analytics tools, which suggest courses of action based on the available data points, thus improving business outcomes.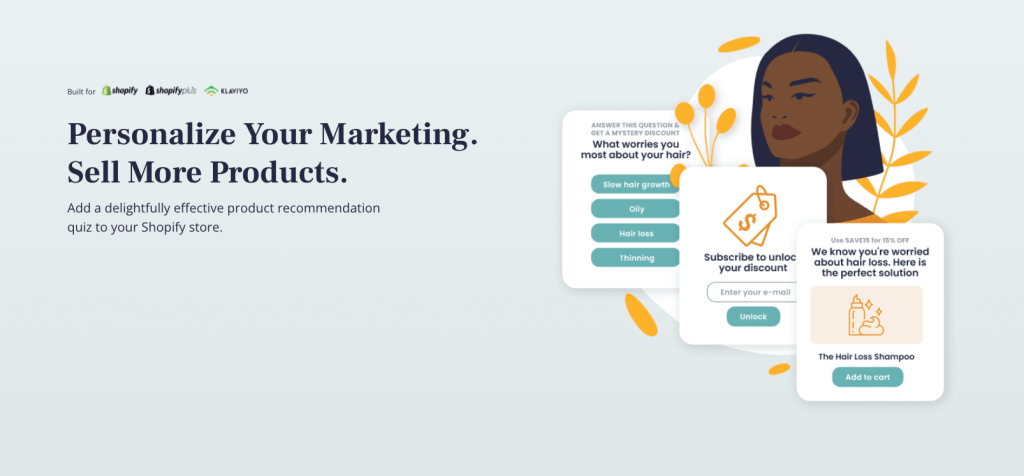 OctaneAI, for instance, is a tool for improving the results of your Shopify store. Its main feature is a customized, AI-powered quiz that your visitors fill out and are recommended personalized products as a result.
Customers can then add these products to their carts right from the quiz. Your customers get recommended relevant products and you improve your usage metrics across the board. Win/win!
AI-based code generation tools are another interesting niche in this segment. They use the newest GPT-3 language processing model to write code on demand.
When a user writes a step-by-step description of an app, the AI generates the code required for it.
The code is not perfect yet, of course, but with tools like SourceAI, developers can save some of their development time or non-coders can have a basis from which to start if they are building a simple app.
Check out our article on examples of these tools and how to use them in your next project: No Code AI - What Is It and How Will It Change Our Lives?
No Code Databases
One of the most important elements of an app is its database. Without it, an app is nothing more than a series of non-functional screens and buttons, as to function correctly, each element has to be connected to a database.
No Code liberalizes the creation of databases to the point where almost everyone can do it. For example, even a Google Sheets doc can now be used as the database of your No Code app! Cool, right?
There are three different types of No Code databases out there:
Inbuilt Databases. These platforms have database creation capabilities that usually rely on SQL built-in.
Spreadsheet to Functional Applications. With these tools, users can create basic apps using a spreadsheet as their database.
Spreadsheet to Scalable Applications. More complex tools that are used for turning spreadsheets into easily-scalable applications.
We have gone more in-depth on this topic in our article on No Code databases.
How Much Does No Code Cost?
So how much do these tools actually cost?
As we have mentioned before, most of the tools in the niche are free for personal projects, testing, and learning, often asking for payment only when the user wants to publish their web app, for example.
The price of No Code tools when publishing your creation is the clearest when compared to developing traditional, coded software.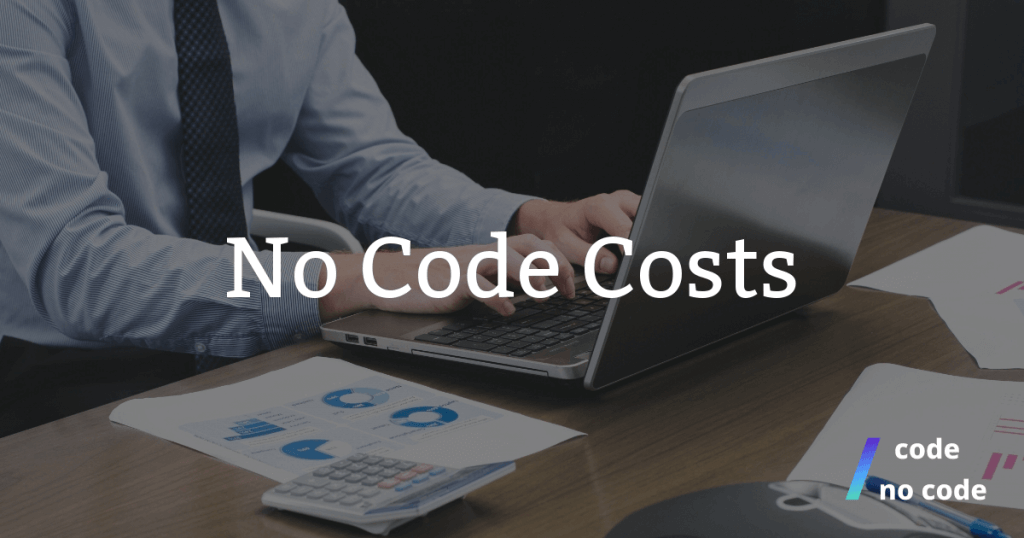 Is No Code Cheaper than Coding?
In short, yes, No Code is cheaper than coding. This boils down to two main reasons:
Time-saving. When you are hiring someone to develop software with No Code for you, they will spend significantly less time developer hours than they would have had they chosen one of the traditional coding languages for your project.
These programmers can skip the boring parts of software development (such as making sure that the syntax is correct in the app that they are creating) and focus on what brings more value to the customer: the logical problems behind the app, user stories, and optimizing the UX.
Quality assurance is also noticeably faster because of the aforementioned lack of syntax-related problems, as testers do not have to check every symbol in the code and can just focus on the performance-based back-end and front-end testing.
Because developers do not have to code the app from scratch and use the visual elements that represent pre-written code, an app can realistically be made in weeks instead of months with a team of developers.
As a result, creating a fully-operational app might cost around $200.000 with code, whereas No Code agencies will charge you 5-7 times less than that.
Savings from infrastructure. If you choose to adopt No Code by doing the development yourself or within your company, the majority of cost savings will come from infrastructure and staff.
Firstly, solutions developed with No Code are hosted on the servers of the No Code solution you use, not on your own servers (there are optional self-hosting options, of course), therefore, you do not need to rent server space and worry about the associated upkeep costs, everything is included in the single monthly price of the tool you are using.
Secondly, you do not need to hire developers with knowledge of specific coding languages, as in theory, anyone can use No Code. Product managers and team leaders can take initiative and develop the things they need themselves - no more miscommunication, waiting months before the developers' backlog clears up and they can take up new projects and no more code written under time pressure that usually fails to address the business needs.
Going a step further - any employees within your business can build the tools, automation, and docs they need for their day-to-day tasks. Developers' valuable hours can be used where they are needed the most: the core business activities and system maintenance.
Of course, the time savings mentioned in the first point are also relevant here, as your team will complete projects quicker than they would by using code.
You can see our in-depth comparison in the companion article we wrote on whether No Code is cheaper than coding.
Key Takeaways From the No Code Movement
As the No Code movement is here to stay, there are some key takeaways that you should be aware of when planning your team's future development activities.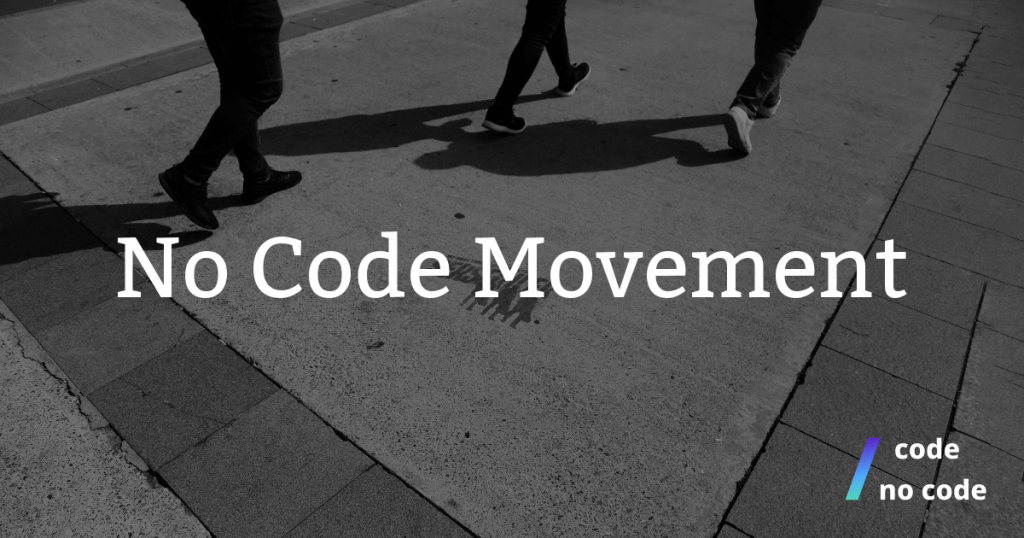 Everyone is empowered to be a developer.
Simply put, there will be digital solutions made by everyone for everything. The barrier to entry is lower now than it was before and anyone can build web and mobile apps, set up powerful and customizable docs, automate repetitive tasks and design catchy interactive emails.
We cannot underestimate the positive effect that No Code will have on these new, empowered citizen developers - the whole understanding of what can and can't be done in a business will fundamentally change, as most technical issues will be solvable by any average Joe.
The users of these tools will be more engaged with their work and learn new tech skills that they can use to support the team's mission.
No Code is changing the software development industry
Software development just became a lot cheaper and more competitive. With No Code tools having reached the level of being compared to coding languages, there's finally a worthy alternative to traditional software development firms - No Code agencies. These (mostly) small players are using the much shorter turnaround times of visual development to provide their services for a lower price while churning out products that are easily comparable to their coded counterparts.
What this means is that everybody wins - customers have more service providers to choose from at more varied price ranges, new digital ventures can be started with a lower starting budget, No Code agencies find an alluring niche, and traditional agencies aren't bothered by project requests that are below their minimal budget.
The Future of No Code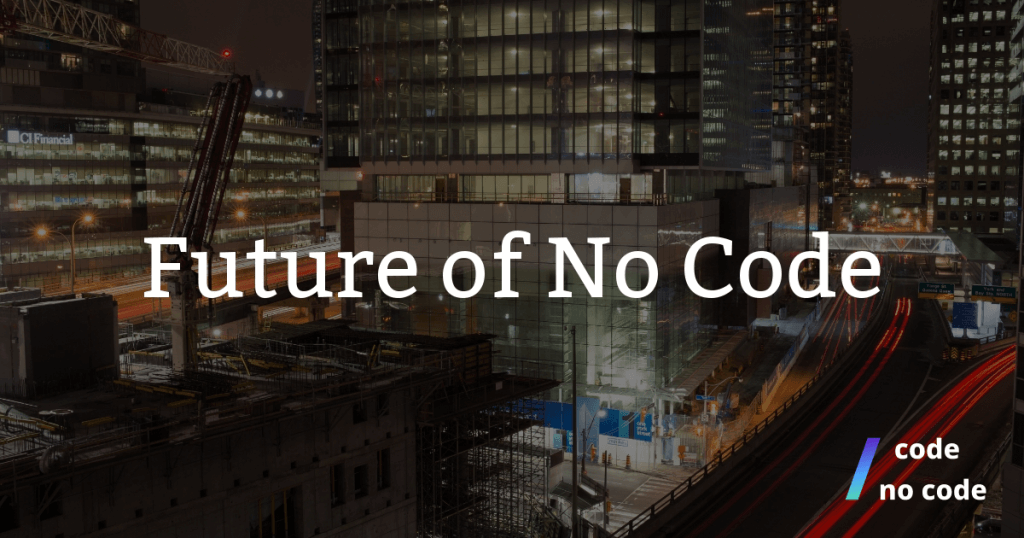 No Code tools will only become more powerful in the future.
No Code tools are already very capable. On a small scale, the day-to-day tasks of millions of people are made easier and more efficient. On a bigger scale, international, multi-million dollar No Code startups are being built on these platforms.
The scalability of these tools, which might raise some questions nowadays, will be much easier to reach, due to future advancements in cloud storage, which No Code apps are mostly dependent on.
Continual development of use cases, versioning, and the collaborative building will make these tools more accessible and easier to use, while more and more advanced capabilities that are currently only achievable with custom code will be built in and available for everyone.
No Code will become mainstream.
In a report that summed up interviews with the leaders of the industry, Adalo shares their consensus on several predictions:
By the end of 2021, more digital products will be made with No Code than No Code.
By September of 2022, using No Code will be as common as making a Powerpoint presentation.
By mid-2025, No Code courses will be offered in the majority of schools and universities in the US.
By mid-2026, the first product built with No Code will launch an IPO (Initial Public Offering).
By mid-2027, at least one major politician will talk about the importance of No Code for the digital world.
Platforms will become more integrated.
Currently, if a user wants No Code tools to 'cooperate', for example, integrate a table built in Coda with conditional logic into a WordPress site, they will have to use an automation tool like Zapier or Integromat.
Even though the fact that people without coding skills can do that, in general, is impressive by itself, we believe that connecting No Code tools will be even easier in the future: native integrations between No Code tools are already popping up.
For instance, you can connect Truconversion, the on-site funnel analytics, and tracking tool, to Salesforce, a CRM tool. Emails captured via Truconversion forms integrated into your website can be instantly synchronized with your Salesforce email lists.
We strongly believe that more numerous native integrations will be one of the main selling points of future No Code tools.
Conclusion
As you can hopefully see now, the benefits of No Code are significant. This is not just about saving money or time - it's an entirely new way of approaching problems that will change your entire business paradigm.
This is the beginning of a new era - No Code will become the default way to create digital solutions to the problems of most businesses and non-technical individuals.
We hope our guide has cleared up some questions you had regarding what is No Code and got you interested enough in trying out one (or ten) yourself!
Do you want an answer whether adopting No Code is the best course of action? Take our free, 3-minute quiz and find out what's better in your particular case!