Over the last decade, the barriers to creating a mobile app are getting fewer and fewer. Today in 2022, you can publish your very own mobile app on the Google Play Store or Apple App Store without even writing a single line of code.[1]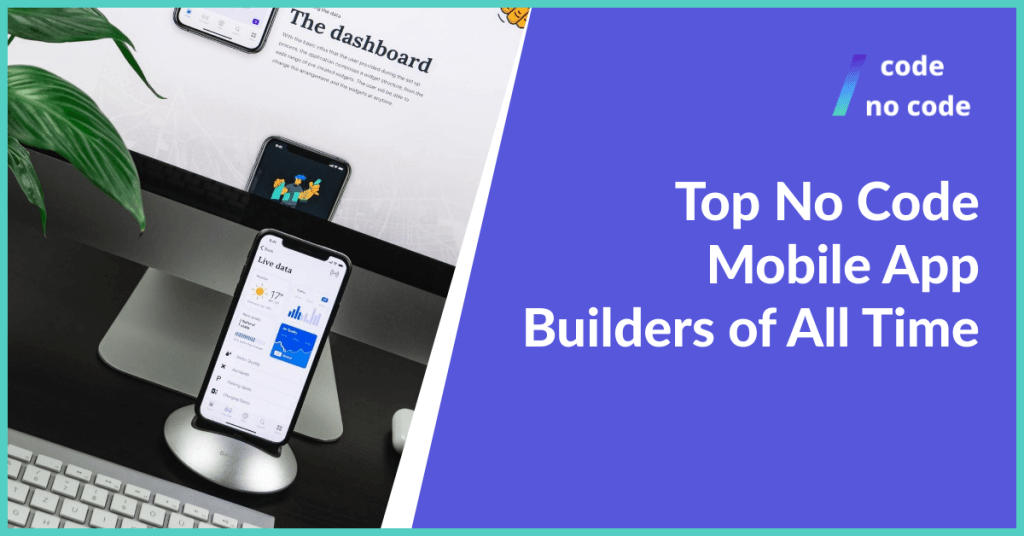 We are at a stage of the No Code revolution where the only barrier to creating a mobile app is the idea. So if you're someone who has an amazing idea but zero coding skills, this blog is for you. We have curated a list of Top No Code mobile app builders to help you put that idea into execution.
What exactly can we do with a No Code Mobile App Builder?
Traditional mobile app or web app development approaches demand extensive technical skills and a team of multiple developers to create even the most simplistic functionalities in an application.
No Code has simplified the process of creating apps through visual development. Read more about it in our extended guide on What is No Code.
A No Code Mobile app builder will give you a drag-and-drop interface across the process of creating mobile apps. The complexity of your mobile app will depend on your skill in learning the platform. Before jumping into the list, there are various factors you should keep in mind while choosing the right No Code mobile app builder.
Consider these Factors before choosing a No Code App Builder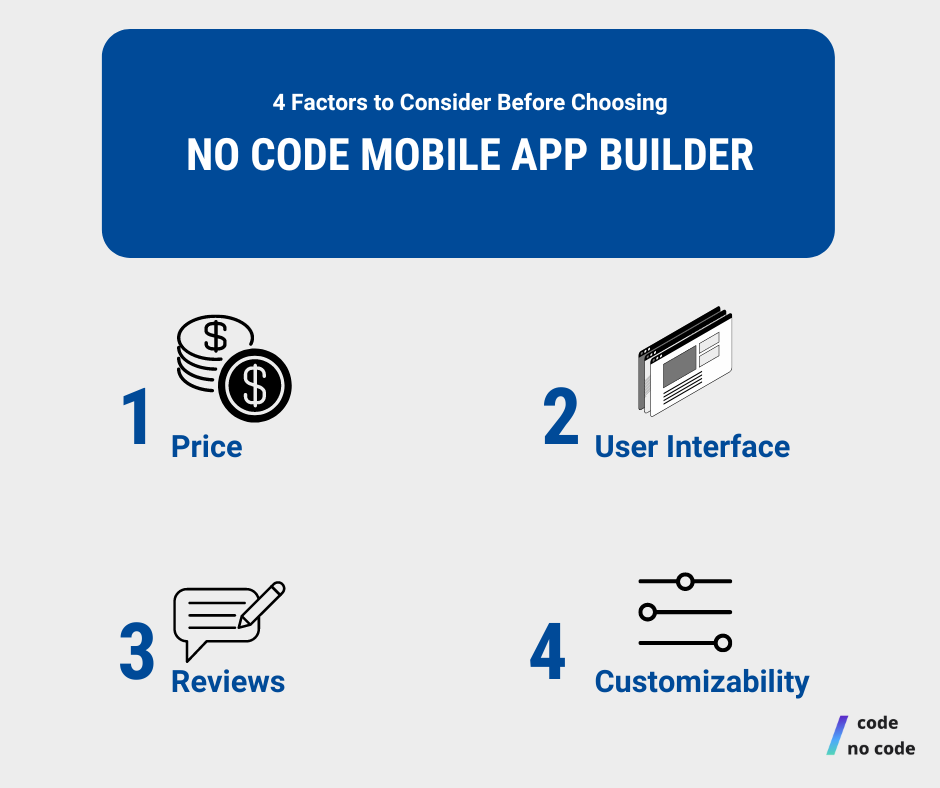 There is no "one solution for all" answer when you are choosing your tech stack. Because all of these platforms have distinct features and issues. You can't just pick one at random and expect it to function. Here are some pointers[2] to help you with your evaluation:
1. Price
Price is an easy method to filter down your alternatives. Before you begin this procedure, you should have a firm budget in mind. If you notice that an app builder is considerably out of your pricing budget, cross it off your list right away.
2. User Interface
Take advantage of any free trials provided by almost all No Code platforms. This is one of the finest methods to check if you like the UI before committing to a membership. There will always be a learning curve with every piece of software. However, some systems are unquestionably easier to use than others.
3. Reviews/Reputation
Look through customer reviews and see if the platform has case studies or showcases available. Examine the other apps built with the platform. Do such apps fall under the same umbrella as yours? If you said yes, that's always a positive indicator.
4. Flexibility of Customisation
No Code app creation should not limit your ability to create. Some app builders have limited functionality. However, the greatest alternatives allow for complete customization and scalability.
Keeping this checklist in mind, we've curated a list of some No Code Mobile app builders for you to get started.
Top No Code Mobile App Builders of All Time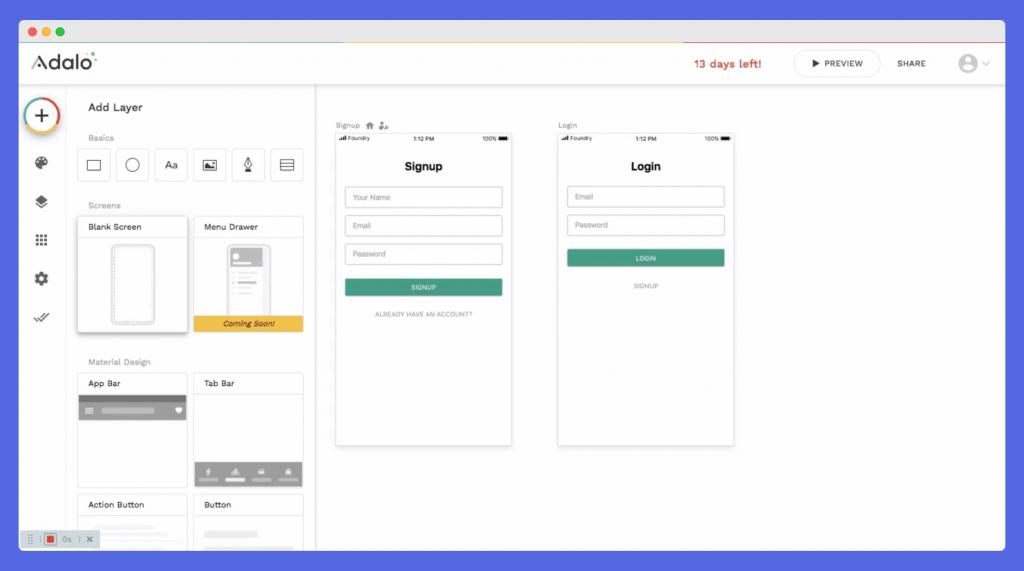 Adalo is a No Code frontend app builder that lets you create apps that can be published everywhere — web, mobile, and app stores. Adalo provides drag-and-drop components that allow you to quickly build your concept UI.
The terminology Adalo uses is called "Actions" to describe on-page logic and trigger backend events.
Adalo provides a built-in spreadsheet-style database for storing, updating, and retrieving data. Adalo does not support backend logic in and of itself, but it can integrate with other tools and APIs that can help you do that seamlessly.
Pricing: Starts at $50/Month and goes up to $200/Month. Free option available with limited offerings.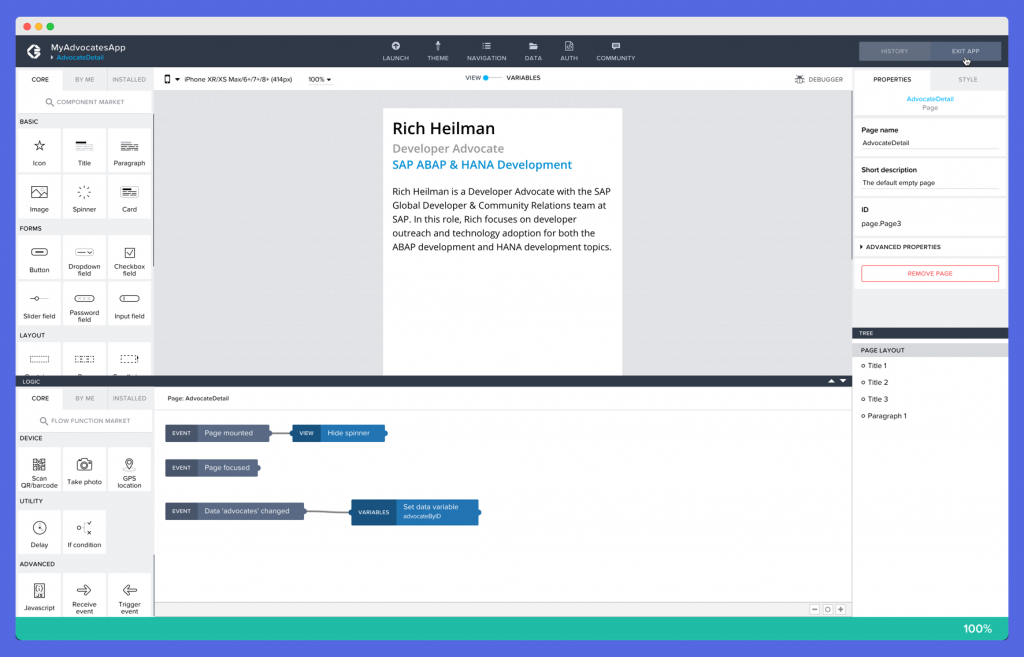 With SAP AppGyver you can create apps on all platforms, including mobile, desktop, and TV. You can create enterprise-ready custom software without writing code.
The platform utilizes containers and 500+ components that you can drag and drop to build a mobile app UI. Here's an overview of their WYSIWYG canvas.
The best part is that AppGyver is available for free even for commercial use. They have a pricing model for businesses that have revenue above $10 million/ year. But if your revenue is less than that, absolutely no charge for any feature.
The only downside is there are no built-in Backend capabilities but those can be solved by adding an external backend framework.
Pricing: Free
Under budget constraints, AppGyver is a sound choice.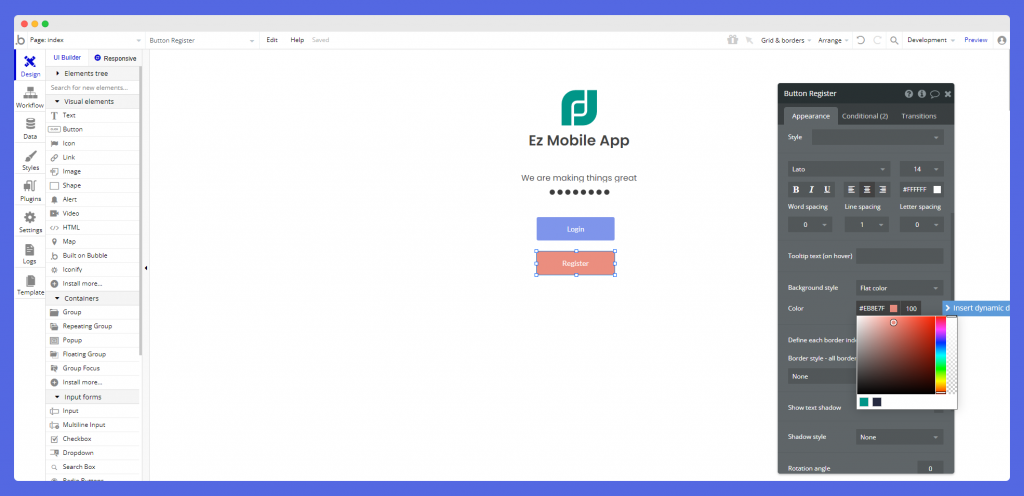 This one is our favorite tool. We perpetually use it to solve client problems and develop internal applications. It is a great No Code app builder for beginners.
Its wide usage has brought together a vast community of citizen developers. Because of this big community, there is a diverse set of user-generated templates and plugins available to supercharge your native mobile apps.
Bubble's logic is designed using the workflow approach. Workflows allow you to connect with pages within your app, and your database, or to access external APIs to acquire additional functionality not available in Bubble.
There is a slightly steeper learning curve but here's a YouTube playlist that would help you start from scratch.
Pricing: starts at $25/Month going up to $475/Month. Free version available with fewer offerings.
If you're brand new to No Code, Bubble is a great way to create mobile apps.
Bravo Studio is a design-first No Code mobile app builder for iOS and Android. You can create MVPs, validate ideas and publish them on App Store and Google Play Store directly from Bravo Studios.
You can design your UI in Figma or Adobe XD giving you complete freedom of design. Once the design is ready, import the finished product into Bravo Studio. You are also equipped with integrations through REST API to quickly create fully-functional native mobile apps.
Bravo Studio has an environment specifically designed to create mobile apps and publish them quickly.
Pricing: Starts at 19€/Month. Free version available with Bravo Studio branding.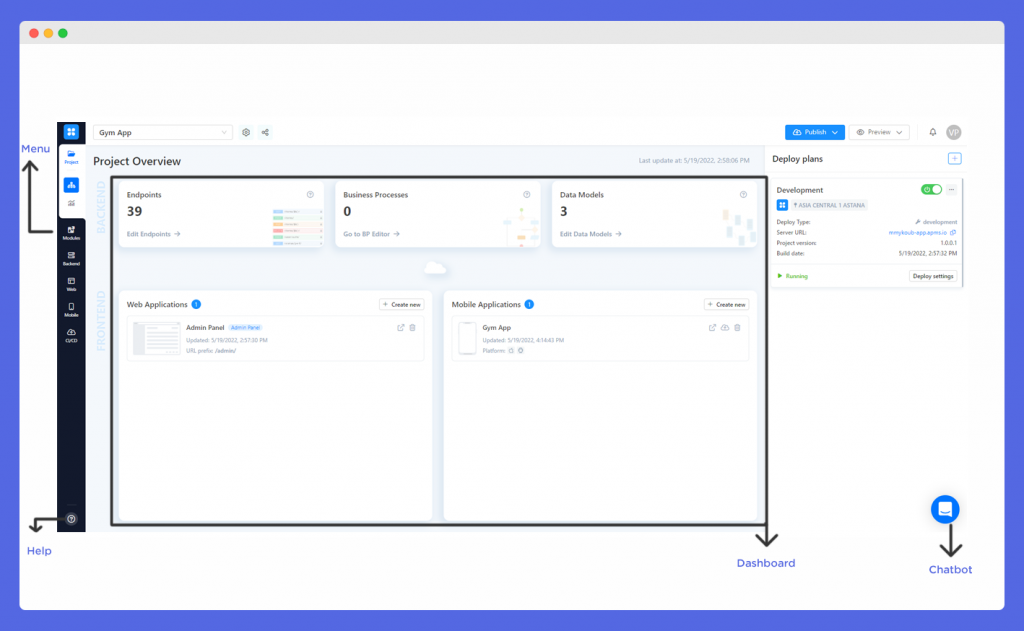 It is a No Code platform designed to help businesses create production-level applications with code generation. It has a wide range of functionalities allowing you to create a complex mobile app without code.
We have written a comprehensive AppMaster review where we have dissected the platform inside out. Unfortunately, there is no free plan available but there is a 14-day free trial to get hands-on experience of their No Code app builder.
Pricing: Starts from $5/month and goes up to $855/month.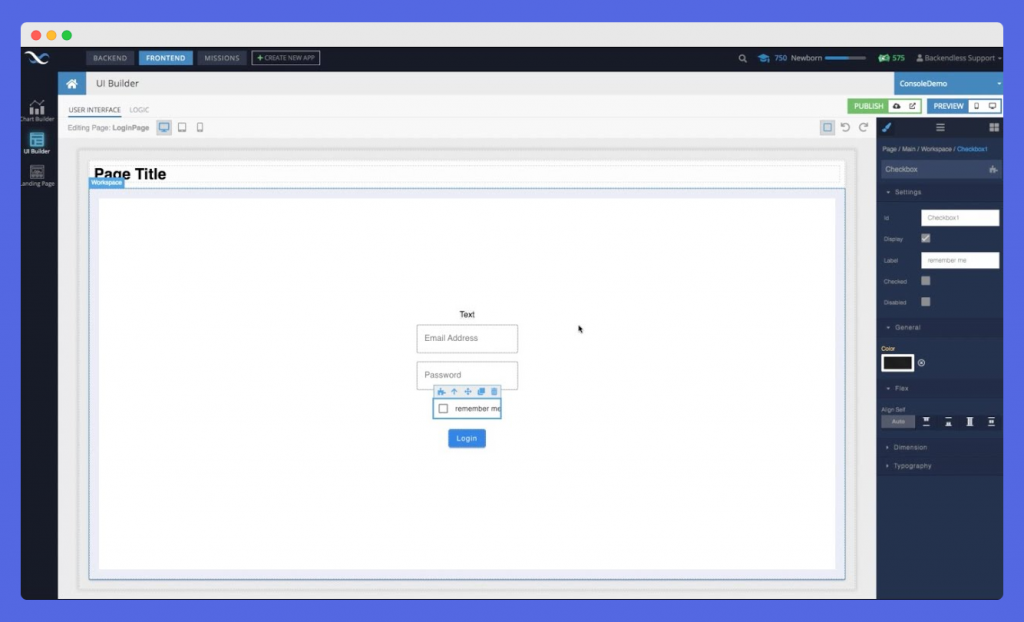 Backendless is a complete visual app development solution, which means you have all of the tools you need to create complicated and scalable frontend and backend.
Their frontend component includes a visual UI builder for developing the user interface of your mobile app. UI Builder includes a large number of components, themes, and page templates. It employs Codeless blocks to enable users to visually construct logic and APIs without writing code.
Whereas the backend includes features like a real-time database, user authentication, visual schema modeller, free SSL certificate, email templates, and push notification console.
Backendless also includes various post-launch utilities, such as visual user management, iOS, and Android push notifications, email templates, and in-app messaging support.
Pricing: Starts at $25/Month and goes up to $99. Free plan available
If you have a strong team who can manage the tool effectively, Bankendless is the closest to a 'one-for-all' option.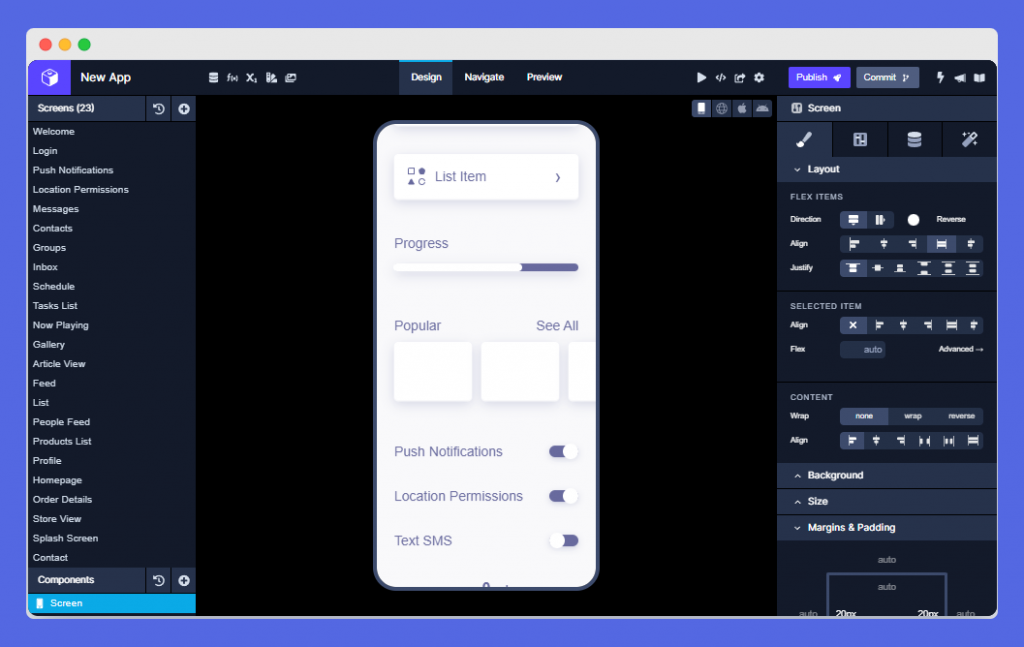 Draftbit is a browser-based mobile app builder that offers you the source code of your projects. This feature makes Draftbit highly customizable. If you have basic programming skills, you can add custom code to your mobile apps.
Drag-and-drop components are divided into two types: "bits'' and "blocks." This allows you to select between high-level, fast development and more detailed, exact development.
Their sole focus is on creating mobile apps which is why the updates are much faster and more innovative. One of the great features is their preview option where you get a pixel-perfect view of your app.
Pricing: Starts at $140/Month going up to $700/Month and more depending on your requirements.
Although there's a free version available to test, Draftbit won't be an ideal solution if you are under budget constraints.
Thunkable is another No Code app builder for creating native mobile apps. It has all the necessary features like drag-and-drop components, advanced logic, and native mobile app publishing capabilities.
Thunkable apps can be published straight to the Apple App Store, Google Play Store, or the web within a single click from the platform. [3]
It is a lightweight mobile app builder with advanced functionalities to create beautiful and powerful native apps.
Pricing: Starts at $13/Month and goes up to $167/Month and more depending on your requirements. Free plan available.
FlutterFlow is a browser-based mobile app development environment with Flutter. The visual drag & drop UI builder platform has more than 50 components including AudioPlayer, WebView, VideoPlayer, and GoogleMap.
One of the most impressive parts of FlutterFlow is the firebase integration where you can authenticate your users and connect widgets to the firebase database. Apart from that, you can also add animations from powerful Flutter tools like Lottie and Rive. Currently, it has more than 160k+ users and was ranked at #1 No code for 2021 at Product Hunt.
Pricing: You can create and run the app with their free plan. If you want to export the code, paid plan starts at $30 and goes up to $70. (They also have regional discounts for a few countries such as India.)
Which No Code App Builder should You Choose?
If you have an idea, you can create that app on No Code. These platforms have a high level of usability, and a plethora of practical features, and may be used to produce anything for personal or commercial use.
Finding the ideal No Code tool for you will almost certainly be a multi-step process with screening and selecting.
We recommend you to pick a few platforms i.e. short-list them into a list according to your requirements and start experimenting with them. Because no two platforms are the same. You would have to get hands-on experience to pick the best one for you.
Hope this helped list-down down all the options. Also, Don't forget to follow us on Twitter to get regular updates on the No Code industry.