Is it possible to build a website without code? A few years ago, the answer to that question would have been negative. These days, it is possible to build a fully-functional website with multiple pages and a wide range of features without writing a line of code.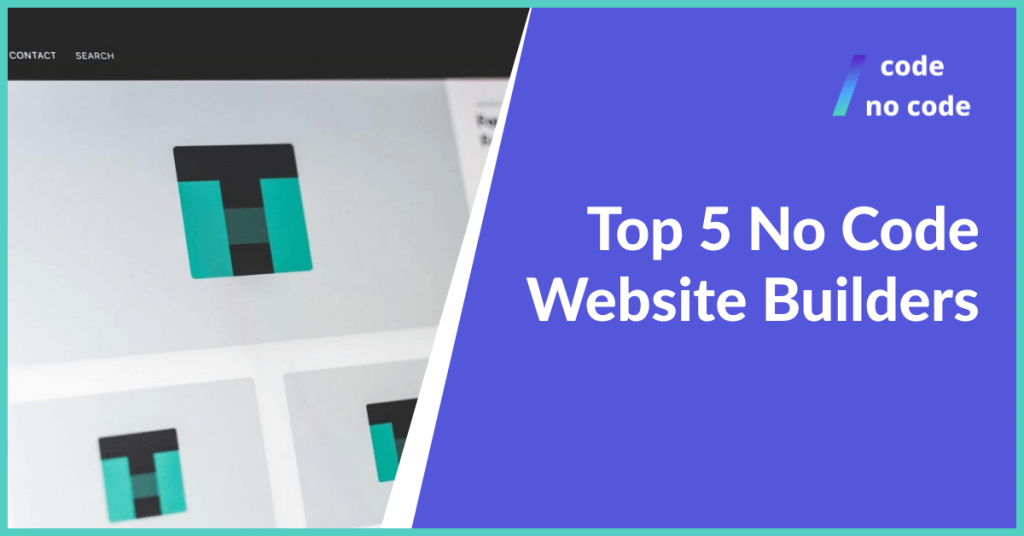 Thanks to No Code website builders, professional designers as well as entrepreneurs can build websites without having to learn and master any coding skills.
If you're trying to build a website without having to code, you need to be aware of the different No Code website builders[1] out there and their different properties. These platforms offer varying features, pricing, and design freedom.
Comparing their properties will help you determine which builder would be the best fit for you and your business. Here's a compilation of some of the best No Code website builders you can check out.
| | | | | |
| --- | --- | --- | --- | --- |
| No Code Builder | Target Niche | Number of Templates | Pricing | Skill level |
| Wix | All-purpose | 900+ | $13 | Intermediate |
| Webflow  | Designers | 500+ | $19 | Intermediate-advanced |
| Squarespace | Creatives | 100+ | $12 | Basic to advanced |
| Zyro | Beginners | 130+ | $2.90 | Basic |
| Shopify | eCommerce | 70+ | $29 | Basic to advanced |
1. Wix
Wix is no doubt one of the most well-known website builders on the internet. Wix currently powers more than 200 million websites[2]. The platform makes building websites with No Code as simple and affordable as possible.
Using simple drag and drop, people with no coding or website design experience can build their own website.
Templates
Wix offers quite an extensive template library with more than 900 templates that can be easily customized to your specific needs.
The templates can be easily modified using various creative tools offered by the platform. There are also several extensions to further expand the site's functionality.
Platform Features
Wix can be used to build professional websites, blogs, and online stores. One of the platform's most impressive features is the WIX artificial design intelligence (WIX ADI) which simplifies the process of creating complete websites within a short time.
By providing a few basic information and design preferences, the AI automatically generates a website that is built to your specification.
Pricing
Wix offers a free unlimited plan for users. However, this comes with ads. Pricing for the premium plan starts at $16 monthly which is billed annually.
The unlimited plan is ideal for those looking to build more complex sites and it costs $22 monthly while Wix VIP costs $45 monthly. The VIP plan comes with priority support.
Webflow is a visual No Code builder useful for creating modern responsive websites.
The platform offers a high level of customization which makes it an ideal choice for those with rudimentary design knowledge that want to bring their website ideas to life without learning to code.
Templates
Webflow offers numerous templates in every niche. The platform has a template marketplace with several high-quality design options to select from. 
However, most of the best templates on this platform are premium which means you have to pay extra for them. You can purchase a full content management template and tweak it to your preference.
Webflow Features
Although Webflow is a robust website builder[3], it has quite a steep learning curve. Beginners will have a difficult time mastering all the advanced customization options the No Code website builder platform offers.
However, for designers, the advanced customization option is quite beneficial since it gives you full control over your designs.
In addition to being a website editor, Webflow can also be used as a CMS for creating and managing blogs. Webflow also has several integration options which help you extend the functionality of the websites you build with the editor even more.
Webflow Pricing
The Webflow builder offers two separate pricing options for regular websites and eCommerce sites. Standard Pricing for the eCommerce site starts at $29 while the higher plans cost $74 and $212 respectively.
For the website option, basic pricing is $12 while the higher plans cost $16 and $36 respectively.
3. Squarespace
Squarespace is often advertised as a platform for photographers and other creatives that want to build their online portfolio website, eCommerce store, business website, or just a simple blog.
Squarespace makes it possible for users with no technical skills to create websites. In addition to customizing their website with various design features, they also get access to a range of marketing and analytics tools to further optimize their website.
Templates
Squarespace offers an impressive array of quality templates with various layouts and design options. Most of the templates offered on this No Code website builder are suited specifically for creatives with images and minimalistic designs that can be tweaked to their needs.
To customize templates on this platform, users use its simple click and point function.
Squarespace Features
Squarespace is easy to use and integration friendly. It offers an array of inbuilt features for building mobile-friendly websites.
In addition to these, there are tools for blog content management, SEO, email marketing and so on that can be easily integrated with this platform. The Squarespace editor is a block-based website builder which makes it ideal for beginners.
Once signed up, a wizard works you through the process of building your own website with Squarespace. Advanced users also get access to more complex customization options if they want.
This website builder platform has very limited eCommerce features but you still get the basics to set up an online store.
Squarespace Pricing
The Squarespace platform is premium. However, users get access to a 14-days free trial to all of the platform's features to get a feel of how it works.
The premium plans are grouped into Personal, Business, Basic commerce & Advanced commerce and they cost $12, $18, $26, and $40 per month respectively.
Top on the list of things that make Zyro such an impressive tool for building websites is how affordable and easy to use it is. Zyro is a minimalist No Code website builder targeted specifically at beginners with minimal web building experience.
For first-time users, this No Code website builder literally teaches you what to do and it offers impressive features for advanced users as well. While several companies have used Zyro to create their professional website, you can also create a personal website with Zyro.
Templates
Building a website with Zyro begins with template selection. This website builder offers more than 140 well-designed templates for building modern and simple websites. You can also choose to start your work from scratch instead of building from a template.
One downside of using this platform is that users cannot switch templates once the website goes live.
Zyro Features
Among No Code website builders, Zyro's simplicity and ease of use are unmatched. The site editor offers a simple user interface that is easy to navigate and use.
The builder also comes with Artificial intelligence tools for customizing and optimizing your websites such as an AI logo maker and writer. However, it is limited when it comes to search engine optimization and marketing features.
Zyro is great for building eCommerce websites as the platform does not charge you commissions for any transactions completed on your online store.
Zyro Pricing
Zyro is one of the most affordable No Code builders you'll find around. The starter prices are particularly low and you get a 30-days trial period to get a feel of how the platform works. There's a free plan that is limited to 500MB of space.
The basic plan costs $1.99/month and you get 10GB of data space. The highest plan fpr this website builder is the Unleashed plan with no data limitation and it costs $3.49/per month. Note that the renewal prices for each of these plans are typically higher than these figures.
5. Shopify
If you're looking to build a website builder for selling your digital or physical products online, Shopify makes it possible to build a website like this from scratch with No Code.
It is arguably the most popular No Code builder for creating eCommerce websites. So far more than 4 million active eCommerce websites[4] have been built with Shopify.
Templates
Shopify does not offer a lot of free templates. Users only get 7 free templates and if they do not like any of these, they'll have to opt for a paid template. The free templates work just great if you want something simple and functional.
If you're a beginner, you can go for one of these. However, you can choose a premium template instead if you want to create a more professional website.
In addition to being an amazing website builder, you can also add a blog to your Shopify site. However, the content management features are quite rudimentary.
Shopify Features
Shopify simplifies the process of building online stores from scratch. One of the platform's most impressive features is the Shopify website which allows you to set up your website within a few minutes.
You simply need to answer a few questions to set up the store and start adding new products. Unlike other website builders, Shopify website builder does not have a drag and drop editor. This limits customization to a large extent. However, the platform is still quite easy to set up.
Shopify Pricing
Pricing for Shopify's basic plan is $29. Higher plans include the Shopify and Shopify advanced plans and these cost $79 and $299 respectively. Users get a 14-days free trial to check out the premium plan.
Conclusion
These days, building websites with No Code[5] is easier than ever. In addition to the website builders covered in this list, there are several more platforms that allow both beginners and professionals to build great quality websites that work for their specific needs.
You can explore any of these options and compare them based on various metrics to find the ideal fit for you.