Low Code development platforms have been around for quite some time now. We have seen a rise in the adoption of Low Code tools across industries. A common question that arises amongst new readers is "Why use Low Code platform?". If you are just scratching the surface of the Low Code and No Code industry, you must see some key problems that Low Code development is aspiring to solve. This blog is a compilation of the top benefits of Low Code platforms.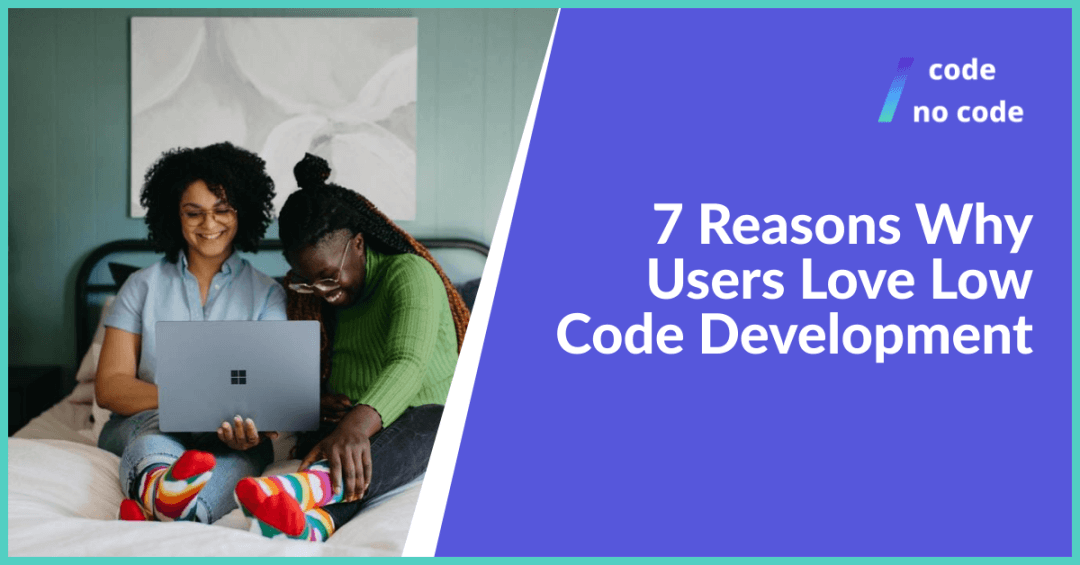 Before we jump into the top benefits of Low Code, we must address two of the top questions related to it, so we can debunk any myths regarding the subject.
Will Low Code Platforms ever Replace Traditional Development?
Low Code is not designed to replace traditional programmers or the development process. The entire vision of Low Code development is to make software development becomes more accessible to non-technical people (AKA citizen developers).
It does not mean, however, that custom code will be unnecessary in the future. Low Code will function as a support system for programmers so they can focus on innovation.
Low Code takes all the menial work away from programmers to citizen developers. For example, programmers don't need to waste their time writing long codes for creating a form. We have beautiful form templates available with visual development functionalities.
What is the Difference between Low Code Platforms vs No Code Platforms?
Simply put, No Code platforms are developed for users with absolutely zero background in programming. Whereas Low Code development platforms are developed to extend the support of developers and automate the repetitive processes.
Here's our full-scale explanation on What is No Code.
You can develop a product with Low Code even though you don't know how to code but using No Code would be ideal in that scenario.
You can customize and scale your product to a higher degree when you are using Low Code development over No Code. If you want to know more, we have written a separate article on the differences between Low Code vs No Code.
Gartner found Low Code application building would gather more than 65% of all app development functions by the year 2024[1]. There are 6 reasons why Low Code development is going to paint the canvas of IT in the next decade.
6 Benefits of Low Code Development
Reduced Expense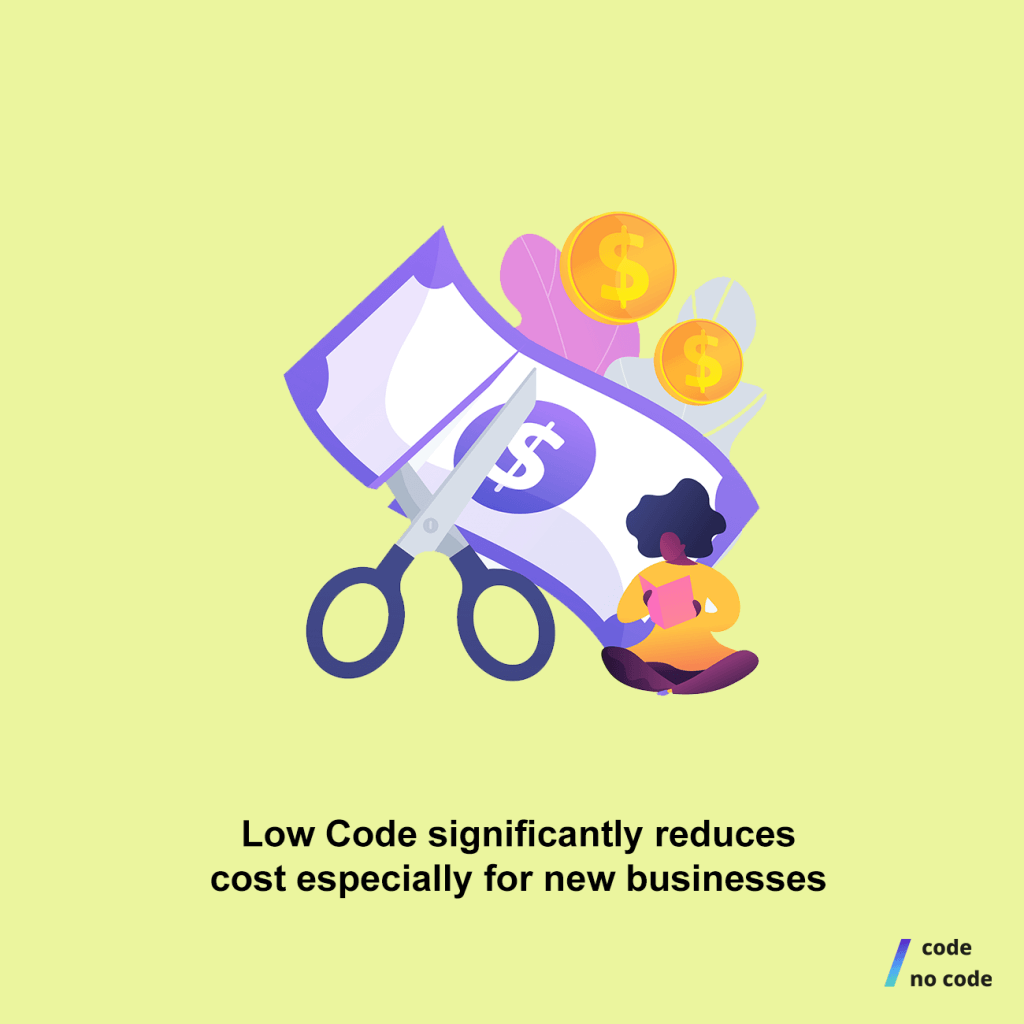 It reduces your overall cost of developing a product. Initially, when Low Code was introduced, the low expense was the selling point and the biggest reason why companies started adapting to it.
The technology promises higher returns at low expense. Low Code development fundamentally saves you hours of time spent on coding repetitive programs and features. Hence, your cost reduces marginally. By democratizing programming, Low Code platforms have made it inexpensive.
Developers are usually paid by hours. Since new startups are led by 2-3 people, they don't have money to spend on hours of development. They started using Low Code to create products. You can at least create a prototype and run some functions. Once you start generating revenue, you can pay the programmers to scale it.
Most of the top Low Code tools have free trials. Here's a list of Low Code platforms and their pricing[2] structure.
| | | |
| --- | --- | --- |
| Low-code development platform | Free Trial | Price |
| Visual LANSA | Available | As low as $8.34 per user/month. |
| Retool | Available | After the free plan -Team: $10 pm/user,Business: $50 pm/user,Get a quote for Enterprise. |
| Quixy | Available | Platform: $10/user/month, billed annually.Solution: Starts from $500/month billed annually. |
| Creatio | Available for 14 days. | Enterprise Edition: $25 per user per month. |
| GeneXus | Available | Startups: Starting $100/monthIndependent.Software Houses: Starting $250/month.Enterprise: Starting $900/month. |
| Zoho Creator | Available | Professional: $25/user/month billed annually,Ultimate: $400/month billed annually. |
| Web.com | No | Offer Starter Package – $1.95/month, Full price of $10/month after the first month. |
| Appian | Available | $90 per user per month. |
| KiSSFLOW | Available | $9 per user per month. |
| Mendix | The community version is free. | Single App: Starts at $1875/month.Pro: Starts at $5375/month, & Enterprise: Starts at $7825/month. |
| OutSystems | Free plan | Enterprise: Starts at $6250/month.Universal: Starts at $15000/ month. |
| Salesforce Lightning | Available | Starter: $25/user/ month.Plus: $150 /user/ month |
Faster Deployment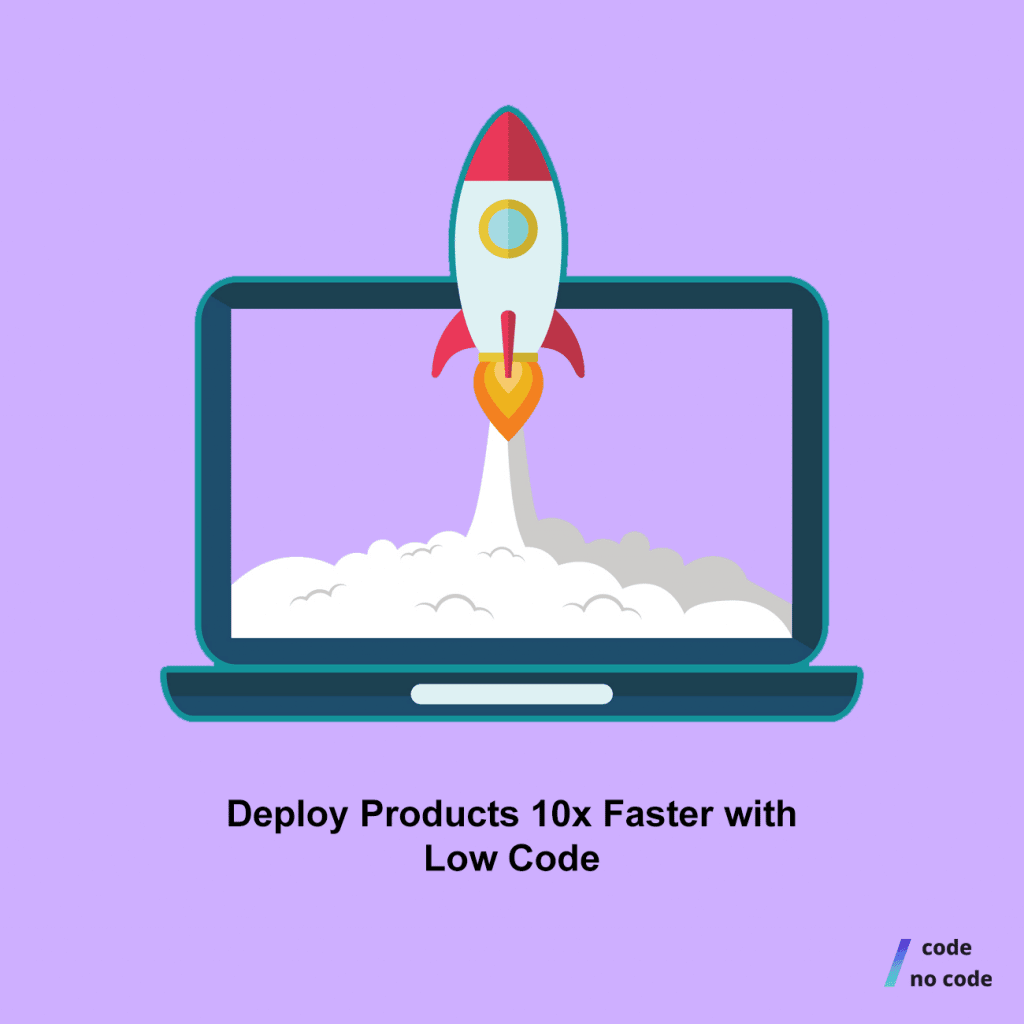 Low Code platforms allow you to deliver and deploy products much faster than coding. The acceleration in development provides you with faster validation and feedback from the market. The whole process of idea to execution is shortened.
"Low Code tools have the potential to accelerate software development as much as 10 times compared to traditional methods"

John Rymer from Forrester

[3]
Some functionalities like Drag-and-drop, easy integrations, and pre-built templates are available on every Low Code platform. These features allow you to quickly deploy your products through Low Code.
Reduces/Eliminates the Risk of Shadow IT
Shadow IT is a huge bottleneck and slows down business processes. When a user goes to the IT department with a request, they often have a lot of pending work in the pipeline. Hence, the user installs third-party apps to solve their problems.
The problem with these third-party apps is that they aren't verified by the IT team. It puts sensitive data at risk. Users can develop business apps with Low Code development to solve their problems and avoid putting their data at stake.
For example, the Marketing team(citizen developers) wants to create a portal to track and manage their content marketing efforts. They can use Low Code platforms like Airtable to create an internal application.
Higher Customer Satisfaction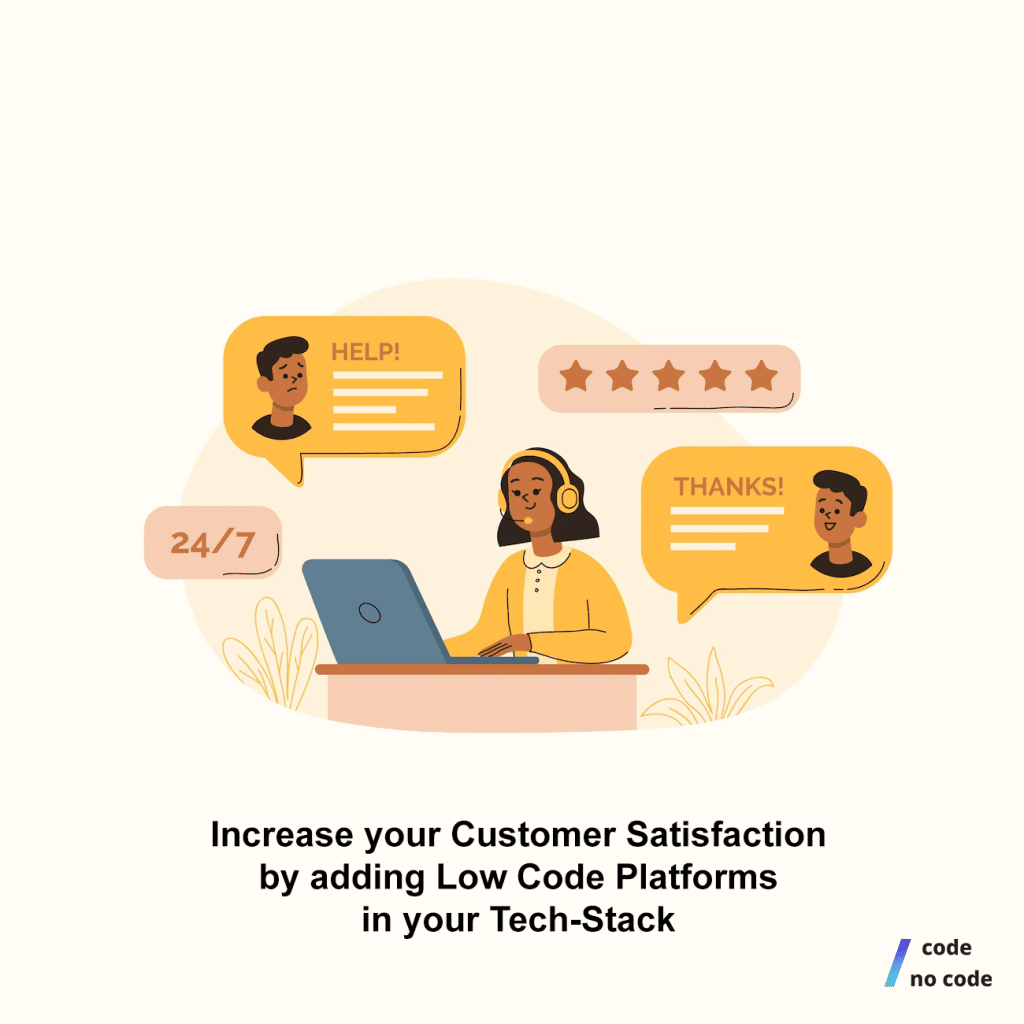 Low Code development helps you create an Omnichannel Customer Experience for all your customer requirements. These touchpoints are connected to every step of the customer journey from onboarding to support. Low Code platforms equip you with everything you need to delight your customers on their user journey.
Tools that are directly in communication with customers like Chatbots and Virtual Assistants can be created within a short span of time. This is one of the top actionable strategies to improve customer satisfaction.
Increased Automation by Business Users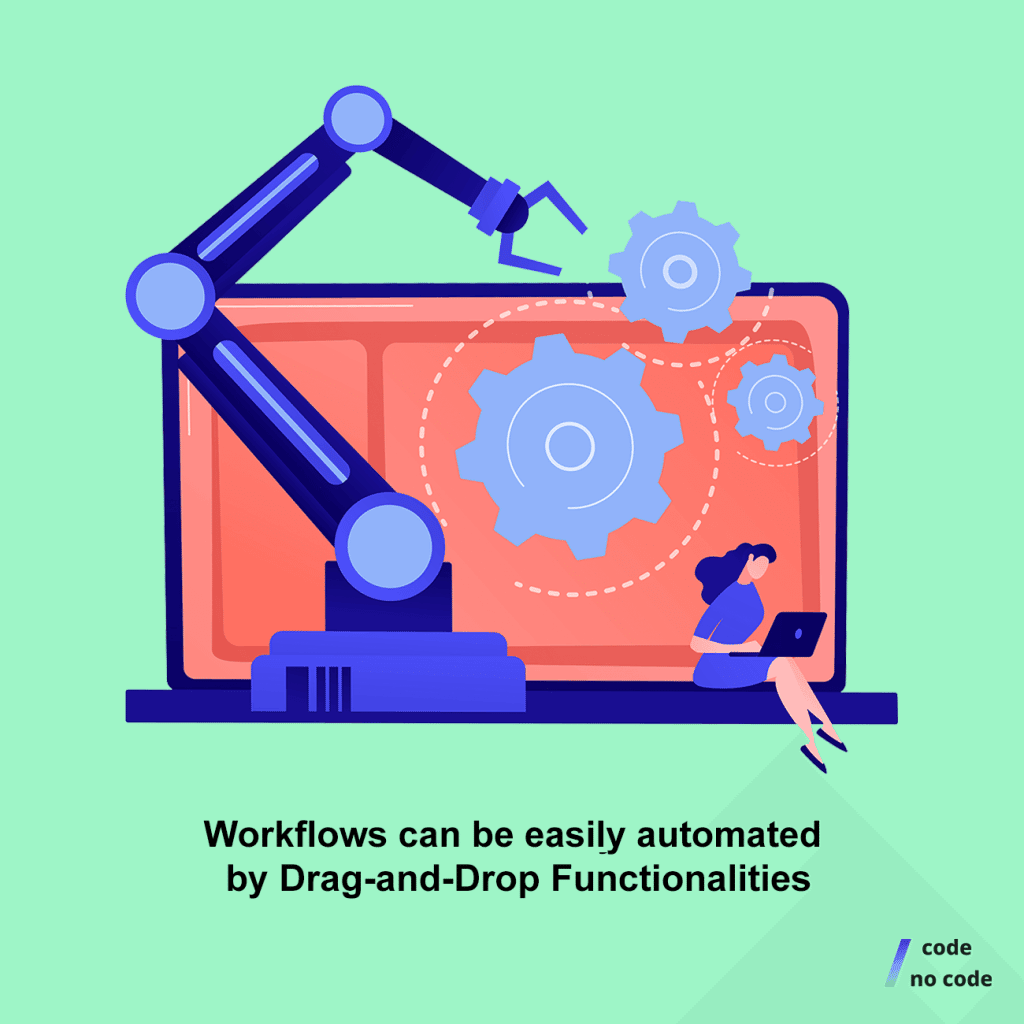 Although it sounds far-fetched, Low Code Automation has become mainstream. Rather than relying on complex code for automating small processes, business users have started using Low Code tools to visually develop and deploy the automation.
You need to have an intermediate level of understanding to build effective automation for their workflow. We have seen a lot of Low Code innovation in the field of Business Process Management. It also depends on the complexity of your automation. For example, if you want to automate Gmail with AppSheet, you will find tons of blogs and YouTube videos that will give you a step-by-step process of automating it. But if you have a specific requirement, you might have to build custom logic, define databases and test it for errors.
Higher Agility and Productivity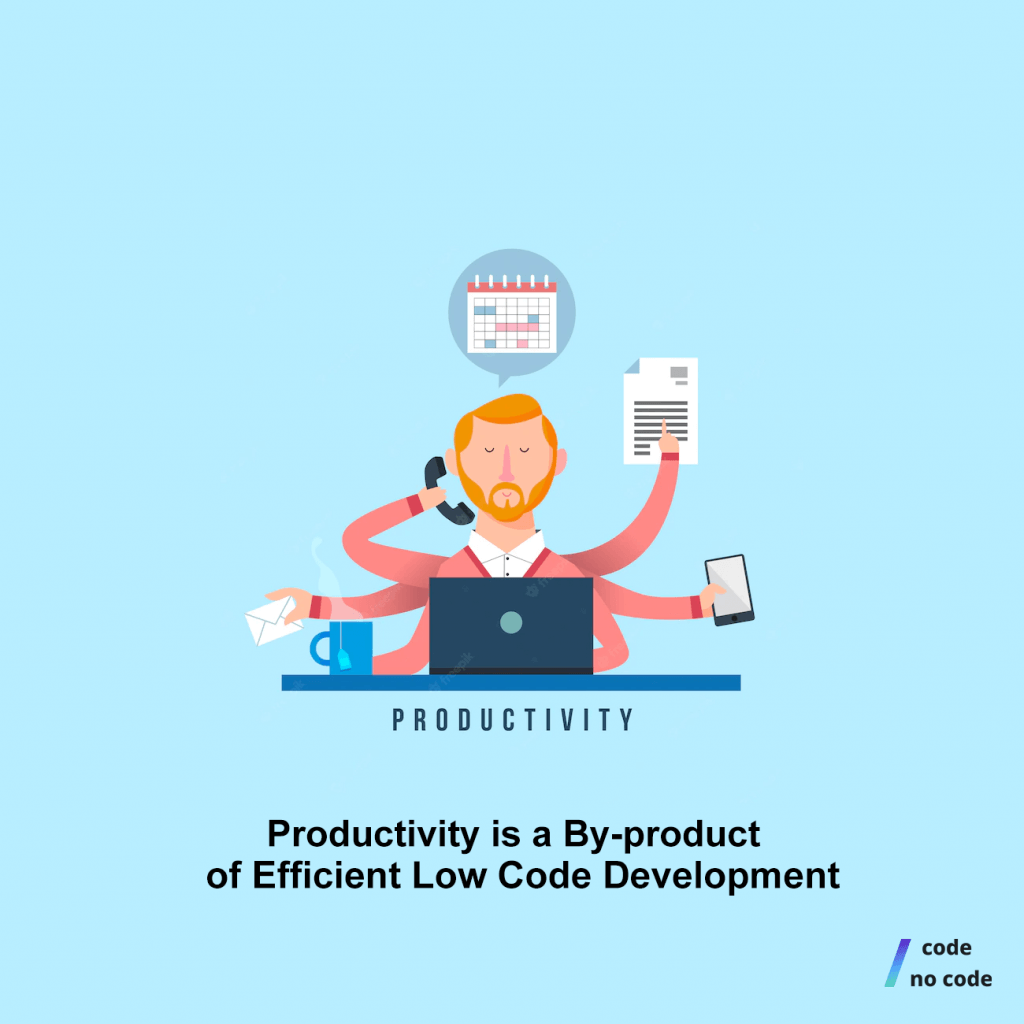 Low Code development tools give your business users the flexibility to respond faster to the market. The application development process becomes much more agile compared to traditional development. Most Low Code Platforms consist of pre-tested modules to deliver faster results in the application development process.
Due to the high scope of collaboration, multiple business users can work on the same app development project. This helps business users interact easily with context on processes increasing overall productivity.
Wrap Up
These were the top reasons why people choose Low Code development over traditional development. Although Low Code isn't flawless, it is evolving to become more secure and scalable as each day passes. It has made rapid development a reality. If you are confused about whether to choose Code, No Code, or Low Code for your next project, you can take our CodeorNoCode quiz and get clarity on the subject.