Does this sound familiar? A seasoned expert or maybe just a nerd or group of nerds, sitting in front of their computer, tweaking, screening, and typing code faster than you can read or understand. Well, that's pretty much what every non-technical person or business user sees when thinking about app development.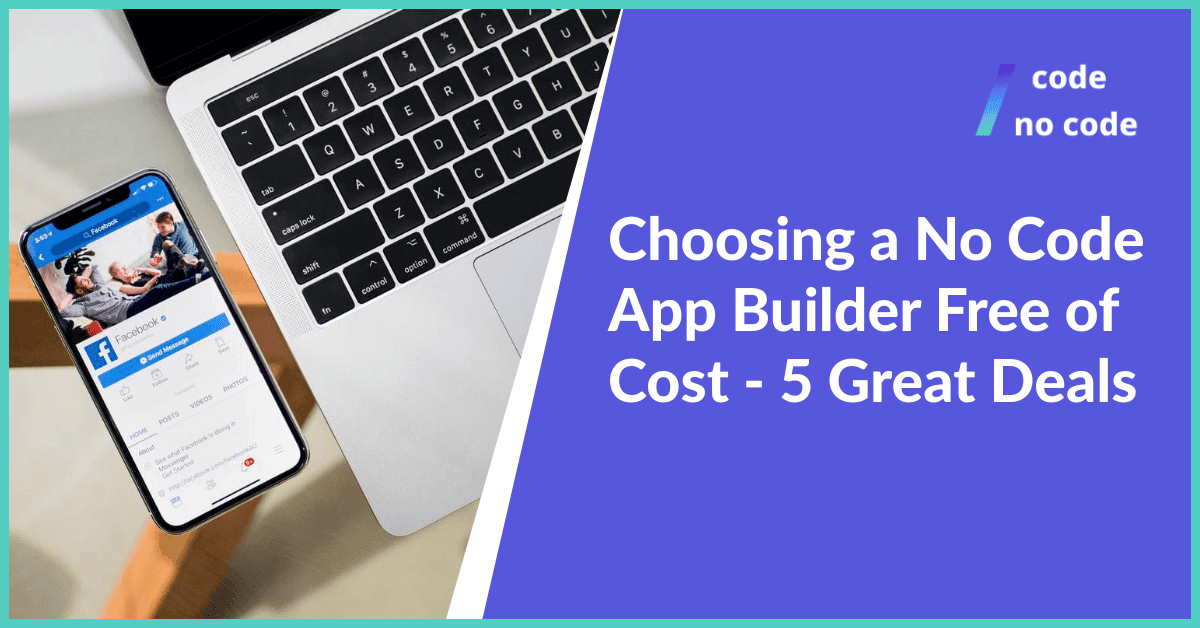 Such a scene starts to become more intimidating when you have that app creation idea or business app requirement you want to kick off. At that point, you realize you've been unfairly forced between a rock and a hard place.
Do you break the bank for up to $100,000 to get one of these expert developers to make an app? Or do you spend 10,000 hours learning how to create an app yourself? Both options are equally undesirable, especially if you're on a tight budget and want your apps built quickly.
As you ponder which would be the lesser evil, perhaps by a stroke of desperation, you dared to think, is it possible for me to make an app without coding, is there a free app builder? If it isn't apparent already, well guess what? Yes you can!
With the advent of Low Code/No Code technology, expert developers have made tools – No Code platforms/app builders – that specifically cater to the web and mobile app development needs of non technical users.
With these free app builder platforms, business users can create apps from scratch, business apps for any use case without writing a single line of code. Even companies with a solid professional developers team benefit primarily from these tools.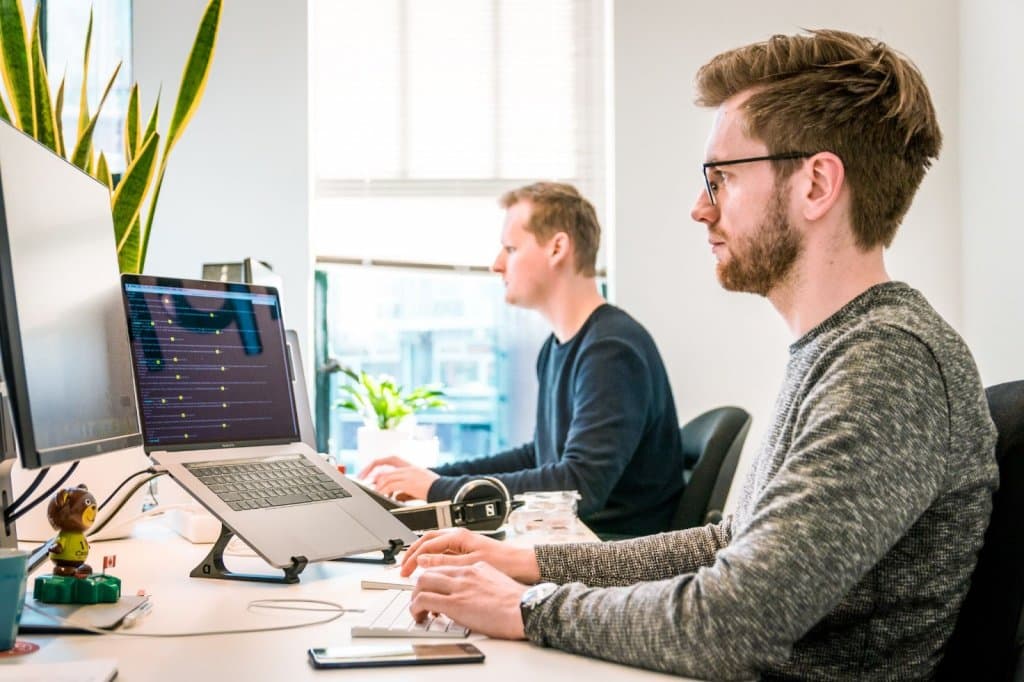 Photo by Tim van der Kuip
App building tools can assist[1] professional app developers in foregoing mundane tasks to focus on more important ones. That ultimately improves workplace collaboration and drives the time-to-market of apps.
So what's the catch? Seeing such a bright glimmer of hope would make anyone question what's been hidden. In this case, the catch can only really come from your end.
How so? Well, because there are so many options available in the app builder market, each with its unique capacities, it could prove problematic and time-wasting if you chose an app maker that didn't fit your requirements.
Luckily for you, we have a solution.
We've reviewed and selected 7 of the best free app builders. That way, even if it isn't exactly what you want, you won't be losing anything from your budget.
Before diving in, let's first answer a question we should've probably started with – Do you even need an app?
Do I Need an App?
The short answer – Yes. Why? There's almost no way to survive as a business in this age of digital transformation without an app.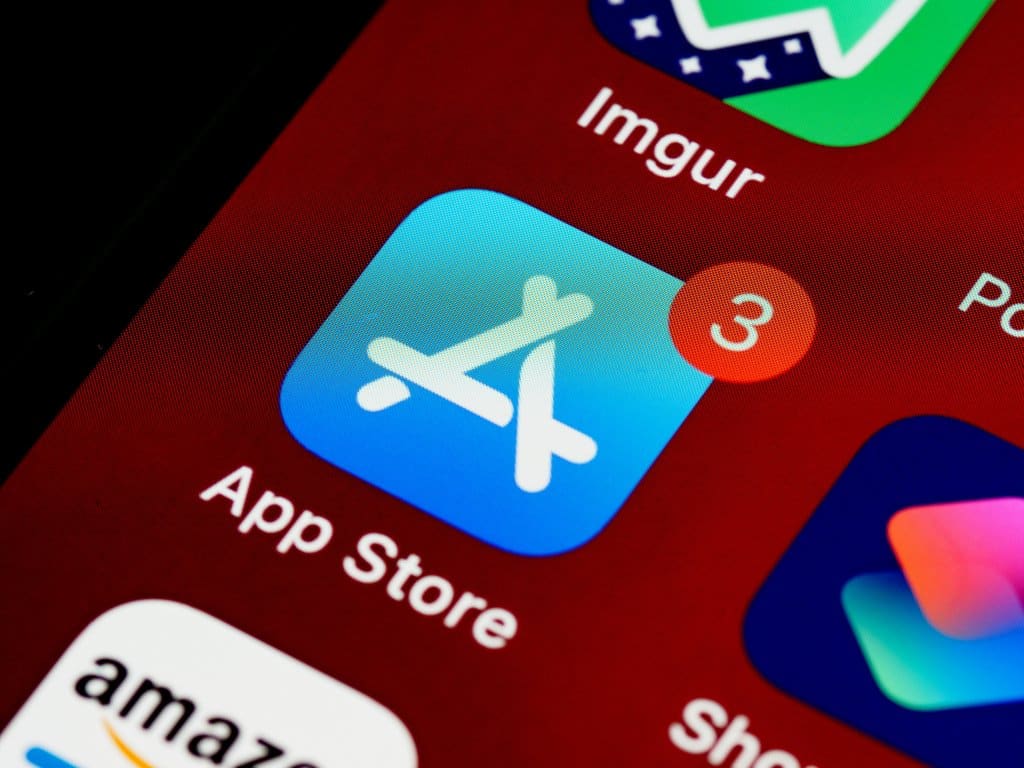 Photo by Brett Jordan on Unsplash
For many businesses, their digital presence largely depends on their app dynamics; does your business have a website or native mobile apps? Does it cater to android users alone or do you have iOS apps?
All these factors and more determine if your app will appeal to the public. Not to worry, the app builders we will be looking at are intuitive and responsive; as such, they typically support multi-platform app development.
Furthermore, besides those just looking to have fun building apps, any individual or team from any profession can primarily benefit from a custom web or mobile app.
Making your own app can clearly help externally; by boosting sales, providing value to customers, and improving brand image.
Also, apps can help internally; by streamlining key work processes and fostering team collaboration. Some may argue that generic web and mobile apps exist for such internal business tasks. But the problem with them is just that; they're generic.
It's highly unlikely to find a suitable off-the-shelf web or mobile app that fits right into your custom requirements effectively.
Fortunately, there's a better way with No Code app builders, which you or your team can use to build and customize your own applications without any programming skills.
On that note, here are 7 of the best free app builders for developing applications with no code.
7 Best Free No Code App Builders
If you're intent on building web, hybrid, or native mobile apps, any of these open-source and free app makers have all the features and functionalities to help you create your first app.
Very popular among users who want to create business-focused mobile apps is the free, cloud-hosted app builder – Appy Pie. With over 5 million customers[2] globally, including L'Oreal, Home Depot, and Accenture, since its launch in 2014, you can expect the best development process from this intuitive app builder.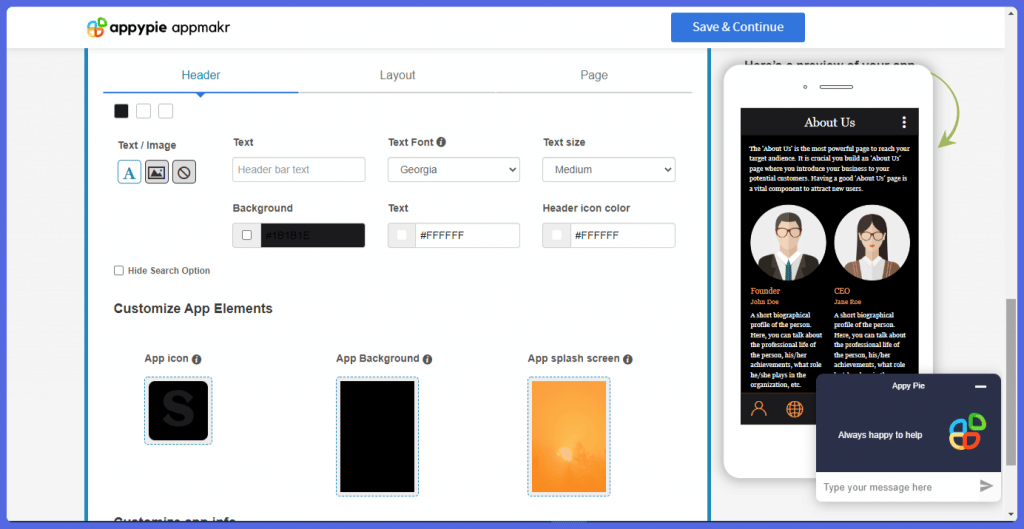 The app builder walks users through a 3-step process to create apps for free:
Select a category for the type of app you want to create – social, information, eCommerce app, etc.
Design and customize the app content and navigation with templates or from scratch.
Publish the app.
For the most part, Appy Pie app builder's interface is user-friendly. As a result, users with no coding skills can create apps in mere minutes, and what's more, without having to sign up to the app maker.
Appy Pie app builder is compatible with all popular mobile devices, including Android, iOS, Windows, and even Blackberry. Still not convinced? Check out our "Is Appy Pie legit?" article.
Appy Pie Key features
Appy Pie supports location services with geofencing and local push notifications.
Multi-platform mobile app support, including Android, iOS, and PWAs.
Pre-built app templates cover a wide range such as online store app, dating app, restaurant app, etc.
Send push notifications in real-time- 5000, 10,000, and 25,000 for the Basic, Gold, and Platinum plans, respectively.
Appy Pie Pricing
Appy Pie is a free app builder, but the free plan has limitations. For one, you can't publish your Android app or iOS apps on the Google Play Store and Apple App Store, respectively. To publish your apps on the app stores, and if you need more advanced features, you have to purchase one of the paid plans:
Basic at $18/month/app.
Gold at $36/month /app
Platinum at $60/month/app.
2. Adalo App Builder
As this powerful app builder famously claims – if you can put together a slide deck, you can create an app with Adalo.
Adalo is a No Code app builder that can help users design, create, and launch their apps and websites easily. It offers a platform for users to actualize their app ideas from categories like eCommerce, travel, networking, etc.
What's more, it doesn't even have to be a business app. Users can create an app for self-care or progress-tracking among other possibilities[3].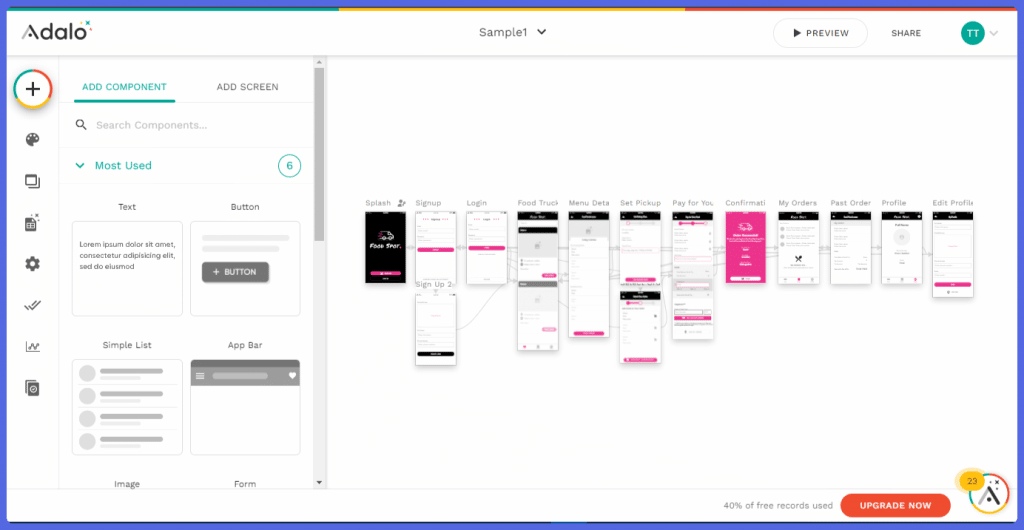 Adalo has assisted thousands of app creators in kick-starting their journey, and some successful startups[4] have made it a point to tell their story.
The smooth interface is endowed with about 25 pre-made app templates if you don't want to create from scratch. Moreover, you can introduce database configurations and interactions without any coding skills.
As with the other mobile app builders on this list, apps built with Adalo are truly native and as such, work perfectly on Android and iOS.
Adalo Key Features
Integrate seamlessly with apps and services like Integromat, Zapier, Mixpanel, external APIs, and much more.
Learn how to create websites and mobile apps efficiently with Adalo App Academy.
Maintain Agile app development process with Adalo's ability to maintain, adjust, and add features to existing apps.
Publish visually stunning apps for Android and iOS on Google Play Store and Apple App Store, no coding required.
Users can create and test their apps with the completely free Explore plan. But as expected, you can't publish them on app stores while on the Explore plan. Once you're ready to take your app live, simply purchase one of the premium plans:
Pro plan for $50/month.
Business plan for $200/month.
3. Glide App Builder
Glide is a free app builder program with a slightly different approach to app development than others on this list. Glide uses spreadsheets from Google Sheets, Excel, or Airtable, to intuitively generate powerful websites and native apps.
The backing sheet receives CRUD operations (create, read, update, and delete) and intuitively translates them to visual app elements.
One of the key benefits of using Glide is the ease and speed of iteration. Since you're using spreadsheets, editing your app data based on customers' feedback is straightforward. That makes it perfect for building early-stage MVPs.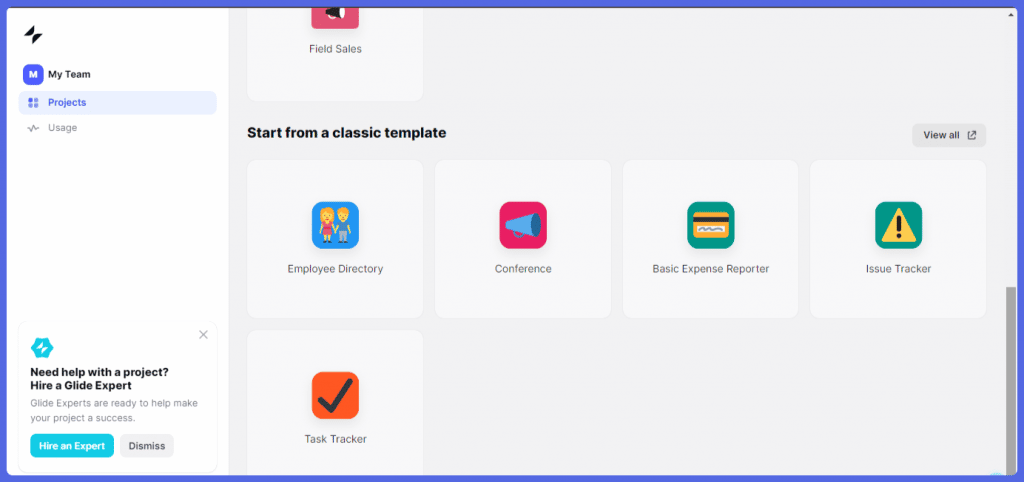 It is also great for making internal company tools such as an intuitive inventory management app, expense reporting tool, or an internal issue tracking app.
Glide provides built-in templates for most of the mobile app ideas you may have. Thus, it is not the best tool for complex logic and databases.
Also, while you can develop your mobile app for Android and iOS, Glide doesn't make provisions for publishing them to app stores. Apps created with Glide are shared via links instead.
Glide Key Features
Incorporate multiple app features including barcode scanner, webhooks, satellite maps, signature pads, and so much more.
Apps built with Glide function as PWAs and run on Android and iOS platforms.
Integrate with Slack and enforce efficient team collaboration.
Task, compliance, and transaction management features.
You can get the free app builder plan for individual use with up to 100 MB of file storage, 500 data rows, and 1,000 sheet edits per month. The premium plans come with more features:
Starter plan at $25/month.
Pro plan at $99/month.
Business plan starts at $249/month.
The Enterprise comes with custom features and costs.
As the name implies, Backendless essentially abstracts the more complex tasks of developing the backend of apps. It also has an intuitive UI Builder with components and blueprints for the frontend.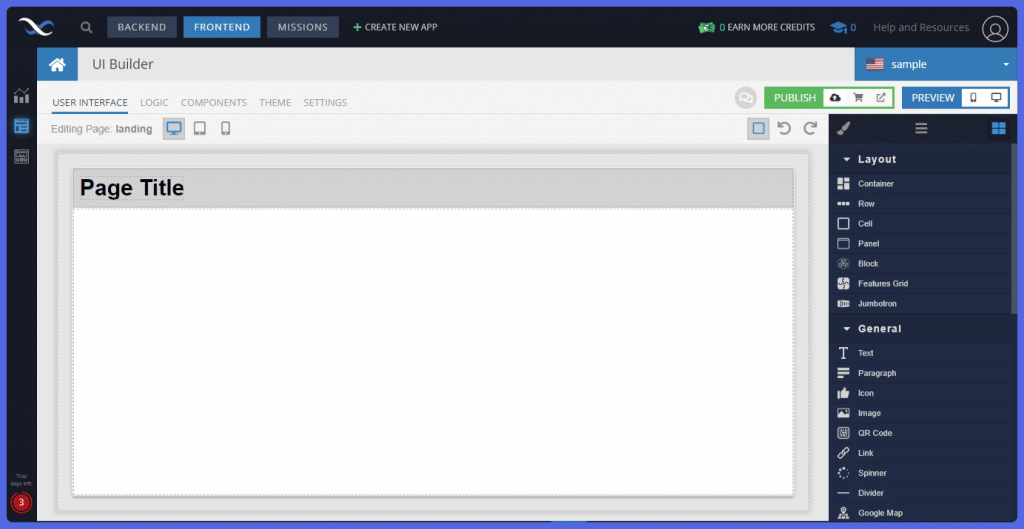 Backendless can also function primarily as a mBaas(mobile-as-a-service) in case users don't want to utilize the frontend tools extensively.
Even with such a clear distinction between backend and frontend development, Backendless ensures both sections communicate seamlessly without any integration.
Backendless supports web and mobile app development for Android and iOS, and when combined with Dropsource, there are almost no limits to what you can create.
Backendless Key Features
Option to modify backend logic with custom code.
Role-based security system to avoid potential internal errors and external threats.
Robust API support and management features.
Scalable serverless hosting capabilities.
In-depth app analytics to foster improvement.
Backendless Pricing
Start building your app without any costs with Backendless Cloud – Springboard plan. Then, when you're ready to scale database requirements and server resources, there are three available premium versions:
Cloud 9 for $25/month.
Cloud 99 for $99/month.
Backendless Pro plan costs and features are as per request.
Managed Backendless cost and features are alsas per request.
5. Mobiroller App Builder
Mobiroller is a popular favorite for solopreneurs and small businesses looking to build native apps for eCommerce and beyond.
Similar to Appy Pie, Mobiroller app maker presents a slightly different 3-step coding-free app creation process:
Create and customize your app using over 80 powerful features.
Test your iOS or Android app on the panel or generate an APK file to install on your mobile device.
Publish your finished mobile application on Google Play Store, Apple App Store, or Huawei App Gallery directly via the Mobiroller app maker platform.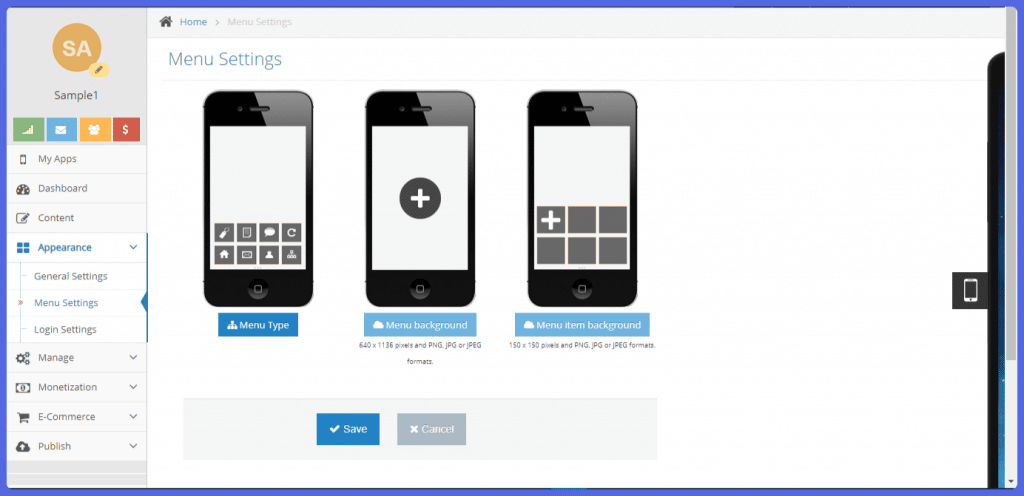 The user-friendly interface panel lets users add features using easy drag and drop functionality. Users can also add ads to their mobile application to earn money as the traffic increases.
Professionals and non-coders alike will appreciate how easy it is to create and customize multiple apps under the same developer account. Professionals especially appreciate Mobiroller's provision for converting a website to an app, but non-coders can enjoy this feature just as much as it requires no coding knowledge.
Mobiroller Key Features
Create your high-quality, fully-customized mobile app and publish it on Google Play Store, Huawei App Gallery, and Apple App Store.
Up-to-date active modules and features that keep up with upgrades in iOS and Android app platforms.
Retain customer engagement using real-time push notifications.
Monetize your mobile app with ads.
Integrate seamlessly with Google Analytics to track performance and demographics to improve user engagement.
Insert your website link and follow simple procedures to convert your website to an app.
Mobiroller Pricing
You can create and test your mobile app for free on the Mobiroller platform. However, when you want to commercialize your app, you'll need to purchase one of these premium plans:
Eco at $10/month.
Pro at $30/month.
Business at $50/month.
Final Thoughts
There are cases where app builders can't handle the complexity or level of customization you may need. In such cases, it's always better to work with a developer or an agency.
However, if any of the app builders offer the specific features you're looking for, or provide a template for the kind of app you want to build, you should give it a try. Thankfully, the app builders on this list offer freemium plans, so it'll be much easier to see it for yourself.
Meanwhile, if you'd like to stay informed on the latest app builder trends and news on your favorite app builders, give us a follow on Twitter.