The cost of creating technology has decreased with the No Code revolution. You can develop websites, web apps, internal tools or mobile apps without writing any code. Appy Pie is one of the leaders in the No Code movement which lets you build mobile applications without technical skills or coding knowledge.[1] Like every other platform, there are good things and bad things about this one as well.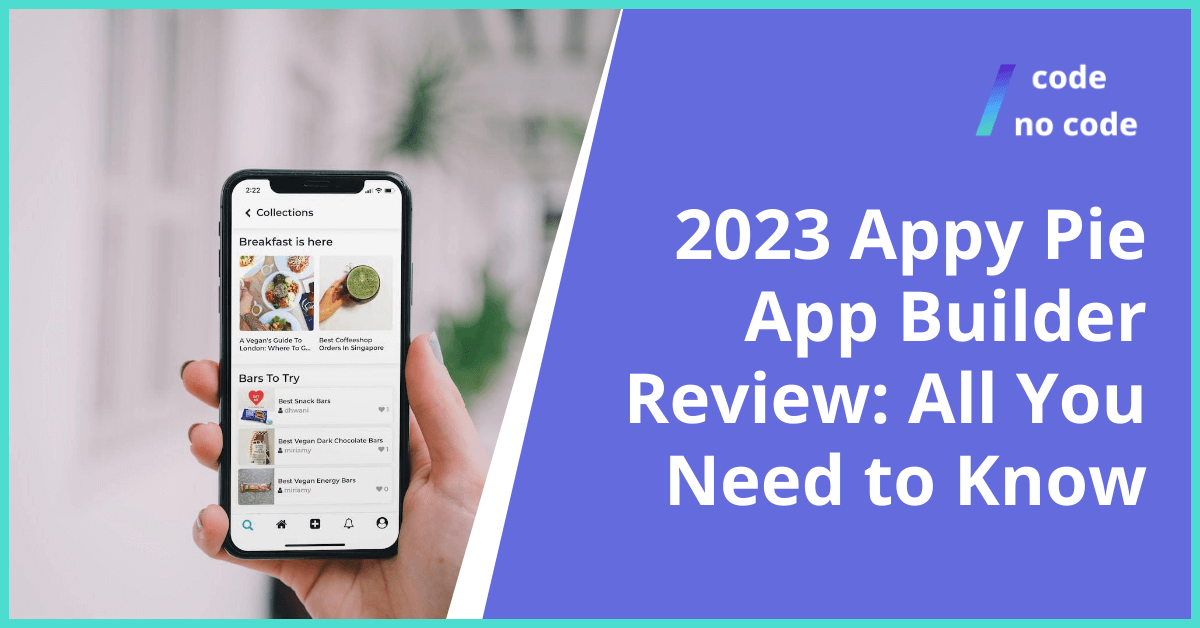 In this blog, we will do an Appy Pie app builder review. We will take you through all the features and list down the pros and cons of the platform. Before jumping to the review, let's have a quick look at the history and present of Appy Pie.
Started by Abhinav Girdhar in 2013, Appy Pie was a game development platform. In 2015, they decided to create No Code software with very specific app templates.
The software helped citizen developers create native apps like taxi and restaurant apps for their local companies or clients. This concept is still one of the core values of Appy Pie. As time passed, they evolved into a complete package.
Today, it is a robust mobile application development platform where you can create business apps, develop Low Code chatbots and even generate NFTs. They have over 10 million customers, including big names like L'Oreal, Home Depot, and Accenture.
Appy Pie App Builder Review
The mobile app development software is easy to use for first-time users. It is straightforward and has multiple templates for developing a basic mobile app. The best part about this app builder is how fast you can develop your first app.
Appy Pie App Builder Tutorial
Here's the process of building your first mobile app [2] in their iOS and Android App Builder:
1. Entering your business name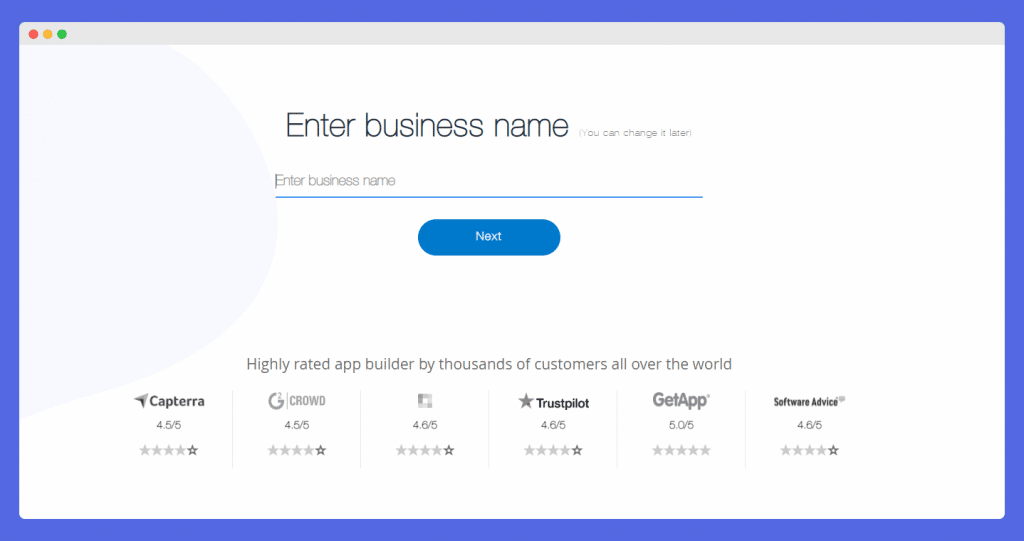 2. Choosing the specific app category
3. Picking a color scheme of your liking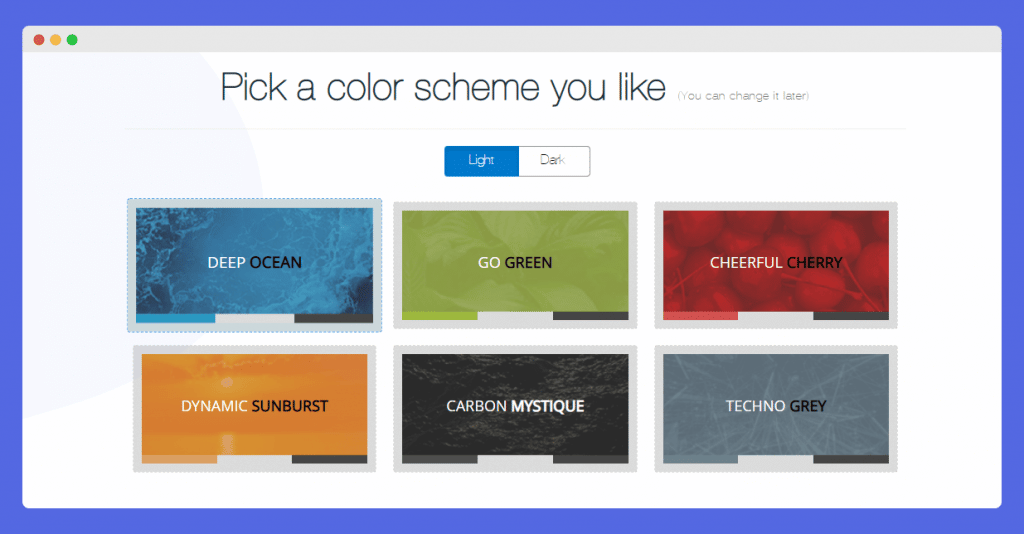 4. Selecting the device to build your mobile app (Either Android or iOS)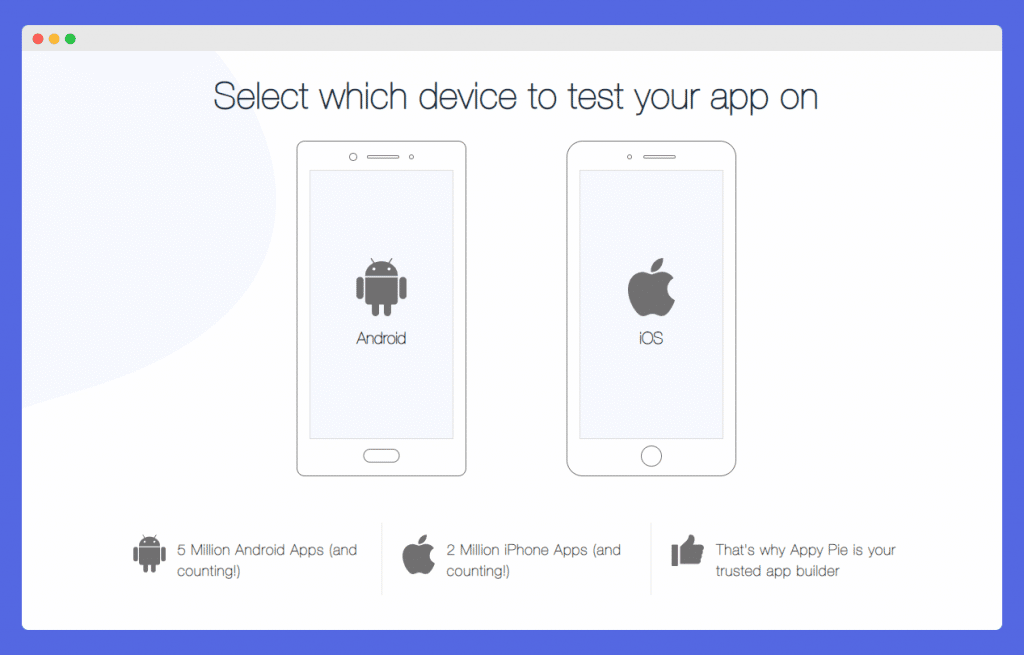 5. Add features you require in the drag-and-drop canvas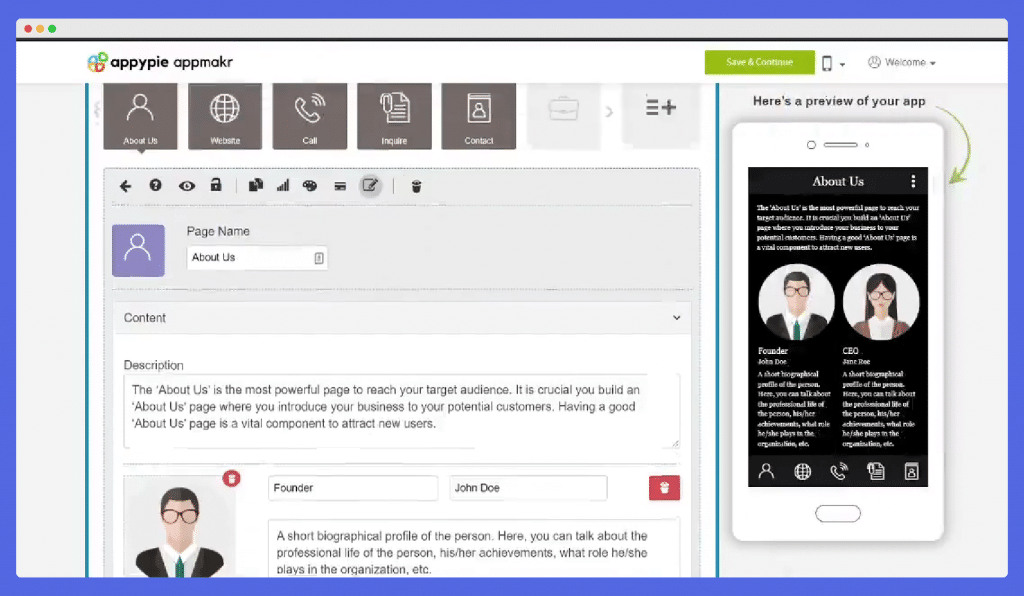 Where to Learn Appy Pie Mobile App Development?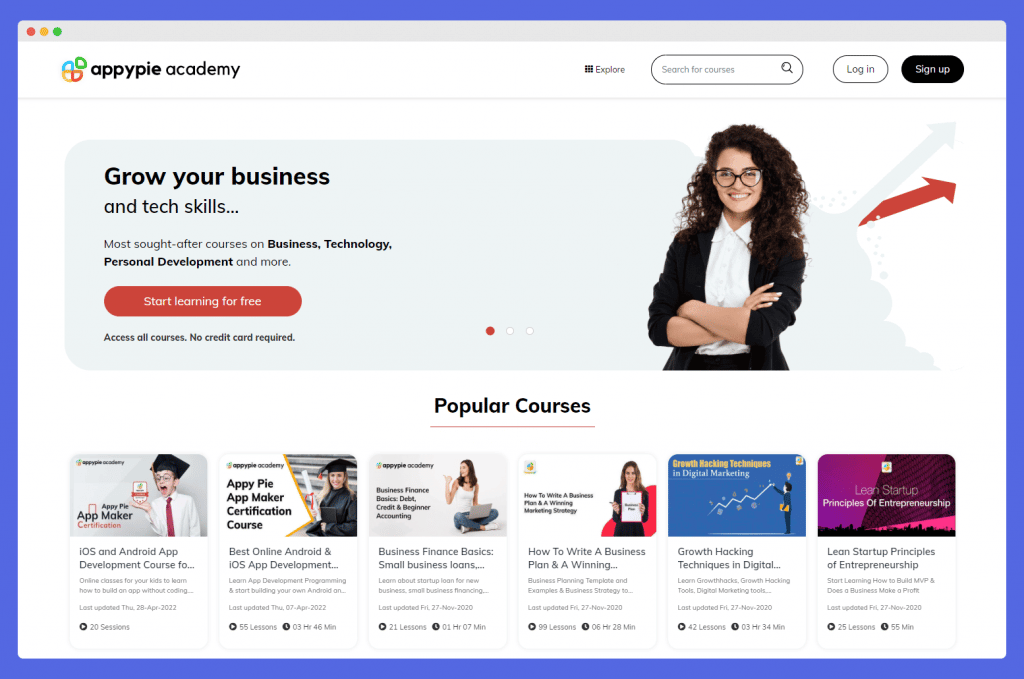 The No Code platform has a simple drag-and-drop interface. Even though it has an intuitive interface, it can come with a bit of a learning curve here. If you are trying to find tutorials, we recommended reading 'How to Create an App' from Appy Pie itself.
They also have a YouTube channel where Appy Pie's founder, Abhinav, teaches you the fundamentals of building a native app through drag-and-drop features. Lastly, there is Appy Pie Academy, where you will find practical tutorials for free.
The learning process is tough. They have tried to make it as easy and accessible as possible though and as a result, learning to build an app with Appy Pie is certainly doable for small businesses and professional developers alike.
There is no free plan but a 7-day free trial is available for testing the features.[3]
| | | |
| --- | --- | --- |
| BASIC | GOLD | PLATINUM |
| $16.00 Per App Per Month | $36.00 Per App Per Month | $60.00 Per App Per Month |
| Unlimited Bandwidth & Hosting | Unlimited Bandwidth & Hosting | Unlimited Bandwidth & Hosting |
| No premium features | Access to premium features | Access to premium features |
| Platform Supported: Android | Platform Supported: Android | Platform Supported: Android & iOS |
| Push Notifications: 5000/M | Push Notifications: 10,000/M | Push Notifications: 25,000/M |
| App Downloads: 500/Month | App Downloads: 1000/Month | App Downloads: 2000/Month |
| Email support | Email and Chat support | Email, Chat and Call support |
If you are past the learning phase and want to genuinely use the app builder, we insist you choose either Gold or Platinum plan.
The basic plan doesn't give you access to premium and advanced features which includes a coupon directory, E-wallet, E-commerce, social network, etc. In short, the premium features are why people use Appy Pie.
For example, if you are building a gym app, you would be interested in a survey to collect people's feedback on a daily basis. This would be a core feature of the app. You can't add this feature with the basic plan.
Additional Cost
Apart from the plan, there are 3 other stages where you might have to pay. Appy Pie is completely transparent about these costs.
App stores charges – Apple App Store charges a $99 annual developer fee and Google Play charges a one-time fee of $25.
Add-On Package – This allows you to white label the app, as well as add custom brand colors. You also get a dedicated account manager with the app builder and unlimited resubmissions for your app. It costs 2x your plan.
Limit extension – In case you want more notifications or app downloads, they would charge you a nominal fee of $0.001/ notification and $0.009/download.
Pros and Cons of Appy Pie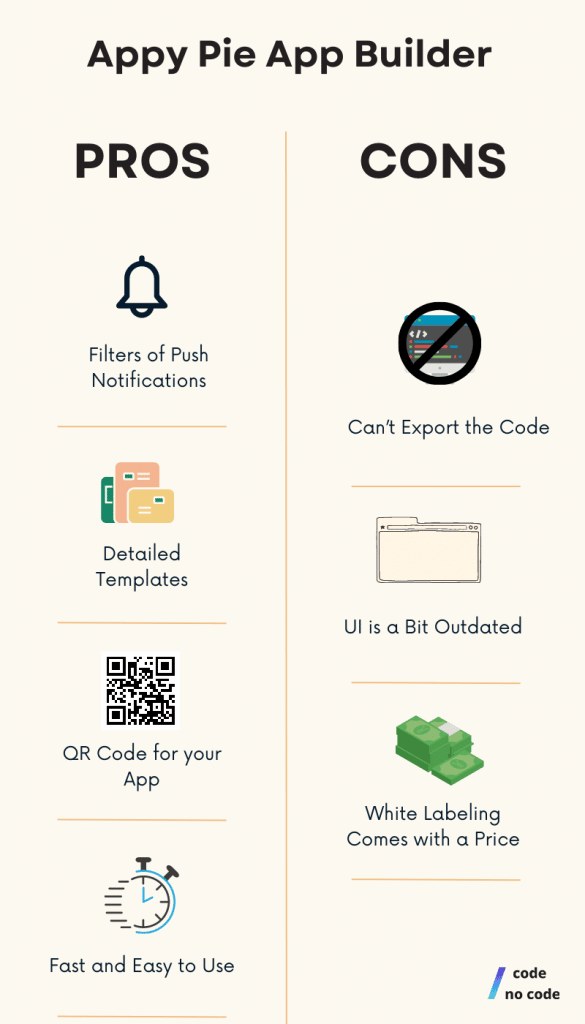 Pros
Filters of Push Notifications Functionality
Notifications have the power to reach the audience and grab their attention with a call to action. You can target specific geolocation to send push notifications and also schedule them according to your requirements.
For example, if you own a restaurant app, you can send notifications right before people's dinner time in your area. This might increase the orders or foot count at your restaurant.
Templates
There are 5 major app templates available from Appy Pie.
Restaurant App
Business App
Shopping App
Radio App
Church App
If you are planning to build any of the above-mentioned apps, you must choose Appy Pie. They have created detailed templates as it was a template-based builder before it became a full stack platform to develop mobile apps.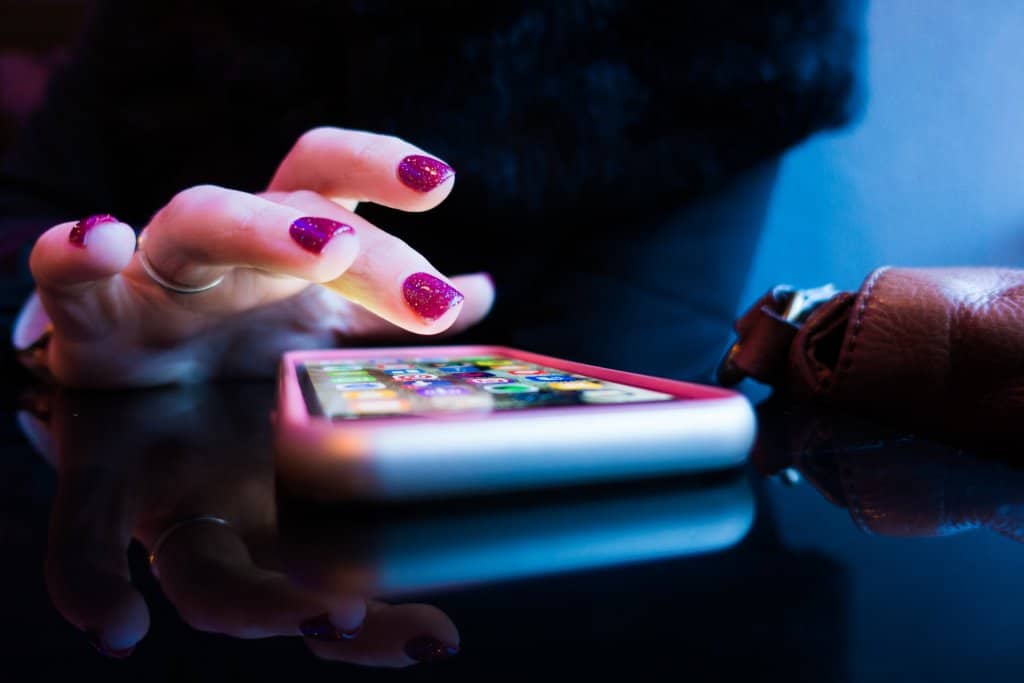 QR Code for your App
Your app will be available as a QR code or a link for anyone to download. This feature is extremely valuable for beta testing new apps with a small user base.
Fast and Easy to Use
Appy Pie promises speed. Once you have cracked the basics, you can build an app within a couple of hours. It is perfect if you are someone who has more than one mobile app idea and wants to publish multiple apps at a time.
Cons
Can't Export the Code
There is no option to export the code. The code will stay in Appy Pie's Database. Appy Pie LLP will lock the app when you cancel the subscription. This means if you want to migrate from the platform, you would have to start from scratch.
UI is a Bit Outdated
If you look at the User Interface within the app, you can see it's a bit clunky and outdated. Compared to other app builders like Bubble or Draftbit, it feels almost ancient. If you are not planning to make a customer-facing app, this really doesn't matter much.
White Labeling Comes with a Price
None of these plans would let you remove the Appy Pie branding. If you plan to white label the app, you pay the amount of your plan twice.
So if you are buying a $36 plan, you pay a total of $72/month to remove the branding. It comes with other Add-On benefits that we discussed earlier.
What's the Word on the Street?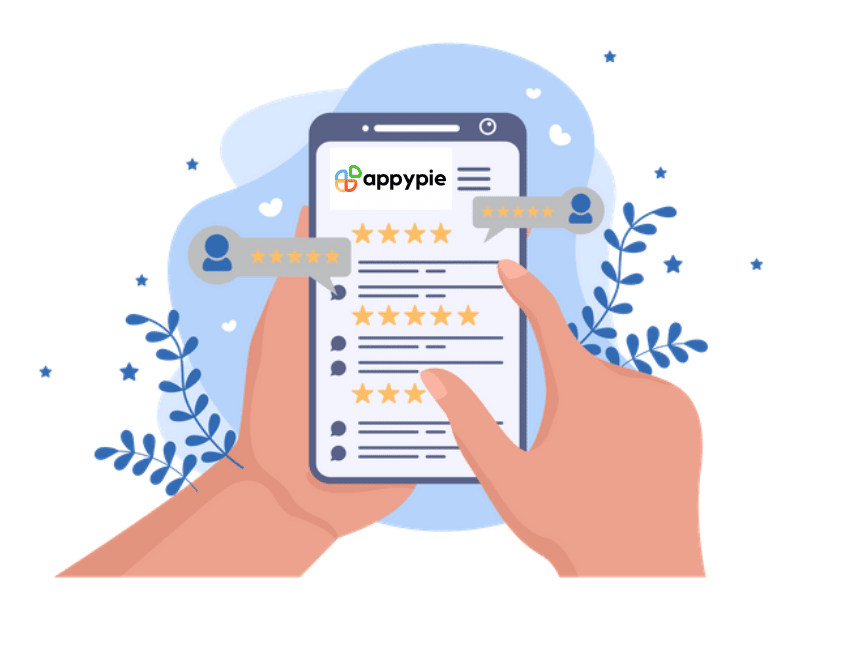 It is quite meta for an Appy Pie app builder review to include reviews from other people. But here's what customers are saying about the platform. Their customer reviews average 4.7 stars from almost 900 people on G2.com.
Most people have commended their customer support team for being quick and efficient.
The most common scope of improvement suggested by the users was the increase in the number of templates and themes. That is completely accurate. Currently, it feels like we're being limited by a small number of themes.
Getting more themes and templates can add more value to this platform.
Also, a lot of people are loving the Add-On package. If you buy the Add-On package, your account manager ensures that you don't get stuck during your app development process.
This comes in handy for a lot of citizen developers who are completely new to this field. These are some of the reasons why it is amongst the top No Code mobile app builders.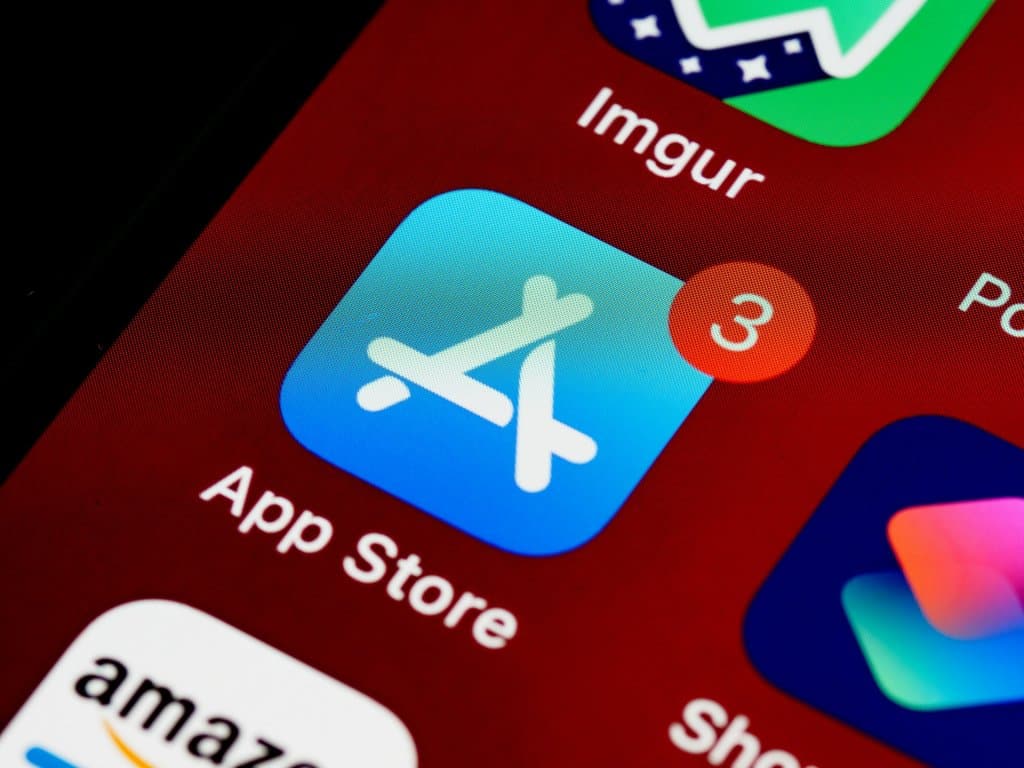 If you are planning to build the next Facebook or Spotify, you can't do it with Appy Pie or any other No Code platform. However, Appy Pie is great for side hustles or small apps to solve local problems.
For example, if your church wants to create a digital bulletin board with some extra features, Appy Pie is perfect for that. As long as you figure out a way to break even your cost of the plan per month, you are good to go. Let us know if you have any other doubts or queries before making a decision, we'd be happy to help.
Follow us on Twitter for more such detailed No Code reviews and tutorials.