No Code development has gained immense popularity in the past few years. The whole movement is consistently trying to make the power of developing technology accessible to everyone. No Code Communities help individuals take a deeper dive into the world of No Code tech. These communities are built to bring together like-minded people at a common place to discuss ideas and solve problems. You can find new tools, solutions to your problems, and hacks to make your journey easy at these No Code Communities.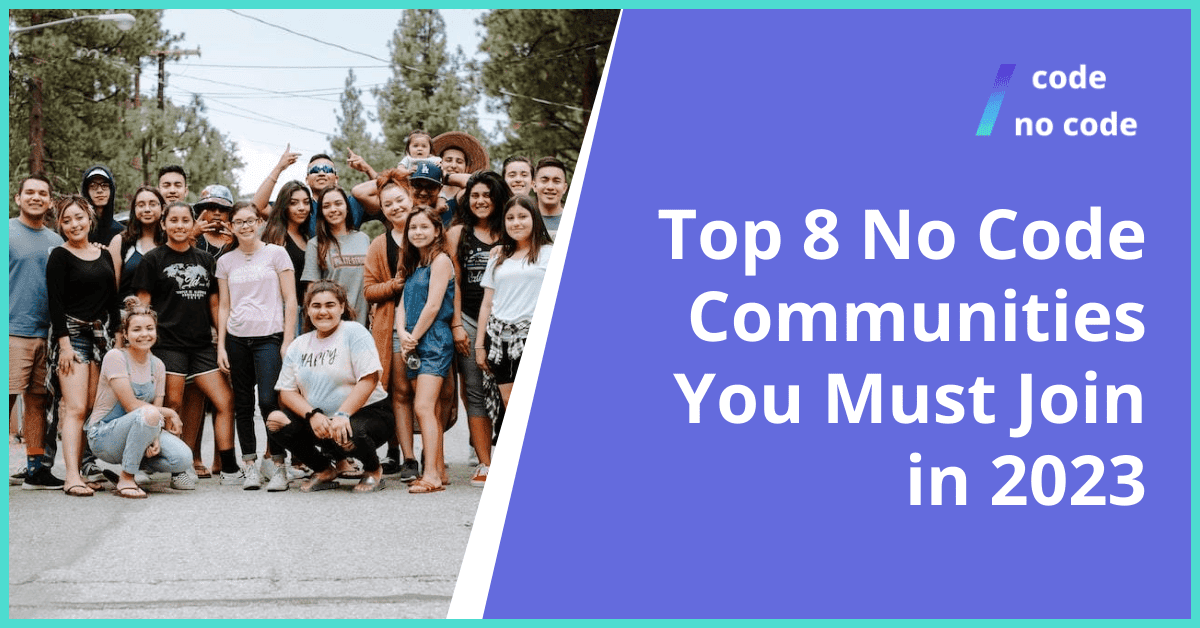 "If I have seen further, it is by standing on the shoulders of giants."
– Isaac Newton
In this blog, we have curated a list of these communities. But before jumping to the list, here are the reasons why you must join any of these communities.
Why should you join a No Code Community?
Meaningful Connections: If you put the field of tech in a timeline, No Code is a fresher concept compared to others. It is easy to feel stuck and lose motivation. When you join a No Code community, you will be connected with people who are on the same journey as you. It will help you build meaningful connections and expand your network in the field. This could also help you find business partners or project collaborators.
Peer Support and Validation: When you start working on an idea, it is important to have a fresh set of eyes to give their perspective and thoughts on it. No Code communities will help you validate your idea and inspire you to be more productive. Peers that have invested their attention in your idea will keep you accountable for your work.
Facilitate learning: Almost all of these communities have some learning features. These communities are packed with tutorials, FAQs, and courses for different No Code tools. It is also a great place to learn about entrepreneurship and the marketing of products made of No Code Tools. You will get many inspiring ideas that could help you learn and grow faster.
Top 8 No Code Communities of All Time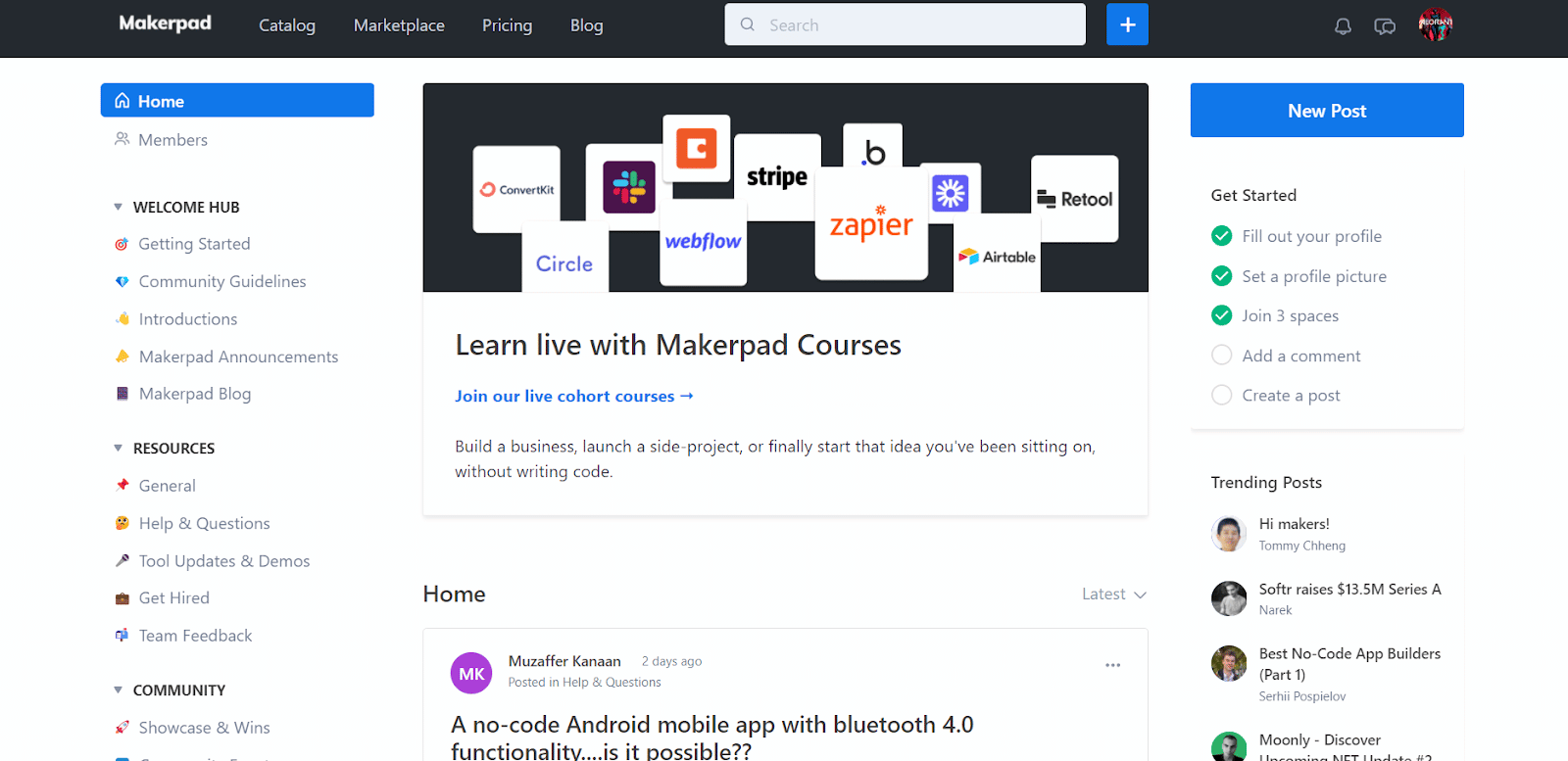 Makerpad is a platform that teaches entrepreneurs and thinkers to build products without writing any code. As mentioned by the founder Ben Tossell on a podcast[1], he started Newco as a Typeform where he would record tutorial videos with Loom and share it with people who signed up. After a year, he launched Makerpad as a No Code guide to everyone who wanted to learn.
Free community
Free Community at Makerpad includes general resources to learn about No Code tools, a question-answer space, tool updates and demos, and hiring updates for No Code experts.
Paid Community – $249/year or $600 for a lifetime
The paid community plan has these two price options. It has a private resource of 350+ instructional videos made by experts in the industry, pro members' discussions, and a space to collaborate with other pro users[2].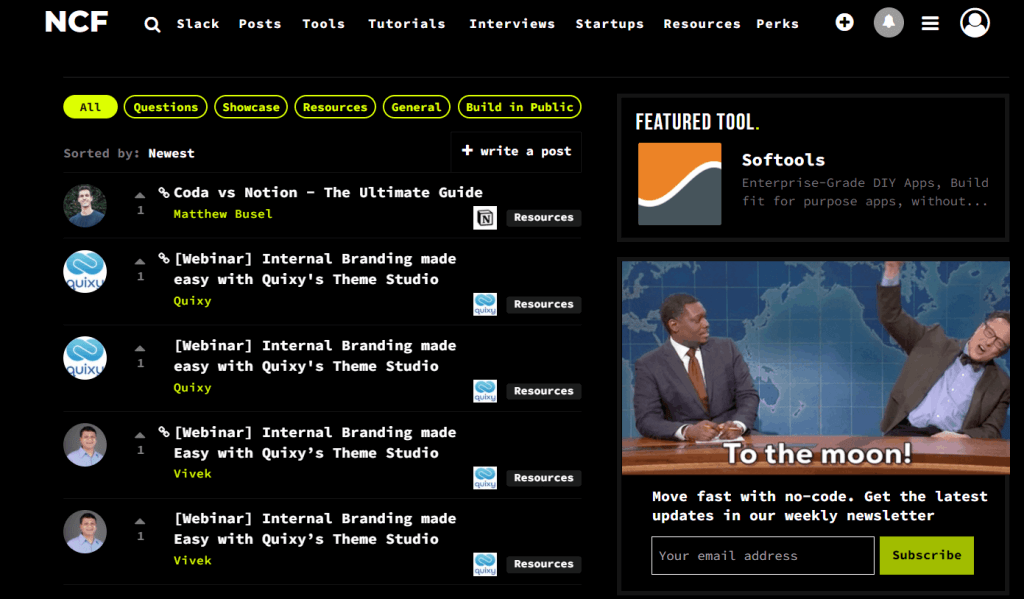 It is a No Code community that was created for founders (as the name suggests), entrepreneurs, and No Code enthusiasts. But due to its popularity, it has also become successful in attracting everyone from professional software developers to non-technical users. Their vision is to provide the tools you need for building a profitable business with No Code and engaging in a supportive community of founders through Slack channels.
Free plan
Their free plan gives you access to sharing your posts on the community and limited access to a few other resources like interviews of the popular founders.
Paid plan – $99 One time payment
It currently has a $99 plan that provides you with complete access to the community. It includes slack groups, tutorials, cost benefits of No Code tools, research and data on the No Code landscape, and filters to sort content on the site[3].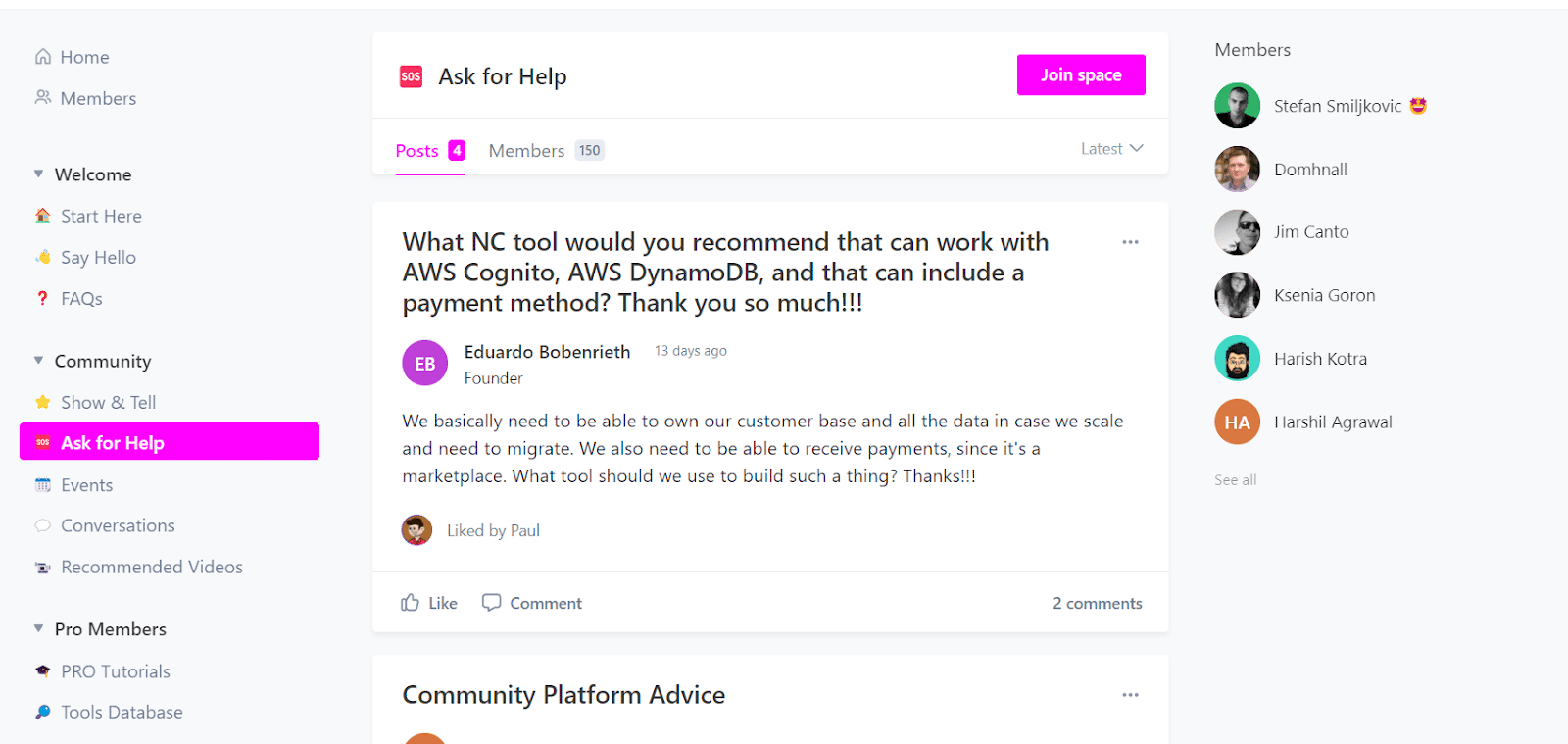 No Code Devs is a comparatively new community of more than 10,000 No Code developers and enthusiasts. What sets this No Code community apart is "Launch". It is a space where you can discover new No Code products, tools, and courses. It is a growing community and you can leverage that by getting in on the ground floor.
Free plan
It includes free access to posts, QnA, events, conversations, and a few tutorials. No Code Devs recently started a YouTube Channel which includes specific use-case videos on some of the top No Code tools.
Paid plan – $10/month
The paid plan gives you full community access, monthly AMAs with experts, Members only tutorials, and a live member chat option. It is a great way to learn about new tools and keep in touch with like-minded people in the same industry[4].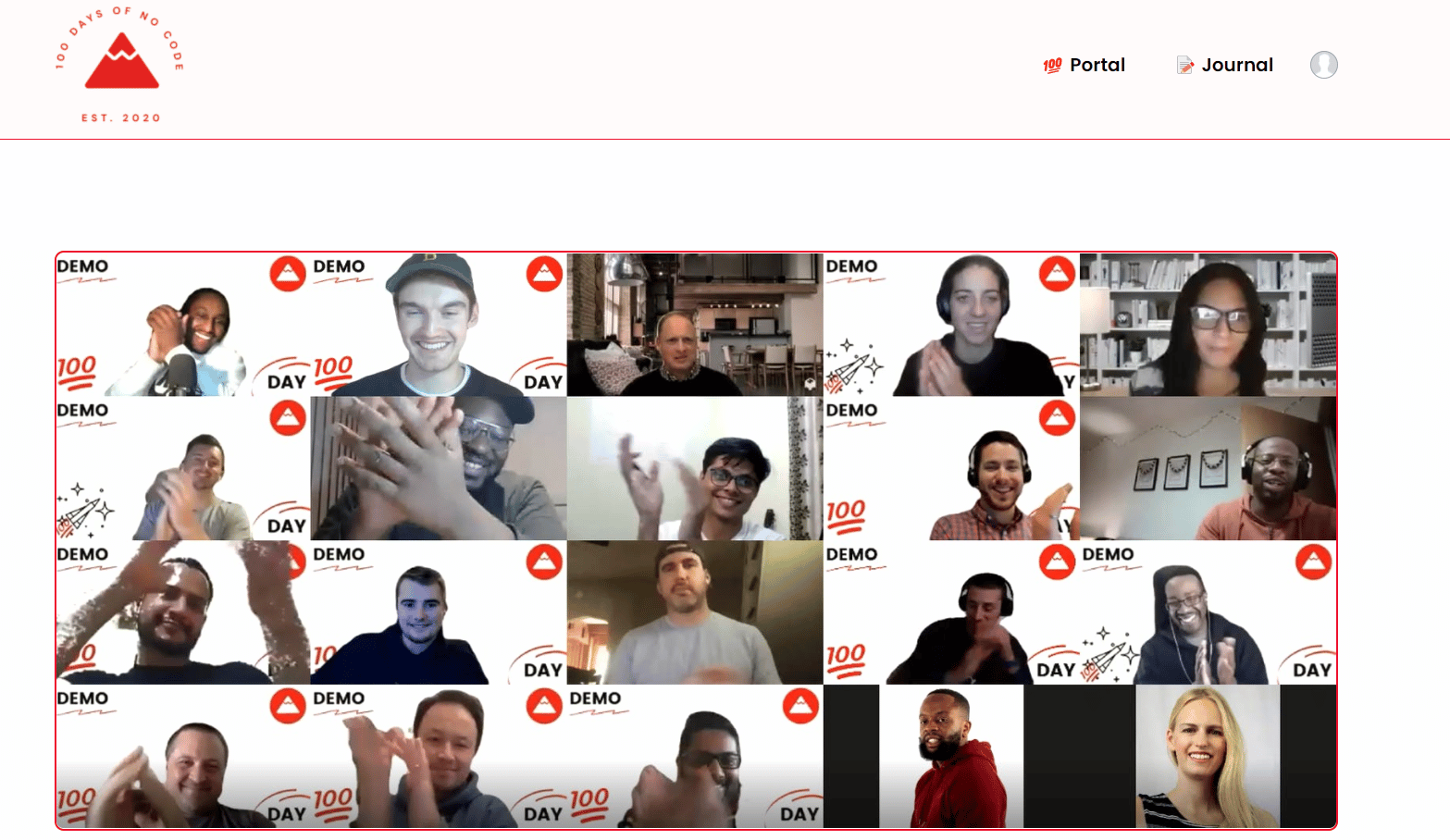 100 days of No Code is more than just a community. It is a 100 days journey that helps you learn about basics to expert level No Code development. It helps you bring your idea to life within 100 days of work. It enables learning through bite-sized courses of 30 mins each day. There is a social factor that makes this community so engaging. The people are willing to take out time off their day to validate your ideas and keep you accountable for your work.
Free Plan
It gives you access to 100 days of No Code challenge where you can learn about No Code platforms and simultaneously build your tool. It also adds you to the weekly newsletter for No Code trends and updates. It could work as a stepping stone for your idea.
Paid plan: £4 or £8
It adds you to an exclusive slack community that you can access whenever you want. Peer support can help you get the best out of your work. Along with this, you also get enrolled in a No-Code Beginner's Course and get to be a part of 1 on 1 onboarding session with the No Code experts.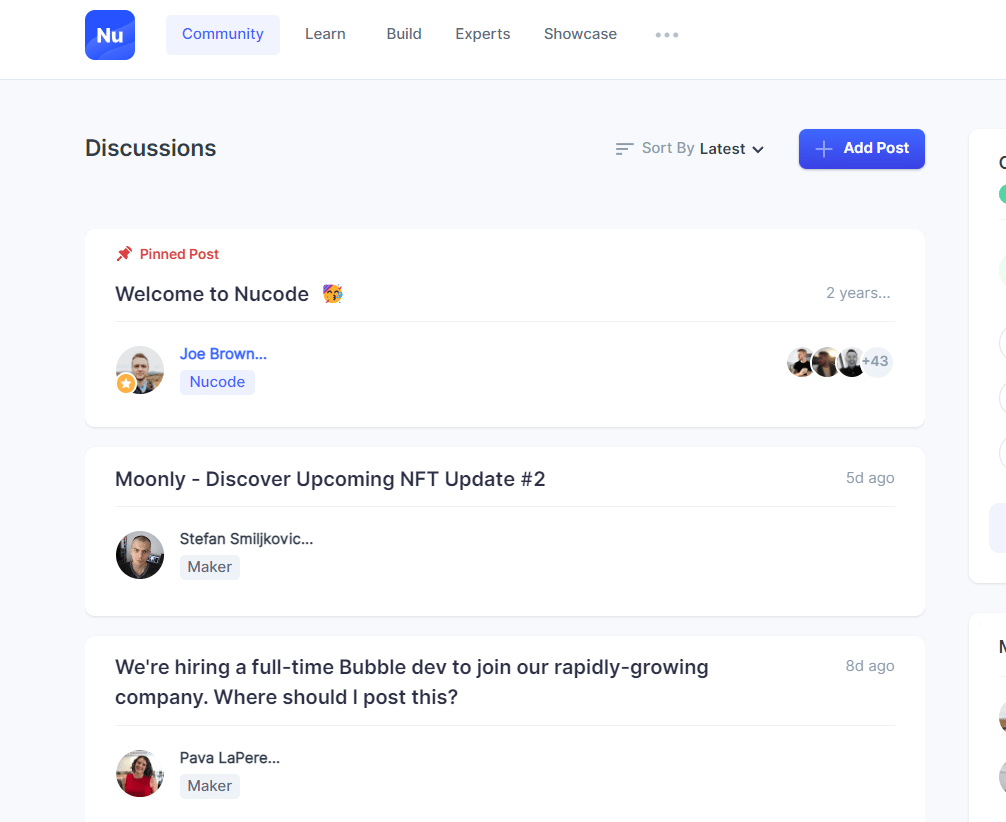 Nu Code is a free community to learn No Code as well as hire No Code experts easily. There are tutorials for specific use cases for Bubble, Webflow, Airtable, and Google products like Sheets, Forms, and Analytics.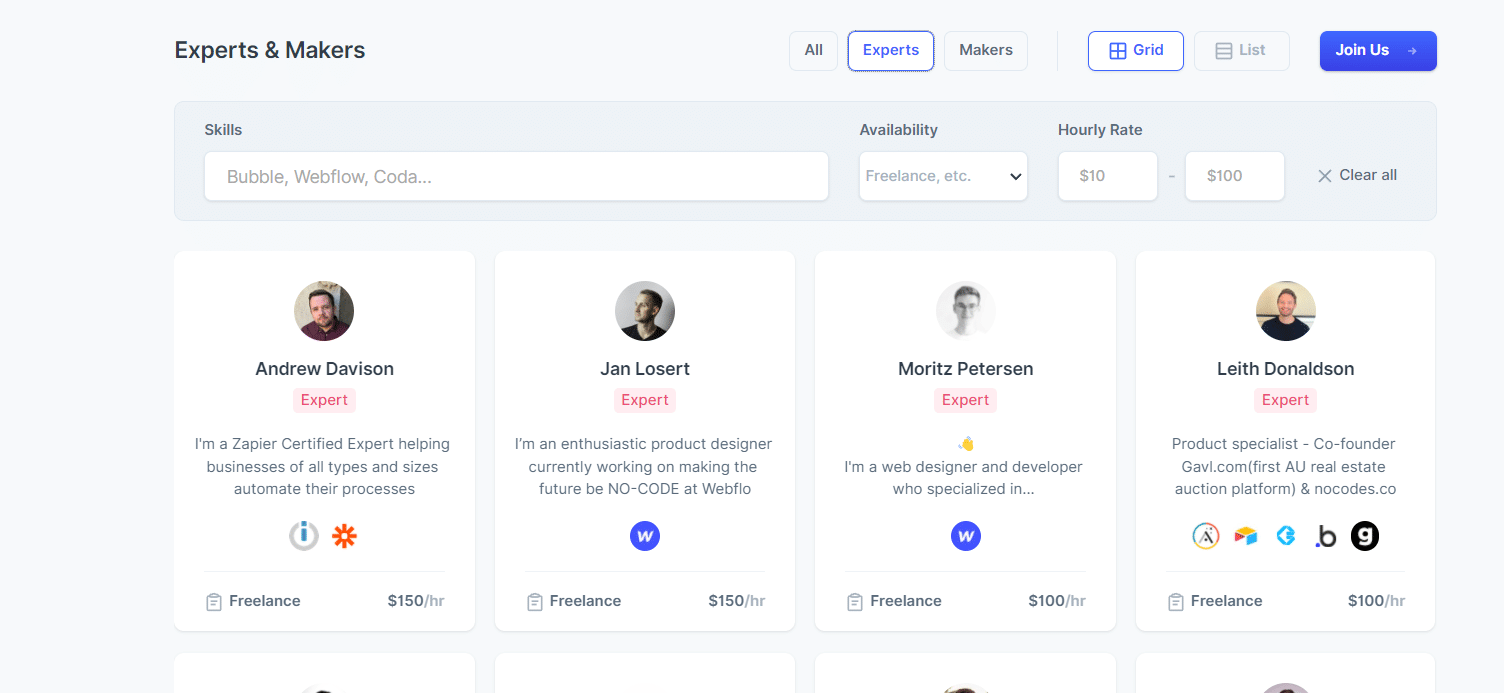 Although Nu Code has a feature that makes it different from other communities. It has a list of experts along with their expertise and approximated hourly rate. If you are working on a project and want to hire someone, you just have to add your hourly budget and you will be connected with the respective individual according to your requirement.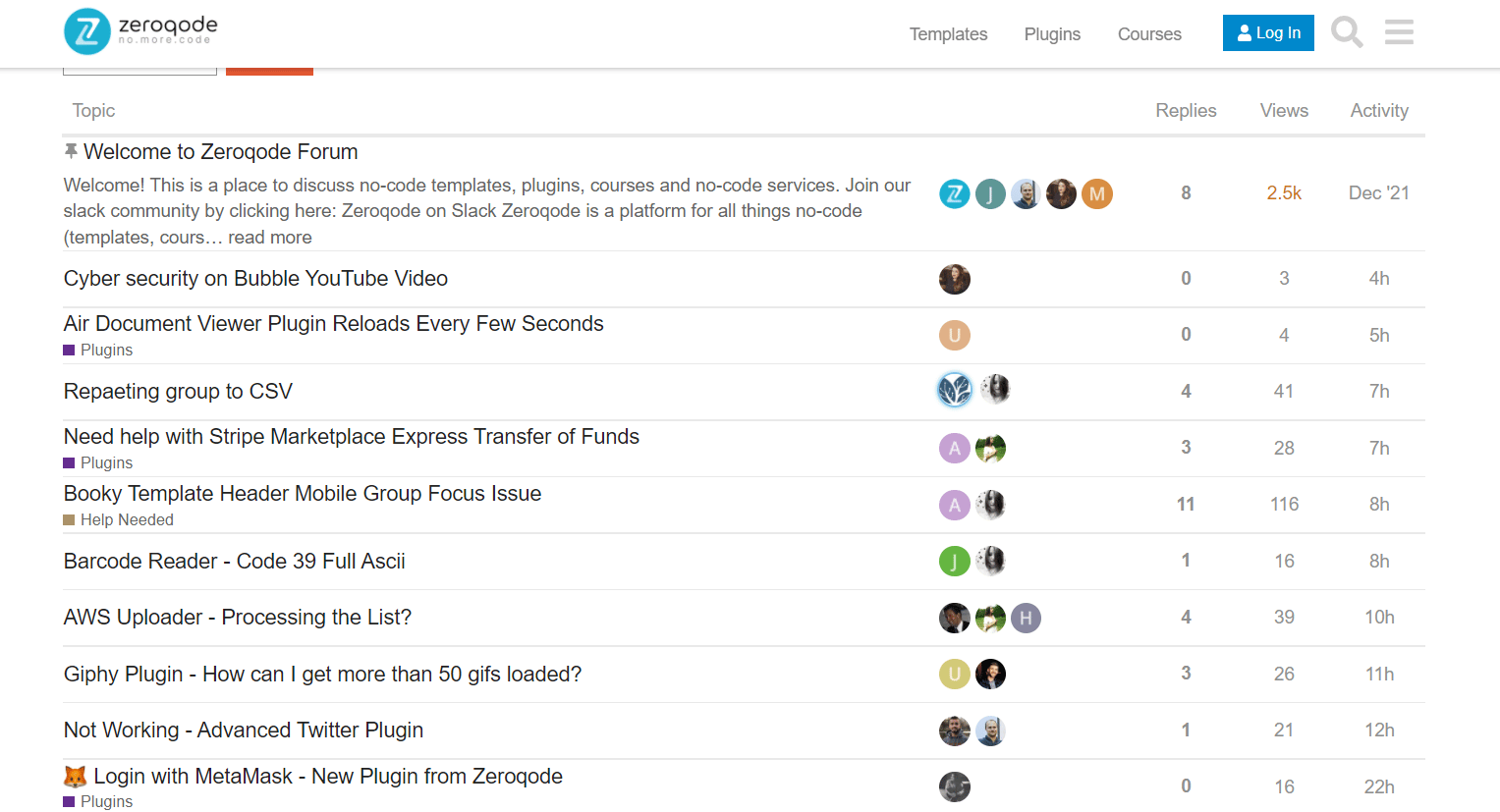 ZeroQode is a free community forum for discussing various No Code templates, plugins, and services. It is one of the simplest communities out there. If you look at the screenshot, it has an old-school internet bulletin vibe to it. If you have a problem with No Code or can't understand something, use Loom to take a screengrab of that problem and post it on this community. People around the world will see and solve your problem. ZeroQode also has a list of templates and plugins that will help you supercharge your No Code journey.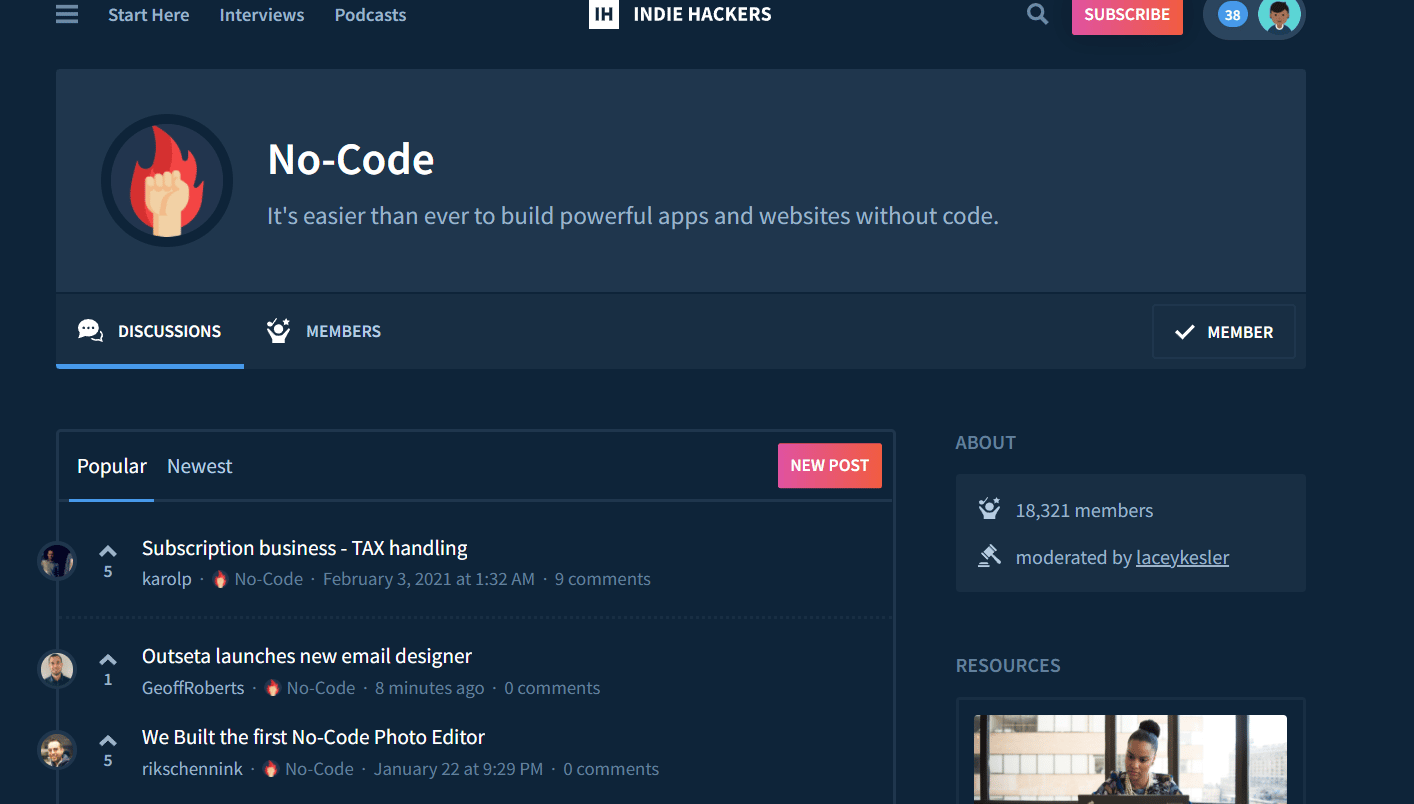 If you are following the trends and updates on growth hacking, you must have heard of Indie Hackers. It is one of the largest communities of independent internet problem-solvers engaging with each other in meaningful discussions and debates. Indie Hackers has a group dedicated to developing without code. It was launched on November 19. Since then, it has attracted more than 18000 No Code enthusiasts from around the world. Even if you have no purpose, you might like to lurk around here reading and engaging with interesting ideas. Since there are a lot of people, there is always competition to create relevant posts to get noticed.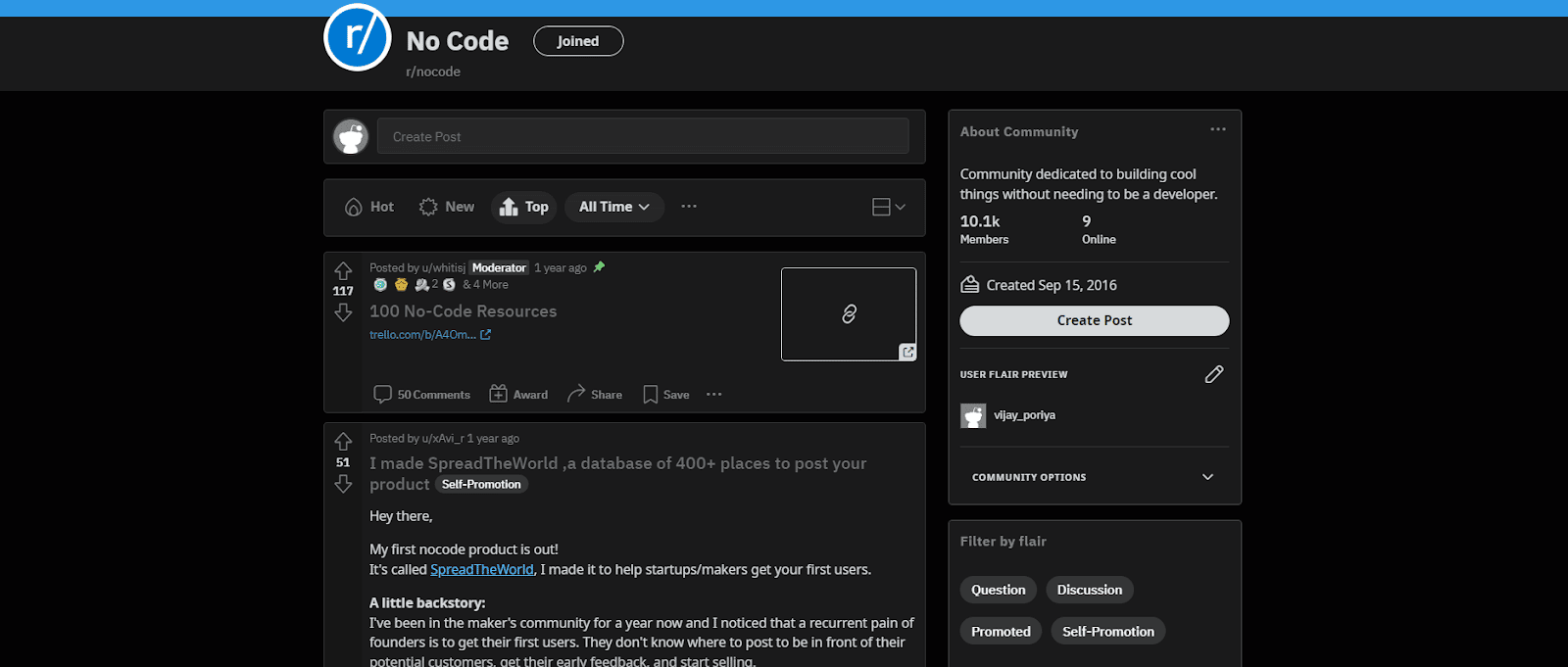 It is a subreddit dedicated to No Code. Unlike other communities, this one has no structure or set of rules. You can ask anything and everything related to No Code here. People provide free resources and ask questions regarding tools or products they are developing. Mostly there is a response within a few hours. Although, it is not advised to use it to promote or spam your products here because moderators might report or ban you for the same.
Some noteworthy mentions:
Bubble Forum – It is a community where Bubble users get together to connect, discuss their issues or teach each other about new advancements in the tool.
Webflow Community – It is the community by Webflow where you can join other creative and fun people around the world to attend events and talk about Webflow hacks.
We have arrived at the end of the list of 8 No Code communities you must join. Each one of these communities has something different to offer. You have to decide where exactly do you fit. You can join multiple communities together but it is not advised to join everything simultaneously because you might lose track of them all and end up losing value. If we missed out on any community, let us know. We would love to add it to the list.
If you want to learn more about the niche, check out our articles on No Code databases, how to build an app with No Code and the future of No Code.