The concept of Web app development dates way back to the Web 1.0[1] era in 1999. Then, the Java language had just introduced the concept in the Servlet Specification version 2.2[2]. Following that came the first versions of many technologies and client-intensive web apps like Gmail.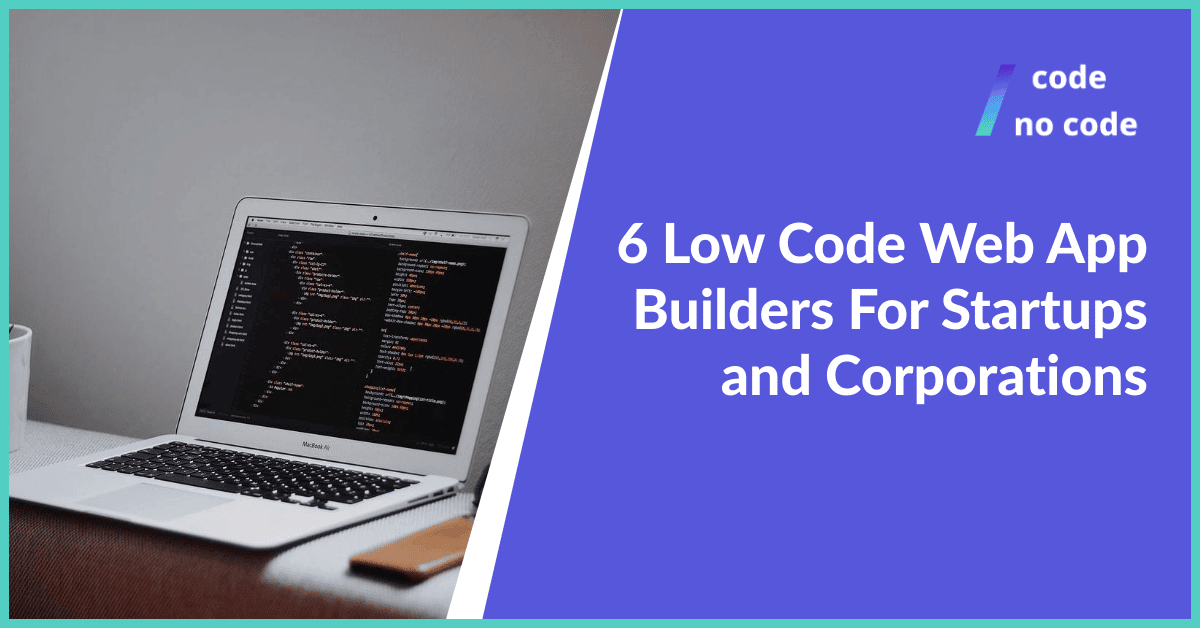 At that time, the only people able to manipulate the existing technologies to create web-based solutions, or even software in general, were professional developers/programmers. And that has been the case since then up until some years ago.
It's been two decades now since the Web 1.0 era and the hopes of many people today is how to reap the benefits of a web app[3] without the extra baggage – high costs and time consumption. That is because experienced developers typically charge high hiring fees and the process until your app can go live can take too much time.
Furthermore, in this age of digital transformation, startups need to conserve both these factors especially – time and money – if they want longevity and relevance. That is beside the fact that startups simply can't compete in industry these days without the strong digital presence that web app creation generates.
Now, the hopes of many have been granted in the form of Low Code development platforms. Low Code platforms act as mediators for mobile and web application development. And they enable individuals without any coding experience – citizen developers – to build apps quickly, efficiently, and affordably.
As opposed to the traditional software development process which involved experts writing multiple lines of code, Low Code development platforms typically make use of drag and drop functionalities to add elements and functions to a black canvas or pre-defined templates.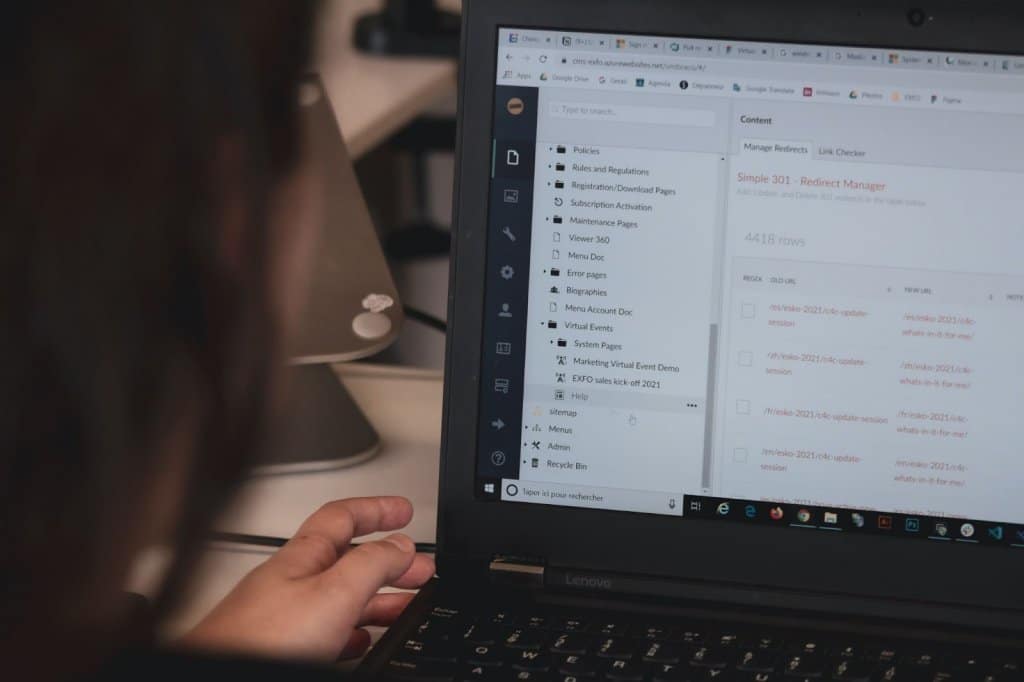 Photo by Sigmund
The only real catch is that because it is such a revolutionary technology, there are so many vendors offering their platforms as complete web solutions. As such, how are you supposed to know which of them to choose?
In this article, we've curated a list of some of the best Low Code development platforms for web app development. We'll be reviewing each of them to expose their strong points and help you streamline your decision on the Low Code app builder that fits just right to your existing business or startup requirements. But before that, let's understand what a web app is exactly.
What is a Web Application?
A web application is a general term used to refer to any interactive software created to solve specific business needs or accelerate certain business processes. It presents a friendly user interface but works because of the backend database that allows users to access data via multiple platforms.
Typical examples of web applications are eCommerce apps, online banking apps, email services, and the like.
The Best Low Code Development Tools for Creating Web Applications
Zoho Creator is a Low Code development platform designed for full-stack web mobile app development. It uses drag and drop UI and pre-built components to develop functional business apps for small and large companies.
Many people have been misinformed that business users can't use Low Code application development tools to create complex apps and limit customization efforts significantly; Zoho Creator proves this is not the case.
Users can develop custom applications to meet their complex business requirements easily. Moreover, they can tweak and add new features just as easily, even after the initial project launch.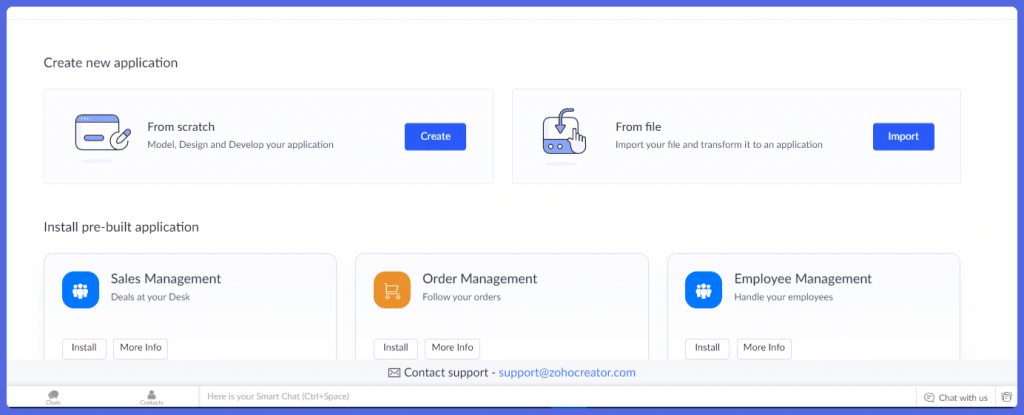 In addition, Zoho Creator does not lack behind when it comes to process automation. With the help of Zoho Creator's visual tools, users can create workflow automation scripts that eliminate the most unnecessary overhead tasks.
As is expected of any good Low Code application development tool, Zoho Creator supports a wide array of integrations. That includes third-party software like Salesforce, Google Marketplace, Paypal, and Zoho Apps.
Key Features
Simple graphical user interface layer with zero infrastructure.
Using the platform's deluge-scripting layer, users can easily create automated workflows and customized forms.
It supports the development of multi-platform business apps. The applications built on the platform are intuitively available as native mobile apps for Android and iOS. What's more, you can host the apps directly in the Zoho Cloud or deploy them to public clouds such as Google Cloud, AWS, and Azure.
Role-based access with Single Sign-on features, sensitive data encryption, multi-factor authentication, and various data backup locations.
Generate custom data models with over 40 form fields.
Pre-built components that include 50 pre built apps and up to 100 workflows.
Zoho creator advanced analytics, barcode, maps, and built-in camera functionality.
Pricing
Professional plan: Goes for $25/user/month billed yearly.
Ultimate Plan: Goes for $400/month billed yearly.
Enterprise plan: Prices are custom-made.
2. AppSheet
Overview
AppSheet Low Code web app builder is the antecedent to the discontinued Google App Maker platform. AppSheet is a cloud-based spreadsheet platform with a wide array of offerings for developing custom apps.
Besides developing apps, the AppSheet Low Code platform provides pre-made functions that help to generate forms and reports, analyze data, and enhance workflow automation.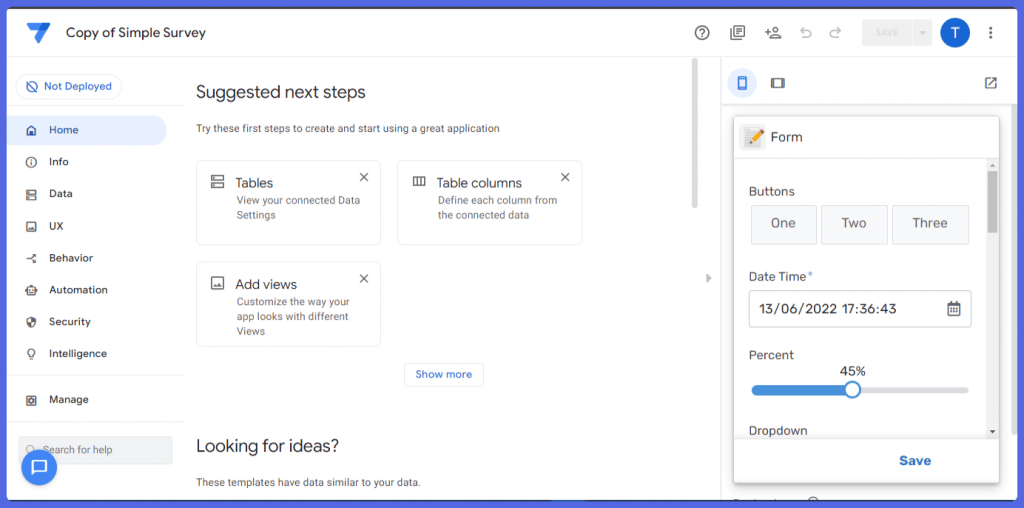 Since it is a Google application, the Low Code platform integrates well with the Google Cloud AI and ML which further helps to automate processes such as user alerts and order approvals.
It also supports the design of multi platform apps that work just as well on iOS and Android as on the Desktop web. Furthermore, you can further extend your app capabilities to work offline with the AppSheet platform.
Key features
Supports deriving data from sources such as barcode scanners, photographs, signatures, GPS coordinates, etc.
Excellent provision for data security and governance.
Workflow automation features for enhancing efficiency and digitalization of business processes.
Drag and drop user interface with declarative data modeling.
Offline mode and background data syncing.
Multi platform support for mobile and web app development.
Pricing
Free Trial.
Premium Starter Plan: $5/mo/user.
Core Plan: $10 per user.
Enterprise plan costs are custom.
3. GoodBarber
Overview
GoodBarber is a Low Code tool made for the development of Progressive Web Apps and iOS/Android native apps. It dons a user-friendly app interface where there's a wide variety of content integration options within selected categories.
These include e-commerce, social media marketing/networking, blog posts/news, and even live broadcast of audio and video content.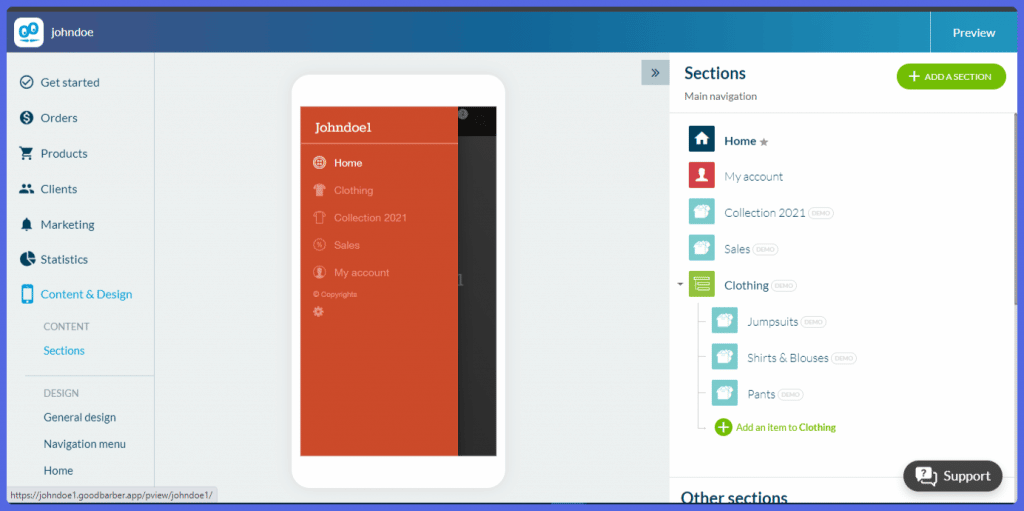 The Low Code platform's user interface also makes it easy to customize each of the pre-made layouts, all of which are fully responsive. You also get to upload your app to the Apple store or Play Store via the GoodBarber Low Code development platform.
Key features
A plethora of plugins support such as geolocation functionality and in-store checkout functions.
Multi-role management
Easy to navigate drag and drop interface with a customizable dashboard.
Perfect for creating PWAs and native mobile apps.
Pricing
Content plan – $27/month for newspapers, online courses, content creators, etc.
eCommerce plan – $37/month for building apps to sell products i.e grocery, restaurant, delivery, and pickup apps.
Reseller Plan – $210/month for agencies and large enterprises.
4. Airtable
Overview
Airtable is a Low Code development platform that enables business users to create enterprise grade applications without any coding background. In place of traditional coding, the Airtable Low Code development platform uses spreadsheets which makes the app development process organized and simplistic.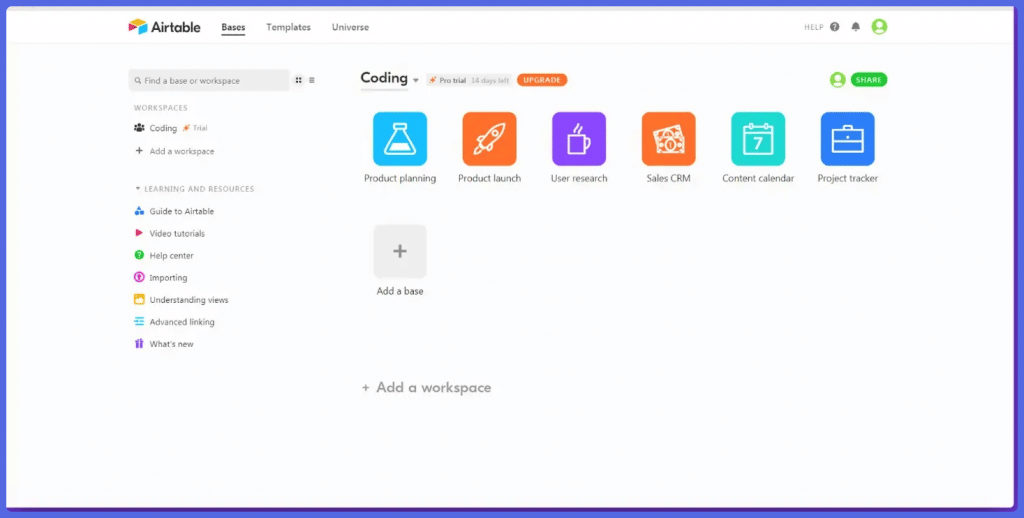 Airtable's enterprise features make it excellent as a cloud-based relational database and spreadsheet software for any business type. Users get to access and migrate it across databases without hampering the data integrity.
You can use Airtable as a database to make apps with builders like Glide, Softr, Adalo and others.
Furthermore, the Low Code platform provides real-time information syncing to ensure all data users get are the latest, updated, and modified versions.
Key Features
Customized views, customized fields, and data synchronization features.
One of the best Low Code development platforms offering relational database functionality.
Provides functionality to filter, sort, and rearrange records. Users can also link records between tables.
Supports third-party integration with existing apps and services such as social media platforms, MailChimp, Evernote, Dropbox, Gmail, and the likes.
Collaborative workspace with functionalities for forms management, calendar management, communication management, and records management.
Pricing
Free Plan: Comes with unlimited bases each limited to 2 GB attachment space and 1200 records.
Plus Package Plan: Comes with 5 GB attachment space, snapshot history, and 5000 records per base at $12 per user/month.
Pro Package Plan: Comes with 20 GB attachment space and 50, 000 records for each base at $24 per user/month.
Webflow is one of the best Low Code development platforms with hybrid functionality as a content management system and as a site builder. Indeed, Webflow is not natively built for web application development unlike some of the other Low Code platforms on this list.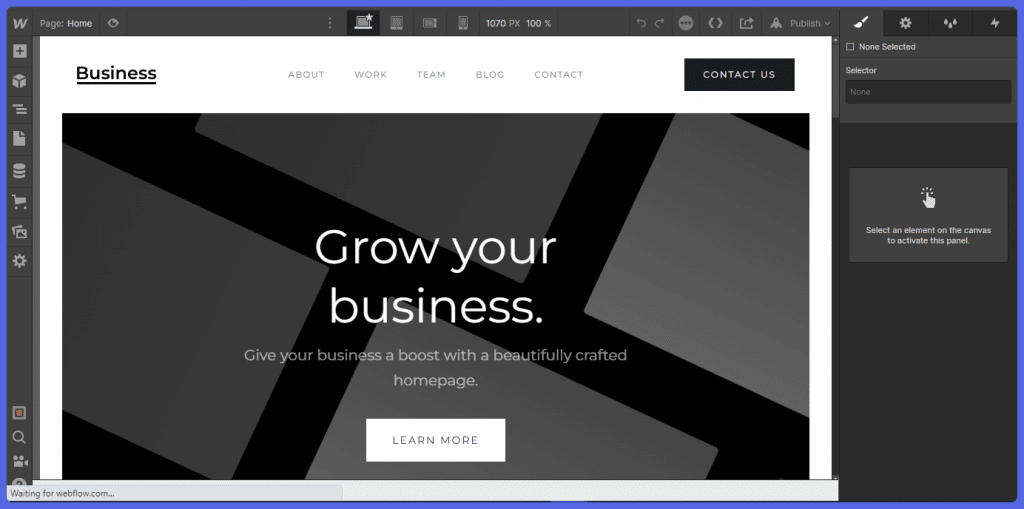 However, once integrated with third party apps like Zapier, Memberstack, the previously discussed Airtable Low Code platform, and the newly launched tool – Wized – your web application development process will become quick, easy, and full of possibilities.
Webflow uses a visual development approach that is second to none when it comes to design customization. All of the built-in templates are responsive by nature and shine best in the hands of professional developers as they can add custom code to specific sections of a page.
Key Features
Webflow Low Code platform is most famous for its CMS collections feature
Support for extensive SEO optimization.
Responsive web design.
Seamless integration with third-party plugins for advanced collection item filtering, chat boxes, Mailchimp, GetResponse.
Forms and data capture
Webflow University helps new users get familiar quickly and easily.
Pricing
Webflow divides plans into Site plans and Enterprise plans:
Site plans
The Starter plan is free and comes with Webflow.io domain, 50 CMS items, and 1 GB bandwidth.
The Basic plan is pegged at $12/month billed yearly – custom domain and 50 GB bandwidth.
The CMS plan goes for $16/month billed yearly – custom domain, 2,000 CMS items, 200 GB bandwidth, and 3 guest editors.
The Business plan price is $36/month billed yearly – custom domain, 10,000 CMS items, 400 GB bandwidth, and 10 guest editors.
Workspace plans
The Starter plan here is also free for designers managing one or more sites.
The Core plan is pegged at $19/month billed yearly per seat. You get up to 3 seats, 10 unhosted sites, billing permissions, custom code, and code export feature.
The Growth plan goes for $49/month billed yearly per seat with up to 9 seats, unlimited unhosted sites, publishing permissions, custom code, and code export feature.
The Enterprise plan's price and features are built according to customer requirements.
6. Salesforce Lightning Platform
The salesforce Low Code development platform is the only natural CRM (Customer Relationship Management) platform on this list. In 2015, the Salesforce company launched an evolutionary product – Salesforce Lightning – which came with component-based development and a range of other new exciting features.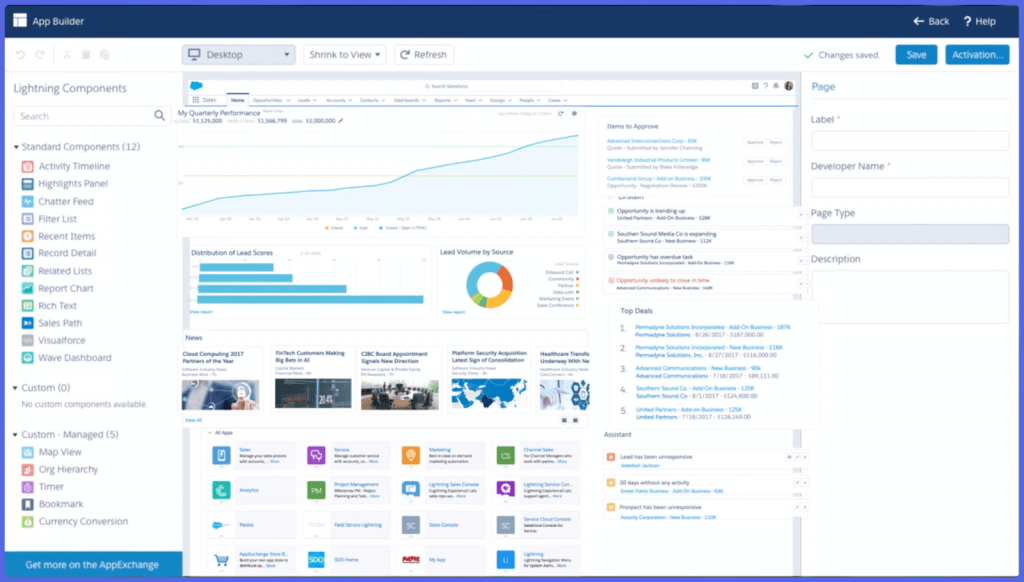 One of such exciting features is the Lightning Voice feature. It enables users to make voice calls with clients directly via Sales Cloud. In fact, the Salesforce Lightning platform is one of the best in the market when it comes to meeting business needs as it concerns customer interaction and satisfaction.
The Low Code app development platform offers users a sales automation feature – Sales Path – which automatically designs the business' sales pipeline. Furthermore, the Sales Path feature accounts for inefficiency in the pipeline. So, in case things don't go according to plan it recommends steps to ensure quick and efficient responses.
Key Features
Rapid app development via the straightforward interface and built-in and reusable components provided by Salesforces partners.
Einstein AI integration support with Einstein Opportunity insights and Einstein Forecasting. They all aid in analytics and lead generation for customer research.
Seamless integration with third-party components.
Salesforce Lightning's Locker Service adaptation serves as a powerful means for information privacy.
Pricing
The Starter plan goes for $25/user.
Plus plan which costs $100/user.
Heroku Enterprise Starter Plan costs are customized to user requirements.
Benefits of Low Code Development Platforms for Web App Creation
We have successfully looked at some of the best Low Code platforms you can use to create applications for the web with minimal coding or none at all. But, we ought to know why choosing a Low Code app development platform is a better option than the traditional methods of web app creation.
Minimum Risk – High Returns on Investment (ROI)
Low Code platforms overhead the technicalities involved in creating enterprise apps from built-in cross-platform security features to data integration functionalities. As such, business users can then pay most of their attention to business logic and core activities that can potentially increase the ROI.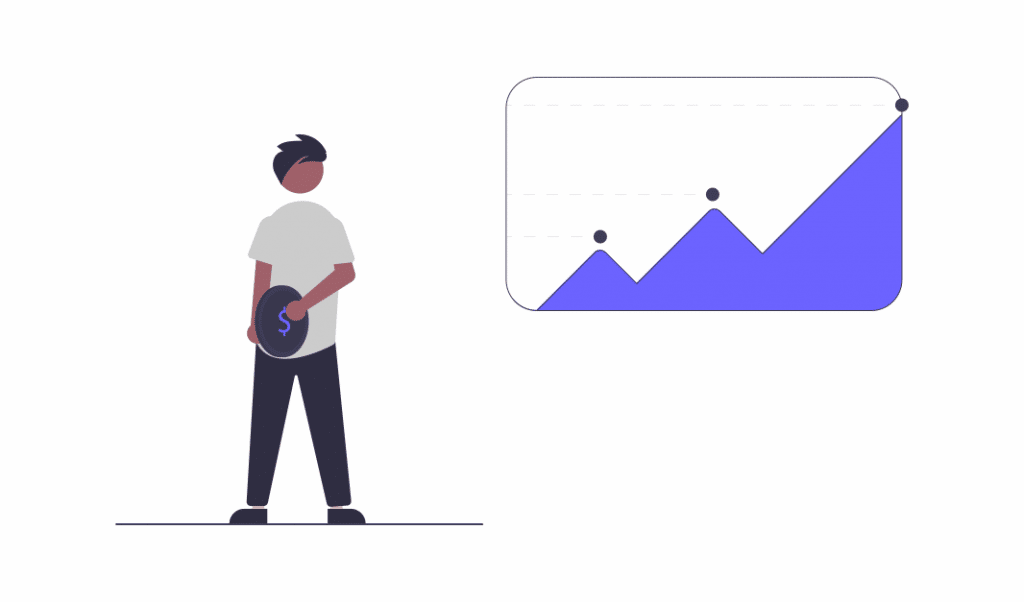 Also, since the initial investment of using Low Code platforms to create apps is relatively less, the risk of net loss is also lower.
Create applications once and Deploy Everywhere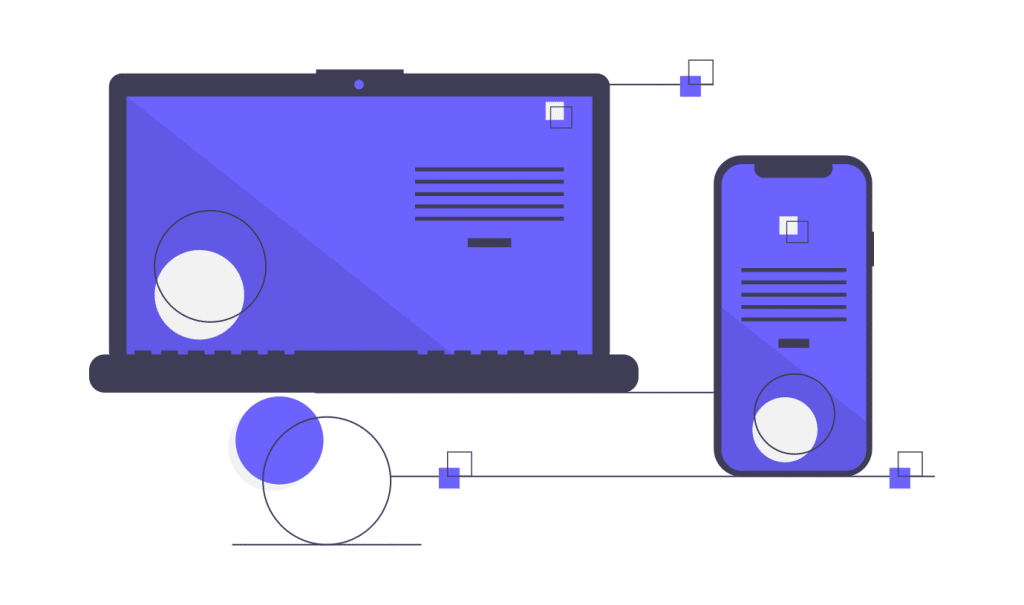 Apps built using Low Code platforms are typically built once and deployable to both mobile and desktop environments. You can as well create apps on multiple channels or platforms rapidly.
Lifecycle Management
Project management and lifecycle management[4] are often put in the same vein as many Low Code platforms.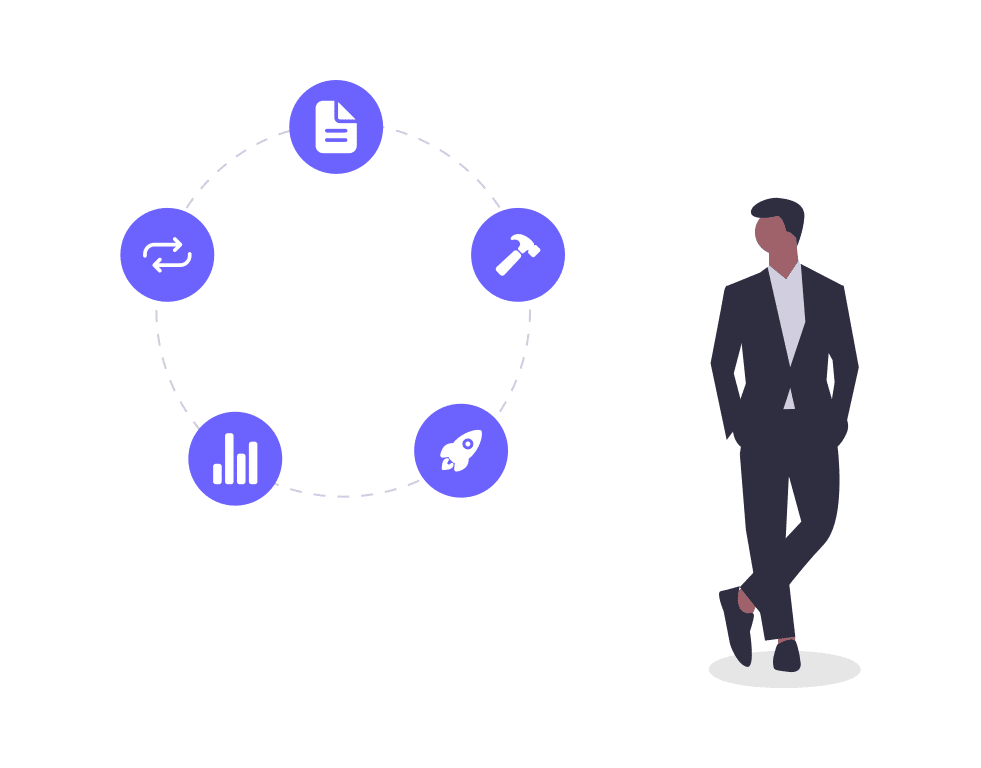 Even after a successful launch, you'll need to do some periodic updates and bug fixes on your app. Low Code platforms provide all the tools required to make such processes semi-automatic.
Eliminate Requirement for IT Skills
As the name implies Low Code platforms do not require users to have any technical proficiency to create apps. Users only need to make use of the intuitive tools and drag-and-drop interface to create apps from scratch or customize pre-built apps.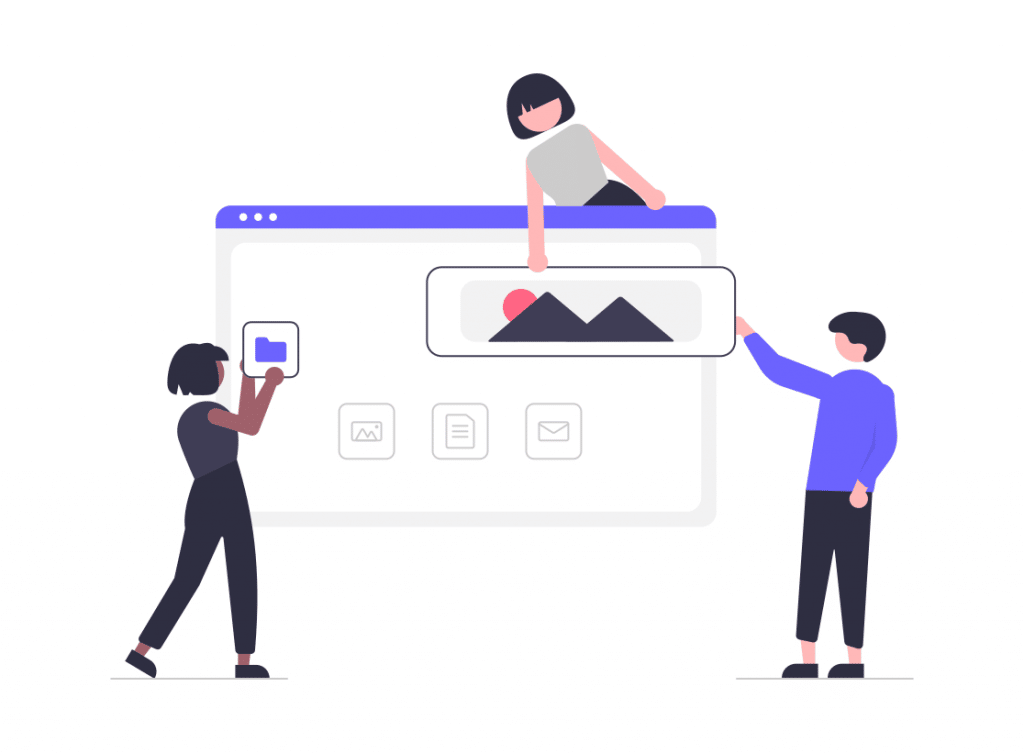 However, it's worth noting that Low Code tools shine best in the hands of IT professionals as they can add custom code to present complex functionalities and customize the user experience.
When Should You Use Low Code Platforms?
Low Code development platforms should be used in the following cases:
When creating and managing multiple web applications simultaneously.
For creating apps for all the major mobile platforms and managing the backlog that comes with that.
When you have short iteration and lifecycle management requirements.
Low Code platforms are preferred for Agile software development.
Conclusion
All of the Low Code platforms we've looked at have their unique specialties. For users working within the Google ecosystem, the best choice is AppSheet. In terms of affordability, ease of use, and power, AppSheet is a shoulder above its contemporaries.
Some notable mentions also for the Google ecosystem are Glide and Firebase. Both Low Code platforms are an excellent choice for users and developers looking to create apps with a wide array of functionality.
When it comes to Low Code platforms for building PWAs[5], think GoodBarber. But when looking for Low Code platforms for building internal tools, as far as this list goes, Bubble is the best. Other Low Code platforms for building internal tools include Retool, Budibase, and Jet Admin.
Bubble is better known for its simplicity. So if you're looking for an intuitive drag and drop app builder, it doesn't get better than Bubble.
Airtable works best for content management, forms, and other typical business needs. On the other hand, SalesForce lightning works best as a CRM tool. It is especially useful as a sales coordinator to manage marketing and reporting efforts as well as to effectively manage customer experience.
Follow us on Twitter to receive more Low Code advice!