It's 2023, and we are at the point of the digital age where the pace of technological innovations is exponentially rising. Several organizations have started adopting No Code development to fulfill the shortage of developers.[1] You can use No Code apps to build web and mobile applications without writing a single line of code.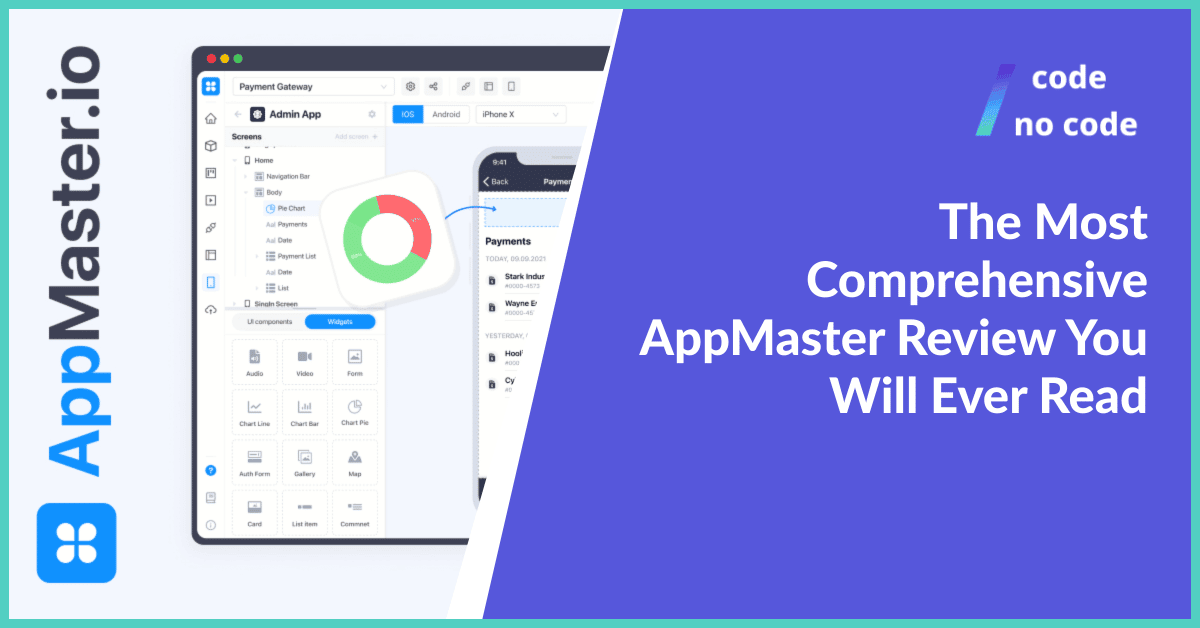 AppMaster is one such No Code platform designed to help businesses create production-level applications with code generation.
It has a wide range of functionalities allowing you to create a database, manage complex business logic, manage APIs, develop web dashboards, and design native apps without code.
We tried and tested AppMaster so you can make an informed decision before spending your money.
In this blog, we are sharing a comprehensive AppMaster review while taking a deep dive into all the features offered by the platform.
Anatomy of AppMaster Studio
AppMaster Studio is the platform where you can create your applications and get an overview of all the projects. Let's have a look at the elements of the studio.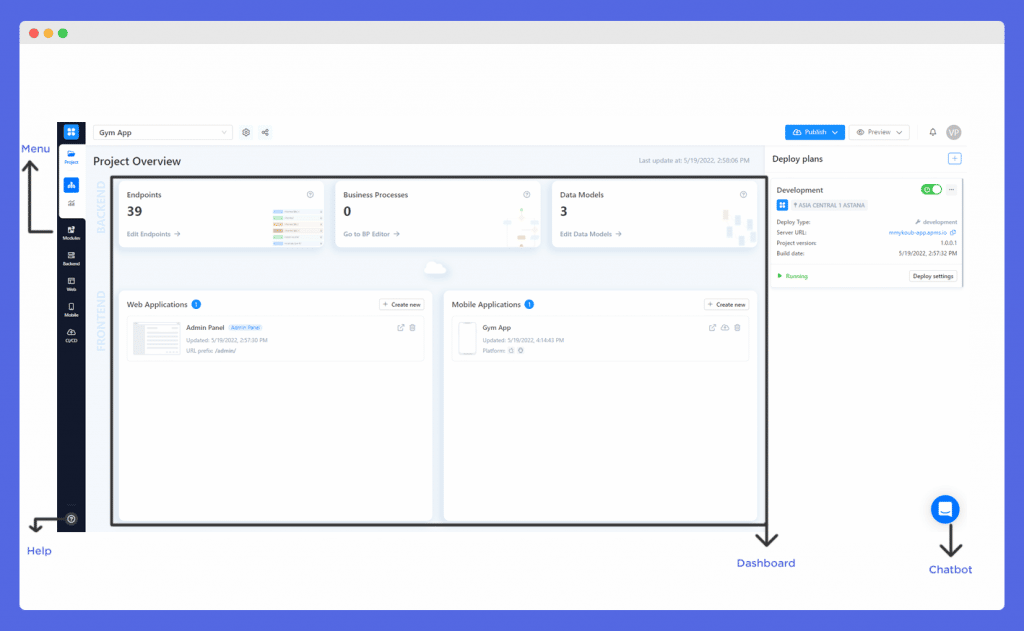 Dashboard
It is divided into two segments:
Front End – It provides info about the mobile and web applications currently in the pipeline.
Back End – It has all the information regarding automation, total endpoints, and data models used by your apps.
Menu – It lets you navigate through the Products of AppMaster.
Help – The question mark icon gives you different options like asking the community, watching tutorials, reading documentation, etc. to help you when you are stuck.
Chatbot – You can get chat support when the team is available. Email and call support is available in higher plans.
The AppMaster Studio helps you collaborate with your team and get the context of all the processes going on in your projects.
Products Offerings by AppMaster
The robust ecosystem of AppMaster's No Code Platform is divided into four products:
Mobile Apps Builder
Web Apps Designer
Data Models Designer
Business Process Editor
We will walk you through each of these product offerings and what we love the most about it. Let's get started.
Mobile Apps Builder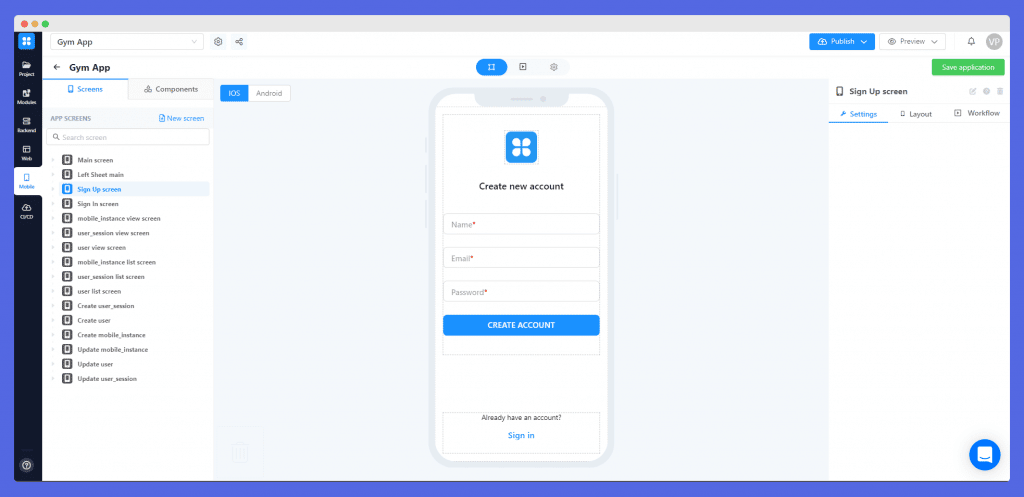 You can start building native apps with visual programming (drag-and-drop) and publish them to App Store and Google Play.
Building a production-ready mobile application might have a learning curve if you are completely new to No Code but nothing that you can't manage with a few tutorials.
What we loved:
Triggers and Events
Add automation to your app through a simple drag-and-drop interface. Create triggers for specific actions performed by users and perform actions accordingly.
Let's say you have developed a gym visit tracking app. If your user visits the gym ten times, you can send them a push notification congratulating them for the achievement.
Easy Hardware Access
AppMaster makes it easy for you to get access to the smartphone's hardware. You can ask for access to device resources like camera, microphone, accelerometer, compass, light sensor, GPS, geolocation, player, and calendar.
Continuing the example of the Gym App, you can get access to the GPS location of the user and track every visit to the Gym.
Real-Time Preview
Get a preview of your updates in real-time for version control. You can use this feature to test the performance and design before deploying your android and iOS apps.
Web Apps Designer
Develop Single Page Applications like an admin panel, a customer-facing interface, or a client portal. It is not created to develop full-fledged web applications. Instead, it is created to build internal apps that can act as a support function to business users' workflow.
Citizen developers can quickly create apps through their web app builder.
What we loved:
Modules and API library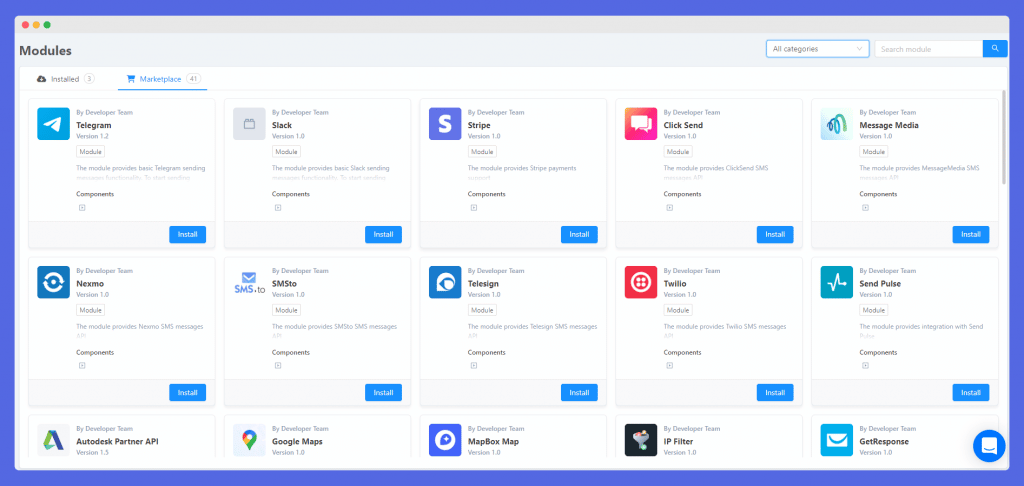 Connect your app to hundreds of apps and services available in the marketplace including Slack, Telegram, and Google Maps. You can install and set up modules from the marketplace without even leaving the AppMaster platform.
Simply click on the module you like and hit install. Once it's installed, you can control access to the module from the dashboard.
Vue routing
Vue is a progressive framework for building UI. AppMaster allows you to create web components using Vue.js. This allows your users to switch between pages without having to refresh the page. This decreases the load time and improves the app performance significantly.
Client Aware Time Values
When a client is using your web app, they will see all the timestamps and historic data adjusted with their time zone. For example, you are building a customer portal for an MNC.
The staff of different countries will look at the time according to their time zone. This minor feature takes a massive load off the programmers.
Data Models Designer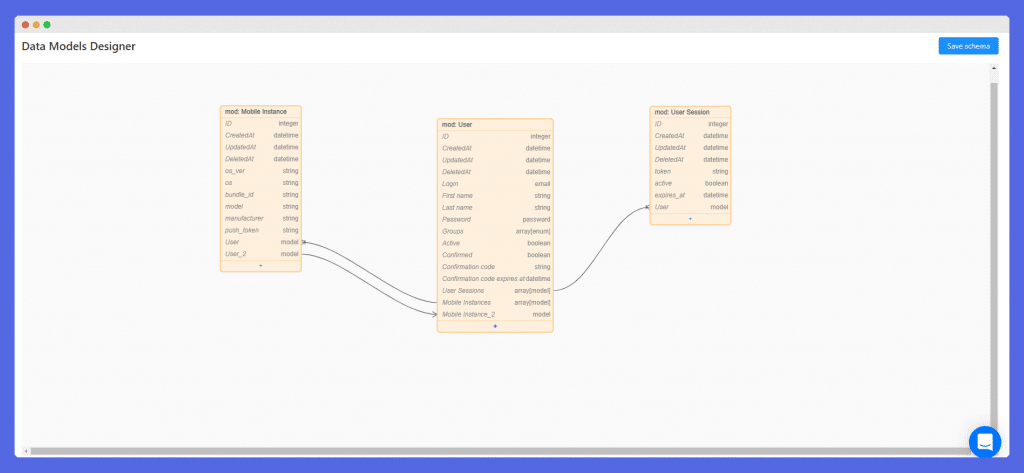 It is AppMaster's No Code tool for creating data models, setting their properties (fields), and adding relationships between tables. The Data Model Designer uses PostgreSQL 13, so it's not limited to AppMaster's cloud.
You can upload your application to any compatible cloud, like AWS or Azure. You can use Data Model Designer to create a scalable backend for your apps.
What we loved:
Visual Designer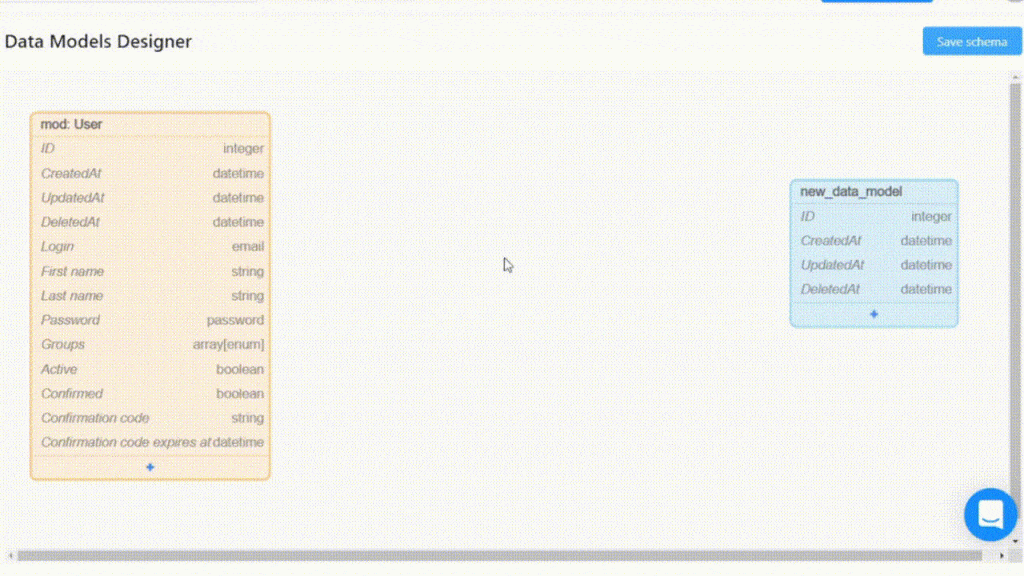 They have made designing data models as simple as drawing on Microsoft Paint. As you can see in the GIF above, you can define and edit relationships. One data model can be associated with an infinite number of others.
Business Process Editor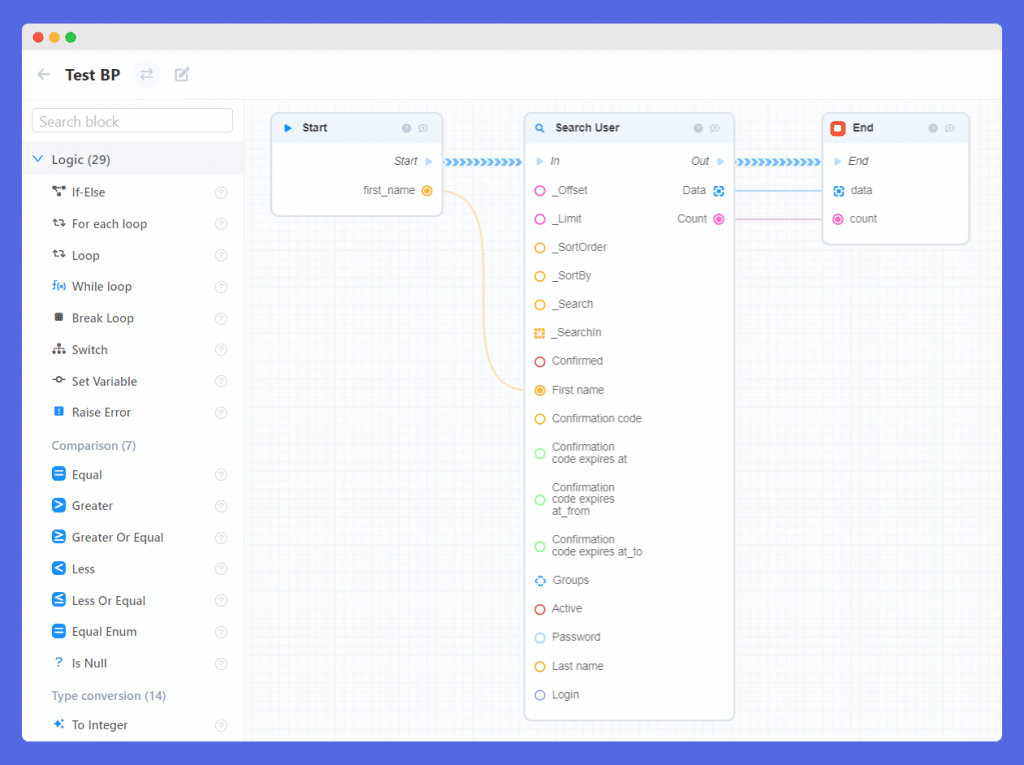 This platform allows you to create a flow between your applications and your processes. Even though it's No Code, it is relatively difficult automating business processes that are complex. Before automating, you must perform a thorough business process analysis.[2]
But you can use this to automate repetitive and menial processes. Ensure you follow the best practices of Business Process Separations[3] before diving into automating a business process.
What we loved:
Documentation
Overall documentation of AppMaster is comprehensive and easy to follow, but when it comes to Business Process Editor, they take it up a notch with their YouTube lessons.
These long-form tutorial videos teach you to use the editor so you can design your business logic. They cover block structure, flows, and different block types for you to implement practically.
A Few Cons of AppMaster
We have shown you how much we love AppMaster. But if we had to be the devil's advocate, here are some things that could be better: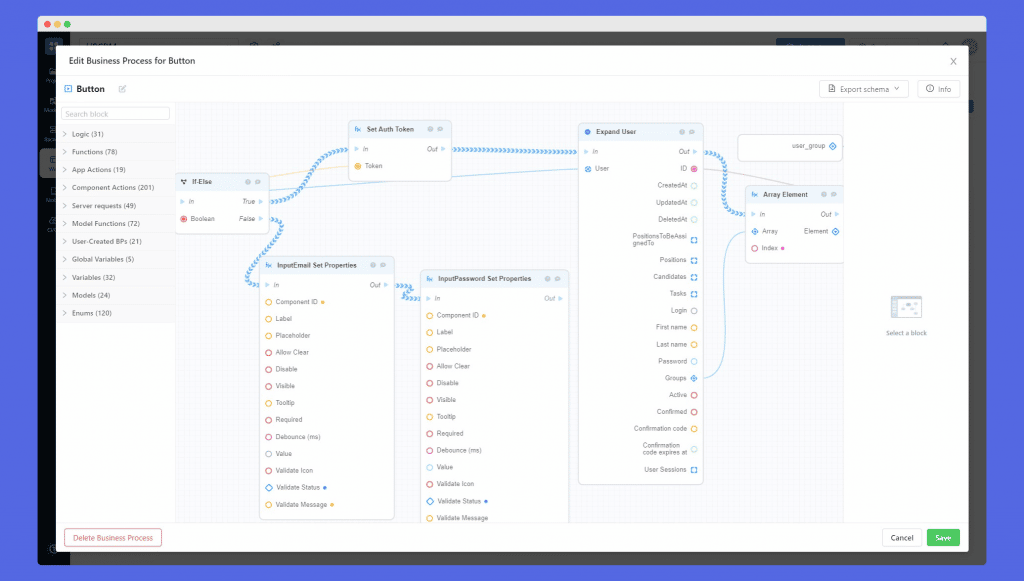 Lack of Templates
Most No Code platforms have template libraries for users to replicate. AppMaster could add a library with some of the top use-cases like eCommerce mobile apps or social apps to increase the pace of development.
No Shortcuts
This is very specific feedback from many reviewers[3] online. It can make a significant impact. If you are spending a few hours creating and designing apps on their canvas, you will get natural at it. Shortcuts would help increase the productivity and performance of the citizen developers. For example, if we could have standard accepted shortcuts like Ctrl+Z to undo a relationship in the Data Model Designer.
No Freemium Plan
There is a 7-day free trial available for new users. But once your seven days are over, all your data freezes until you purchase a plan. But if we get in their shoes, we understand that deploying cloud capacity at a scale for thousands of freemium users can be expensive.
AppMaster is popular for evolving at a rapid speed. They have been deploying innovative features to their platforms quicker than ever. The template idea is already marked in their feature request as 'planned'. We hope as time goes by, they will address other issues as well.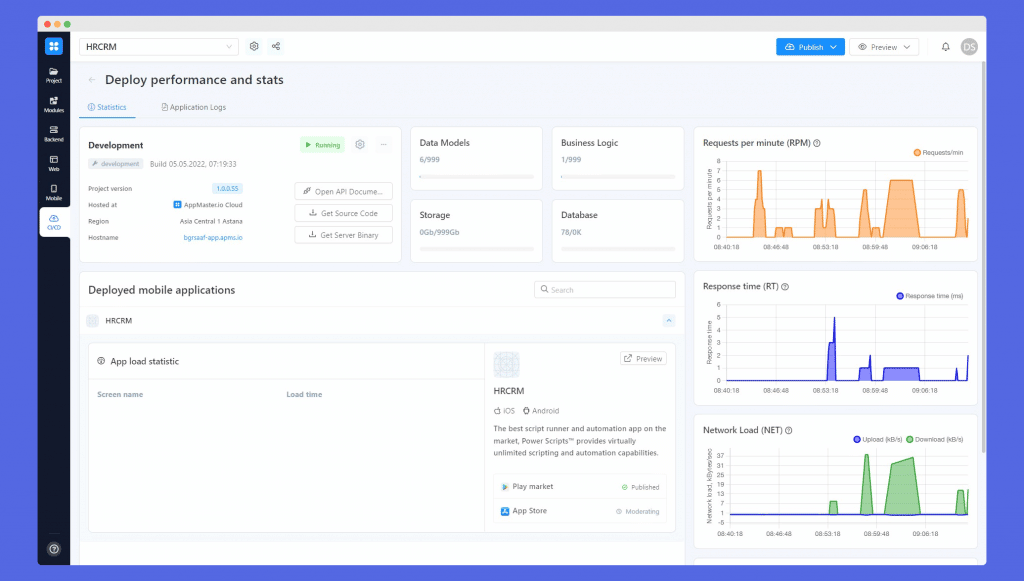 Is AppMaster for You?
Whether you are a business user or want to create a personal app, AppMaster is a great resource. It offers a complete environment to create and innovate. They have a small Discord community where you can ask questions directly to the team.
If AppMaster matches your business requirements, you should go ahead with it. We are excited to see what AppMaster brings to the table in their next series of updates.
Sign up through our special link to get a 10% discount on the first payment!
This article was a part of our No Code review series. In our earlier edition, we had dissected and reviewed Elementor, the popular WordPress website builder. Follow us on Twitter and stay tuned with such articles and the overall growth of the No Code landscape.