Choosing the best No Code platforms can be difficult, as there are many popular options with various features and benefits. This article will help you choose any of the many No Code platforms to use without much experience. The most important thing with these No Code platforms is that you don't need programming knowledge or coding skills to use them. Using No Code or Low Code development tools is one of the easiest ways to make your business online. These No Code tools simplify the creation and management of a business by combining all elements of development in one No Code platform.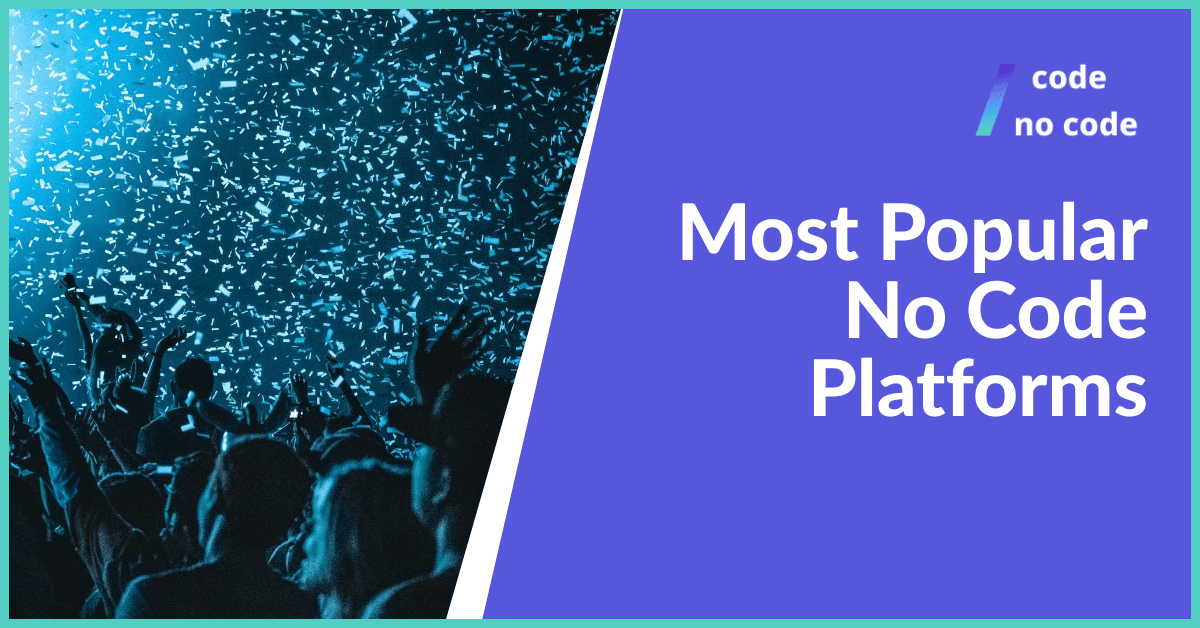 Most Popular No Code Platforms Listed
We've compiled a list of the eight most popular No Code tools available:
Bubble
Airtable
Mendix
Quickbase
In the end, the choice of the best No Code or Low Code platform falls on two things: the ease of use provided by the No Code platform and better control over your creation, provided by Low Code.
No Code Tools for Building Mobile Apps
Bubble
One of the most popular No Code development platforms for creating sites, mobile apps and web apps on the market with almost two million users is Bubble. It introduces a new way to build software, new No Code solutions for app development. [1]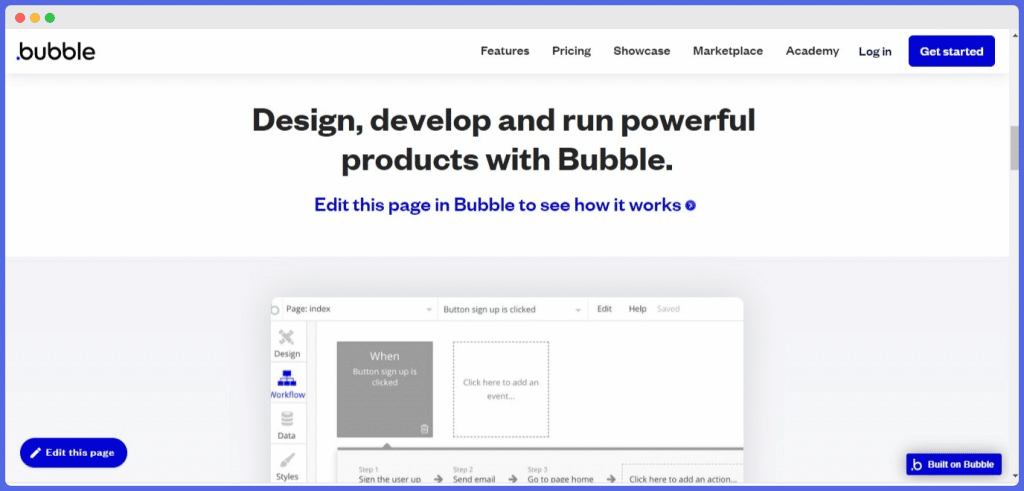 Bubble is a robust tool that can be used to create much more than a website, including "entire mobile apps with backend, frontend, and databases, and a million integrations and plugins."
Mobile app development professionals build native mobile apps with this tool, which are indistinguishable from the ones written from scratch. Other advanced users like the ability to add custom code to their creations (one could argue that this makes Bubble more of a Low Code development platform).
It has a free plan, limited to core platform features, Bubble branding, and only community support.
However, there are three paid plans too:
Personal ($25/month)
Professional ($115/month)
Production ($475/month)
Traditional web apps necessitate the management of your code and the setup of a web server deployment process. Bubble, the top choice No Code platform, will take care of the deployment and hosting for you.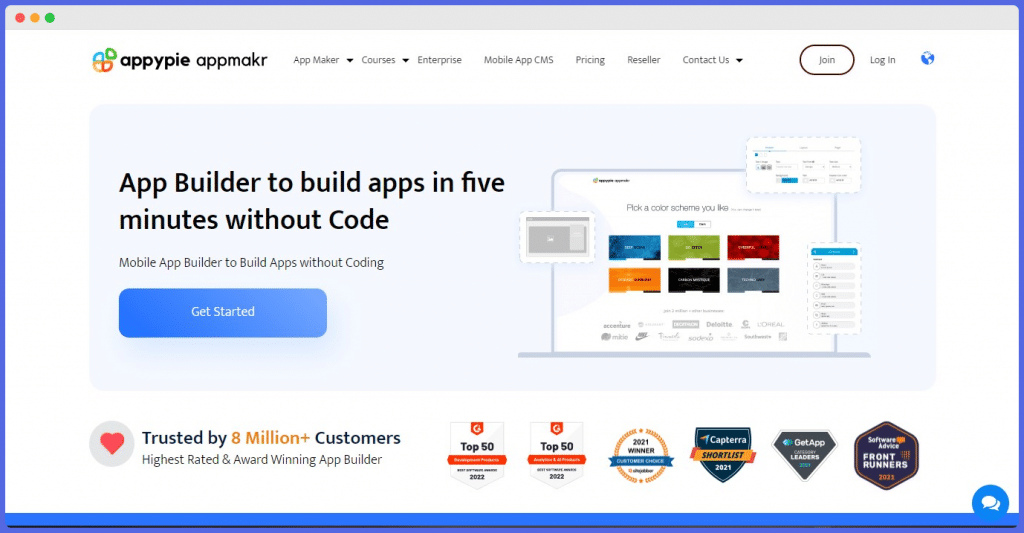 Appy Pie is a mobile app builder that allows you to create mobile apps in minutes and with just a few clicks (without coding skills, of course). 
This highest-rated and award-winning App Builder has been trusted by over eight million people. [2]
The elegant dashboard design of Appy Pie App Builder makes it easy to navigate.
There are nearly 200 advanced features, including push alerts, virtual reality, social network integration, and chatbots.
Move your business to the next IOT level as a mobile app now. An easy-to-use application development tool that does not require any programming skills.
With Appy Pie, citizen developers can design graphical user interfaces with a drag and drop interface and make multi-platform apps. It is one of the best No Code platforms available.
A lot of themes to suit your needs
Apply instant updates to the end-user
Versatile design to personalize your application with your images and text
Social media integration, connecting Facebook, YouTube, and Twitter applications
You will create a powerful and incredible app design that looks and feels beautiful as a native app.
It has a free trial and three paid plans:
Basic ($16/month)
Gold ($36/month)
Platinum ($60/month)
Mendix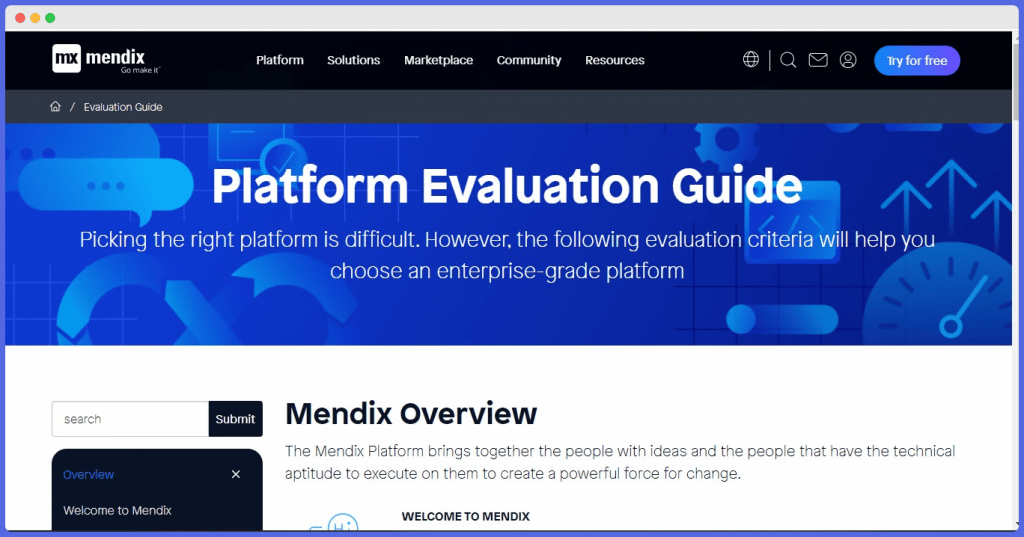 Mendix is one of the fastest and easiest Low Code development platforms used by companies to develop mobile and web applications on a scale. You can try the software development platform for free.
Mendix Features:
Offline data synchronization
A complete visual development package that uses drag and drop techniques
Applications on different platforms are not a problem, and business users' code can be inserted as needed
Incredibly fast visual modeling
The software is known for its quality as one of the leaders in platforms development for mobile applications, the development of Low Code platforms, and a platform for high productivity applications as a service.
The software has been used to provide more than 100,000 enterprise applications, mostly in a matter of weeks.[3]
Flexible pricing for teams of all sizes:
Free
Basic (starting at 50 euros per month)
Standard (starting at 800 euros per month)
Premium (contact sales)
You can use the Platform Evaluation Guide to discover how Mendix enables enterprises to develop applications with Low Code.
You'll learn how to get started exploring, how Mendix can help you improve your business operations today and in the future, and how to benefit from the active Mendix community.
You can learn more about this visual application builder with online training, classroom sessions, documentation, and certifications.
Build internal tools that will have enterprise grade security and will take your business to the next level.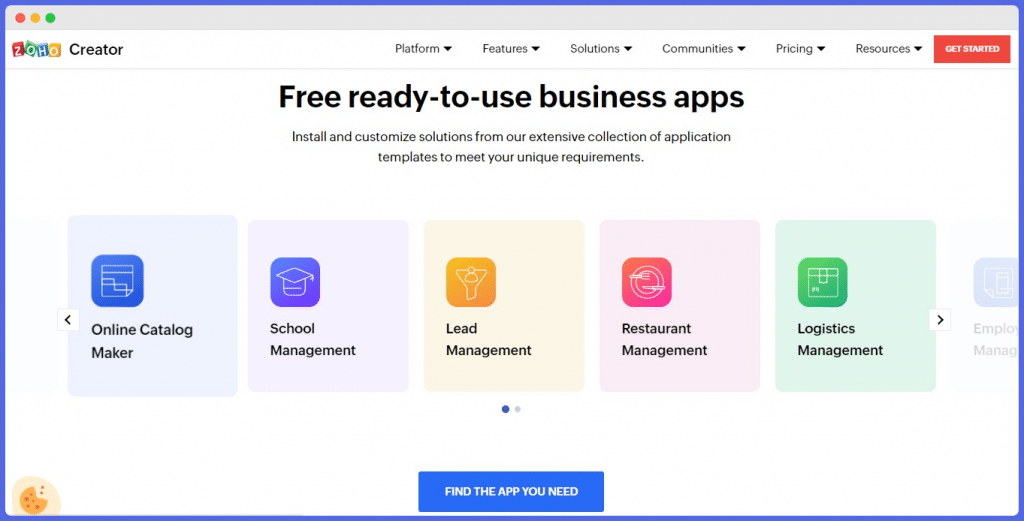 Zoho Creator for software development can help companies automate and simplify many significant tasks. The goal is to enable companies to unify their people, data, and resources.
It is also possible to create applications for other companies and applications can be branded by the software. The mobile apps created with this app are compatible with iOS and Android.
Pros of Zoho Creator
Cheap compared to similar programs
Dynamic adjustments
Free support
Cons of Zoho Creator
Steep learning curve
Support waiting times can be excessive
Best of all, creating applications with the Zoho No Code platform doesn't require to write code or any coding skills or knowledge. Zoho offers 24/7 customer support for customers who need help.
It can also be used for inventory management, and there's also an app to hire new members of a party's workforce. The software also excels at designing databases.
It has a free trial and two paid plans:
Professional (25 euros /month billed annually)
Ultimate (400 euros /month billed annually)
Other No Code Platforms for Your Business Needs
Airtable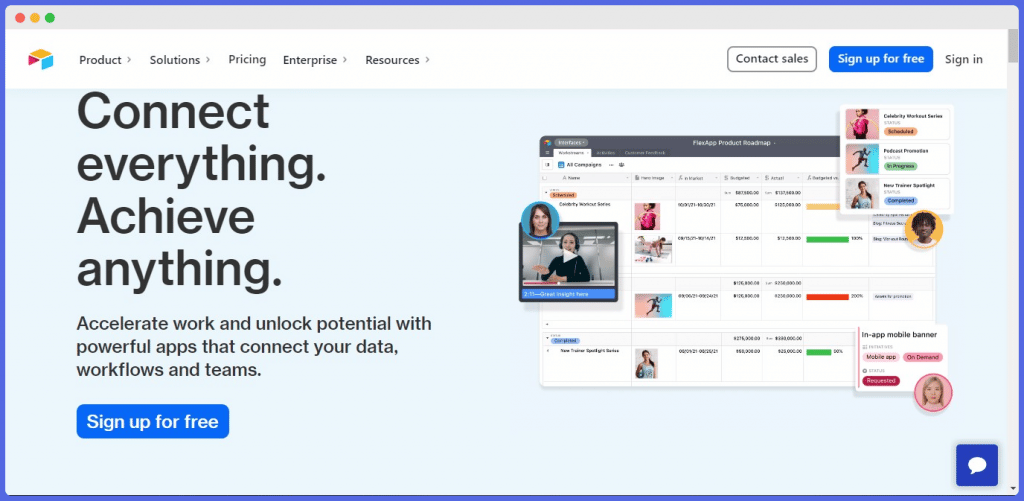 Airtable is meant to combine the flexibility and speed of a standard spreadsheet with a robust database power development tool, and it does so very well.
This is a great option for handling collaboration and organization intuitively and easily. Airtable combines content links with intelligent tracking, rich text fields, and custom formats, which is what you would expect from a standard spreadsheet app.
This No Code platform has a free plan and two paid plans:
Plus ($10 per seat /month billed annually; $12 billed monthly)
Pro ($20 per seat /month billed annually; $ 24 billed monthly)
You can connect Airtable to many popular mobile apps like GitHub, Dropbox, and Slack because it is easier to move content from one app to another.
Rich features in this software development tool include:
Drop-down menus
Barcodes
Long notes
Document previews
Drag and drop attachments
All these tools together create a great No Code platform for convenient content organization.
Every device running on the same project gets a real-time update when changes are made from a single device to help co-workers follow every step of the development process.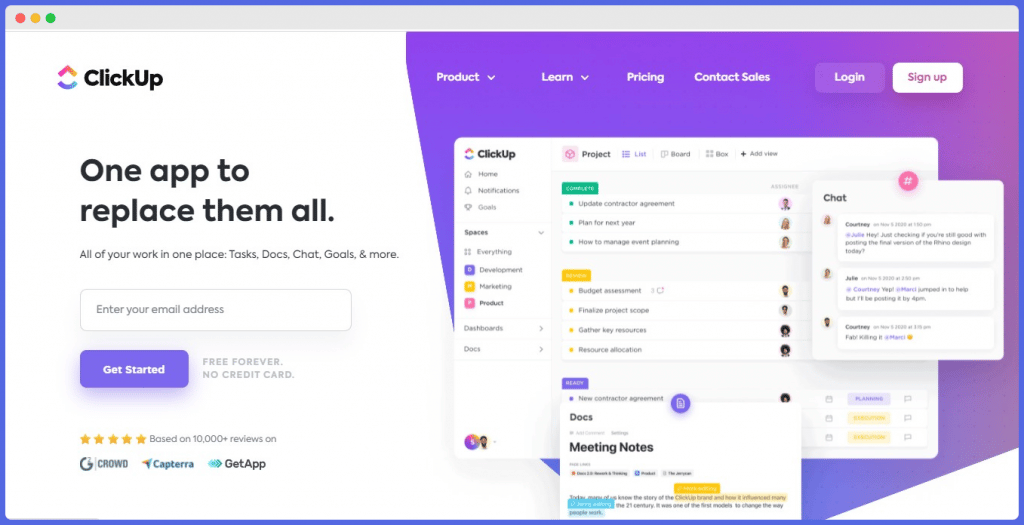 ClickUp is all in one platform, a fully customizable task management application suitable for small, medium, and large teams. It is ideal for creating to-do lists, project management, reminders, and goal tracking.
ClickUp is a great alternative to project management tools because it offers real-time chat, comments, and tags.
ClickUp Key features:
Work graphs
Reminders & To-do list templates
Wiki and documents
Automation & Collaboration tools
Time tracking & Schedules
API
ClickUp is flexible, easy to use, and also a mobile app.
However, for some people, the application is too complex. Another negative feature that the reviewers mention is the guest interface, which is very opaque. [4]
It has a free plan for personal use and four paid plans:
Unlimited ($5/member/ month)
Business ($12/member/ month)
Business Plus ($19/member/ month)
Enterprise (contact sales)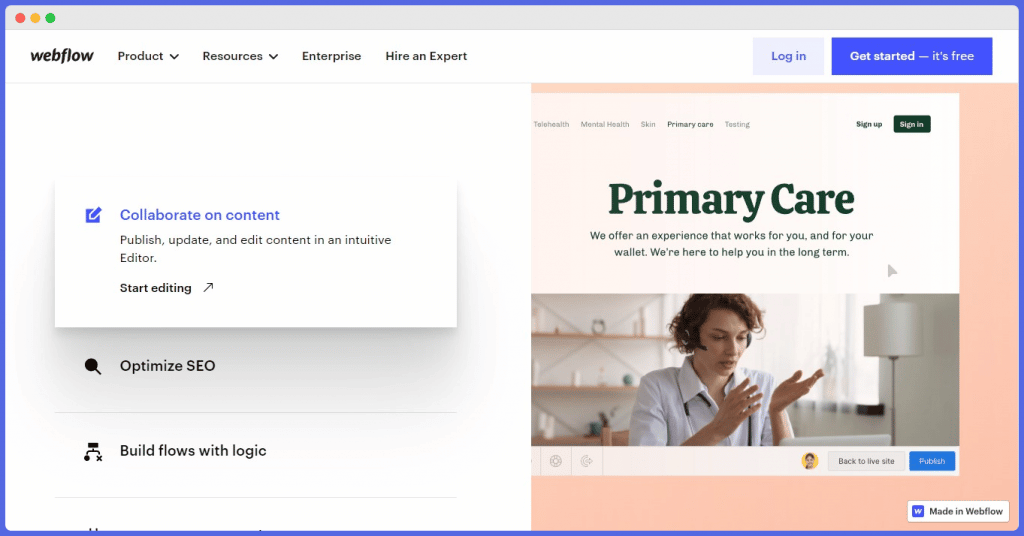 Webflow is number five on our list of most popular No Code platforms that has taken advantage of some very useful browser-based visual editing software to make web design easier for the average person.
The selling point of Webflow is the ability to change your website in real-time instead of using code to achieve the same effect.
Although this seems underwhelming, it is very useful. With this software, you can easily create stunning websites with little or no knowledge of web design.
Actual design skills can be more important than web design skills when using Webflow.
This tool cannot be used to create apps, however. Other tools in this list can take care of that task.
It has a free plan for personal use and four paid plans:
Basic ($12/ month billed annually)
CMS ($16/ month billed annually)
Business ($36/ month billed annually)
Enterprise (contact sales)
The basic template that Webflow has is good for online stores. The CMS features all of the functionalities required to manage and deploy an online store.
Join three million people and start using Webflow to create mobile apps, launch powerful web apps and other No Code solutions.
In addition, we have a separate article where we compare Bubble vs Webflow closely.
Quickbase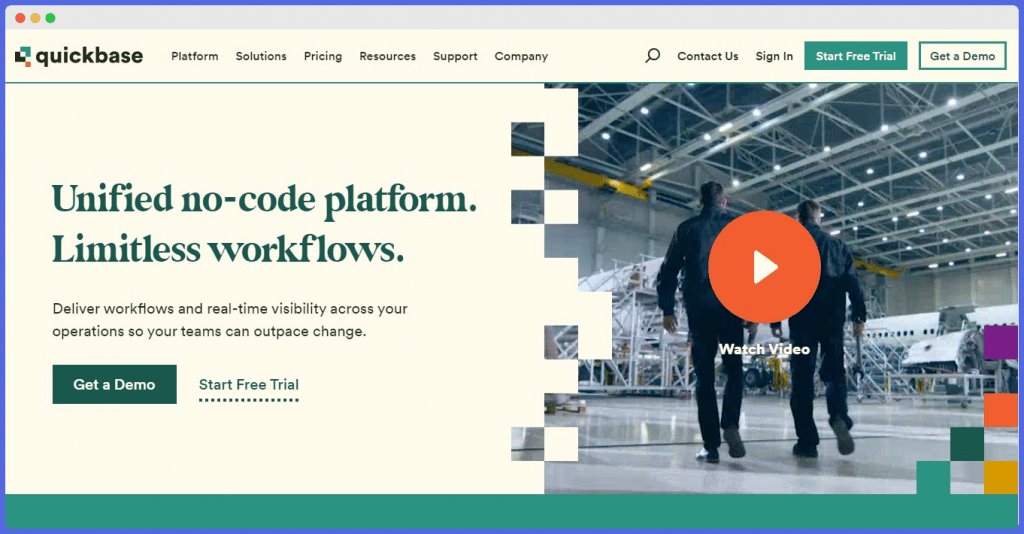 The QuickBase homepage app is used for creating highly interactive, data-based rich dashboard applications in minutes to keep track of what's important in one workspace.
Quickbase Advantages:
Customizable CRM.
No user limit.
Easy to set up and delete data.
Build charts.
This great sales tracking software encourages and facilitates collaboration. It is amazing for importing an existing market database or list of leads.
Quickbase Disadvantages:
The user interface needs improvements, and navigation is confusing at first.
The synchronization function needs to be improved.
Big investment for a small business.
Reports are not easy to design.
There is a flexible CRM that is also powerful and preferred by sales teams. Its allowed company size is from 10 to 10000.
Industries that use QuickBase are management software, computer software, staffing, recruitment, hospital, healthcare, information technology, construction, financial services, business consulting, etc.
It has a free trial and three paid plans:
Team ($600/month)
Business ($2000/month)
Enterprizes (contact sales)
Final thoughts
We hope you enjoyed our list of No Code development platforms (and No Code tools in other categories). In the developing world, No Code platforms and Low Code platforms are gaining popularity. No Code development platforms and Low Code development platforms allow anyone to create an application that users can use that meets their needs.
No Code platforms can also benefit small businesses because they allow anyone to work without any formal development knowledge.
Lambda School, for example, is a coding Bootcamp with a unique approach to monetization. It was estimated to be worth around $150 million last year. It was built using No Code platforms for admissions, teaching, and interesting career placement.[5]
Disruption is one of the concerns of the development industry. No Code development platforms, on the other hand, have the potential to disrupt the industry.
The world will eventually get to the point where we won't need any code. It's a fantastic time to start working on your mobile apps/web apps using No Code development platforms.
Are you still not sure if No Code is the best choice for you? Take our 2-minute free quiz to see what is the best solution according to your requirements.