Building a website is not that complicated anymore. Nowadays, small business owners can build their own websites easily and quickly with drag and drop website-building tools. Whether for a business portfolio, blogging, or just a platform to sell online, website builders can help users create custom websites without any coding knowledge.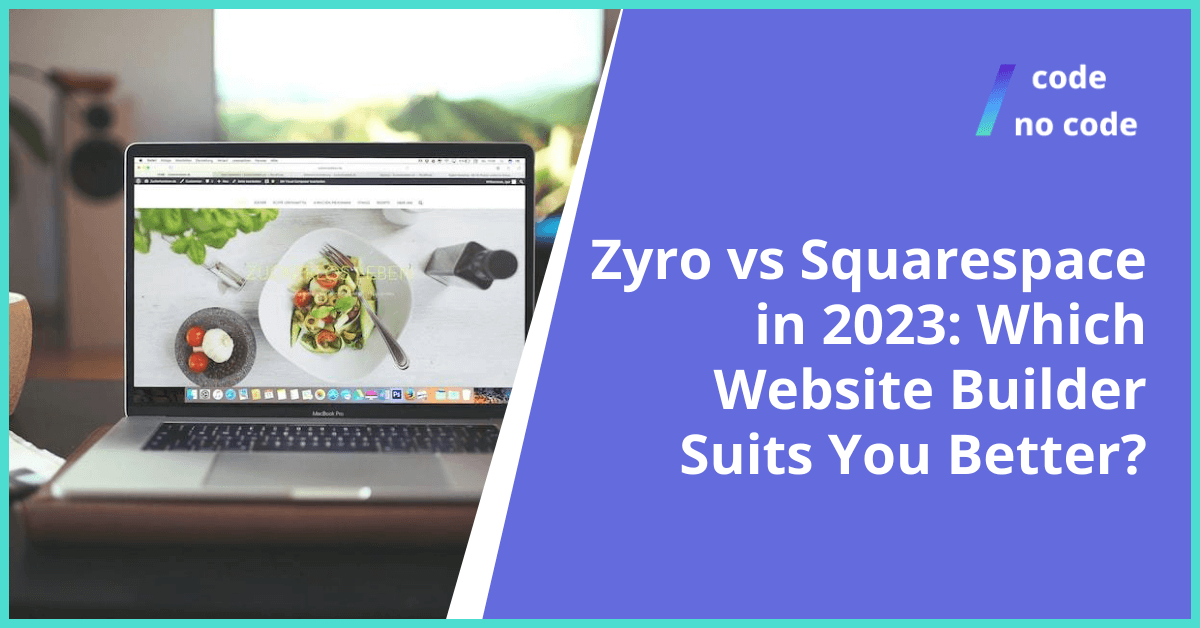 However, not all website builders are made equal. Depending on the specific features or use cases, some website builders thrive where other website builders are lackluster. This is where the question of Zyro vs Squarespace can be raised. 
Choosing the right platform[1] that offers fitting features for your small business will save time and money while significantly easing the whole web development process.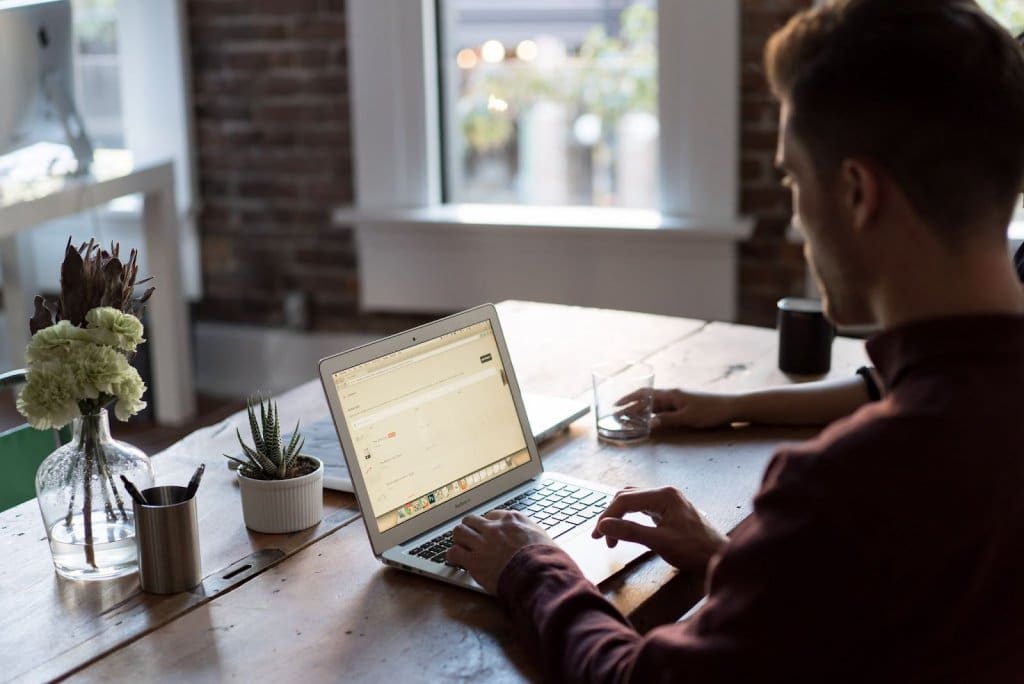 Photo by Bench Accounting
We already have an article mildly showcasing the best No Code website builders, but we will only compare two of them here; the veteran website builder – Squarespace – and the relatively new kid on the block – Zyro. But first, let's discuss what elements make an efficient website building platform.
Zyro vs. Squarespace: Quick Overview
Zyro Key Features
Founded in 2019, Zyro is a relatively new, AI-ready, and powerful website builder with over 100,000 websites published through the platform.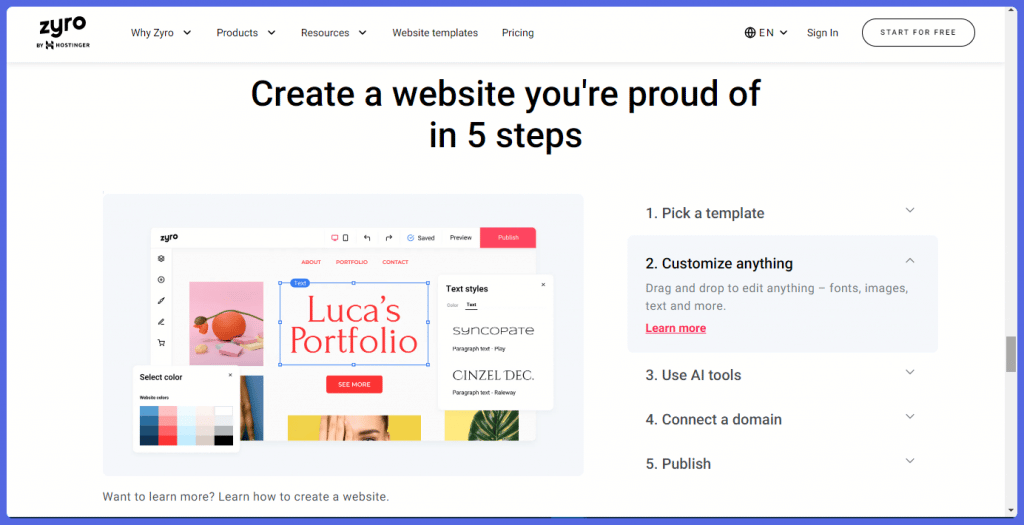 It features an intuitive and flexible WYSIWYG (What You See Is What You Get) editor, AI tools, pre-built website templates, and all-in-one eCommerce functionality. It is trendy among non-designers for its grid system tools presentation and ability to let users edit web pages and see changes on the live site.
Squarespace dates back to 2004 during its blog hosting service days. Now, it is a powerhouse in the website building space as an all-in-one solution for all web development needs.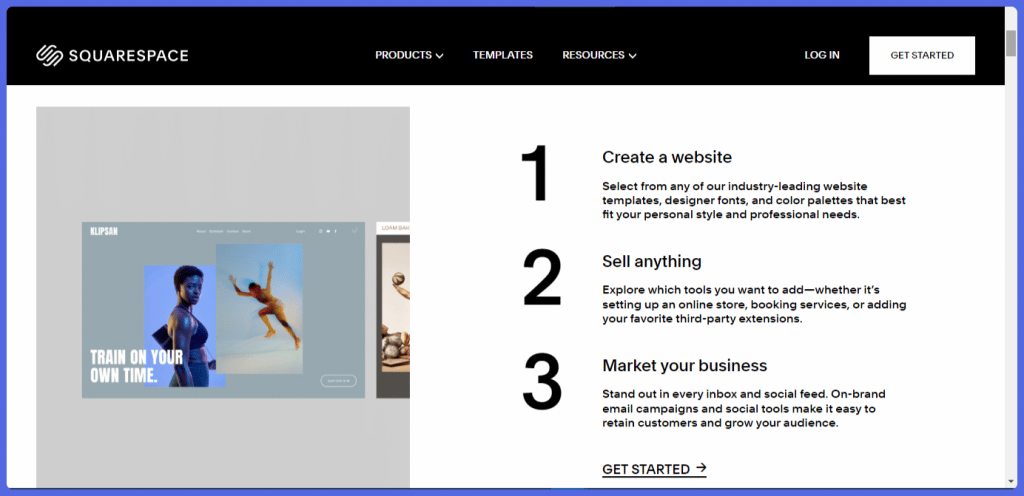 It also dons a WYSIWYG builder with a block-based system that allows you to drag and drop elements on the web page. Additionally, Squarespace does not stray from its roots as it offers users built-in web hosting services without any extra purchases.
Looking strictly at the fundamentals, Squarespace and Zyro are actually quite similar. However, several factors differentiate them. So let's get into it.
Zyro vs. Squarespace: Ease of Use
Zyro Ease of Use
Zyro website builder provides lots of features that make it significantly user friendly. For one, it uses a grid system[3] visual editor that easily enables the proportional arrangement of site components on the web page.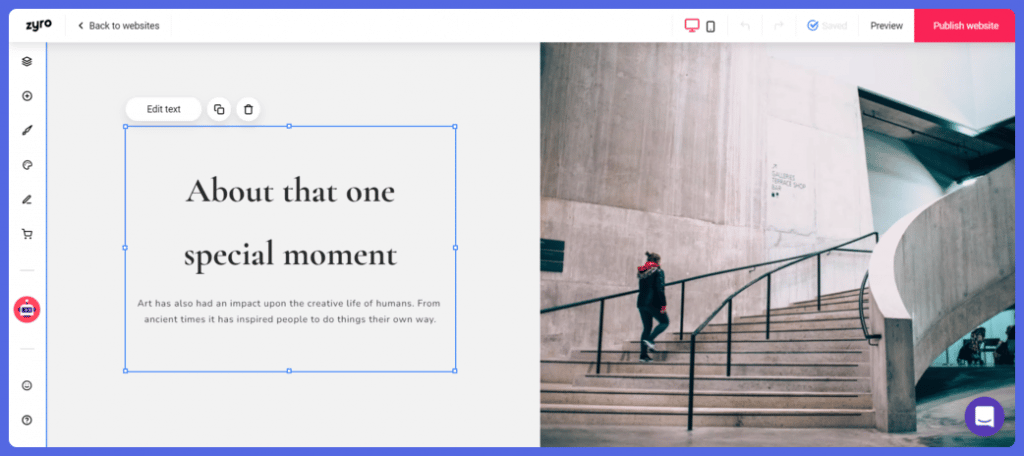 The drag and drop editor also combines well with Zyro's AI tools – AI writer and AI Heatmap. As a result, they can help users create modern websites and web copies and predict user engagement properties without changing interfaces.
Also, Zyro always displays a live chat support button at the bottom left of the screen for users to access expert help whenever they need it.
Building websites with Squarespace is extremely simple. All you need to do is sign up and answer a series of questions about your desired website, and Squarespace website builder will do all the hard work for you – generating templates that best suit your needs.
After choosing a template, you're presented with a user-friendly interface with a sidebar on the left containing all you'll need to develop and manage your website.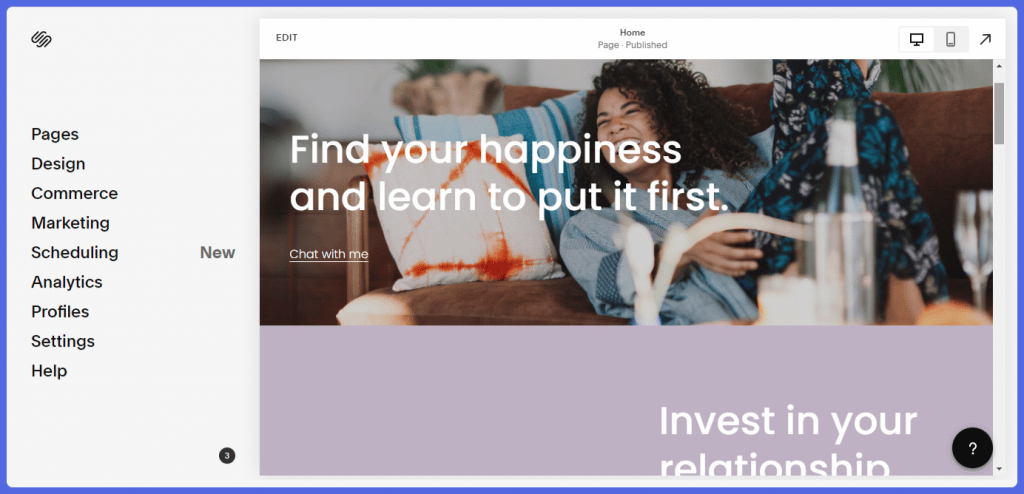 Squarespace editor uses a WYSIWYG builder, but content blocks are not as flexibly moved as in Zyro's editor. But each content block has a sufficient level of customizations to configure them to your specific requirements.
Additionally, Squarespace offers managed web hosting, so users don't have to bother managing the backend themselves.
If you do end up needing a No Code platform for your backend, we recommend Xano. We gave an overview of its features in our article on No Code Backend tools.
Zyro vs. Squarespace: Template Gallery
Zyro Template Gallery
With over 100+ templates to choose from, Zyro website builder has a theme for every mood and design style. The templates are grouped into categories for personal use, including Blogs, Portfolios, Photography, and Events, as well as business-oriented options like eCommerce, Technology, Community, etc.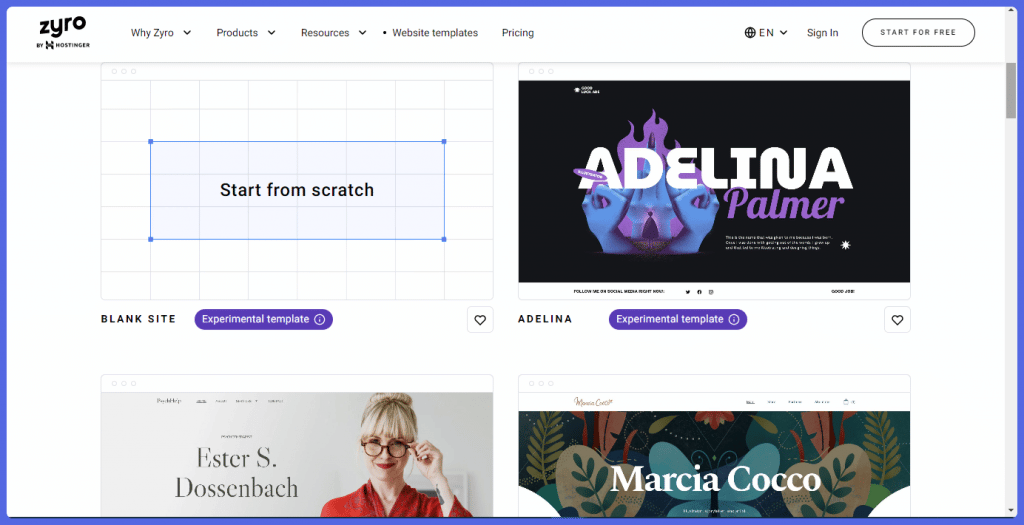 Zyro's templates are free with a typically minimalist aesthetic and modern design that makes for a creatively styled website.
Furthermore, all Zyro's designs are responsive by nature. Meaning that your website will intuitively resize depending on the device accessing them i.e. Mobile, Tablets, or Desktops.
Like Zyro, Squarespace website builder offers dozens of design suggestions based on the type and topic categories.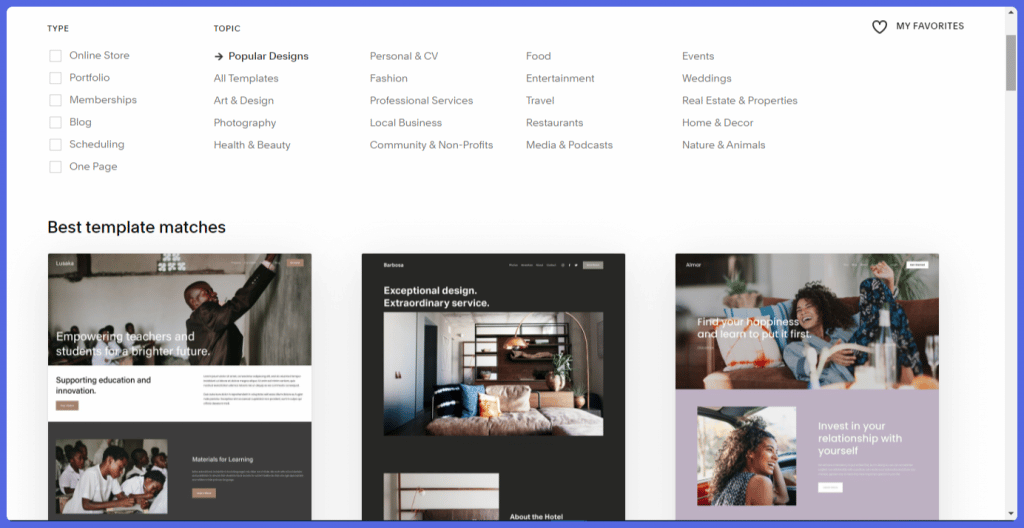 Users are presented with a selection for the type of website they want to create, for example, Online stores, Portfolios, Memberships, Blogs, etc. And up to 15+ pre-made sections, including Art & Design, Local Business, Food, Real Estate & Properties, Media & Podcasts, etc.
There are also templates for more specific functions such as Reservations, Donations, Music, Appointments, Tour Dates, etc.
Zyro vs. Squarespace: Website-Building Features
Zyro Website-Building Features
A lot of Zyro's unique functionality is in its AI capabilities. They're optimized to aid small businesses and large enterprises in automating and handling several website development-related tasks.
Users can use the AI Heatmap[4] to design tailored user experiences based on intelligent insights on real users' attention. In addition, users can use the AI Writer tool for generating copy that is both high-quality and SEO-friendly. Other AI tools offered by Zyro website builder include the Logo Maker, AI Slogan Generator, Favicon Generator, among others.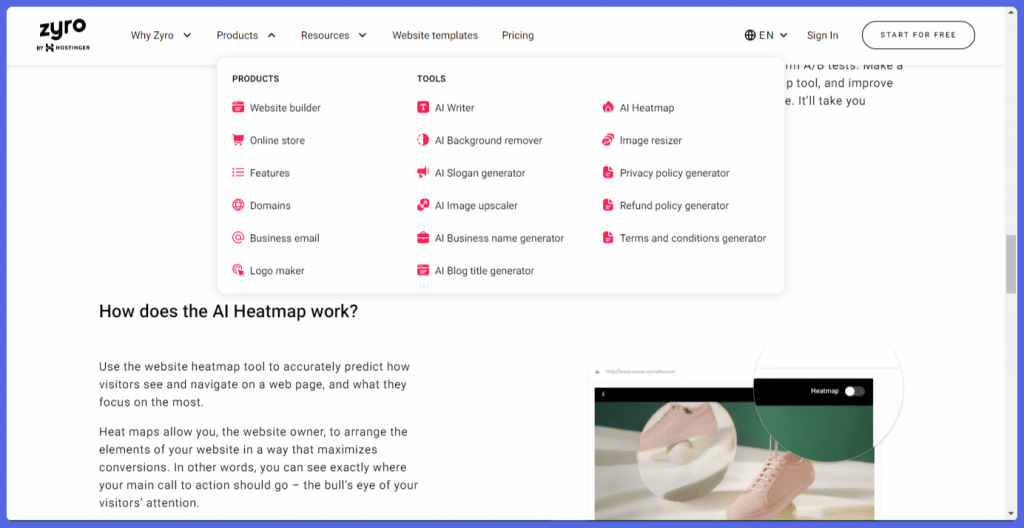 The Zyro website builder also works well as an eCommerce platform via its easy-to-use Store Manager. Users can access catalog management features, inventory and order management features, storefront customization visually or with custom code, and much more. But as we will soon see, this doesn't compare with what Squarespace website builder offers. However, Zyro does offer better SEO options.
Zyro offers a range of SEO tools to optimize your website's performance on SERPs (Search Engine Result Pages). They are all found on the dashboard's Manage menu for easy access.
Squarespace Website-Building Features
While Zyro and Squarespace website builders utilize essential page elements like text, images, and buttons, Squarespace offers significantly more features.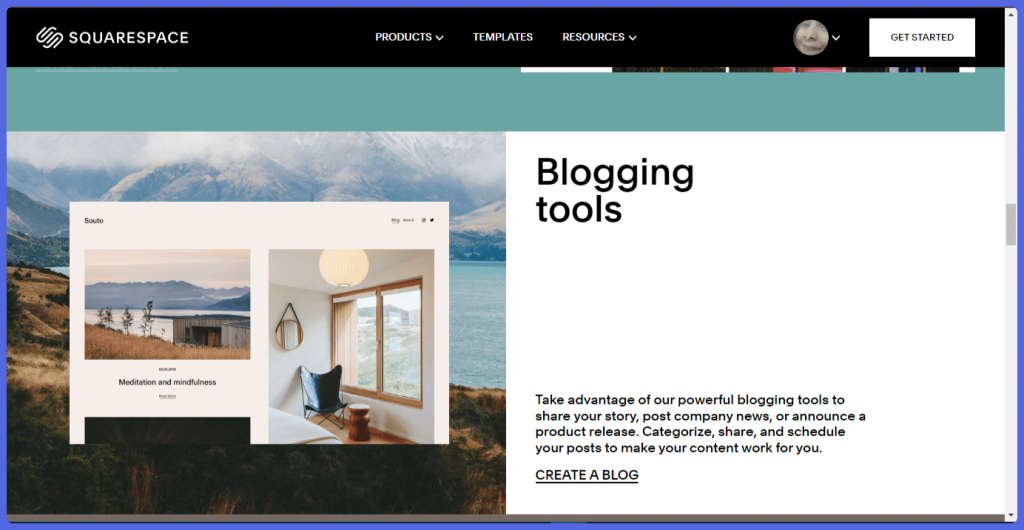 For starters, you can add audio blocks, RSS, Charts, Card, and SoundCloud. And consistent with its design-oriented nature, Squarespace offers several ways and tools to build attractive web pages;
Blogging features, which includes options to add an RSS feed, schedule posts, enable & monitor comments, and even update blogs via the Squarespace mobile app.
Advanced form builder, containing access to up to 19 form fields with support for third-party integrations with Google Drive, Zapier, and Mailchimp.
Podcasting features, as users can submit their RSS feed for Apple Podcast Syndication, and even add audio blocks to their blog.
Donation features, with the ability to customize the checkout page and the donation amounts suggested – making Squarespace one of the best website builders for none profits.
Zyro vs Squarespace: Extensions & Integrations
Zyro Extensions & Integrations
Zyro offers a relatively limited number of extensions as integrations, primarily geared towards analytics.
These include Google Analytics, Hotjar, Google Tag Manager, and Facebook Pixel to track Facebook ad performance.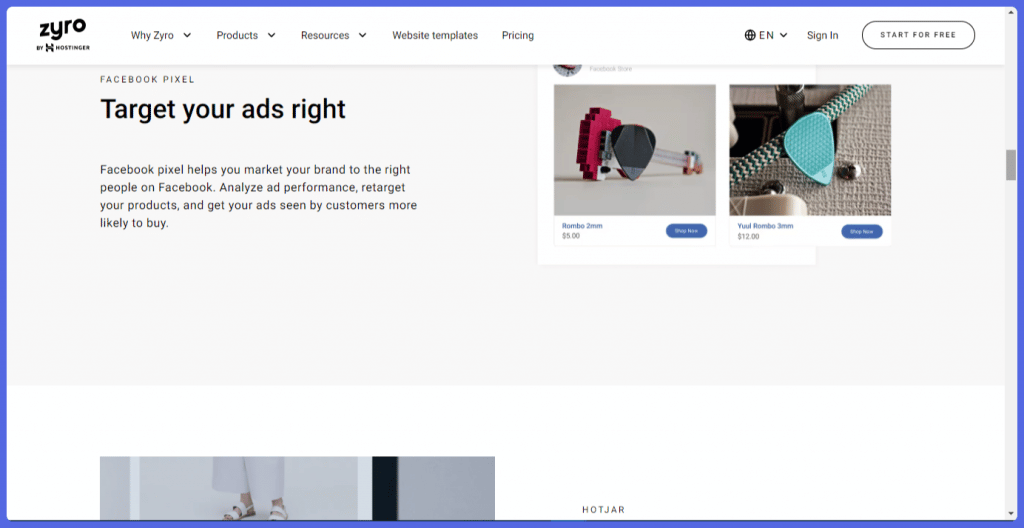 One of the primary reasons small businesses love Squarespace is its integrations, mainly focused on eCommerce. These include package tracking, order fulfillment, shipping, print-on-demand, inventory management, and customer feedback and support. It also supports a wide range of extensions.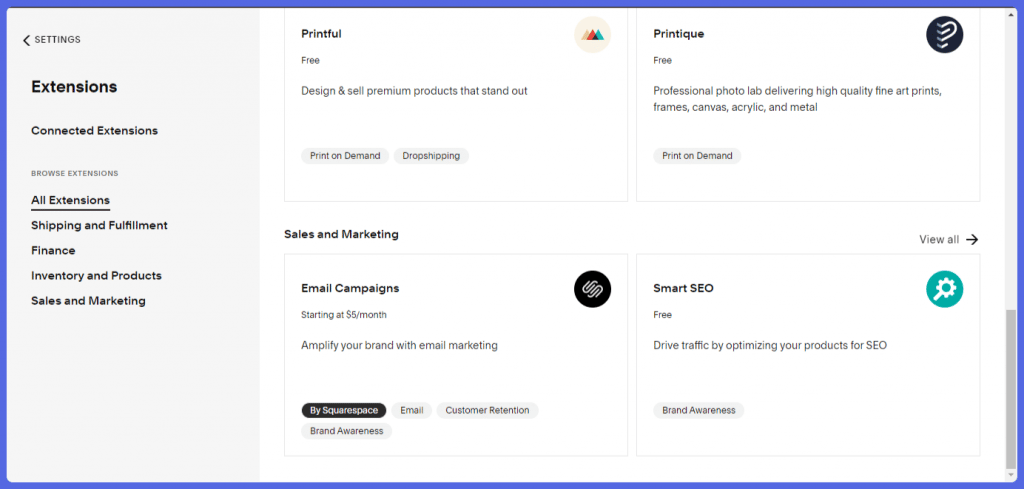 Furthermore, Squarespace allows users to link their Google Analytics account to Squarespace's built-in tools for optimal site management.
Zyro vs. Squarespace: Customer Support
Zyro Customer Support
Zyro offers customer support via four channels; live chat, email, contact form, and an extensive knowledge base. The live chat functionality is available 24/7 and can be accessed easily on any Zyro web page.
Users can try finding solutions for themselves through the knowledge base. Simply input keywords into the search box, and Zyro will display related articles filled with screenshots and videos.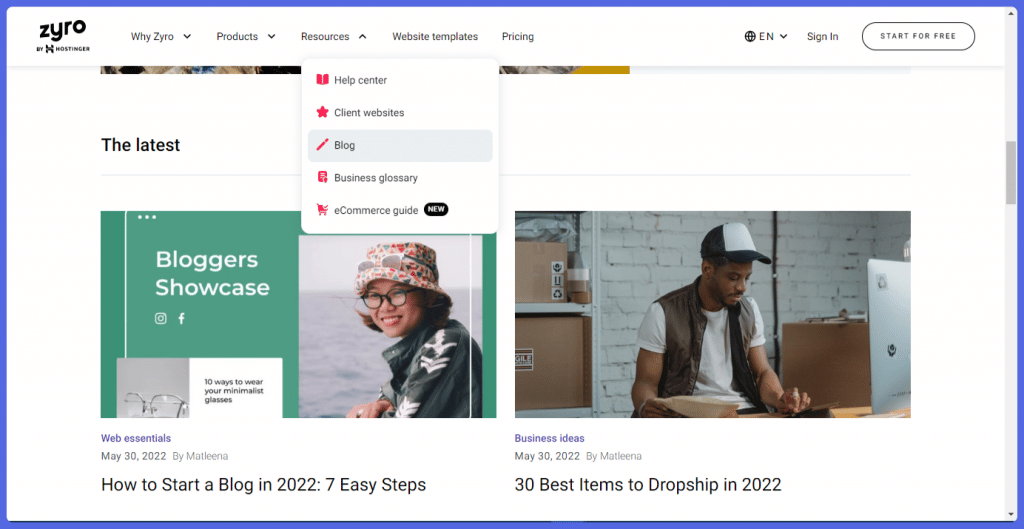 Other valuable resources include:
The design inspiration section showcasing successful Zyro clients.
A Business glossary.
A blog on several common topics.
An eCommerce guide.
Squarespace's customer support is accessible through comparatively more channels than Zyro. In addition to live chat, email, and knowledge base, Squarespace provides support via online webinars, Twitter, and an active community forum. All of which are accessible from the Squarespace Help Center page.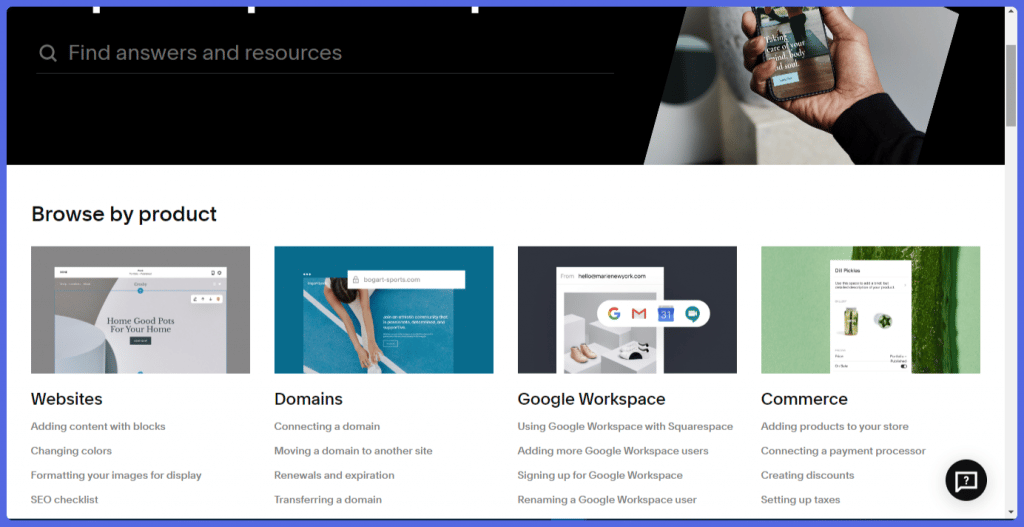 The only problem with Squarespace's robust support is that the live chat functionality is only available from Monday through Friday between 4 am and 8 pm EST.
Zyro vs. Squarespace: Plans and Pricing
Zyro Plans and Pricing
Zyro provides four premium plans that cost between $2.90 and $15.90/month, and they all come with the following for free;
Managed cloud hosting.
Free custom email support for three months. Users get an @yourdomain email address.
Free domain name for one year.
24/7 customer support via live chat and a 30-day money-back guarantee.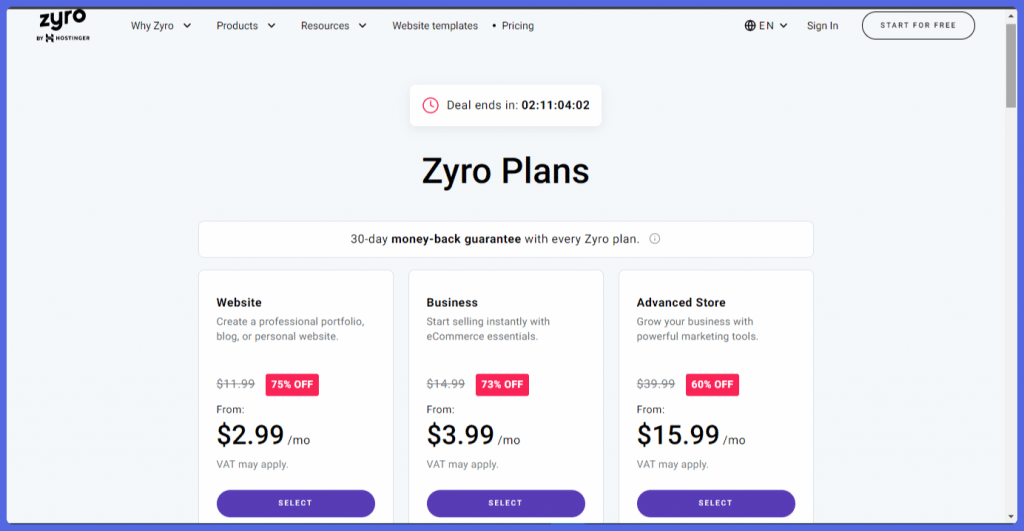 You can use the table below to compare Zyro's pricing plans;
| | | | |
| --- | --- | --- | --- |
| Features | Website Plan | Business Plan | Advanced Store Plan |
| Bandwidth | Unlimited | Unlimited | Unlimited |
| Blogging tools | Yes | Yes | Yes |
| Mesenger live chat | Yes | Yes | Yes |
| Inventoy management | No | Yes | Yes |
| Product filters | No | No | Yes |
| Multiple payment options | No | No | Yes |
| SSL certification | Yes | Yes | Yes |
| Abandoned storage cart recovery | No | No | Yes |
| Storage | Unlimited | Unlimited | Unlimited |
| Price | From $2.99/mo | From $3.99/mo | From $15.99/mo |
Zyro also offers a variety of marketing tools integration, including visitor remarketing, Google Analytics, Google Tag Manager, and Facebook Pixel, all of which enhance overall business performance. Unfortunately, Zyro does not currently offer a free plan.
Squarespace offers users four pricing plans, and unlike Zyro, you get a 14-day free trial version to test drive the website builder. All the plans come with the following;
Free SSL certificate.
Free custom domain name for one year.
24/7 customer support.
SEO features for site visibility.
Managed cloud hosting and unlimited bandwidth and storage.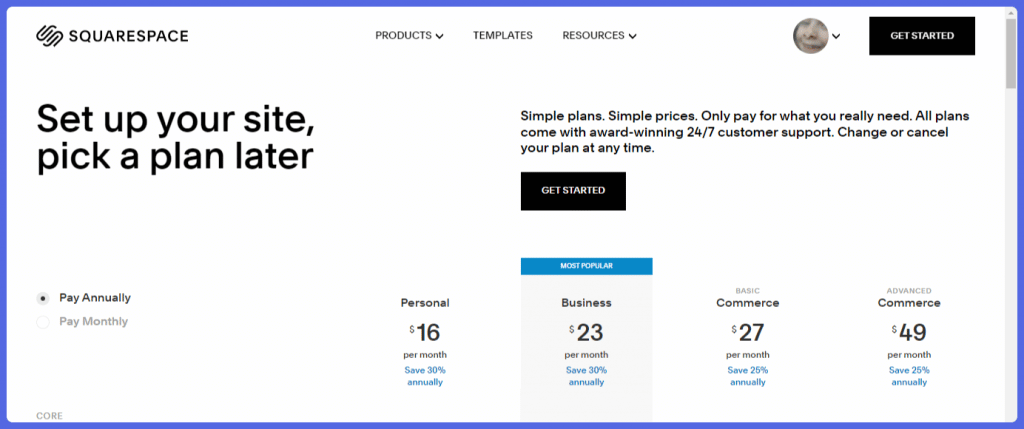 However, each plan comes with its unique features;
Personal, $16/mo. Only comes with core Squarespace features, website templates, mobile-ready website building, basic website metrics, Squarespace Video Studio App for marketing, and only 2 contributors, including the owner.
Business, $23/mo. Features unlimited contributors, advanced website analytics, Google Ads Credits, pop-ups and banners for brand promotion, gift cards support, and fully integrated eCommerce.
Basic Commerce, $27/mo. It comes with everything in Business Plan plus 0% transaction fees, product review, customer accounts, Point of Sale, product merchandising features, and powerful eCommerce analytics.
Advanced Commerce, $49/mo. Includes all Basic Commerce features plus abandoned cart recovery, advanced discount and shipping, subscription product type, Commerce APIs, and provision for selling unlimited products.
Elements of a Good Website Builder
Any effective website builder must have the following basic commonalities;
User-friendly interface. As long as users can easily navigate through the panels of the website builder, the primary aim of using a website builder is already achieved.
Robust Features. A wide array of tools, functions, and settings gives users the freedom to build their website exactly as they imagined it.
Variety theme selection. An effective website builder must provide pre-built templates that cater to various types of websites – from online stores to online resumes. The templates should also be mobile-friendly with a responsive design.
Customer support. Having experts you can contact for assistance when you need them is indispensable.
Scalability. The website builder should provide support for upgrading the resource of a small business website with more features as it grows

[5]

.
Cost-effectiveness. Of course, the amount of money users spend should match the benefits they're getting.
There are other key features you may require depending on the type of website you're building. For instance, online stores would primarily benefit if the platform provides an eCommerce store functionality that allows them to sell products, process payments, and manage business operations, all in one space.
Hence, we'd suggest before making a decision, you make a checklist for your most required features and functionalities.
Final Verdict
Squarespace and Zyro are one of the best website builders that anyone can use to create tailored websites. And both are unequivocally great WordPress competitors.
However, Squarespace seems to have outmatched Zyro in three categories – Template Gallery, Website-building features (particularly for eCommerce), and extensions & integrations support. But regarding ease of use and pricing, your best bet is Zyro.
Ultimately, both platforms are similar in overall style and presentation. So whichever you use to create your website is a great option. But Zyro is the better option if you're on a tight budget.
Squarespace will more likely meet your requirements on any other grounds. But Zyro is still a relatively new platform, so there's enough room for growth. If you want to keep up with any new changes or updates with Zyro and other No Code tools, just follow us on Twitter.