On average, internet consumers make up their minds about your website in less than a second[1]. Therefore, fast loading times and important information at the top of your website are essential to impress your visitors.
Eighty-one percent of people conduct online research[2] before making a purchase decision for a business or service. Choosing the correct website builder platform is critical when launching an online store or a website.
There's no denying that when you're looking for a site builder, you'll find a slew of marketing tools that make them seem like the greatest option.
Many people believe that a website built using a website builder will be low-quality and unattractive, but this is far from the truth[3].
Although not every website builder is the best fit for every consumer or business strategy, that doesn't mean they don't have their advantages.
With that in mind, read our Zyro review to learn more about whether or not it's the best website builder for you.
What is Zyro?
Zyro is a No Code[4] website builder for personal/portfolio websites and small eCommerce sites. It was founded in 2019 and debuted in early 2020, making it relatively new.
However, the business has 20 years of experience as a well-known online player behind it because it is a subsidiary of the web hosting provider Hostinger. Since its launch, it has expanded to power over 20K websites worldwide.

Zyro, like many other website builders, offers a wide variety of pre-built templates that can be sorted into several categories to make the process of creating your website go more smoothly. 
Despite this, it shines in its AI-powered tools such as logo, slogan, and brand name generators. Zyro website also provides other AI tools like:
AI Image upscaler
AI heat map
Blog title generator
Image resizer
AI writer
Favicon generator
Image background remover
Particularly, Zyro website appeals to professionals wishing to expand their network, people with personal branding, and small local businesses. This is true for business owners that desire access to the most up-to-date web development technology.
Zyro's team makes it their duty to keep on top of technological developments to provide users with the most recent features and tools.
This website building tool gives you a choice of three ways to start a new website. You can use a template, let Zyro's AI build your website, or start from scratch manually. Depending on your decision, you can have a website up and running in as little as ten minutes.
An Overview of Zyro Website Builder Features
| | |
| --- | --- |
| Ease of use | Extremely easy to use |
| Templates | 100+ |
| E-commerce Tools | Yes |
| Customer Support | 24/7, FAQ, chat, and email. |
| Storage space | Unlimited |
| Web Store | Yes |
| Blogging Tool | Yes |
| Download Selling | Yes |
| Basic Image Editing | Yes |
| Site Portability | No |
| Site Membership | No |
Zyro Review: Features
Examining all of a service provider's features is a good idea while looking for a website builder to work with. This provides a clearer sense of whether or not there is room for growth and expansion in the near future.
The following are some of Zyro website builder's advanced features:
Zyro User Interface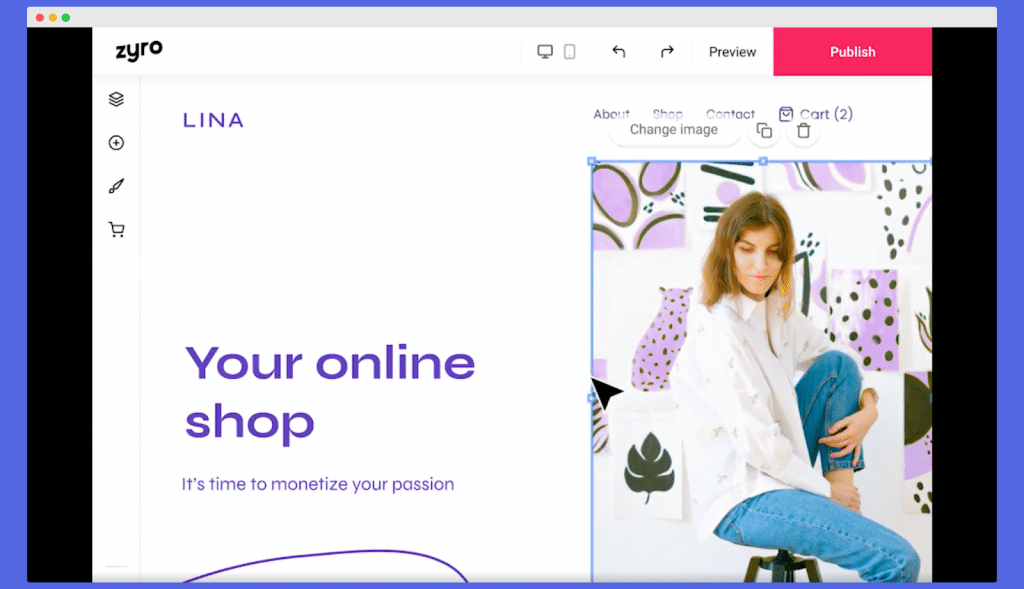 Zyro has a very sleek, user-friendly, and modern user interface. In addition, more than 25 languages, including English, Spanish, French, Russian, Italian, and others, are supported.
Zyro's Templates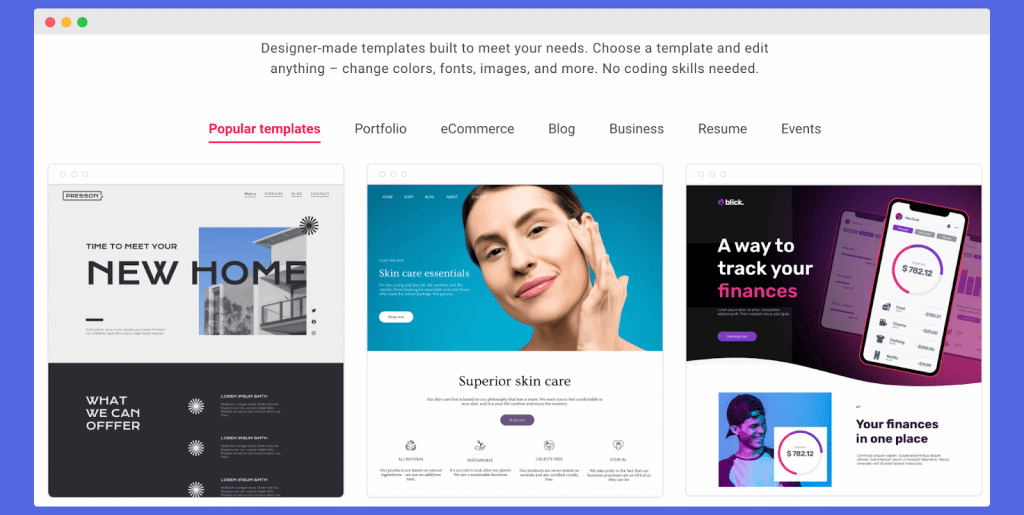 The quality of the templates available on Zyro website is excellent, and the level of creative freedom is increasing. Using the drag-and-drop editor provided by Zyro, you can customize 28 ecommerce-specific templates to suit your needs.
When changing a Zyro ecommerce template, you can't go too far wrong. Nonetheless, this does not stop you from making changes to the design. 
Recently, Zyro has removed some of the restrictive parts and blocks that made it difficult to give your website its own personality.
The new Smart Layout feature, available for some website templates, gives you more control over where your pieces go by using visual cues and dynamic columns.
Once you're satisfied with your arrangement, all of your pieces will snap into place, making your design clean and simple.
It doesn't matter what device your consumers are using to access your online store because every template is mobile-optimized. The best ecommerce website builders all provide mobile-optimized layouts as standard, but they're still essential.
Zyro Editor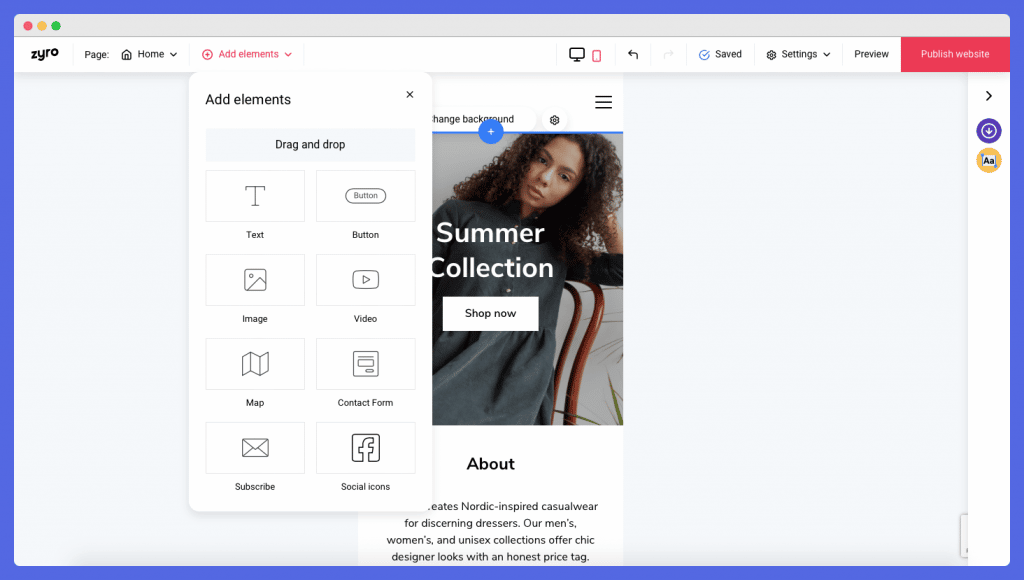 An exciting element of Zyro website builder is the editor. All of the information is spelled out plainly and easily accessible, with all details displayed in the sidebar (i.e., Pages and navigation, elements, website designs, and blog.)
You'll find all you could possibly need in each one.
Getting the hang of it and being familiar with the layout makes things a lot easier. Duplicating, reverting back to the previous version of the document, and switching from the desktop editor to the mobile editor are all easily accessible.
While using the mobile editors, you may effortlessly switch between the mobile and desktop versions of your site. Mobile-friendly elements can also be modified in a separate editor.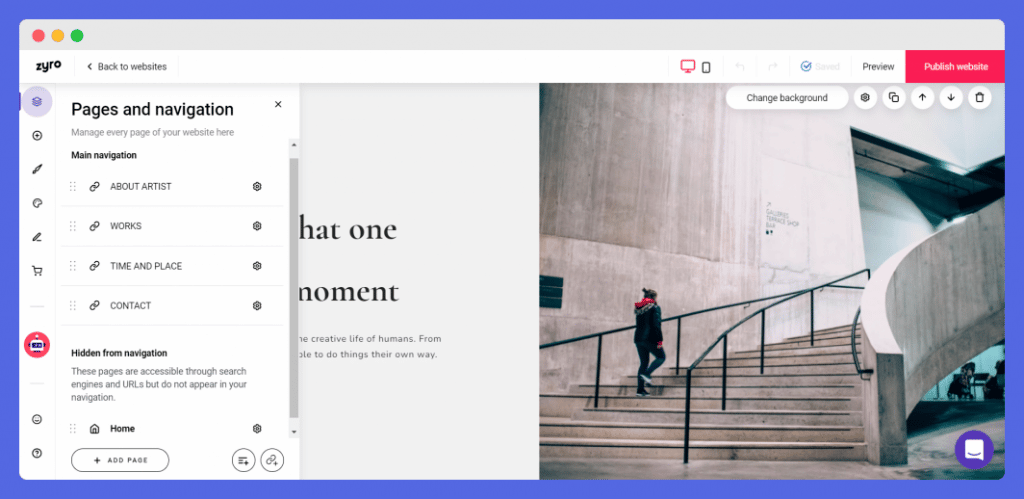 From the left side of the editor window, you may access a list of all of your website's pages and make edits as needed. These pages can be edited individually by clicking on them.
Adding new pages is as simple as selecting a pre-designed template or creating a new one from scratch. Adding a new drop-down menu and editing page settings are all options available to you.
Zyro Elements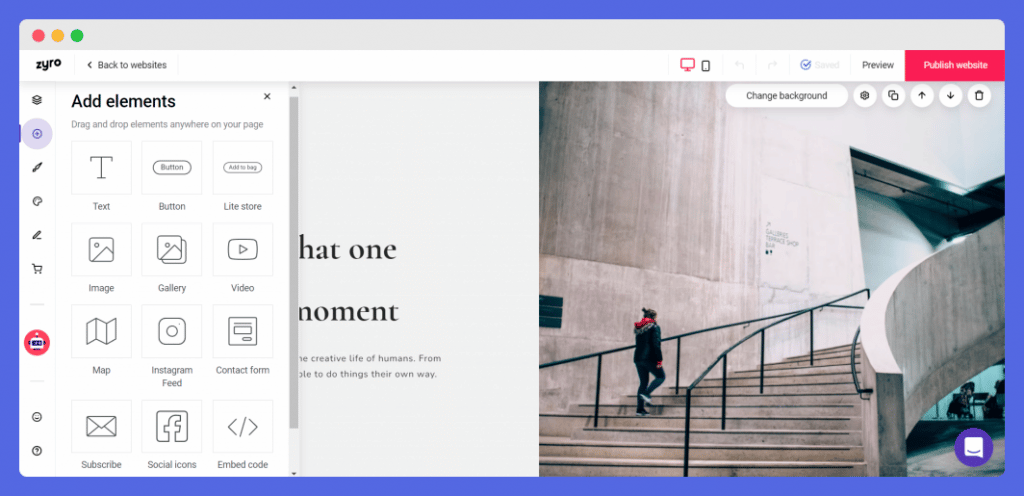 Using a website builder would be useless without the use of elements. You may use Zyro's 12 elements to build your website with a wide range of content, including text and images, as well as a variety of other elements such as social media icons and a sample online store.
Zyro Drag-and-Drop Editor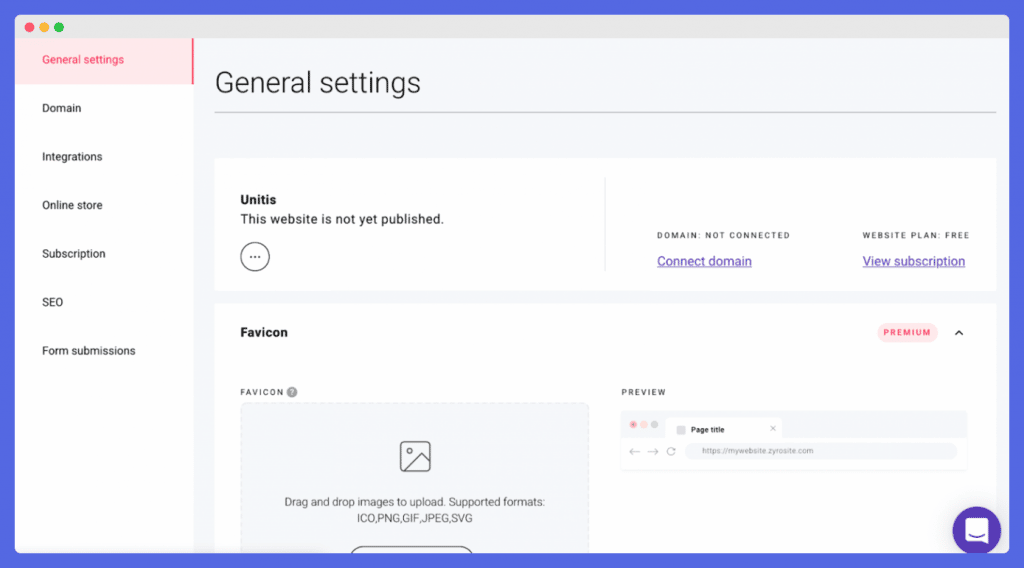 Up next is the drag-and-drop feature that allows you to move the design elements around. The editor has a drag-and-drop feature and a unique grid system that allows for additional design flexibility.
In this way, you can swiftly arrange all of your website's parts while yet maintaining a professional look and feel.
However, the grid layout section's restrictions restrict how you can customize it. On the other hand, this is useful in making the website construction tool accessible to novices. The grid layout acts as a guide to help you place various items on the page.
Just drag your text or icon into the section you want it to go into, and it will be arranged for you. Spending hours perfecting the smallest of details can be time-consuming.
Overall, the simplicity of the app makes it easy to use, but it may be restrictive for more skilled users with a good eye for design.
Zyro AI Powered Tools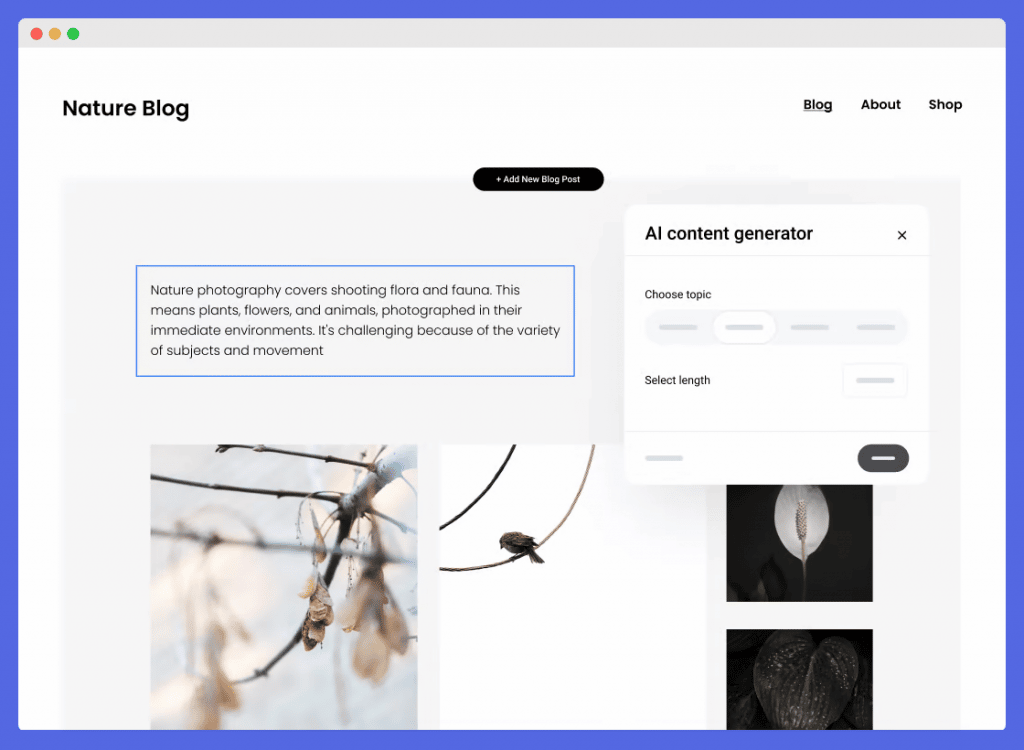 The AI-powered tools from Zyro are a value addition that is designed to aid consumers in optimizing their online stores and content on their own. 
For creating SEO-friendly content for your website and blog, you receive a business writing tool called AI Content Generator/AI writer, an AI slogan builder, a logo maker, an AI website generator and an AI-powered writing aid.
We admire the heatmap tool in particular because it shows you which parts of a given page visitors of your website spend the most time on.
Zyro Pricing Plans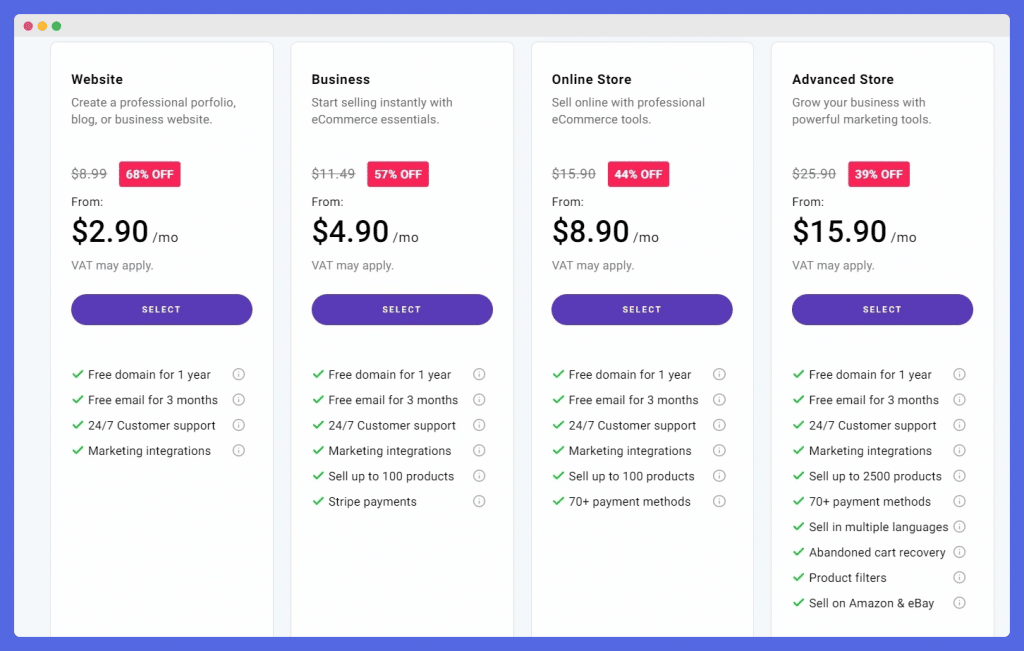 Zyro offers three different pricing tiers to select from. The Website plan is an option if you want to create a website. You can use their Business, Online Store and Advanced Store plans to start an eCommerce business.
Zyro Website Plan – $2.90/Month
The Zyro Website Plan comes with the functionality and resources you need to launch your company website.
Features:
3 GB of bandwidth.
Domain connection.
One gigabyte of storage
Money-back guarantee:
Templates: Pick the design you like most and alter it to fit your company.
Create a custom favicon to reflect your company.
No Zyro advertisements will appear on your page.
Free web hosting
Create a professional email for free that is branded with your company's logo.
SSL certificate
All Zyro templates are made with SEO optimization to increase SEO
Tools for blogging that will drive more traffic to your website and raise brand awareness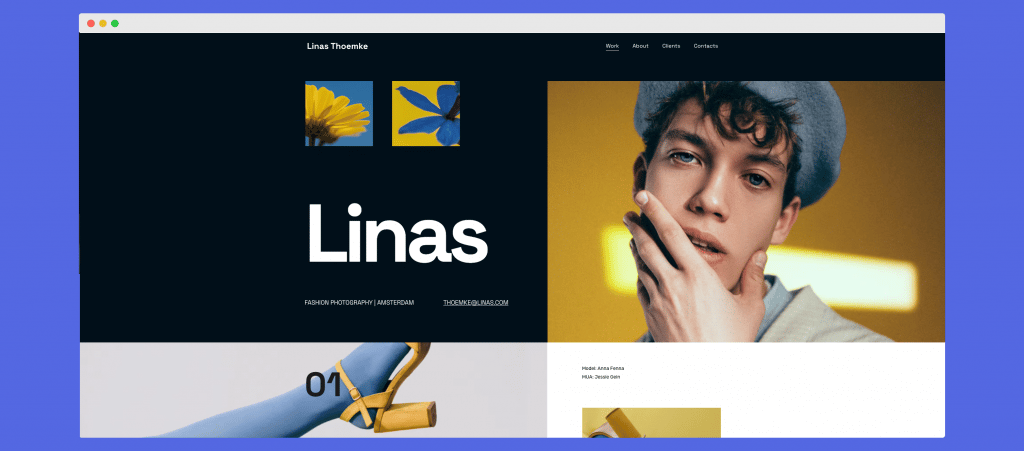 Zyro Business Plan – $4.90/Month
It includes all the features of the Website Plan, along with improvements to some of them and additional integrations for analytics and customer service.
Features:
Unlimited bandwidth enables you to expand your business and handle rising visitor volumes on your website.
Unlimited storage.
Create a free domain name that represents your brand to receive a free domain for a year.
Incorporate code for practical extensions like calendars, music players, etc.
Integrating Services:
Communicate directly with visitors using Messenger live chat on Facebook Messenger.
Google Analytics – gathers user information so you may assess your site's traffic and make necessary improvements.
Facebook pixel.
Google Tag Manager.
Website remarketing.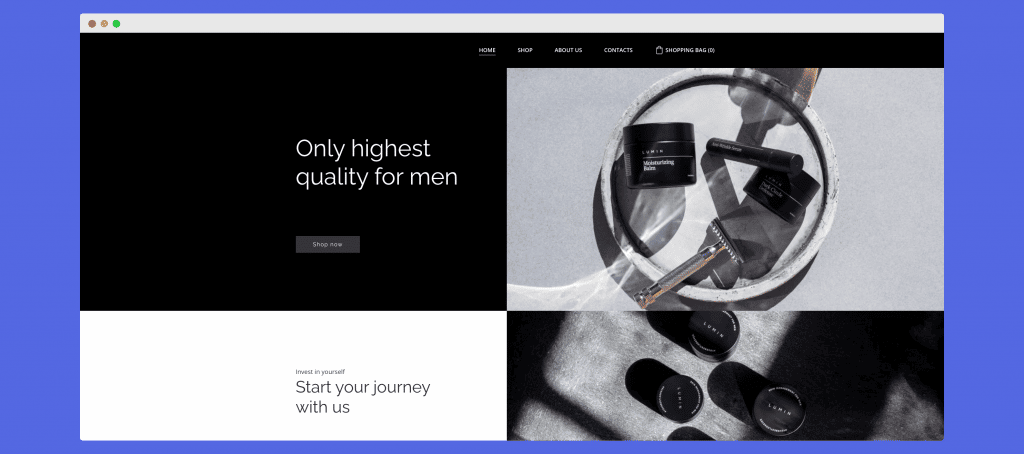 Zyro Advanced Store Plan – $15.90/Month
Businesses who need an online store to offer a variety of goods should choose the Zyro Advanced Store Plan.
Features:
All of the essential components of the Business Plan are included in the Advanced Store Plan. Premium features with Advanced Store include:
2500 products – sell items in your online store.
Accept payments online.
Commission-free.
Email notifications.
Discount coupons.
Gift cards for your customers to purchase.
A user-friendly dashboard for keeping track.
Shipping and tax management.
Multiple payment options- including major credit cards, PayPal, iDeal, PayU, and more.
Abandoned cart recovery.
Multiple languages – your online store can be viewed in multiple languages.
Product filters.
Facebook Shop – integration to sell your wares on Facebook.
Instagram Store.
Amazon integration (the USA only).
For more details on the different Zyro prices and plans, check out the Zyro site.
Zyro Customer Support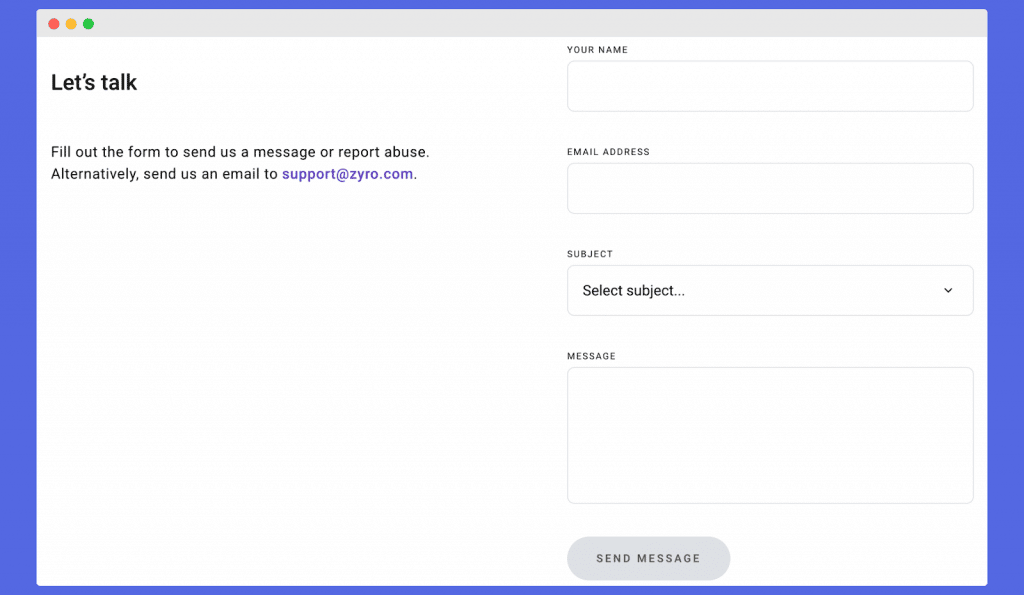 Users can access Zyro support by selecting the chat box icon in the bottom-right corner of the interface. You can talk to Zyro's customer support representatives any time of day or night.
When the chat window is open, you can enter a term to search Zyro's knowledge base for the answers you need by using the integrated search area.
For What Website Should I Utilize Zyro?

Zyro belongs to the category of website builders used to create websites without the need for additional tools or services from third parties. Although the platform cannot be extended at all, Zyro has many features nonetheless.
To get your designs off the ground, choose from a great range of templates and a drag-and-drop editor.
Zyro offers numerous integrations, including those with Facebook Live Chat, Facebook Pixel, and Hotjar.
You start off with a ton of search engine optimization (SEO) tools. Each website, for instance, has eCommerce functionality, analytics you can peruse, and mobile optimization (depending on your plan).
Website builders fall within the category of tools that are best suited for particular tasks. What uses does Zyro have? What is it lacking?
Let's examine some of the most well-liked website niches to evaluate how well this builder performs in each one.
| | | |
| --- | --- | --- |
| Website Type | Benefits | Limitations |
| Online Stores | No commission fees, visitor remarketing, and inexpensive startup costs | There are still some features being developed. |
| Portfolio Site | Excellent templates | The portfolio sites are fairly basic due to their limited features. |
| Businesses/brands | User-friendly, good built-in AI tools | Limited third-party options and some tools. |
| Blogs | Easy setup and lovely templates | Limited capabilities |
Pros and Cons
Cons
Zyro has a robust feature set; however, you can see that it lacks some features that other site builders provide.
Looking at the elements that are accessible to design your site will show you that you have less flexibility to begin with.
After your site goes live, you can't change templates.
It needs additional choices for photo editing.
No free plan.
The cost increases with the built-in professional email.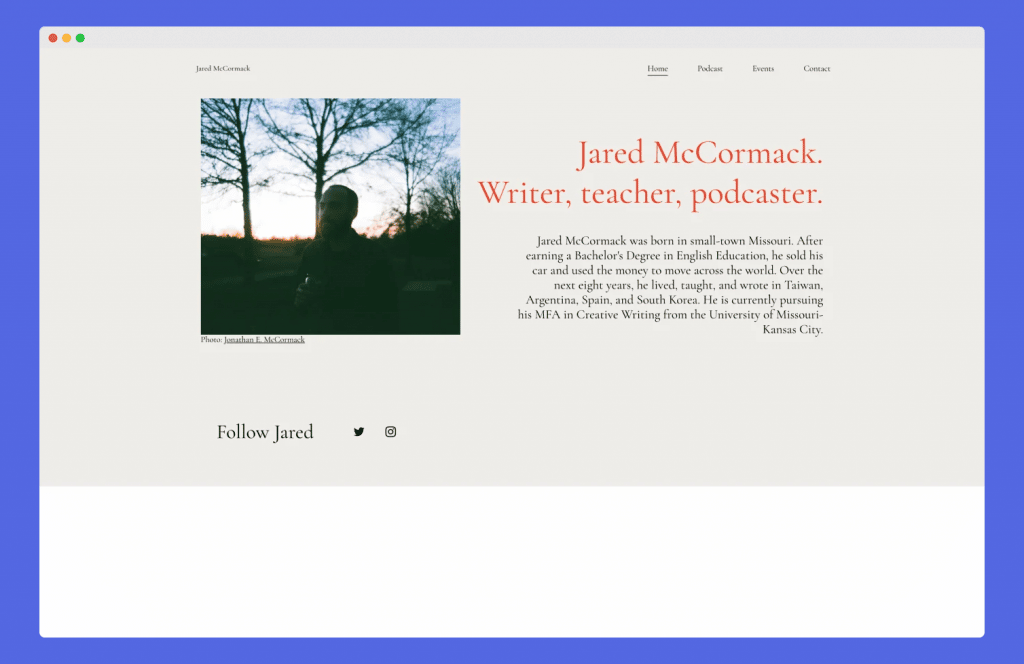 Pros
A benefit (and a selling feature) of Zyro, like many other website builders, is that it houses almost everything you need for website building.
As a result, you won't have to go through libraries or plugin directories to discover the functionalities you require.
Zyro's AI tools for branding (e.g. AI writer) allows Zyro to handle the creative work for you.
Excellent for beginners.
Additional tools that offer value.
Zyro offers pre-built templates.
Installation of SSL is not a concern.
Appropriate for an online store.
Commission on eCommerce plans is 0%.
The setup procedure is simple and quick.
Fantastic uptime.
Simple drag-and-drop user interface.
AI-powered tools.
Live chat.
Zyro offers a logo maker.
Useful photo archive.
All subscriptions include unlimited bandwidth and storage.
Conclusion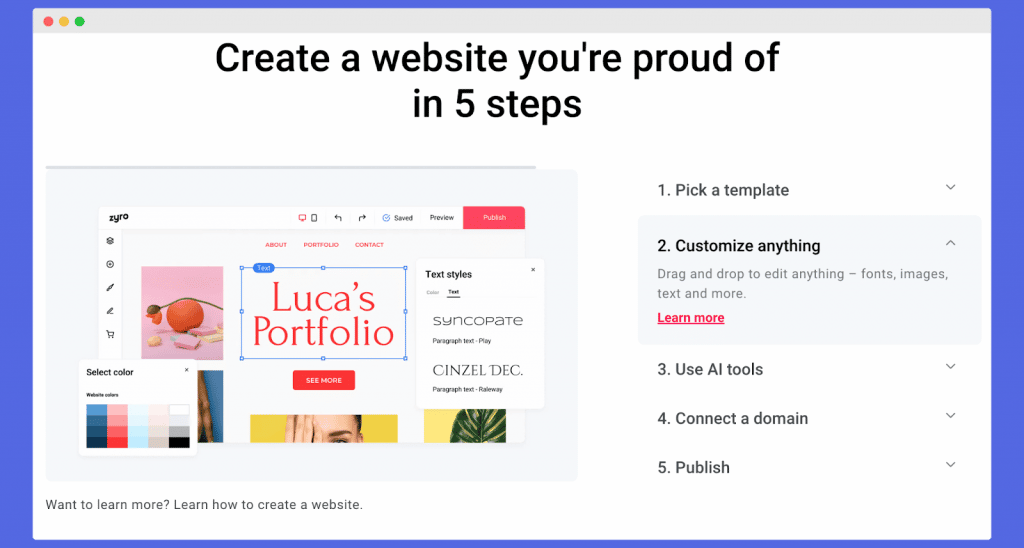 For beginners, we can say Zyro is an easy-to-use eCommerce builder. An added advantage is its extremely low prices; however, this is reflected in its less robust features.
Zyro may not be for advanced users who know what they want. Zyro's features aim to help beginners construct versatile sites, and it has succeeded in achieving that.
Having said that, Zyro is a wonderful choice for beginners because of its useful tools and quality customer assistance. Explore our comparison of Webflow and Shopify, No Code website builders for eCommerce[5] if you want to learn more about other platforms.
Sign up for our newsletter and follow us on Twitter to get more insights into our various Low Code discussions.