These days, building native, hybrid, web, and business apps have become easier than ever thanks to Low Code app builders. In the past, you'll need to hire a developer and spend a huge amount of money before you get a working app. That's not to mention the weeks or even months of waiting before your app is delivered.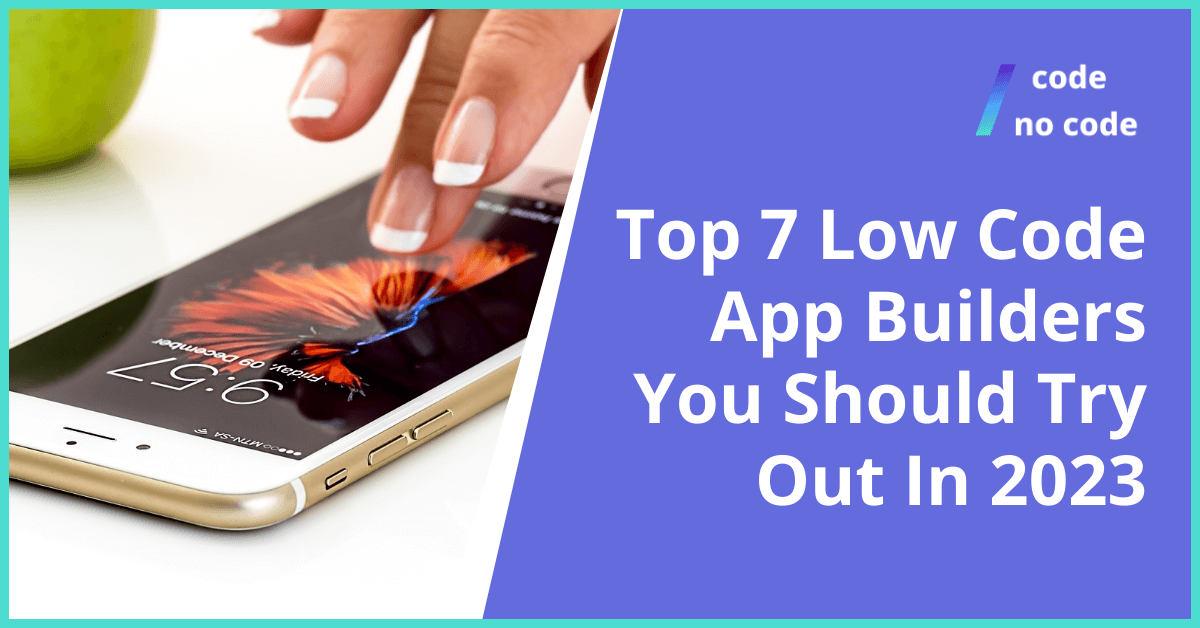 Low Code development platforms are gradually becoming a popular alternative to the traditional development process. A recent Forrester report[1] also predicts that the Low Code Development market will reach a valuation of over $21 billion in the next 5 years.
Businesses are the ones to benefit the most from these intuitive visual tools.[2] They help organizations of any size design, customize and deploy business apps to optimize their business processes with little to no coding.
Low Code platforms are slightly different from No Code tools[3].
In addition to editable templates, drag-and-drop functionality, and an easily-navigable graphical user interface which is the standard for No Code builders, Low Code tools offer advanced users some minimal coding functionalities to further customize their project.
There are numerous Low Code development platforms out there all offering various feature sets and different levels of customization.
In this article, we review some of these Low Code platforms to examine their features, pricing, and use cases. We'll also compare them to help you decide which of them will be most fitting for your project.
Best Low Code App Builders
| | | | | |
| --- | --- | --- | --- | --- |
| Platform | Use | Pricing | Platforms | Free Trial |
| Visual LANSA | LCDP for building desktop apps, web apps and business apps. | $999 | Cloud-based | Yes, 90 days |
| Appian | Smart automation platform for developing business process management apps | $75/user/month | Cloud-based and desktop | Yes, For life |
| Mendix | Building cross-platform application with visual modeling tools | $60/month | Web-based, desktop and mobile | Yes, For life |
| QuickBase | Build enterprise-grade workflow automation platforms | $600 per month | Cloud-based | Yes, 30 days |
| OutSystems | Build and deploy web apps, mobile apps and enterprise tools | $1512.50/month | Web-based, desktop and mobile | Yes, Free Forever |
| Zoho Creator | Create functional cross platform apps | $25/user/month | Cloud-based and mobile | Yes, 15 days |
| Microsoft Powerapps | Build and deploy custom business apps quickly | $5/user/month | Cloud-based and mobile | Yes, 30 days |
1. Visual LANSA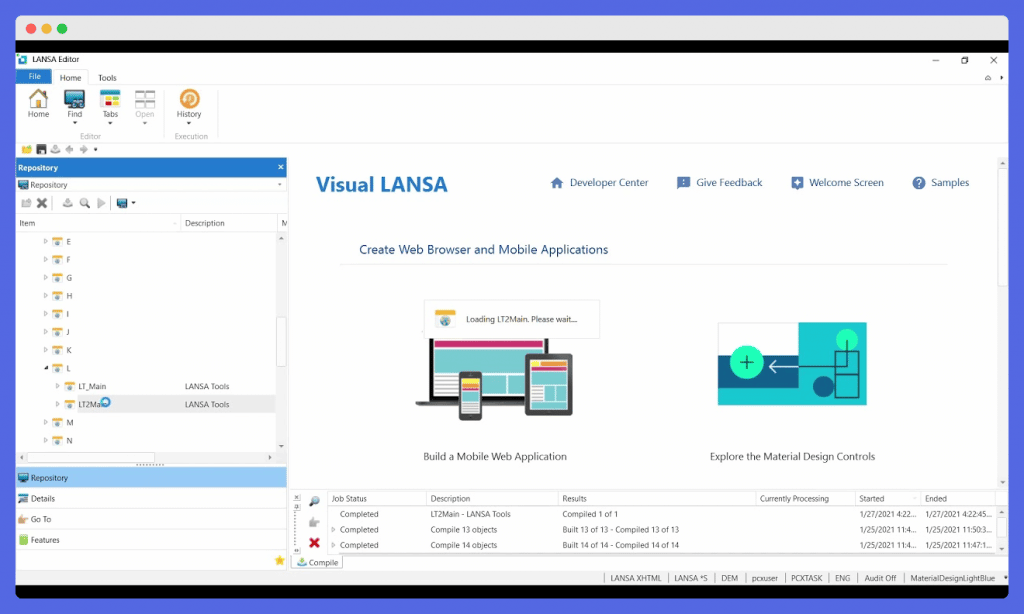 Visual LANSA is a Low Code platform that offers you a combination of Low Code development capabilities and traditional coding in the same Integrated Development Environment.
Visual LANSA can be used to build desktop apps, web apps, and other similar products. The platform is designed to build, deploy and operate apps faster and seamlessly.
One of Visual LANSA's best features is the bridging capability, this allows you to migrate apps built with code to the Visual LANSA IDE. This tool also offers several integrations with various services that you already use.
The platform offers a repository that stores the various components needed for the entire app development process. Serving as a versatile all-in-one platform like this ensures the efficiency of your app development projects and saves a significant amount of time.
Visual LANSA Pricing
Visual Lansa offers users a 90-days trial with access to all of its capabilities. After this, you'll have to sign up for the Basic, Standard, or Premium plan to continue using the platform. Pricing for the Basic plan starts at $999 while the Standard plan costs $4,999.
2. Appian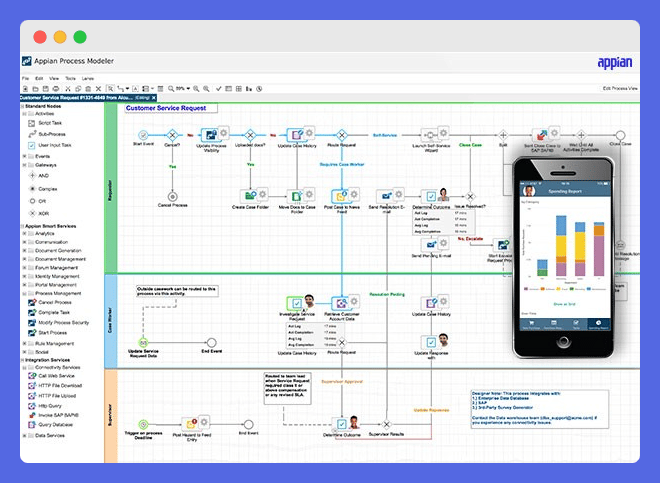 Appian is a Low Code platform for building business process management (BPM) apps. These are apps that help businesses of all sizes optimize their day-to-day business process.
This Low Code app builder offers basic drag-and-drop features for customizing app templates to your specific needs. It also provides native deployment tools as well as integration with AI platforms to further customize your app.
You can integrate this robust software development tool with platforms like various web services, enterprise data management systems, and other platforms to access more intelligent automation features.
Appian also offers an in-built team collaboration feature as well as robust task management functionality which makes it most suitable for enterprises with a development team.
Appian Pricing
You can build apps for free with Appian using the community edition of the platform. Pricing for the full-featured premium plan begins at $75. You can also request a custom quote depending on the specific needs of your enterprise.
3. Mendix
Mendix is an enterprise-grade Low Code development platform that can be used to build and deploy business applications in no time. The platform can also be used to build responsive web and mobile applications.
In addition to its visual app creation features, Mendix also offers advanced project tracking, IT testing, and other developer tools for managing the entire development cycle of a software project.
This makes it useful for both citizen developers and entire IT teams of enterprises.
Mendix is an all-in-one development platform with tools for automating and abstracting the software development process. It also allows users to integrate data and logic from various sources and leverage external services to extend the functionality of their app.
Mendix Pricing
Mendix allows you to take the platform for a spin for free. Pricing for the basic plan begins at $60 per month. This allows you to build just one app. For enterprises and agencies that need to build unlimited apps, the standard plan starting at $2375 per month will be more suitable.
4. Quickbase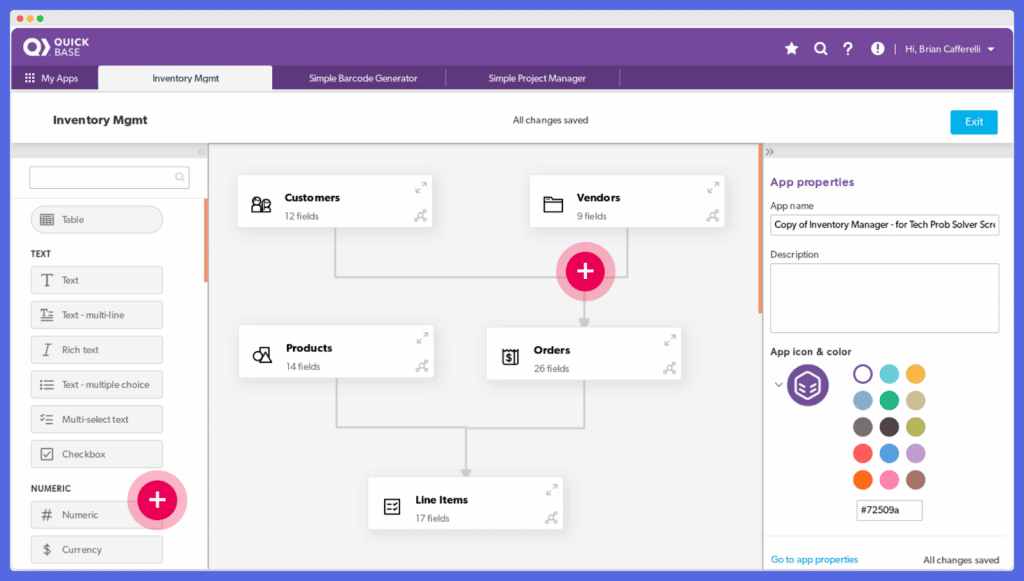 Quickbase is a Low Code Development Platform designed specifically to help enterprises create process workflows to transform their internal operations.
The Low Code development platform is designed more specifically for citizen developers but is just as useful for IT professionals and internal development teams.
Quickbase's main use case is for building tools for automating workflows and connecting data in real-time using simple business logic rather than code.
The platform offers pre-built integration channels and APIs to integrate your app with third-party platforms like Slack, Salesforce, Zendesk, Dropbox, Quickbooks, and many more.
Quickbase also offers enterprise-grade security and compliance tools that ensure the integrity of your app.
Quickbase Pricing
Pricing for the Quickbase Team Plan starts at $600 per month. This allows you to build up to 50 fully-customizable business apps.
Larger teams that want to build more apps and require advanced security tools can sign up for the Business plan priced at $2000 monthly. There is a fully-customizable enterprise plan as well.
5. OutSystems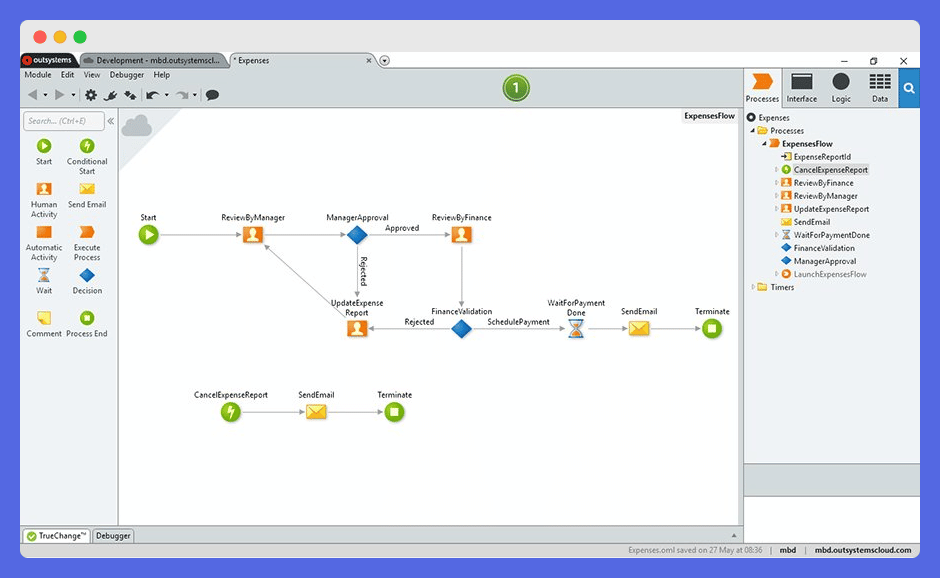 OutSystems is a popular omnichannel development platform. This Low Code service makes it possible to build mobile and web applications as well as Enterprise-grade business tools and deploy them quickly.
OutSystems is a fully-packed tool for building fully-functional and good-looking apps. You get access to front-end, back-end, and process management capabilities[4] all in one development environment.
It also offers advanced integration, a real-time app performance dashboard for managing your project, and enterprise-grade security tools.
These features make OutSystems a robust development tool whether you're looking to automate basic business processes or you want to build full-stack, global-scale digital apps.
OutSystems Pricing
OutSystems offers a free plan that is free forever. Pricing for the enterprise plan begins at $1512.50 monthly (billed annually). Enterprises can also sign up for a customized plan with pricing available on request.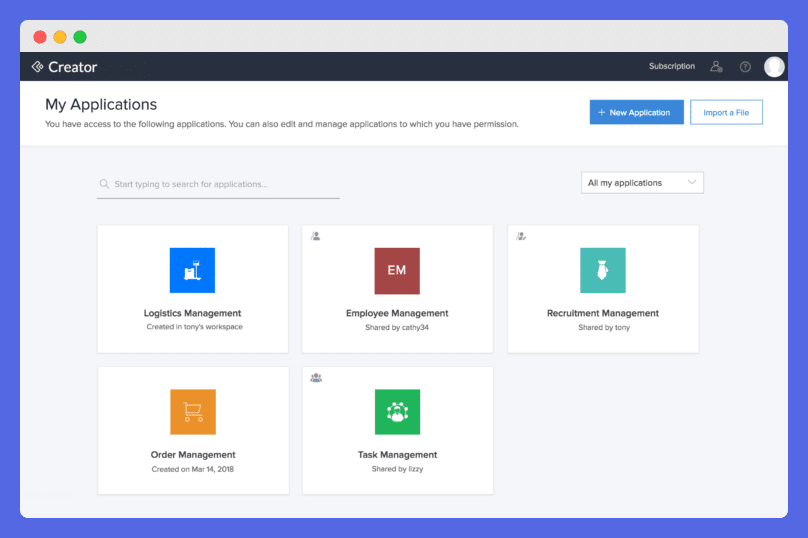 Zoho Creator from the CRM company Zoho is an easy-to-use Low Code development platform. This minimalist tool offers all the intuitive visual features needed to build and deploy apps in minutes.
Companies can use Zoho Creator to build native and cross-platform apps that work on both iOS and Android devices. It can also be used to create business process apps for internal uses.
Zoho Creator lets you build apps by customizing one of its many pre-built app templates. Anyone with a basic understanding of business logic can build an app on this platform.
Advanced users can also add full customization and automation to your app using the platform's proprietary scripting language. Zoho Creator allows you to extend the functionalities of your app using pre-built connectors and integration.
You can also import data from your existing app and various platforms you use to create a complete unified database.
The Zoho Creator Professional plan costs $25 per user per month and this allows you to build only 5 apps with Zoho Creator. To build more apps, you'll have to sign up for the Ultimate plan billed at $400 per month.
7. Microsoft PowerApps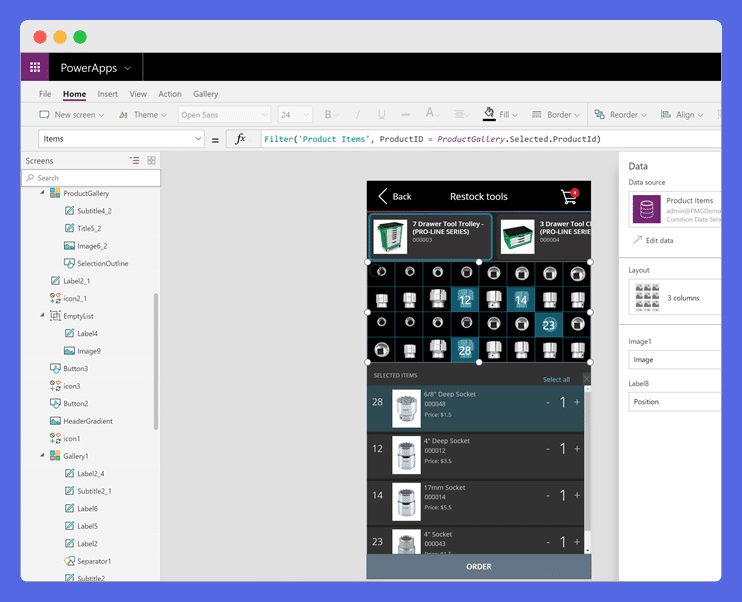 Microsoft PowerApps is a platform for building custom business applications from pre-built templates using drag-and-drop functionality. This allows you to build apps quickly without the complexity and deploy them right away.
One of the platform's main selling points is the possibility of building and deploying apps as quickly as possible, then rolling out gradual improvements as needed later.
In addition to this basic app builder, Power App also offers advanced features such as artificial intelligence capabilities, powerful connectors, advanced integration, and other developer tools that can be used to customize your app further and extend its capabilities.
Users with zero technical skills may find the learning curve for using this app a bit steep.
However, your IT staff or anyone proficient with using Microsoft Excel will find this platform and the wealth of integrations it offers an ideal tool to handle their business app development process.
Microsoft PowerApps Pricing
Microsoft PowerApps offers two pricing options. Users can either sign up for a subscription or opt for a pay-as-you-go option. Pricing for the subscription plan is either based on the number of users or based on the number of apps you build with it.
It'll cost $5 per user/app/month for the per-app plan. The per-user plan costs $20 per user per month. If you choose the pay-as-you-go plan, you pay $10 for every active user per month.
Conclusion
The best one for you will depend on the specific use case you have in mind, the features and integrations you need as well as your overall budget.
These are some of the best Low Code platforms[4] you can check out for your app development projects. As you can see, all of these tools are similar in terms of their ease of use, functionality, and overall feature set.
Follow us on Twitter to get more insights into our various Low Code discussions.