All successful businesses have one thing in common. No, it's not great customer service and experience, it's profit. Of course, all successful businesses must function to provide excellent customer service but that's just a means to the end of making a profit.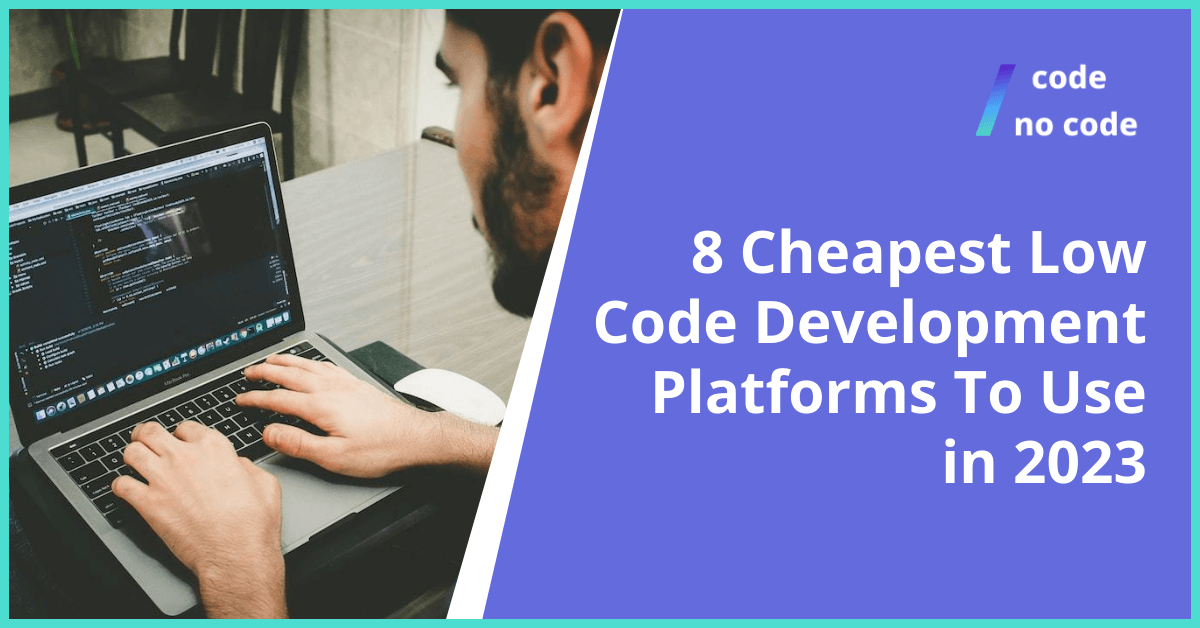 These days, these successful businesses have developed another thing in common – integrating web and mobile apps into their businesses. That is great for consumers and business giants, but it can be a huge deterrent for small businesses and startups.
That is because application development usually costs too much for business owners to offset before even thinking about making a profit. Thankfully, we now have a modern solution.
Digital transformation has brought about No Code and Low Code development platforms. These tools serve to circumvent the need for the traditional approach to application development and advance the dynamics of the app development process at large.
Low Code development platforms are becoming more and more popular as businesses of all sizes seek to simplify the application development process. Not only do Low Code platforms make it easier to build apps, but they also tend to be cheaper[1] than traditional software development methods.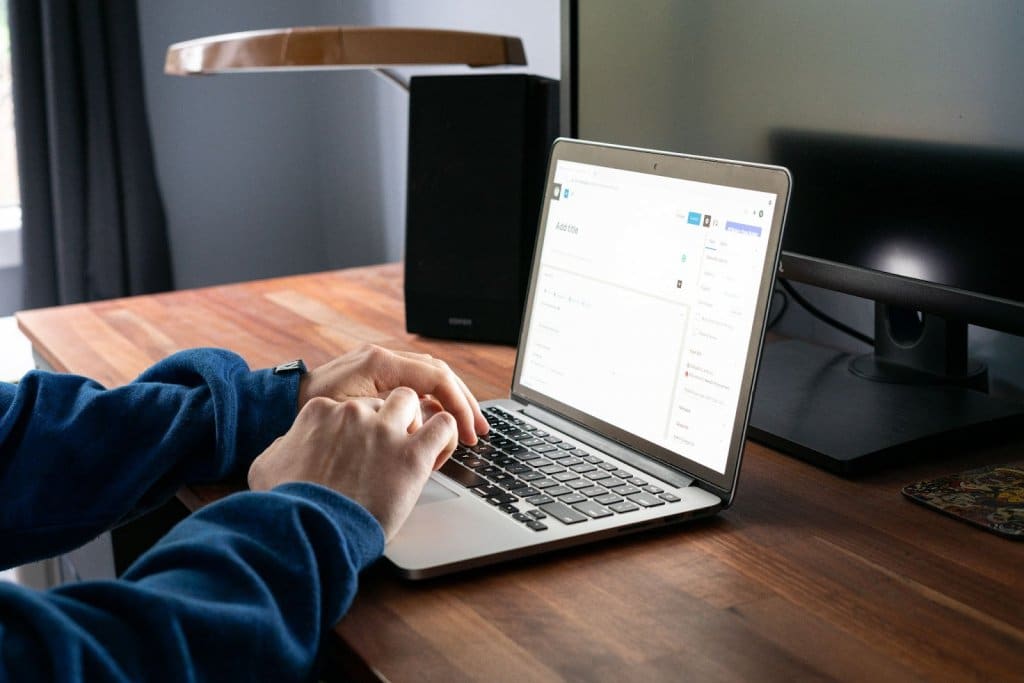 Now, anyone can build and deploy apps with minimal coding or none at all. That being said, it is still a challenge choosing one out of the plethora of existing Low Code platforms.
Aside from the fact that there's a wide variety of Low Code platforms, several of them function using expensive pricing plans; hence, they're cost-inefficient for a small business.
This article will serve as a guide to discovering the cheapest Low Code Platform that will digitally transform business operations without sacrificing the quality proposed by its more pricey counterparts.
What Are the Features of a Good Low Code Development Platform?
All Low Code development platforms have features peculiar to each of them. Nevertheless, certain qualities are commonplace in all No Code and Low Code platforms. A few of these must-have features include;
Reusability: Low Code development platforms should use reusable components like code blocks and web services to eliminate redundant and repetitive tasks.
Drag-and-drop features: Low Code platforms without drag-and-drop features is a bad case of cross-purpose web solutions. They are at the helm of the attempt to simplify the overall app development process.
Workflow Automation: Low Code platforms need workflow automation to increase efficiency, raise productivity, speed-up business processes, and reduce error-making.
Open architecture: The best Low Code Development platforms all make provisions for third-party integration.
Data security: Low code platforms need to have sufficient certifications and a guarantee of data security.
Scalability: This goes without saying, but since it's only natural that you may want to scale your business as it grows, your preferred Low Code development platform should provide all the tools necessary to scale your business application

[2]

.
Cheapest Low Code Platforms You Should Try Out
| | | | | |
| --- | --- | --- | --- | --- |
| Low Code Development Platform | Platforms Supported | Business size specification | Free Trial Availability | Price |
| Web.com | Mac, Windows, iOS, Android | Small and Medium-Sized Companies | Unavailable | Initial Starter Cost- $1.95/month. Renews at $14.95 after the first month |
| AppSheet | Windows. Mac, Android & iOS | Small, Medium, Large | Available until you're ready to deploy | As low as $5 per user/month |
| Microsoft PowerApps | Web-based, iOS, Android, Desktop | Small, Medium, Enterprise | Available | Starts as $5 per user/ app/ month |
| KiSSFLOW | Cloud-based platform. Supports iOS and Android | Small, Medium, and Enterprise | Available | $9.90 per user/ month |
| Retool | Works Partially on Safari and IE. Supports Chrome & Firefox on Windows and Mac OS | Small, Medium, and Large Enterprises | Available | $10 per user/ month for Team Plan and $50 per user/ month for the Business Plan |
| Quixy | Windows, Android, iOS, Mac | Small to Large-sized Enterprises | Available | Starts at $20 per user/ month, billed annually. |
| Zoho Creator | Cloud-based. PWA, iOS, and Android | Small to Large Businesses | Available | $25/user/month billed annually for Professional Plan and $400/user/month billed annually for Ultimate Plan |
| Visual LANSA | IBM I, Windows, Cloud-based | Small, Medium, Large. | 90 days Free Trial | Basic Plan goes for $999 |
In light of the benefits of Low Code development platforms, let's look at some of the cheapest Low Code platforms in the market right now.
Web.com
Web.com has the necessary basic tools a developer needs for rapid application development. The Low Code software features around 100 pre-built app templates, themes, and designs. It has a drag-and-drop editor, which allows you to add or edit designs to your website on-click.
Web.com's data security capacity reduces the chances of stolen or misplaced data to the barest minimum. It does not have the most advanced features compared with other Low Code platforms on this list, but it does provide just above the average functionality features in an easy-to-use interface.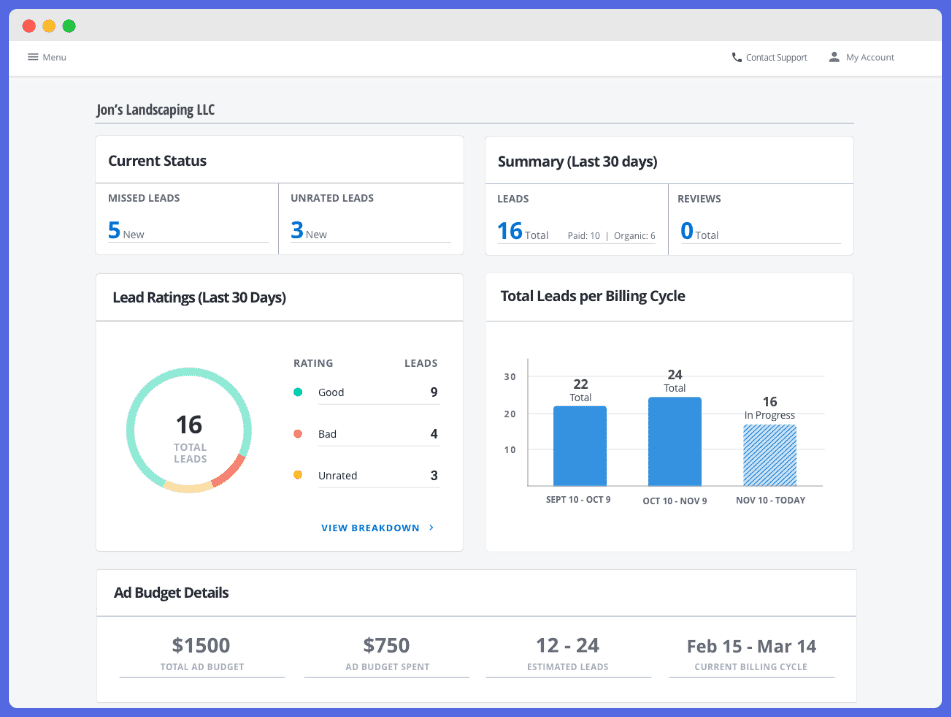 Web.com gives a free domain and an optimal deployment plan to business users who subscribe to using the platform. Web.com works better for teams rather than personal users.
Web.com does not have a free trial offer. However, it has a starter package. The starter's package is almost free starting at $1.95 per month for each user. After the package elapses (which takes a month), the user pays $10 per month for renewal.
AppSheet
AppSheet is a popular Low Code app builder used especially to create custom apps for iOS and Android. It is a No Code platform that allows business users (citizen developers[3]) to build apps directly from their data.
That is, you can use the Low Code development platform to import data from cloud storage services like Box, OneDrive, Dropbox, and Google Drive or from spreadsheet programs like Excel.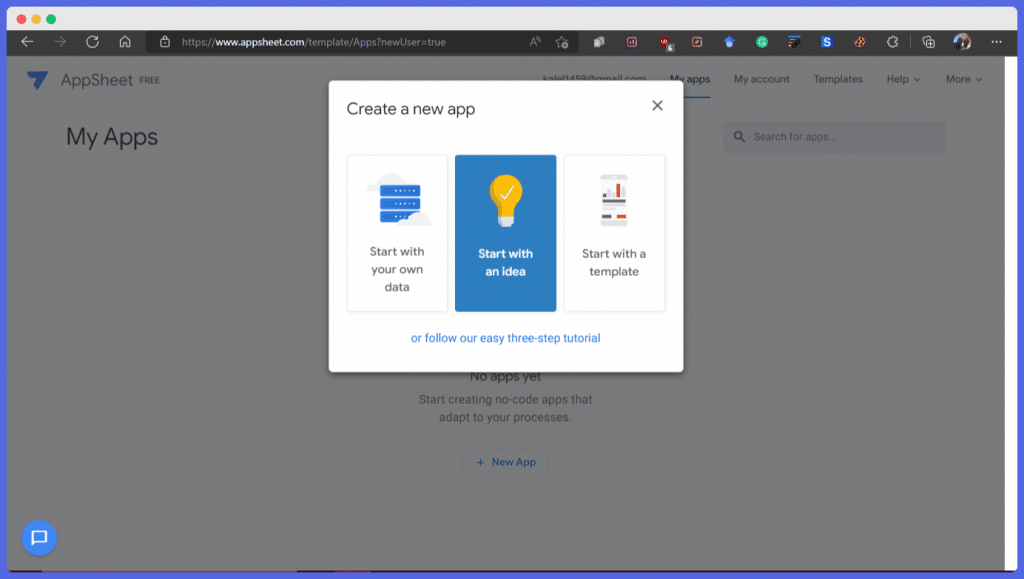 Features
No Code app development.
GPS, maps, Barcode scanning, Charts, Signatures, and image capture features.
Support for mobile app development. In fact, it enables users to develop web and mobile apps for use on desktops, iOS, and tablets.
Drag and drop features with customizable templates.
Data modeling support.
Access controls/permissions for optimal security plus offline access.
Team collaboration tools.
The major limitation of the AppSheet Low Code software platform is its susceptibility to bugs and the compressed data size limit.
AppSheet has a free trial offer for starters. The Low Code development platform features three pricing plans; the premium starter plan, which costs $5/mo/user. The Core plan costs $10 per user. The last plan is the Enterprise plan for businesses.
For quotes for Enterprise Standard and Enterprise plans, you have to contact AppSheet sales experts.
Microsoft PowerApps
Microsoft PowerApps is a Low Code platform where professional developers build business apps faster and with optimal business logic and workflow capabilities.
In addition, the Low Code app development software allows business users to connect custom apps to data stored in various data sources like SharePoint, Excel, Office 365, SQL Server, Dynamics 365, and the likes or any underlying data platform.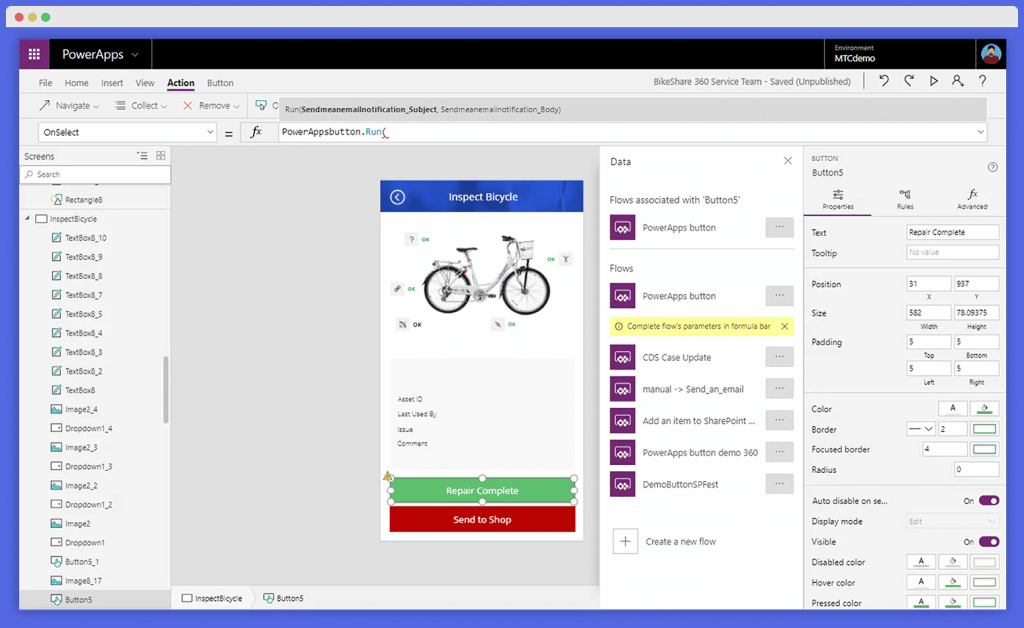 PowerApps enables developers to extend the software capabilities with the pro-developer extensibility tool. The tool eases the connection of business applications to external data. Developers can also create multi-platform apps that are compatible with every device.
Features
User friendly interface with pre defined templates.
Low Code development tools for creating complex data models, workflows and automated logic.
Scale your Low Code business applications created with PowerApps using Azure.
Model-driven app design support.
Drag-and-drop canvas.
AI builder services.
Portals for building responsive no code apps.
The robust features PowerApps present in its interface may seem intimidating at first but considering the control and power it provides, it's quite easy to use.
Microsoft PowerApps has a free trial limited version. The Low Code Platform offers Subscription plans and Pay-as-you-go Plans.
Subscription plans are either Per app plan – $5/user/app/month and Per user plan – $20/user/month. The Pay-as-you-go plan is a Per app plan and requires an Azure subscription. It costs $10 per active user/app.
KiSSFLOW
KiSSFLOW is one of the best Low Code development platforms when it comes to business process automation[4]. The Business Process Management (BPM) software works excellently for workflow automation and comes with complete BPM office automation suites.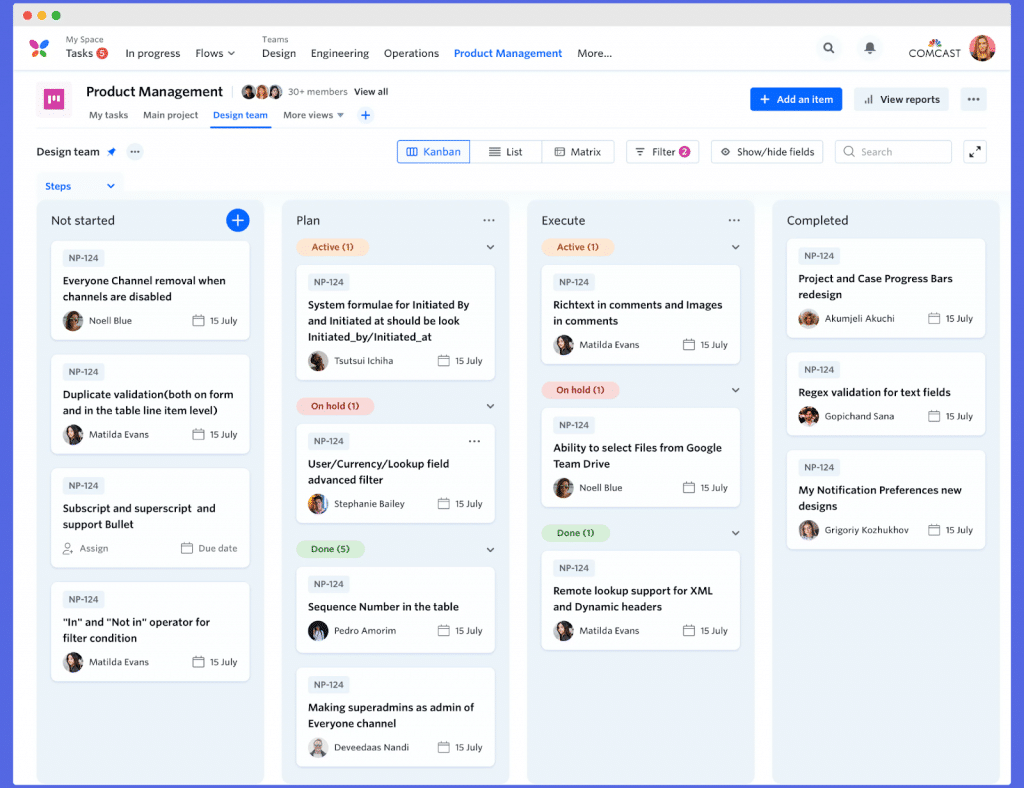 Project management has never been easier with multiple views – Matrix, Kanban, or lists. And task management and contextual collaboration features such as file sharing, alerts and notifications, custom forms, etc.
The Low Code development platform uses a drag and drop graphical user interface and app templates to eliminate redundant work.
Features
Automate processes that are rule-based and repetitive using Kissflow cloud-based business process automation.
Extend app capabilities through cross-platform integration to software services like Dropbox, JIRA, Caspio PayPal, Google Drive, Office 365, and many more.
Visual workflow tool.
Customizable dashboard with user-friendly interface.
Generate custom reports and analytics such as Lead Time, cumulative flow, flow efficiency, etc.
Event monitoring, Forms Management, and Document Management.
Mobile support. Even available for Android and iOS
KiSSFLOW does not come with autoresponders. The Low Code application development platform requires an internet connection to be active.
The software provides solutions for all kinds of businesses, ranging from small and medium enterprises to large businesses, deploying the necessary solutions for businesses that subscribe.
The standard price starts at $9 per month for each user.
Retool
Retool is the Low Code development software to use if you want to build internal tools and create apps fast. Developers use Retool to design complex applications and customize projects, and workflows.
It also provided the option to switch to using traditional code at any point during your app development stage.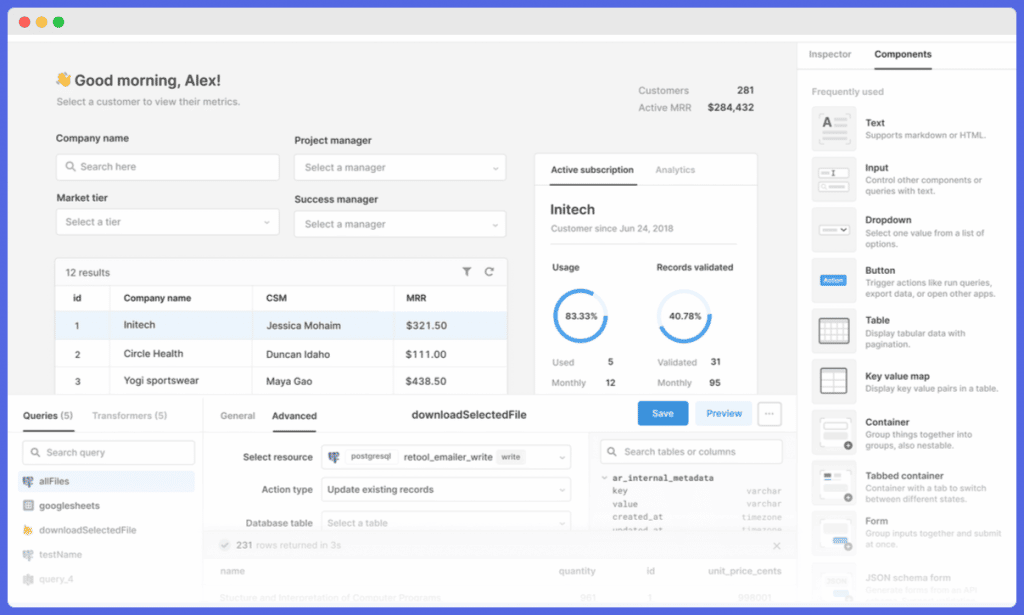 Retool enables users to access, record, edit, and restore various version histories of your app through a Git repository.
Features
The Low code platform offers cloud and self-hosted options.
Efficient client-side development with over 50 drag-and-drop elements.
REST and GraphQL API support.
The high level of customization provided by the option to switch to conventional JavaScript code allows users to customize the app interface more accurately to their taste.
Optimal data security with audit logs, SAML SSO, 2FA and access controls.
The internal tools of the platform are however not so user-friendly for some devices. Users also may need a bit of coding knowledge to get the best out of the platform.
Retool price is different depending on the feature the users request for. However, pricing is cheaper for enterprises and development teams than for a single business user.
The price for teams starts at $10 per month for each user. For individual business users, the price is $50 per month for the user.
Quixy
Quixy is a visual cloud-based No Code development platform created for citizen developers with no coding skills to automate business processes and workflows, and build simple to complex enterprise-grade applications.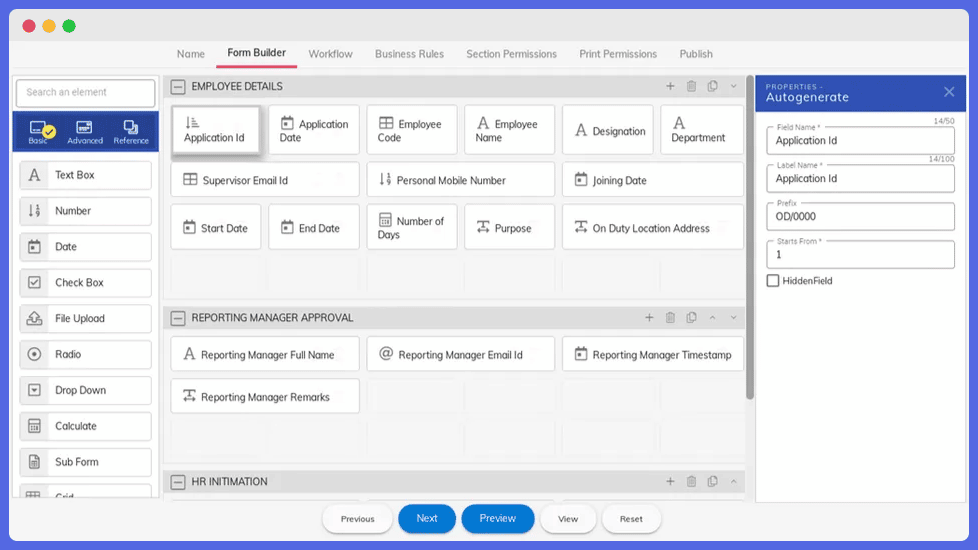 It features enterprise-grade security, regulatory compliance, scalable global infrastructure, and a visual builder that empowers users to create conditional, sequential, and parallel workflows easily.
In addition, the software can run on any browser or on any device in different formats and integrated cloud databases.
Features
Integrated enterprise features including Custom Themes, SSO, On-Premise deployment, IP filtering, White-Labelling, etc.
Further integration with third party applications with ready-to-use connectors, Webhooks, and API Integrations.
No code development using drag and drop form fields that includes e-signature, QR-Code scanner, Facial Recognition widget, a robust text editor, and the likes.
The price of Quixy starts from as low as $10 per month for each user billed annually.
Zoho Creator
Zoho Creator is perhaps one of the most well-rounded Low Code software on this list. It is a good option for small to medium-sized business owners.
Aside from being affordable, the software is easy to use and offers customized application development solutions to make things quick and easy.
With this Low Code Platform, you can build applications that work well on multiple platforms. From complex ERP's to minimalist call logs, Zoho creator is a straightforward fix.
The available templates are not so many, so developers have to create some designs themselves to increase the uniqueness of applications in development.
The Low Code development platform allows for integration with other Zoho applications and a few online database applications.
The price of the premium version starts at $25 per month for professional users.
Visual LANSA
Visual LANSA is a rather unique entry on this list as it combines traditional coding with Low Code in the same IDE – Integrated Development Environment. It is effective in managing time.
It contains a range of technologies to accelerate digital transformation, thus empowering developers to quickly design and deploy functional enterprise web and mobile apps.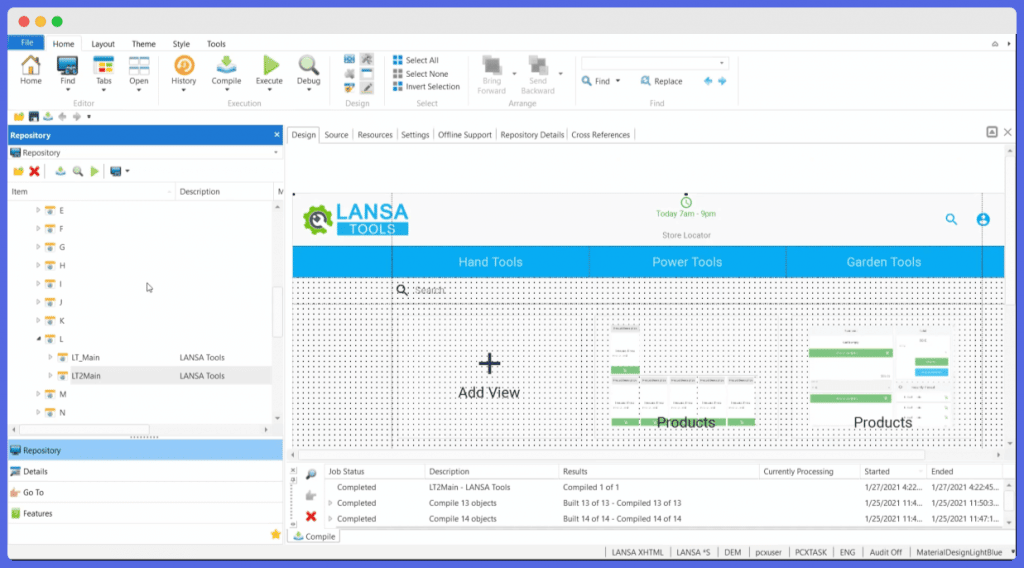 Presently, Visual LANSA is the premier Low Code platform environment supporting IBM integrated solutions. It also makes the development and deployment of complex apps simple with support for windows and cloud hosting services.
Another notable advantage of LANSA is its bridge capabilities which allow business users and developers to migrate existing apps written using other languages.
Features
Pre-built components for Amazon S3 Browser Direct-Upload & Download.
Easy integration with Google Geocoding API; Google reCAPTCHA; Google Translate API; OpenWeatherMap API; Sending emails using SendGrid API, among others.
Database Management System support.
Integrated compiler for Microsoft C/C++.
Web Application SCRUD (Search, Create, Read, Update, Delete) coding wizards updated to include support for attachments and notes, charts, embedded web pages, maps, quick links, Contact Us, and About.
Sample applications for Local User Management, Password Reset using SendGrid, Contact Us, About, Google Maps Geo-Encode and Geo-Decode, Recaptcha, Image Carousel, and FAQs.
The major goal of LANSA is intuitive, easy-to-use, and rapid application development[5]. It serves that purpose well with its plethora of Low Code tools.
The pricing of the Low Code software is the most expensive on this least right now at Basic Plan of $999. It used to cost much less until recently.
Notable Mention
Google App Maker
Google App Maker is a user-friendly, G-Suite Low Code app development platform. It boasts a wide range of stable customizations and functionalities with overall friendly usability. It is a relatively new Low Code app in the G suite family.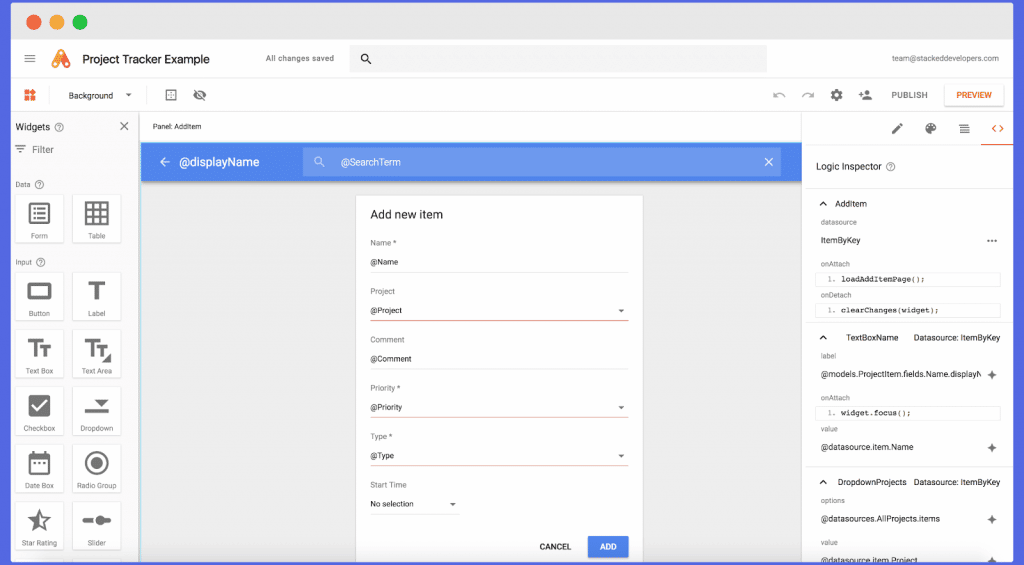 The capabilities of Google App Maker is not limited to just building, deploying, and maintaining business apps. It empowers developers to study app analytics using the Google Analytics integration feature. With this, they can observe the interaction and impact of several aspects of their app based on different metrics.
This Low Code platform enables users to gain access to the latest features as soon as it is available. In addition, the software comprises a range of templates for optimal design customization.
Features
In-built tutorials.
App preview functionality and deployment logs.
Drag-and-drop user interface design and templates.
Declarative data modeling.
Google Analytics integration among other G suite custom applications.
Unfortunately, ever since Google's acquisition of AppSheet, the Google App maker ceased active development and eventually discontinued existing App Maker apps as of January 19, 2021.
Final Thoughts
As you can see, there are a number of different Low Code development platforms available on the market. Each platform offers its own unique set of features and pricing plans. It is important to compare the different options before you choose a platform to use for your business.
A Low Code development platform can be affordable and still perform like any of the more expensive and most popular Low Code platforms. The cost of building a platform depends on a number of things.
The cost of developing with each platform is not a determinant of the platform's efficiency and capabilities. Your choice for a Low Code platform should be guided by your unique requirements first before the affordability of app development with the platform.
Thankfully, you can rest assured that any of the options on this list which offer your desired requirements will deliver an overall great development experience with, of course, minimal cost.