According to a Gartner report[1], it is estimated that Low Code application development platforms will be responsible for over 65% of application development by 2024. This projection shows just how important low-code development is today and how massive it could be in the future.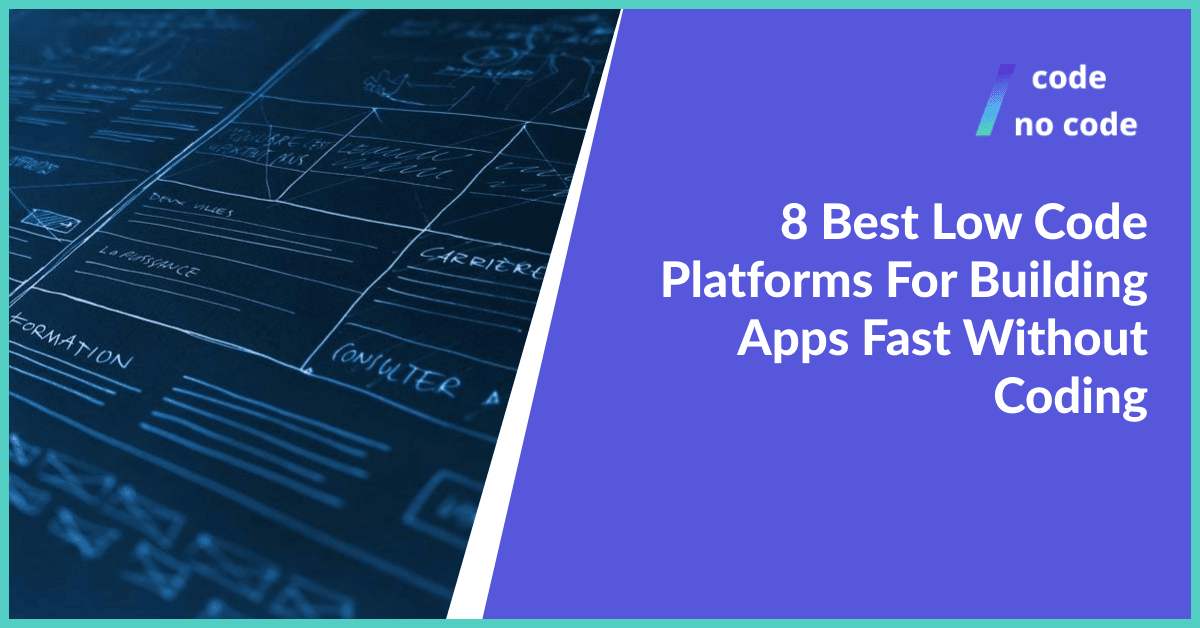 Low Code development refers to the act of using a visual approach to build apps and optimize the software development process with the goal of accelerating delivery.
By using a Low Code[2] platform instead of writing software code from scratch, enterprises can automate various steps in the application development life cycle. This allows them to develop solutions to meet specific business needs faster, more efficiently, and at a much lower cost.
Up till a few years ago, the concept of Low Code development did not exist. Today, professional software developers as well as regular business users[3] can now create fully-functional apps using drag and drop tools that do not require them to write a single line of code.
There are several platforms built for this purpose that facilitate Low Code development. In this article, we review some of the top development platforms out there for building and deploying Low Code applications:
| | | | | |
| --- | --- | --- | --- | --- |
| Platform | Use | Pricing From | Business Size | Free Trial |
| Appian | Smart automation platform for developing business process management apps | $90/user/month | Small, medium and large enterprises | Yes |
| Mendix | Building cross-platform application with visual modeling tools | $1875/month | Medium and large enterprises | Yes |
| OutSystems | Rapid app development platform for building web apps, mobile apps and enterprise tools | Free | Medium and large enterprises | Yes |
| Zoho Creator | Create fully-functional cross platform apps | $25/user/month | Small, medium and large enterprises | Yes |
| Kissflow | Digital workplace for building workflows and process management apps | $9/user/month | Small, medium and large enterprises | Yes |
| Salesforce Lightning | Process builder for creating apps out of complex workflows | $25/user/month | Small, medium and large enterprises | Yes |
| Microsoft Powerapps | Build and deploy custom business apps quickly | $7/user/month | Medium to large | Yes |
| Quixy | No code development platform to build tools for automating work processes | $10/user/month | Small to large enterprises | Yes |
1. Appian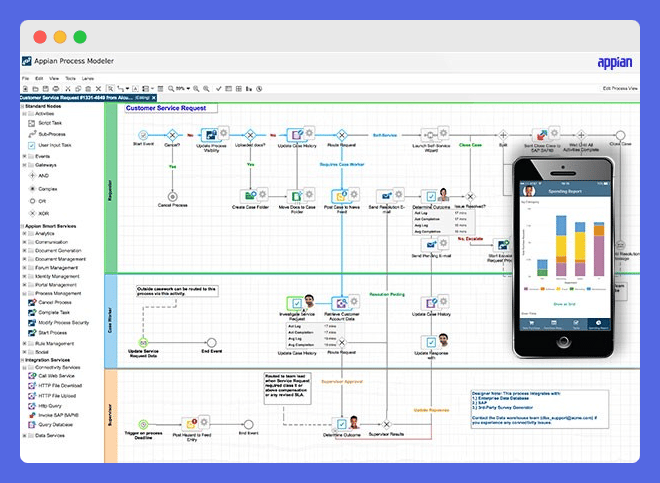 Appian is a smart automation platform with Low Code development capabilities. The platform is designed to help organizations build and deploy smart applications that can help improve their business processes, drive customer engagement, and improve their overall work efficiency.
Appian can be used by businesses of all sizes and its most well-known use case is the development of Business Process Management (BPM) Applications.
The platform comes equipped with drag and drop tools, AI capabilities and No Code integration of various enterprise data management tools to further expand its functions.
The standard licensing for this Low Code platform costs about $90 per user per month. Appian has a free trial option for those looking to get familiar with the platform before buying a license.
2. Mendix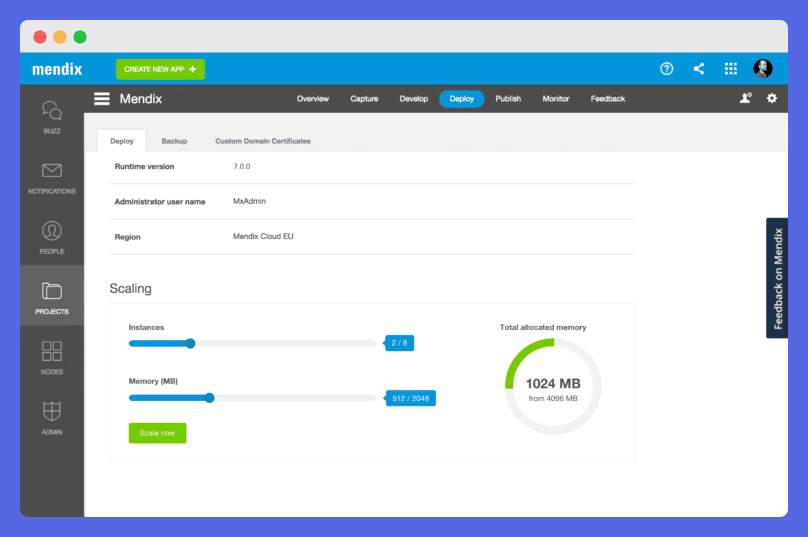 Mendix is a versatile Low Code platform for building functional applications for any device. The platform has tools and features for building, testing, and deploying apps and is currently being used by more than 4000 companies.
The Mendix platform can be deployed on a private or public cloud. There is the possibility of deploying it on-premises as well. Medix uses a mode of development known as model-driven engineering (MDE).
The platform has visual modeling tools and reusable components for rapid app development. It makes it easy for enterprises to adopt an Agile project management method to manage their app development process from start to finish.
The cost of this platform depends on the number of users. Pricing is tiered into three groups namely Single App, Pro, and Enterprise starting at a monthly fee of $1875, $5375, and $7825 respectively. There is a community version as well which is free of charge.
3. OutSystems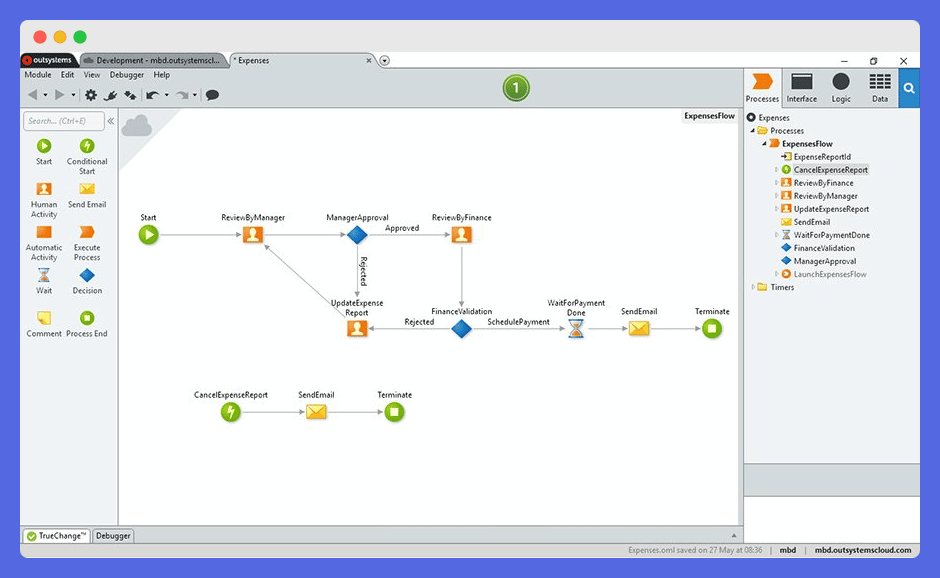 OutSystems is a Rapid Application Development Platform designed to make it easier for developers to build, edit and deploy apps at an unbeatable speed. OutSystems is an omnichannel Low Code development platform.
This means enterprises can build apps for various mediums including mobile apps, web apps, and enterprise tools to manage their business processes.
OutSystems can be deployed on-site or on the cloud. Some of the platform's most notable features include a real-time performance dashboard to monitor app development and promote error-free deployment.
Using OutSystems enterprises can deploy highly secure and scalable apps that can be integrated easily with a wide range of systems.
Unlike other Low Code platforms, OutSystems has a free plan which is free forever. There's also an Enterprise plan starting at monthly and a Universal plan which costs $15000 per month.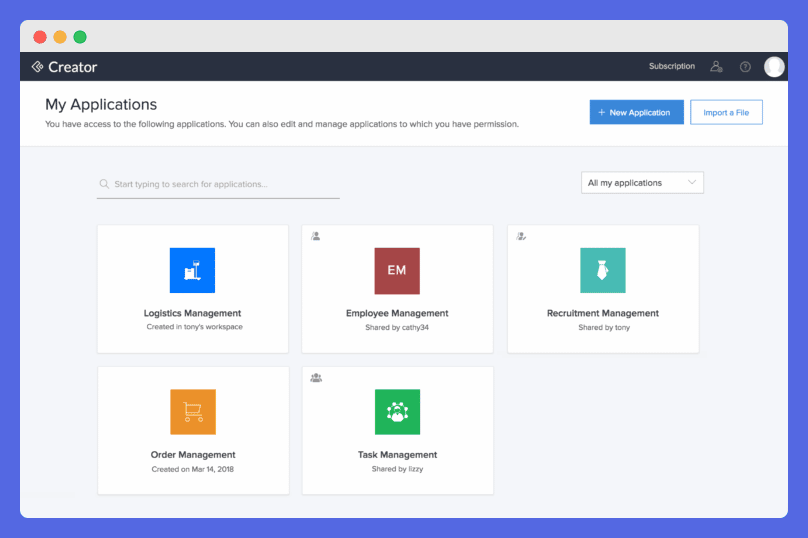 Zoho is popular as a Customer Relationship Management (CRM) platform. However, the platform also has a minimalist Low Code development platform with visual features that make app development possible known as Zoho Creator.
The Zoho Creator platform allows developers to build fully-functional cross-platform apps and publish them directly from the web. So far, more than 6 million apps have been created with this Low Code development platform.
In addition to creating apps faster, Zoho Creator also has features for team collaboration, business data management, and intelligent reporting.
The platform also offers a broad range of ready-to-use business application templates that enterprises can install and customize for their specific business needs.
Pricing for the Zoho Creator Professional plan starts at $25 per user per month and is billed annually. This plan is only limited to 5 apps. For unlimited app development and full access to all of the platform's features, the ultimate plan costs $400 per month.
5. Kissflow Low Code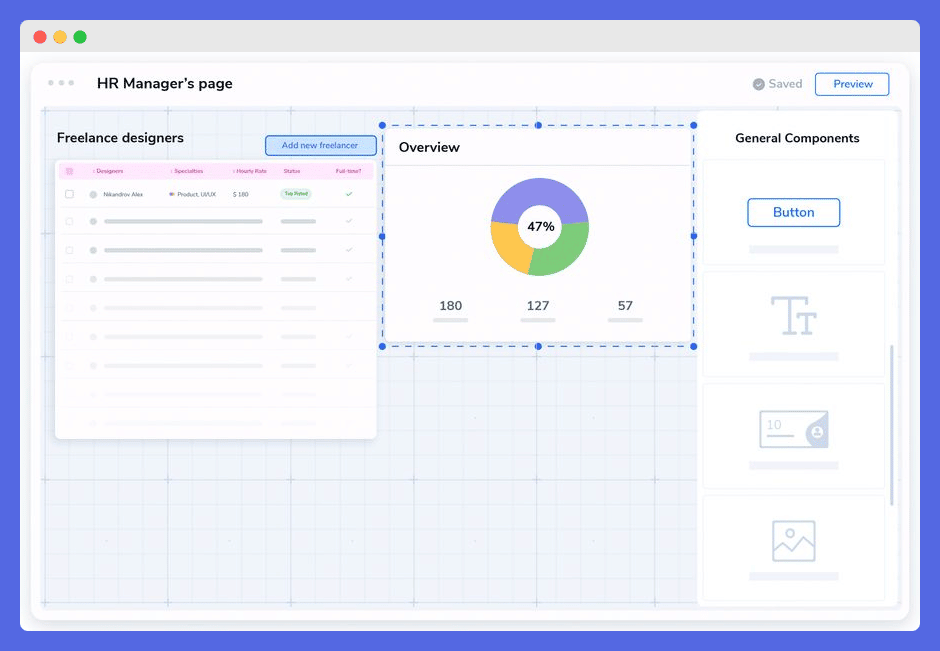 Kissflow is a digital workplace primarily used for workflow and process management across various industries. To facilitate effective business process management, the platform allows users to create apps using rule-based models instead of custom coding from scratch.
By adding conditions to workflows, users can automate processes and build custom enterprise applications. It also has drag-and-drop functionality which can be used to build, customize and deploy apps easily.
This Low Code platform has more than 45 pre-installed app templates that further facilitate this process. Kissflow is completely cloud-based which makes it quite adaptable to businesses of all sizes.
The Standard edition of Kissflow will cost $9 per user per month. Enterprise users can request a quote for bulk pricing. There is a free trial available as well.
6. Salesforce Lightning
This is one of the most popular Low Code platforms out there. But more than its use for marketing purposes, Salesforce has a tool for component-based app development known as Salesforce Lightning.
This is a Low Code visual app builder[4] for building and deploying mobile apps using simple drag and drop functions. Another unique feature of this app is the possibility of creating instant apps directly from a spreadsheet.
The platform also has a process builder for creating apps out of complex workflows in addition to other tools for deploying and managing business apps from the same place.
Professional developers can make use of this Low Code platform to customize or build apps from scratch using any programming language. Additional features that accelerate the application production process include robust AI and IoT integrations.
Monthly Pricing for Salesforce Lightning starts at $25 per user for the Starter plan. The Plus plan costs $100 per user. There's also the Heroku Enterprise Starter plan with more advanced features. You'll have to contact Salesforce to get a quote for this.
7. Microsoft PowerApps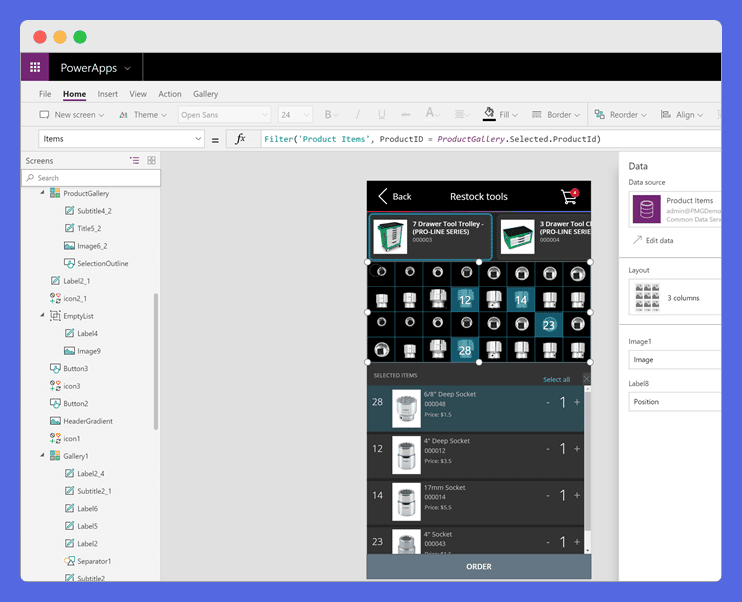 PowerApps is a Microsoft product for building custom business apps and deploying them quickly. Compared to other Low Code platforms, it has features that make it easier to extend the capabilities of existing apps with custom code.
You can easily create, share and run apps from this platform. PowerApps can also be used for enterprise workflow automation. The platform uses a simple point-and-click process for designing functional apps.
In addition to building from scratch, there are also several predefined templates that can be customized to meet specific business needs. Apps can also be integrated with more than 200 disparate data and systems to further boost their functionality.
Microsoft PowerApps is one of the most affordable Low Code development platforms with straightforward pricing. The first plan costs $7 per user per month while the second plan costs $40 per user per month. There's a free trial available as well.
8. Quixy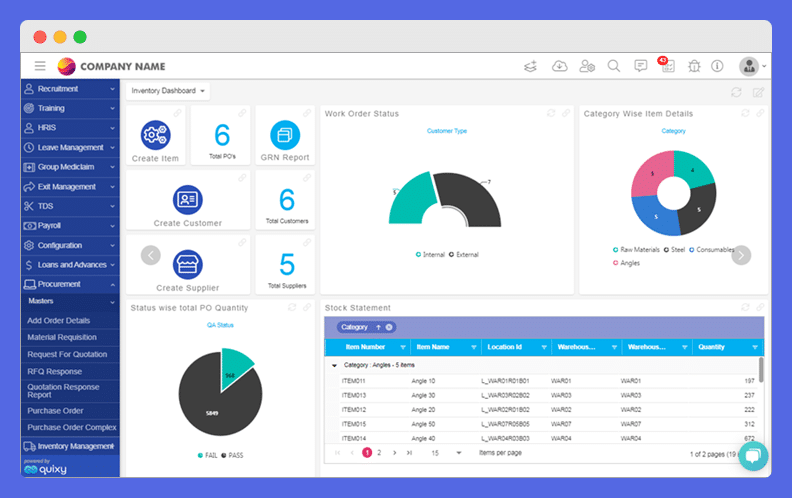 Quixy is a visual No Code development platform that empowers citizen developers and professional developers with tools for automating business processes. It is primarily designed for the quick and easy creation of custom enterprise apps without writing a line of code.
These apps can be used to automate workflows and business processes.
Quixy helps users turn their innovative ideas into fully functional apps using a simple and straightforward process. Users can build functional apps from scratch using drag and drop widgets.
This platform also has a visual builder that can be used to model business processes and build complex workflows complete with automated escalations, notifications, reminders, and so on.
The Quixy platform has integration capabilities, allowing you to extend the functionality of your custom apps with API integrations, Webhooks, and ready-to-use connectors.
Quixy offers 3 pricing plans for users. The Solution plan starts at $500/month while the Platform plan is billed at $10 per user per month with a minimum of 10 users. Pricing for the Enterprise plan is available on request.
Notable Mentions
Visual LANSA: Powerful visual integrated development environment (IDE) for creating desktop, mobile, and web applications.
Retool: Retool is designed for enterprises looking to create internal business apps quickly and more effectively. Retool features drag and drop components, platform integrations, and full customization using Javascript.
Studio Creatio: Creatio is a flexible Low Code business process management tool that can be used to create automation solutions and out-of-the-box apps.
Web.com: This Low Code platform is primarily used for creating No Code websites. The platform offers loads of customizable templates, themes, and layout options for building robust, fully functional apps.
AppSheet: AppSheet is an app maker for building custom mobile apps with no coding involved. It empowers anyone to build and deploy multi-platform apps as quickly as possible.
Conclusion
As an enterprise, the easier you can build working applications, the more efficiently you can navigate and resolve various business issues that are likely to arise in your day-to-day operations.
The Low Code platforms listed above can help your app development team and business users[5] work more efficiently and super-charge your app development process.