Choosing the right app builder is crucial, like laying a solid foundation. There are so many factors that go into app development that it is almost impossible to intuitively go for it. The first step of this app development process is choosing an app maker. No Code software helps you develop native apps or progressive web apps without coding skills.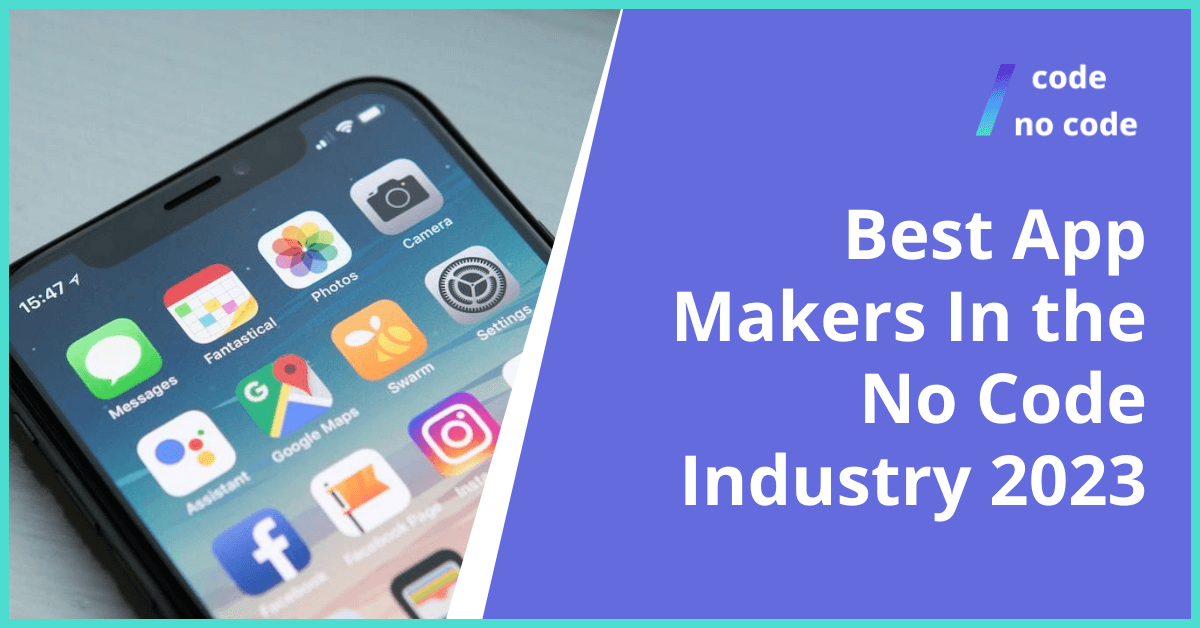 While looking at several No Code app makers from a distance, you will notice several recurring features & interfaces, but each platform is a bit different from the others. Some of them might promise the idea of 'one solution fit for all', but it is usually not the case.
There are lists of best app makers out there but most of them have a lot of apps and little information. In this blog, we have curated a small list of 5 app makers with detailed information on specific cases where you can use these No Code platforms. We have used all of these platforms thoroughly before writing this information.
Top No Code App Makers
| | | |
| --- | --- | --- |
| Name of the app builder | Key Feature | When to use? |
| AppyPie | Creating mobile apps from pre-built templates and building chatbots. | If you already have a plan for a mobile app and plan to monetize it through ads. |
| AppMaster | Closest to an all in one platform for building apps. Create a mobile app/web app without code and add automation. | If you have an agency or a digital business that needs to publish on all the platforms like android, apple and the web. |
| Softr | Create internal tools, client portals, and marketplaces. | If you want to create an app with complex functionalities like a Paywall. It is also a great Low Code solution for all the programmers out there. |
| Adalo | Create mobile apps with a strong backend. | If your business heavily relies on APIs and Database functioning. |
| Glide | Create apps on Spreadsheet, Google Sheets and Airtable. | If you are already comfortable with Airtable and want to build an app around it. |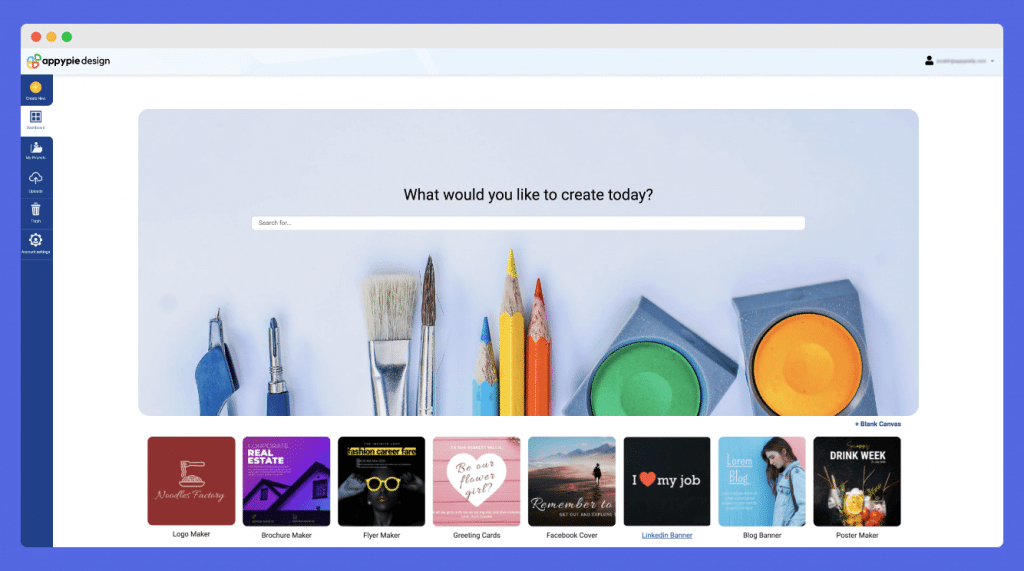 Appy Pie provides you with a No Code app builder that allows you to build your mobile app without writing a single line of code. It is a powerful mobile app-building platform that makes it significantly easy for a non-technical user to develop native iOS and Android apps in under five minutes. It is almost too good to be true.
It specializes in mobile app development but you can also create a website, or chatbot and automate your tasks on this platform, and generate NFTs (latest feature). They have a clear vision of democratizing technology and making it possible for every business owner of all sizes and scales to embrace and integrate cutting-edge technology to grow their business.
With more than just an intuitive & customizable app maker, Appy Pie also has a guide to teaching you how to create apps, removing any kind of barrier to building a mobile app. AppyPie has already built templated apps for Restaurant apps, a Shopping app, Event apps, Church apps, Business apps, & On-Demand delivery apps.
Appy Pie also lets you build Low Code chatbots, websites, and automation, the platform will give your company an advantage over the competition. Additionally, it has extended features in the domain of Business Process Automation (BPA). You can automate tedious tasks through intelligent workflow automation and integration using triggers and actions.
The app builder is pretty straightforward.
How to create apps with Appy Pie?

[1]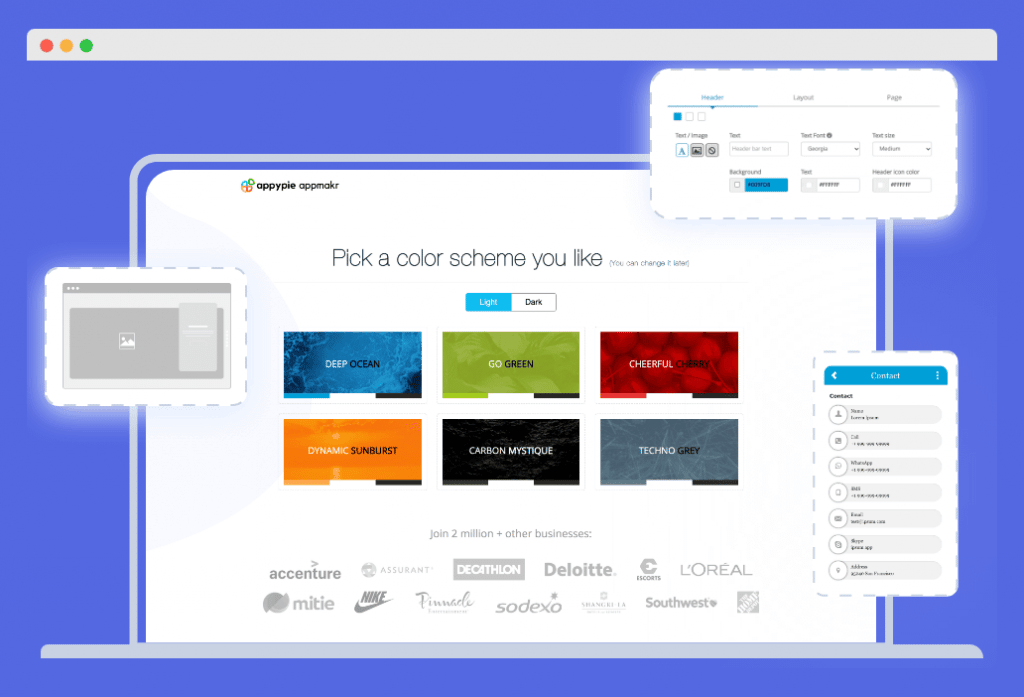 Enter your business name >> Select the app category >> Choose the perfect color scheme >> Pick the device on which you want to test your app >> Add the desired features >> Publish your app.
To streamline tasks and eliminate menial work, you can even connect 300+ apps with AppyPie. You can create a professional app for your choice of the mobile app market. They help with publishing and maintaining multiple apps.
AppyPie's Pricing Policy:
Unfortunately, there is no free plan for their app builder but there is a free trial for every plan. Their pricing is pretty generous being one of the best mobile app builders in the market.
| | | |
| --- | --- | --- |
| BASIC | GOLD | PLATINUM |
| $16.00 Per App Per Month | $36.00 Per App Per Month | $60.00 Per App Per Month |
| Unlimited Bandwidth & Hosting | Unlimited Bandwidth & Hosting | Unlimited Bandwidth & Hosting |
| No Ads! | No Ads! | No Ads! |
| Platform Supported: Android | Platform Supported: Android | Platform Supported: Android & iOS |
| Push Notifications: 5000/M | Push Notifications: 10000/M | Push Notifications: 25000/M |
| App Downloads: 500/Month | App Downloads: 1000/Month | App Downloads: 2000/Month |
| Email support | Email and Chat support | Email, Chat and Call support |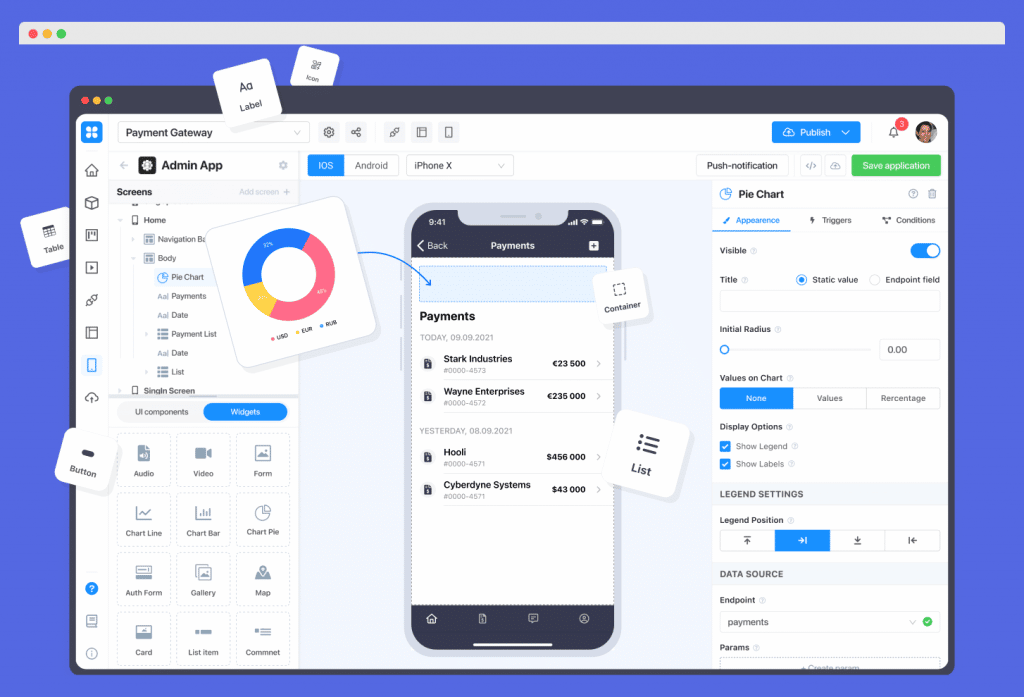 AppMaster has a wide range of functionalities allowing you to create a database, manage complex business logic, manage APIs, develop web dashboards, and design native apps with No Code.
Focusing majorly on four types of No Code development:
Mobile Apps Builder
Web Apps Designer
Data Models Designer
Business Process Editor
We have a separate article, an AppMaster Review, you can check it out for a deeper understanding of this platform.
AppMaster's highly intuitive app builder allows you to create flows and trigger events without going too deep into the technicalities. Trigger events can help you send push notifications on your app.
For example, if you have a gym app, you can congratulate your clients for being consistent or send reminders if they skip a few sessions in a row.
AppMaster is a platform for people who are serious about developing a mobile app. You can use the drag-and-drop interface to perform complex tasks by gaining hardware access from a smartphone. You can use the device's camera, microphone, accelerometer, compass, light sensor, GPS, geolocation, player, and calendar. All this while getting a real-time preview of your app before publishing it.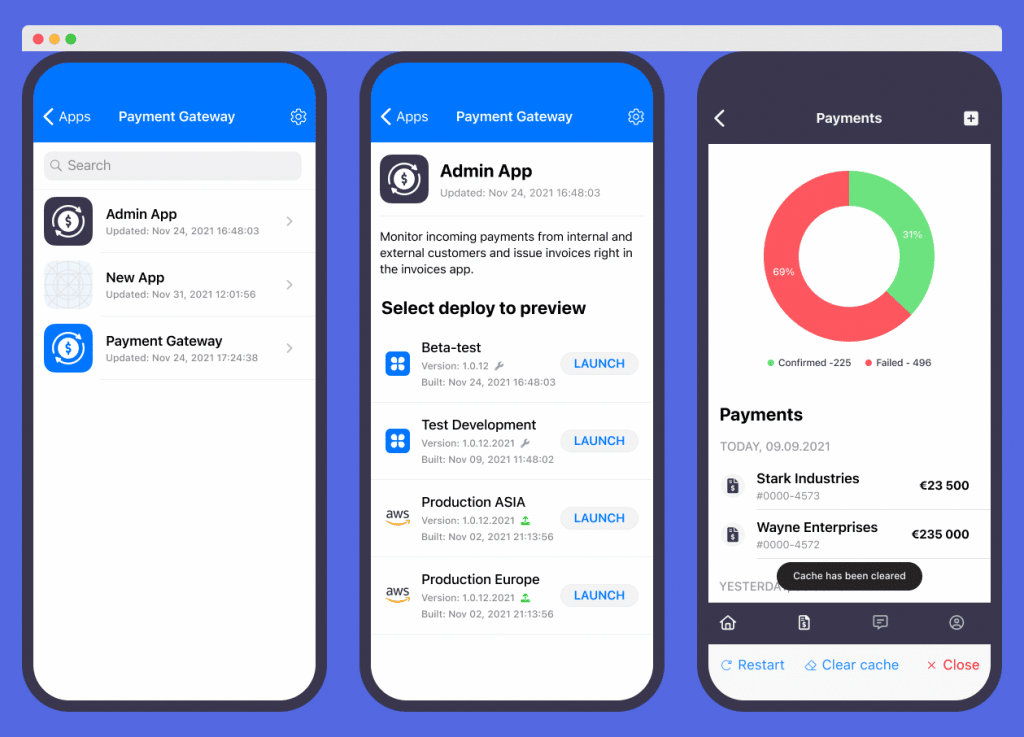 One of the advanced features that AppMaster offers is something called Vue routing. It is a modern framework for creating a user interface. You can use Vue.js to build web components with AppMaster. Users can navigate between pages without needing to reload the page which significantly reduces load time and enhances the performance of the App.
AppMaster makes it very simple to develop your own applications when it comes to building them but, there is one thing that you should know if you're someone who likes to automate your business processes.
You can establish a flow between your applications and processes using AppMaster. Even though there is no code involved, it can be challenging to automate intricate business procedures. You must conduct a thorough business process analysis before automating.
Once you are ready, you can use this to automate tedious and repetitive tasks. There is a major difference between No Code automation and Code automation. Once you have made your decision, AppMaster has a cornerstone blog to help you through building automation.
AppMaster has no free plan. It starts with:
| | | |
| --- | --- | --- |
| Explore | Startup | Business |
| $5/Month | $195/Month | $995/Month |
| Develop 1 web & mobile app | Develop 2 Web & 1 mobile app | Develop 3 Web & 2 Mobile apps |
| Single Developer | 3 Developers | 5 Developers |
| Community support | Community & email support. | Community, Email & phone support. |
| Max 3 installed modules | Max 5 installed modules. | Max 10 installed modules. |
| No file or database export features | Database and file export support. | Access to database & file export along with Backend binary files & Backend docker images. |
| No External API request designer | External API request designer. | External API request designer. |
| No Backend Deployment | No Backend Deployment | Can deploy backend to AWS or other services |
| Can't publish mobile apps at Play Store or Apple App Store. | Publish mobile apps at Play Store or Apple App Store. | Publish mobile apps at the Play store & the App store. |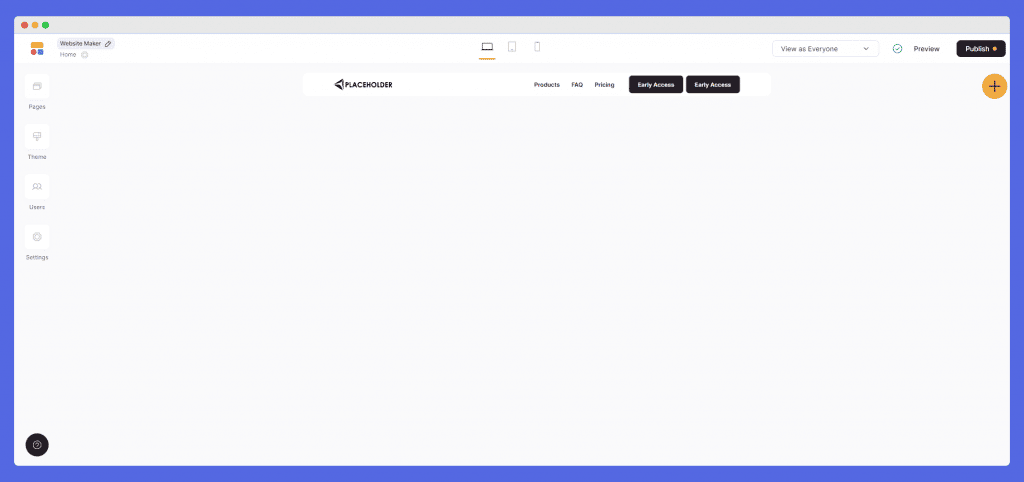 Softr is one of the easiest, fastest ways to build a professional web app on Airtable.
It introduces a fundamentally different approach to building custom apps. Its unique approach is the modular lego-like building experience & out-of-the-box business logic.
Instead of creating the app pixel by pixel, it lets you create it like a Lego. No Wonder it was Product Hunt's 2021 Product of the Year.
At its core, Softr's units are the building blocks. Each building block represents a logical piece of the application, including frontend, business logic, and backend (Authentication, List/Table, Stripe Payments, Chart, Kanban, Calendar blocks, etc.).
This approach makes Softr easy to use yet powerful. Their core customers are business users who like to create customer portals, internal tools, and dashboards powered by their data. It has a small learning curve. You can check out their video tutorials and create a basic app within a couple of hours.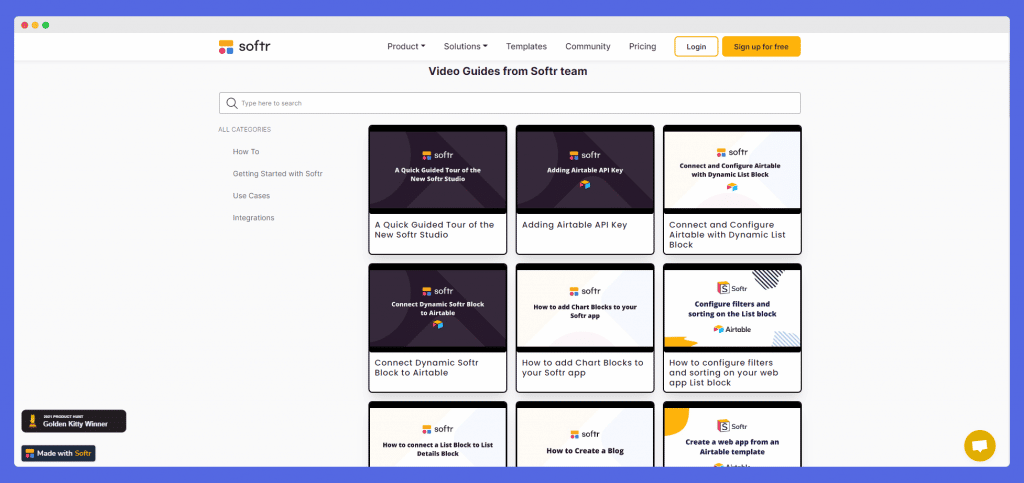 Softr is climbing popularity charts consistently in the past 2 years, they've created a community of 35,000+ people[2] on their platform. Strictly speaking, Softr is a No Code platform with Low Code possibilities. It is an exhaustive app builder. Their drag-and-drop editor allows you to directly create websites, web applications, and mobile applications. If you want to add custom code to your app to make changes, it could also function as a Low Code platform.
Here are a few aspects of Softr that we liked.
Huge Templates Library (Client Portal, Landing page, Portfolio, and more)
Free Stock Photos (Pexels)
Free Icons Collection (Fontawesome)
Free Fonts Collection (Google Fonts)
Integrations (Zapier, Integromat, GoogleAnalytics, Mailchimp, Hotjar, Crisp and more)
Softr's Pricing Policy:
There are 3 paid plans and a free one. You can build unlimited apps right from the free plan but payment is required for additional functionalities like publishing, removing branding, paywall access, airtable records, etc.
| | | | |
| --- | --- | --- | --- |
| Free | Starter | Professional | Business |
| $0 / mo | $24 / mo | $65 / mo | $165 / mo |
| | | | |
| 1 custom domain | 1 custom domain | 1 collaborator | 4 collaborators |
| Softr branding | No Softr branding | 2 custom domains | 3 custom domains |
| Membership (5 members) | Membership (5 members) | Membership (10,000 members) | Membership (100,000 members) |
| Paywall (5 members) | Paywall (5 members) | Paywall (Recurring & one-time payments) | Paywall (Recurring & one-time payments) |
| 200 airtable records | 1000 Airtable records | 10,000 Airtable records | Unlimited Airtable records |
| Live chat support | Custom code (HTML/CSS/JavaScript) | Custom code | Custom code |
| | Live chat support | Update Airtable records (all logged-in users) | Update Airtable records (custom permission rules) |
| | | Transfer applications | Field level edit permissions per each User Group |
| | | Live chat support | Charts (Line, Bar, Pie, etc) |
| | | | Transfer applications |
| | | | Onboarding call |
| | | | Priority Live chat support |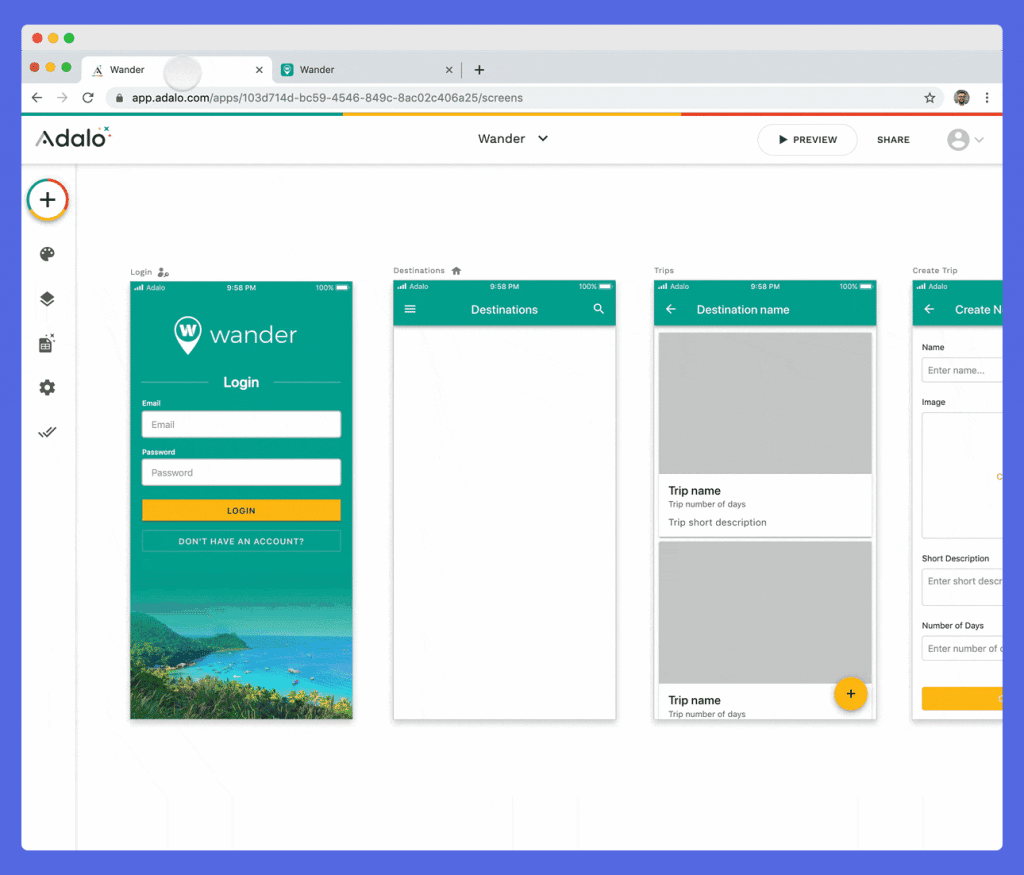 Adalo is one of the best app makers out there for building your own mobile app. Adalo has been used by non-technical founders all over the world to launch their businesses.
It offers an easy drag-and-drop editor that makes it simple to create mobile apps and web applications without writing any code. You can publish an infinite number of apps in the Adalo domain with their free plan.
User authentication, push notifications, and native device actions like gaining access to users' cameras and photo libraries are a few of the many awesome features of Adalo.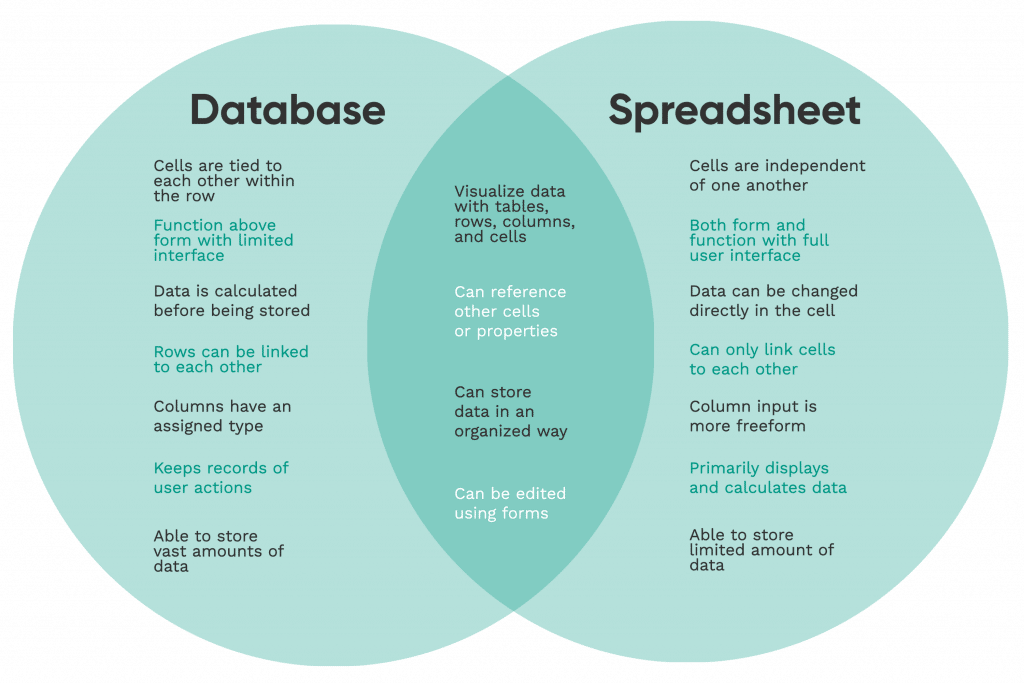 Adalo has the smoothest API and database functionality[3] among all the app builders. Adalo understands that creating logically organized databases is the key to building your app. They have created an in-depth guide to help you out with the database.
Apart from that, the Adalo app builder is relatively fast. So the changes or updates on your app will be instant. No need to wait for a few minutes or (sometimes) hours.
Check out Adalo App Academy to learn everything about App Development and Publishing. They have 70+ Courses across disciplines like marketing, app planning, designing and API integrations.
Adalo also has a Component Marketplace where you can find user-generated components. It is a place where code meets No Code. React Native Developers can create repetitive components for the marketplace and sell them.
For example, a QR code scanner for the app. Almost every app requires this feature. You can access it from the component store and add it to your app.
Adalo's Pricing Policy:
Adalo has a free plan along with 2 paid ones.
| | | |
| --- | --- | --- |
| Free Version | Pro Plan | Business Plan |
| $0 | $50/Month | $200/Month |
| Unlimited Apps | Unlimited Apps | Unlimited Apps |
| Publish to an Adalo domain | Publish to Apple & Google Store | Publish to Apple & Google Stores |
| Adalo Branding | No Branding | No Branding |
| 50 records per app | Publish to a Custom Web Domain | Publish to a Custom Web Domain. Connect to External Data Collections |
| Can't publish at Apple & Google App Store. | Connect to External Data Collections | Trigger Unlimited Custom Actions |
| | Trigger Unlimited Custom Actions | Geolocation Features |
| | Geolocation Features | 20 GB of Data Storage |
| | 5 GB of Data Storage | 5 Seats (App Builders) |
| | 1 Seat (App Builder) | Dedicated Account Manager |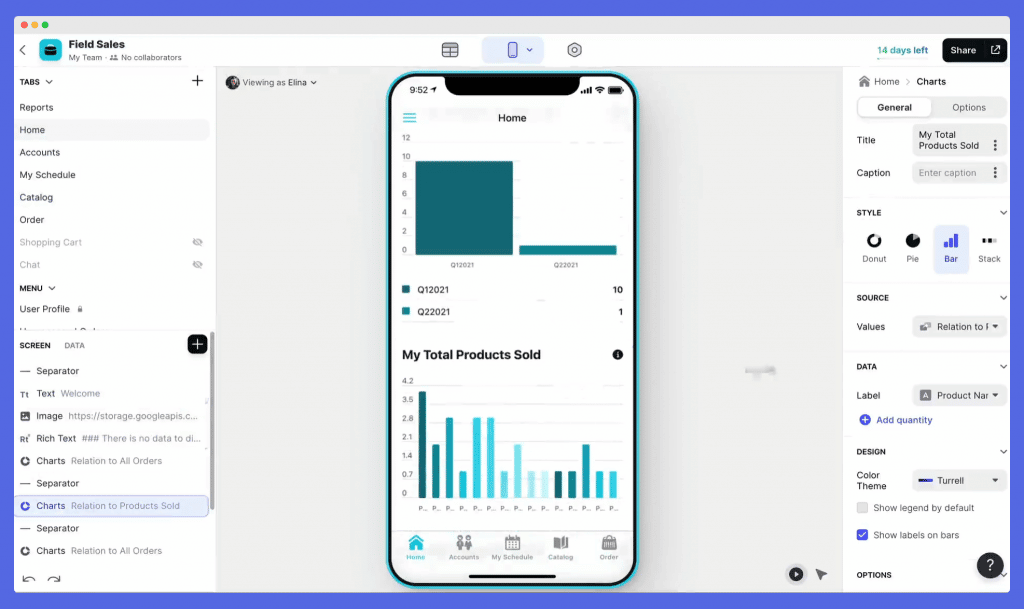 Glide is divided into 3 parts:
Glide Apps (App builder)
Glide Pages (Website Builder)
Glide Data Editor (automate and sync your data)
Although all of these products are awesome, we are going to talk about Glide Apps. It is one of the top spreadsheet app makers out there. It uses Google Sheets as the database and basis of your app. It uses CRUD (Create, Read, Update, Delete) interaction with the backend google sheet.
After filling your spreadsheet with the required data, you can link it to the app you will be making and build the rest of it in a traditional, drag and drop interface. They have over 500,000 people and companies that made apps with Glide, including firms like Uber, NASA, and Zoom.
With Glide 2.0, they have updated almost all of their features. You can now create your own mobile app and customize it with table layouts as well. It is best used to build early MVPs to test concepts with beta users. If you already have some background in using the functionalities of Google Sheets, Glide is the best No Code platform for you to create apps.
If we had to be the devil's advocate, we can point at one tiny limitation of the app. It has a cap on the number of users you can have. You should be good as long as you are creating an internal app or a small app for specific users. But if you are planning to make the next Instagram, Glide is not the best option in that scenario.
Their template library is massive and has website and app templates across industries. (Education, Finance, HR & Operations, Health, Local Business, Sales & Customers, Startups). They also have a community where you can hire an expert to work on your project.
If you have chosen the app maker, this could make your process significantly easy.
Glide's Pricing Policy:
They have a free forever plan along with 3 paid plans. The starter plan is for individuals and freelancers whereas the other two are for businesses.
| | | | |
| --- | --- | --- | --- |
| Free | Starter | Pro | Business |
| $0/month | $25/month | $99/month | $249/month |
| | | | |
| 3 apps or pages | 5 apps or pages | Unlimited apps or pages | Unlimited apps or pages |
| 2 editors | 5 editors | 10 editors | 25 editors |
| Branding | Separate payment to remove branding | No branding for 3 projects | No branding for 5 projects |
| 100 users | 1000 users | 5000 users | 10000 users |
| 200 MB Storage | 5 GB Storage | 50 GB Storage | 1 TB Storage |
Wrap Up
Here is an overview of the best app makers in the No Code industry:
That was our extensive list of best app makers in No Code. If you are planning to use any of these apps, make sure you use our affiliate links. It would help us out in this quest of bringing you valuable information for free.
We hope you learned something in the realm of DIY app development. If you enjoyed this, here is our list of top mobile app builders in No Code. Don't forget to follow us on Twitter to stay up to date with the No Code world.