Chatbots are more than just simple applications to assist users through FAQs. Chatbots understand human problems with artificial intelligence & natural language processing. They guide customers to their solutions and keep your support staff from getting cluttered with repetitive problems. Chatbot acts as a virtual assistant for your customer experience touchpoints. It creates a true win-win situation for businesses and customers. It becomes crucial to develop intelligent and customized Chatbots for business automation and customer satisfaction. As software development becomes more accessible to citizen developers, we are seeing a significant rise in the Low Code Chatbot development platforms. This blog is a collection of top Low Code platforms to build a Chatbot that matches your requirements.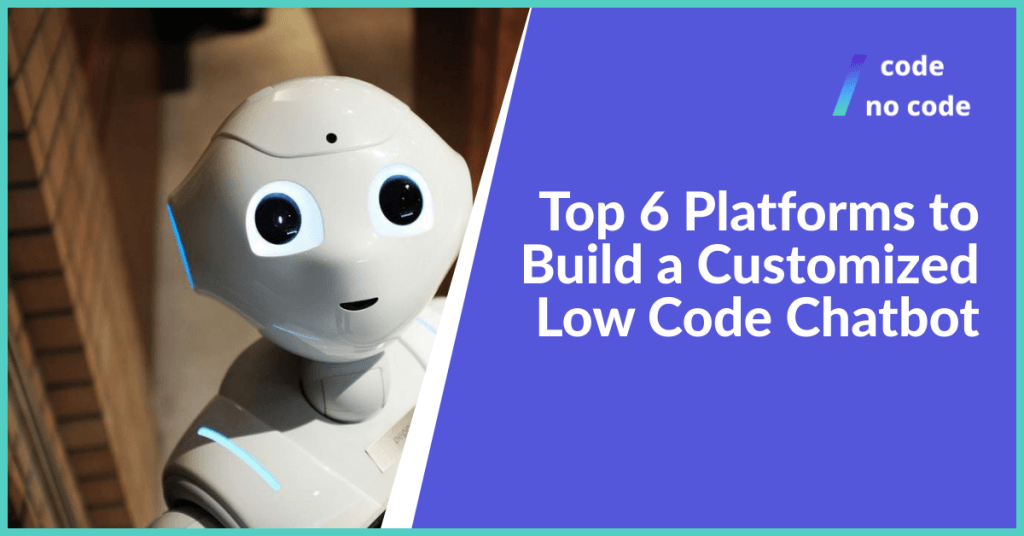 Why Choose Low Code Platforms for Chatbot?
If you have read our blogs, you'd know we are the biggest fans of No Code (probably in the known universe). But Low Code is sort of a way toward True No Code.
Market research[1] by Gartner found Low Code application building would gather more than 65% of all app development functions by the year 2024 and with about 66% of big companies using a minimum of four Low Code platforms. Here's why we see a rising trend of Low Code Platforms specifically for Chatbot development.
Cost Advantage
The price of these Low Code platforms is flexible. After reading this blog, you will find out the range of pricing available for building your Chatbot. Due to its increased accessibility, you end up saving up a lot of software development costs.
Also, some of these platforms have a pay-as-you-go model, where you can add conversations at a small price if you cross the monthly threshold. Many businesses don't want to spend a lot of money on a Chatbot until they truly see the results. These pricing models help us solve that problem.
Natural Language & AI Capabilities
Although it sounds like rocket science, it is pretty achievable. Natural Language and AI-driven Chatbots can be created with Low Code development platforms. When you are starting with bots, you don't need to focus on NLP-based bots. Yet it becomes an important feature as you gather more data and scale.
Integrations
Low Code development platforms would easily integrate your Chatbot with popular SaaS tools and even on-premise enterprise tools. Developing a Chatbot that perfectly fits your team's current tech stack would decrease the burden on the support team and increase overall customer satisfaction.
For example, if your team is using Slack for internal communication and Hubspot as a Sales CRM, you can integrate the Chatbots to set up automation across these channels.
Increased Customization
New businesses can work around with a templatized Chatbot. As the business grows, you need to personalize it. Low Code gives you the ability to micro customize your Chatbot without increasing the load time of your website/app.
For example, a media company would require its Chatbot to have a funky logo animation. Low Code Chatbots are a perfect fit for them.
In a nutshell, Low Code has democratized innovation by becoming a bridge between citizen developers, programmers, and domain experts.
Best Low Code Platforms to Create a Chatbot
Here is the list of top Low Code solutions for building a customized Chatbot for your business.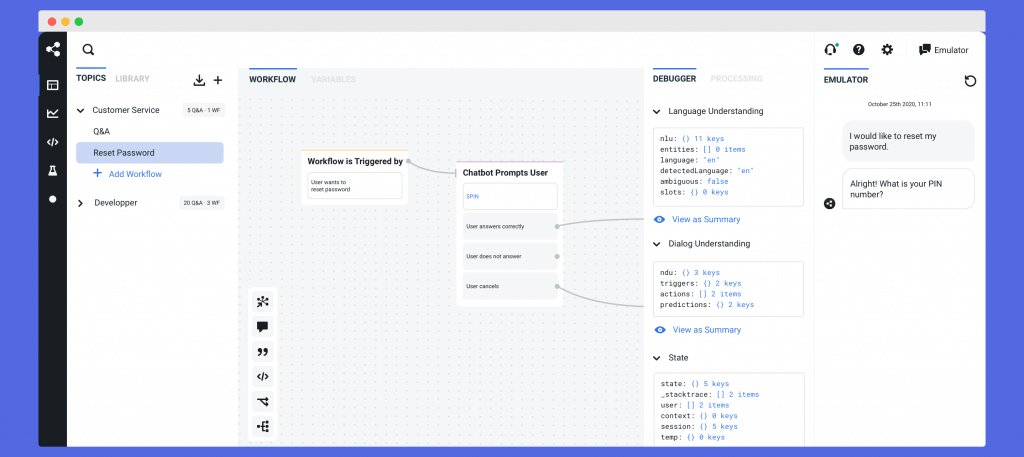 Botpress is an open-source AI platform for creating text and pattern-based bots. It is for developers who want to build AI-powered bots without a team of data scientists and machine learning experts. The platform is hosted on Github and offers a visual development UI for creating smart Chatbots.
In Botpress, channels are installed and configured individually and locally, giving you complete control over the data transmitted between your Chatbot and the chat platforms. Botpress does not proxy the messages to a 3rd party service.
Price
Free.
Customized Premium Version available with support when you request a demo.
Channels
Facebook Messenger, WordPress, Slack, Telegram, Twilio, and Vonage.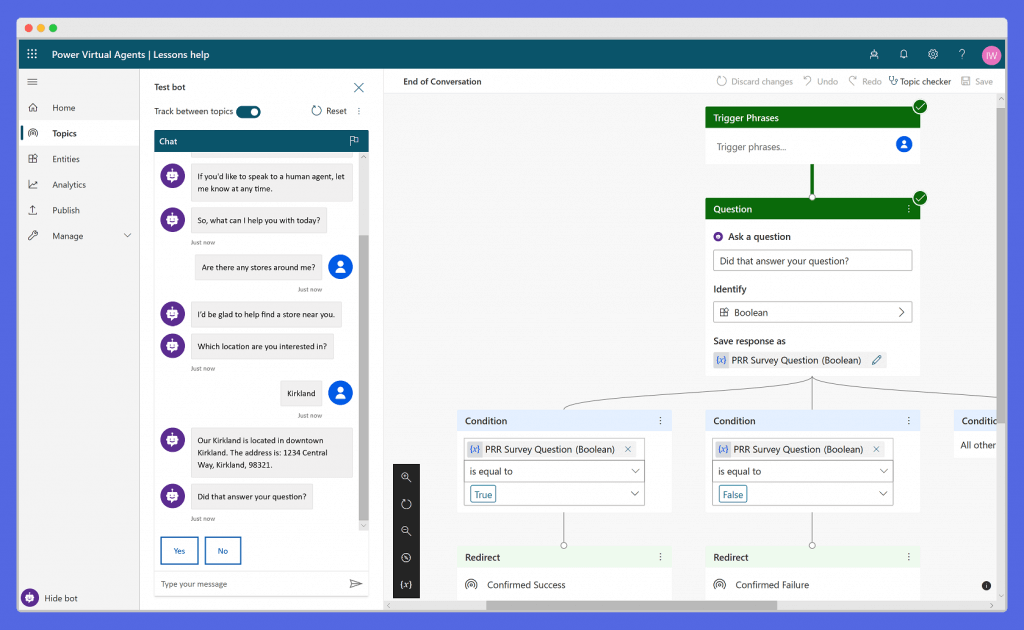 Power Virtual Agents aka PVA is Microsoft's latest AI innovation for building Chatbots. You can build powerful Chatbots using a guided, No Code graphical interface that can be deployed for your team. Their comprehensive use cases cover sales, HR, finance, customer service, and virtually all channels where internal or external customers need to be engaged.
Also, the cost of deploying and hosting the bots reduces as Microsoft's Azure Cloud Services provides a conducive environment to host the application. But even after considering that, it is pretty expensive.
The tool is vastly popular. If your budget allows, PVA could be a great fit for you. To top everything off, Microsoft has created all of the documentation (with videos) required to understand and use the platform.
Price
Free Trial.
$1,000 per month for 2,000 sessions (The session begins when a user topic is triggered and ends when one of these conditions is met—either the user's questions are answered, or the conversation exceeds 60 minutes or 100 turns.)
Channels
Microsoft Teams and Facebook Messenger.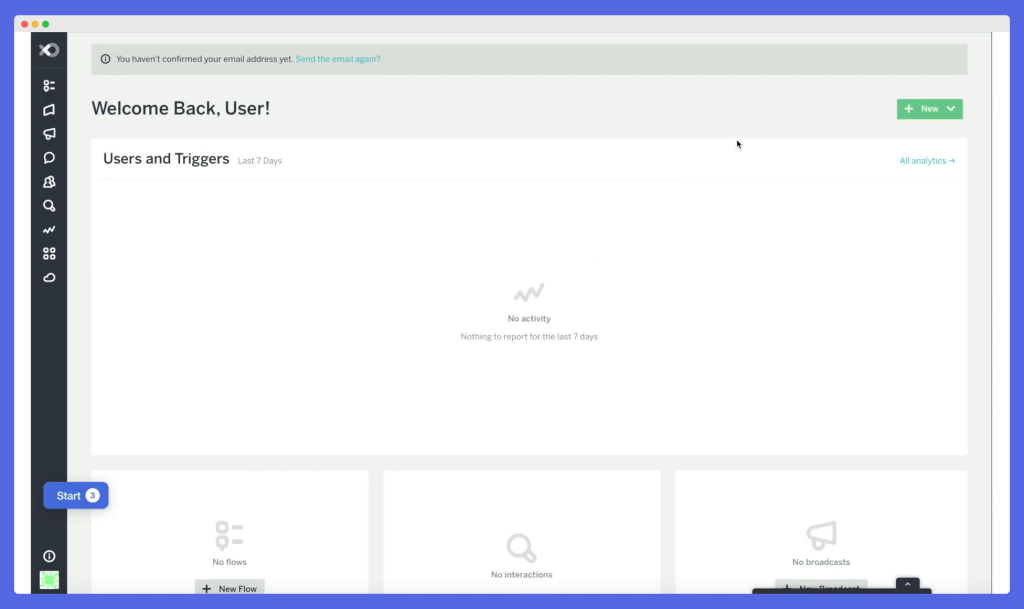 This Low Code platform enables users to build a range of Complex AI Chatbots. You can connect these bots with 100+ cloud apps. It is essentially a No Code platform so you can create your Chatbot without code.
But if you want to add customization, they have a Code[2] option in their platform. It allows custom JavaScript to be executed and the result passed back into the flow. Scripts are executed in the Node.js JavaScript runtime. Their top use cases include accepting payments through Chatbots and providing an onboarding experience to new users.
Price
Free plan includes 5 bots, 500 interactions, and 2 weeks of logs with branding.
The $19/month plan includes 5,000 interactions, 15 bots, and 3 months of logs. (You can add 5 bots and 25000 interactions at $10 and $25/month respectively.)
Channels
Facebook Messenger, WhatsApp, Telegram, Slack, SMS.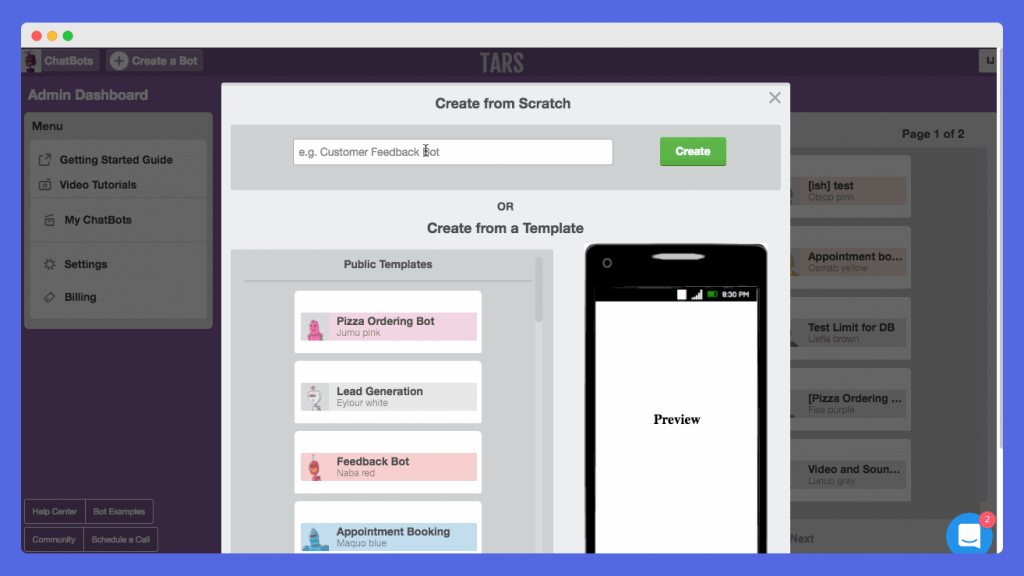 It is another Low Code platform to build automated Chatbots. The specialty of Tars lies in its templates. They have 1300+ predesigned templates for major industries such as Government, Insurance, Real Estate, Mortgage, Legal, and Education.
If you don't want to dedicate a lot of time to creating your Chatbot, Tars would be the apt choice for you. They also have smooth integrations with Zendesk, Google Calendar, and Hubspot. Apart from that, Tars provides 24/7 live chat support to paid users helping you set up and build automation.
Price
Free trial for 14 days.
Request a demo for further pricing details.
Channels
Website and WhatsApp.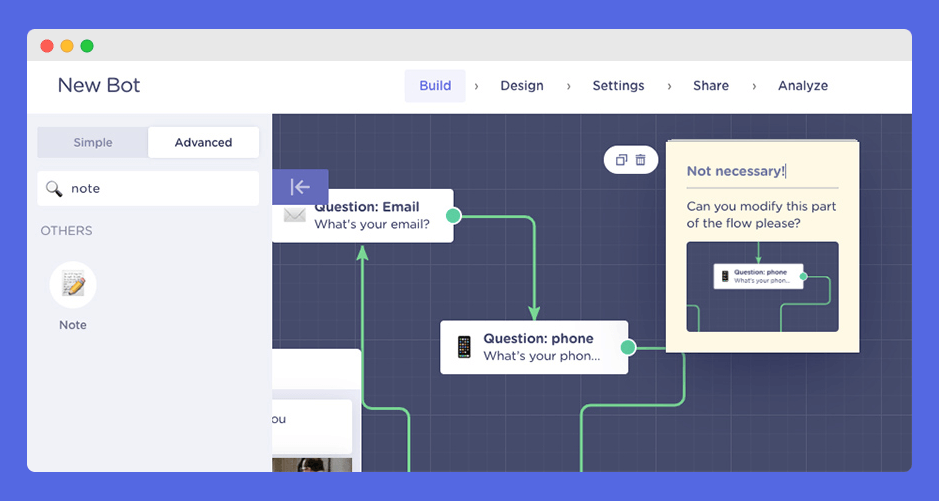 It is a Low Code platform that allows you to easily build rule-based bots. The interface uses AI to train your bot to solve the surface-level queries and lets a human jump into the conversation mid-way if the queries are getting too complicated.
Although it offers a drag-and-drop interface, you can add a custom code block to write Javascript. If you plan to add a lot of custom code, it might increase the load time. Ensure you add whatever is necessary for the functioning of your Chatbot, not more.
You can personalize your Chatbot according to your brand element. If you're a small business owner, Landbot is best suited for your needs.
Price
Free plan includes 100 chats per month.
Paid Plan starts at €30 per month with 500 chats. You can add 500 additional chats with a €10 add-on.
Channels
Facebook Messenger, Web app, and Whatsapp.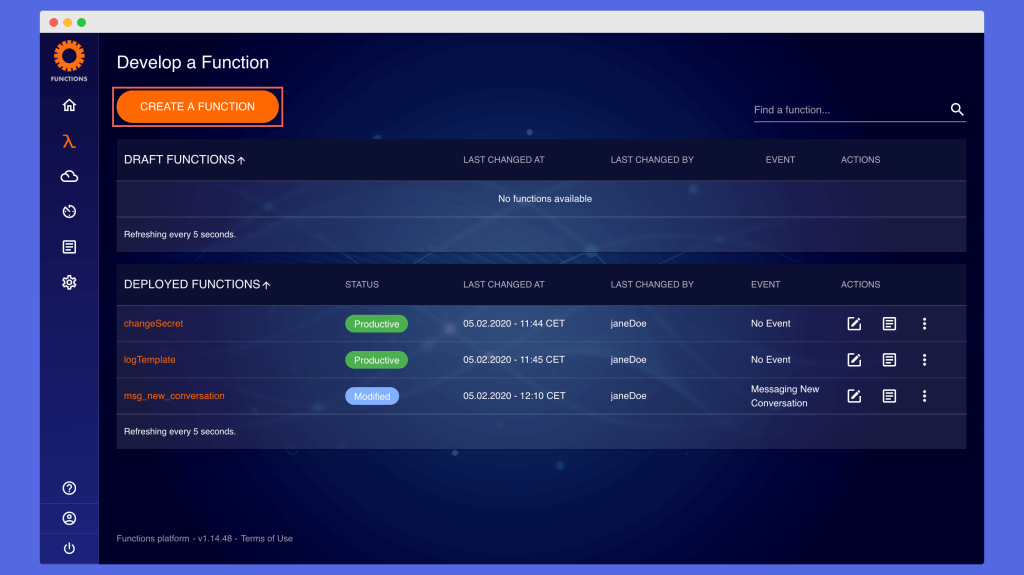 It is a conversational AI platform that serves both technical and non-technical people. Their Conversation Builder offers a point-and-click interface with a guided assistant that walks users through the process of creating the Chatbot. They have a huge library of templates with a variety of use cases across multiple industries.
In addition, there is a sub-domain dedicated to developers. You can add APIs and use the built-in scripting functions[3] to access variables and manipulate data. Their lack of free trial makes it less popular for new businesses. They compensate for this with the number of integration channels available. If you have a huge scope of automation and Chatbots in your business, you should go for it.
Price
Custom pricing after requesting the demo. No free plan or trial.
Channels
Web Messaging, App Messaging, Email Messaging, SMS, Apple Business Chat, Google RBM, WhatsApp, Facebook Messenger, Instagram, and Twitter.
Wrap Up
Chatbots have evolved into conversational AIs. They have helped companies deepen their understanding of customer behavior. With data, we can analyze and listen to customers as never before. When you integrate these conversational AI into your workflow, you realize the true potential of business automation. We hope we were able to help you choose your Low Code platform to build a Chatbot.
Follow us on Twitter to stay tuned with Low Code/No Code industry.