NFT isn't just a buzzword that Gary Vee uses to make his clips go viral. It is a digital asset that is valued at a high price depending on the rarity and some other factors[1] that we will see in this blog. An increase in market value due to scarcity isn't a new concept to us given that people spend billions each year on gaming, art collections, and jewelry.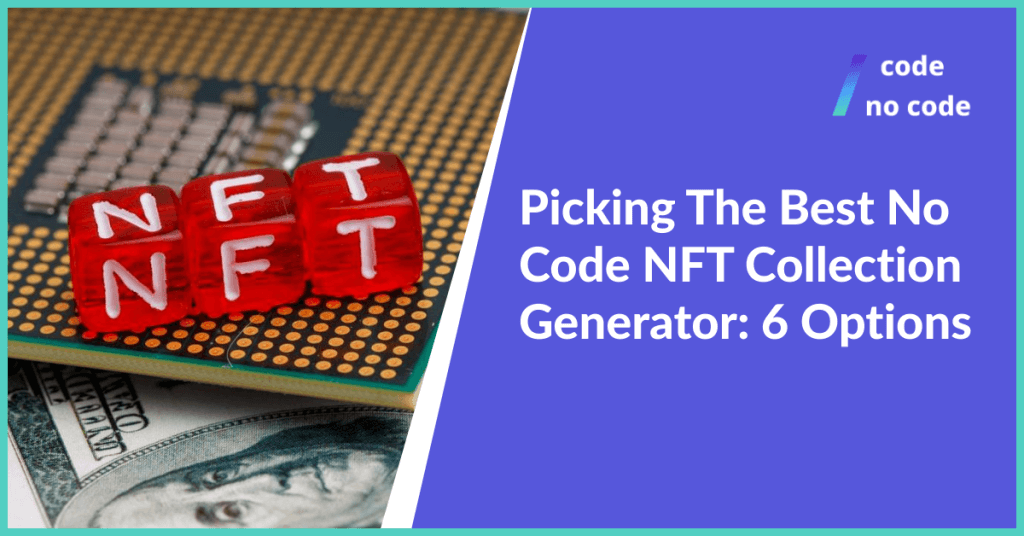 While blockchain and Ethereum might sound like heavy terms, you can create your own NFT collection without coding skills. In this blog, we will list down the top No Code NFT collection generators and provide an overview of how to start an NFT collection.
What is an NFT?
NFTs (Non-Fungible Tokens) are digital assets managed on a blockchain with unique identification codes and metadata that allows the users to recognize the rarity of that asset. These assets can be images or GIFs.
Imagine you went to a football match where Ronaldo scored 6 goals. You can create an NFT of your digital ticket and sell it to someone who finds it valuable. This Token has value because it is an extremely rare occurrence in history.
NFT collections are groups of similar-looking NFTs with different layers on each one. Much like diamond and gold, the price depends on the number of people interested in buying this NFT.
Bored Ape Yacht Club is one such NFT collection that got popular when celebs like Eminem, Justin Bieber, and Tom Brady invested in it. NFT collections are great for artists who want to commercialize their art. You can create a collection through one of these No Code platforms and generate passive income while focusing on your art.
Top No Code NFT Collection Generators
| NFT generators | Overview |
| --- | --- |
| Appy Pie NFT Generator | Goodwill of Appy Pie. Brilliant templates and layers |
| One Mint NFT Art Generator | Interactive UI. Multi-character design support. |
| NFT Creator | NFT generator for iPhones and iPads. Affordable and easy to use. |
| Genfty | Build 100 NFTs for free on your browser without registering for an account. |
| Fotor NFT Creator | If you are familiar with the Fotor photo editing suite, the learning curve is small. |
| Bueno NFT Generator | Create NFTs quickly from third-party software like Photoshop and Figma. |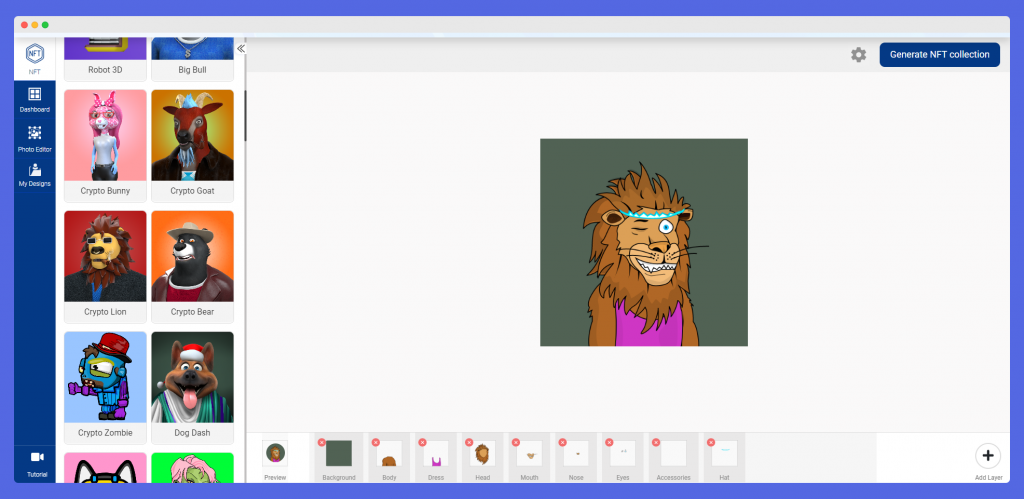 Appy Pie is one of the top mobile app builders and now they have branched out into NFT generation as well. Appy Pie provides you with a No Code designer where you can add different layers to your NFT. They have 100s of templates that you can use but also an option to start from scratch to create your unique design.
The user interface of the Appy Pie NFT generator is simple and easy. Appy Pie lets you add layers to NFTs and create up to 10,000 NFTs per project in your collection. You can change the rarity of a layer from the setting tab. Once you are done, click on 'Generate NFT collection' on the top right.
After a minute of loading, your images and JSON files will be ready for the NFT marketplace.
There is a free plan but it has almost zero features. The paid plan of the Appy Pie NFT generator is pretty affordable at just $6 / Month for 10,000 NFTs. You can pay an additional $0.005 per combination if you want more NFTs in your collection.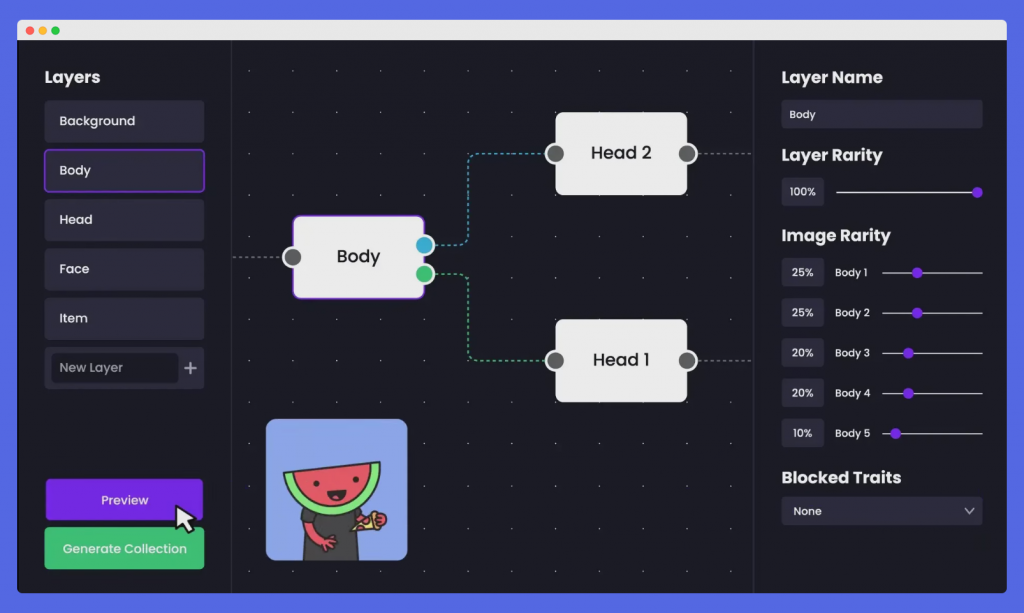 It is the easiest way to create your own NFT collection. You can deploy a smart contract for minting on Polygon and Ethereum with NFT Art Generator. You can generate bulk NFTs to create smart contracts and increase your profits.
With over 250,000 NFT Collections Created and 8000 Smart Contracts Deployed, it is one of the most popular NFT makers in the No Code space.
Another cool feature of this platform is the multi-character support. For example, if you have a monkey and a giraffe within the same art style, you can work on both the characters simultaneously. This comes in handy when you are scaling your NFT collection.
OneMint NFT Art Generator Price: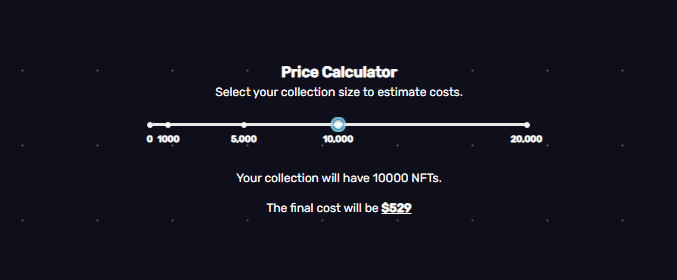 The free plan lets you build 100 NFTs with branding. The pay-as-you-go plan depends on the size of your collection. You can adjust the bar on their pricing column to get the exact amount. Cost is $199 for 1000 NFTs. Whereas $529 for 10,000 NFTs.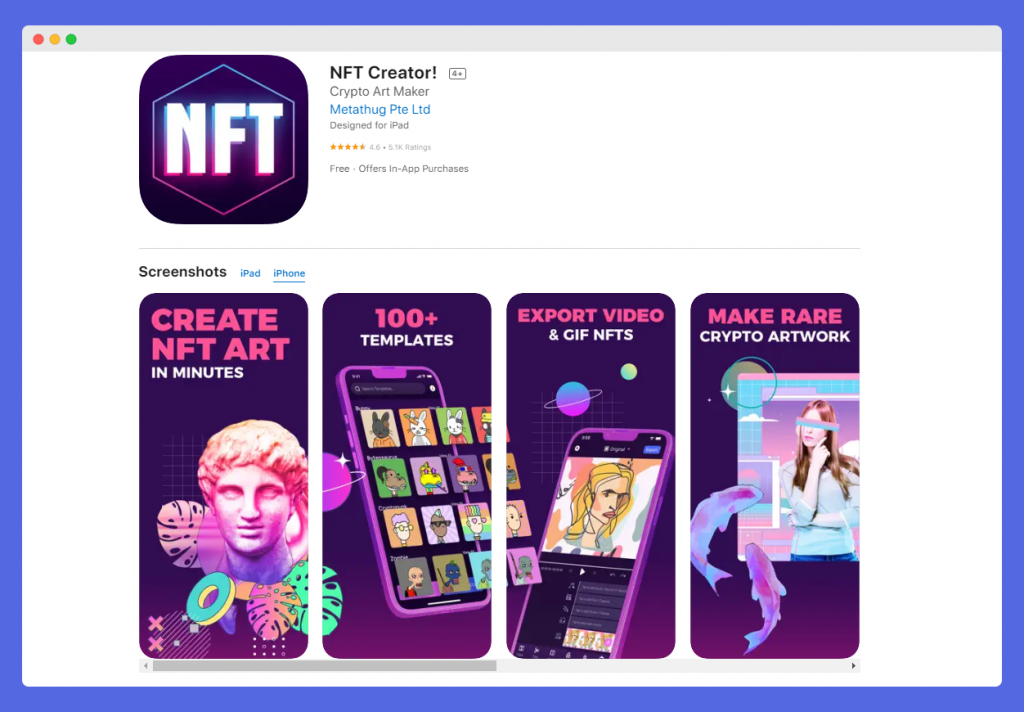 NFT Creator is the best NFT maker on iPad and Mac. Not only is there zero coding involved, you don't even have to open your browser. They have removed the complexity of designing an NFT. Anyone with an Apple device can create and launch NFTs. They have over 1000 backgrounds, fonts, filters, and art graphics to export.
It lets you share and sell your artwork on popular marketplaces:
• Axie Infinity
• Nifty Gateway
• Superrare
NFT Creator Price:
They have no free plan but a 3-day trial for their paid program. The Pro version is charged at $3.99/week or $49.99/year. This simple pricing plan makes it an affordable NFT builder.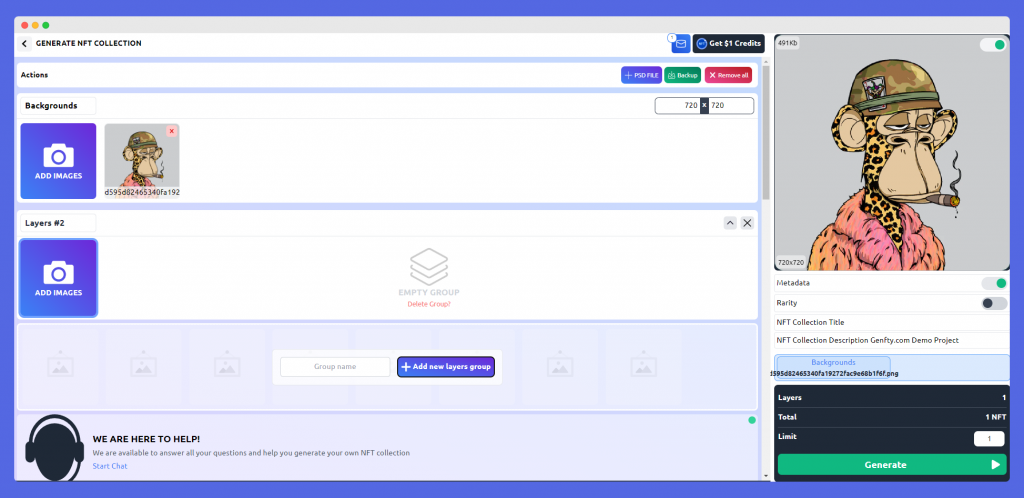 Genfty is a No Code NFT generator that lets you build 100 NFT collection and import it to IPFS with the metadata files for free. No Branding or hidden charges for the first 100 NFTs. If you want to try your hands on your first NFT without even registering an account, use this platform. You can build your collection directly from the browser.
Genfty Price:
After you have used up your 100 credits for creating 100 NFTs, you pay an additional $1 for every 100 credits. This is the simplest NFT generator pricing we have seen.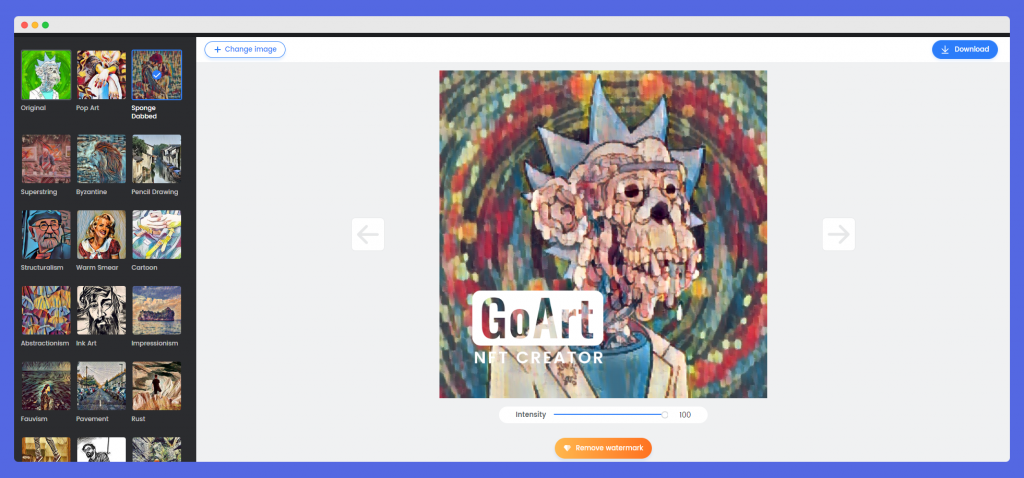 Fotor started as a popular photo editing platform on mobile and computer. They have recently launched an NFT generator to push their artists into becoming crypto artists. They use AI to add filters to your images giving them an artistic touch.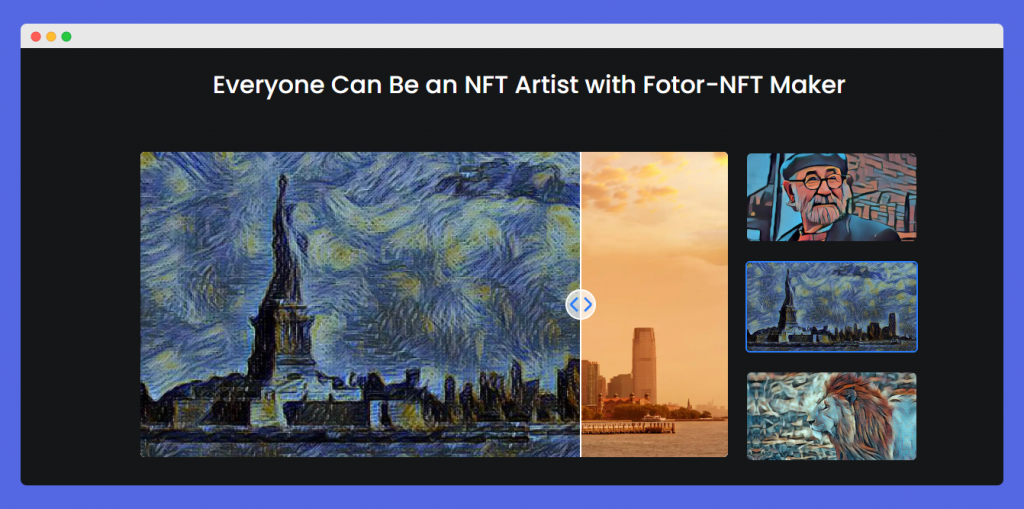 If you have been using Fotor as a photo editor, this is one of the best NFT generators for you.
Fotor Price:
They have no free plan. A 3 day free trial is available for both Pro and Pro Plus plans that cost $8.99 / month and $19.99 / month respectively. The paid plan only makes sense if you are planning to use other Fotor features as well.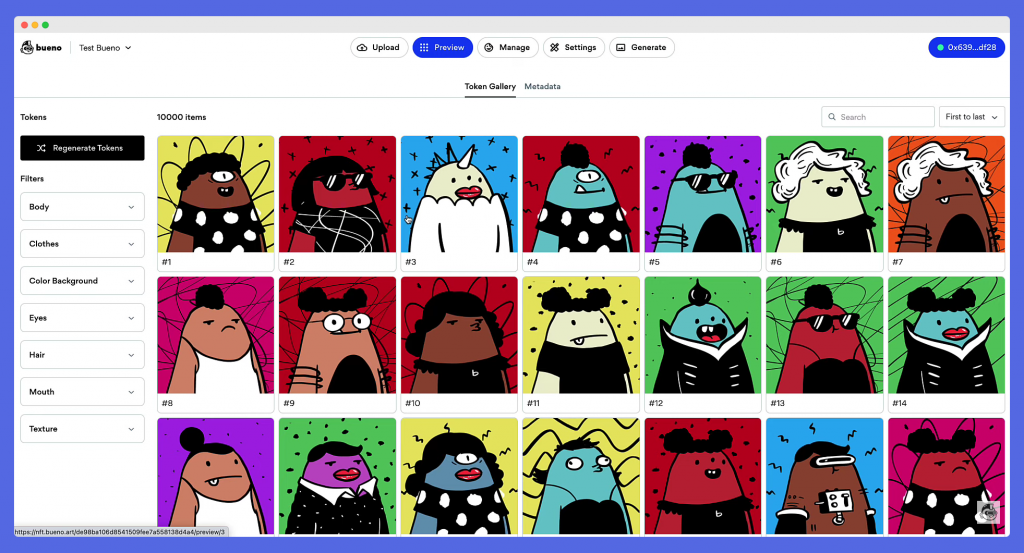 Bueno Art is a website that offers No Code Tools for creating and managing NFT. They provide one of the fastest NFT generators out there letting you create thousands of NFTs within seconds. If the motive behind building your NFT art collection is speed, you can't go wrong with Bueno.
You need to create your NFT files in either Photoshop or Figma. Once created, you can prepare the file according to guidelines. You can check out their comprehensive tutorial for a detailed explanation of this process.
Bueno Price:
Everyone can use Bueno for free until the time of export. Exporting a token is charged at 0.0001 ETH. Hence, 1 ETH for every 10,000 tokens.
How to Generate NFT collections?
If you using an NFT generator for the first time, let us guide you through some know-how. Here's the process of generating and deploying an NFT art collection.
Create a Base Layer
It is the layer that stays common throughout your NFT art collection.[3] All the elements and layers are added to this base layer.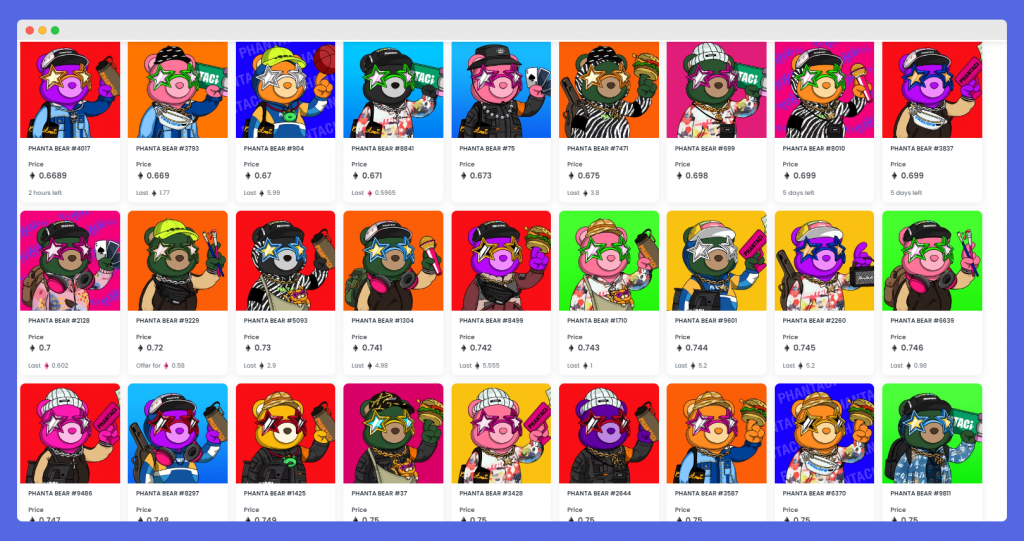 For example, the Phanta Bear NFT collection has a base layer of a bear. You add different hats, glasses, haircuts, earrings, and accessories to it. But the bear stays in all the images. You need to start by creating this transparent base layer. You can have multiple base layers in a single collection.
Add Backgrounds and Layers
Backgrounds and layers add flavor to your NFT artwork. Create unique backgrounds and experiment with layers on your NFT generate. This is the stage where you make your NFTs visually appealing. Try to mix and match different styles.
Adjust the Rarity
You can adjust the rarity of different layers. Rarity is what makes or breaks an NFT. Have high visually impactful layers in your NFT. For example, an earring is not as significant in this image as a hat.[2]
Generate NFT
The last step of creating NFTs is generating them. All of these NFT art generator platforms mentioned in the blog will let you download NFT images and .json files. Once done, generate your NFT metadata by connecting the images with the .json files. This step is crucial in generating the value of your NFT.
Publish it on an NFT Marketplace
There are a lot of NFT marketplaces out there. You can whichever you feel is the most comfortable and easy to use. Here's a list:
OpenSea
Blockparty.
Rarible
MakersPlace
SuperRare
Focus on Marketing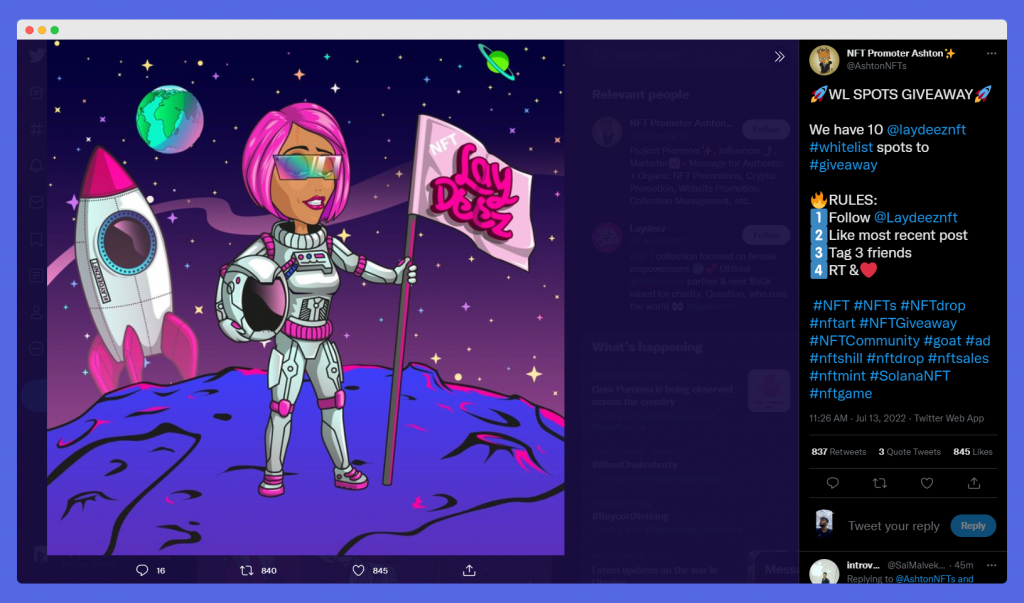 Marketing an NFT is very important as there is a lot of clutter in the industry. You need to make your space to sell your own NFT collection. One of the most used marketing strategies for NFTs is conducting Give-aways.
It gets tough to market organically when there are 100s of bots spamming content on the same social media. But we strongly recommend you try your unique way of marketing since it is your own NFT collection. This would help you build a loyal audience.
Wrap Up
That was our list of Top NFT generators. You can run free trials and choose one that fulfills your requirements. We hope your NFT collection gets more popular than bored apes. In case it does, don't forget to give us a shoutout on Twitter. Let us know if we missed out on any No Code NFT collection generator!
You can also subscribe to our newsletter for No Code Tool recommendations, News, Tutorials and Reviews.