We've been witnessing a massive breakthrough in the digital world with the global evolution of software development. Recent software applications have shown that complex-function applications can be easy to use, and the development process of such apps can be even more straightforward.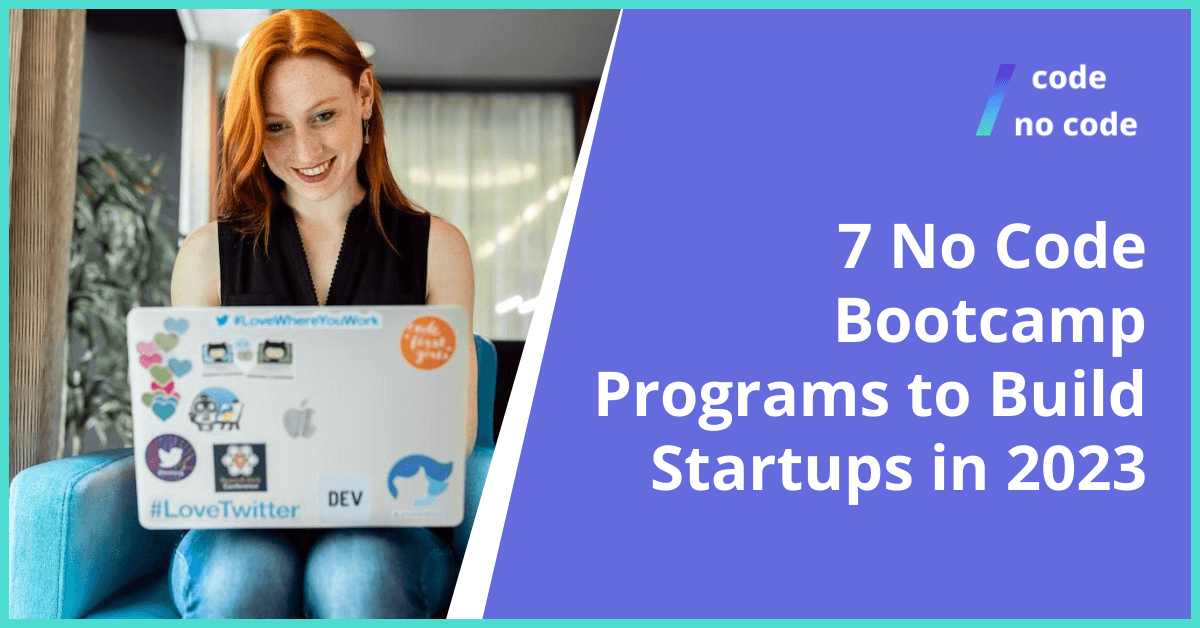 Low Code and No Code tools are the pioneers of this breakthrough[1] and many No Code bootcamps are available. But before them, there was traditional software development which involved writing multiple lines of code. Although the actual app development process with the traditional approach was not particularly easy, it was also relatively straightforward.
If you want to build a website, learn HTML, CSS, and JavaScript. Is it an Android app you wish to create? Learn Java. Or have you set your sights on the iPhone market with iOS-specific apps? Then learn Swift. Perhaps you're even quite progressive and want to build an AI for machine learning; just learn Python. The only catch is that learning any of them is easier said than done.
What's more, although learning those languages are completely viable answers to most software requirements, you'd be wrong to assume that learning them is all it takes. It takes a lot of practice, experience, and time to build an app with code efficiently. That is where Low Code/No Code app development comes in.
With No Code development solutions, non-tech founders don't have to be subject to paying typically high developer hiring fees. Instead, they can themselves or sponsor regular team members to become what is now referred to as "Citizen Developers[2]."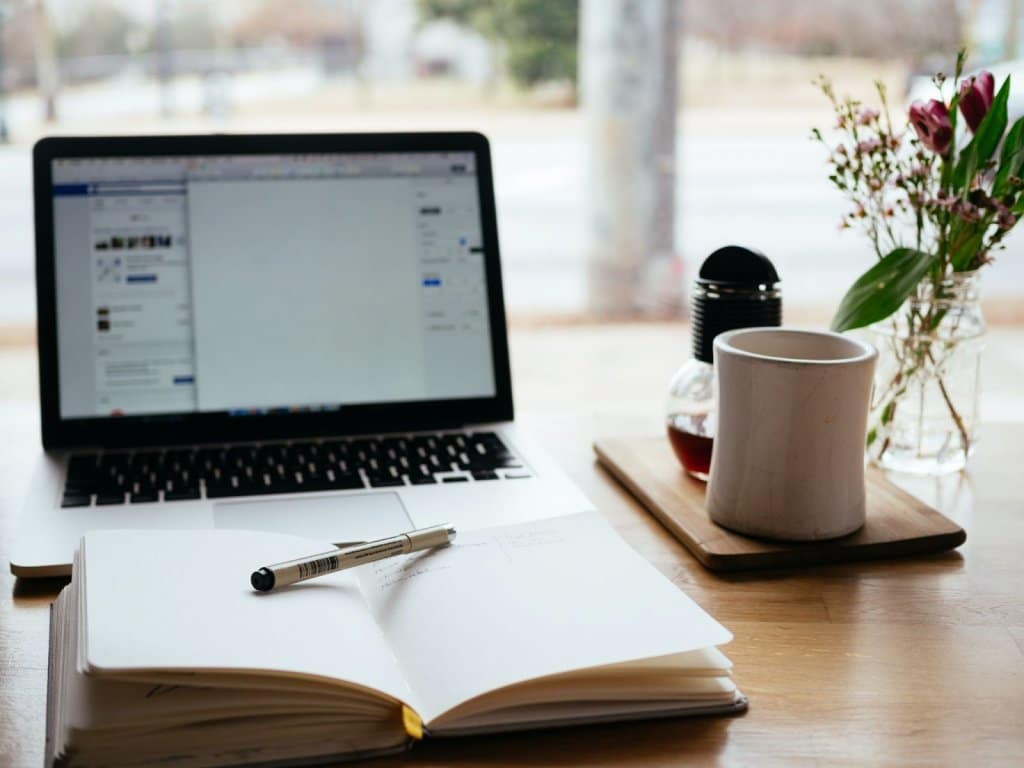 Photo by Nick Morrison
You or your select citizen developers can use suitable No Code tools to bring your product ideas to life without any coding skills. Nevertheless, as with any other technology, some learning must be done to use it efficiently. So, where can you learn about No Code development?
This article contains a curated list of 7 of the best bootcamps in the No Code landscape. We'll also be looking at some tips for learning No Code.
7 Best No Code Bootcamps
There are several valuable bootcamps in the No Code space, but we can't fit them all in one article. Here are 7 options you can trust to give you the best value:
This automation course was created by the founder of Idea Link, one of the most prominent Bubble agencies in the industry. In it, he uses his experience in No Code software development to teach you the best ways of automating daily tasks and save time.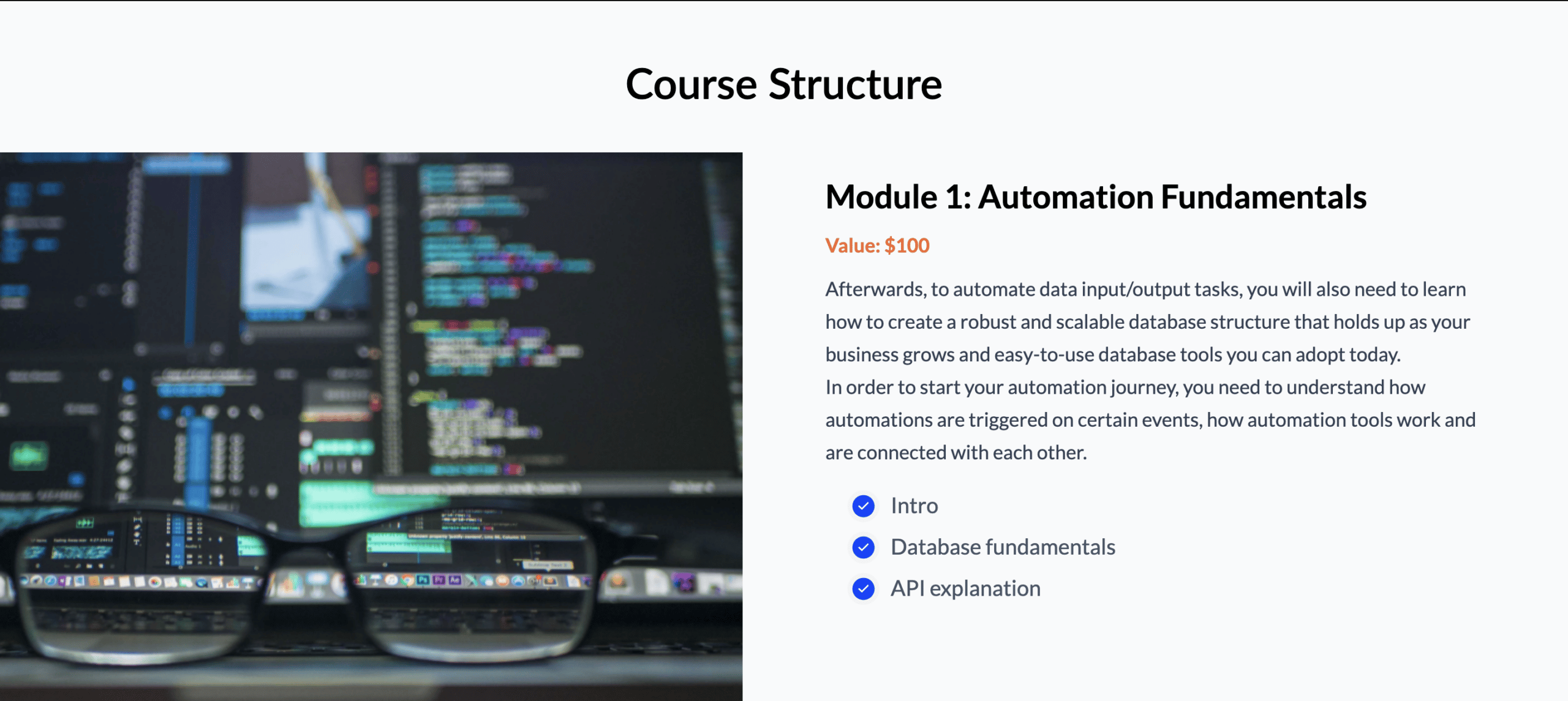 The courses contain various topics, including the fundamentals of automation and databases, a guide on using APIs, setting up automations, conditional formatting, guides on using Make and Zapier and examples of real-life use cases.
In addition, the course also talks about the Coda, Notion and Airtable collaboration tools, introduces APIs within them, basic and advanced functionalities such as crossdocs and shows how to create invoices with each one of them step-by-step.
Finally, the course ends with the introduction of AI writing tools and how to use them for sales, marketing, speeches and more.
Pricing
The regular price of this course is $250, but at the time of writing, it is currently on sale for $79.
For this price you get:
An ebook on the best practices of business automation
A spot in a members-only community
Access to 5 modules worth 250$
Lifetime access to the course
14-day money back guarantee
Real life examples on how to speed up your processes with automation
2. Zeroqode Lab
Zeroqode Lab is an online video course platform made to teach users how to create web apps without any tech skills or coding knowledge. It contains over 25 courses with various pointers, best practices, hacks, and tricks to build your first app idea quickly.
Upon opening a course list, you can tell at a glance what exactly the course is offering, its duration, a breakdown of each section, and the list of requirements. You can also check out the brief overview for a better idea of what you're getting into.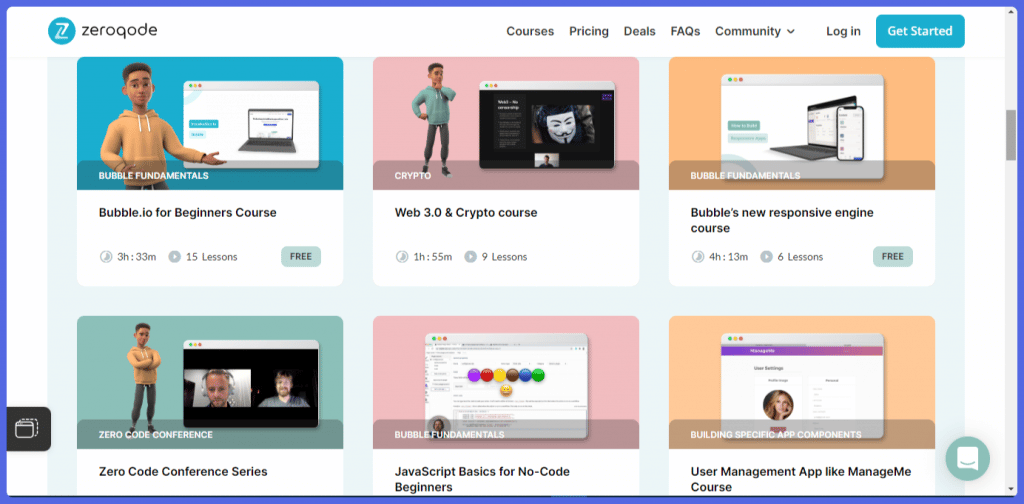 Another notable feature is the search bar which allows students to simply search for a keyword relative to what they want to build; for example, "Uber," and they get accurately suggested courses to help them build a similar app.
Zeroqode Lab is especially used to teach students how to use tools such as Zappier, TypeForm, and Bubble. Moreover, it provides No Code app templates and great bubble plugins.
Some courses Zeroqode Lab offers include:
Build marketplaces like Airbnb course.
Create a swiping app like Tinder course.
Build community web apps like Yelp course.
Build on-demand mobile apps like Uber course, all at your own pace.
Pricing
MVP plan: Goes for $49/month and grants one premium course per month, Intercom/Forum Support, 20% discount on Zeroqode templates. You can cancel the plan anytime.
IPO plan: Goes for $85/month and grants unlimited courses, Priority Forum/Intercom support, and the other MVP plan benefits.
Lifetime access: It goes for $199 paid once and gives access to unlimited courses, plus all IPO benefits along with lifetime support for all existing & future paid and free content.
3. No Code MBA
No Code MBA is an online learning program that teaches students web design, app development, and automation without code. They set themselves apart from competitors with their approach to teaching.
Students learn by building real-world projects such as Product Hunt, Tinder, and Airbnb using Bubble and the likes. Furthermore, the No Code MBA learning platform and website are built using Bubble and Webflow, respectively.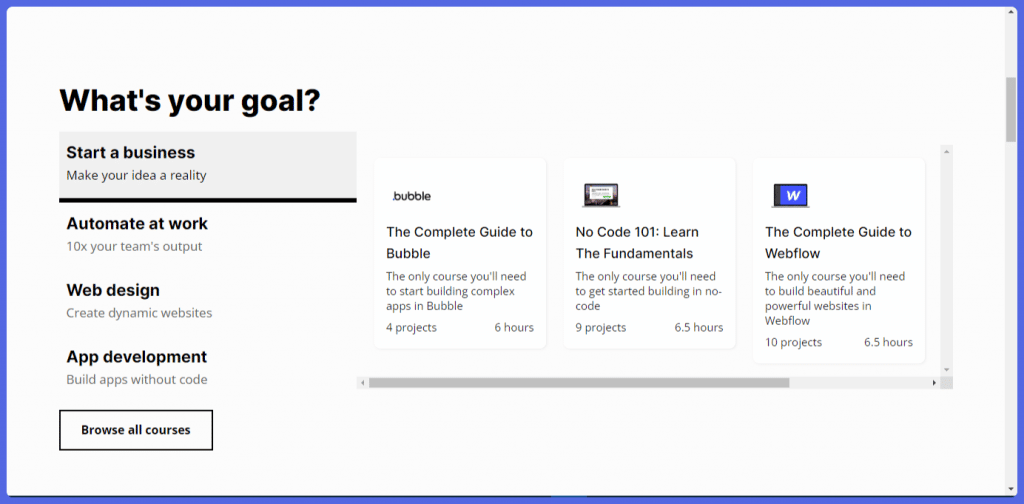 Typically, each course takes about one hour, and they all follow the whole process from build to launch of a project so you can have something you can show for each course you finish.
No Code MBA is also unique as it teaches students necessary business concepts such as pricing, client search, and running marketing campaigns. These lessons help users to build apps that are not only functional but profitable.
Pricing
No Code MBA Unlimited lifetime access costs $109, and it includes the following;
An in-depth guide to Bubble, Zapier, Airtable, Webflow, and Glide. All lessons are beginner-friendly, broken into videos 2 to 20 minutes long.
The general No Code fundamentals course among other existing and future course content.
Project-based learning.
No Code MBA also offers a 6-week online MVP Bootcamp containing idea generation and business models classes, creating a brand, and business validation classes for running marketing campaigns, finding clients, etc. And a step-by-step guide on how to build an app incorporating the previously learned concepts before you finally launch it.
To stay accountable during and after the Bootcamp, you get to join group sessions and stay in touch with a compact and friendly community of users and experts.
4. No Codify
No Codify is yet another great platform that enables users without coding knowledge to build apps and bring business ideas to reality. The primary focus of NoCodify's training program is on Bubble. But there's enough detail in the tutorials, so it's easy to apply the knowledge gained to other No Code platforms.
Users who've chosen to use NoCodify to build their business have access to guided tutorials, one-on-one support, live classes via video calls, and a large and responsive community to continue learning.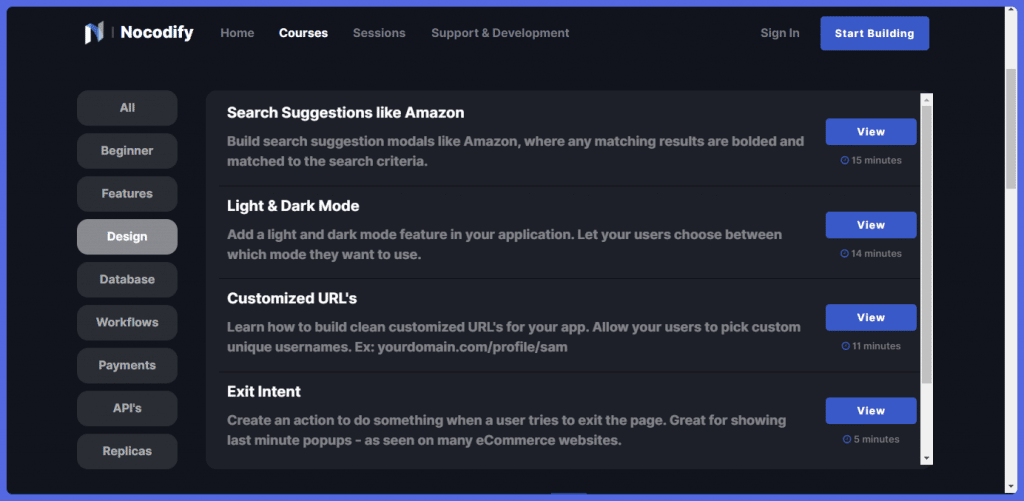 As for what NoCodify offers as a learning program, the list is quite lengthy. There are over 110 available courses with over 50+ hours of video content, covering No Code implementations in specific areas.
You'll learn to adapt new skills in incorporating features like in-app messaging, databases to store critical data, APIs, payment collection and so much more.
Pricing
Free trial: Comes with limited courses, support, and forum support.
MVP plan: Goes for $29/mo and comes with access to all courses and the Nocodify community, forum & portal support, and 50% off all classes.
The IPO plan grants you lifetime access to all MVP plan benefits and goes for $99, paid once.
5. Bubble Academy
For business users who are entirely new to the Bubble ecosystem, it makes sense to start the learning journey from the official Bubble guide – Bubble Academy.
There are many tutorial videos on how to use specific tools on Bubble. More so, if you are a developer, then you can learn directly from using one of the 100+ templates available.
There are also short crash courses to get you through using the Bubble platform to build your first project from start to finish. That includes Bubble fundamentals and Product Hunt timelapse.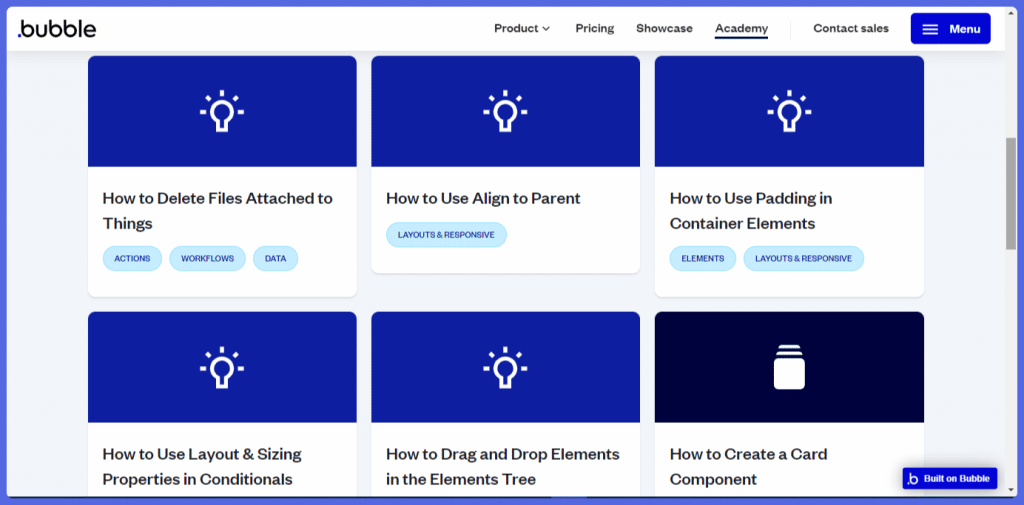 Lessons on Bubble Academy are typically interactive with point-and-click guidelines. But if you want instructors to guide you through a preset program, there's an option for an online Bootcamp. The programs are categorized according to a level of expertise from beginner to advanced users.
Finally, besides the large community of Bubble enthusiasts, you can get one-on-one coaching from Bubble experts on the platform.
Pricing
Most of the learning content on Bubble is free, but you need to buy one of the plans to practicalize most lessons. There are 3 pricing options besides the free trial version where you can get a test run and feel of what the platform is like before upgrading to one of the paid options – Personal, Professional, and Production.
6. Udemy – The complete No Code Developer course
Users who appreciate completing hands-on projects and are familiar with the Udemy platform will appreciate this course the most. It's perfect for enthusiasts who want to start building solo projects themselves, entrepreneurs unwilling to hire a technical co-founder to launch their startups, and even freelancers[3] looking to maximize their income with No Code app development.
The training comes with 9.5 hours of video content containing tutorials on developing mobile apps, automation with No Code, creating voice apps for Amazon's Alexa, working with APIs, building fun 3D games, and so much more.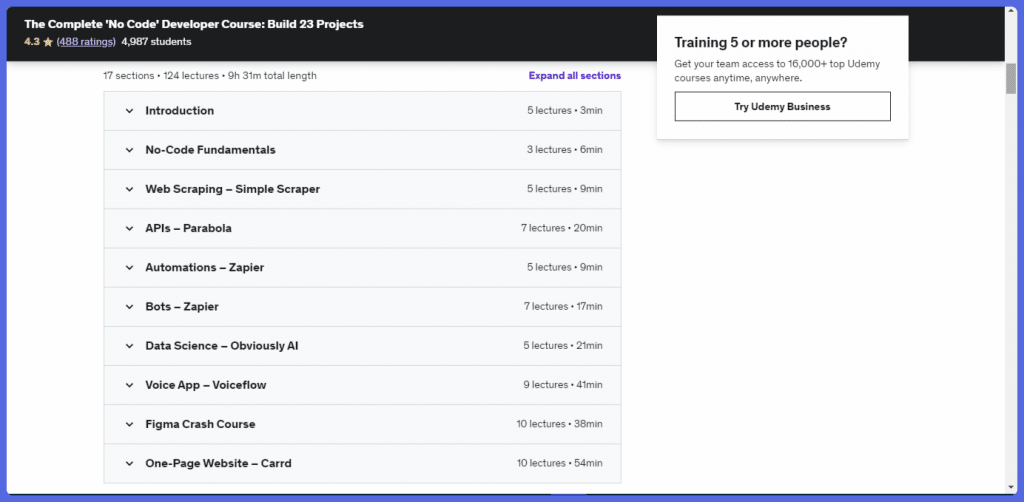 In total, students will build a total of 23 different projects with No Code. Moreover, each project doesn't rely on a specific tool alone. Instead, you get to increase your No Code versatility by using a range of No Code tools, including Webflow, Zapier, Figma, etc.
7. Linkedin Learning
If you haven't yet selected the No Code tool to launch your project ideas, this course is perfect for you.
In 1.5 hours, students will learn about web strategy, fonts, images, colors, and choosing a No Code platform – Editor X, WordPress, Squarespace, Wix, or Webflow.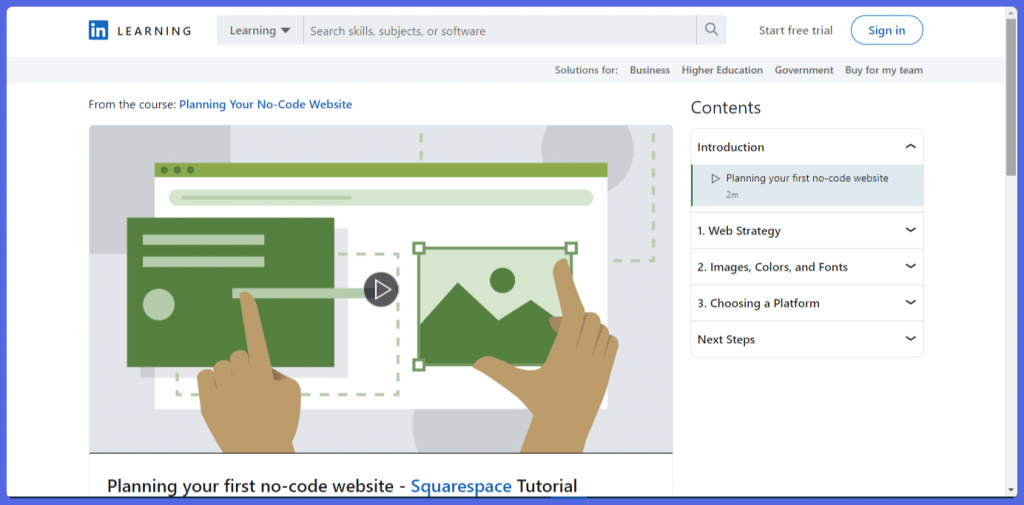 Selecting which platform best suits your company or startup is one of the most complex parts of the No Code development process. This course, besides its other subjects, takes a deep dive into the topic of how to select platforms.
Pricing
Sign up to Linkedin Learning to get the complete course for $27.
Tips for Learning No Code
It doesn't make sense to spend a lot of money buying courses that focus on things you won't need for your startup idea. Instead, there are a lot of free resources

[4]

you can use for testing out what works for you. That way, you can be sure of what you're looking for to learn more about specifically and pick out one of the Bootcamps above that specializes in it.
If you have no coding skills, you should still consider working with a developer, at least so you can make good decisions on what to learn from a more professional standpoint.
Also, compared to working with a technical co-founder, working with a developer costs relatively less money.
Always remember to prioritize data security when choosing No Code vendors. You'd be wrong to assume that all vendors meet significant data security concerns

[5]

. So ensure to evaluate their security measures prior.
Final Thoughts
Suppose you're thinking of it as a career path or an individual or collective means to bring an idea to reality. In that case, No Code development is unlikely to disappoint you, especially if you're armed with enough knowledge and experience with using these relatively new technologies.
So, even if you don't believe that, one thing is for sure, there is no better time to learn about No Code than right now. A good way to start is to keep yourself informed with the latest No Code updates and articles through our Twitter page.