In the world of No Code web design, choosing the right No Code tool for your project is perhaps the most important step.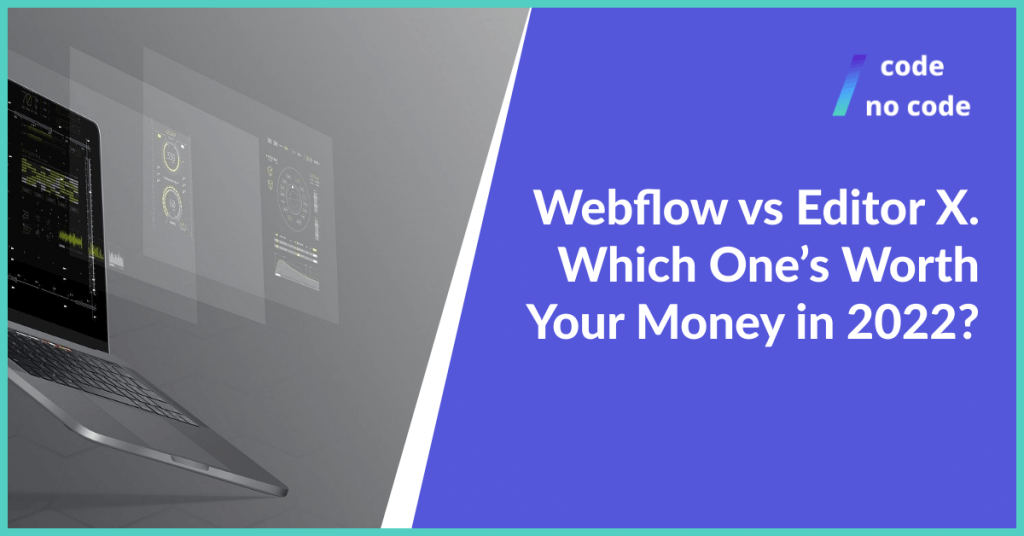 Whether you're building a personal website, building an eCommerce store, or working on a professional website project for a client, you need a building tool that meets your needs.
In this blog, we'll be comparing Webflow and Editor X, two of the most popular No Code website builders on the market suitable for a wide variety of projects. Webflow and Editor X are advanced website builders that allow users to build fully functional websites using simple drag and drop.
In addition to this, both platforms also offer advanced functionalities that give you greater control over your website design process including access to your site's code and other complex customization features.
What is Editor X?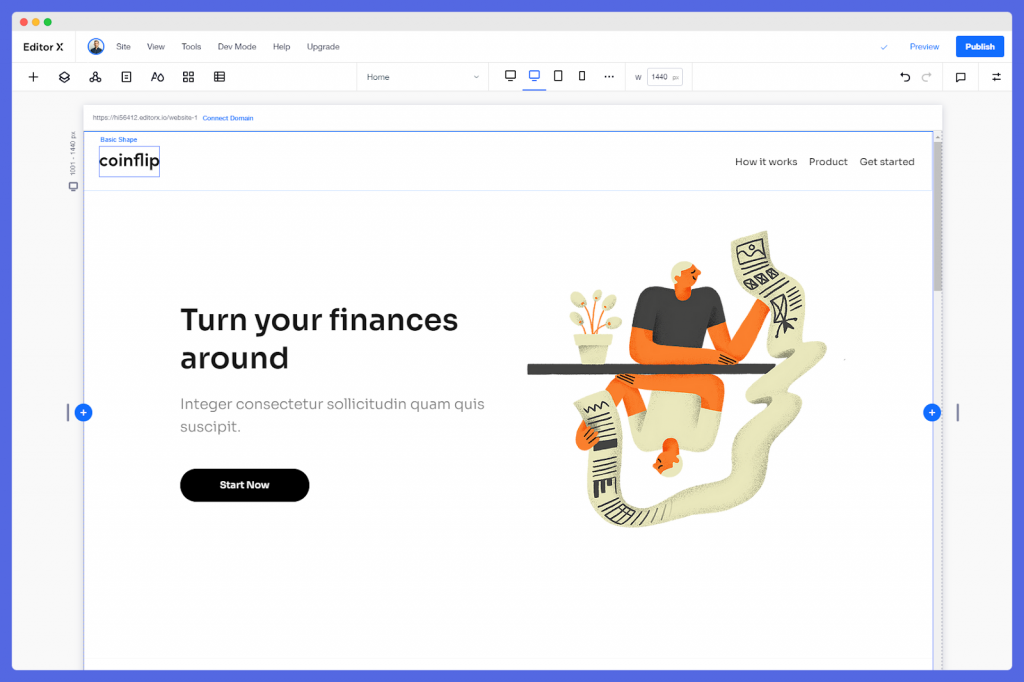 Editor X is a No Code website creation platform by Wix[1]. Although launched just recently (April 2020), Editor X has quickly taken a spot as one of the most advanced web builders around.
This No Code website platform allows designers and agencies to build responsive and fully functional websites with relative ease.
Editor X also offers advanced customization features beyond the regular drag and drop functionality of many standard No Code builders.
This includes the possibility of building websites for different screens and the integration of a variety of business tools into your website. Editor X also allows advanced users to add custom code to their websites among other features.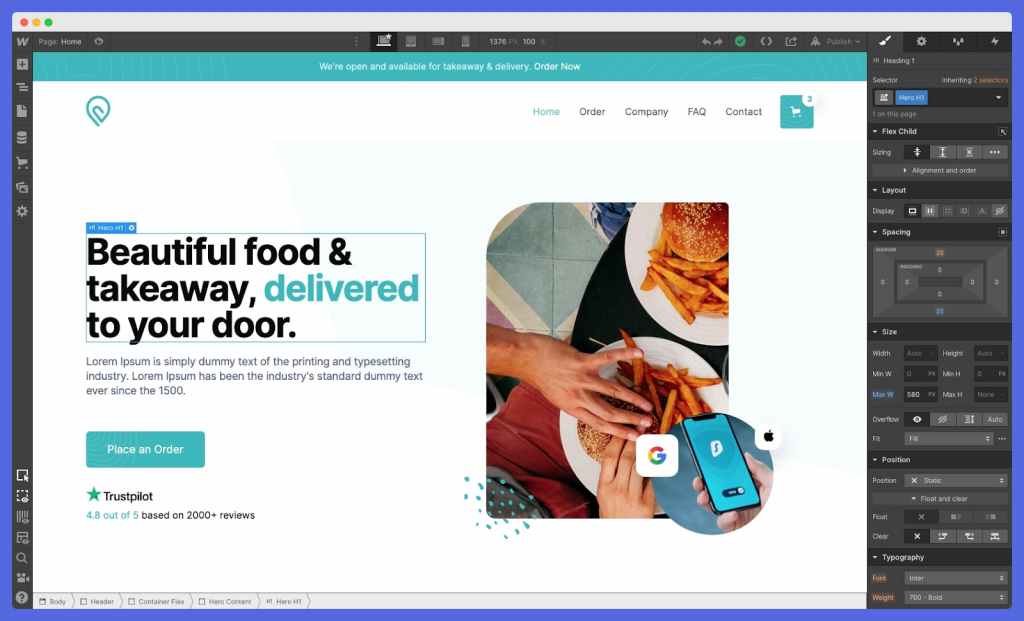 Webflow is one of the best website builders that allows users to create custom websites on a visual canvas and allows full control over Webflow design. That is why it's loved by web developers and web designers alike.
In addition to building professional websites with No Code, the website builder also doubles as a Webflow CMS for creating and managing blogs and can be used as an eCommerce platform as well.
The Webflow website builder is built more specifically to meet the needs of entrepreneurs and small business owners in need of a simple website builder that can also give complete control if a web designer is hired.
The platform, like many other alternatives, offers a visual approach to building websites. But there's also the option of customizing your website further with HTML, CSS, and JavaScript custom code as well as other advanced design features.
Webflow vs Editor X Full Comparison
| | | |
| --- | --- | --- |
| Features (Which is Better) | Webflow | Editor X |
| Ease of Use | | 🏆 |
| Content Management | 🏆 | |
| Templates | 🏆 | |
| eCommerce | | 🏆 |
| Collaboration | | 🏆 |
| Apps and Integrations | 🏆 | |
| Pricing | | 🏆 |
| Support | 🏆 | |
So how do these two of the best website builders compare against each other?
In this guide, we'll compare Webflow vs Editor X based on their features and ease of use, collaboration functionality, flexibility, support, and pricing among other important metrics. This will help you determine which of these two platforms is the most ideal for you.
Features and Ease of Use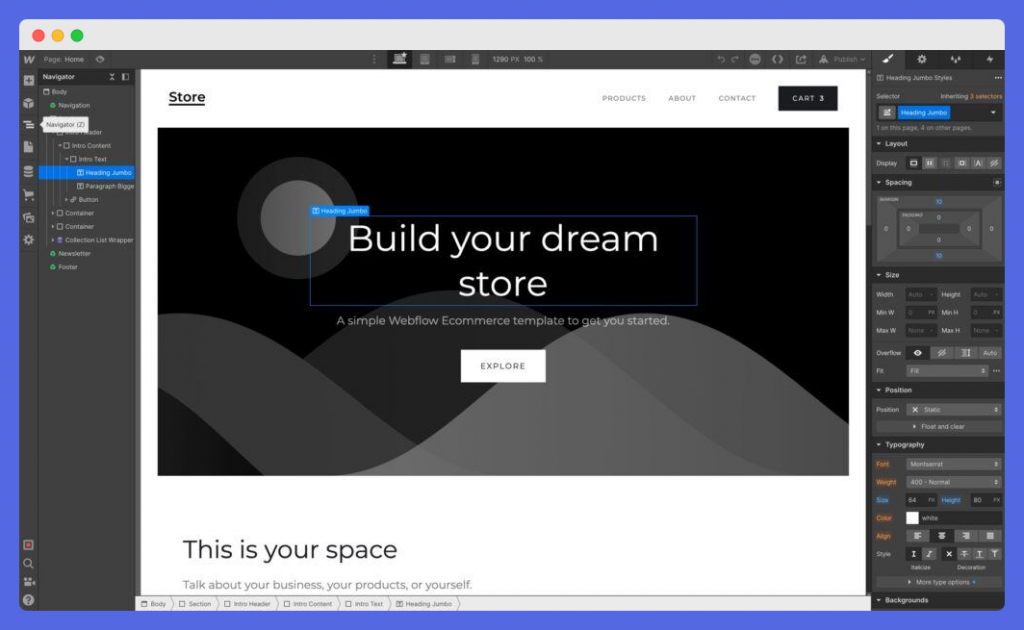 Both Webflow and Editor X are advanced No Code builders targeted at fairly advanced users.
They both offer the regular smooth drag and drop website editing function that allows users to build and customize websites without coding. However, they offer tons of upgraded features as well.
Between these two, Webflow offers more custom features and design elements than Editor X. The platform has animation features that makes it possible to add complex interactions with specific triggers on each page, to give your website sophisticated effects.
Naturally, both builders offer the possibility of publishing your website on custom domains.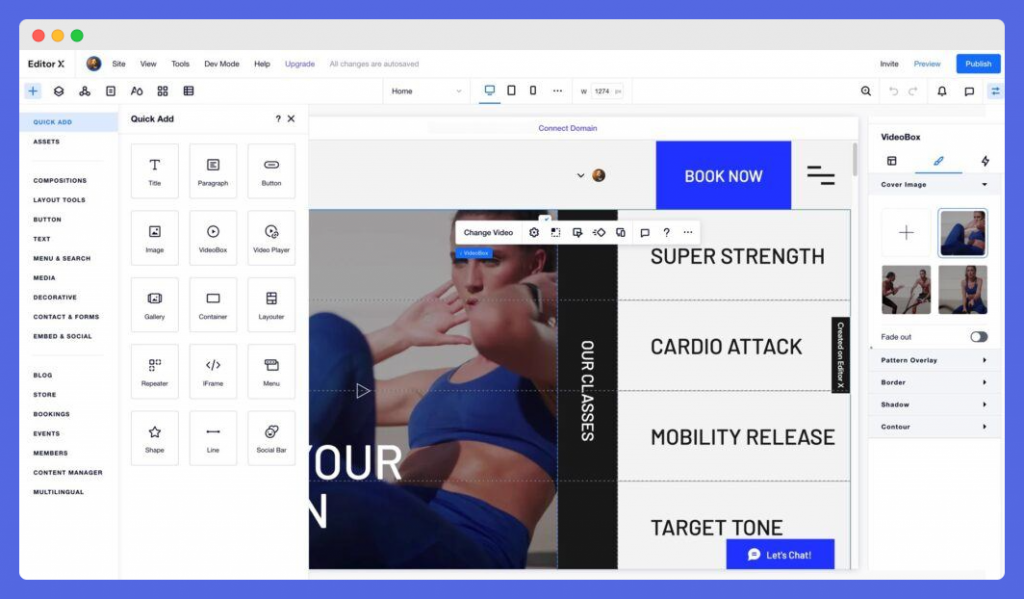 Editor X is comparatively easier to use. The platform offers advanced layout tools such as grids and repeaters that makes it easy to add responsive sections to your website as quickly as possible.
Additionally, the platform gives you greater control over element positioning than Webflow does. With Webflow, you can drag elements you want to add to your webpage into specific sections of the canvas, but you cannot position them anywhere you like.
Editor X is less rigid and allows you to position the elements wherever you like.
Winner: Editor X
Content Management
One of the things Webflow has over many website builders is that it can be used for more than just building a functional website.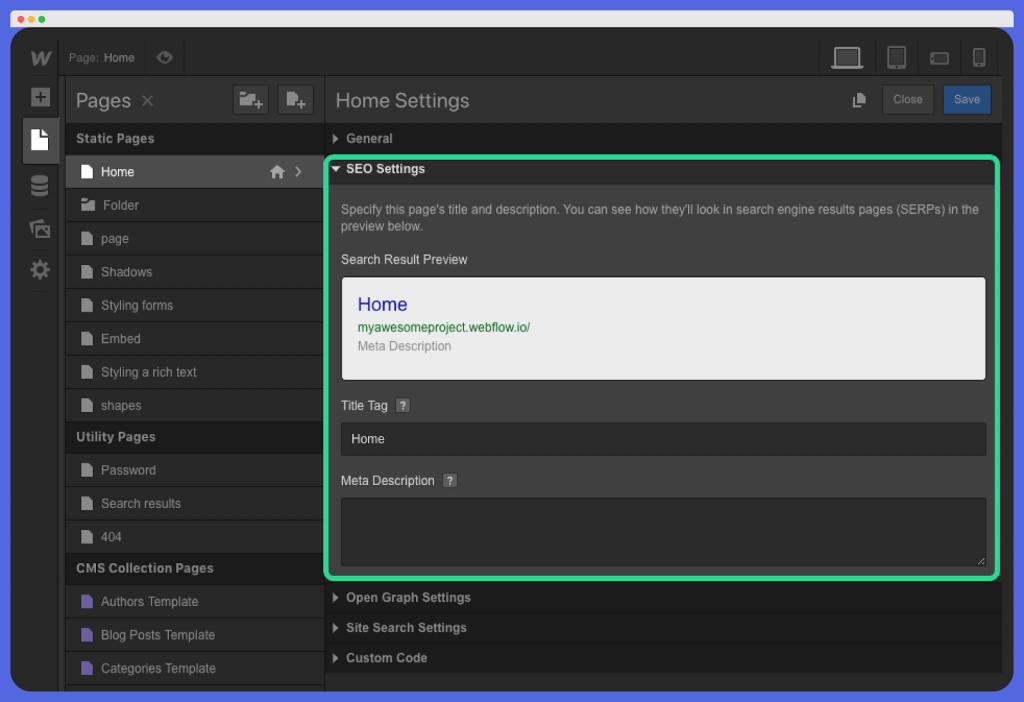 Webflow is favored by builders of data-heavy websites like Blogs or portfolio sites that need an integrated content management system (CMS).
You can build your blog directly on Webflow or migrate an already existing blog from a CMS like WordPress[3]. Editor X on the other hand does not have a site-wide database function which is an important component of any CMS.
The databases on your Editor X website will be managed individually, which makes it quite rudimentary and difficult to organize
Winner: Webflow
Templates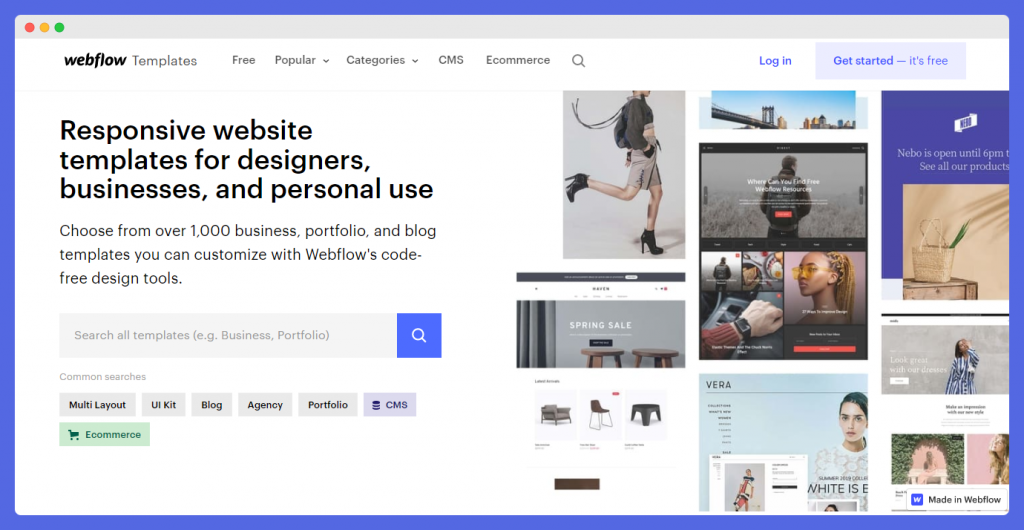 Webflow and Editor X allow users to build highly customized websites. This means designers don't need a lot of templates, to begin with. There are loads of customization features, so the final products are often remarkably different from the starting templates.
Hence, the number of templates isn't a deal-breaker for platforms like this.
Still, users who prefer to start their design from an existing template might prefer Webflow because the platform offers more templates than Editor X.
Webflow has more than a thousand templates that cover 16 different categories. All the templates are mobile responsive by default and a good number of them are available for free.
Editor X has very limited templates covering a few different categories. It is worth noting that these templates have a modern and professional feel to them, and many of them come with pre-installed apps already.
Winner: Webflow
eCommerce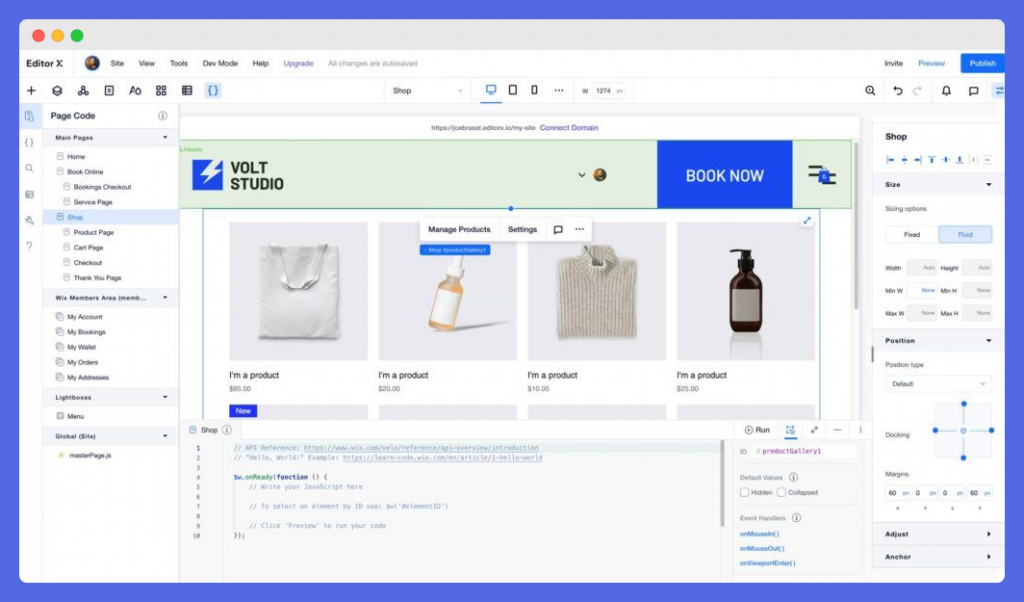 Like Wix, you'll find that Editor X offers loads of features for designers working on eCommerce website projects. The platform offers integrated business solutions for eCommerce businesses of all sizes.
In addition to listing an unlimited number of products on your online store, setting up subscriptions, and site memberships, there's also an appointment scheduling function with no need for third-party integrations.
To make your eCommerce store even more robust, Editor X integrates with the Wix App Market which offers numerous app integration useful for eCommerce businesses.
Although Webflow allows you to create fully-functional stores to sell both physical and digital products, it is limited in some of its capabilities. For instance, you cannot set up paid membership or schedule an appointment without using a third-party integration like Zappier.
Winner: Editor X
Collaboration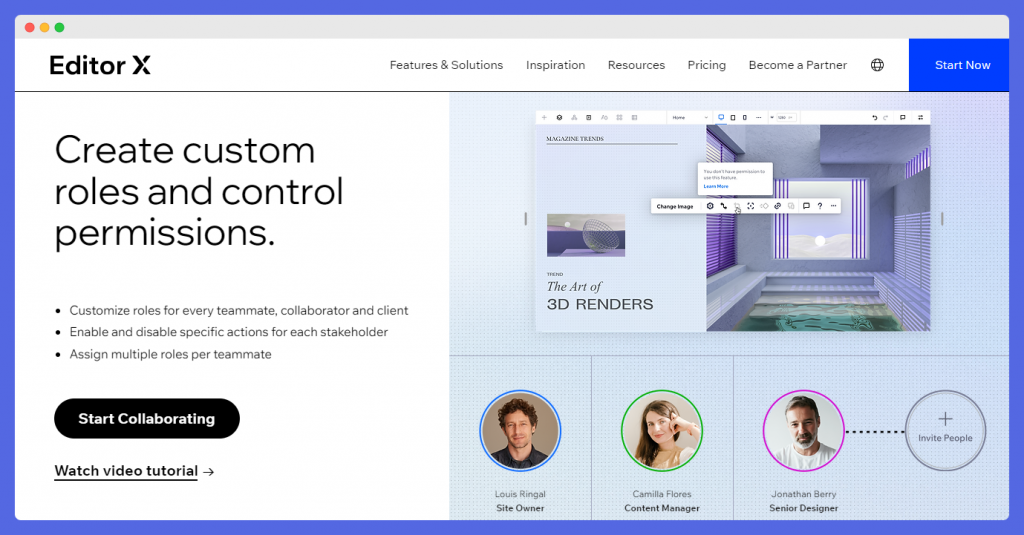 Webflow's lowest pricing tiers target mainly entrepreneurs and small business owners trying to build their own websites.
You'll need to pay more for agency-level collaboration. Editor X on the other hand is better suited for design agencies that are likely to have more than one designer working on a project.
With Editor X, an unlimited number of collaborators can work on a site at the same time. The platform has roles and permission controls that make it possible to set a limit to what each collaborator has access to and what they can edit.
Editor X also allows multiple designers to work simultaneously on the same project. Webflow supports multiple users as well. However, the feature is only available to users on higher plans.
Also, it is not as robust as that of Editor X since simultaneous editing is not possible. It is also more difficult to bring clients on board your project with Webflow than it is with Editor X.
Winner: Editor X
Apps and Integrations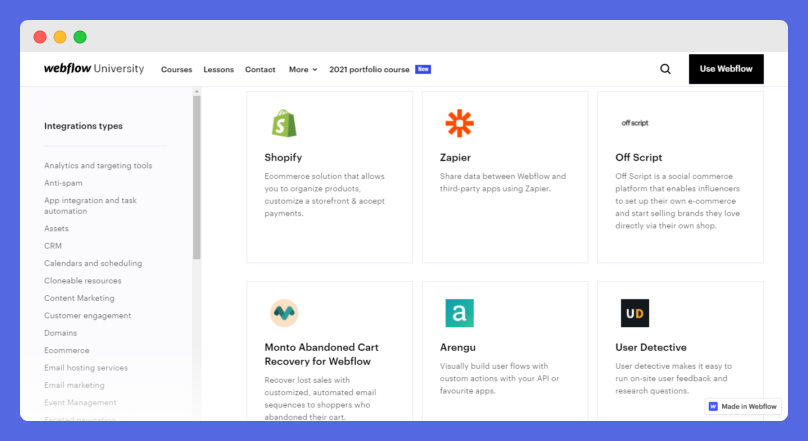 To further enhance the appearance and functionality of your website, you may require access to advanced integrations[4] such as marketing tools, booking systems, e-commerce tools, and so on.
Since most website builders don't offer many of these features, having an extensive app marketplace with easy integration is very important.
Editor X users get to enjoy the Wix ecosystem[5] which includes a robust third-party app marketplace. You'll find loads of integrations on this platform. Unfortunately, not all Wix apps are compatible with Editor X websites yet.
This is likely to change in the future. Webflow has been around for years and it is compatible with numerous third-party tools. However, installing plug-ins and integration with Webflow is a bit more complex than that of Editor X.
Winner: Webflow
Pricing
As far as pricing goes, both of these website builders have similar costs. Editor X does offer a more straightforward pricing package compared to web flow and it is slightly cheaper. Both Editor X and Webflow offer free accounts with limited features.
Editor X Pricing
Editor X offers two pricing categories (Website and E-commerce) with 3 paid plans under each category: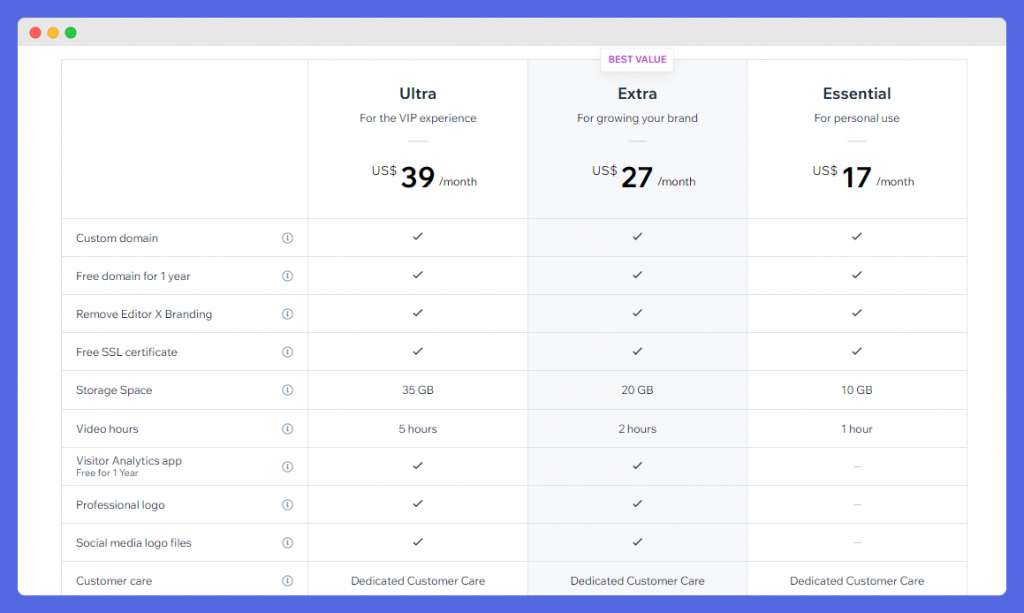 This is ideal for those trying to build a personal project, portfolio website, blog, or professional website. The paid plan starts at $17/month for the Essentials plan. The Extra and Ultra plans cost $27 and $39 per month respectively.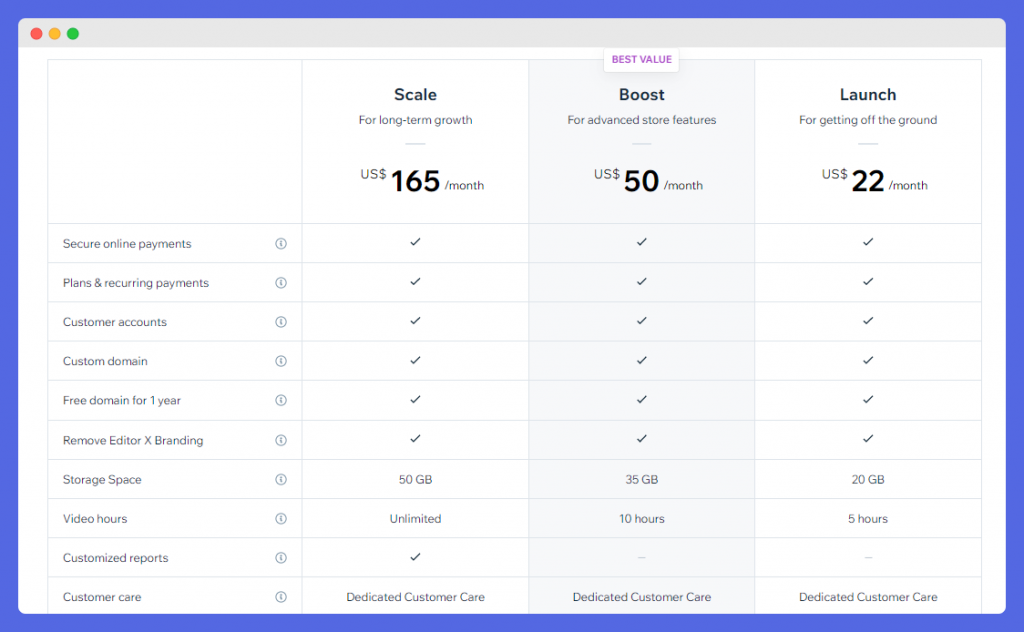 This pricing category is for those building e-commerce stores to receive payments for physical or digital goods online. Pricing for the Launch plan begins at $22/month.
The Boost plan with more advanced features costs $50 while the Scale plan is priced at $165 monthly.
Webflow Pricing
Webflow has 3 plan categories highlighted below.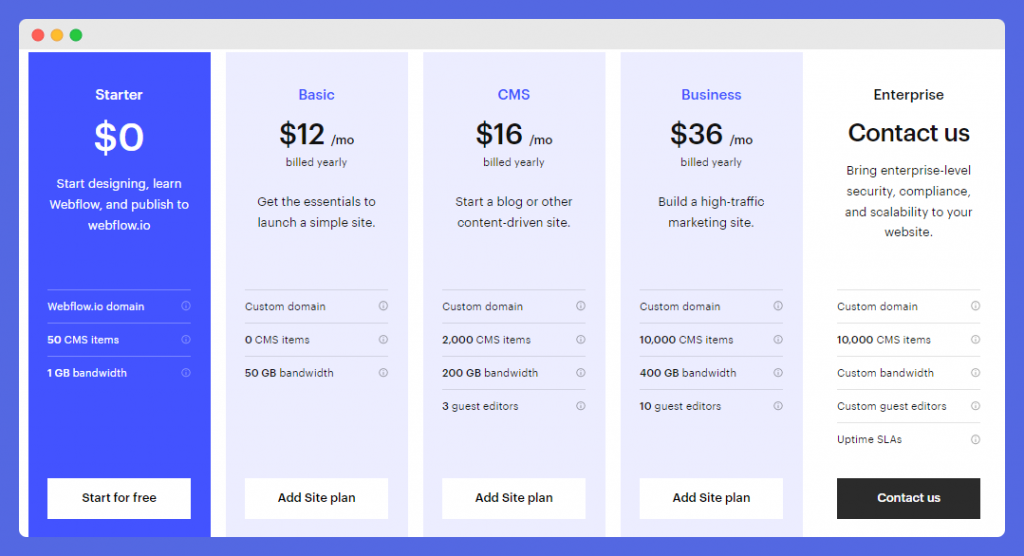 With the site plan, you pay for your subscription based on the number of sites you build and publish.
There are four plans under this category with the basic plan billed at $12/month, the CMS plan at $16 per month, and the Business plan at $36 per month. The pricing for the enterprise plan depends on the size of your company and its requirements.
The free plan does not include publishing your Webflow website on a custom domain.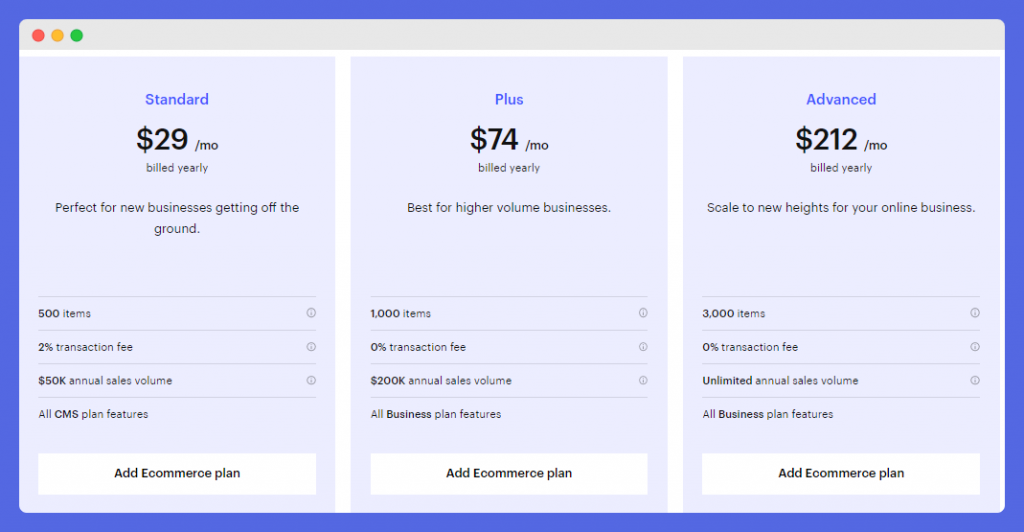 These are for those who want to build sites with e-commerce functionalities. The category is further divided into Standard, Plus and Advanced billed at $24, $74, and $212/month respectively.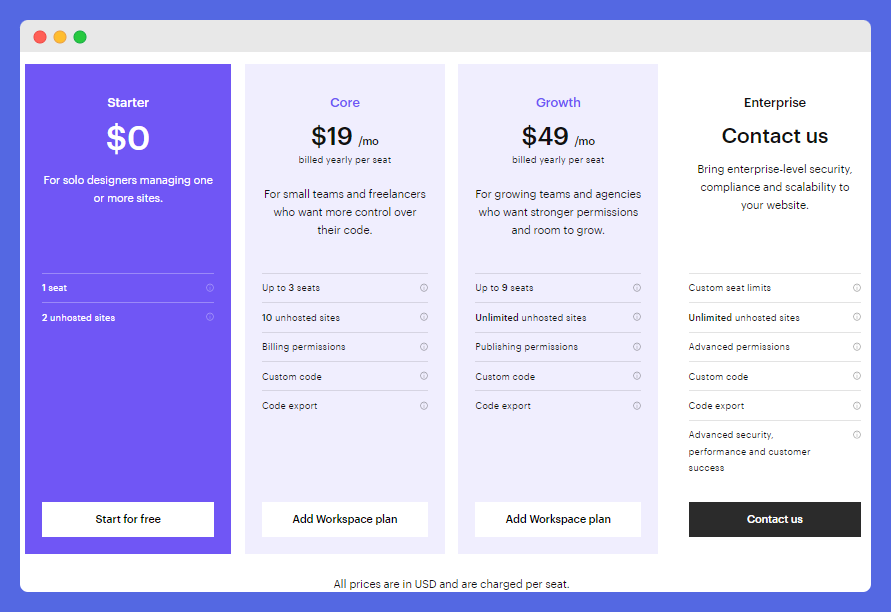 The workplace plans are more specifically for agencies and teams: Solo designers can use this plan for free. However, they'll still need a site plan to publish their site later in addition to the workspace plan.
Agencies with up to 3 team members can sign up for the core plan at $19 per user/month. Similarly, if your team members are up to 9, then the growth plan priced at $49 per user/month will be better suited.
Editor X's free plan gives you access to more features than Webflow's free plan. To fully enjoy Webflow, upgrading to any of its paid plans is essential since you won't get access to team collaboration features and support with a free plan.
Editor X allows you to build any number of sites with access to all design features all for $22/month.
Winner: Editor X
Support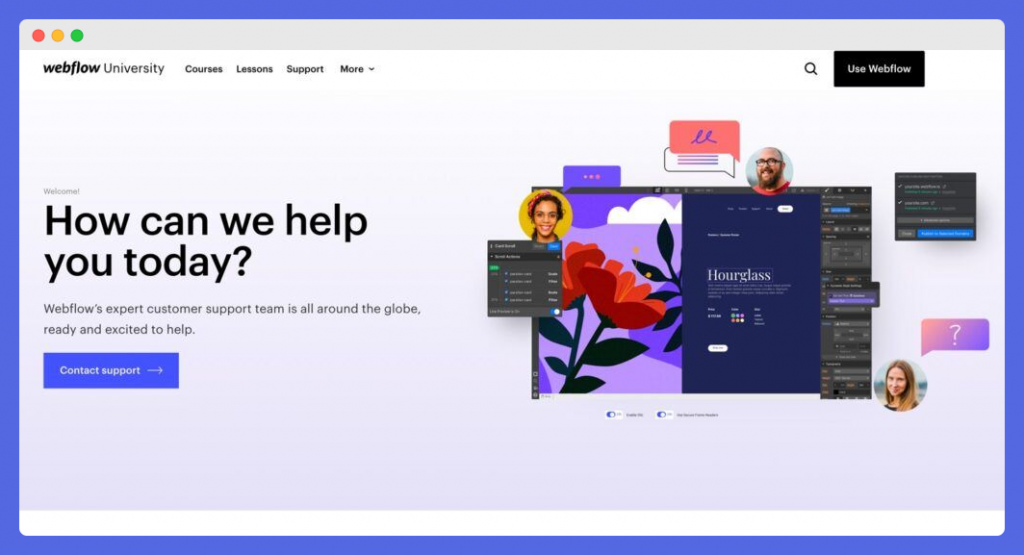 Webflow has been around for a long time, so it isn't surprising that there's an abundance of training materials, video tutorials, and forums to find solutions to any issues users might have with the platform.
However, Webflow is a bit lacking when it comes to speaking directly to customer service agents to resolve any issues you might have. Replies to queries on the different support channels may take a few business days before you get a response.
With Editor X, there are limited forums or learning materials. However, the platform's 24/7 customer support is readily accessible. In the unlikely case that you'll need help using the platform, Editor X support is efficient for resolving any issues you might have.
Winner: Webflow
Conclusion - Webflow Vs Editor X Which Is Better?
| | | |
| --- | --- | --- |
| Features | Webflow | Editor X |
| Target Users | Entrepreneurs & agencies | Enterprise users and agencies |
| No of Templates | 1000+ | 35+ |
| Free Plans | Yes | Yes |
| Support | Forums and videos, Webflow University | 24/7 Live chat, email support |
| Site-wide CMS | Yes | No |
So which one is better between these two powerful No Code Website builders? The answer to that depends on what you're building and your specific use case.
Both platforms are for advanced creators and they give you high-level control and customizability options for your website.
Editor X offers a cheaper and more robust e-commerce plan for businesses. Unlike Webflow, there's no limit to the number of products you can sell and you're not charged transaction fees.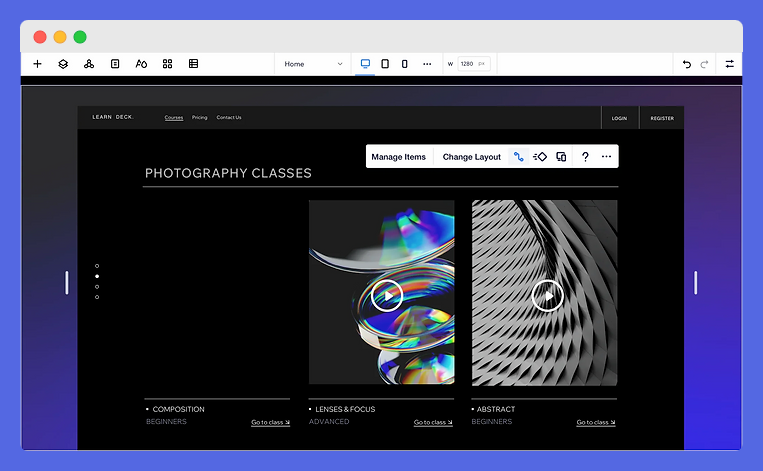 Editor X is also a great tool for design agencies with multiple users on their teams. You'll get access to team features even on free plans, unlike Webflow where such features are locked on inexpensive plans.
Webflow on the other hand is better suited for individual creators and business owners.  Even though it is slightly more expensive and complex than Editor X, it does offer more features and tools for programmers who will find them quite helpful.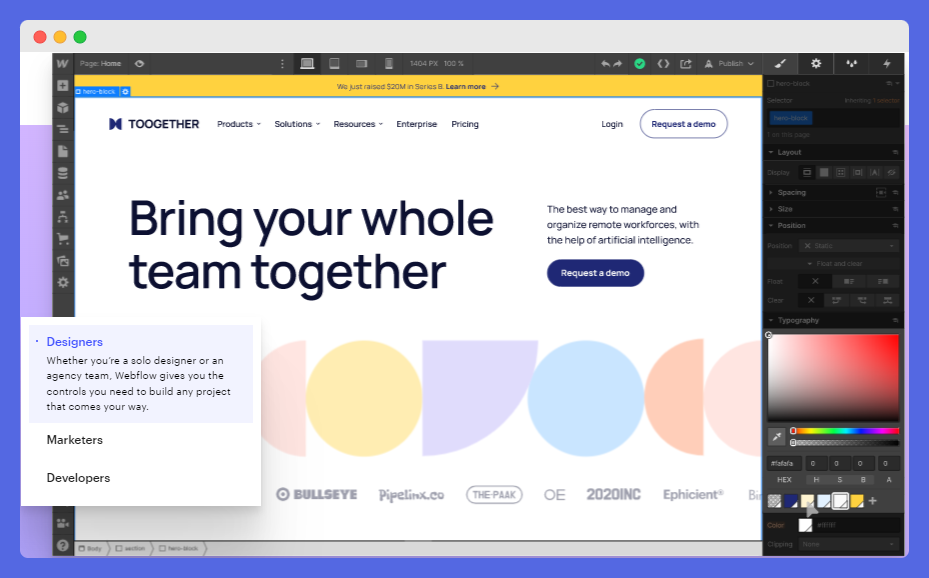 Webflow is also ideal for those who need a content management system for their website and those building larger projects.
At the end of the day, you'll have to consider the specific features you need for your project and the suitability of the pricing to determine which of these website builders is the best for you.
We also have an article comparing Webflow with Elementor as well as a Webflow vs Bubble comparison. You can check these out to see which of these would be an ideal fit for your project.