Webflow has gained massive popularity in the No Code world, especially in the past few years. With over 2 million users worldwide[1], Webflow is undoubtedly one of the most popular No Code builders around. It has a simple visual interface that makes it possible to create a professional website in no time without coding. Despite being a robust website building tool, Webflow isn't for everyone. If you're on a tight budget, for instance, you might prefer cheaper Webflow alternatives. Webflow has a certain learning curve, and users without the time or willpower to learn might prefer a more intuitive competitor. Due to these reasons, Webflow can't be a "one-stop solution for everything" platform. In this blog, we will talk about top Webflow alternatives that might be more suited to your requirements. Before listing out the Webflow alternatives, here's a little more about the platform.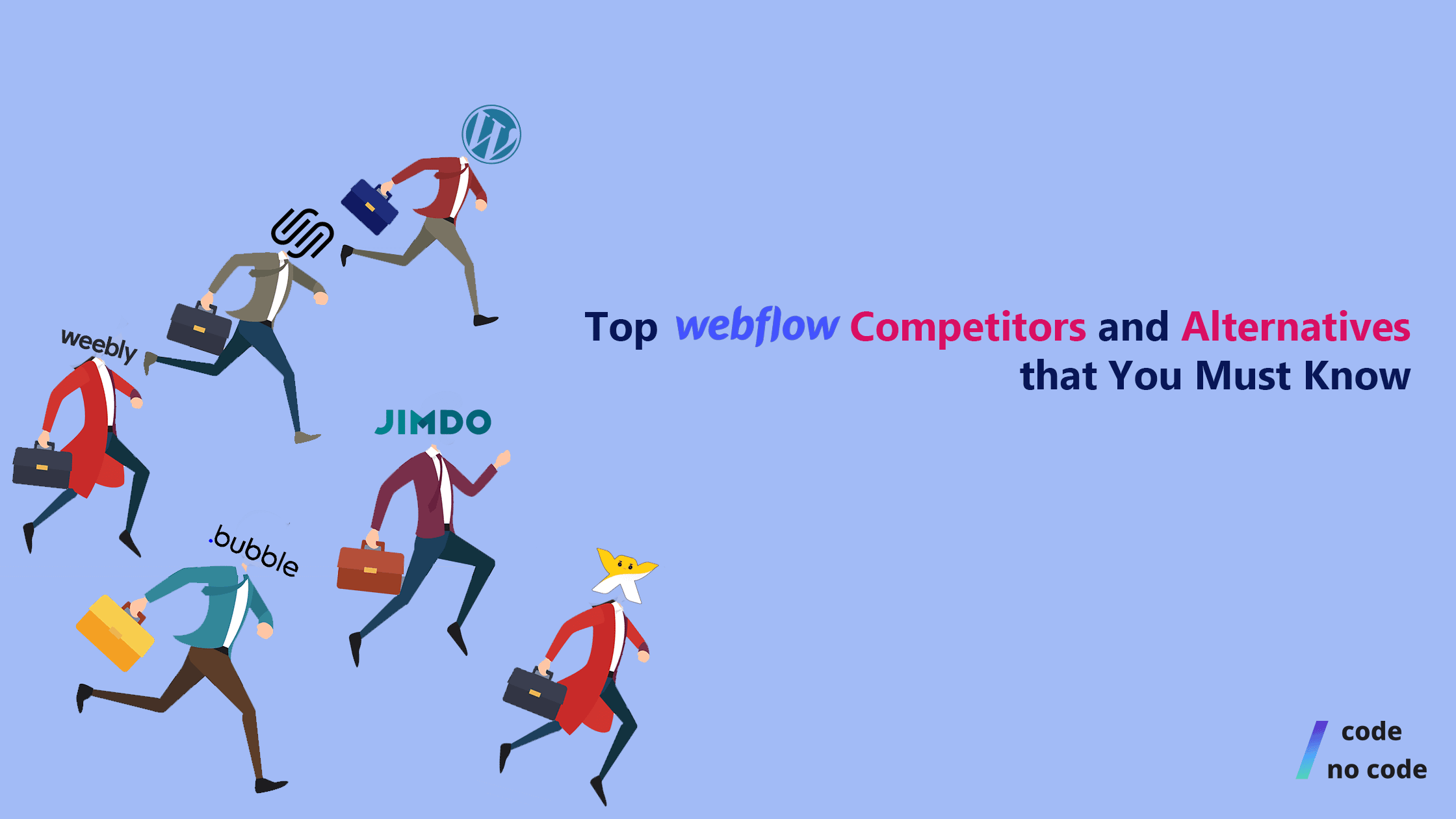 Webflow is a No Code platform that allows users to create responsive websites with interactive and dynamic UX.
Webflow provides coders and non-coders to work in collaboration by combining design, animation, content management, marketing, and eCommerce tools into a single platform.
Just like its competitors, the website is easy to connect to analytical tools like Google Analytics. Webflow is a faster and easier way to deploy landing pages.
Pricing
Free with Webflow domain, paid plan starts at $12/month with a custom domain.
Pros
You can create customized landing pages with dynamic design
Allows users with no design experience to create advanced design customization
Has a free plan for new users who want to experiment with a website builder
Advanced users who can write code may add custom components
Cons
Does not have a strong native integration like other website builders
The tool is easy to learn but has a steep learning curve from basic to intermediate
SEO audits feature isn't up to the industry standards
Lesser plugin support and native integrations
Top 6 Webflow Alternatives
Wix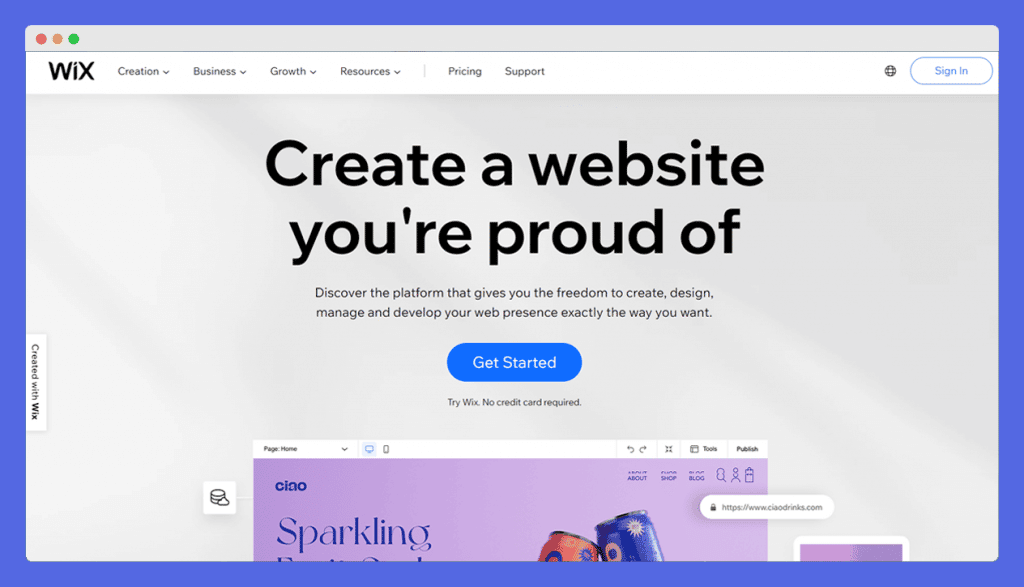 Wix is one of the most well-known No Code website builders around. The platform has a drag and drop editor as well as an AI web design tool[2] that can be used to build a personal or professional website with ease.
Pricing
Pricing is one of the main selling points of Wix. You can build websites with Wix entirely for free.
However, there's also the option to upgrade to Wix Premium. You'll need this if you intend to create more complex and responsive websites such as e-commerce stores or business websites.
Wix has four main pricing plans. There's the VIP, Unlimited, Combo, and Connect Domain plan. The Unlimited plan, which is the most popular of all four, costs $12 a month.
Capabilities
Wix's drag and drop editor is one of the easiest to use. You'll find it quite intuitive. Users can also register a domain, host their website or even create a custom logo on Wix.
The platform has numerous templates to choose from, and you can further customize your site using plugins. Some templates are available for free, while others are only available to users on a paid plan.
Flexibility
Despite being very easy to use, Wix is not all that flexible. Websites created on Wix cannot be transferred to another platform if you decide to do so. Even changing templates is a bit complex. You will have to re-upload all your website content manually if you switch to a new template.
Although Wix is an affordable builder, it's best suited for simple websites. For a complex website with many added features, you might find this tool a bit pricey.
Support
Since Wix is quite intuitive, you may not need contact support. However, if you need help, you'll find an extensive help center with a lot of information. You can also submit a support ticket or request a callback to resolve your issue.
WordPress.org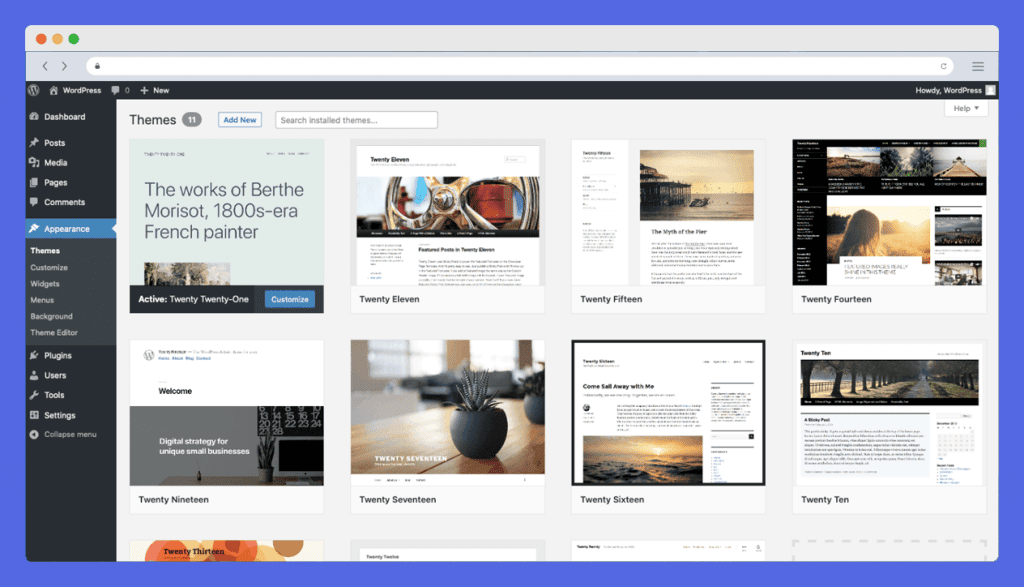 More than 40% of websites on the internet are built with WordPress.org[3]. This platform is arguably the most popular open-source content management system and business website builder.
Pricing
If you're looking for affordable Webflow alternatives, then WordPress should be top of your list of considerations. The software itself is free to use, and you'll only need to buy a domain and secure web hosting to get started.
You may also need to pay for some third-party plugins, but there are loads of free ones as well.
Capabilities
WordPress is primarily a content management system. Thus, it used to be more popular as a blogging platform to create websites with content and articles rather than a traditional landing page.
All that has changed now thanks to a new wave of third-party WordPress builders that enable users to build elegant and robust websites with various features instead of just editing themes.
Web designers often build personalized websites for businesses using the Oxygen or Elementor visual editor plugins (this website was built with Oxygen too!).
Flexibility
The flexibility of WordPress website builder depends on finding a suitable theme and knowing how to use the plugins. With a visual builder such as Elementor or Divi, you can create a fully customized WordPress site without breaking a sweat.
Apart from that, it has a code editor that allows developers to edit entire posts or pages with HTML, CSS, PHP, JavaScript.
Support
One of the most significant drawbacks of WordPress's website builder is limited support for users. Free users have access to a knowledge base but cannot contact support directly. This feature is only available for premium users.
However, considering the popularity of WordPress, there's an abundance of helpful guides, tutorials, and videos online to navigate the platform.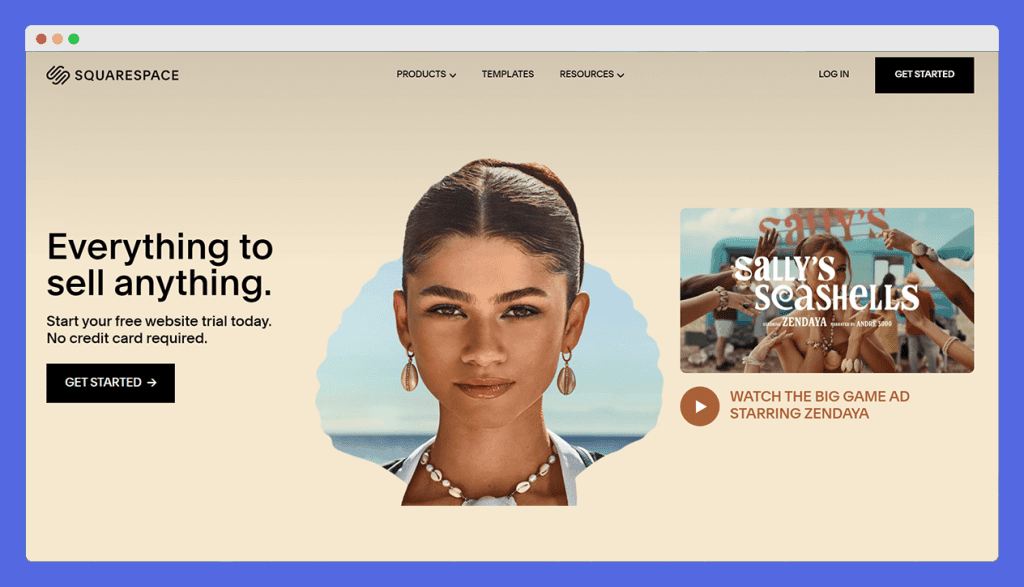 Squarespace is another intuitive website builder used by DIY website designers and professionals. The online tool has loads of editable templates that you can customize using the intuitive editor.
Like many other No Code website builders, Squarespace offers a free trial for users. You can get started with using the tool and creating a website while on the free plan.
However, for access to more features, you can choose to upgrade to Squarespace personal or business plans, which costs $12 and $18 per month, respectively.
Capabilities
Squarespace is a robust all-in-one tool for building websites, registering domains, and hosting your website. The platform also features advanced marketing tools and a logo maker.
Flexibility
Squarespace is a template-based platform which means you can create your custom websites by editing the existing templates on the platform. However, template customization is a bit limited. You may need basic coding knowledge to make complex websites with Squarespace.
The Squarespace website builder offers users excellent customer support with various channels they can use. There's a live chat function, and you can also contact support directly via email for the information you cannot find in the knowledgebase.
Weebly
Widely popular for creating online stores, the Weebly website builder is filled with useful tools to build custom websites and grow your ideal business. It is a popular web development platform for creating eCommerce stores.
Pricing
Their pricing as a competitive edge makes it the perfect Webflow alternative for anyone who is looking for a slightly more affordable tool. They have a free plan that includes Weebly domain branding.
The paid plan has two categories: the website builder starts at $5/month and the eCommerce store builder starts at $12/month. It is innovative to cater to different user personas in your pricing policy.
Capabilities
It has some amazing features specially designed for small businesses and freelancers.
One such feature is business profile listing which syncs your business details and timings across more than 10 different online listing platforms, including Facebook and Google. So you don't need to manually update information on all of these platforms.
Flexibility
Although it is a dynamic platform, Weebly is highly template-based. If you have an online store, we would recommend you try Weebly's free version and access different templates to make your store more elegant and interactive.
Support
Weebly's support is pretty standard. They have a community that solves most of your problems but if you still need help, you can log in to your account, contact them and raise a ticket.
Jimdo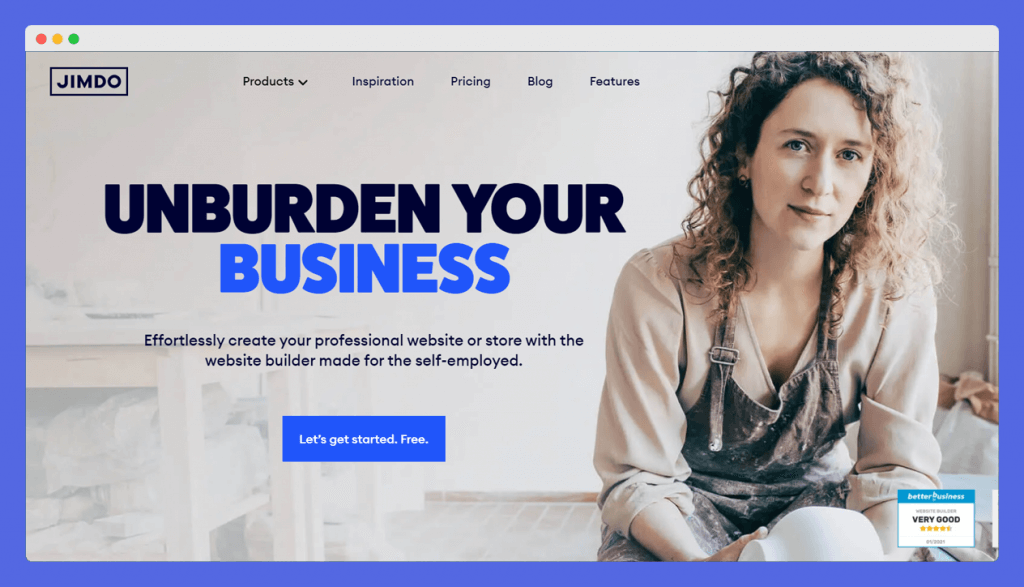 Jimdo is a website builder for absolute beginners. It is so easy to use that it works as a gateway to the No Code world for many citizen developers.
Pricing
The website development tool has a free plan that displays ads and does not allow custom domain registration. Therefore, it is suggested to buy the paid plan if you commit to this platform.
Similarly to Weebly, Jimdo also has two pricing categories; the Website builder plan starts at $9 /month and the eCommerce website builder starts at $15 /month.
Capabilities
Jimdo claims to be the "easiest" way to create websites and eCommerce stores. When you initially sign up, the tool asks you whether you want to build the website with or without code.
It navigates your way according to your answer. After that, they would ask a series of questions for your onboarding and create an editable website for you.
Flexibility
As mentioned earlier, it is a platform for beginners who want to learn and experience the No Code world without spending too much time. If you are working on a college assignment or simple web project, you should use Jimdo instead of other website builders.
Support
Jimdo's support depends on the plan that you purchase. There is no support in the free plan. If you choose the "Start" plan, you will get a reply within 1-2 days. Whereas if you purchase the most expensive plan, you will get a response within 1 hour.
Bubble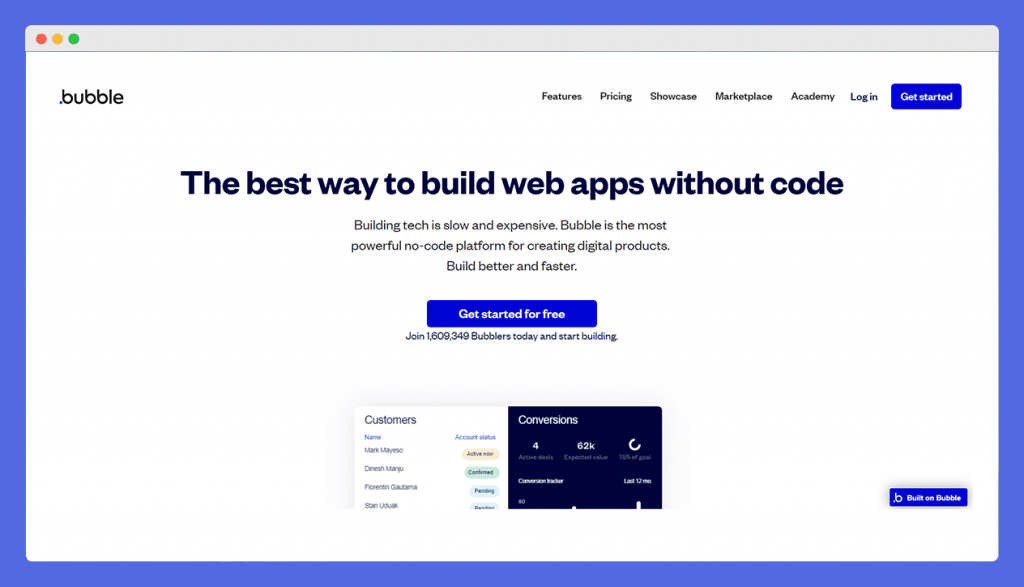 Bubble is another giant in the No Code space. It is a platform for creating web applications and websites without code. The comparison of Webflow and Bubble has so much depth that we have written a separate blog titled Bubble Vs Webflow[4]. To summarize, if you want to create a highly scalable web app, use Bubble. If you want to create a beautiful landing page, use Webflow.
Pricing
It has a pay-as-you-go model of pricing where you start with the free plan and pay as you want to upgrade to higher functionalities. The offerings start from $29 and go up to $529/month. If you want API integration in your project, you would have to buy at least the basic plan.
Capabilities
Bubble is one of the front runners in the No Code industry. With extensive functionalities, Bubble is scalable and offers innovative collaboration tools for teams. The drag and drop interface makes visual development very easy. The platform can be used to build capable web and mobile apps.
Flexibility
Bubble is customizable with a high learning curve. Once you understand the basics of the tool and watch the tutorials designed by their team, you can easily perform tasks like setting up some custom data structures with Bubble. It has been successful in offering rich flexibility on your backend setup.
Support
Their support is divided into three categories:
Contact the team – Get help from our support team about specific questions.
Bug report – Submit a new bug report, and check on previously filed reports.
Forum Support – Find answers to your questions from their community. Bubble is amongst the top No Code communities

[5]

in the world.
Conclusion
| | | |
| --- | --- | --- |
| Webflow's Alternative | Pros | Cons |
| Wix | Pricing is affordable and easier learning curve. | Lacks flexibility and customization. |
| WordPress.org | Highly popular increasing the resources and solutions available. Compatible as a CMS. | Some of the top plugins are included in the paid plan which might be costly for new businesses. |
| Squarespace | Access to a vast template library. Additional features like marketing tools and domain purchase system. | Limited template customization. If you want customization, you might have to code. |
| Weebly | Affordable and easy eCommerce store builder. Features specially built for online store. | Small choice of themes. |
| Jimdo | Small learning curve designed for new learners. | Low level of customizations and features. |
| Bubble | Great functionalities for developing web and mobile applications. | Higher learning curve. Websites have a slower load time which you have to manually optimize. |
One area where Webflow seems to shine over the alternatives reviewed here is in terms of customization and flexibility.
However, if you're looking out for an innovative or newer website builder, then these Webflow alternatives are equally efficient alternatives that serve various purposes depending on your budget, skill sets, and personal preferences.
Follow us on Twitter for the latest news and updates from the No Code industry.