Are you having difficulties managing different work stages of your employees or team?[1] Or you're probably going through a dilemma in choosing a proper tool to help. This ClickUp review would be sure to help you out of that dilemma. The ClickUp tool was created to optimize your workforce and increase your production exponentially.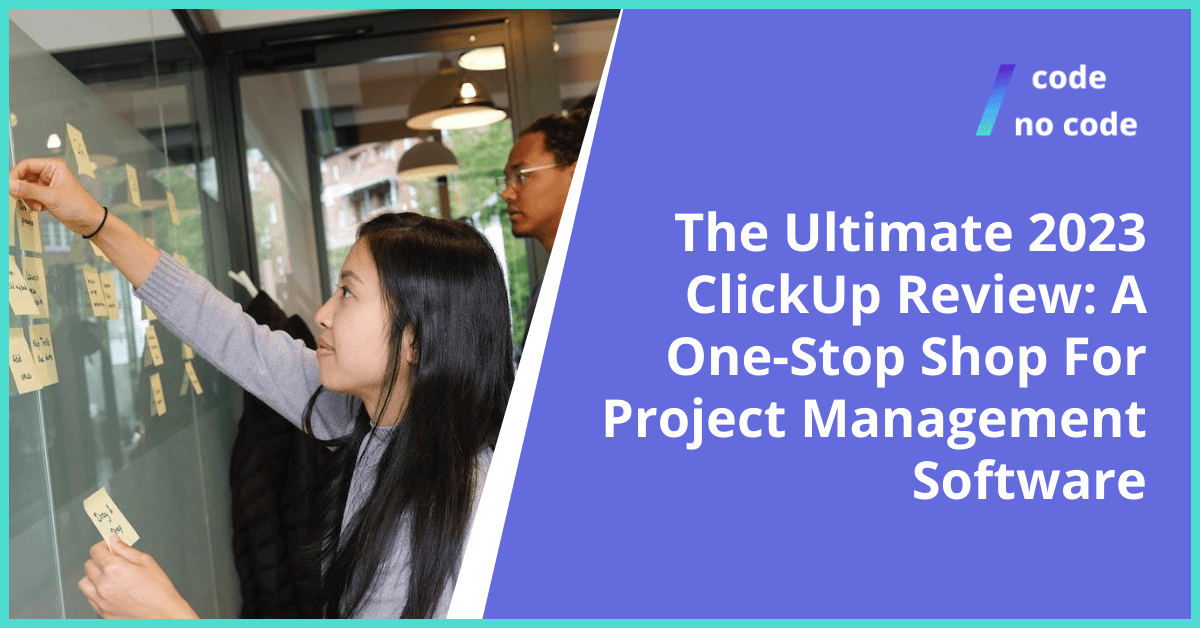 We will be providing you with detailed reasons why ClickUp, compared to a plethora of ClickUp alternatives[2] out there, is the right choice. It is also going to entail its benefits and how relatively stress-free it is.
ClickUp is an excellent cloud-based project management tool that works toward making your business life stress free. You could say it's a tool born out of dissatisfaction with other tools offering similar services.
It is a straightforward and easy-to-use solution made for all businesses. On top of mastering the basics, this tool offers vast features to help you and your coworkers stay productive.

With essential functions like team collaborations, project management, and work productivity which help you to save time, you can easily divide your project into tasks, create different locations for departments, and automate a few operations.
This gives you complete creative control over your project and includes over 35 click apps to customize your workspace. The tool also comes with a variety of workspace styles which makes it easier to keep an eye on.
You can view your assigned, ongoing, and finished activities in a list format, on an aesthetically appealing chart board, or in a timeline format. This makes it extremely easy to manage and deliver projects.
Apart from a few cons like the overwhelming number of features at first glance, the steep learning curve to fully understand the suite of tools, the lack of a filtering option for open tasks, and the not-so-great user interface, ClickUp has a lot of pros.
They include the generous free versions, the ability to create as many boards or workspaces as you like, very stable uptime and availability, and for the cherry on top, the efficiency and convenience it provides by not using separate apps for everything.
ClickUp Review: Efficient Project Management Software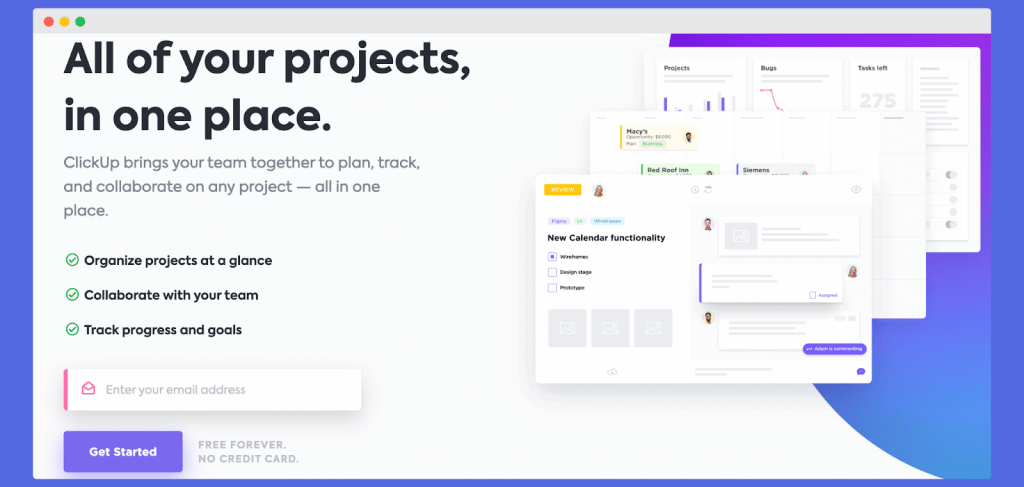 Before we delve into individual features of this software, one of ClickUp's most important facets is a feature that helps project managers to plan and also visualize their plans using multiple views. To deliver top-notch analysis and monitoring tools, ClickUp uses Agile Methodologies[3].
This project management software[3] helps project managers ensure proper team collaboration. A feature known as Docs can be used to this effect.
It also puts Kanban[4] boards and Gantt charts at your disposal so you can enjoy multiple dashboards and lists for data visualization and project management.
This enables you to get information at a glance and keep schedules and budgets on track with time tracking.
Top 7 ClickUp Features
Although there are several project management software, ClickUp still maintains its uniqueness in task management by offering features like Customer Relationship Management (CRM), Project Management, and Document Management.
The challenge, however, that comes with so much choice is knowing where to start. Which ClickUp features will benefit you and your collaborators, and which ones are simply an added step?
The following list of ClickUp's features will help streamline your decision-making process for the overall satisfactory utilization of this project management tool.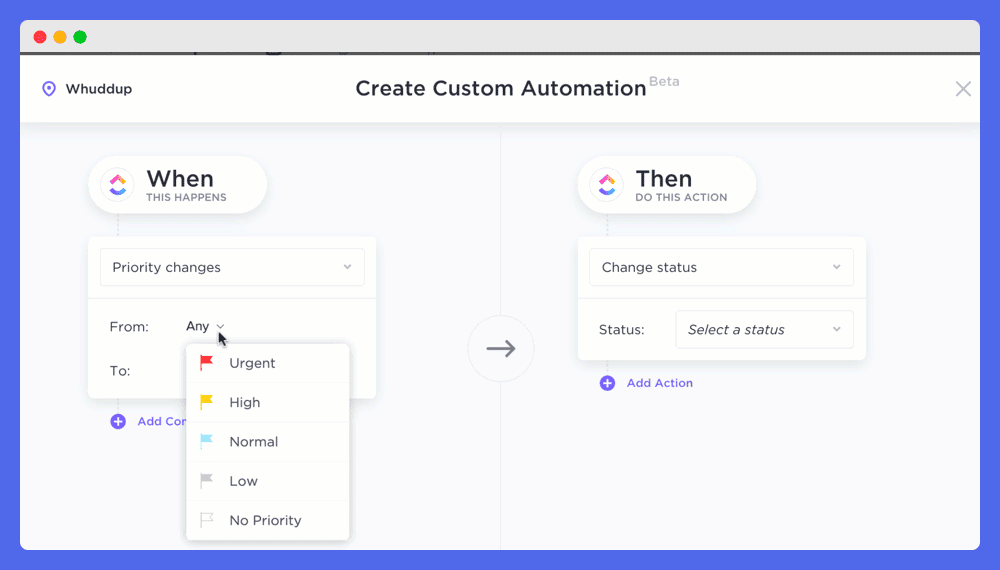 Statuses are a quick way to communicate with your team and let them know where a project stands. By default, ClickUp groups list by status. As you update the column, tasks move to the respective group.
While some of the most common statuses are 'to-do', 'in progress', and 'complete', you can get creative and change them to whatever suits your workflow.
For example, you might want to use a word or phrase to show that someone on your team needs help, to show that a task is in progress but temporarily on hold, to communicate that the task is in someone else's hands, or to let others know your next step.
There are three status types in ClickUp, which are, 'Active', 'Done', and 'Closed'. Active statuses are tasks that are still being worked on. Done statuses will still appear in your lists and won't be shown that they're overdue if they are.
Closed status is used to hide completed projects. However, you can still access them by selecting 'Show Closed' in the top right corner of the list.
This feature is great for internal resource planning.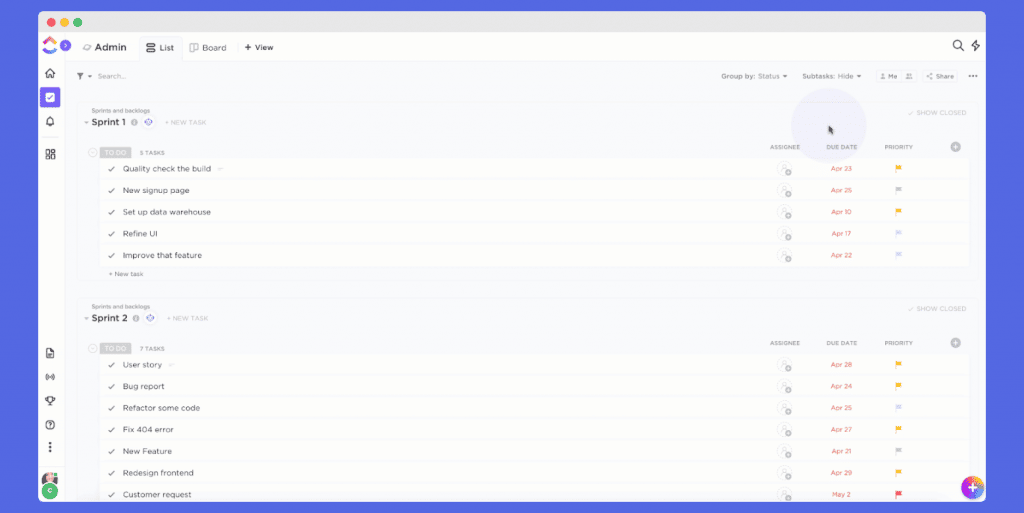 For time management and maintaining consistency, templates can be created for any process that needs to be repeated. Anything in ClickUp can become a template, from folders, lists, views, and checklists, to subtasks.
What advantage does it give you over ClickUp Docs alone? Let's assume you have a Standard Operating Procedure (SOP) document outlining how to onboard new customers. Now, this is good for documentation, however, it doesn't take much prep work off your plate.
Whereas, a ready-to-go, interactive template that has been customized for this process would let you skip the setup process and go straight to onboarding. This is one feature that many project management tools do not have.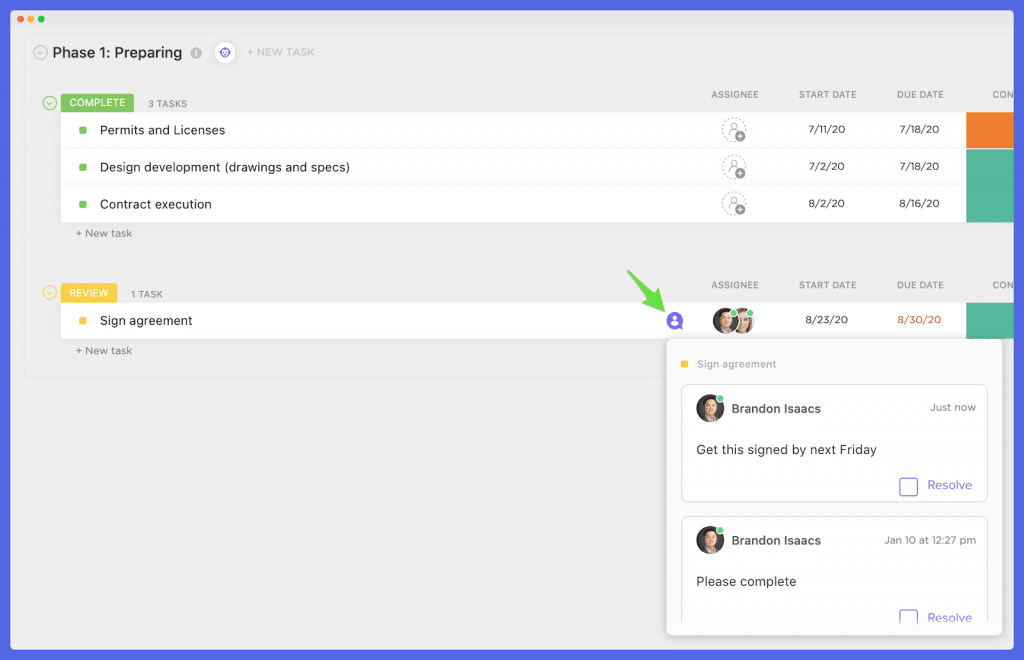 ClickUp comments offer a plethora of ways for you to simplify communication with your team members or employees over multiple projects. It is by far the most straightforward compared to other project management tools.
While working on a project with multiple team members, details discussed electronically through different platforms can easily get lost in the mix. However, ClickUp comments feature takes away this unnecessary stress.
Plus, it's a breeze for others to bring themselves up to speed. You can access the comments section by clicking on a task. Here you can just easily assign tasks, make comments, mention others, pull up tasks, and the list goes on and on.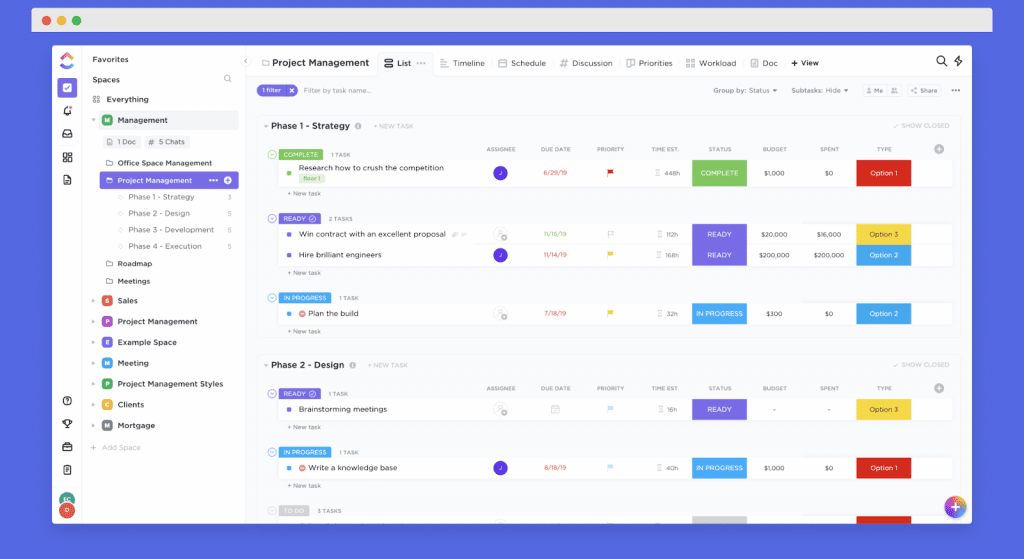 ClickUp offers various views to help you stay organized. ClickUp Lists is supposed to appear in List View by default. If you enjoy keeping things simple, this is ultimately going to be your top feature of this project management software.
With this view, you can group your tasks by status, assignee, priority, tags, due date, or something custom. Doing so will help you get a quick overview of projects on the go and everyone's workload.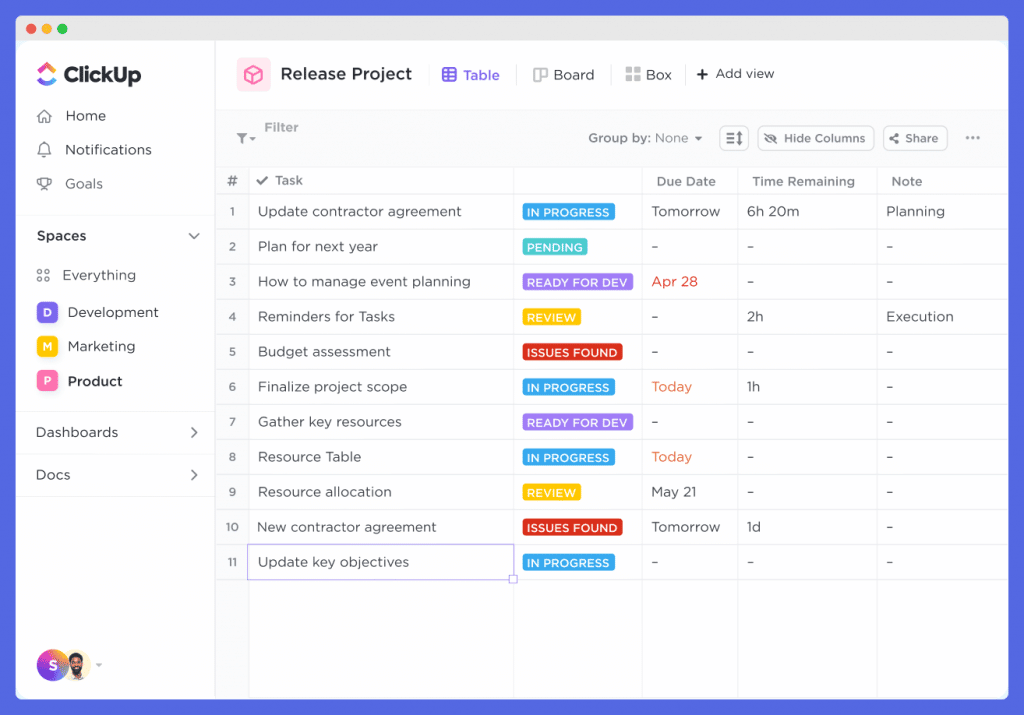 If you want a more compact view condensed of the listed projects, Table View is the way to go. To use this feature, select the Add View option in the top-right corner of your List and select Table.
Once you click 'Add View', you'll see your List as a minimalistic table, much like something you'd see in Google sheets or any other free spreadsheets[5] out there. Within the table, you can still work with your columns just as you can in List View.
6. ClickUp Description
While a description feature may seem basic in other project management software, ClickUp allows you to use slash commands to format and customize this in any way you want.
That way, when you're assigning a task to someone else or making notes for yourself, you can get as detailed as possible.
This section essentially replaces email because you can place all your details here. You can use this feature whenever you click on a task. To bring a team member into the loop, select their profile in the 'People' column.
7. ClickUp Multi-task Toolbar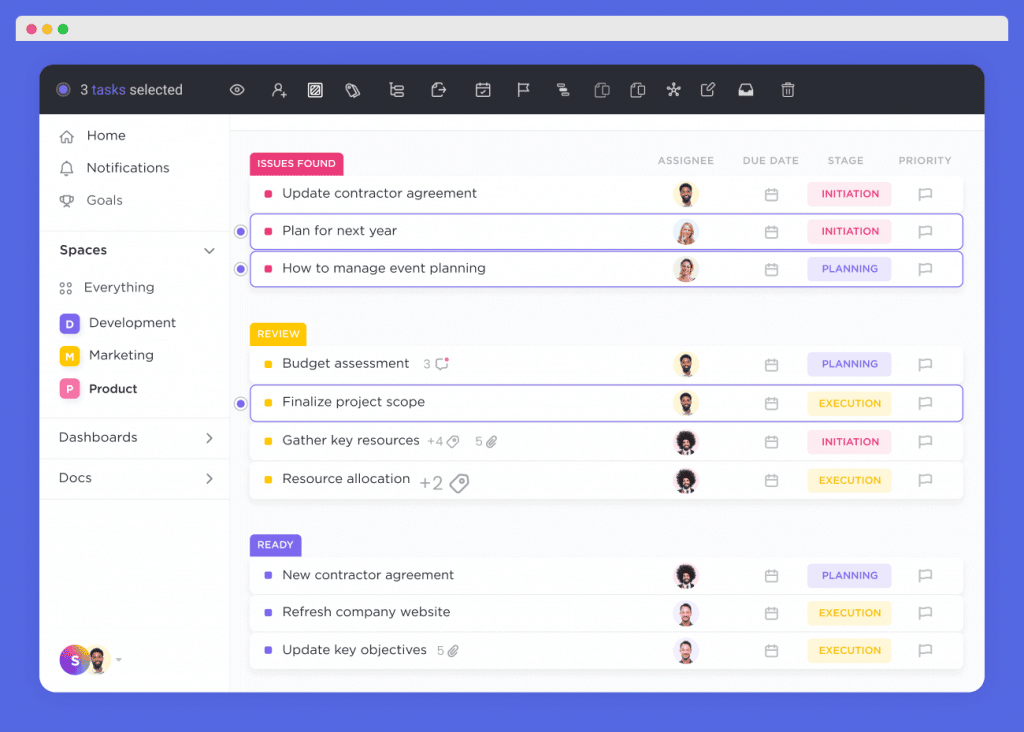 This is probably one of the best features on ClickUp. This advanced feature lets users take action on several tasks at once with its multi-task toolbar. It isn't all that different from what email programs do when you want to mark all the messages in your inbox as read.
Once you select multiple tasks, the toolbar appears at the top of the screen, with options to set assignees, status, tags, due dates, convert to sub-tasks, set dependencies, and so on.
It's a helpful tool for large task management and to efficiently manage projects.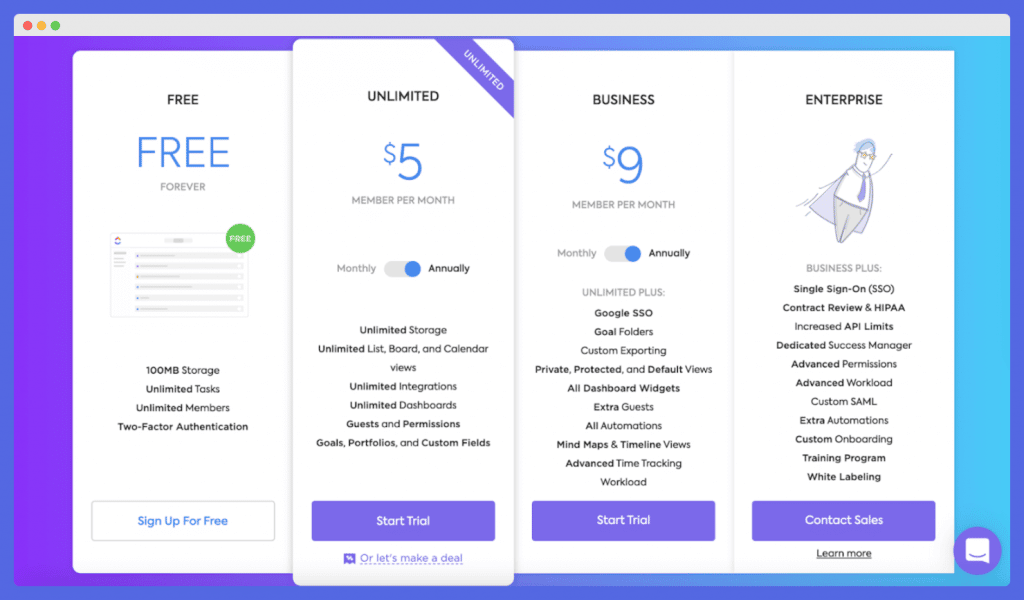 ClickUp has a range of price plans suitable for any magnitude of the task you aim to undertake. As a project manager, it can be difficult to find one that fits your budget and get all the features your team needs.
The best part about ClickUp is that you can start using this tool for free!
With ClickUp's Free Forever Plan, users can explore hundreds of customizable features, add an unlimited number of seats, and create an unlimited number of tasks, which is free.
Furthermore, paid ClickUp pricing plans start at only $5 per user per month which makes ClickUp an excellent choice for growing companies and solopreneurs alike. This is a breakdown of their four different pricing plans:
This option gives the provision for unlimited projects and users with limited features. The most basic version of ClickUp starts at its free tier and is surprisingly useful.
With the Free version, you get the ability to create unlimited projects and spaces, add unlimited users, and use all the key features for tasks such as dependencies.
When compared to other competing software, some features included on this free plan, like Gantt charts and automation, are locked behind higher tiers.
Although it's good that ClickUp offers these features on its free plan, it's best suited for infrequent use by an individual or a very small team.
2. ClickUp Unlimited Plan
The Unlimited plan, which costs $5 per month offers access to everything, from unlimited storage and integrations to features and reporting.
This plan cost $5 per user per month when billed annually, and $9 per user per month when billed monthly. For that money, you get infinite storage, integrations, advanced features, and advanced reporting.
On top of all that, you can set permissions to restrict users from accessing certain data. If you're finding the free tier too restrictive, this might be the plan for you.
3. ClickUp Business & Business Plus Plans
The Business plan charges $9 per user per month when billed annually and $19 per user per month when billed monthly.
You get all the features in the Unlimited tier, as well as security features such as two-factor authentication and the ability to sign in to ClickUp with a Google account.
The Business Plus Plan, on the other hand, will grant you access to absolutely everything included in the Business Plan we just discussed and is available for $19 per user per month.
4. ClickUp Enterprise Plan
Finally, there's the Enterprise plan, which ClickUp does not provide public pricing for, so you'll have to contact the sales department for more information. This plan adds all the Business features, plus the ability to sign in with accounts from multiple providers, not just Google.
More importantly, the Enterprise plan allows for custom onboarding and support, to help your team be able to effectively use the platform and improve productivity. This plan is best for large companies.
ClickUp Customer Support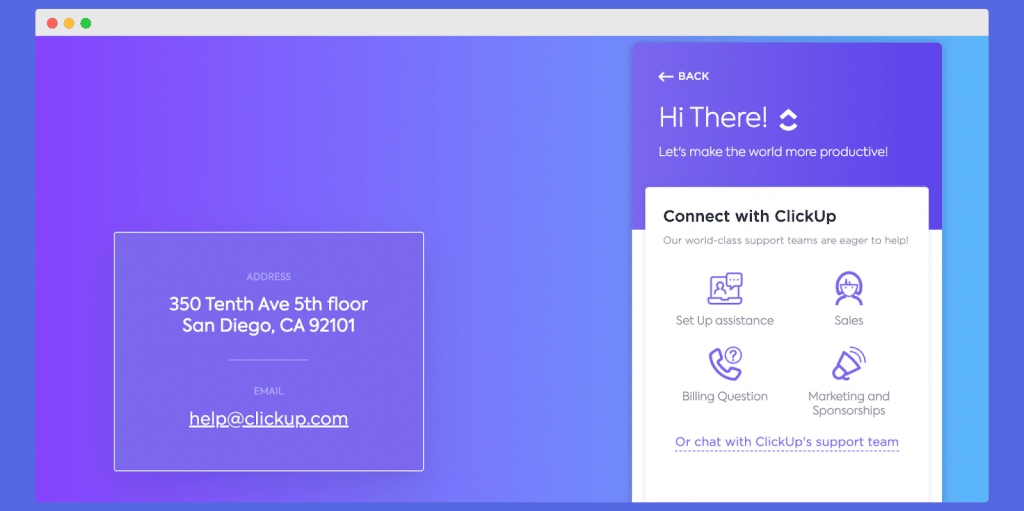 A major benefit of the ClickUp tool is its top-notch customer service.
We live in a customer-centered world where the customer is always right. Even though customer service has become more important than ever, many companies still struggle to provide it.
While there are plenty of project management software companies out there, none of them offer the same level of customer service as ClickUp does.
ClickUp provides the best customer service in the industry because their customer service team does more than just help with technical issues, they also provide customer education and training so all customers can get the most out of their product.
Best of all, customer support is available 24/7 (including holidays), which makes a huge difference for companies that have employees working remotely or clients that need help at odd hours of the day and night.
Conclusion
In the three years of ClickUp's existence, it has proved itself as a proficient and efficient project management software. It has gained the approval of several businesses while simultaneously achieving the trusted badge from people all over the globe.
So, what do we think about ClickUp compared to other software for managing projects? ClickUp really does offer companies a good value for money with cool features that create and track projects, improve team management, and ensure accurate time tracking.
Although it requires users to go through a learning curve phase, we believe this is negligible compared to the benefits this tool has to offer.
Try out the ClickUp tool today to experience its exceptionality and find out how you could save time, and improve your business and efficiency.
Sign up for our newsletter and follow us on Twitter to get more insights into our various Low Code discussions.