Productivity is the biggest currency in today's job market. We have started to realize that work hours are different from productivity. [1] That's why we have the whole industry of project management software targeting their focus towards increasing productivity. ClickUp is one of these platforms that allows you to create an automated and productive workflow. If you have been using ClickUp but are not completely satisfied, this blog is for you.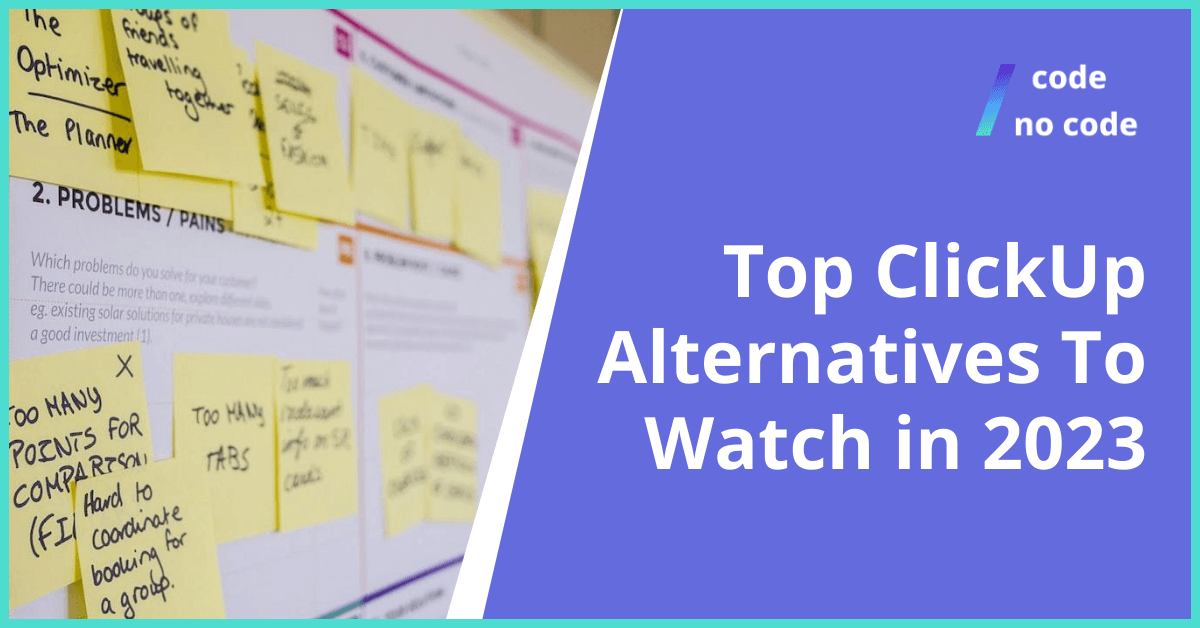 The platform has such a wide scope of functionality that you are spoiled with choices. We have curated a list of ClickUp alternatives that you should check before finalizing your choice of project management tool.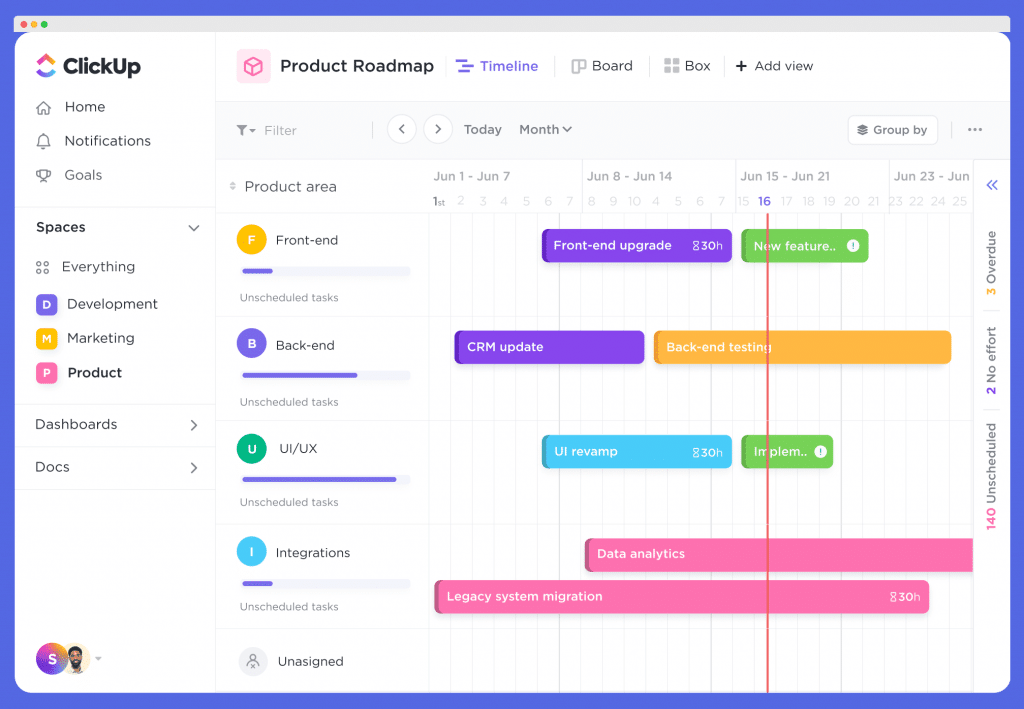 Before jumping to the ClickUp alternative, here's a brief overview of the platform itself.
ClickUp was founded in 2017 and is popular for its' out of the box' style of selling. They have positioned it as one app to replace them all. They also have an interesting way of describing stats.
For example, their exit pop-up says:
Save 1 day every week
We analyzed the time saved by over 4,000 teams after switching to ClickUp to manage their projects. That's 52 days back every year!
The core functionality of this platform is managing complex projects as a team collaboration tool. You can organize tasks, and deadlines, keep documents in one place, and more. They have a mobile app for iOS and Android.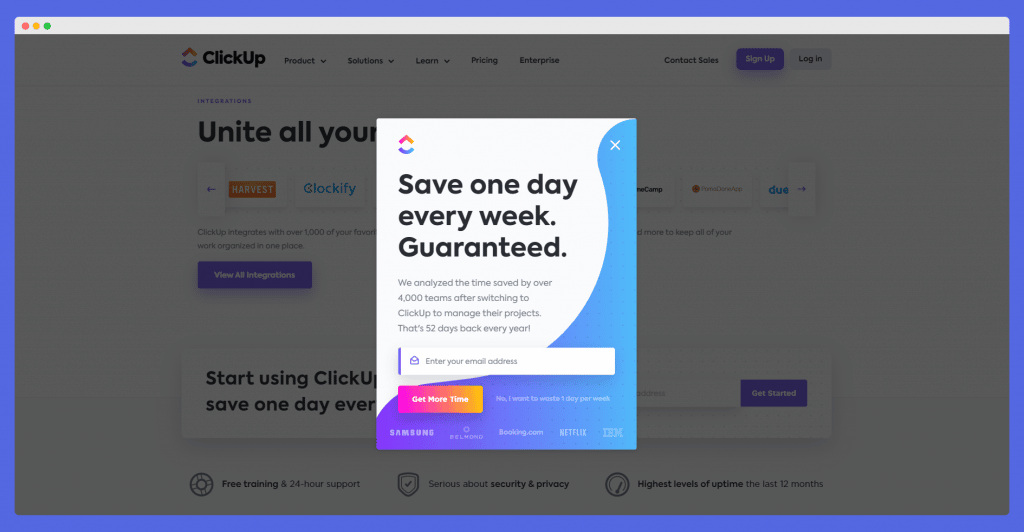 Currently, ClickUp has over 800,000+ clients including Samsung, Belmond, Booking.com and IBM.
Key Features:
Drag and Drop task management
Prebuilt templates for different industries.
Goal & Time tracking for teams.
Integrations with various external tools like docs, slack, and webhook.
ClickUp Pricing
The free plan from ClickUp gives 100 MB of storage, countless tasks, and an infinite number of users. The paid plans start from $5/user/month and go up to $19/user/month. The paid functionalities include form views and advanced analytics for your project management heads.
At the highest plan, you can white-label the platform according to your corporation's requirements. These plans are customized and available for large enterprises only.
Although it is awesome, ClickUp isn't a perfect platform. Some say that ClickUp has too many features but lacks small features like efficient time tracking. There are complaints about its learning curve and how it is tough to master ClickUp without putting in a lot of hours. These are certain small yet valid limitations of this platform.
Hence, if you are looking for a ClickUp Alternative, your search is over.
Top ClickUp Alternatives of All Time
| | |
| --- | --- |
| ClickUp Alternative | Advantages over ClickUp |
| Coda | Higher quality of support and scope of customization. |
| Trello | The most popular platform of all time. 1000s of readily available templates. Highly acceptable in major workplaces.Time tracking functionalities. |
| Notion | Additional power of docs and spreadsheet. It is easier to get started with Notion than any other platform here. |
| Fibery | Lets you create your project management tool rather than limiting you with the pre-built use cases. |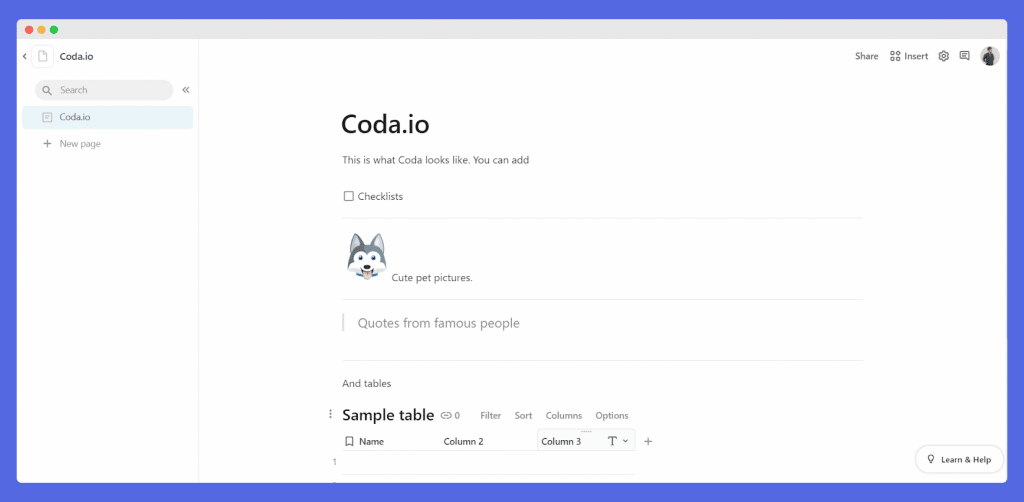 Coda is a collaborative workspace that integrates Google Docs and Sheets in a unique way that makes project management more efficient. Some might say it is the top No Code project management tool out there. But it is much more than a task management tool.
It is a canvas where you can create and share interactive documents in an innovative and unique way. Coda has an android and iOS application. It is absolutely flawless. Everything from adding a task to running automation can be performed right from your mobile phone.
It might be a less popular feature amongst business users. But it is abundantly useful for freelancers and digital nomads who might not have access to their computers all the time.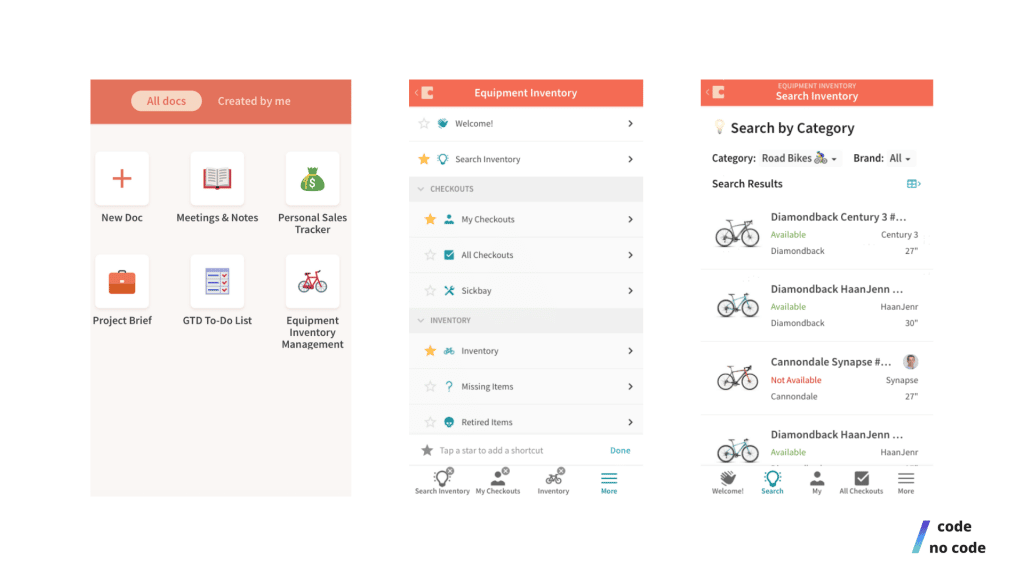 Coda aims to stretch the functional limits of spreadsheets and document software.
With Coda, you get
the flexibility of a document,
the power of a spreadsheet, and
the utility of applications
It is mostly used by organizations as a project management tool to keep all the documents on a single platform. We personally use Coda for our internal management and it's amazing.
They have little innovations that make your life easy. With the recent launch of Coda 3.0, we are very excited to see what Coda has in store for us.
Coda has additional features like conditional formatting and formulas to automate and manage your tasks. It takes the burden off your entire team. You can have a look at their template gallery to experience the different uses of Coda. It is a well-designed library featuring templates for different departments of a business.
Coda Pricing
Coda has a different pricing strategy than most project management tools out there. They will charge the account per doc maker. With their free plan, you can create docs within size limits.
Once you move to the paid plan, each doc maker $10 – $20/month depending on your functional requirements. The $20 plan has more options for getting reports and auditing your process. It is suggested if you are extensively using or planning to use Coda.
Trello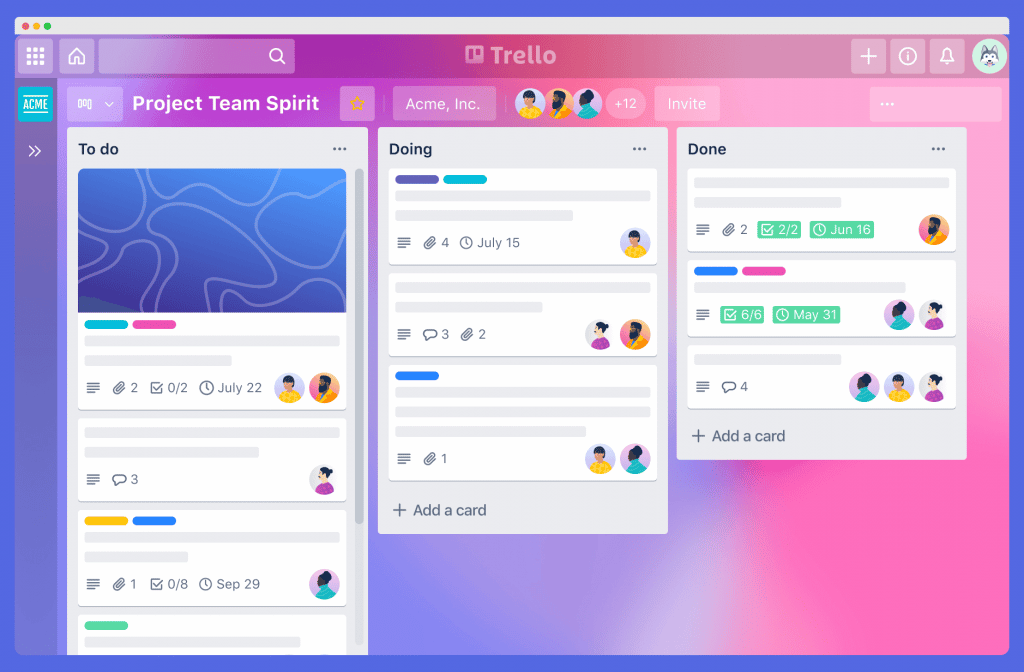 It is one of the oldest and most popular project management tools in the world. Trello features a kanban board where you can create tables and tasks. You can prioritize tasks according to their importance and urgency. You can enable time tracking on each task as well as add deadlines, docs, images, and drive links to the task.
Trello features 100s of templates in its library. Along with that, there are 1000s of templates generated by Trello users. Due to its popularity, Trello has a huge advantage in pure numbers.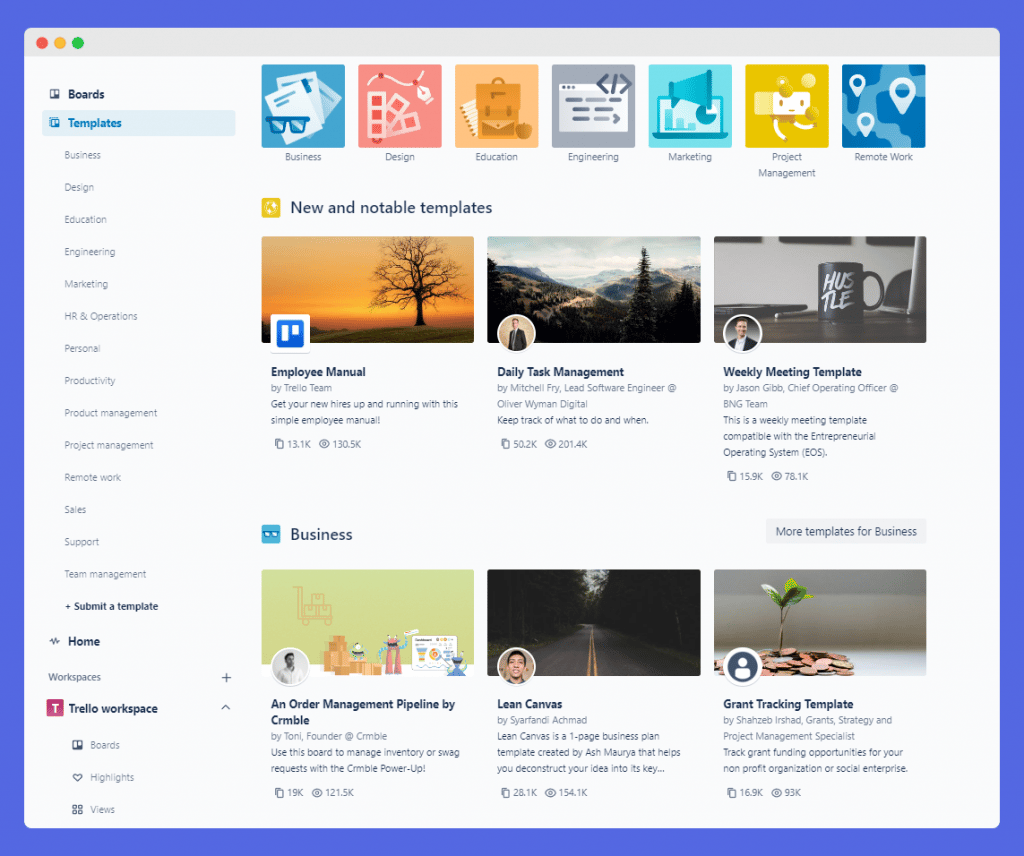 Initially, it was used to track the agile method by software development teams. But today, with more than 50 million users, Trello is one of the most popular project management tools around, and in many ways, it brought digital Kanban boards to the mainstream. [2]
Trello Dashboard consists of a number of kanban boards. Once you select a board, you can see the lists and cards.
Each list has multiple cards attached to it. You can track time for each of these cards and create automation to monitor activity across your team. You can also add Google Drive links, comment and mention users on a card. There are a lot of features available for free.
Fun Trivia: Trello's Founder Joel Spolsky had a husky named Taco. He decided to make Taco, the official spokesperson "spokes-dog" for Trello. You can see him in the image above [3]
Trello also features Butler. It is a built-in No Code automation tool to create recurring tasks automation. If you have a series of actions or tasks that you want Trello to perform, you can create a command for Butler.
For example, let's say you want to create a button that adds a task to the urgent list, prioritizes it and sends a push notification to the team members under that task. You can create automation through Butler commands. This comes in handy when project managers organize complex projects.
Trello Pricing
| | | | |
| --- | --- | --- | --- |
| Free | STANDARD | PREMIUM | ENTERPRISE |
| $0 | $5 per month | $10 per month | $17.5 per month (min 25 users) |
| | | | |
| | Everything in the previous plan | Everything in the previous plan | Everything in the previous plan |
| Unlimited cards | Unlimited boards | Dashboard view | Unlimited Workspaces |
| 10 boards per Workspace | Advanced checklists | Timeline view | Organization-wide permissions |
| Unlimited Power-Ups per board | Custom Fields | Workspace Table view | Organization visible boards |
| Unlimited storage (10MB/file) | Unlimited storage (250MB/file) | Calendar view | Public board management |
| 250 Workspace command runs per month | 1,000 Workspace command runs per month | Unlimited Workspace command runs | Free SSO and user provisioning with Atlassian Access |
| Custom backgrounds & stickers | Single board guests | Map view | |
| Unlimited activity log | Saved searches | Workspace-level templates | |
| | | Priority support | |
| | | Simple data export | |
Free Forever version available.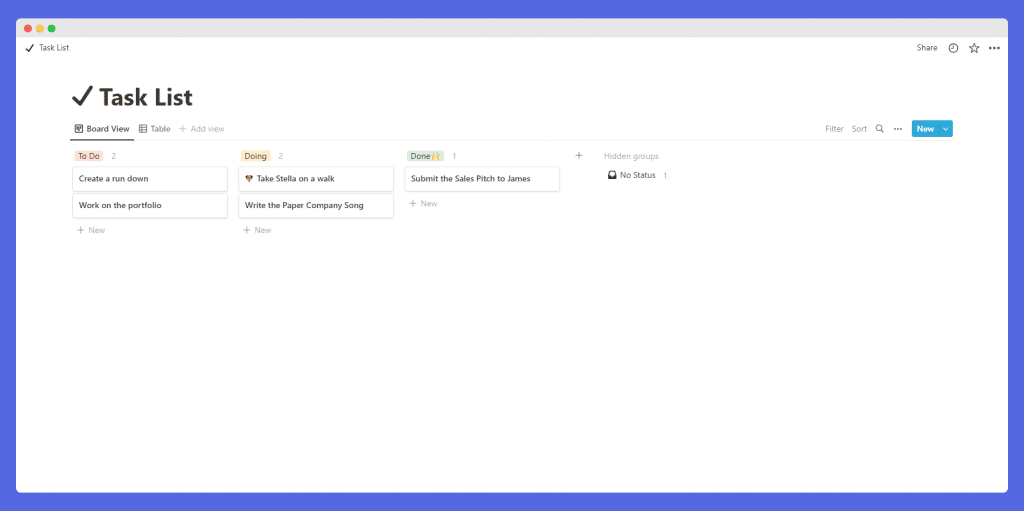 Notion is a project management tool worthy of becoming a ClickUp alternative. Notion started as a note-taking tool initially. They had very limited functionality and their core value was simplicity.
With its minimal design and ease of use, it became a popular note-taking tool. It was just a matter of time after which Notion evolved into this powerful project management software to manage tasks, advanced to-do lists, creating wikis, and databases.
The mission of the brand is to reduce the chaos in the workspace so that the teams never lose context. Their template library is also vast.
Apart from that, they have deep well researched articles that help you get a deeper understanding of the impact of a project management tool. Here's a blog on Project management for the design team. Not only does it have deep theoretical information but also gives you actionable tips to manage projects.
Their team has curated a list of templates in the showcase, Notion Picks. You will most definitely find the template for your project on that page. If you don't, you can just Google 'Notion template (your work industry)' and find it.
Notion Pricing
Their free plan is enough for individuals.
| | | | |
| --- | --- | --- | --- |
| Free | Personal Pro | Team | Enterprise |
| $0 | $4 per month | $8 per month | Custom price |
| | | | |
| Unlimited pages & blocks | Everything in Personal, plus | Everything in Pro, plus | SAML SSO |
| Share with 5 guests | Unlimited file uploads | Unlimited team members | Advanced security & controls |
| Sync across devices | Unlimited guests | Collaborative workspace | Unlimited version history |
| API Integrations | 30 day version history | Sharing permissions | Dedicated success manager (100+ seats) |
| | | Admin tools | Custom contract |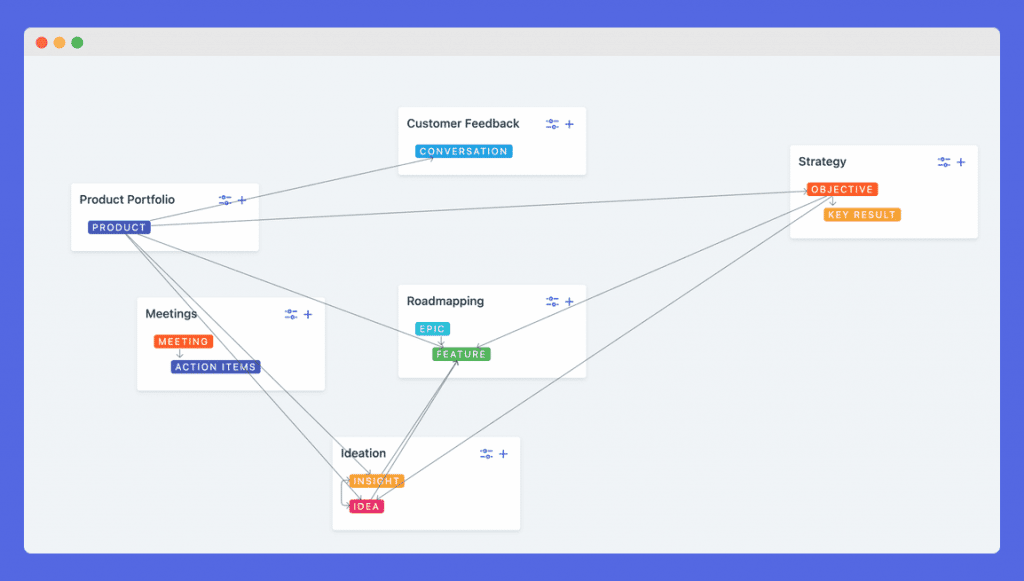 While this is not a project management platform, it is a No Code builder that allows you to create a platform according to your needs. It sounds complicated but it is really simple. Fibery gives you a canvas much like Coda, but here you can automate and customize the platform exactly how you need it.
You can take the load off your team members by creating a space that has just the functionalities you need. For example, if you are working on a small project and you only want to track the time and task name. You can create a view and all your team members now have a customized project management platform for them.
Fibery comes in handy when you are managing multiple projects at the same time. It simplifies your job by giving you the power of customization. It integrates with HubSpot, Trello, Slack and Zapier. Hence it is easy to set up if you are already working on one of these platforms.
If you are a big business, you can use it as an addition to Trello for smaller projects. Fibery has a radically honest blog that is not there for SEO purposes as they have clearly mentioned.
It is a relatively newer company in the business with 5 years of experience and a fun content style. But it surely has been working for them as they got $3.1m funding in July 2021. Their dedicated customer support team is quirky and helpful on a personal basis.
Fibery Pricing
| | | |
| --- | --- | --- |
| Solo 🚀 | Standard 🤝 | Pro 🎸 |
| $0 | $10 per month | $17 per month |
| | | |
| 90 day version history | 90 day version history | Unlimited version history |
| 5 read only users | Unlimited read only users | Unlimited read only users |
| | | Unlimited group permissions |
| | | Priority Support |
| | | Extra-caring support |
They offer their full product for free to companies with less Annual Recurring Revenue (ARR) than Fibery for a year.
Project Management Best Practices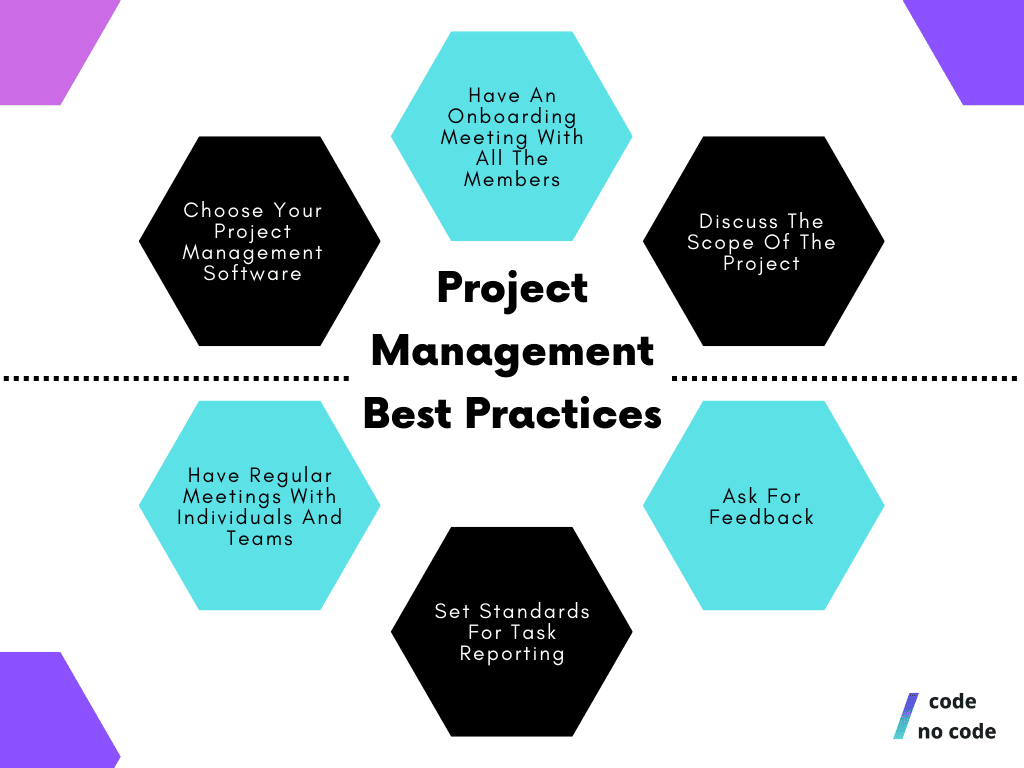 Regardless of the platform you choose for task management, there are chances that you will lose productivity. Here are some Project management best practices, that will ensure you get the most out of these platforms:
Choose Your Project Management Software
We already took you through a list that should help you make an informed choice. Think about your project requirements and choose the platform before starting the project. Since migrating an ongoing project is a tedious task.
Have An Onboarding Meeting With All The Members
Once you have decided on the platform, set up a meeting with all the members involved in your project. If your team size exceeds 10, we would suggest department-wise meetings. The purpose of this meeting is to involve team members and help them understand the value of the project.
Discuss The Scope Of The Project
It is important that you deliver your expectations from the members individually. If you are making someone in charge of a particular sub-project, they should know everything that needs to be delivered from their team. Discussing the scope builds transparency and helps people take accountability for their work.
Ask For Feedback
A good project manager needs to constantly stay aware of the process. It is easy to look past your own mistakes. Looking at the same process from a different perspective will help you validate your thoughts. Create a channel of feedback. You can also ask for anonymous feedback considering your staff is mature enough to stay within boundaries.
Set Standards For Task Reporting
Task management tool is useless if the team members don't utilize it to its full potential. All these tools need data to create reports. The higher the data, the better will the report look. Try and introduce standards to adding tasks on the platform.
For example, you can create template cards:
Create a social media design
Brief of the design
Deadline
Link to the design
Comment bottlenecks (if any)
Here's how an ideal task report looks like on Trello:
Have Regular Meetings With Individuals And Teams
Team members perform better when they are being heard. Conduct regular team meetings to discuss goals and challenges across projects. This will help you identify the strengths and weaknesses of your team. Which will in turn help you solve these issues for them.
If you follow these best practices, along with one of the project management tools that we mentioned above, you are good to go.
Wrap Up
These were the top ClickUp Alternatives according to us. You need to take free trials of all these platforms and find out which platform works best for you. If you liked this blog, you can check out Top No Code project management platforms. If you have anything else in mind, you can tweet to us at @CodeorNoCode.