Workspaces are evolving. Office culture has started to cross geographical boundaries and it has become crucial for businesses to manage their workspace digitally. During the lockdowns of 2020, remote working and digital collaboration picked up the pace of innovation as it was an urgent necessity. Currently, there are thousands of platforms out there helping team members achieve personal productivity through collaboration in project management. Amongst many similar apps on the market, two of the most popular ones are Coda and Notion. They have revolutionized docs and made cooperative tasks like product launches much easier with new ways to organize information.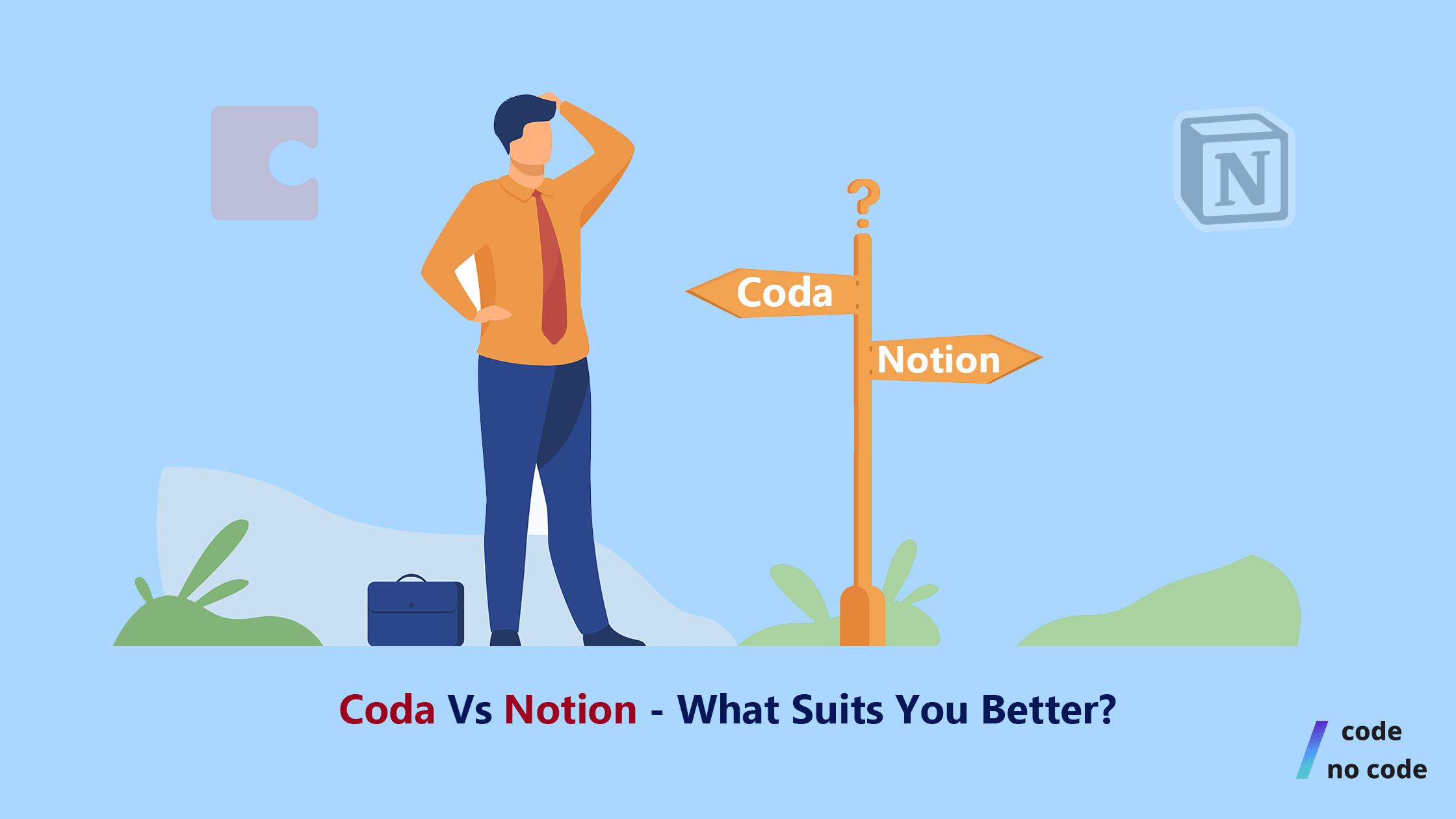 Today, we are going to compare these two No Code project management tools – Coda vs Notion. Rather than comparing features of these tools in a side-by-side table, we believe in doing a qualitative analysis on the Coda vs Notion. It is ideal because it would help you reflect on your team's requirements and needs.
Summary of Coda vs Notion
Before jumping to the detailed comparison, let's look at an overview of what these tools do.
What is Coda?
Coda is a collaborative workspace that integrates Google docs and sheets in a unique way that makes project management more efficient. It is one of the top No Code project management apps[1] out there.
Coda was developed with a vision to stretch the functional limits of spreadsheets and documents. They have successfully created a blend of the flexibility of a document, the power of a spreadsheet, and the utility of applications into a single new canvas. It is mostly used by organizations as a project management tool to keep all the documents on a single platform.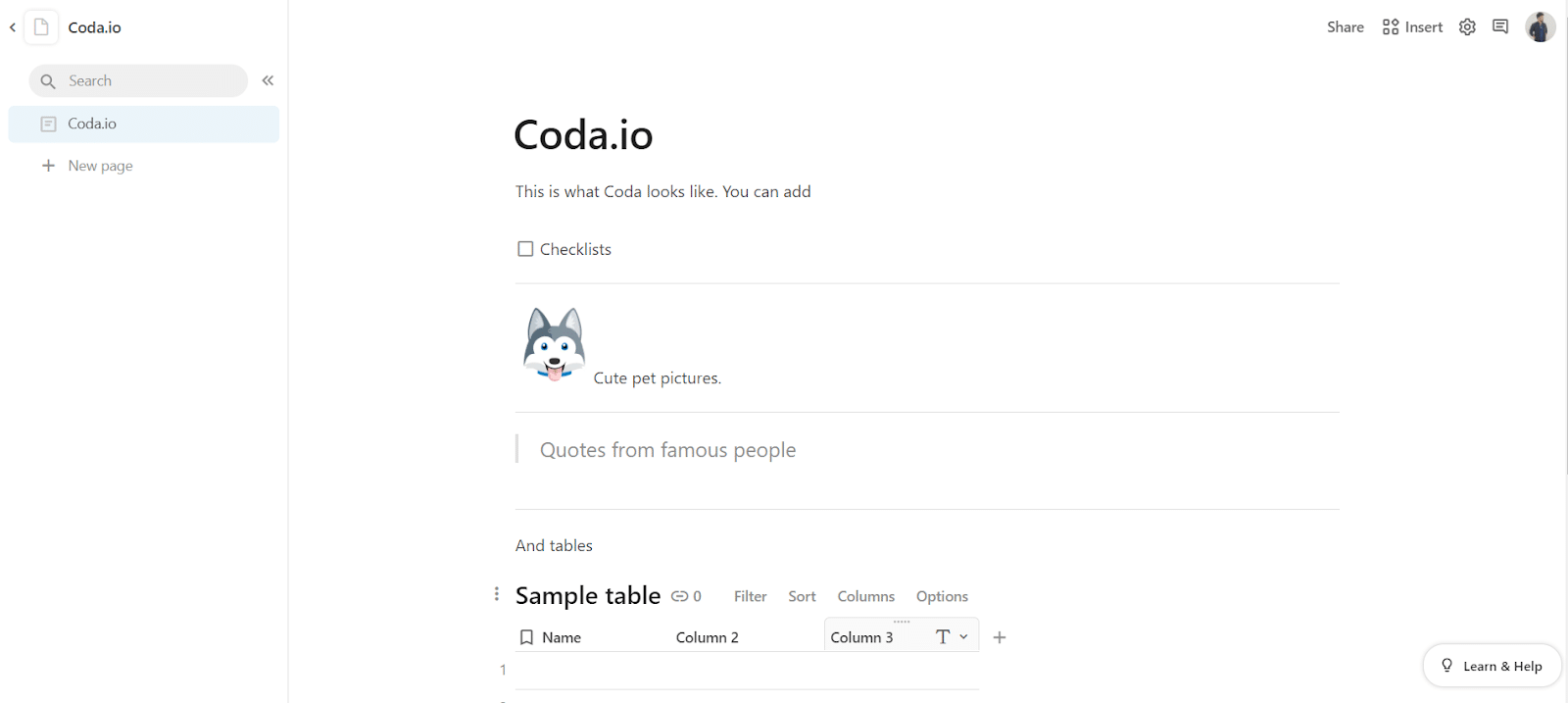 Initially, Notion was designed as a note-taking tool but now it has become a powerful platform to manage tasks, advanced to-do lists, Wikis, and databases. Notion was built to introduce clarity in business by making collaboration easy.
The core problem they are trying to solve is to reduce chaos in the workspace so that the teams never lose context. One of the top use cases of Notion is being the 'Wiki' or the bulletin board of the company where people can collaborate.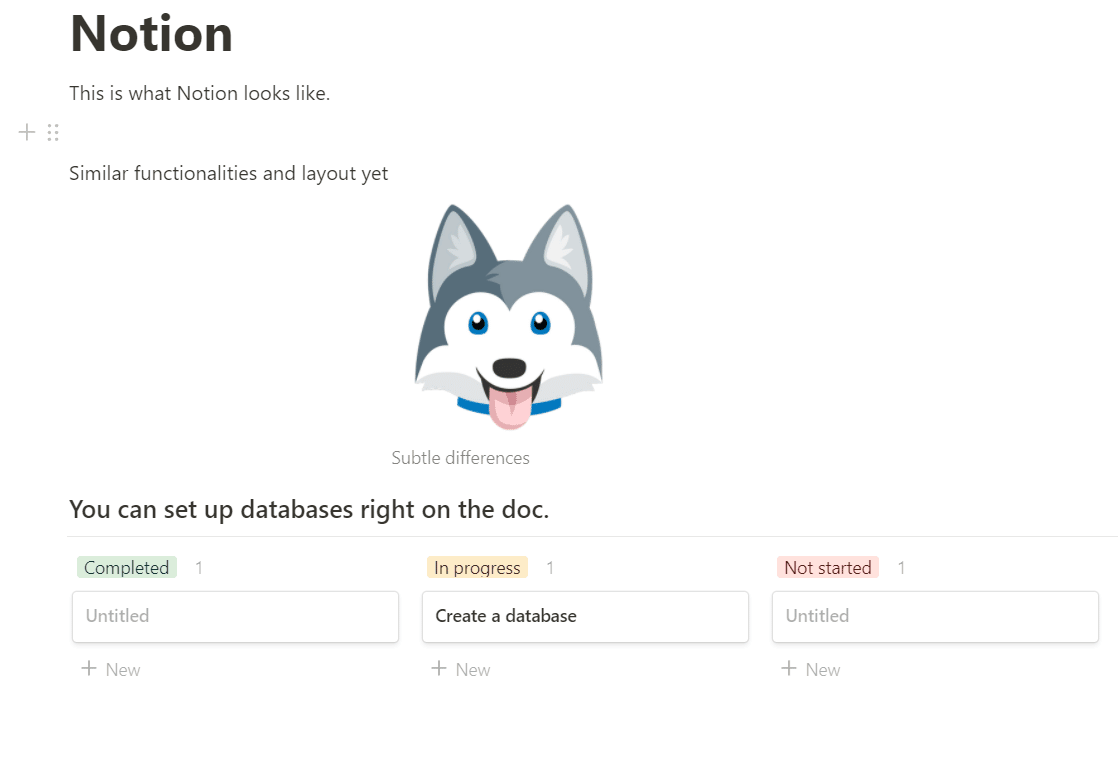 We will walk through some of the most significant factors that will help you choose between Coda and Notion.
App Structure
Coda works on a docs space where you can create and surf between different docs according to your requirements. In contrast, Notion is established in workspaces where you can create docs with all the functionalities. The key difference here is that Coda is smoother and faster when it comes to switching between documents.
Although if you are using the Notion Desktop app, you can use the keyboard shortcut Ctrl + 1 to jump to the first workspace, Ctrl + 2 to jump to the second one, and so on. When you are using the docs as a project management tool, it becomes a crucial feature.
Platforms
Coda has a web app and a mobile app on iOS and Android. Notion is a step ahead, as it has all of that along with a desktop program for Mac and Windows.
Don't be too inclined towards the mobile versions, however, because Coda and Notion were designed with a PC user in mind, therefore, they have very limited functionality on the mobile phone. It is great if you want to check out your to-do lists but you will have to use the PC for advanced features like automation and integration. Also, most of the tutorials and resources on these tools are based on PC.
Pricing Policy
Notion has a straightforward pricing policy with a free version for individuals and a paid plan that starts at $4/month. Coda also has a free plan for personal use where you can create docs with size limits. But if you want to shift to the paid plan, Coda only charges the editors of the docs.
If many people in your organization are just going to comment and read the docs, then Coda might be a good option for you fiscally. The main difference between both of these pricing policies is that Coda charges per creator while Notion charges per user.
Here's a detailed look at the pricing of both tools.
Coda Pricing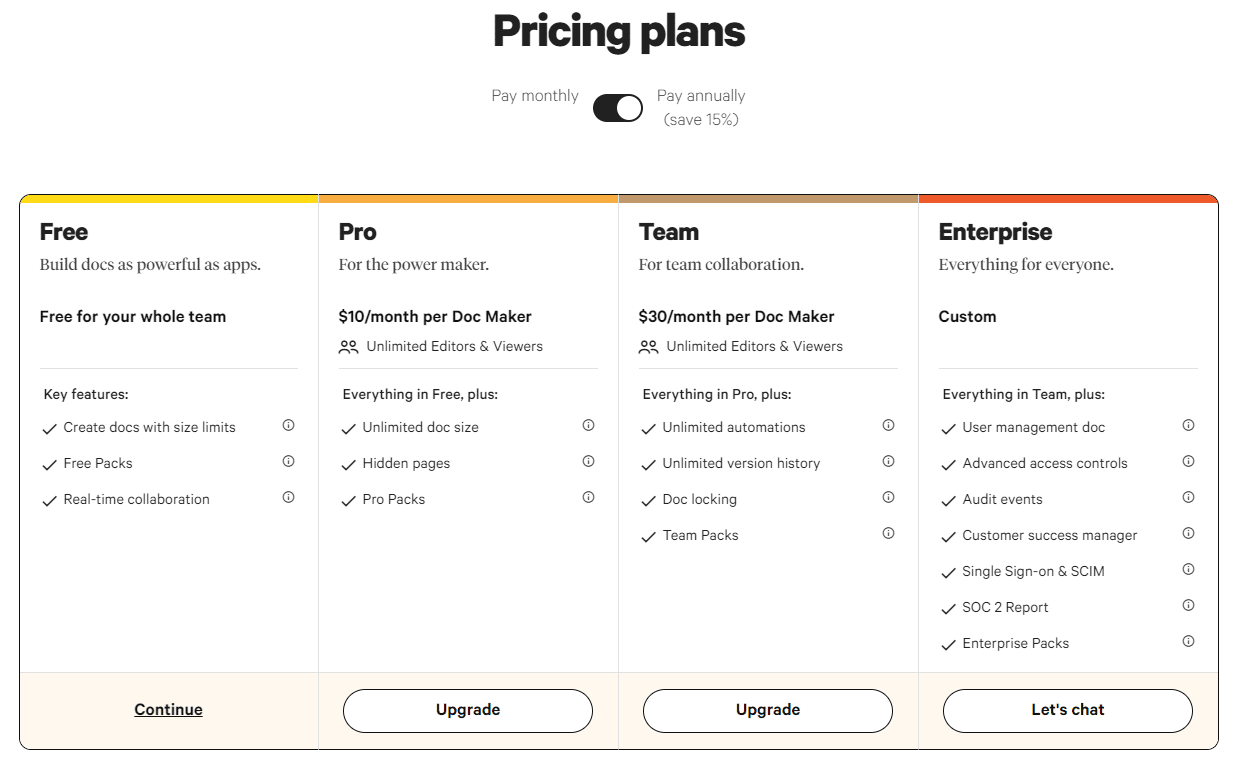 Notion Pricing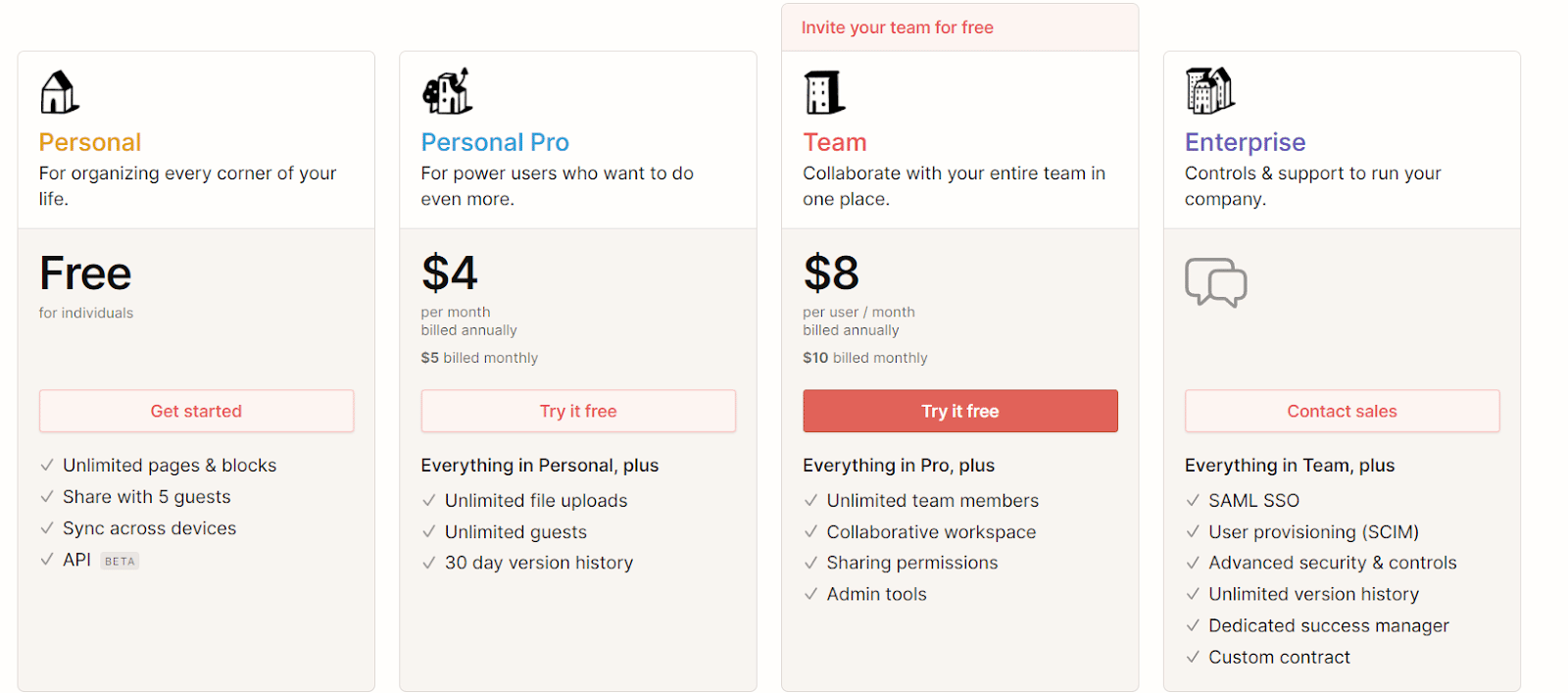 Databases
This functionality is what differentiates Coda and Notion from other tools. Both of the tools provide powerful tables with advanced functionalities to serve as a database. They are used to store and manage structured data to automate workflows.
Coda sweeps the victory over Notion when it comes to databases. Notion database could be used to link data and create a channel of information. But Coda has extreme flexibility which allows you to build your project management apps on Coda.
There are additional features on Coda too, like conditional formatting and formulas that would enable the user with opportunities to automate and manage their tasks.
Learning Resources
Both of the platforms have been successful in generating a comprehensive pool of resources where everyone from a beginner to an expert could learn. Notion guides explain every feature of the tool for different categories. For example, if you are planning to use it as a project management tool, you can just go to that section for specific use cases and tutorials.
Coda also has an extensive learning library that solves almost all your problems. However, we would suggest having a look at this playlist – Coda Essentials. That is a series of tutorials that helps you take a deep dive into the tool. If you are a visual learner, watching these YouTube tutorials would give you a great headstart in understanding how the tool works.
Pre-built Templates
With both of these tools, you can start from a clean slate. You can build whatever you want that aligns with your workflow. However, sometimes people get too overwhelmed with the blank canvas and it gets tough to figure out how to get started. Pre-built templates based on specific industries and popular use cases can help you get started.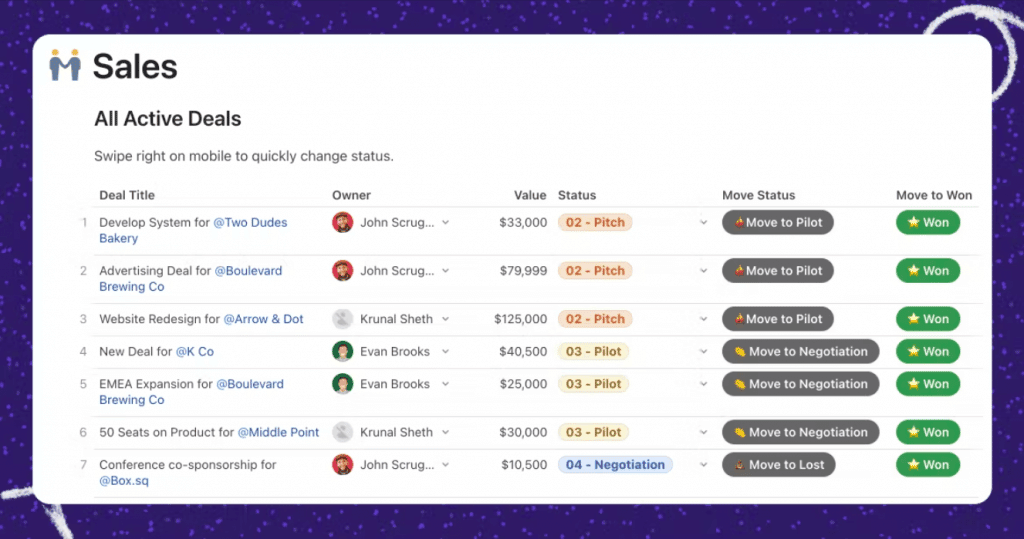 Notion has an extensive template gallery with categories like HR, Marketing, Freelancer, Personal. In addition to this, there are premium services like Notionery that provide templates by third-party developers at a range of prices. Coda has a template gallery but it lacks structure. There are little to no third-party templates available on Coda.
Learning Curve
This is another aspect where Notion wins over Coda. It is much easier to get started with Notion than Coda. The learning curve of Coda is steeper than Notion due to the additional functionalities, which are relatively difficult to learn and master. Notion has a simple and interactive UX which makes it quicker to learn.
Also, Notion has a significantly larger community than Coda which allows higher engagement between people and faster solutions. No Code Communities help an amateur understand any tool with a discussion-driven approach.
Help and Support
Both of these apps work smoothly with little bugs or mishaps. But in case you have any issues with a feature or your payment, both of them have incredible customer support, with a chat widget available inside the app. Also, as mentioned earlier, they have robust resources that would help you through any problem with the apps.
Initially, there were a lot of problems with Notion support but in the past 2 years, they have substantially enhanced it. While none of them have 24/7 live chat support, they are pretty fast in responding to emails and tweets.
Design Ideology
While it might sound dramatic, it is important to understand the vision behind why these platforms were created in the first place. Coda gives equal importance to both docs and spreadsheets to build dynamic apps. Tables, databases, and integrations are some of the most used functions of Coda.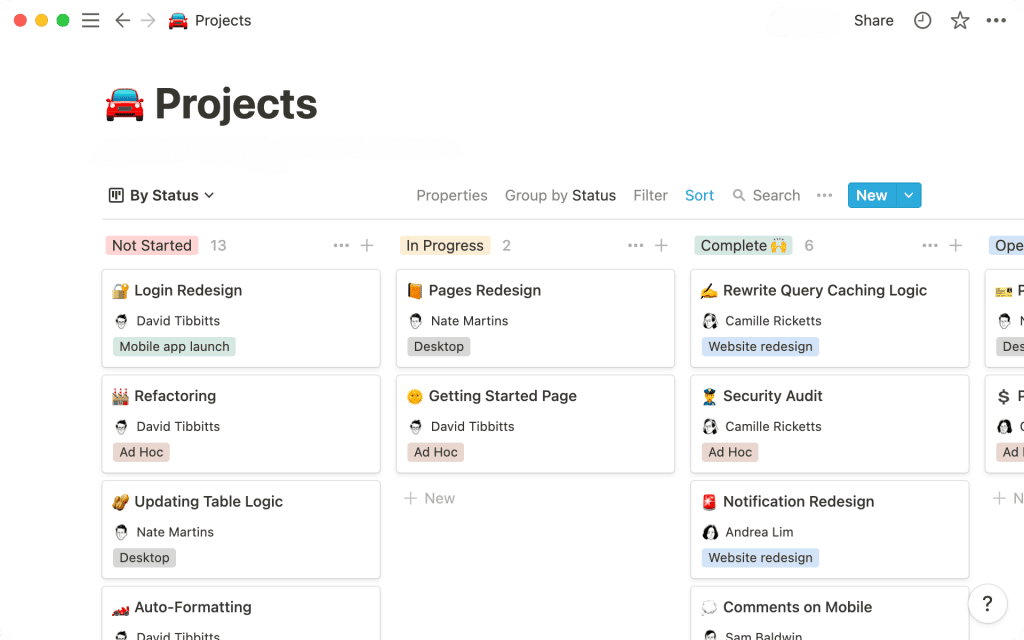 Whereas Notion gives more priority to creating a beautiful user interface. Even the API feature of Notion is in beta testing right now. Even though the tools look identical, they focus on solving different problems.
What is More Suitable for You?
Since you are at the end of the article, you might have a definitive answer of what platform suits you the best. Just like any other software on the landscape, no one has a definitive answer and there is a lot of gray areas.
But if we were to give a definitive answer, we would say that Coda is powerful for building No Code automation while Notion could be your choice if you want to use a wiki or knowledge management for your company. With the recent acquisition of automate.io by Notion, we are expecting some groundbreaking changes in the features of the tool. We hope to review those features soon. 
If you are still confused, we would suggest you jot down a list of goals that you want to achieve with your ideal tool and match them with the features of both of these tools. That would help you get some clarity on what to use.
This blog was the latest addition to our comparison series where we compare two tools and analyze the key differences between them. If you liked it, you can check out Bubble vs Webflow. If you want to stay updated with the latest news, tips, and trends on the No Code landscape, follow us on Twitter.