Spreadsheets are an essential part of any growing business. The primary purpose[1] of spreadsheets is to track, categorize, and organize data. But ultimately, spreadsheets help achieve goals and make better business decisions. One of the better business decisions you can make early on is using a free spreadsheet app.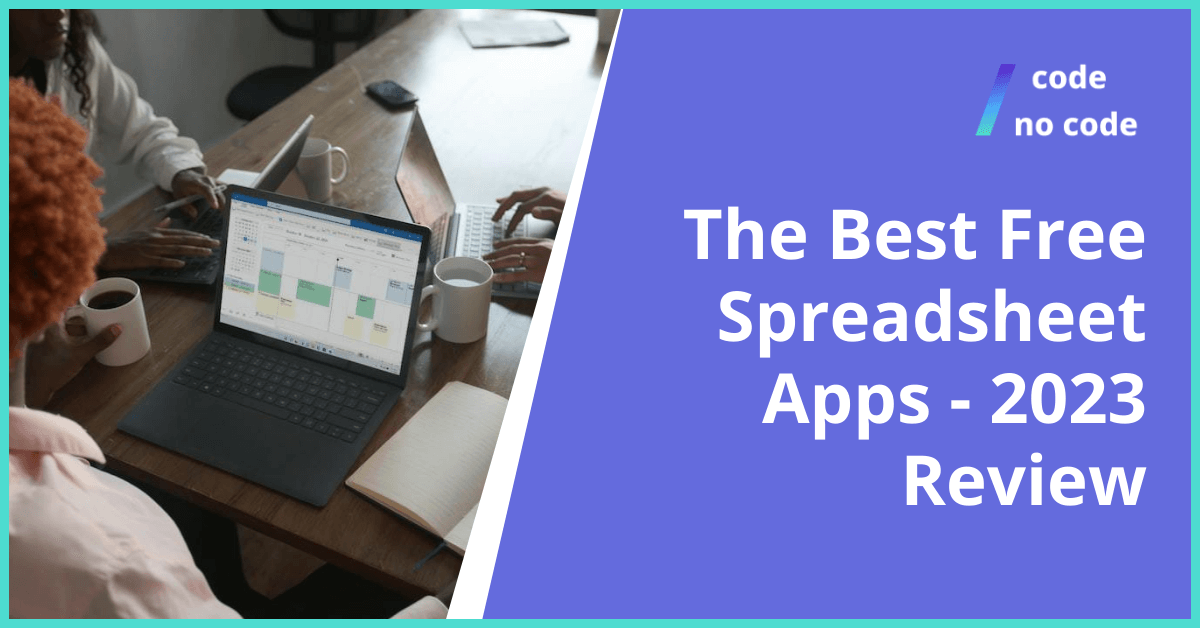 It's been about 40 years since Dan Bricklin created the first spreadsheet software[2] for the Apple II computer, VisiCalc. Now, spreadsheet apps have evolved from programs working strictly on mainframes for simple calculations and tables to powerful multi-platform tools for manipulating and analyzing vast data sets.
Modern spreadsheet apps can organize, catalog, and maintain data. Additionally, the best spreadsheet apps provide tools to categorically analyze the spreadsheet data, share it for real-time collaboration, and even transform the data into simple visual representations.
Almost all business sizes, departmental teams, and industries utilize spreadsheet apps to a certain extent. Likewise, a wide range of spreadsheet software options exists for specific business tasks and functions.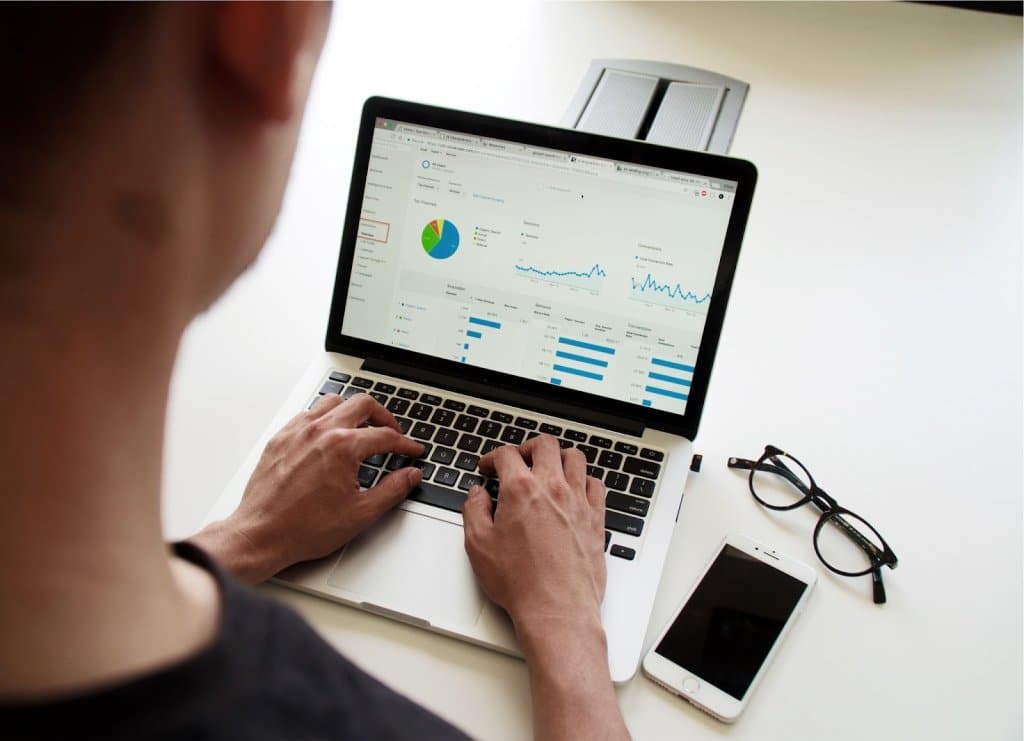 Photo by Campaign Creators
While such a wide array of options is excellent, finding the right spreadsheet app from the many that efficiently tackles your specific tasks is where the problem lies.
The first thing to ask is what you're looking for in a spreadsheet? Are you looking for a Microsoft Excel alternative for your company's spreadsheet-related tasks? Or just a free spreadsheet software to keep you organized?
We've successfully compiled a list of the 8 most useful free spreadsheet software with all the spreadsheet functions you'd expect and more.
What Makes a Great Spreadsheet App?
As the head topic indicated, this article is particularly geared towards free spreadsheet apps. That is our main criteria for qualification on the list. Others include:
It must provide team collaboration and sharing tools.
Offer formatting functions for converting data into other forms such as graphs and charts.
Data review and editing tools must be present.
Easy-to-use user interface.
However, even beyond these factors, some of the best spreadsheet apps offer unique benefits that make them problem-specific solutions. Thus, from a shortlist of up to 30 spreadsheet apps, we've arrived at 8 from extensive review.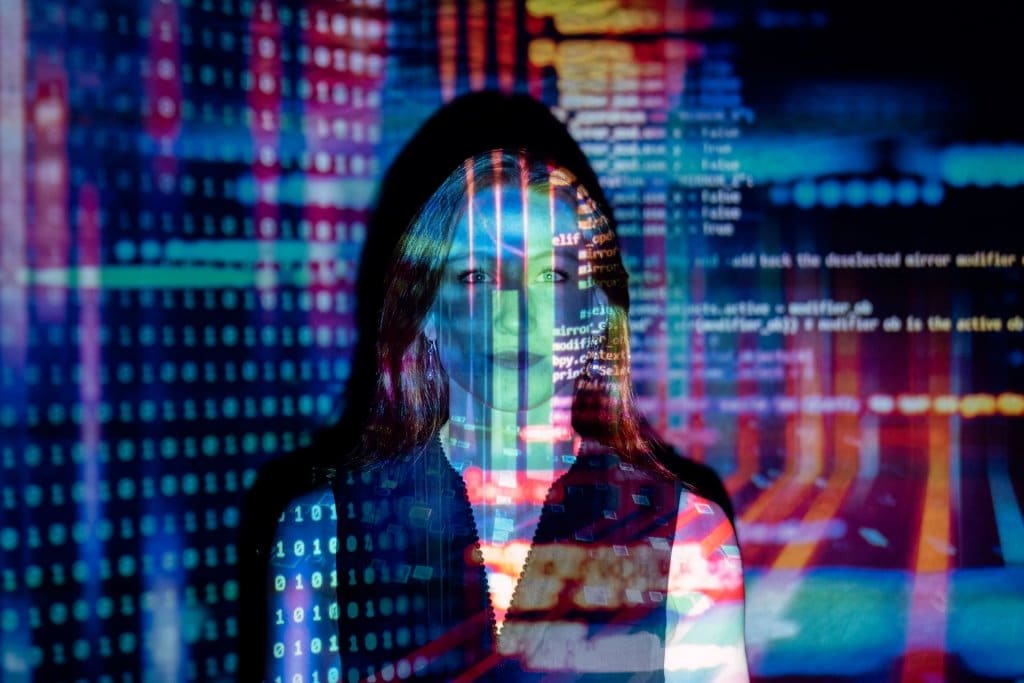 8 Best Spreadsheet Apps for Your Business Needs in 2023
First, most spreadsheet apps on this list (desktop apps mainly) have mobile version compatibility, but certain spreadsheet apps cater primarily to Android users.
Hence, we'll look at the best spreadsheet software for desktop and web and the best spreadsheet apps for mobile users.
It may be somewhat surprising that the first spreadsheet app we discuss is not one of the more well-known standards of spreadsheet apps like Google Sheets and Microsoft Excel. Instead, we'd be looking first at a budding spreadsheet software that was just founded in 2017 – Rows.
Why? Well, believe it or not, this Berlin-based spreadsheet software start-up is not shying away from competing with the spreadsheet giants – Excel and Google Sheets.
Rows has a long way to go in terms of audience as compared with the giants, but the new Spreadsheet app takes an effective route to garner customer attention – flexibility.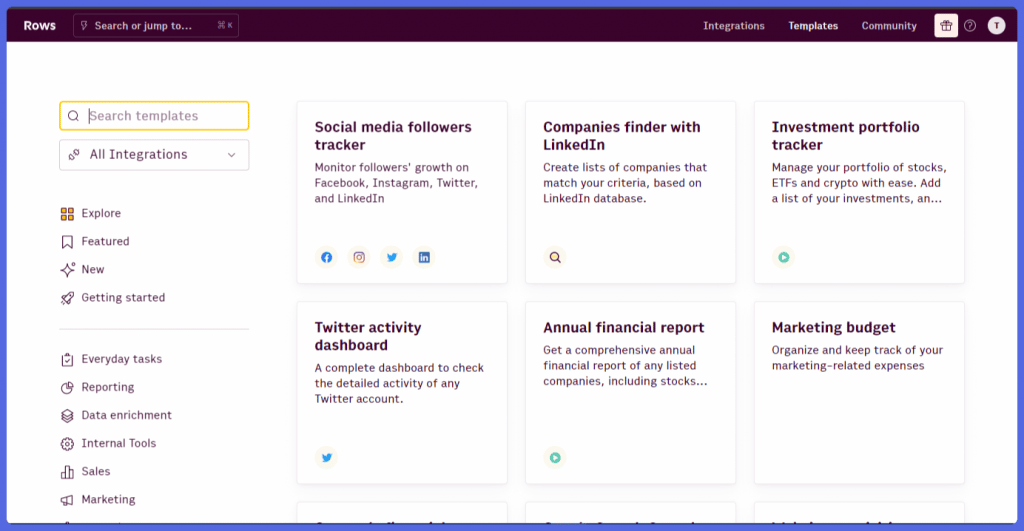 The progression over the years in typical work setups has gradually digressed towards mobile-ready spreadsheets, SaaS[3], and Async. Those areas Rows has honed in on but Excel, and Google Sheets have not really bothered paying attention to.
The seamless and easy integration with third-party APIs sets Rows apart even more. From Google Analytics, Amazon Marketplace, Stripe, and social media services like Twitter and Instagram, Rows integrates with them easily.
That is unlike Google Sheets and Excel apps, where you'll need to be a prominent Sheets or Excel user to do the same.
Zoho Sheet is the premier choice for those looking for an alternative to the Google Sheets app, i.e. a cloud-based spreadsheet app. But users get a little more than an alternative when it comes to available functions.
Zoho Sheet supports over 350 useful functions. That includes support for advanced features like data validation, pivot tables, and conditional formatting.
Of course, it also supports essential spreadsheet functions like cell and row editing, insert rows, formula support, and font adjustment. Moreover, it supports one-click data integration from external sources.
Like other programs on this list, Zoho Sheet comes with real-time collaboration, which allows you to share spreadsheets. And in the same vein, sharing permissions for multiple users working on the same sheet is just as easy.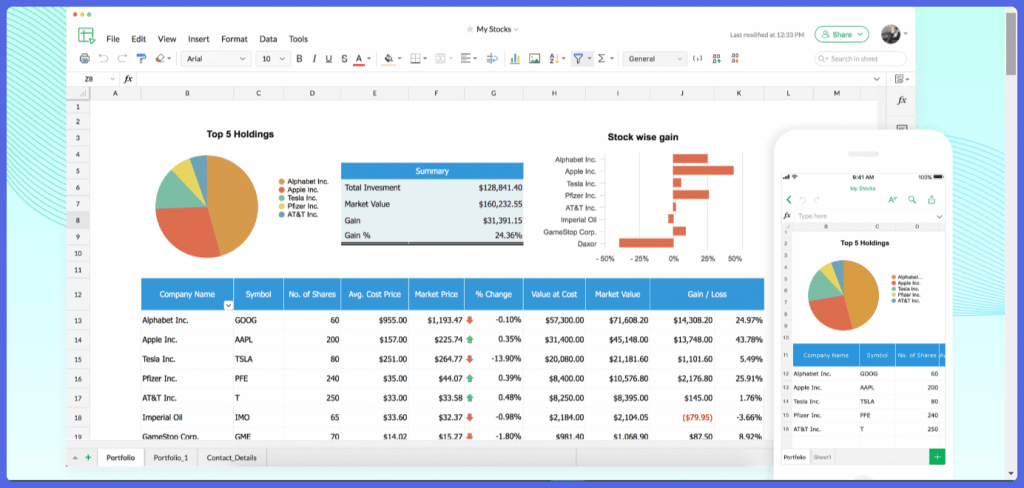 You also get powerful tools like Zoho forms to merge information into a single sheet easily, and Zia – Zoho's AI – which helps users with the practical visualization of data using pivot tables, graphs, and charts.
Zoho Sheet Price
Zoho comes with a free version that includes a limited 25 users and 5 GB of cloud storage/user. The premium version price starts at $4/user/month and 100 GB of cloud storage per user.
3. Airtable
The first thing to note is that Airtable is not much of a basic spreadsheet app than it is a database management software with a spreadsheet interface. It does work similarly to most spreadsheet apps to use formulas, create graphs, summarize values, and the like, but it'd be a limitation of its capacity to use it for just that.
Airtable allows for unique customizations like embedding content from an external web page into your dashboard or managing an editorial workflow.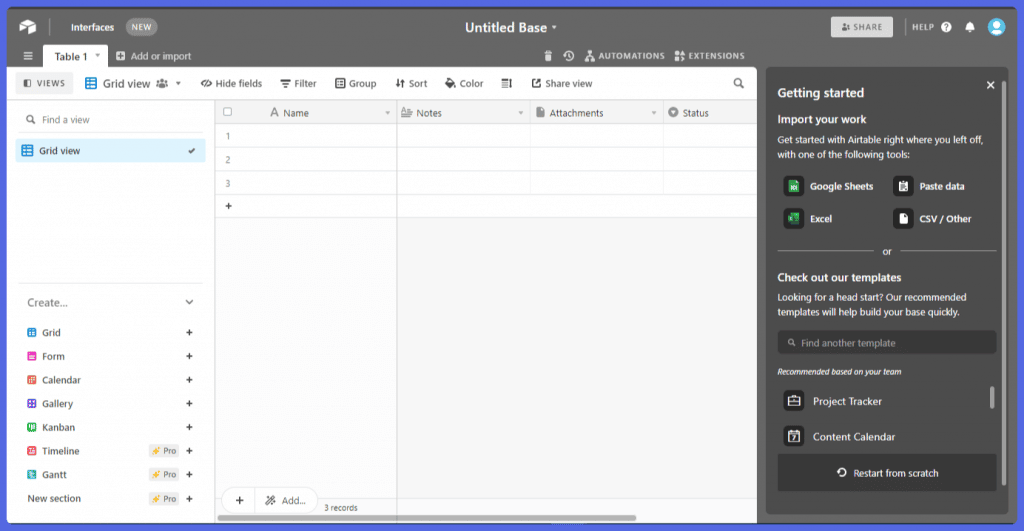 Airtable comes with all the functions and tools you'd expect from a typical spreadsheet app but with some exceptions and differences in practical use.
For instance, you have fields instead of columns, and the "spreadsheet" is referred to as a base. You may not be able to change the sizes or fonts, but you do get a range of options to choose from, such as; checkbox, date, URL, bar code, etc.
Airtable Price
You can get the free spreadsheet version for 1200 rows per database or the $12/month paid spreadsheet version.
If an app has over a billion downloads from app stores, it must offer resources that everyday users primarily require. WPS office comes in as probably the best spreadsheet app on Android, and for good reason. WPS Office does have a desktop version but it is not as commonly used as the mobile version.
The app allows you to save and edit documents from different file types, including PDF files, Word documents, and Excel files, from the comfort of your Android device. Additionally, you can save documents to the cloud with WPS Office's support for Google Drive. It also integrates well with Slack, Zoom Dropbox, Evernote, and OneDrive.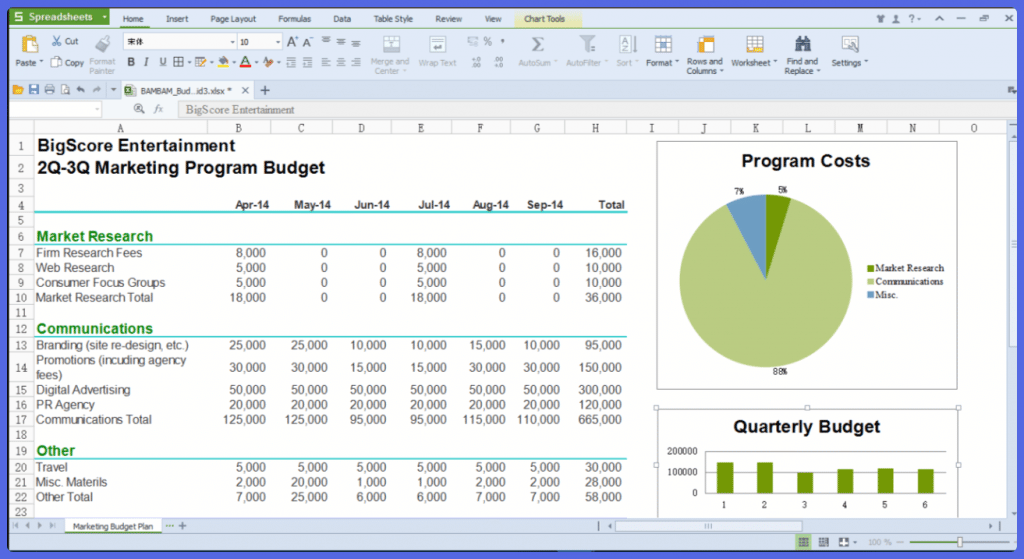 WPS Office offers various templates, including general forms, ratio analysis templates, and financial reports, but you'll need the premium version to access these templates interminably.
WPS Office Price
WPS Office subscription price starts at $3.99/month for home use to about $29.99/year for business use.
5. LibreOffice Calc
In its inception, LibreOffice was a not-for-profit spreadsheet program developed by The Document Foundation for everyday users. Today, it has largely succeeded in its primordial aim as LibreOffice is a free, open-source spreadsheet solution with a robust feature set for any productivity requirement[4].
Users attempting to manage large data sets on a budget will appreciate LibreOffice Calc the most. Besides the over 300 spreadsheet functions and features you get on LibreOffice, one extraordinary one is the DataPilot tool. Users can utilize this powerful tool to accumulate raw data from databases and repurpose it in their spreadsheets.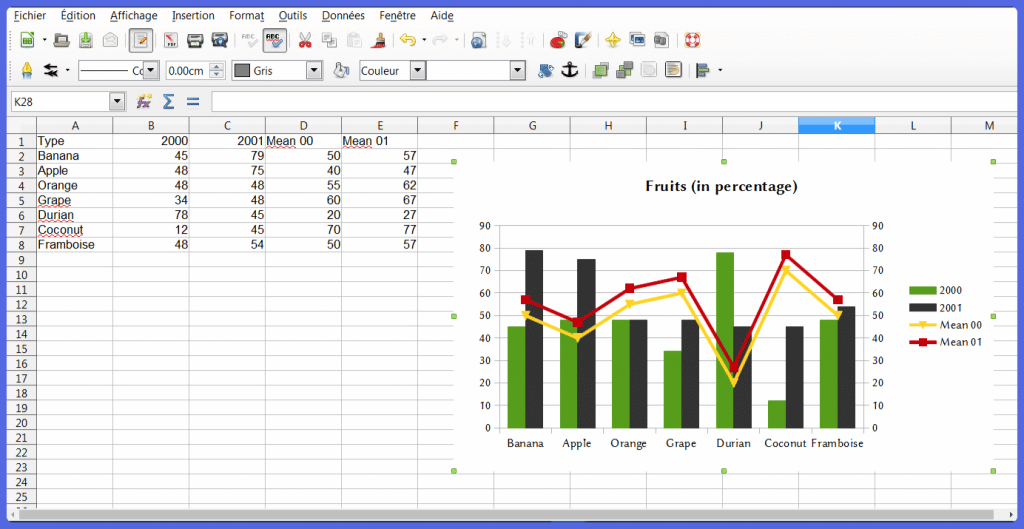 However, it lacks in the aspect of user interface as it practically looks like an older version of the Microsoft Excel app. It also lacks support for real-time collaboration features, but it makes up for its open source nature, extensive language support, and consistent interface.
6. Polaris Office
Following WPS Office is another more mature and older alternative to Microsoft Office and Google Drive – Polaris Office. The cloud Office suite works well for iOS and Android but also for PC, so you can work anywhere and at any time.
It also provides full cloud storage compatibility and supports various file types, including Excel file types, Word documents, Powerpoint, and PDFs.
Users can look forward to using over 300 formulas and 20 chart types with a range of pre-made templates. Additionally, the Office suite provides the means to share and work together through real-time editing.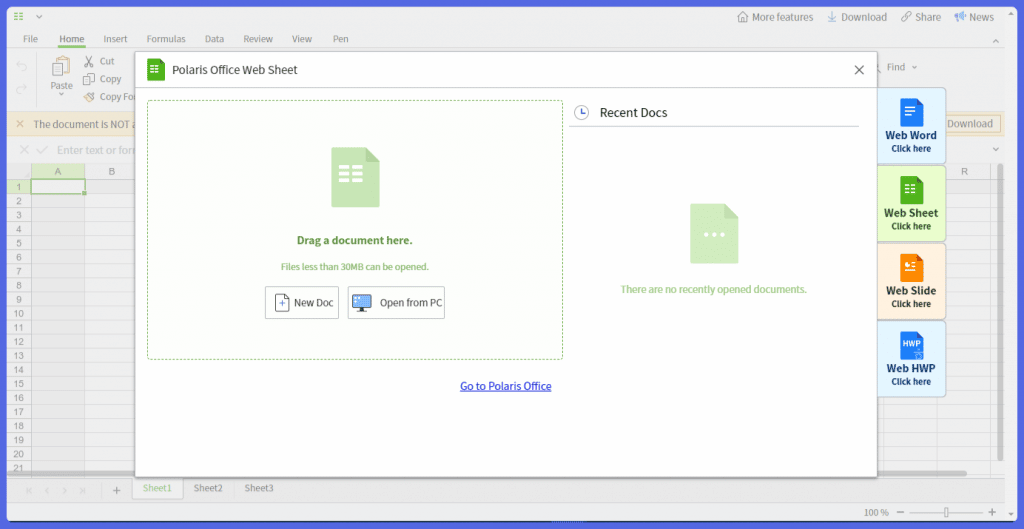 Polaris Office is also ahead in providing unique and useful features like an AI menu with usage pattern analysis and all the basic spreadsheet functionalities.
Polaris Office Price
The app is free, but there is an option for the premium version where you get additional features like ad removal and password protection for your files.
7. Google Sheets
We can't have a conversation about spreadsheet apps these days without bringing up the most popular in the market today – Google Sheets. The only thing you need to have to create new spreadsheets on Google Sheets is a Google account – one you automatically get if you use Gmail.
This is the perfect spreadsheet app for companies and Excel users looking for an alternative that integrates well with other Google apps. From Google Analytics to Google Data Studio, Google Sheets integrates seamlessly with many other apps in the Google ecosystem.
Additionally, Google Sheets provides users with Google-exclusive functions such as GOOGLE FINANCE and GOOGLE TRANSLATE for retrieving securities information in real-time and translating cell contents, respectively.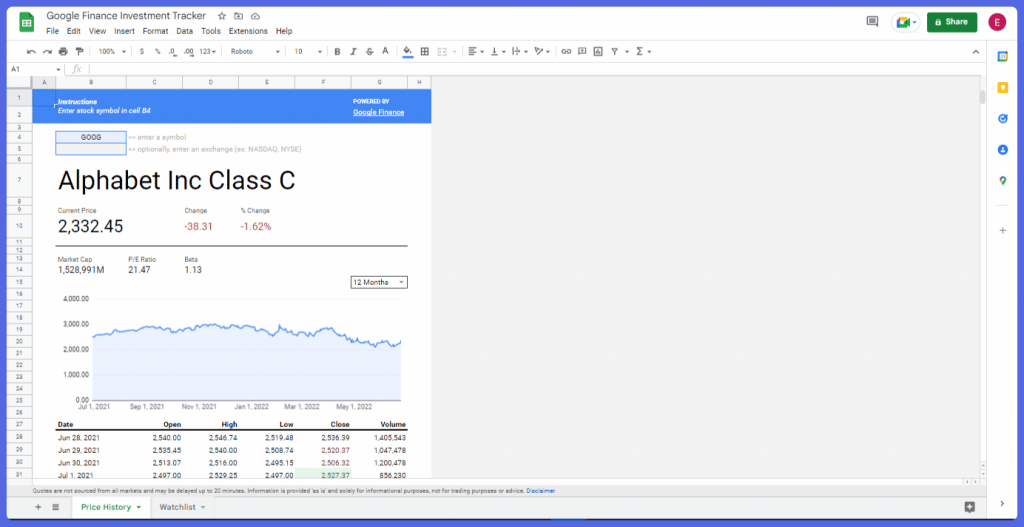 It's worth noting that it is not a desktop application but a cloud-based service. As a result, work is saved in real-time to your Google Drive.
Ultimately, it's Google Sheets collaboration features that really steal the cake. They are the pioneers of the concepts behind today's real-time co authoring and collaboration features. In addition to that is a minute-by-minute version history documentation to observe all changes that occur on your spreadsheet documents.
Google Sheets Price
Google Sheets' price starts at about $6/user per month for business users but is completely free for anyone with a Google account.
8. Microsoft Excel
Of course, this list is not complete without the gold standard and perhaps the most powerful spreadsheet app in the digital market – Microsoft Excel.
Microsoft Excel was introduced in 1987 for Macintosh. Today, Microsoft Excel is available as a desktop app for Windows and macOS and as a web app through the Microsoft Office 365 subscription.
It accompanies the Microsoft office Suite app, but you may also download the standalone Excel app. Furthermore, Excel has a mobile and desktop version that runs natively, giving higher performance than its web-based counterparts.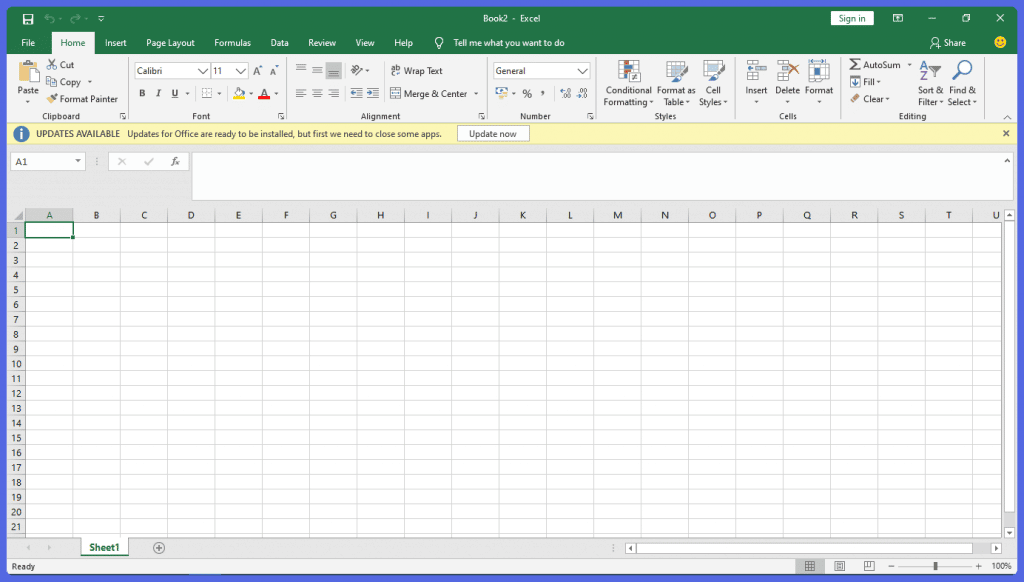 Considering it is the oldest spreadsheet app on this list, there must be something that keeps Microsoft Excel relevant and competing with newer technologies.
For one, it offers more functions and advanced features than almost any other spreadsheet app on this list. A good example is conditional formatting and pivot tables[5] – Microsoft Excel pioneered both these features.
However, the features that set Microsoft Excel apart from other apps on this list are its ability to effectively handle VBAs (Visual Basic for Applications) and Macros.
Microsoft Excel Price
Starts at $69.99/year for the Office365 subscriptions, and that's the only way you can get Excel's collaboration features for teams to work in real-time on the same spreadsheet. Alternatively, you can forgo the collaboration features and purchase a single Excel license for $149.99.
Editor's note: The direct Excel alternative for Mac users is Apple Numbers, particularly because it is free and pre-installed on modern Mac devices.
Which Spreadsheet Software Should You Use?
Undoubtedly, Excel is the most powerful and easy-to-use tool in the spreadsheet world, but it does have its limitations. For one, it is not particularly built for collaborative work and isn't as secure or error-consolidating as other software.
Thus, similar apps on this list serve exceptionally well in specific categories. For example, Rows works best for fast workflow automation, Zoho Sheets for a feature-rich experience, Airtable for database management, Excel for large data sets, Google sheets for collaboration work, and LibreOffice Calc for a native, open source spreadsheet solution.
Follow us on Twitter to stay informed on the latest spreadsheet software news and No Code solutions.