No Code tools are gaining popularity and getting easier to use. No Code technologies enable businesses to grow, nowadays, by allowing them to build and launch without having to write code. Making business decisions (choosing the right No Code tool) that will help you achieve growth is a huge task. However, here are the nine best No Code solutions (according to our experts) to help startups and small enterprises create without code writing. In this article, you will learn about the best No Code software tools. We will carefully discuss each software tool and pricing, taking into account its vital aspects.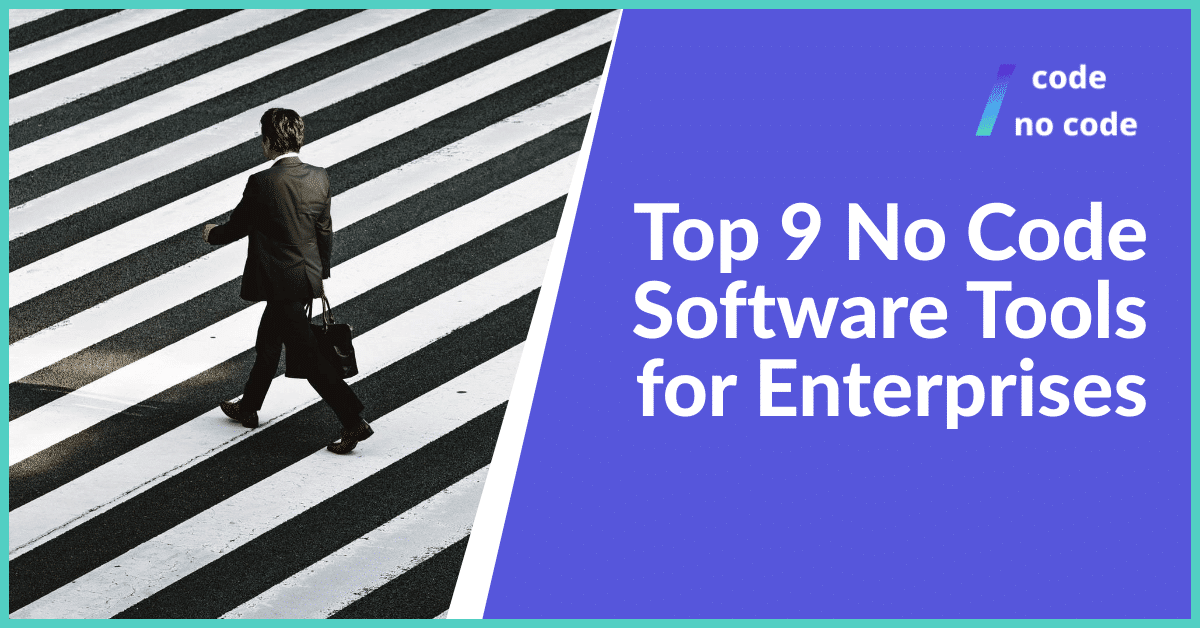 The Best No Code Tools for Software Development
No Code development platforms are used to discover and research business processes and optimize all processes.
By using these tools in the No Code enterprise software process, the outcome of the project will be more productive. Using No Code development tools, anyone can easily maintain a project workflow.
There are certain factors to consider when choosing the right development tool, depending on the type of project. Here is an overview and comparison of each tool.
AppSheet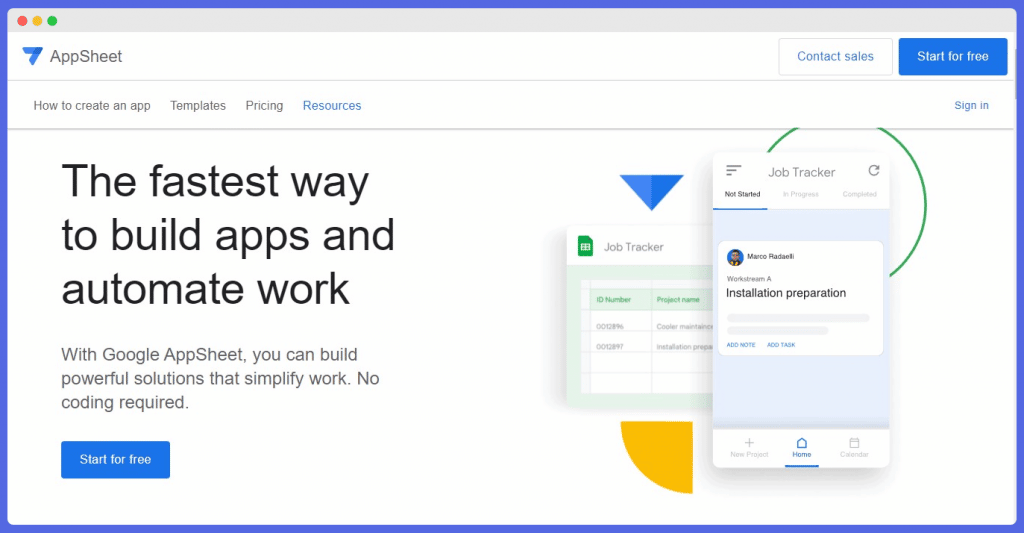 If you use the Google Workspace for your organization, they have launched AppSheet – a builder of applications without code!
With this app, you can quickly create custom applications. AppSheet can help automate, and simplify work.
Anyone in your Google Workspace may create and maintain mobile apps, which can help your team more efficiently, decrease errors, and cut down on development time.
AppSheet comes with several features that can assist you with all of your app development projects:
Support for multiple platforms
Data Integration and Visualization
Customization of the user interface and user experience.
Automated workflow.
The application is not just a web application running in a browser. AppSheet allows business users to create a version of the application with a white label that you can install on Google Play or iPhone via the App Store.
The starter plan starts at $5 per user per month. The core plan comes at $10 per user per month. For enterprise standard and enterprise plus, request a quote from the sales team.
Visual LANSA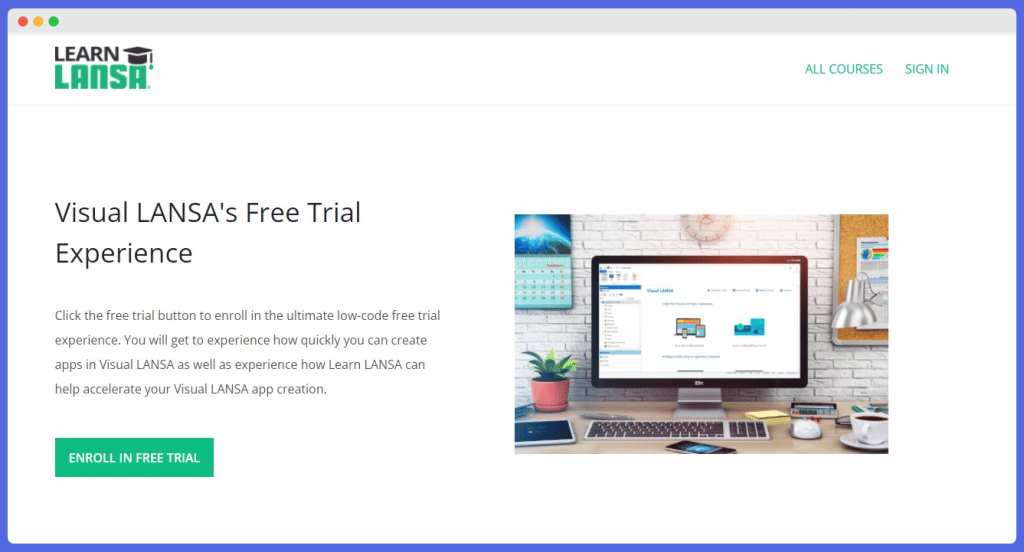 LANSA's No Code development platform speeds up and simplifies business application creation and makes your development team more productive. LANSA gives you back control.
This is a powerful tool for creating applications for desktops, web, and mobile devices. Build mobile apps faster, easier, and at a lower cost than traditional methods. [1]
Some of the features are:
Extensive controls,
Implementation,
Integration.
Several thousand companies worldwide use this Low Code platform.
System integration reduces hand-coding, supports multiple languages, and empowers building applications up to a few times faster. LANSA offers a free course about web routing implementation.
Visual LANSA will allow professional developers to create applications much faster than traditional coding and with much more control than is typically seen on No Code development platforms.
Clappia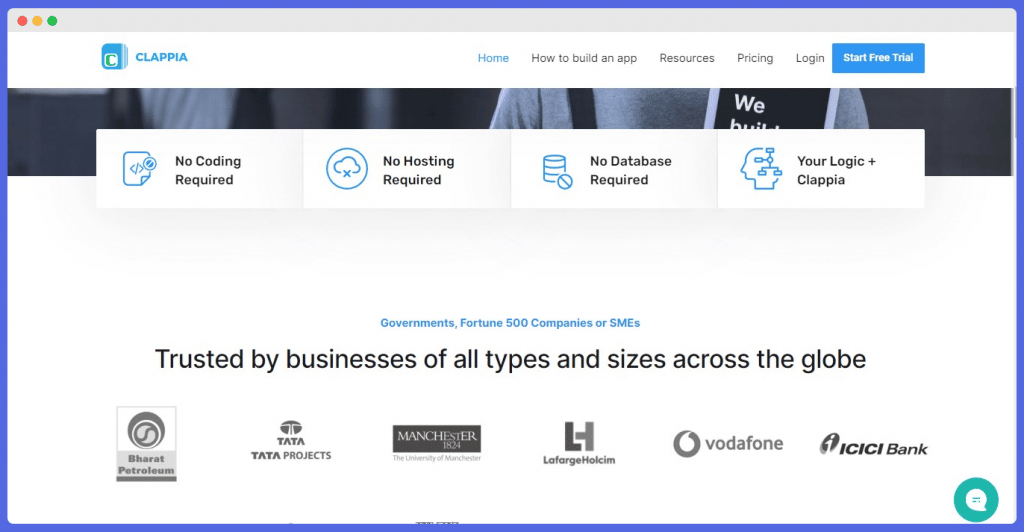 Clappia provides zero-code management software in which any business user can customize a suite of custom applications in minutes.
Through the cloud-based environment, the user can easily create and modify custom enterprise-level applications.
This software solved the problems with integrating data and documents, business systems, and people involved in the product creation process by integrating third-party programs with the existing package and allowing its users to create interconnected applications.
Software training can be conducted either online or in-person with no coding skills required.
Clappia has several features such as:
Connection between applications (Gmail, Slack, Trello, Facebook, etc.),
Offline applications (Google Sheets, Outlook, Asana, etc.),
GPS location,
Digital workflow
The user of this software can design different types of applications like accounting, GPS, reporting, workflow, etc. The support team is active 24/7 and is always ready to help its clients.
The application creation feature saves time for managers and can create an application that is interconnected with other applications in a short time.
The Low Code platform has a simple module for creating modules and a tool for creating drag and drop pages that allow you to organize and position different categories of blocks of data and information: forms, lists, charts, social media feeds, and more.
Nintex Process Platform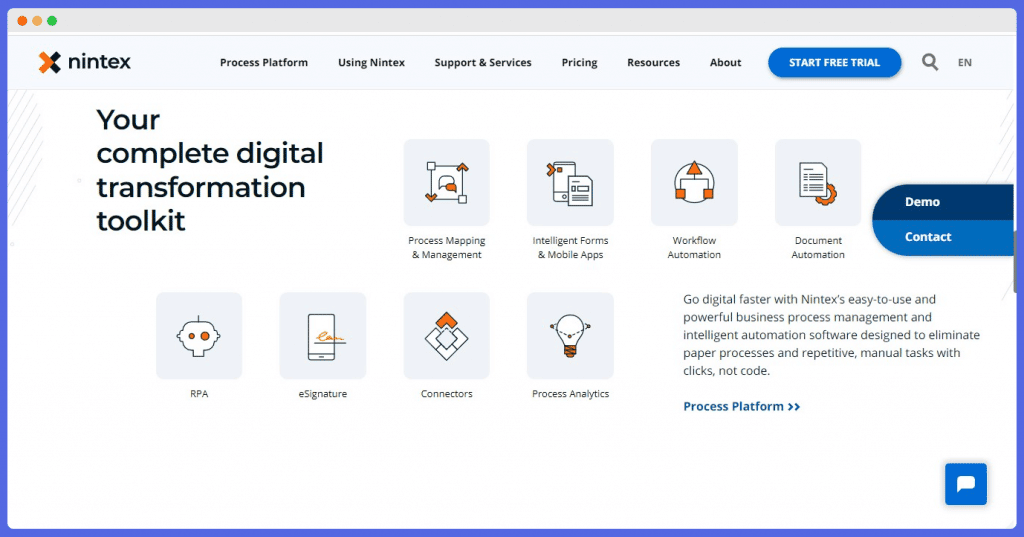 When it comes to managing business processes and automating, Nintex has been a global leader in No Code platforms for years.
Nintex Promapp has two pricing plans:
Standard Edition ($ 950 per month)
Enterprise Edition ($ 1,300 per month).
The Nintex Process Automation No Code platform has three products, ie. Nintex Workflow (starts at $ 850 per month), Nintex Foxtrot RPA (starts at $ 850 per month), and Nintex Sign (starts at $ 1.75 for unlimited users).
All of these rates apply to the annual fee. The product is available for a free trial from Nintex.
Nintex is a platform for managing, automating, and optimizing processes. It has a wide range of features, including document generation, process mapping, and a mobile app development tool.
Nintex Promapp will assist you in mapping out and maintaining your process.
Advanced workflow and robot process automation will allow you to automate procedures.
Nintex has a mobile app for both iOS and Android. It has received positive feedback from customers for process automation and SharePoint. [1]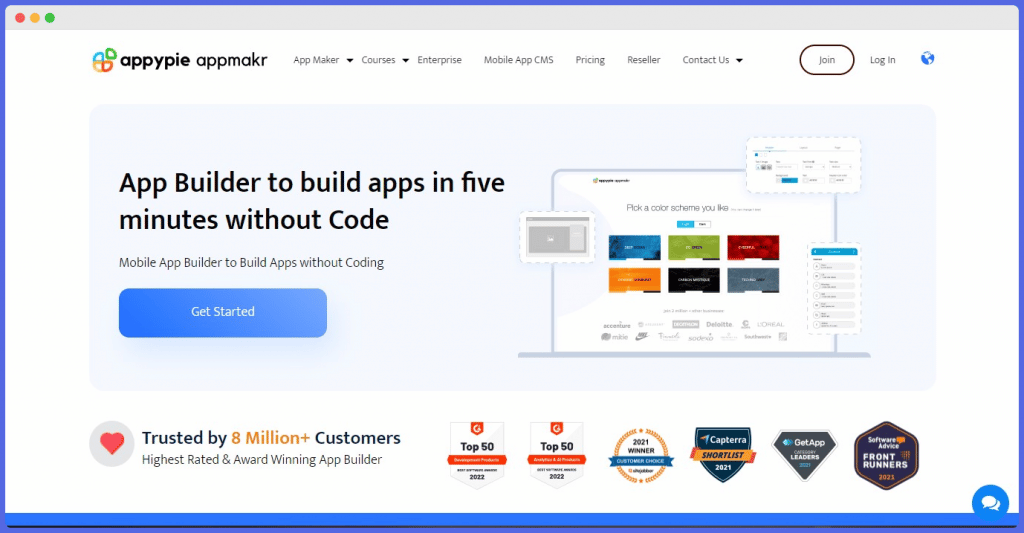 Appy Pie offers a solution for building applications for organizations and people. Its application builder is one of the best application builders on the market today. 
Known for its user-friendly nature, the app creator can help you create apps in just minutes. Appy Pie allows you to develop Android, iPhone, and PWA applications for your customers.
With over 200 latent features, building apps has never been easier or faster.
Pricing:
Basic – Ad-Free Experience ($16 /app/month)
Gold – Best Value ($36 /app/month)
Platinum – Most Popular ($60 /app/month)
True No Code platforms may be a long way off, but Appy Pie has designed software that can take care of all the concerns involved in application development, helping organizations everywhere clear up their leftovers and create capable applications with much less effort.
Airtable
Airtable is an online platform for creating, using, and sharing various data. The No Code tool uses a spreadsheet format for organizing data that provides users with an easy and clear way to keep up to date with all important numbers and activities.
The great advantage of this software is that it is quite easy to use.
Airtable is compatible with multiple devices. It easily integrates with Evernote, Dropbox, and Google Drive. Document changes are easy to follow, templates are great, and Airtable also has its chat option that further helps organize and manage the project within the software. [3]
Skuid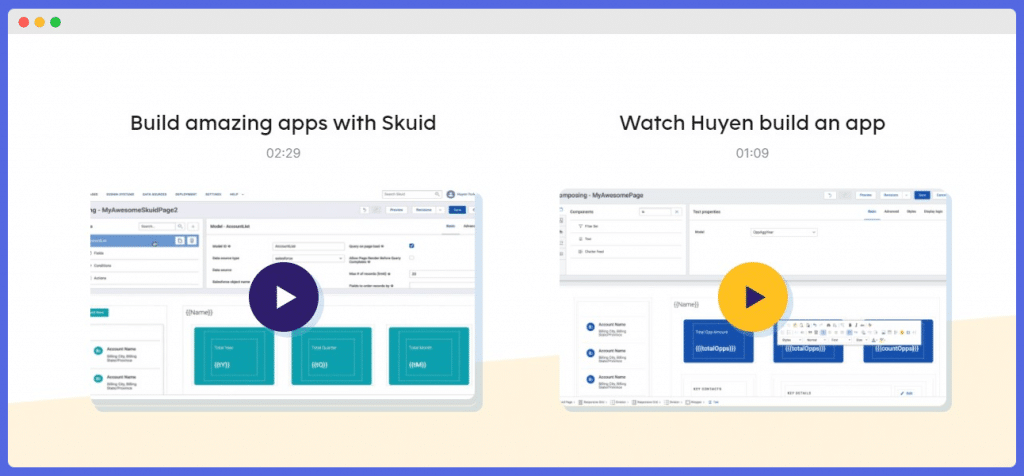 Skuid is suitable for both Low Code and No Code development. Skuid's design-and-deploy platform allows users to connect to several data sources and create custom apps without having to write code. SAP and Google are among their partners. [4]
With CRM, ERP, and third-party data all in one UI, you can create and deliver amazing new experiences. Show users only the information they require to complete their tasks.
Skuid allows creating applications in a very simple way and with no technical knowledge. One of the features that should be emphasized, unlike other platforms, is the one that offers us a personal mentor who will help us before, during, and after the publishing process to resolve all our doubts.
Online training classes, an online knowledge library, and a community forum, as well as email and phone-based help, are all available to customers.
Pipefy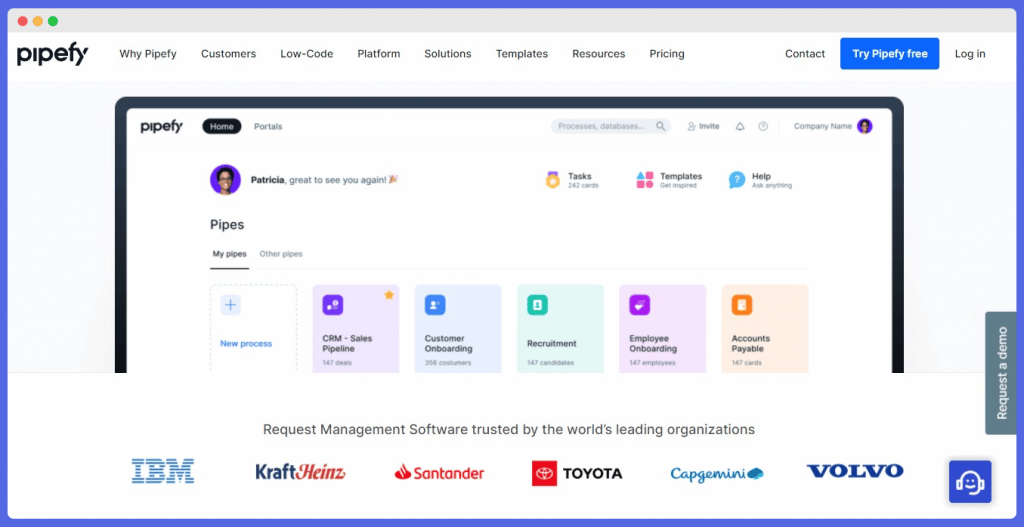 Pipefy is one of the best No Code platforms to offer for small to large companies.
Pipefy is free for small teams (up to 10 users). There are three pricing plans:
Professional ($9 per user per month),
Business ($18 per user per month)
Enterprise (Customized pricing)
All prices mentioned here refer to the annual fee. Monthly pricing plans are also available. [5]
Pipefy is intuitive, easy-to-use workflow software that helps companies of all types and sizes manage their processes on a single platform, ensuring efficiency and solid performance.
It offers a wide range of pre-designed process templates to help you model your company's processes. You can arrange each stage of the process to suit your needs with its own set of rules and triggers.
Pipefy is BPM automation setup software to create a seamless flow of information through processes and to centralize your organization's data. It will be easier to customize processes using Pipefy.
Pipefy acts as an online system in which the tasks presented with the cards are moved sideways through several stages of the process.
Quickbase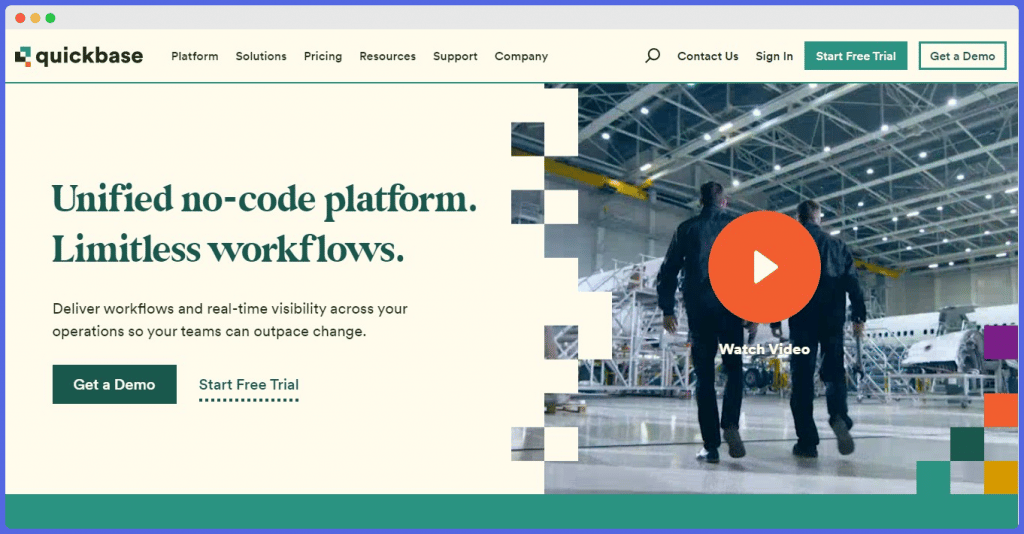 QuickBase homepage application, creating highly interactive, data-based rich dashboard applications in minutes to keep track of what's important in one workspace.
QuickBase is a user-friendly collaboration tool that aims to help companies and individuals create a well-organized and efficient database for effective collaboration and improved results.
It is flexible for any work environment and offers a lot of new and advanced ones that manage their entire system.
Some of the most prominent features of the platform:
Team collaboration,
Custom business application,
Workflow automation,
Reporting tools.
It also allows users to interactively report with just a few clicks. QuickBase offers a powerful dashboard where you can easily access all the features without any restrictions.
Final thoughts
We've put together a list of the top options for No Code development platforms and Low Code platforms for you to consider. All of these app development platforms don't require coding skills.
It may be difficult to choose which option is best for your project, but any of these possibilities will be wonderful. If you need more guidance on which tool to choose, try our free two-minute quiz!
Whether it is rapid application development with AppyPie or enterprise apps and automating workflows with Nintex, everyone who wants to save time and money while getting the task done well can benefit from these tools!
Nowadays, it is very easy to create apps with No Code application development, try it today!
If you are looking for solutions applied in a specific department, we have lists of No Code marketing tools, No Code sales tools, and No Code HR tools.