No Code tools are becoming popular as every business needs a functional, faster, and easier way to implement ideas and automate workflows. They have had a huge impact on each business function and marketing is no exception. Today, we have curated a list of 6 No Code marketing tools for your marketing department. These tools are simple and require no coding background. Your fellow marketers can use these tools to increase their efficiency, boost their Key Performance Indicators (KPIs), or simply play around. Overall, these tools are a fun new way to give your marketing strategy an innovative change.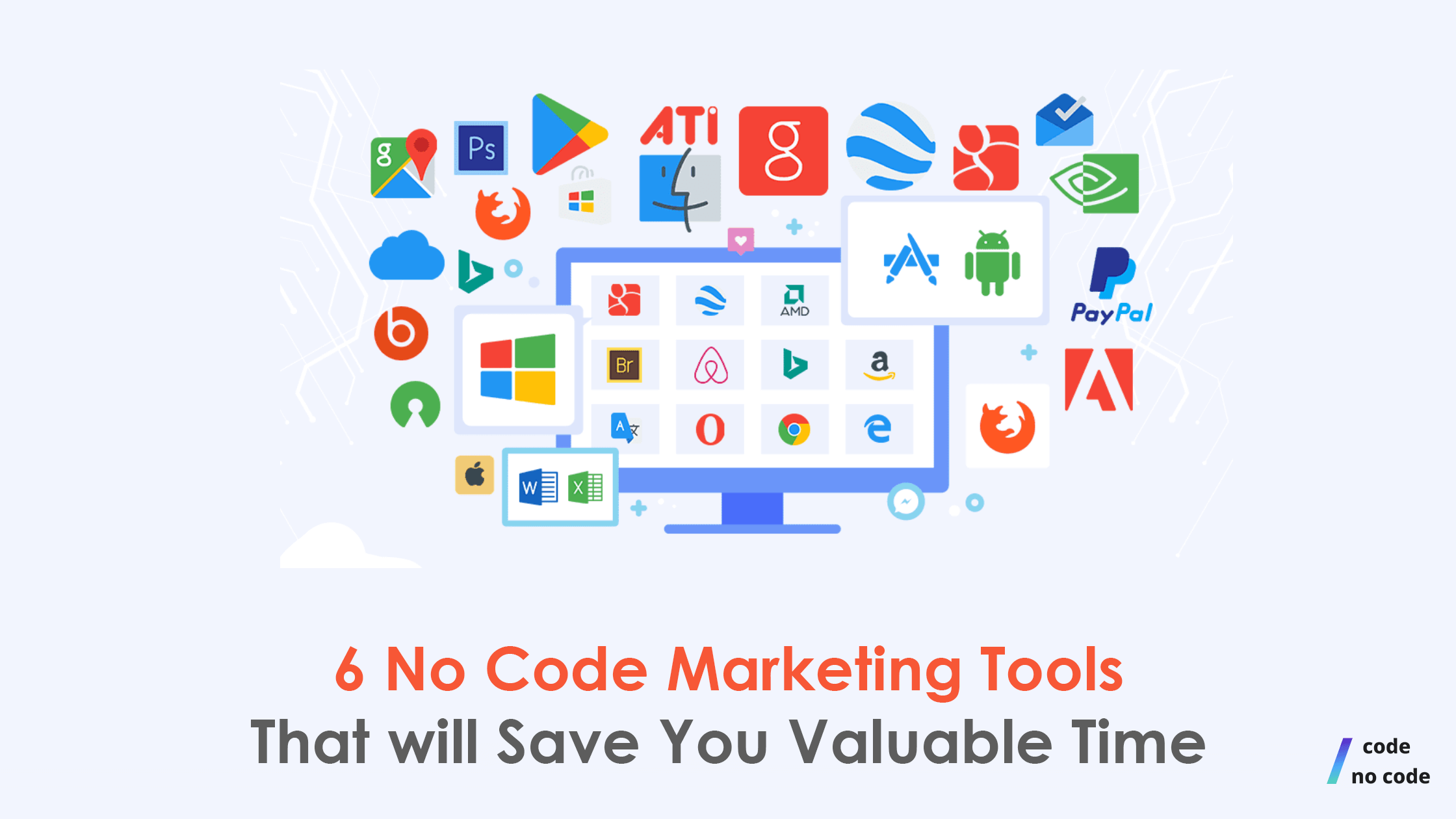 Top 6 No Code Marketing Tools

Mailerlite – Free No Code tool for email automation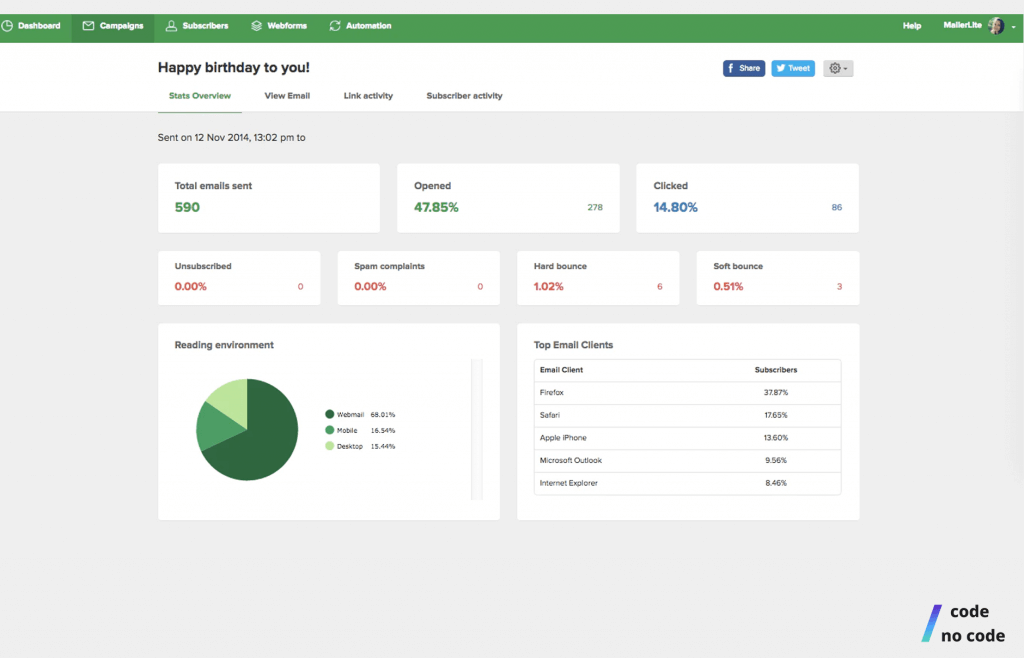 Mailerlite is surely one of my favorites from this list. From afar, it might look like just an email marketing tool, but if you look closely it is much more than that.
It is a No Code tool for all marketers who struggle with maintaining and developing their email newsletter audience. With MailerLite, you can create HTML newsletters without any previous coding experience or choose from their massive template gallery.
It also has email personalization, automation, and promotion pop-ups for grabbing users' attention.
If you are new to email marketing, they have a big resource library[1] of video tutorials and FAQs that will help you understand how to use the tool to your liking.
Bannerbear – No Code banner and visual generator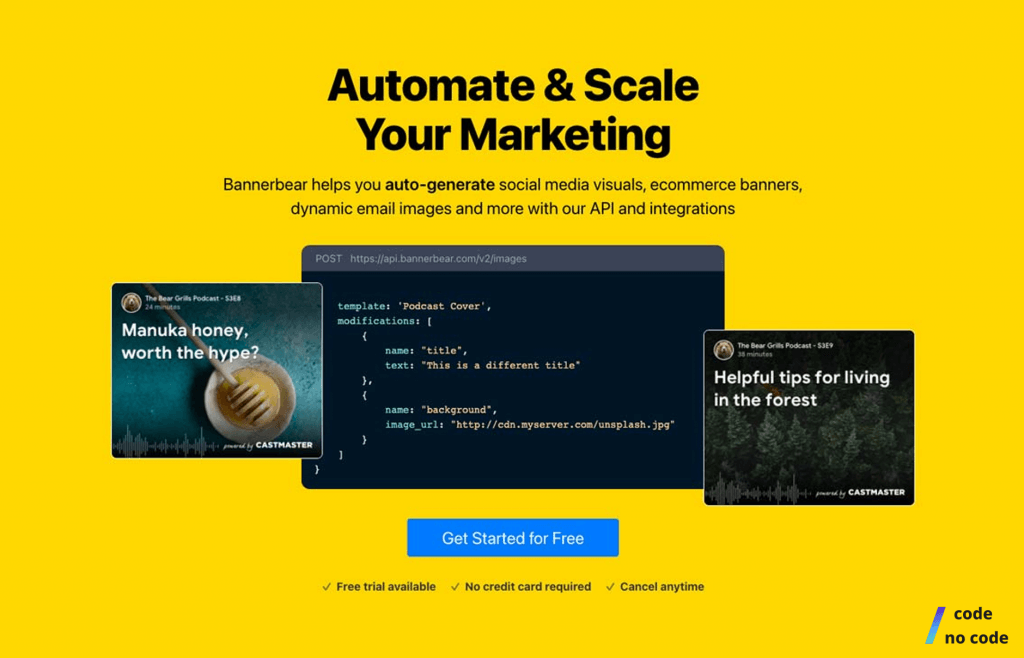 As a marketer, you know the importance of graphics and images in content. But sometimes we have to create an image with just a tiny bit of change in the text or date.
This often happens when you have repetitive posts, for example, schedules or titles of a podcast or TV show. The template remains the same but certain details change. This task gets tedious after a point.
That's why we suggest this perfect No Code tool for marketers – BannerBear.
Bannerbear is an image processing tool that would help you generate variations of a media template from your data. You can automate social media posts, blog banners, and much more.
With its Airtable integration, it has become a top choice for marketers around the world to automate their media content creation.
Airtable – No Code marketing task and data manager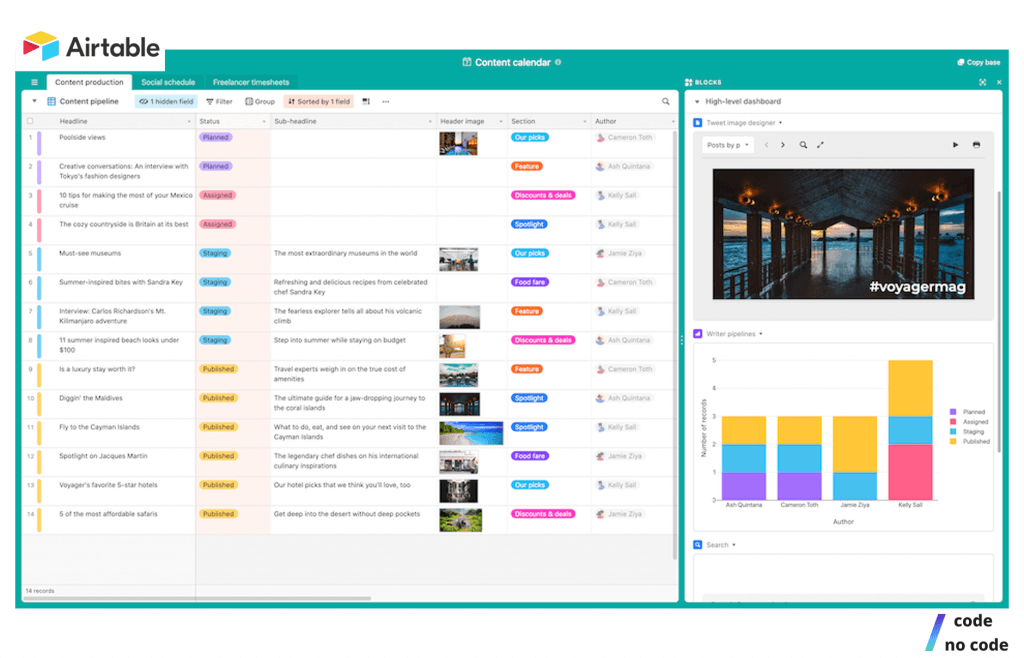 Even though Airtable has applications in all areas of business, we will discuss its uses in marketing. With Airtable, you can work and collaborate with your whole team on a single platform.
You are empowered with plentiful functionality, the ability to create applications and organize your team's workflow. You can easily create Grid, Kanban, Calendar, and Form views.
Marketers can track and create content schedules, and launch campaigns through Airtable. Their template library[2] consists of some amazing templates for marketing schedules, content calendars, and campaign launches.
Substack – Free No Code blog management platform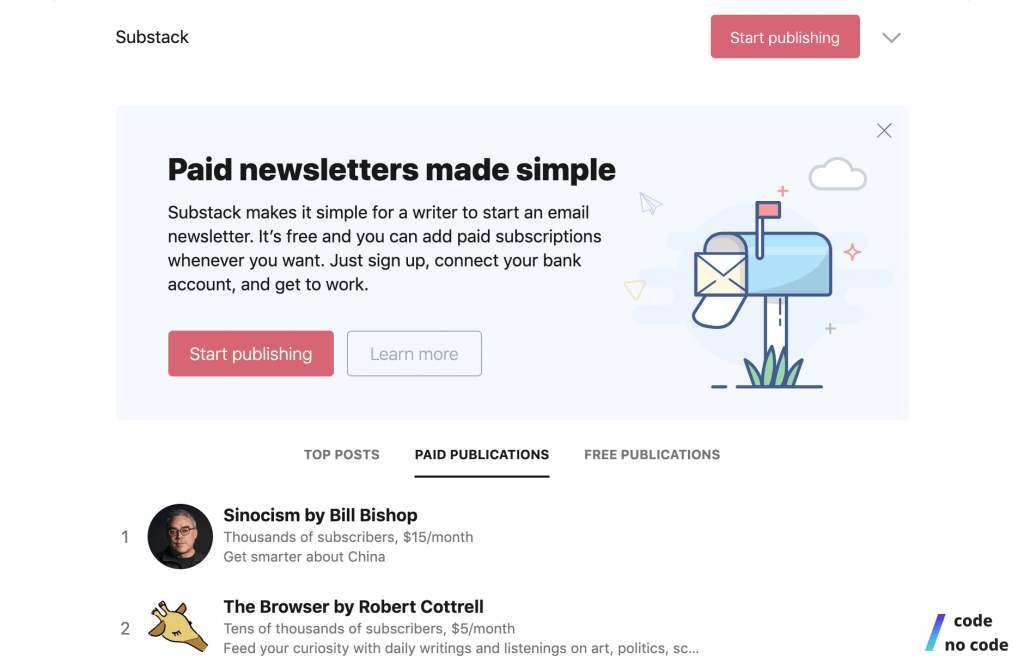 Blogs and content marketing can be overwhelming. Creating a blogging website, integrating email marketing tools, creating blog templates, formatting, and keeping an email list might be a lot for a business in its initial stage.
If you are looking for an easy way to organize everything yourself, Substack is the answer. Substack is the easiest way to start a paid or free newsletter. All you have to do is:
1. Register.
2. Name your newsletter.
3. Done!
You don't have to worry about gated content and payment gateways, substack have it covered for you. They have email marketing integration and profile security that would take all the hassle away from you. You can add HTML text, embed data from websites, add images, and even add CTA buttons from their simple blog editor.
Unbounce – Automated landing page management platform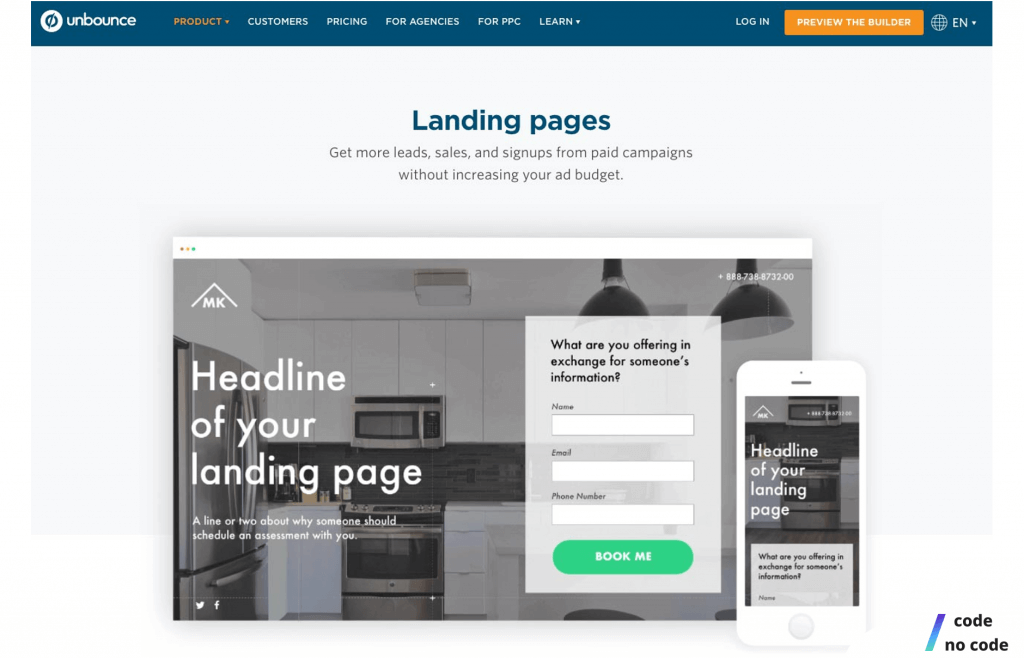 As a business, when you are creating a website, you are looking for the best way to generate leads. You implement design thinking and content management to establish a strong positioning for your brand. However, there are still hidden things that stop you from generating traffic and leads.
Unbounce is a No Code tool for generating landing pages with pre-designed and validated templates.
It provides you with multiple landing pages so that you can perform A/B tests. Analyze the results of different pages and choose the one that works best for you. It is a No Code tool for marketers who are specifically trying to improve their landing page traffic, lower bounce rate and traffic lead ratio.
Integromat (Make) – Workflow automation and integration platform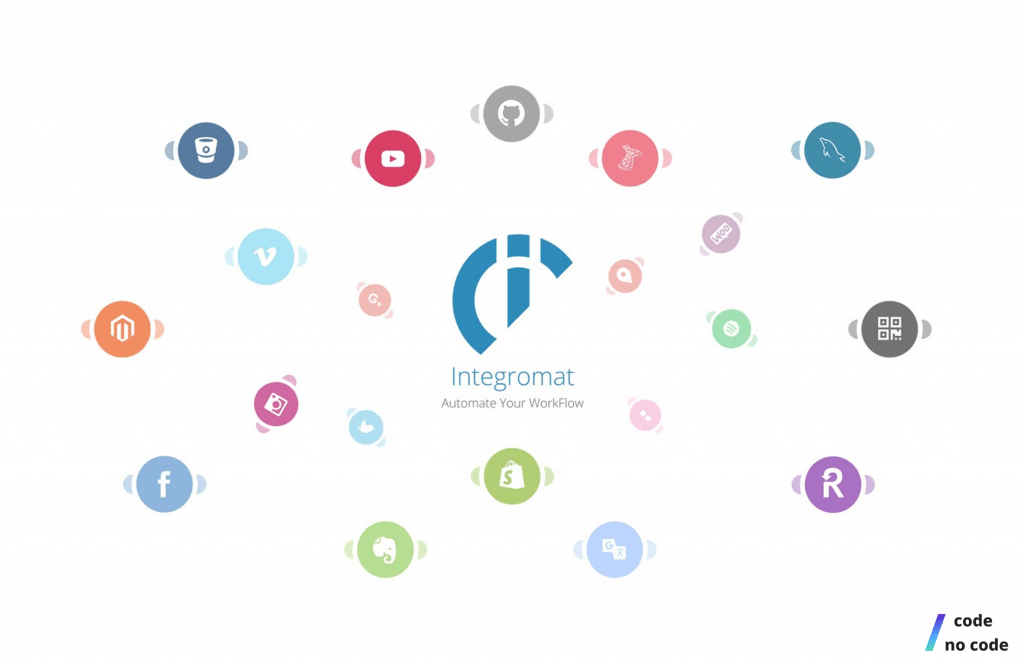 We live in a world where everything is connected within the internet of things. It has become important that you integrate your software and automate it.
Integromat is a No Code app that lets you connect apps and automate workflows with a few clicks. For example, if you have a monotonous and repetitive workflow like exporting data from Shopify, importing it into an excel sheet and creating reports, you can automate it.
Simple drag and drop features allow a user to automate integration regardless of their technical background.
This list includes some of our favorite No Code tools for marketers. You can also check out our list of best No Code Human Resources Tools and No Code Sales Tools too.
What No Code tools do you use for marketing? Let us know in the comments below.
For more information on No Code in general, its uses in other business spheres and its future, read our article on What is No Code.