In the past, if a sales team wanted to add a simple new feature to their CRM, they had to go through a long process. Creating a brief about the update, explaining it to the developers and testing the features. This used to take days or even weeks.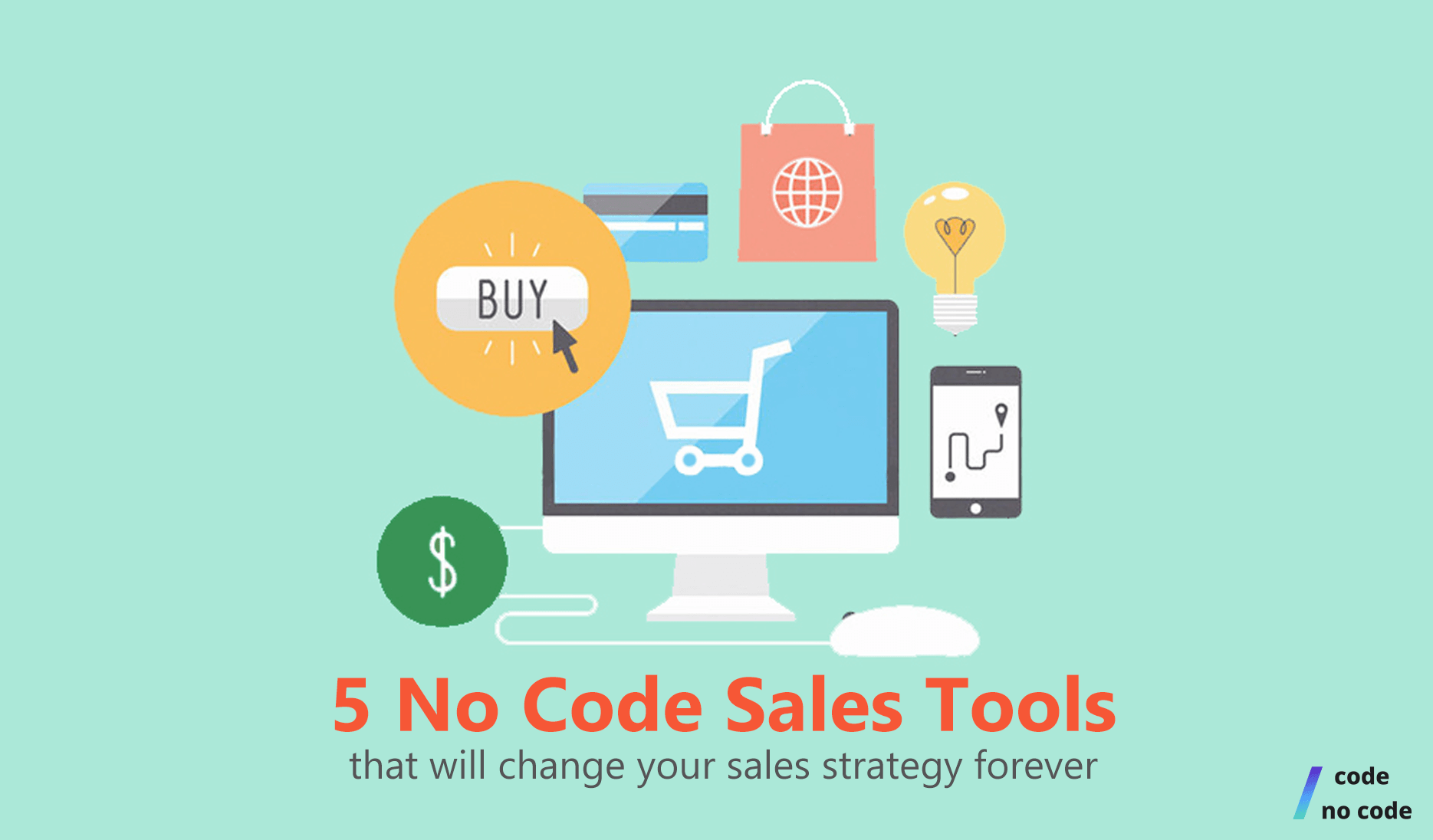 Now, times have changed. Advanced tools and technology are becoming more and more accessible. The No Code movement has created platforms that democratized the power of creating sales automation and technology. It has shifted the power to the users who can create their own applications without coding, i.e. citizen developers.
If your sales department is yet to adopt No Code tools in their tech stack, we are here to help. Here are 5 No Code sales tools to create, maintain and optimize your sales strategy.
Squarespace – All in One eCommerce Web Development
Overview – Develop, analyze and integrate your business website without writing a single line of code. Squarespace specializes in eCommerce web development.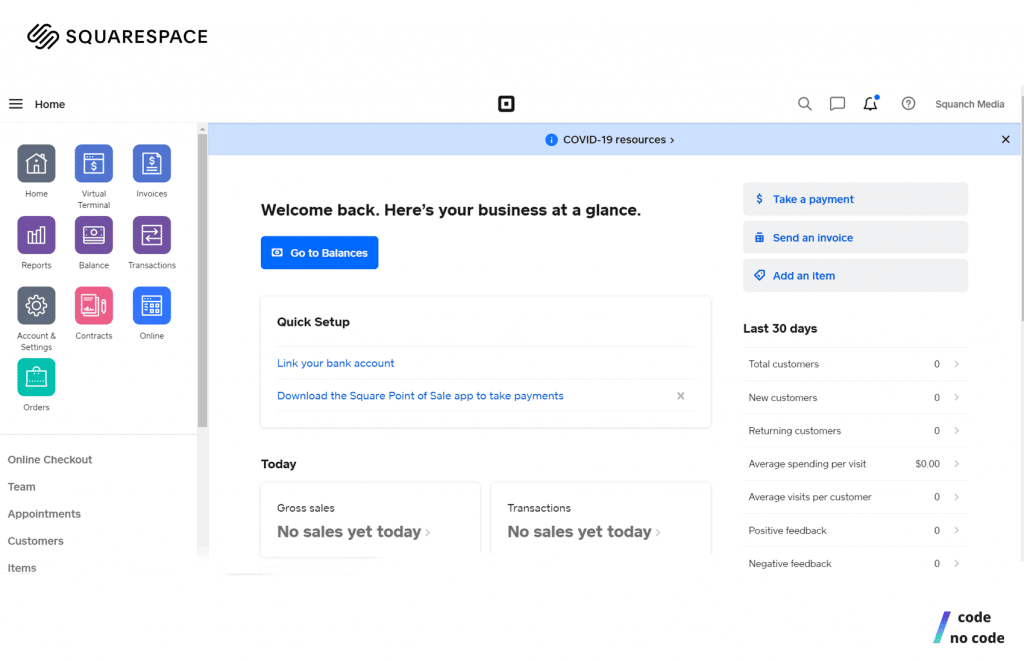 Squarespace allows users to create websites easily. You can choose from their vast template gallery that includes website templates for almost every industry and website type. If you are planning to create specific landing pages to boost sales through content marketing, Squarespace does it for you. It is quick, secure, and efficient.
For example, if you want to create use cases for marketers, HR professionals, and operations associates, you can create one format or choose a template, duplicate the page and just change the content within the page. No Code website design has never been this simple.
Zapier – Automate Your Sales Workflows
Overview – Automate your workflow with integration between your everyday tech stack.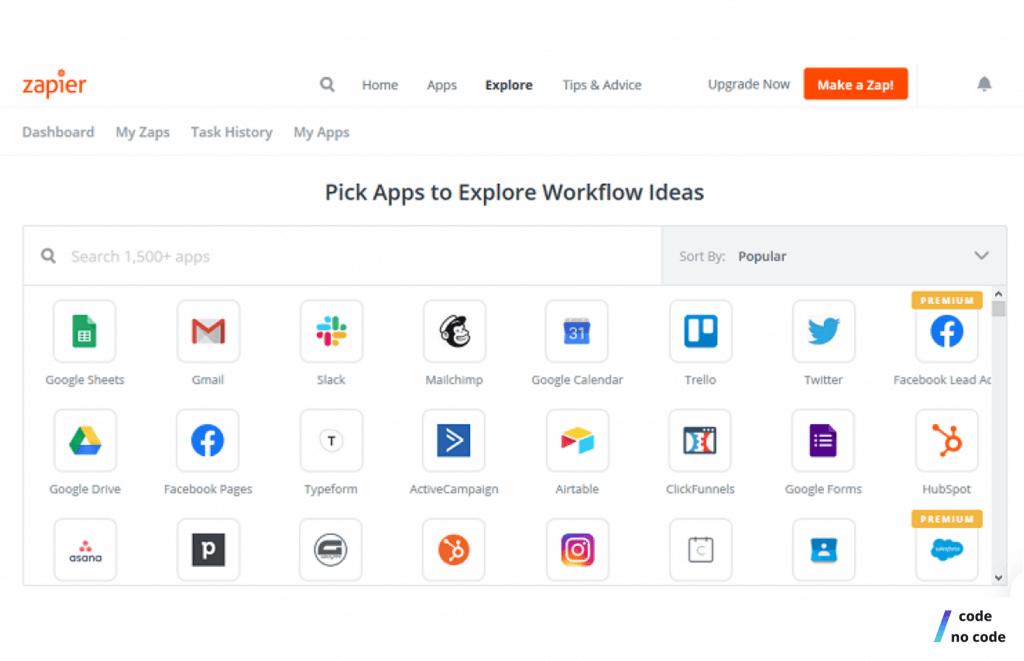 Zapier is a growth hacking tool for sales. It makes automation possible for citizen developers. You can automate more than 3000 apps within Zapier. It includes some of the most popular sales apps like Slack, Google Sheets, Airtable, and Pipedrive.
Zapier makes automation so easy that it becomes an inseparable part of your sales process. It gives you real-time CRM updates, categorizes your leads, and starts automated communication with hot leads to boost conversion rates. Follow their blog[1] for articles on new and interesting ways of automation.
SALESManago – AI-powered 360° Customer Profiles
Overview – It is the only No Code CDXP (All in One Customer Data Platform & Customer Experience Platform) driven by AI.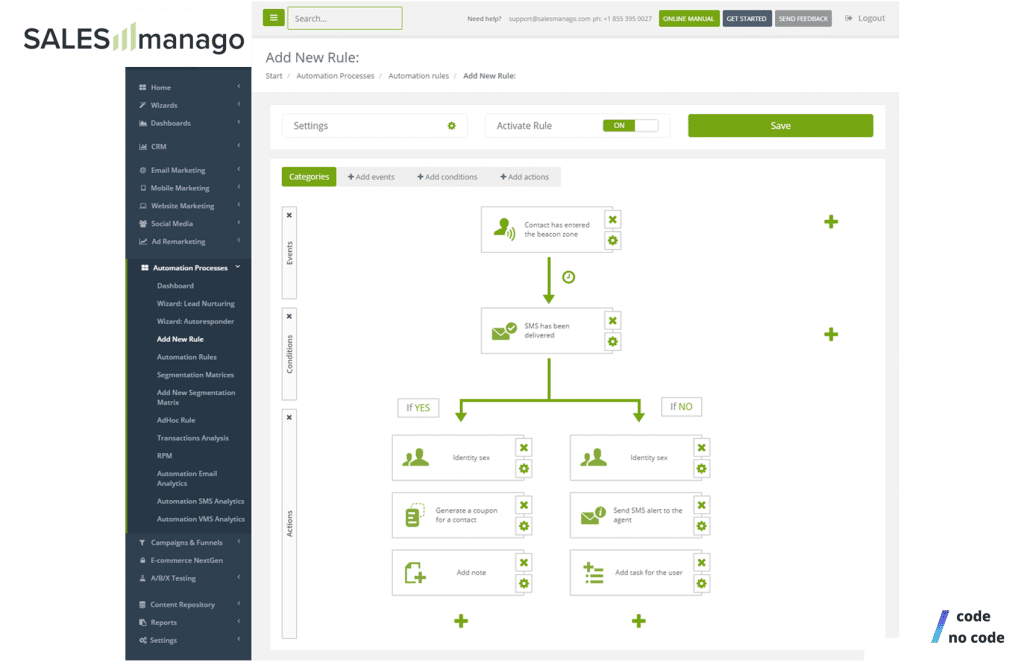 SALESManago helps you build a 360° customer profile. It collects data from multiple sources and touchpoints and gives you structured data with a single customer identifier. It helps you communicate with your customers as they like.
Their marketing team[2] likes to call it "hyper-personalized omnichannel communication perfectly fitting customer preferences and behavior". It also determines the next best step to satisfy the needs of your client, increase their engagement and the CLV (Customer Lifetime Value). These strategies are built from AI-based predictions.
Sign up for SalesManago now, say that you have been referred by Code or No Code in the discovery call and receive a lifetime 10% discount!
Obviously AI – AI Data Models Made Easy
Overview – Build and run AI models within minutes without writing a single line of code.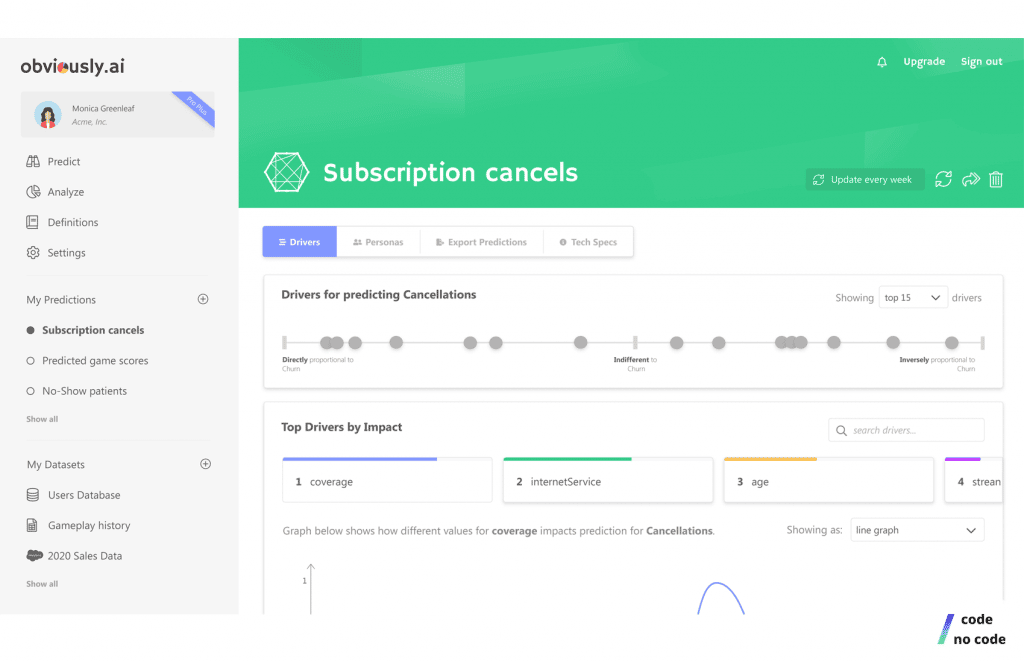 Artificial Intelligence and Machine Learning still sound like rocket science to some people. But due to high investment in the research and development of AI, developers have made it accessible for all.
Obviously AI is one of these No Code AI tools. They want to help citizen developers become data analysts by simplifying complex data science processes.
You don't need to rely on generating complex algorithms to analyze your huge sets of data. They firmly believe that data science is not rocket science.
Through Obviously AI tools you will be able to get actionable insights on important strategies like churn reduction, up-sell prediction, and lead scoring.
Hubspot Sales – The Sales Data Management Platform to Rule Them All
Overview – Collect and manage all your sales data in a single management platform.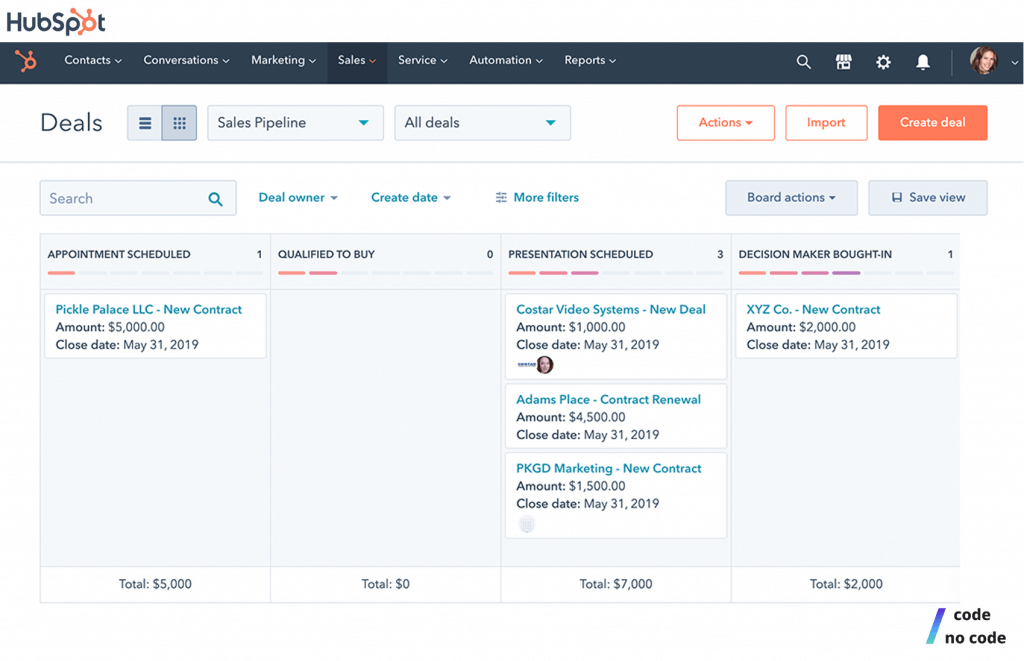 Hubspot solves all of your inbound marketing and sales problems with one solution. Their free plan includes features like contact management, deal pipeline, and a powerful dashboard for lead management.
Hubspot might be a lot for a new or small business, but the best part about Hubspot is its support team. Regardless of your plan, you will get undivided attention from their support team about your queries and problems. This will help you gain a deeper understanding of your sales process. It will also make setup and integrations easy.
Additionally, if you plan to purchase Hubspot's marketing tool, that will be a cherry on the top. You will get additional data about customer pipelines, most effective sales channels, and other KPIs.
Conclusion
This is the end of our list of No Code tools for sales teams. We hope that this article will inspire you to improve your sales processes by including No Code tools in your work routine.
You can check our our lists of No Code HR tools and No Code marketing tools too!
For more information on No Code in general, its uses in other business spheres and its future, read our article on What is No Code.
We would love to hear and try out your favorite No Code sales tools, if you have any to share – let us know in the comments!