Video games are a big part of all of our lives. They are fun because they take us to new realities and satisfy our needs for achievement and recognition. Even if you are not a pro streamer or gamer, all of us were guilty of binging Angry Birds or Candy Crush at some point.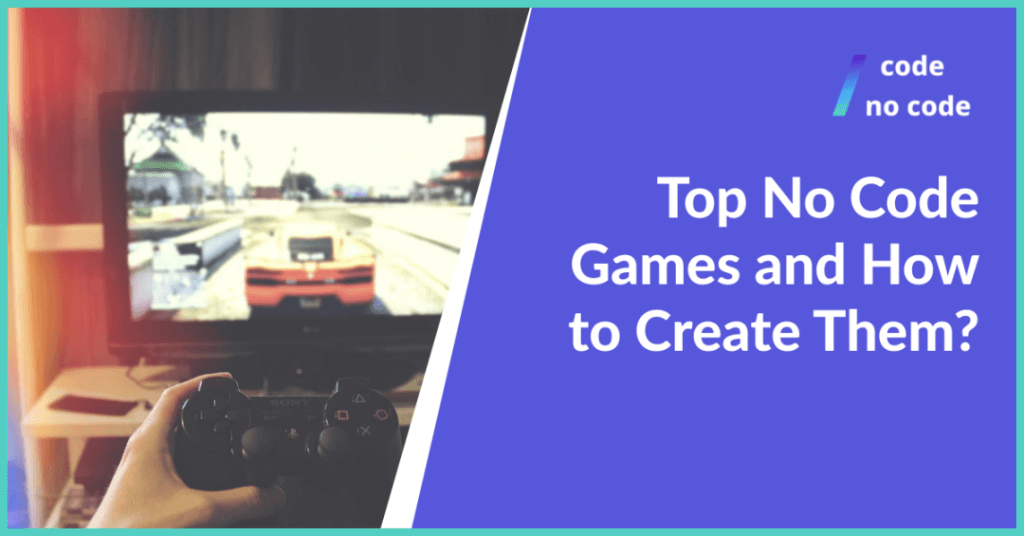 There was a lot of programming involved behind the fun animations and cool graphics. Game engines took a lot of time to produce a video game. The first game that was ever created, "Pong", had thousands of lines of code.[1]
As the No Code movement evolved, we saw a rise[2] in No Code Game Development Platforms. On the same principles of visual programming and drag-and-drop, we were introduced to a new medium of creating 2D games.
In this blog, we will talk about Top No Code games and two of the top platforms to create them.
An Overview of Game Development
Before jumping to the list of best No Code games and engines, let's discuss some game engine basics. Video games are made up of hundreds or thousands of game objects that interact with each other through rules.
For example, look at this screenshot from Super Mario Bros 1985.
Everything you see in this picture is an object including Mario, Pokeys (Cactus), Flag, Super Mushroom, and even the floor. Game engines take all these objects and lets you add three basic rules:
Attributes and Characteristics: The game engine lets you add physical attributes of a particular object. For example, some of those wooden blocks can be broken and while others are unbreakable. Even something as simple as the floor has a physical attribute that allows Mario to stand on it.
Object Interaction: You can define how an object would interact with another. For example, when Mario touches the green turtle, he shrinks to normal size, loses some health, or dies. This allows game developers to increase and decrease the power of the enemy team.
User Interaction: The most crucial attribute of the game engine. It allows you to create rules on how the protagonist will react when the user controls it. Depending on the platform, when a user presses a certain key, Mario should jump or move forward.
Every game is fundamentally developed with these three sets of rules before the graphics and animations come into play. No Code Game development platforms allow users to create video games with a drag and drop interface.
You can add objects like characters and backgrounds to the platform and create conditions through visual programming.
Note - Even though you can create games without code, it is essential to know the basics of game development, logic, and sequences to keep the magic of gaming alive.
Top No Code Games of All Time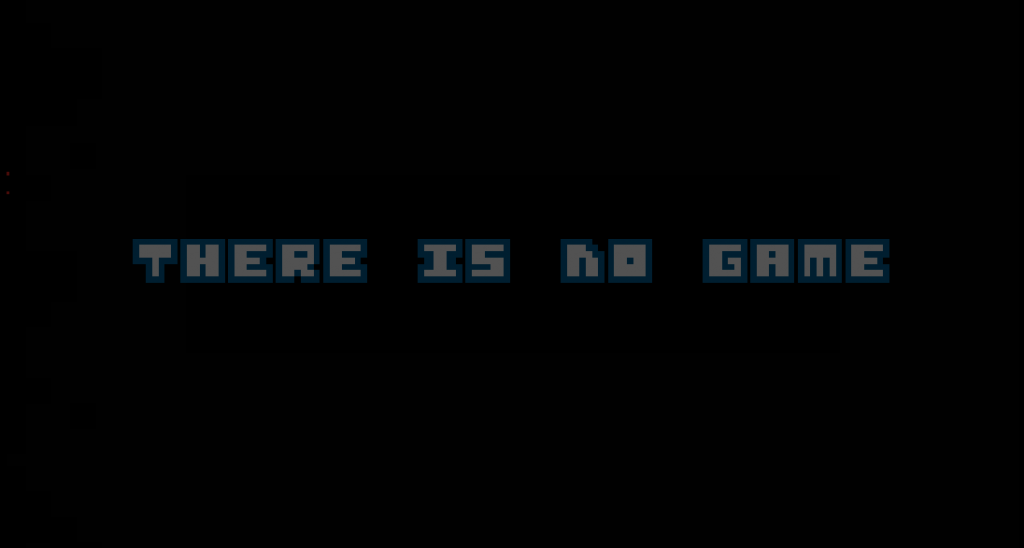 This is an awesome (not) game if you have around 20-30 minutes to kill while waiting somewhere. There is No Game is a game by KaMiZoTo which starts with a black screen and a narration saying "There Is No Game. Get out of here".
It is a Meta game where the narrator is constantly breaking the fourth wall in a deep and sarcastic tone. It was built on Construct 3, a No Code game maker that we will talk about in the next section.
Platforms: Nintendo Switch, Android, iOS, Microsoft Windows, macOS
Mighty Goose is a fast-paced run & gun shooter where a bounty hunter Goose uses weapons and devastating war machines to battle enemies. It has a true 2000s arcade vibe.
If you want to take a trip down to the nostalgia lane, we recommended buying this indie game.
Platforms: Nintendo Switch, Mac OS, Windows, Xbox, PlayStation
This game was drawn, written, and designed by a solo dev named Jeff Mumm. Guinea Pig Parkour is a hand-drawn, comedy parkour platformer adventure-created as a love letter to the 90s cartoon era.
You can run, jump, flip, vault, and climb through the challenges. The best part about this game is that the developer has documented the full process on his YouTube channel for the past 10 years.
The game hasn't been released yet as Jeff plans to launch a Kickstarter to finish the final touches to the game. We are all excited about the launch.
Platforms: Microsoft Windows, Linux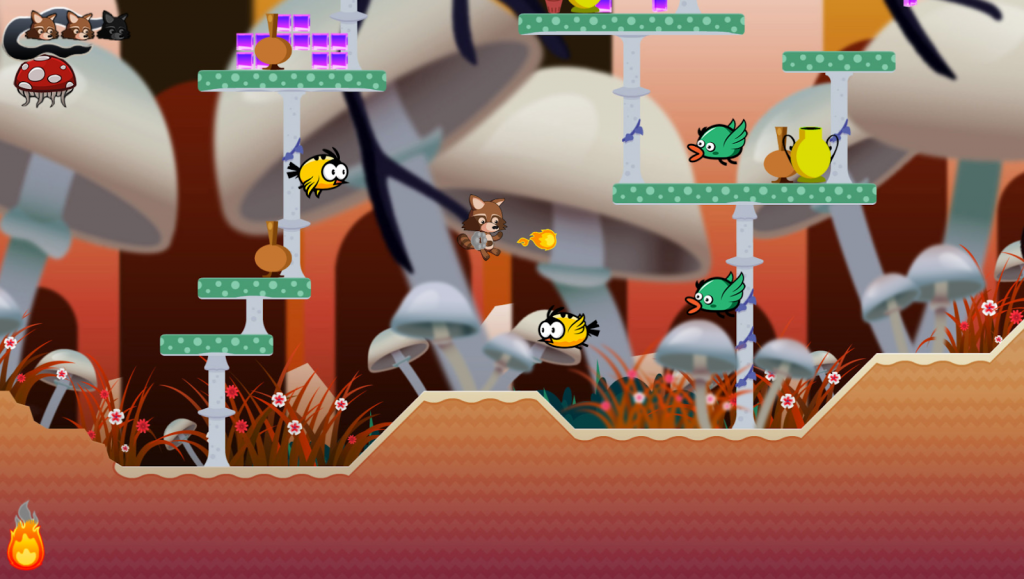 Miko Adventures Puffball is a cute and challenging 2D Platformer with a Metroidvania feeling. You are Miko, the protagonist who is a raccoon lost in a forest. He discovers a portal to a world full of dangers. It is a fun game for people of all age categories.
Platforms: Microsoft Windows, Linux, Macintosh operating systems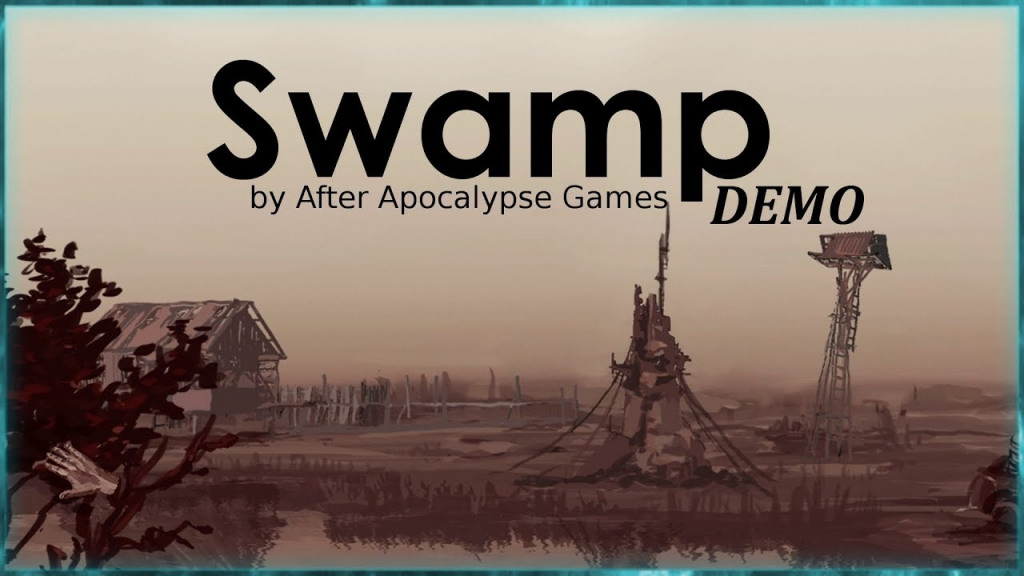 Swamp is an intense 2D platformer by After Apocalypse Games. It takes you on a journey that involves interactive battles and meaningful choices that will change your path into glory or lead you into a deadly trap.
It is set in a post-apocalyptic reality. It is a nice game with multiple endings where your choices decide the plot.
Platforms: Windows, macOS, Linux, Android (Only the demo is available as the game is under development)
2 of the Best No Code Game Development Platforms (Game Engines)
These two engines are market leaders in the industry. All the above-mentioned games were created on either of these two platforms.
Construct 3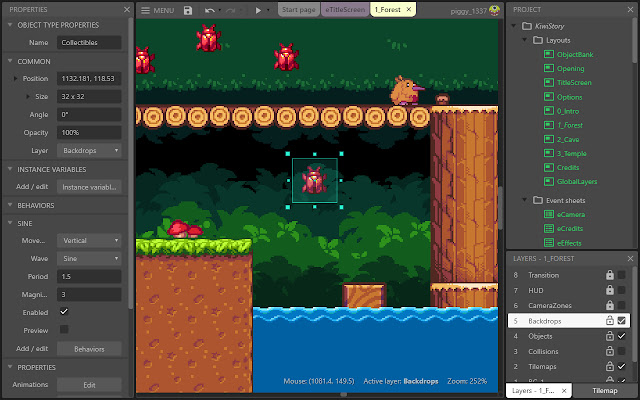 If you are just starting as a GameDev and want to make a 2d game with No Code tools, Construct 3 is the game engine for you. It is a web-based game engine that allows non-programmers to create games without writing any kind of code.
It is a powerpack for indie game designers. It does not just assist you in creating games, but also with post-launch activities like running ads, royalties, managing in-app purchases, etc.
Pricing
There is a free trial available for testing the tool. You can create 50 events and add 2 visual effects in the free trial.
Paid plans are divided into 3 categories:
Personal - For individual developers. Prices are set at $6.49/month or $49.99/year
Business - For studios launching multiple games simultaneously. There is no monthly plan available.
Education - For institutions teaching game design. Prices are set at $4.99/seat/month or $16.19/seat/year
Resources to learn
There are tons of tutorials free available on YouTube. But if you are looking for a suggestion, we would suggest "Making a Game without Coding" by Ask GameDev. It works as a beginner's guide to making games with a No Code tool. You can also just start using Construct 3 and their guided tour[2] will give you a basic idea.
GDevelop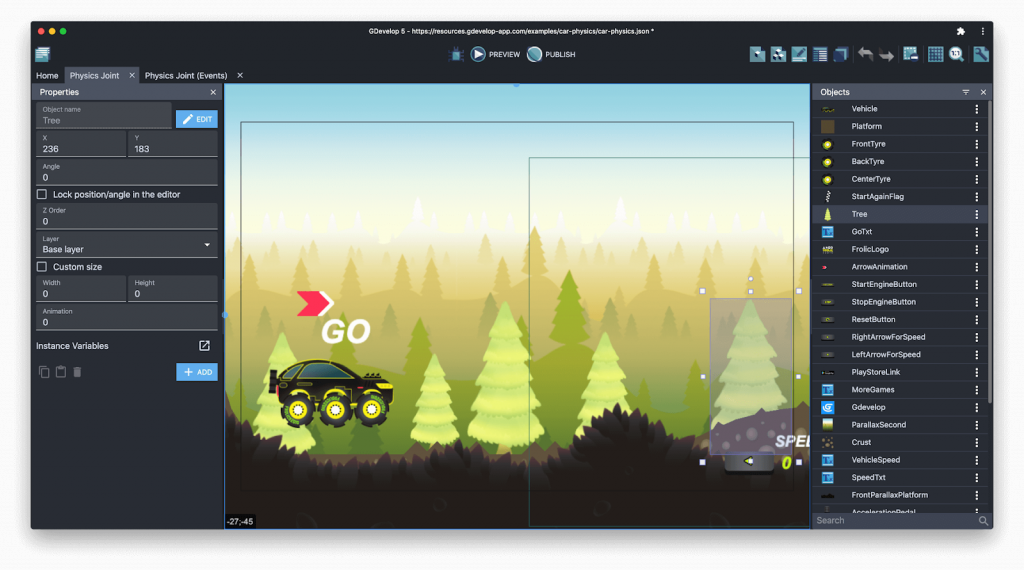 GDevelop is an open-source and free No Code game development platform. It is built to be super intuitive and has all the features of developing a 2D game. You can publish your own game on PC and Mobile, as well as in HTML5 format.
There are no limits to the games you can make, from fun hyper-casual mobile games to complex adventure games.
Pricing
GDevelop is free of cost. You can export all your games without any cost.
Resource to Learn
The best way to learn GDevelop would be through their academy. They have almost 50 videos explaining all the aspects of the software in detail.
What No Code tools are you using?
No Code developers have started to take up space in the gaming industry. If you are a video game enthusiast, you must try your hands out of these game engines and see what you can make. Programming is still a core necessity for high-end games that take years to develop.
As the gaming industry is rising[3], these engines are slowly pushing the boundaries of game development. Soon we will have new developments in that sector as well. We are excited for the Future of No Code. Stay tuned with us on Twitter to find out the latest updates on the Low Code / No Code industry.