We are in an era of digital transformations across the globe. The future of No Code is predicted to be revolutionary. The current advancements [1] in No Code tools are remarkable. The power of creating software shifted from Coders to Citizen Developers. Anyone with an idea can create apps through a visual interface. When you are planning to build an app, it is advised to follow the step-by-step procedure of building a successful product. Choosing the right platform is a crucial step at the beginning of this process. Today, we will talk about the top No Code development platforms you can use to develop mobile and web applications.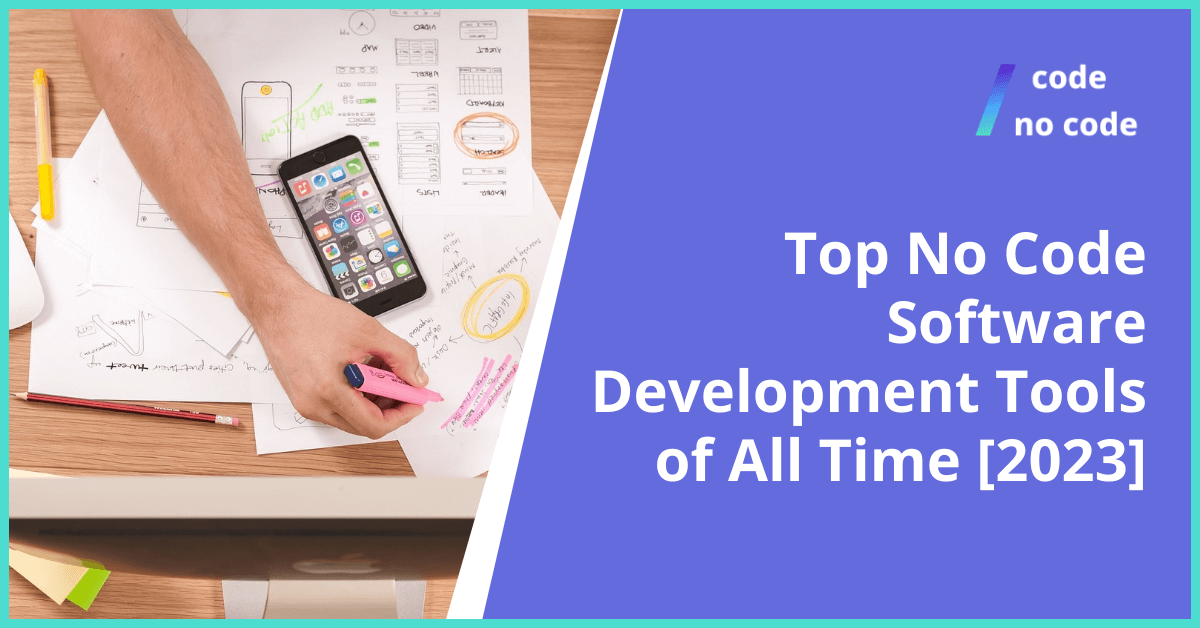 Before jumping to the list, let's talk about the scope of No Code tools.
What Can Current No Code Software Development Tools Do?
There are myths claiming that the scope of No Code tools is limited. We want you to steer clear of them. There are a lot of things you can achieve without coding skills. Here are the top 3 categories of solutions that you can create with No Code platforms.
Build Applications
Create applications based on your requirements. From Google forms and Excel sheet applications to AI-based platforms, you can create the application that you want. There is a learning curve for implementing ideas, but if you want to make a replica of a popular app like Instagram or Twitter, it's extremely easy.
Automate Workflows
Define logic between applications, move data and create custom No Code automation. These No Code solutions focus on decreasing clutter in your digital workspace. They are popular amongst remote teams that function across the globe.
Create Websites and Stores
Create landing pages, websites, and eCommerce stores. With several templates on each No Code platform, it becomes simpler to launch beautiful and functioning websites and eCommerce stores.
In this blog, we will be talking about the first category. Here's the list of the best No Code platforms for creating mobile and web apps.
Top 5 No Code Development Platforms to Create Custom Apps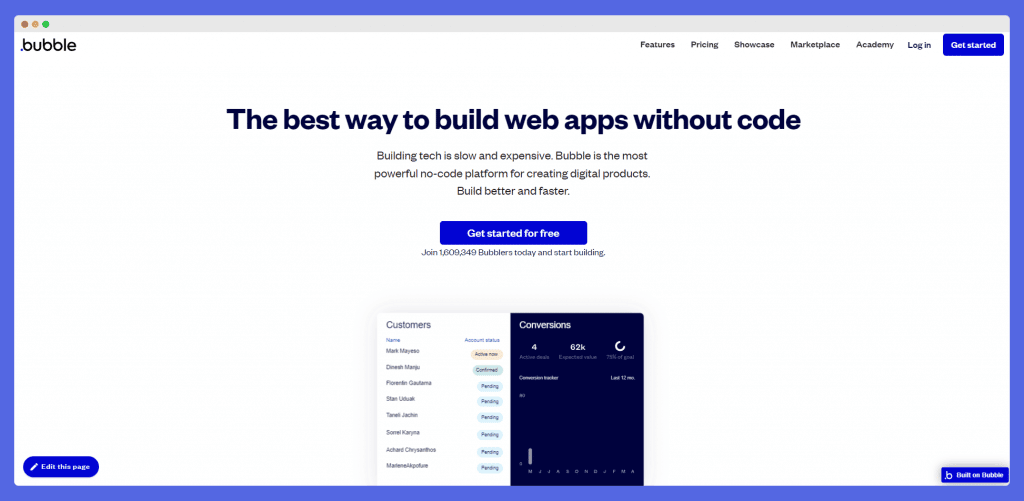 Bubble is one of the most popular No Code development platforms of all time. They offer a drag-and-drop editor and cloud hosting platform where you can create customized applications and workflows. It has 1.6 million+ users creating digital products around the world.
Although it has quite a steep learning curve, it becomes easy after a while. You can perform anything from simpler tasks like adding hyperlinks and images to complex ones like creating rules, sequencing task items, and managing repetitive web logic.
Its technical capabilities are one of the main reasons why the tool is used by No Code agencies[2] worldwide to build apps and websites.
Top Features
Design Freedom
Dynamic content
Scalability
Bubble's Community
Pricing
There are 1 free and 3 paid plans available.
Free plan:

Core platform features with Bubble branding
No support
0.5 GB storage
Personal $25/month:

Core features + API
Custom domain
Email support
10 GB file storage
Professional $115/month:

Everything in Personal plan
2 development versions
Email support
20 GB file storage
Production $475/month:

Everything in Professional
2 development versions
Priority Email support
50 GB file storage
Unlike some other No Code development platforms, Bubble doesn't charge extra for white labeling.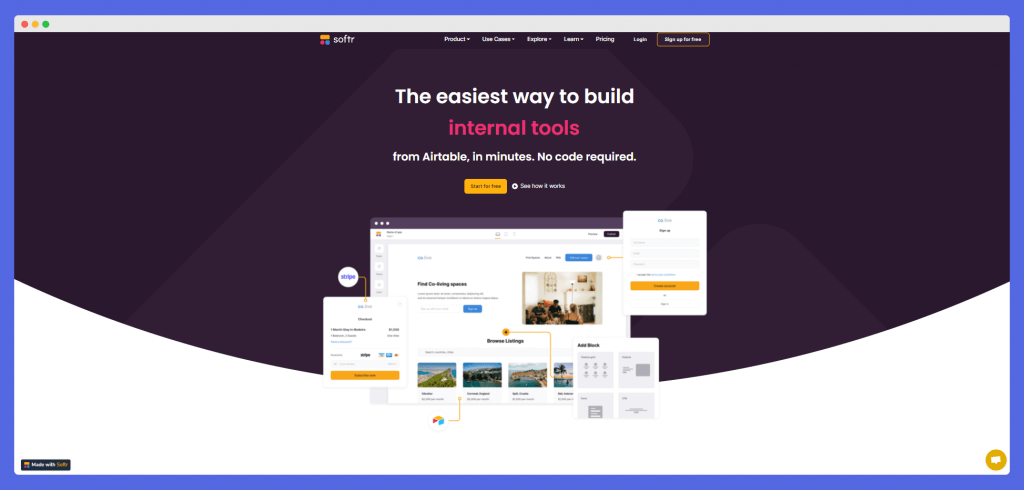 Softr was the Product Hunt's 2021 Product of the Year. It has gained massive popularity in the past 2 years. They have a community of more than 35,000 businesses and operators using Softr to build custom apps. It is a comprehensive No Code builder for software development. You can create websites, web apps and mobile applications directly from their drag-and-drop editor. It could also serve as a Low Code platform if you want to insert custom code to make changes in your app.
Top Features
SEO Management
eCommerce Store Builder
Airtable Integration
Chat Support
Pricing
There are 3 paid plans and a free one.
Free:

Basic editor features
1 Custom domain with softr branding
Airtable integration (200 records)
Starter $24/month:

Everything in free
1 custom domain without branding
Airtable integration (1000 records)
Custom code (HTML/CSS/JavaScript)
Live chat support
Professional $65/month:

Everything in Starter
2 custom domains
Airtable integration (10,000 records)
Custom Code
Business $165/month:

Everything in Professional
3 custom domains
Airtable integration (Unlimited)
Priority live chat support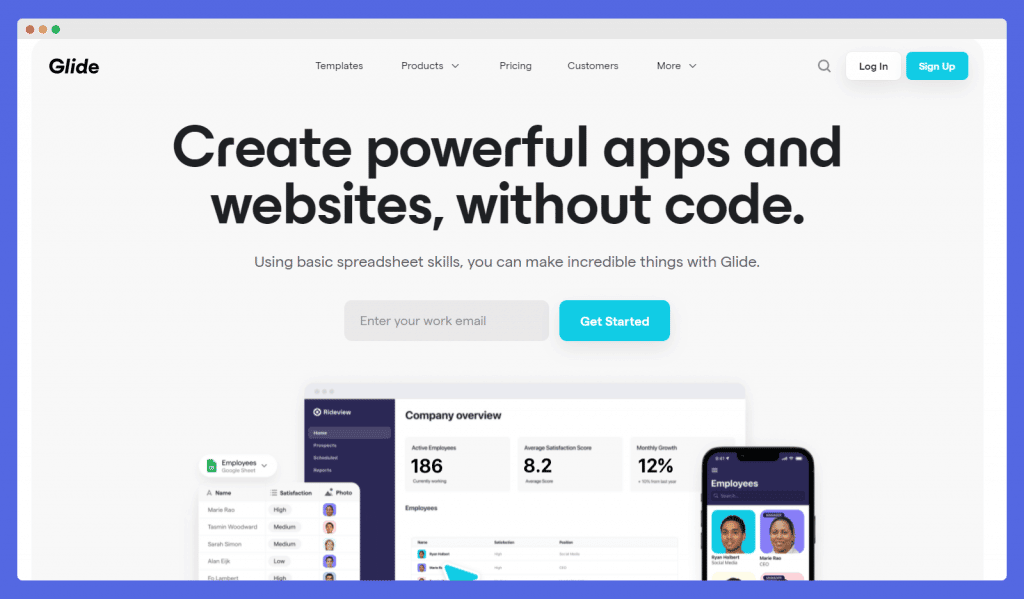 It allows you to create mobile apps from Google Sheets quickly. With Glide 2.0, they have updated almost all of their features. You can now create a mobile app and customize it with table layouts as well. It is best used to build early MVPs to test concepts with beta users. If you already have some background in using the functionalities of Google Sheets, Glide is the best No Code platform for you to create apps.
Top Features
Beautiful Templates
Cross-Device Link Sharing
Fast Deployment
Pricing
There are 3 plans including a free one.
Personal app Free:

Mobile layout
500 data rows
1,000 sheet updates
Glide branding
Pro app $32/month:

Mobile, tablet & web layouts
25,000 data rows
Unlimited sheet updates
10 GB file storage
Private app $40/month +$2 for each additional user:

Everything in Pro app plan
20 private users included
Private sign-in
Limit access by email
If you want priority support and a dedicated account manager, you can opt for their custom enterprise plan.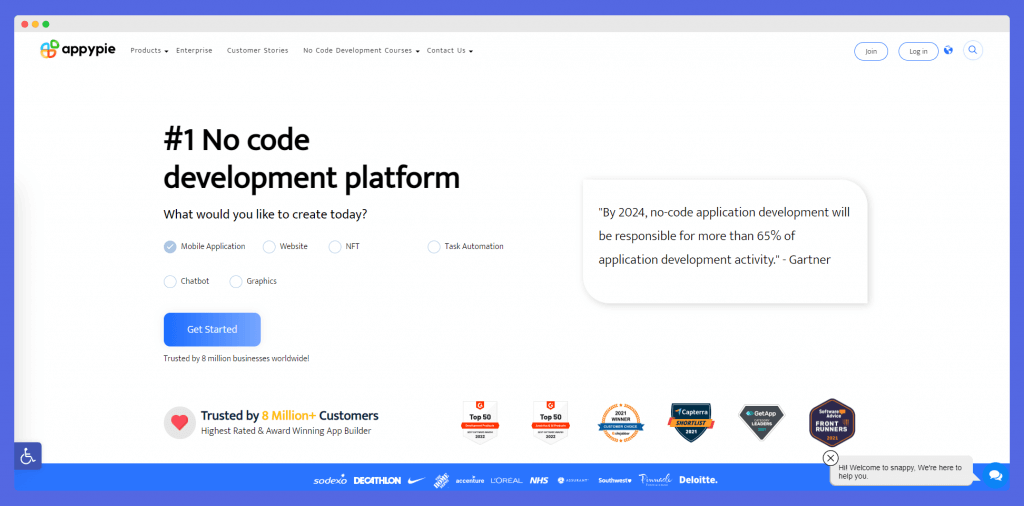 Despite providing builders for web apps and websites, it is popularly known for its mobile apps builder. It is smooth and easy to use for beginners. If you have a mobile app idea, use Appy Pie to create a basic prototype and beta version of your app. Rapid application development and deployment will save you time and money.
Top Features
Mobile App Builder
WYSIWYG Editor
Google App Analytics
Data Synchronisation
Integrate 300+ Apps for Automation
Pricing
There are 3 paid plans available.
Basic $16/month:

Ad free builder with 500 downloads/month
Email support.
Only android platform available.

Gold $36/month:

Basic plan with 1000 downloads/month.
Both email and chat support.
First time app submission support.
Platinum $60/month:

Gold plan with 2000 downloads/month.
Email, chat, and call support.
Apple and Android platform available.
You will have to pay additional fees to Google Play or App Store to publish the app.
Also, Appy Pie doesn't let you white label the app (i.e. remove Appy Pie branding) unless you pay for the add-on plan. It costs twice your current plan.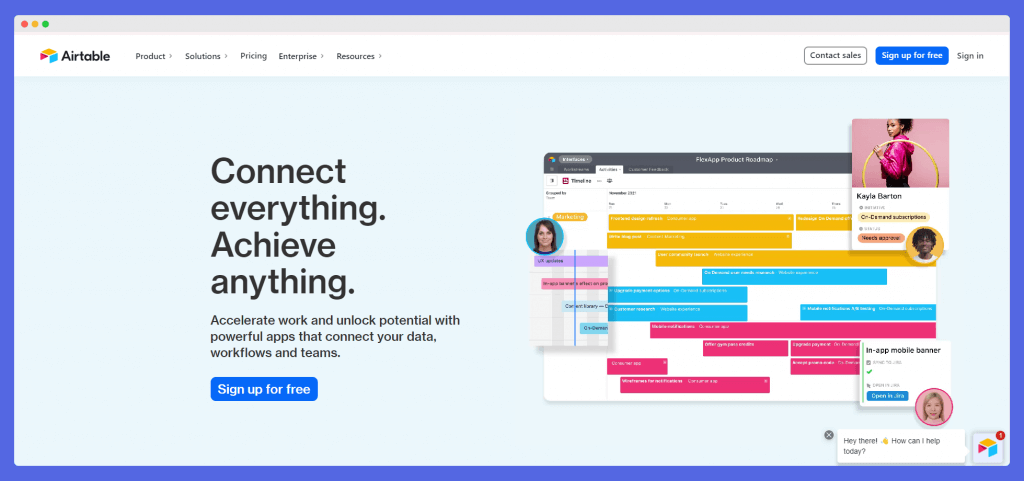 This powerful No Code/Low Code platform focuses on creating an application that fits your workflow as it evolves with your team. It is widely popular amongst business users to build apps for internal problems. It allows you to merge a database with spreadsheet functionalities. They have templates for almost all industries making it easier for you to automate without any coding skills. You start with creating an Airtable base which is like an advanced version of the workbook in your traditional spreadsheet.
Top Features
Integrations
Template Library
Airtable Universe (Collection of all the resources to learn and execute)
Automation
Pricing
Free:

1 app per base
1,200 records per base
2GB of attachments
Plus $10/month:

3 apps per base
3 sync integrations
5,000 records per base
5GB of attachments per base
Pro $20/month:

10 apps per base
7 sync integrations including Jira Cloud
50,000 records per base
20GB of attachments per base
Such competitive pricing makes Airtable an affordable No Code tool.
What Should I Choose?
Depending upon your background and affordability, you should be able to make a decision. But to further simplify things, we have created a table to help you understand the platforms side-by-side.
This table rates the platform into 5 categories:
Learning curve – The time taken from having 0 knowledge about the platform to building a basic app on the platform. High means it takes longer to learn.
Functionalities – The wide range of functions you can perform with a platform. If you can build an app, integrate automation and create landing pages, it would be high.
Scalability – The ease and cost of scaling the application made with these platforms. High scalability means it's easy to scale.
Mobile apps/Web apps – Whether you can create mobile apps, web apps or both. Most tools either provide both or mobile apps. There is rarely a tool that lets you create just the web app.
Price – The affordability of the platform.
| | | | | | |
| --- | --- | --- | --- | --- | --- |
| Platform | Learning Curve | Functionalities | Scalability | Mobile apps/Web apps | Price |
| Bubble | High | High | High | Both | High |
| Softr | High | High | Medium | Both | Medium |
| Glide | Low | Medium | Low | Mobile apps only | Medium |
| Appy Pie | Low | Medium | High | Mobile apps only | Low |
| Airtable | Low | Low | High | Both | Low |
Comparing the Top No Code Software Development tools
These were the best No Code platforms for building apps. We hope you are able to decide on the best No Code platform to create your app. Most of these tools have a "Hall of Fame" where they exhibit the top apps made from the respective No Code platforms.
You should check it out to understand the type of theme and solutions that you can make. If you think we forgot a noteworthy platform, let us know. Follow us on Twitter to stay updated with the latest news, tips, and trends on the No Code landscape.