Any work of genius begins with an idea. Elon Musk is not an astronaut. Mark Zuckerberg is not the most talented developer in the Facebook office. So why is it pre-assumed that every person who wants to develop a successful product must know how to code? Today we will take you through the 5 step process of building a successful product without writing a single line of code. Find out more about No Code and its capabilities in our article on What is No Code.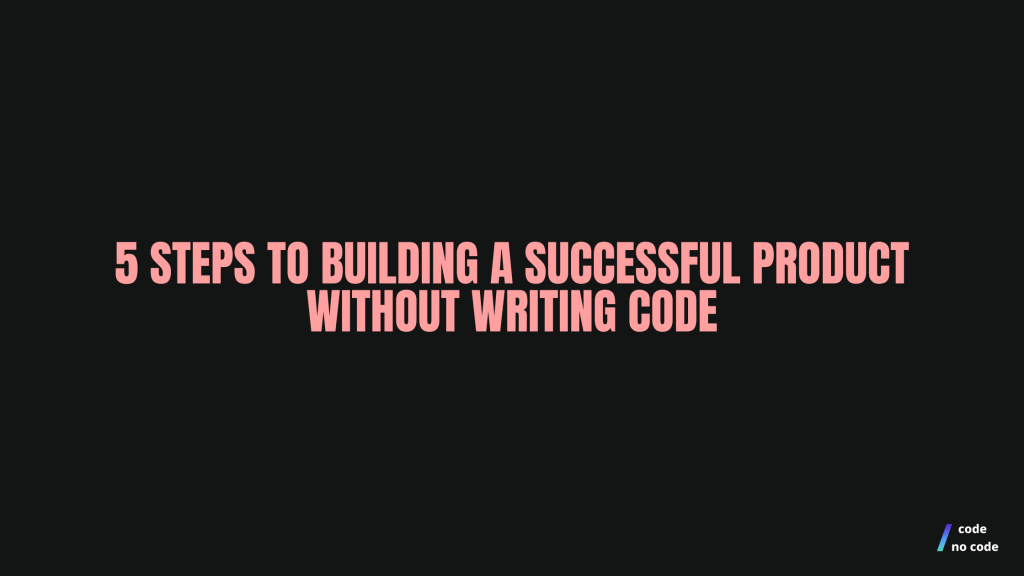 Map Down the Idea
Everything begins with an idea. If you have an idea, start mapping it down. Create a comprehensive business plan[1] out of it. Identify who exactly is your user persona (target audience). Document all your work.
Ask yourself
What problem am I solving?
How is my product different from others?
If I was having this problem, would I buy this solution?
If you want to validate your idea, you can try Proto.io. You might see some astounding results.
Focus On Your Prototype
Once you are set with the beta planning, you have to create a prototype of your product. It is like a blueprint of everything that you want to include in the product. Create a prototype of all the screens, buttons, links, icons, dropdowns, alerts, progress bars, and options that you want to include in your product to solve your problem.
Ask yourself
What should my user journey look like?
What does the home screen consist of?
What should my user onboarding look like?
What is the most efficient way to design the product?
What is the easiest way my user can navigate through my app?
If you have wasted some time watching TikToks, you might have observed their app structure. The moment you click on the app, a short video starts. They don't want to waste users' clicks or swipes. Think of your user flow and user experience thoroughly before starting app development.
Proto.io helps you create prototypes of your complex ideas through a few simple steps.
Justinmind is also a prototype builder for mapping your processes.
Use Balsamiq for wireframing. They have an awesome knowledge pool that will help you build a great prototype from scratch.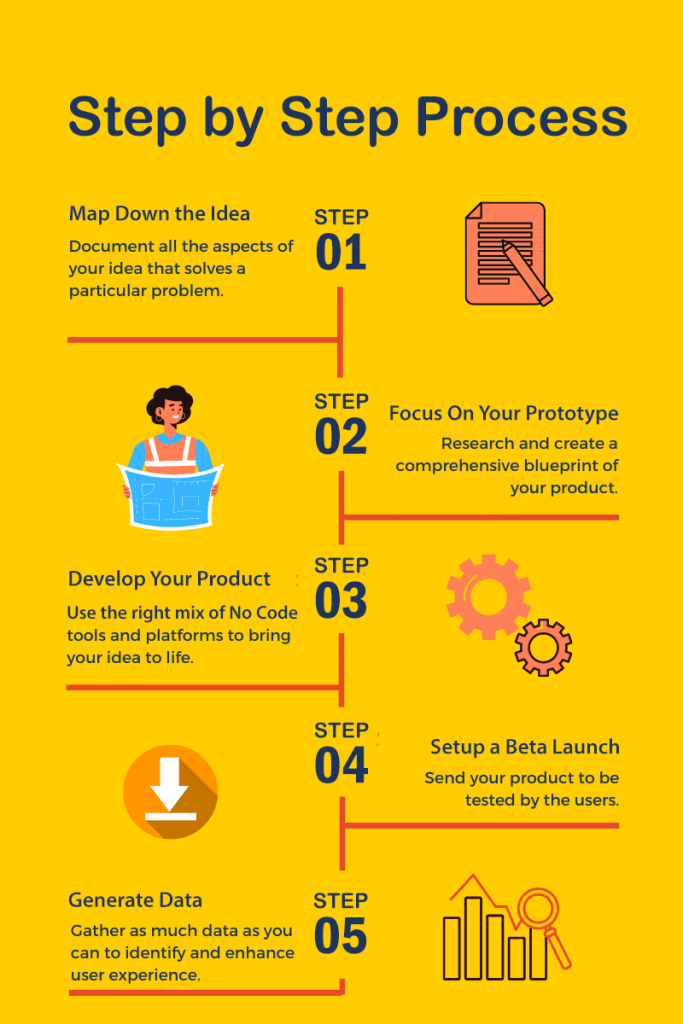 Start Developing the Product
I know what you're thinking. "Developing the product? You said no writing code". Yes. Don't worry. You will be developing a product without coding. That's where No Code platforms come into play.
What is No Code? No Code is a type of tool that enables software development through a visual interface by having all of the code already pre-written[3].
Now, some might argue that No Code might not be a good approach for your product, but it completely depends on your use case.
Take your time and understand the different aspects of your No Code product. Create an alpha version of your product that aligns with your business plan and the prototype. Run a comprehensive test on your alpha product and get it ready for the beta launch.
Ask yourself
What kind of platform would be apt for my needs?
What data should I save?
What integrations do I need?
Bubble is a No Code platform best suited for building products (and prototypes too). It is fast, neat, and very customisable.
Bildr is another smart No Code platform for visual development. The best part of it is their community full of experienced No Code developers ready to solve your queries.
Set Up a Beta Launch
Beta launches are a great way to gain initial momentum for your product. Promote your product in the channels where you find most of your target personas.
There are always people willing to be early adopters of a product. Take advantage of that curiosity. Launch your beta product. Sit back and relax. You deserve it.
Ask yourself
Where will I find my target audience?
How will I trigger installs? (It could be through lifetime memberships, giveaways, etc)
How can I make sure that the customer stays interested in my product?
ProductHunt - It lets you launch your product with a description and 6-7 photos. It's your job to attract users' attention with the description. If your product has potential and relatability, hunters will create a great buzz.
Launching Next - Submit your startup. Once you get approved, you will be given a shoutout through their website and newsletters. It is a great app that identifies beta testers and brings them onboard to your app.
Generate as Much Feedback as You Can
Once everything is done, it's time to collect data. Create a trigger-based drip email campaign that helps you effectively communicate with your users. Create survey forms to gain feedback and include them within the emails. Automate the email campaign.
Ask yourself
What information do I need from my users?
Where are my users getting stuck?
Where are they abandoning my product?
Are there any patterns of usage?
Hotjar - To create heatmaps and behavioral analytics for your users.
Wrap Up
Voila! You have reached the end of the process. Building an app without writing code is not rocket science. If you start today, you are better off than everyone else who is still thinking of doing it.
We also have an updated version of our article on how to build an app with No Code!