The traditional customer journey[1] was simple. It began with seeing an ad on TV or in a newspaper, then popping in at a local store to discuss it with a salesperson. Even with the widespread adoption of phone calls and email as communication channels, customer engagement was a lot easier for businesses. Today things are more complicated. Customers no longer send emails alone like they used to.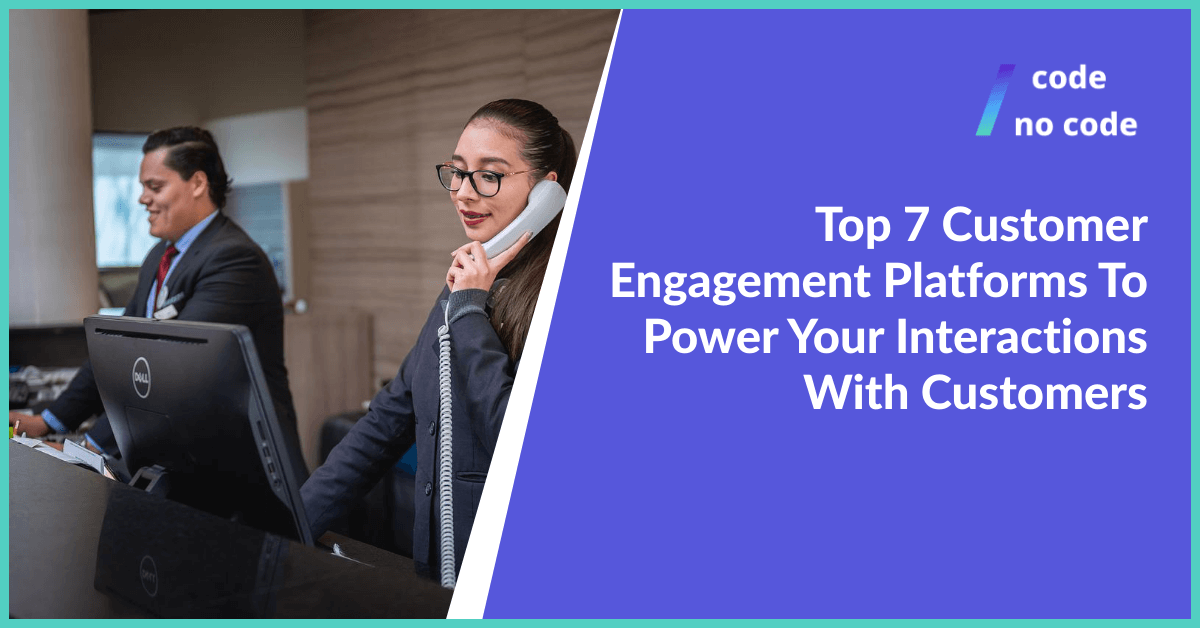 Companies now make multiple channels available such as live chat and social media platforms, to provide customer engagement platforms as solutions.
In order to make the customer journey more personalized to each user and ensure efficient customer interactions with them across the various channels that they use, you'll need customer engagement software[2].
In this post, we'll explain what customer engagement software is, how it works, and review 7 of the best customer engagement platforms you can consider to deliver a consistent and personalized experience to your customers.
What is a Customer Engagement Platform?
Customer engagement platforms are tools that help to unify, track and manage interactions between a company and its prospects or customers.
Customer engagement software integrates with various customer engagement tools such as email, direct messaging, chat, and more, acting like a command center that centralizes customer interactions.
With customer engagement software, a company's customer service team has access to a wide range of engagement tools for connecting with customers in different stages of their customer journey.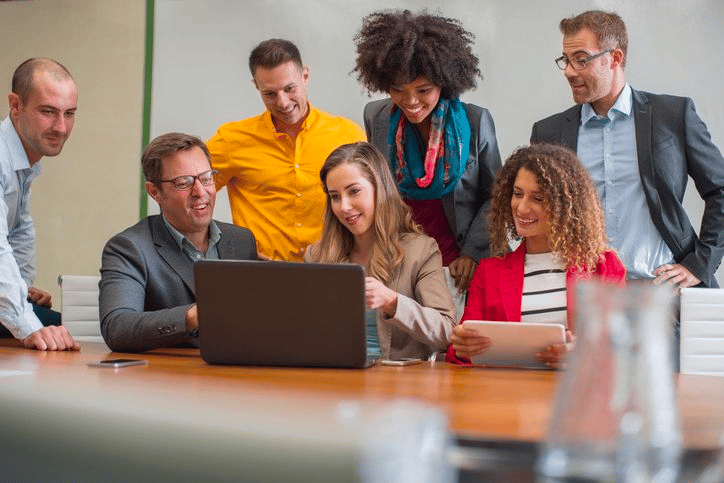 Some customer engagement platforms also have features for creating automated communication workflows and managing these workflows all from the same platform.
A customer engagement platform serves as a tool for Customer Relationship Management[3], a multi-channel support platform, and a sales or marketing tool.
In addition to being a centralized control center for managing customer interactions, a customer engagement platform can also be used as a source of valuable customer data.
Some customer engagement platforms have features for analyzing customer engagement and generating data from research, customer surveys, and so on.
Review of the Best Customer Engagement Platforms
Considering the wide range of features that various customer engagement platforms offer, choosing the right one for your business can be a little complicated.
Here's a rundown of some of the best options you can consider if you're looking for a customer engagement solution for your business.
| | | | | |
| --- | --- | --- | --- | --- |
| Platform | Target users | Unique Features | Pricing | Free trial |
| SALESmanago | For eCommerce marketing teams | Machine learning and artificial intelligence | Custom pricing | Yes (30 days) |
| Zendesk Support | Helpdesk platform for any business | Call center featureKnowledgebase | $19 monthly | Yes (30 days) |
| Intercom | Cross-platform lead and customer-service management platform | Intercom manager (a unified inbox for multi-channel customer engagement). | $74/month | Yes (14 days) |
| Freshdesk | Cloud-based helpdesk platform for sales & Customer service team | Easy-to-use helpdesk systemTicketing systemKnowledgebase | Free + $29 for omnichannel support | Yes Forever |
| Kustomer | CRM solution for direct-to-customer businesses | Centralized ticketing functionCollaboration AI feature | $89 per month / per user | Yes, 14 days |
| Hubspot | CRM and marketing platforms for customer service and sales teams | Monitoring and prioritizing conversationsManaging social media ads and engagements. | Free ($45/month for more features). | Yes Forever |
| Front | Customer communication platform for customer-facing teams | Unified Inbox Collaborative features | 19/month | Yes (7 days) |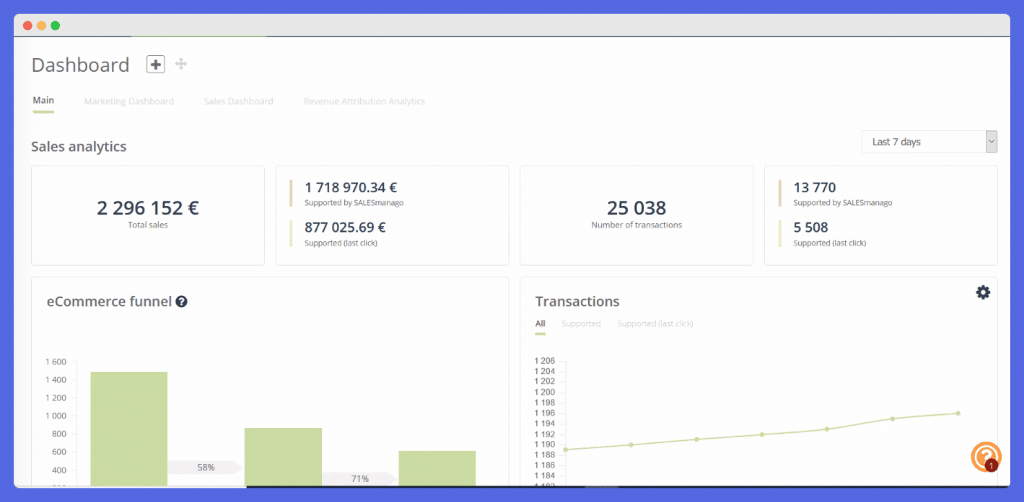 SALESmanago is a No Code[4] customer engagement and marketing automation platform designed specifically for eCommerce marketing teams of mid-sized businesses and large enterprises.
As an advanced customer engagement tool, SALESmanago helps companies leverage the power of Machine Learning and Artificial Intelligence, to capture and analyze live customer data better than spreadsheets[1] can do.
With this data, customers get access to all the tools they need to create and launch well-targeted campaigns and deliver the highest level of customer service to customers.
SALESmanago Features
As your robust customer data management platform, SALESmanago digs into your customer database in order to provide all the tools for managing your customers effectively.
This customer engagement platform can be used to analyze the online behavior of customers as well as their interactions with you in order to deliver personalized communication across various sales and marketing channels throughout their lifecycle.
Among other customer engagement platforms, SALESmango serves as a unified platform for managing email marketing campaigns, mobile marketing, Web push notifications, social media engagements, marketing automation, advertising networks, and so on.
SALESmanago Pricing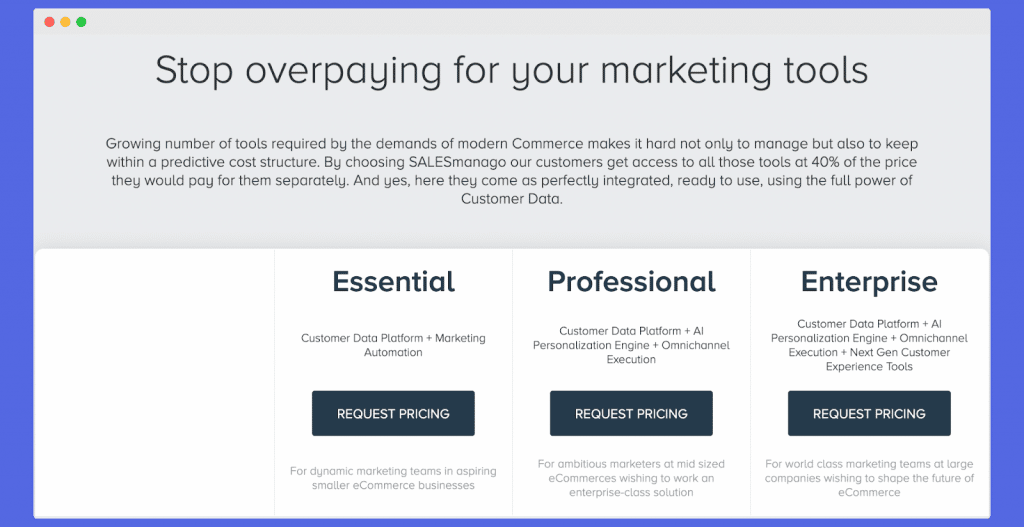 SALESmanago's pricing plan is customized based on the specific needs of your business. You'll have to contact the sales team to find out how much the service will cost.
This customer engagement platform offers a free 30-day trial with access to all the pro features. Signing up with the promo code "code or no code" also gives you a 10% lifetime discount on your subscription. The code needs to be given to the sales representative you will get in touch with.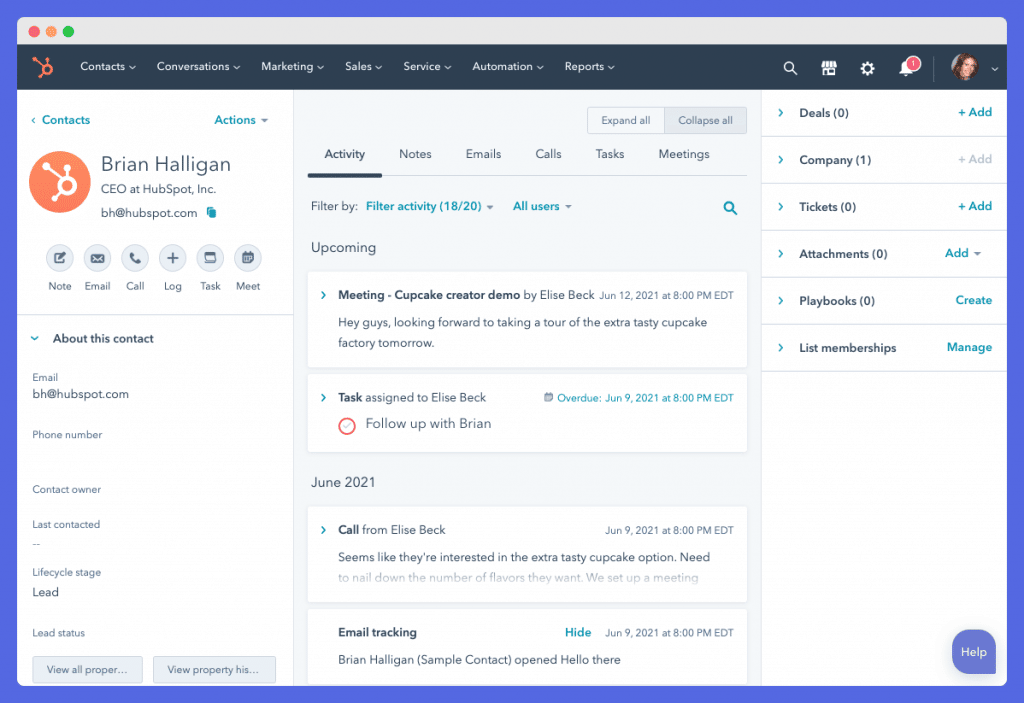 HubSpot is one of the most popular CRM and marketing platforms useful for customer service, sales, marketing, and operations teams. The platform's CRM functionality provides a platform for integrating all your customer data in one place.
It also serves as a centralized platform for agents to manage conversations with customers and prospects across multiple platforms.
This customer engagement platform is perfect for companies that want to combine customer support with in-depth marketing and sales.
Hubspot Features
In addition to providing a clean, efficient dashboard to connect a business with customers at different points in the sales funnel, HubSpot also offers features for managing ongoing relationships with customers.
This includes features for monitoring and prioritizing conversations with customers across multiple channels.
You can use this platform to track customer behavior and manage customer engagement with your ads on Facebook, LinkedIn, Instagram, and other platforms all from the same place.
HubSpot can also help your social media pages and connect with visitors on these platforms via live chat.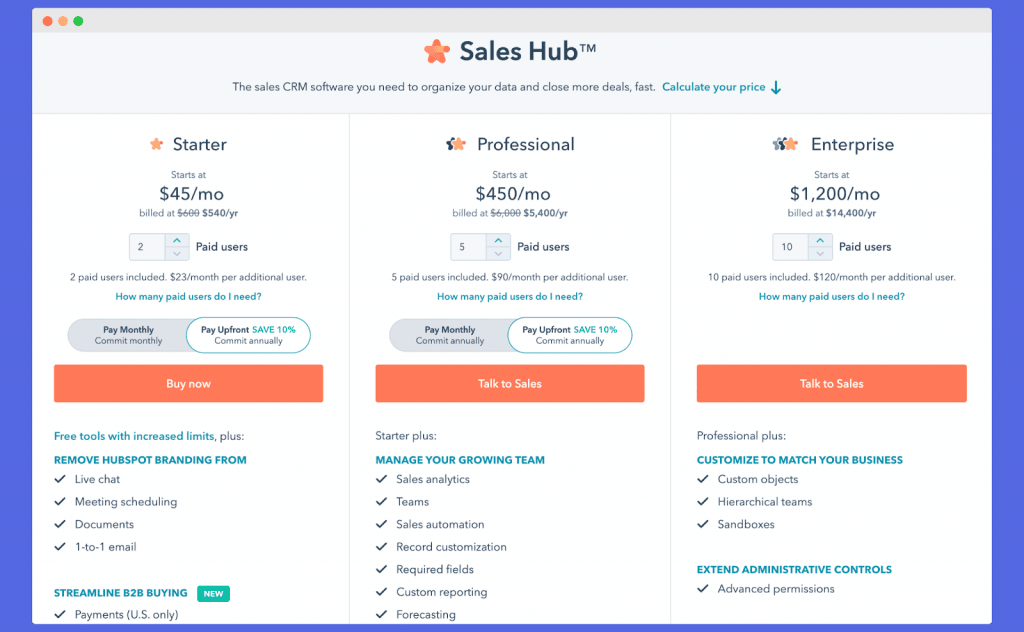 One of the best things about Hubspot is the pricing. This customer engagement software is completely free. You can add unlimited users on a single plan and up to one million contacts, which is more than enough for most enterprises.
However, if you want more features on your plan, then you'll have to sign up for the Starter plan priced at $45/month.
3. Zendesk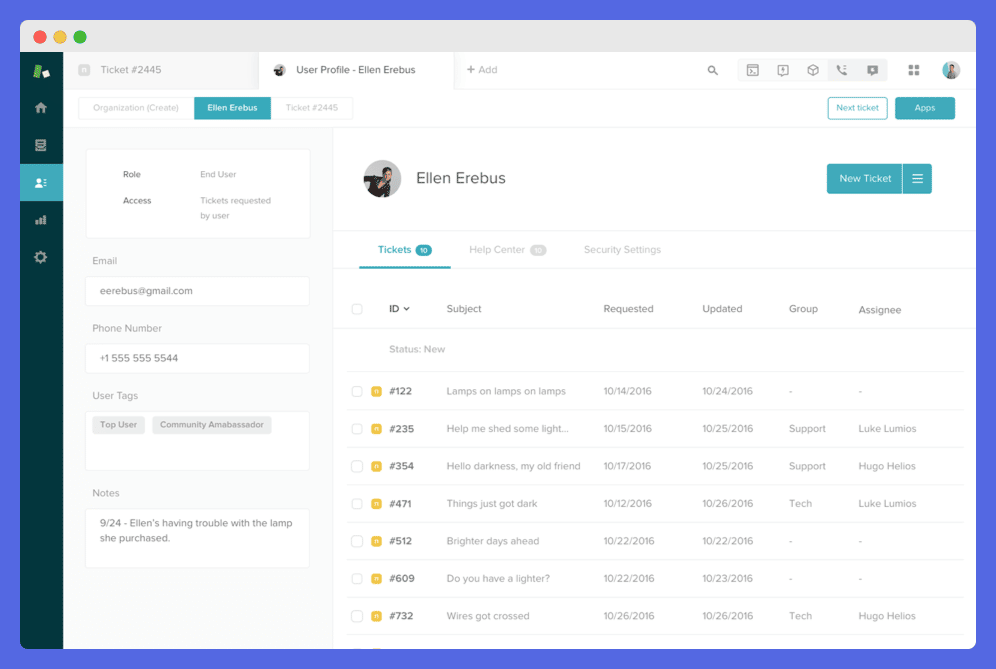 Zendesk is a customer engagement platform that offers a suite of customer support and sales solutions that helps companies of all sizes with customer engagement, multichannel support, sales, and marketing.
Any business with an online presence will find this platform a robust and efficient help-desk software from where they can manage communications with leads and existing customers all from the same place.
Zendesk is a market leader in the customer relationship management niche, offering an extensive suite of apps for managing customer support and sales
Zendesk Features
The core functionality of the Zendesk platform is to serve as a customer service software and customer relationship management tool. This enterprise software is designed to help manage customer relationships across various channels.
The most basic plan includes a call center feature as well as tools for managing live chat with customers. Zendesk also includes a tool for creating and managing a knowledgebase for service teams as well as customers.
This makes it easier to access all the information they need all from the same place. Advanced features include an integrated ticketing system for managing customer requests across various social media platforms.
This customer engagement platform also has a robust reporting tool to keep track of support activities.
Zendesk Pricing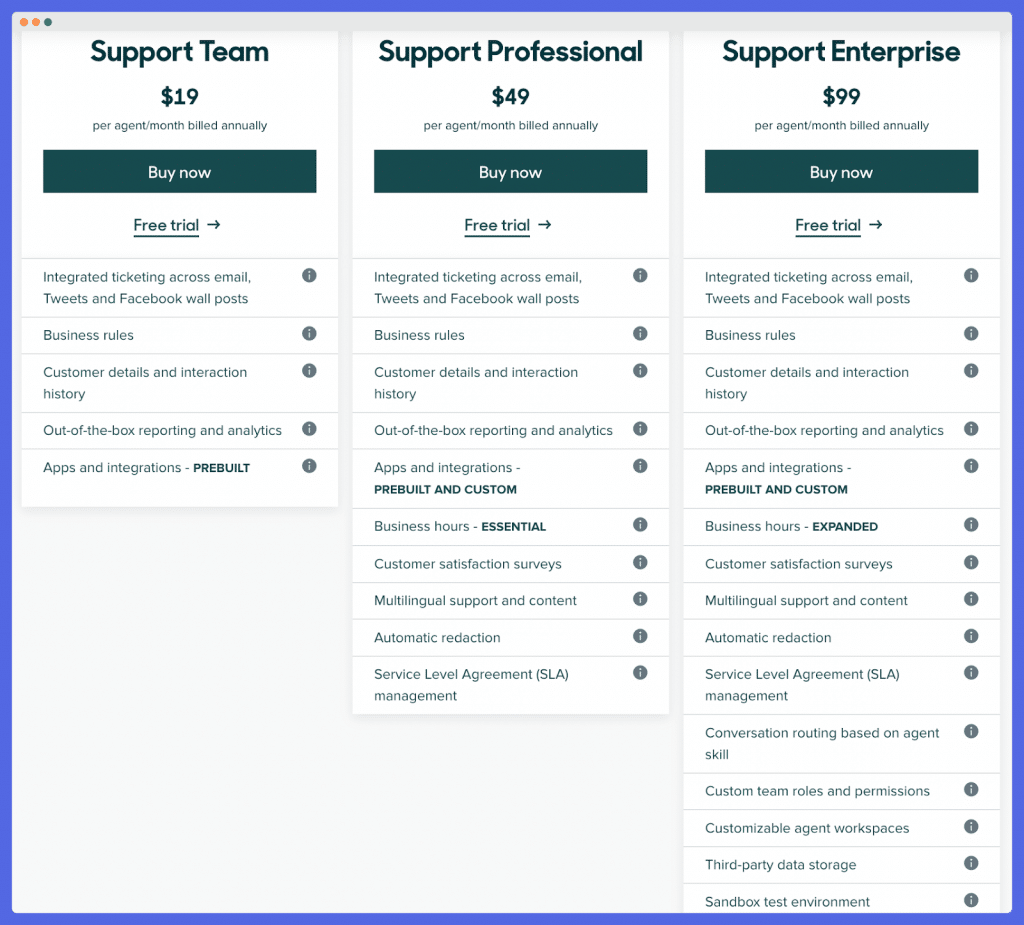 Pricing for Zendesk's basic support plan starts at $19 monthly and the sales plan is priced at the same amount. Access to the complete suite of support and sales apps starts at $49.
Zendesk also offers a separate support plan for enterprises. Zendesk also offers a 30-days free trial to get a feel of the features on offer.
4. Intercom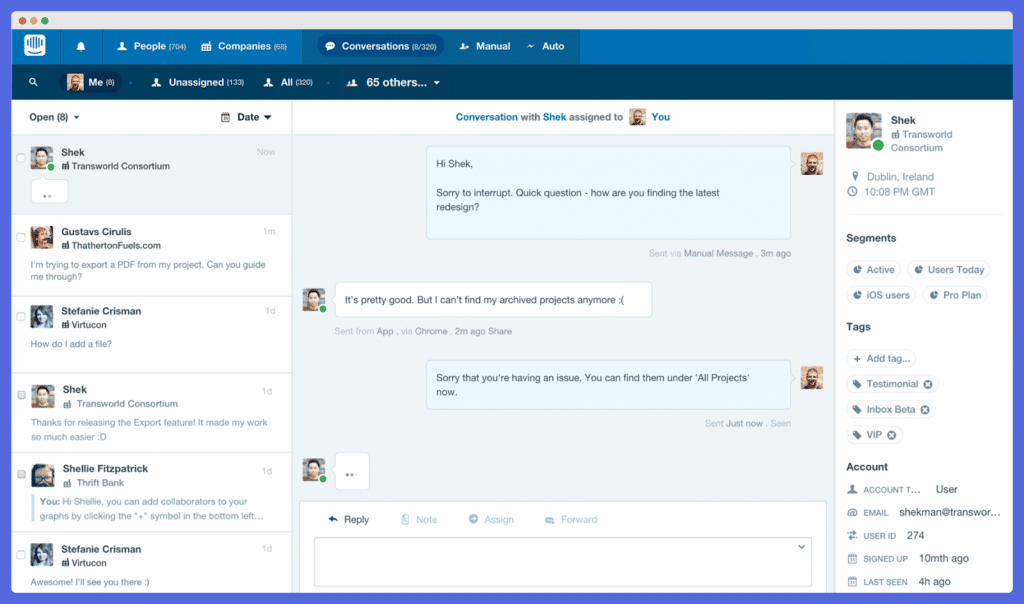 Intercom is a cross-platform lead and customer-service management platform.
This customer engagement platform offers a suite of apps for marketing, sales, and customer engagement that assist customer service and marketing teams with the process of acquiring, managing, and engaging customers across various channels.
Intercom Features
The main feature of this app is the Intercom Messenger. Unlike other customer engagement platforms, Intercom is a platform that allows you to receive and respond to communications coming from customers across channels from a single inbox.
In addition to serving as a primary dashboard through which all your customer messages are routed, this customer engagement platform also serves as a unified inbox for your entire team, allowing you to route messages to the right people seamlessly.
Intercom also allows you to set up automated workflows to handle customer communications. This includes an operator bot that automatically suggests answers to customer queries without the need for a service professional.
This customer engagement platform also offers other customer engagement solution tools such as live chat, ticketing, pop-ups, website announcement, and a fully equipped CRM tool.
Intercom Pricing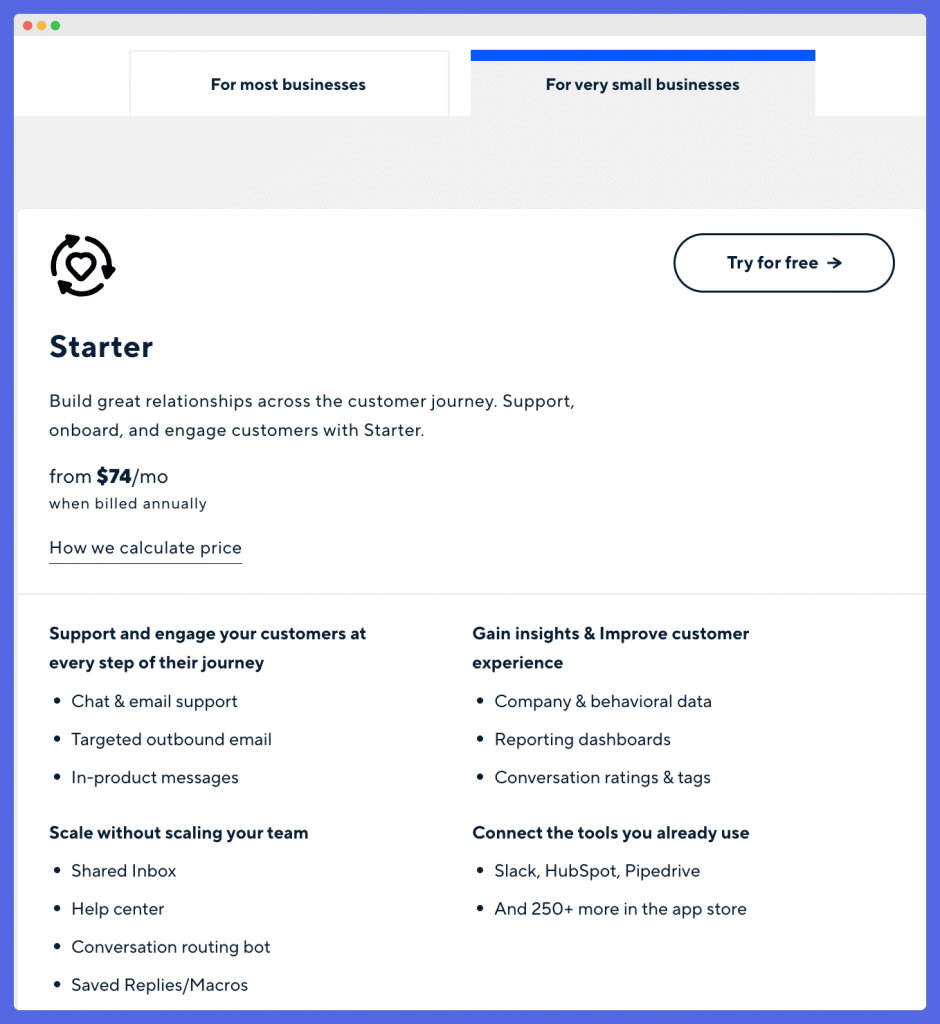 Intercom calculates pricing based on the number of people on your team and the total number of people reached. Pricing information is customized to individual needs.
The starter plan is priced at $74/month (charged annually). This plan includes two seats and 1000 customer reach per month.
5. Freshdesk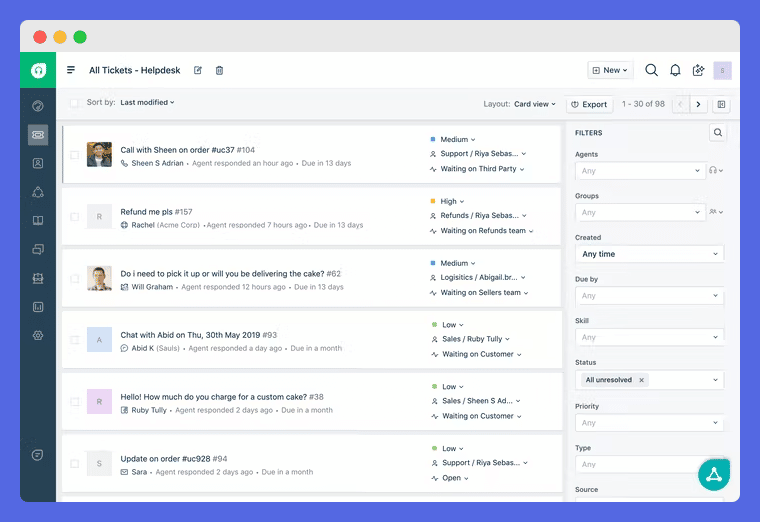 Freshdesk is a cloud-based helpdesk platform. The platform is designed to help customer service teams manage customer communications across various channels including phone calls, email, live chat, and social media.
This customer engagement software is designed to improve the efficiency of sales and customer service teams while making their work easier.
Freshdesk Features
At its core, Freshdesk is an easy-to-use helpdesk system, packed with features that makes customer engagement easier for your team.
Compared to other customer engagement platforms, one of the most basic features of Freshdesk is the knowledge base tool that makes it possible to organize vital information for easy access to customers.
This includes FAQ documents, how-tos, and other types of user guides.
Freshdesk also has a help desk ticketing functionality that makes it possible to receive, manage and respond to customer service requests.
This customer engagement platform also comes with a workflow automation feature that allows you to automate routine workflows and set customer engagement on auto-pilot. This feature greatly improves customer interactions.
Freshdesk Pricing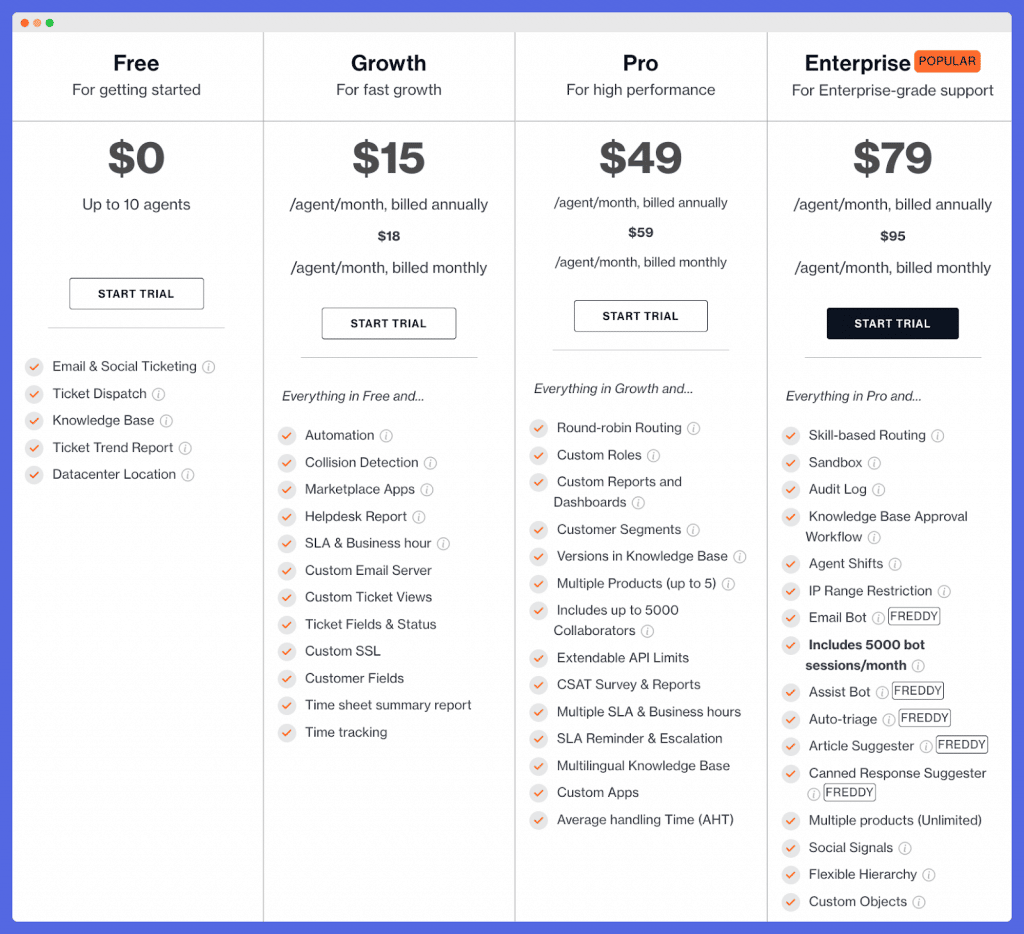 When compared to other customer engagement platforms, one of the best things about Freshdesk is how affordable and flexible pricing is.
You can set up Freshdesk Support for up to 10 agents completely for free. However, pricing for the full Omnichannel support starts at $29.
6. Kustomer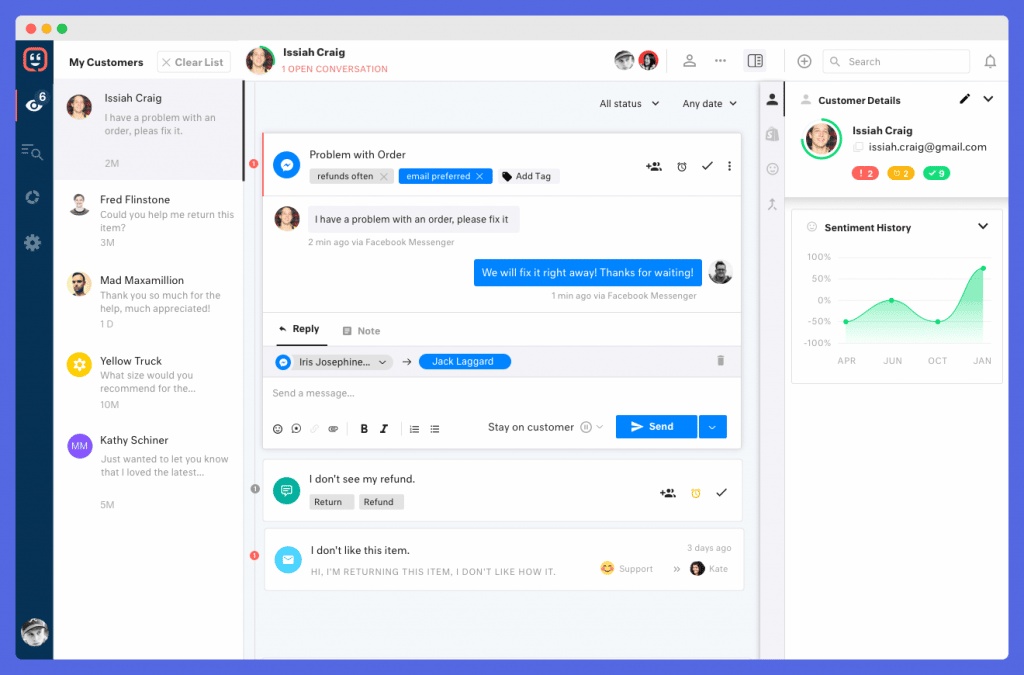 This customer engagement platform is a unique CRM solution designed specifically for direct-to-customer businesses that deal with a lot of customer requests.
Kustomer allows you to customize and personalize customer service for all your customers. This customer engagement software provides a unified customer service experience and empowers your team to deliver multi-channel support for users.
Kustomer Features
Kustomer's main edge over other customer engagement platforms is the Unified Customer View function, which is a centralized ticketing solution for handling all your customer requests from the same place.
This customer engagement platform also offers collaboration features such as Following, Notes, and @Mention, which empowers your customer support teams to work together more seamlessly and improve customer satisfaction.
As a CRM tool, Kustomer collects and saves all your customer data into a single repository. This data is then used to create a complete profile of your customers which is useful for segmentation, targeting, and automated messaging.
This customer engagement platform has an AI feature for deflecting conversations to alternative knowledgebases and user guides. There's also an advanced reporting functionality that allows you to generate comprehensive reports based on customer behavior.
Kustomer Pricing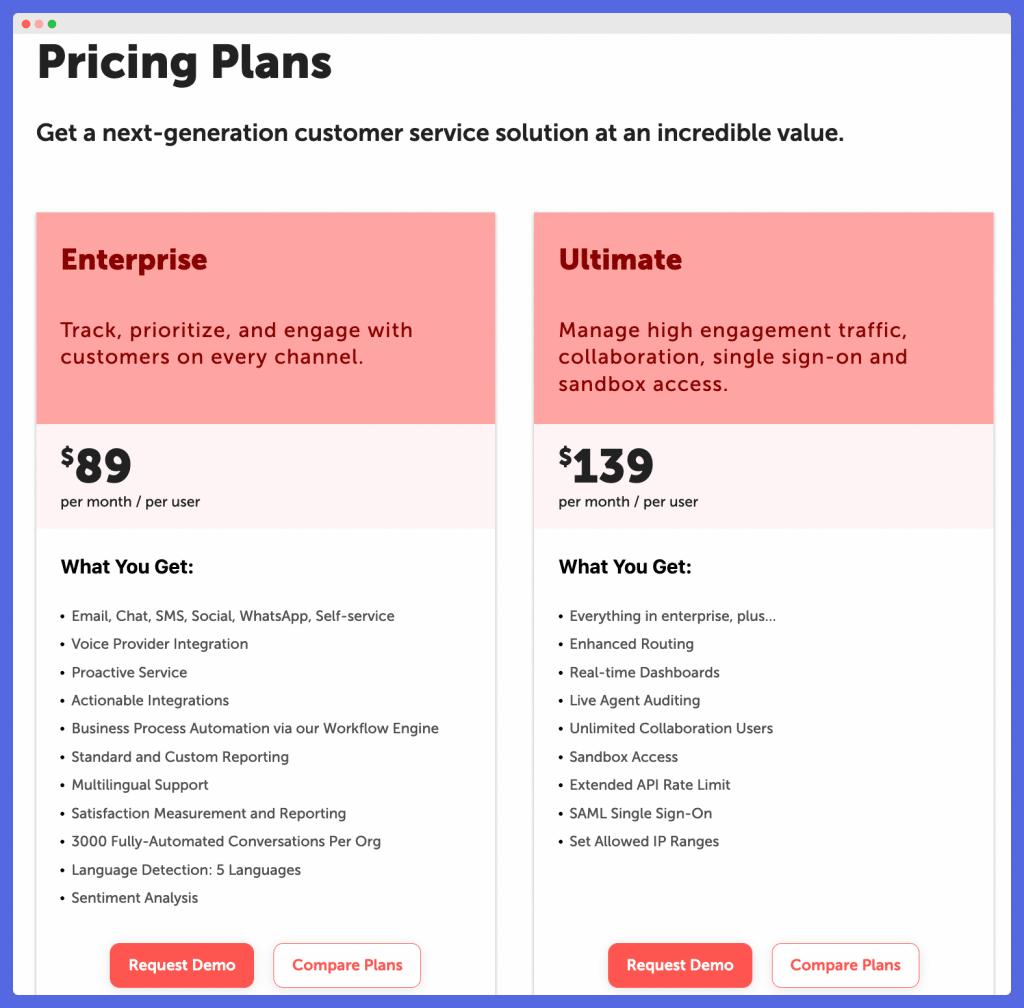 Kustomer has a simple pricing model for users. There are two subscription options. This includes an Enterprise plan priced at $89 per month / per user and an Ultimate plan priced at $139 per month / per user.
7. Front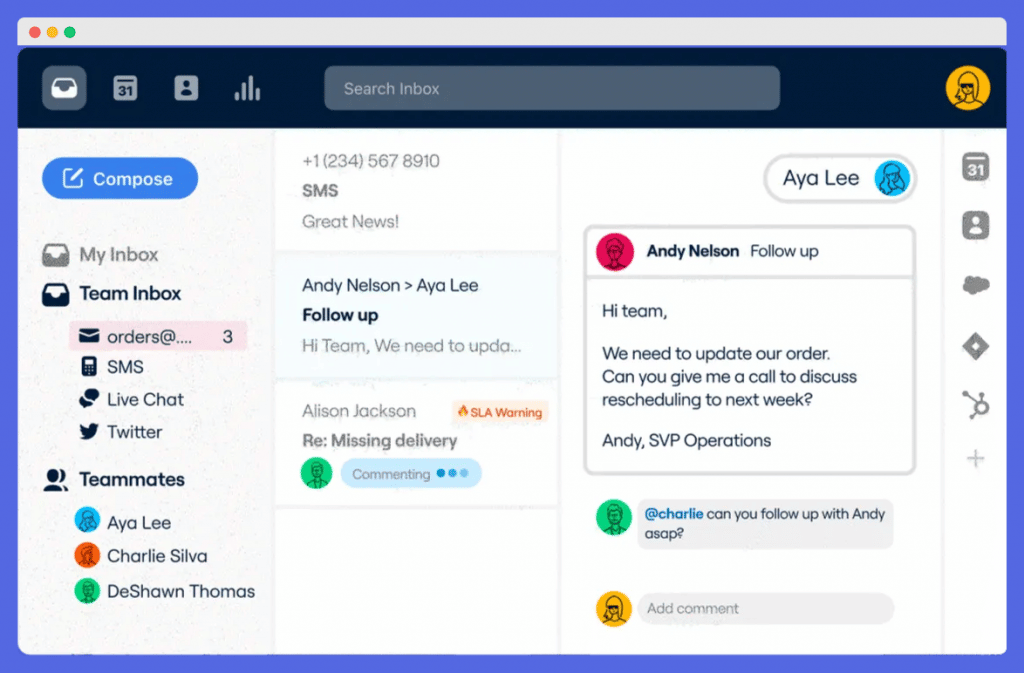 Front is a customer engagement platform that empowers customer-facing teams to deliver fast and accurate responses to user query across multiple communication channels.
This platform provides a centralized inbox that connects all customer communications from various channels including email, SMS, Whatsapp, website live chat, and social media into a single inbox.
Front Features
This customer engagement software is primarily a multichannel messaging support platform that empowers teams to offer better customer experience to users across multiple channels.
First, it serves as a single inbox from where all your team can respond to customer queries. Messages are sorted and prioritized automatically for easier and faster response. It also offers basic automation such as customizable message templates for different scenarios.
One of the best things about this platform is how it makes it easier for teams to work collaboratively to increase customer satisfaction. Task assignment is easy with this tool when compared with other customer engagement platforms.
It also offers great internal discussion functionality, team inboxes, shared draft, and other collaboration features. All these features contribute to better customer interactions.
Front Pricing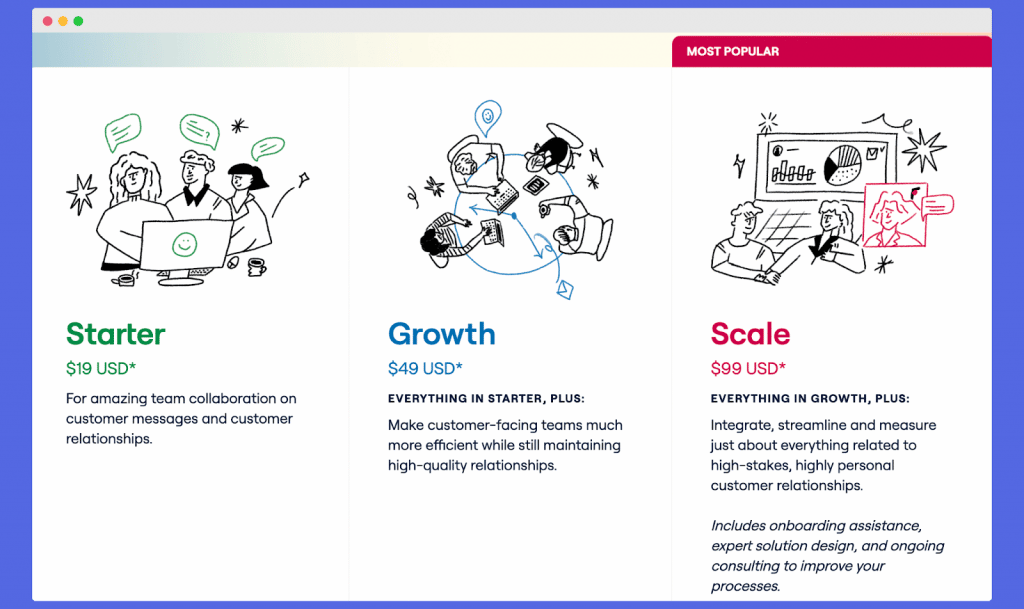 Building customer relationships with Front is quite affordable, pricing for the basic plan starts at $19. There are also higher plans with access to additional features.
Conclusion
With any of these top customer engagement platforms, you get to keep communications with customers in one place. This also allows you to centralize customer data and provide maximum customer satisfaction.
Some of these customer engagement platforms also offer automation tools as well as additional sales or meearketing functionalities. You can take a closer look at the features they offer to identify the best fit for your business.
Sign up for our newsletter and follow us on Twitter to get more insights into our various Low Code discussions.