If you have even scratched the surface of the No Code world, you must have heard of one of the most popular No Code platforms – Bubble.io. It is a great way to create apps, websites, and other digital products without code. But the No Code landscape has a ton of Bubble competitors that might be better suited and designed to meet your needs. In this blog entry, we will look at some of the alternatives that are better than Bubble in some aspects.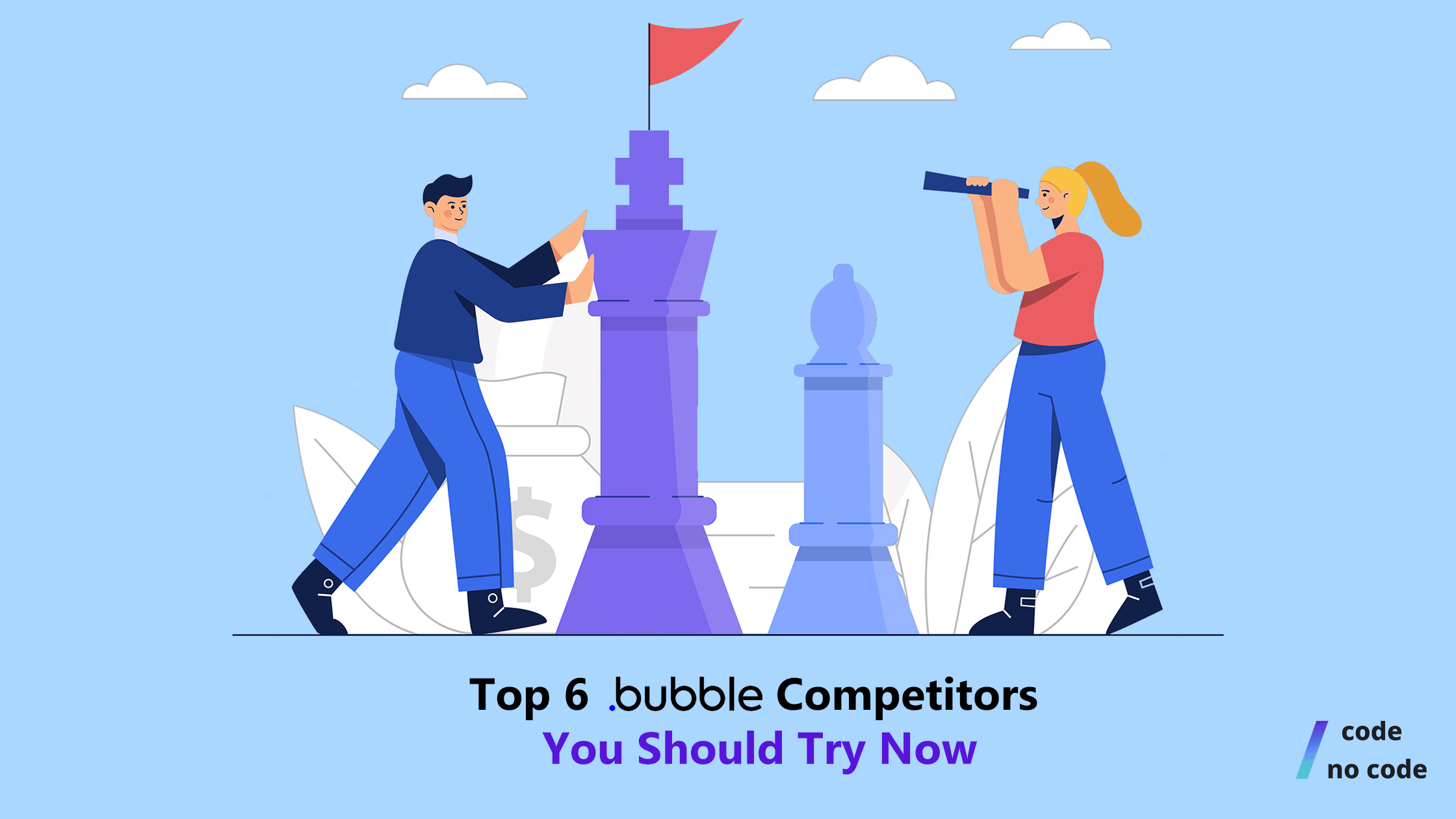 What is Bubble.io?
Before looking at the competition, let's understand a little bit about how Bubble works and what to expect when using it.
Bubble is a drag and drop editor that allows teams to collaborate and set up digital products like web apps, internal tools, websites, or mobile apps without code. For example, if you want to create your own Instagram[1], you can do that using Bubble with No Code.
It has an active community that solves minor problems, shares templates, and helps each other. It is one of the top No Code communities[2] out there. Bubble has a free plan with basic features that includes their branding on whatever you create. You can use it to learn about the platform and move to a paid plan once you familiarise yourself with the tool.
Top Bubble Alternatives to Look Out For
Price: $50/month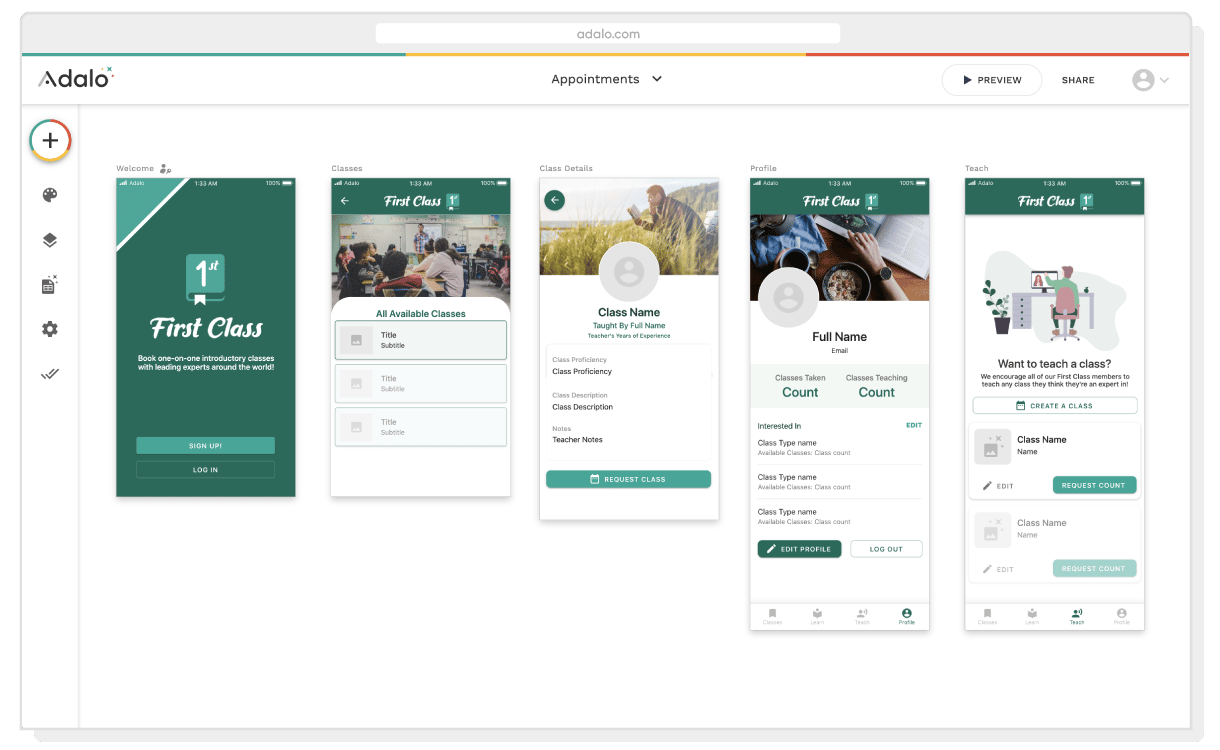 Adalo is one of the top Bubble alternatives. Non-technical founders around the world have used Adalo to start their entrepreneurial journey. It has an easy drag and drop editor that facilitates creating web applications and mobile apps without code. They have a free plan that lets you publish unlimited apps in the Adalo domain.
If we want to rank some of the top features of Adalo, that would include user authentication, push notifications, and native device actions like accessing users' cameras and photo libraries.
One of the things that we don't like about Adalo, however, would be the absence of 3rd Party Authentication which allows users to log in through Google or Facebook. It is a must-have feature for most user-facing apps nowadays, as users generally prefer to use existing accounts instead of creating new ones, especially if your app is unknown and the account cannot be used anywhere else.
Price: $32/month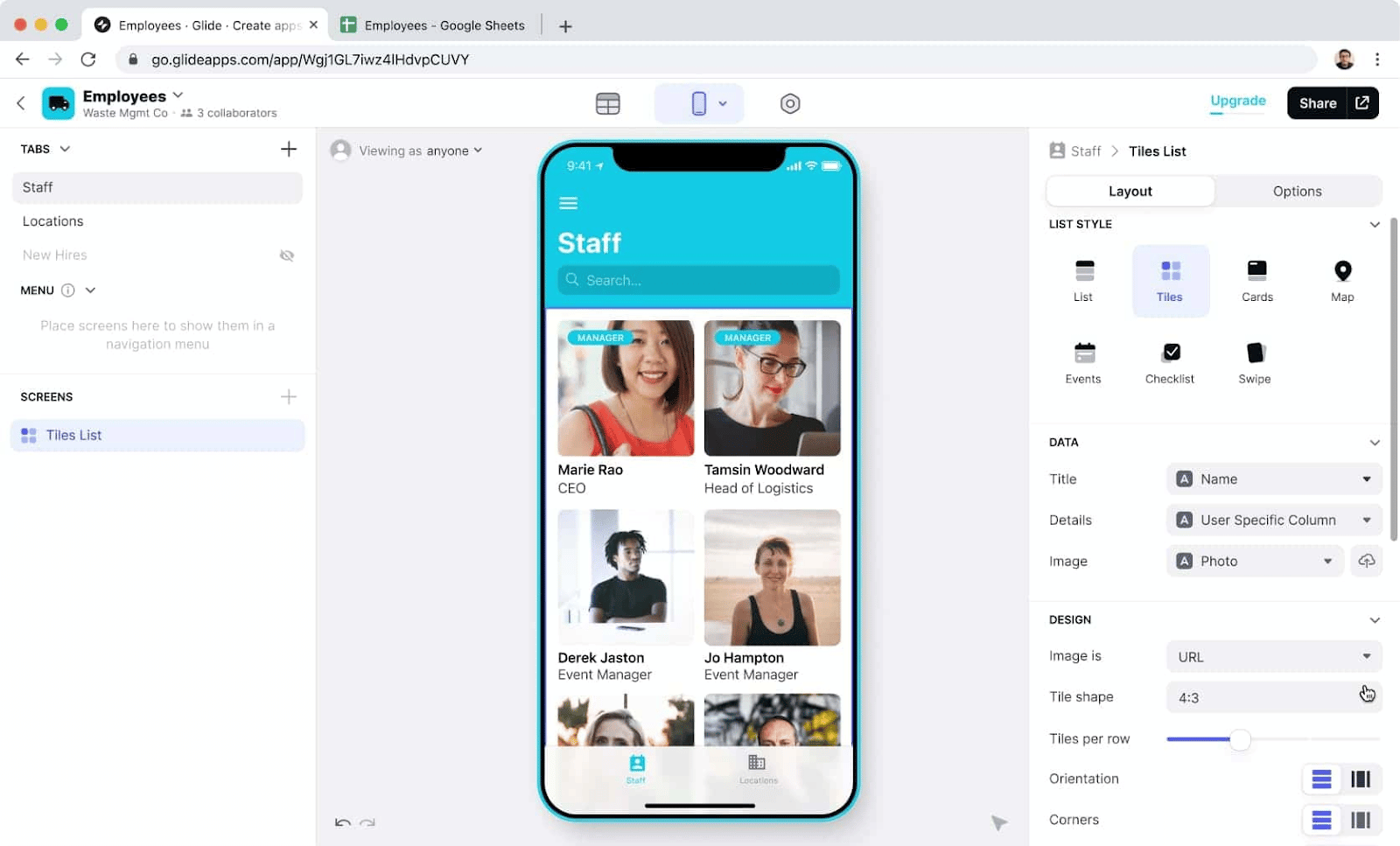 Glide enables users to convert their Google Sheet into an easy-to-use mobile app with simple UX. It is one of the fastest ways to create an app.
Glide apps use an existing Google Sheet as the database allowing you to have CRUD (create, read, update, delete) interactions with the backing Sheet. It integrates with powerful external tools like Zapier and Stripe.
However, due to the simplicity of this tool, there is a lot of rigidity and a lack of customization. If you are newly diving into No Code and want to create a tool to solve a personal problem, you can try out their free plan. It is fast and simple, inspiring you to create more No Code tools.
Price: $79 /month /100 marketplace users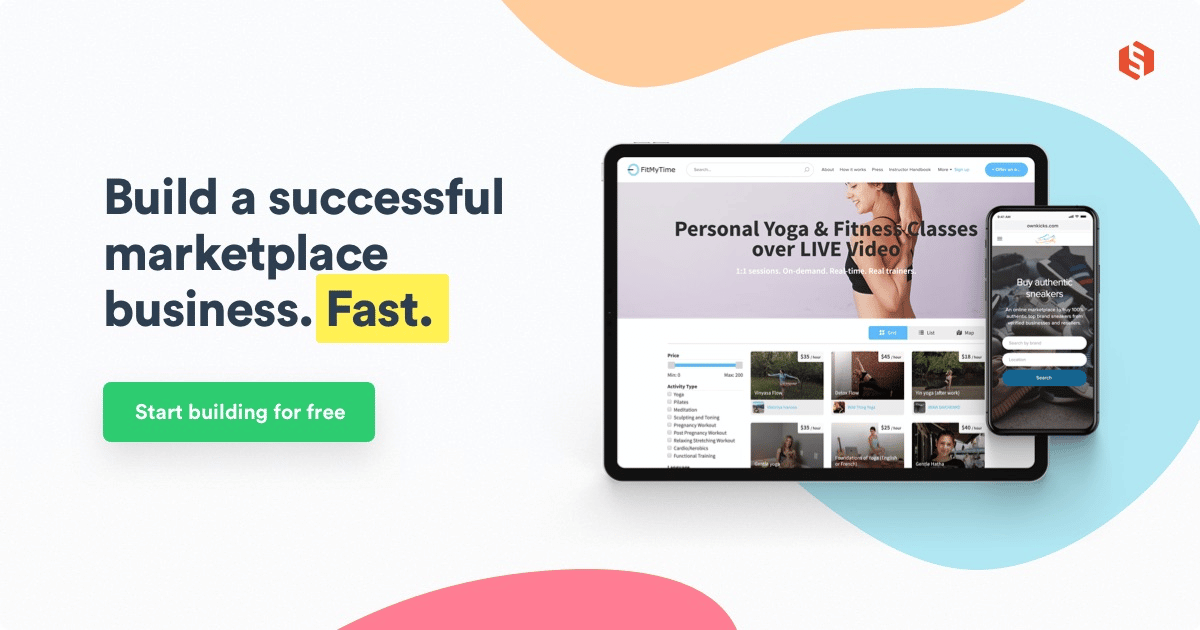 Sharetribe is a No Code and Low Code builder to create an online marketplace. It is created especially for users to create websites like Airbnb and eBay that allow other users to rent or sell goods, spaces, or services.
Sharetribe offers two unique products, Sharetribe Go and Sharetribe Flex. Sharetribe Go is completely No Code whereas you need familiarity with coding if you want to use Sharetribe Flex.
The biggest edge that Bubble has over Sharetribe is its pricing. Most app owners or No Code developers don't want to spend this much just when they are starting and do not want to commit to any particular platform yet.
Price: $16/app/month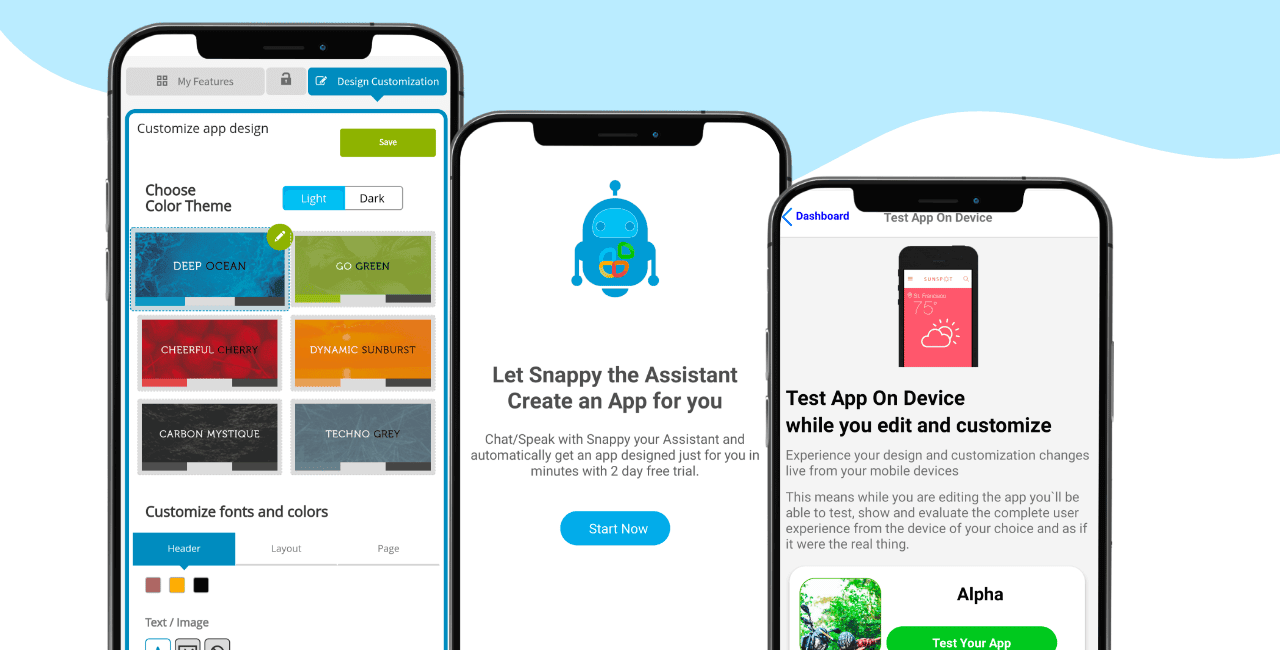 Appy Pie is a No Code platform that allows you to build multifunctional native apps suited for a range of applications. It has beautiful preset templates and color themes that would help you reflect your brand identity in the apps.
The platform specializes in creating Android and iOS apps and deploying them to Google Play and the Apple Store. Their competitive pricing and vast template library make them a good alternative to Bubble.
Price: $12/domain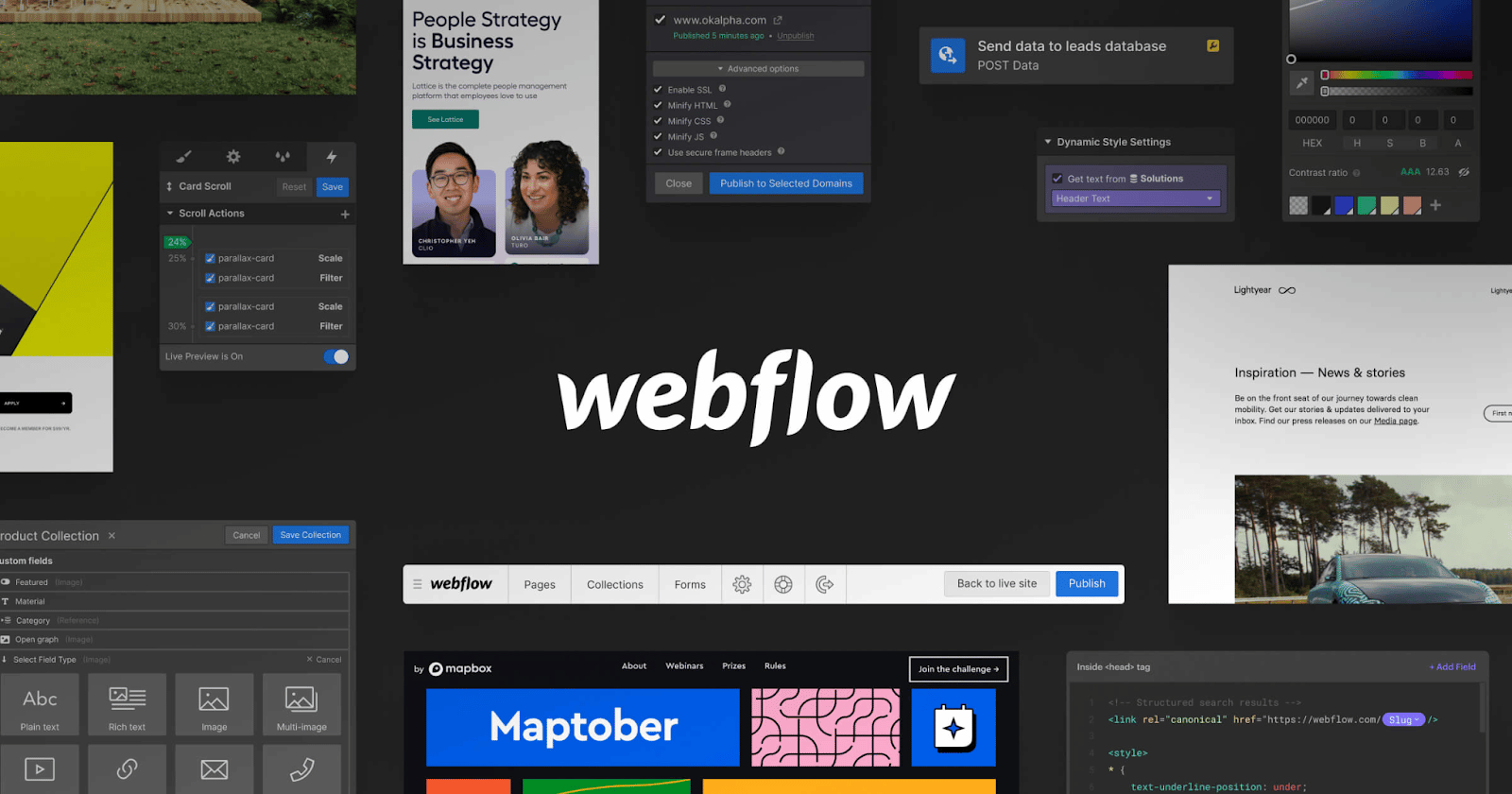 Webflow is the No Code platform that specializes in building a dynamic and interactive landing page. Webflow is such a close competitor of Bubble that we have even written a separate blog expanding on this comparison of Bubble vs Webflow.
Webflow is popularly used in 3 major use-cases. Creating landing pages, Content Management Systems and e-commerce stores.
Price: $24/month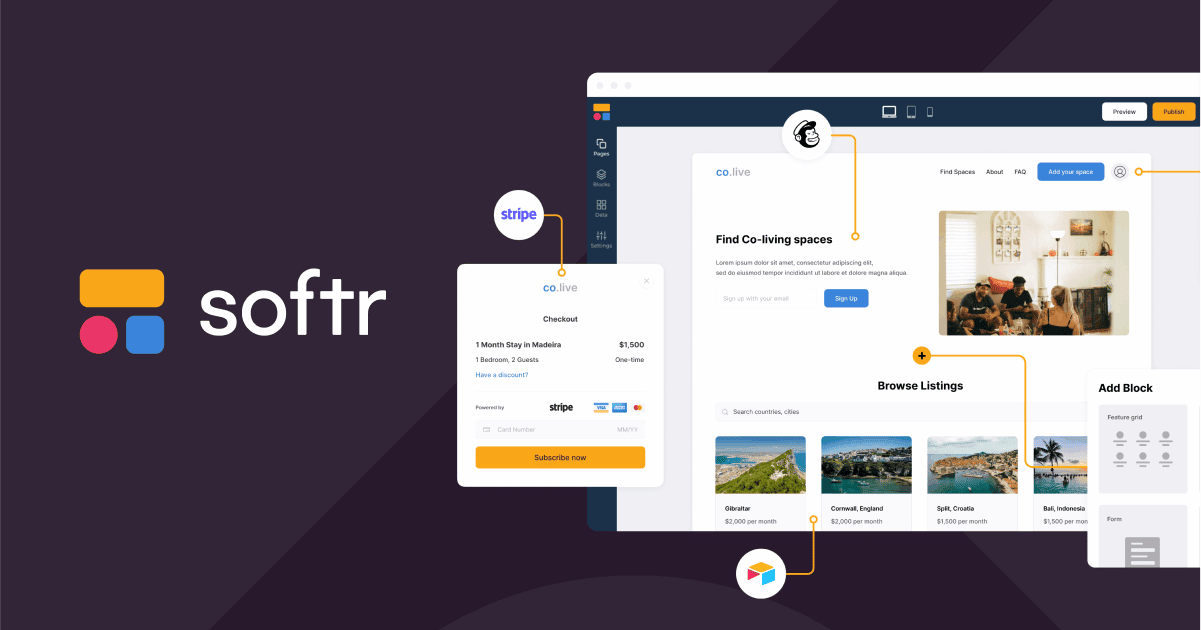 Product Hunt's Product of the Year 2021, Softr is one of the fastest-growing No Code builders. They want to empower non-technical founders to build products without code and with a small learning curve.
Softr integrates seamlessly with Gumroad, Google Analytics, and Intercom making it a popular choice for creating business apps. It also has a free plan with branding that could be used to access basic features.
If you are a person who wants to test the builder before making a paid commitment, Softr is perfect for you. All of its plans including the most premium one have a 30-day free trial.
Honorable Mentions
These are the alternatives that are worthy of a mention but did not make the final cut of the top competitors of Bubble list due to their drawbacks.
Branded App by Wix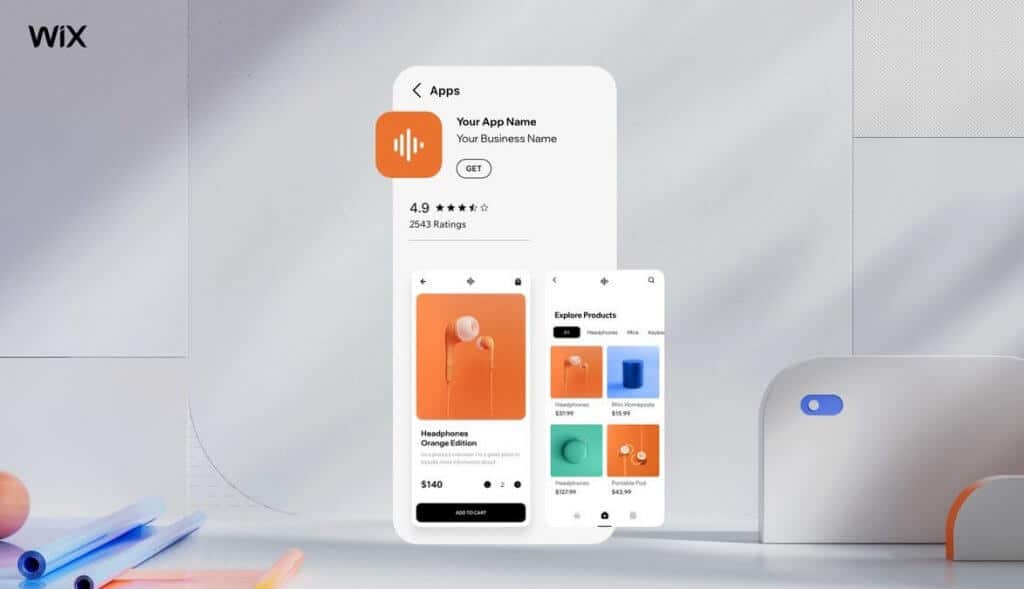 Wix.com, mostly known as a platform for building simple representational and e-commerce websites, launched its own builder to create applications last year. Even though most of its e-commerce users will enjoy the simplicity of setting up and launching an app, it is quite limited if you want to build something else than a marketplace.
Where Branded App really shines is its integration with Wix. If you already have a website built on the platform, you can import styles, pages, and even products very quickly.
On the other hand, the monthly price of $200 is quite steep and will simply not be worth it for most people.
Abstra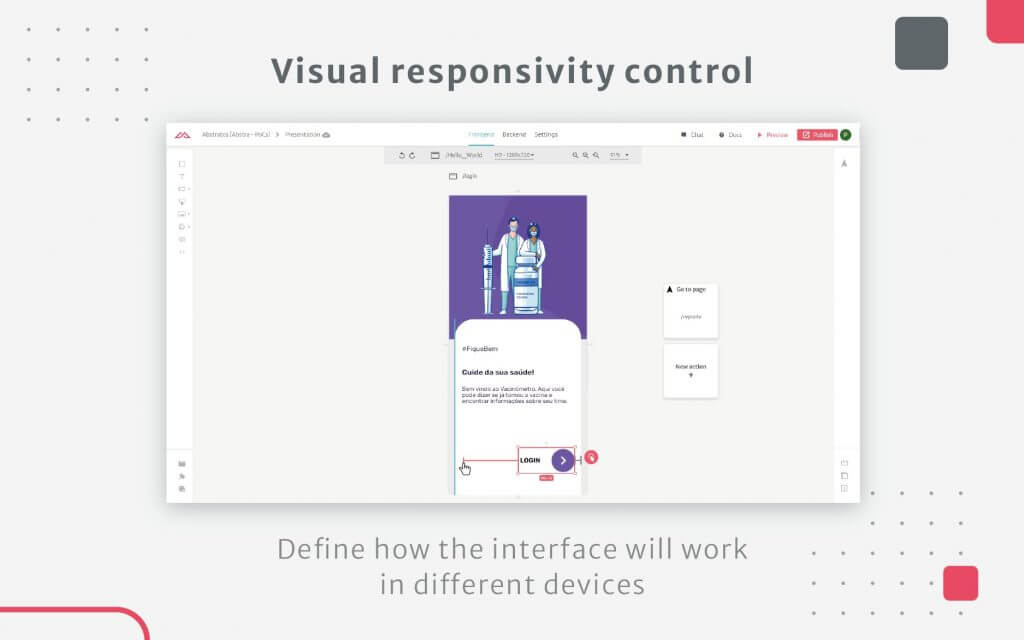 Abstra is an app builder that certainly has great potential. Just like Branded App, it was launched in 2021 with a promise to become one of the premier platforms in the market. The founders promise that developing responsive applications and websites with Abstra is easier than with Bubble, while the platform is a lot more capable than Webflow.
While Abstra is a relatively new and unproven player in the niche, the $2.3M in funding[3] it raised at the beginning of 2022 shows that it should be taken seriously. We recommend waiting until it is more polished before jumping on the hype train.
Wrap Up
Bubble is surely an extraordinary app builder, which is why we love it. But these are some of the tools that are racing to grab its market share. Are there any other Bubble alternatives that we missed out on? Let us know on Twitter!