Any business knows that if they want to compete today, they need to be available online, which means creating a website. One of the most popular tools for website creation is WordPress, with over 43% of websites[1] using this CMS (Content Management System) tool to update their website content on the fly.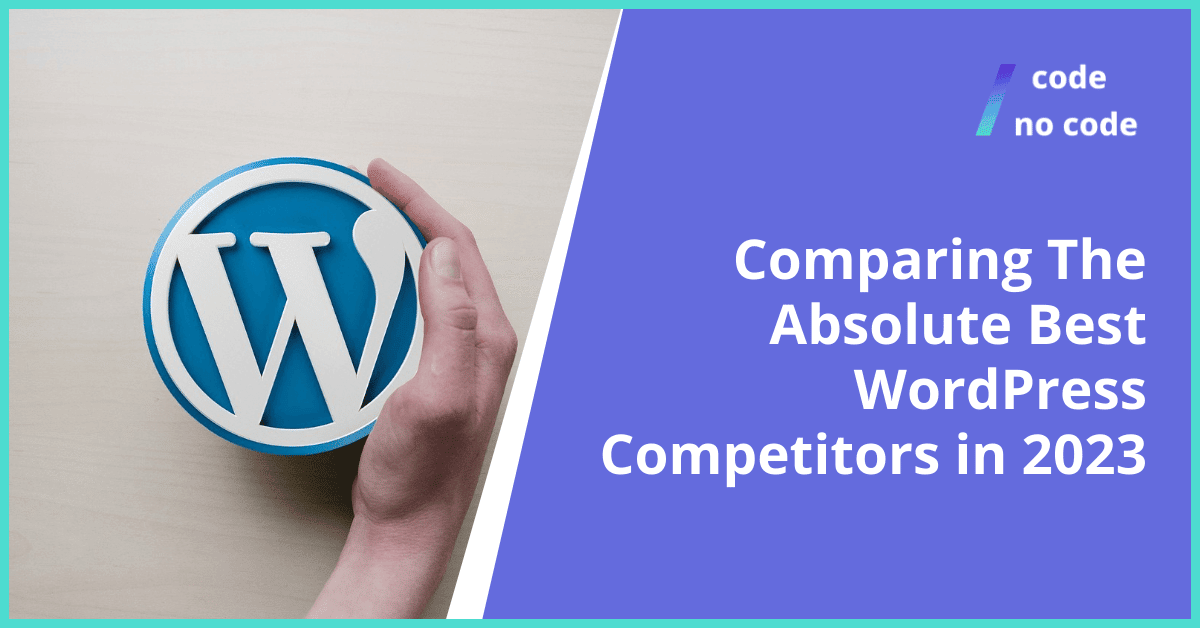 As one of the oldest No Code tools on the Internet, WordPress remains extremely popular, but there are some tough WordPress competitors in the market that might eventually replace its dominance. WordPress is free to use for anyone who wants to create a non-branded blog or small website, making it very appealing for companies just starting out. Most web hosting companies also include access to WordPress for free with domain registration and hosting fees, making it a cost-effective option.
What Do WordPress Competitors Need To Have?
There are a few essential features for a competitor to truly dethrone WordPress from its position as king of the hill. WordPress competitors have to offer:
At least the same, if not more, flexibility in design options;
Improved control panels for easier updates;
Better security measures to protect websites from hackers.
WordPress has thousands of plugins that can be installed to enhance its capabilities further, so any WordPress competitor needs to have similar features.
WordPress also has an active community where users can share tips on updates, upgrades, design options, troubleshooting, and more, which is another important asset that a competitor needs to have.
With all of those requirements, you'd think the field of competitors would be non-existent, but the popularity of WordPress has dozens of companies vying for its throne. WordPress isn't going to disappear anytime soon, but some worthy contenders are waiting in the wings. Here are our top three choices.
Wix
Wix has been around since 2006 and has quickly become a staple for small businesses, sole proprietors, and individuals. The critical differentiator between Wix and WordPress is in how they were built.
Wix is a website builder, and it shows in the simplicity it offers to users. WordPress, by contrast, is a content management system (CMS), which means that while it might have the same capabilities, it's also more complex.
Wix offers drag-and-drop capabilities to create custom layouts and a WYSIWYG (what you see is what you get) editor that makes it easy to create beautiful pages.
Plugins and apps
While Wix doesn't have the same breadth of apps and plugins available as WordPress, this is a blessing and a curse. Wix's plugins and features are all extensively tested and vetted, ensuring that any of them will work seamlessly. WordPress, which offers more flexibility here, is also at a greater risk of failure when plugins inevitably conflict.
Maintenance
Wix takes care of all maintenance and upkeep for their websites, offering assistance 24/7. WordPress is essentially a DIY platform with plenty of online resources to handle issues as they arise. WordPress sites require regular updates and attention, however, whereas Wix keeps the website updated automatically with no involvement from the user.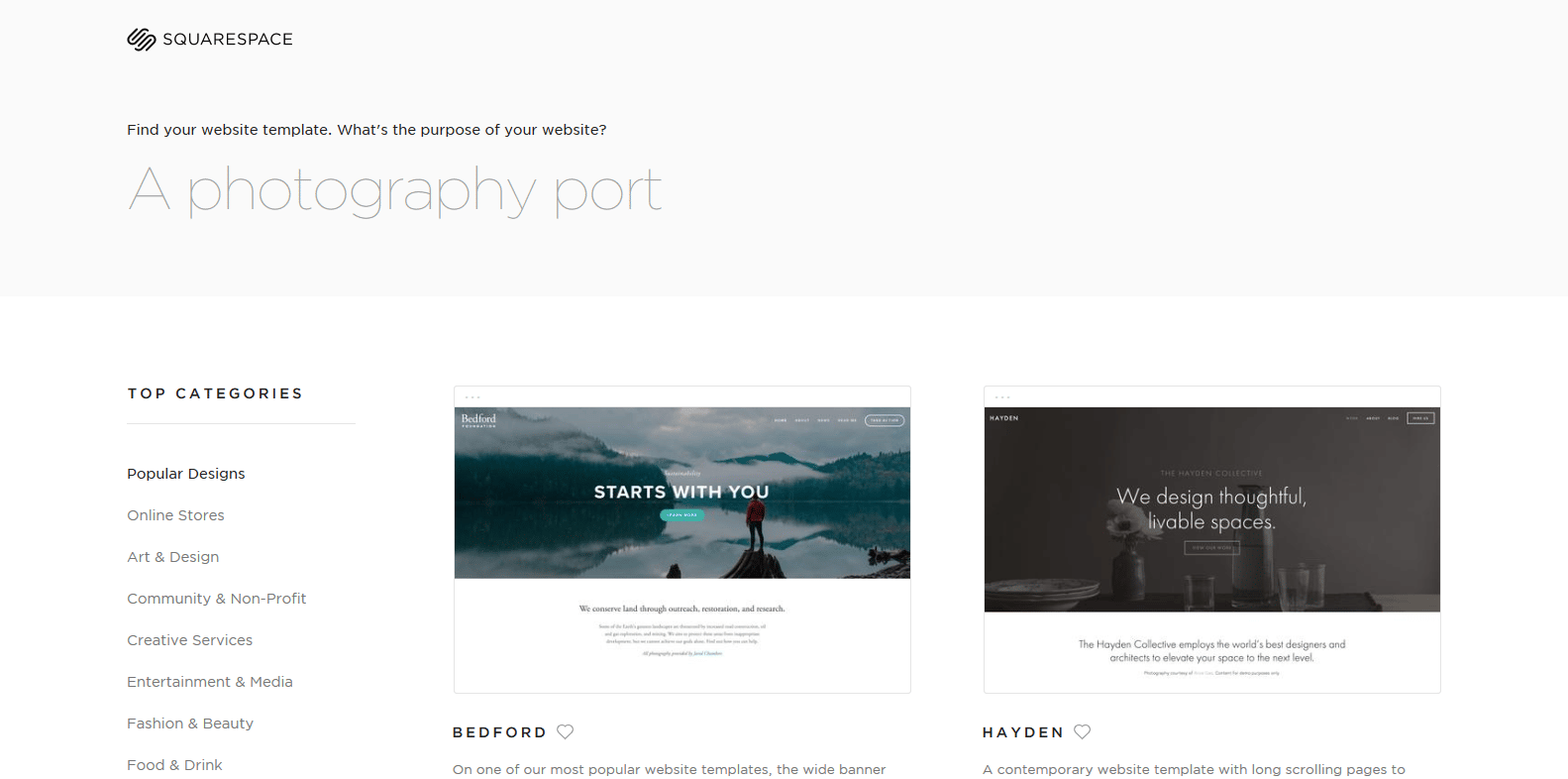 Squarespace is another extremely popular alternative to WordPress for those looking for a No Code experience with more than 2 million Squarespace sites in active use[2]. Like WordPress, Squarespace allows users to quickly and effortlessly build a responsive website with little to no coding knowledge necessary.
Squarespace, like Wix, is a drag-and-drop system where users can add images, text, buttons, and other widgets to their pages using an interface that resembles Microsoft Word or Adobe InDesign. This highly intuitive system removes the need for HTML or CSS coding.
Plugins and apps
While Squarespace does offer all of the essential apps and plugins, they are lacking in comparison to WordPress. The positive fact is that the apps available all work together seamlessly, but more work is needed in this area.
eCommerce
From an eCommerce point of view, however, Squarespace is perfect. Squarespace has inventory management and payment options baked in, and while WordPress may offer some eCommerce plugins, they aren't as powerful. However, it should be noted that there are close to 300 new eCommerce stores launching daily[3] on WordPress.
Maintenance
Similar to Wix, Squarespace looks after your website. With automatic updates, backups, and security, you don't have to put in any extra effort. WordPress requires a bit more leg work. It has an automatic update feature; however, it isn't recommended to activate this on your live site.
Joomla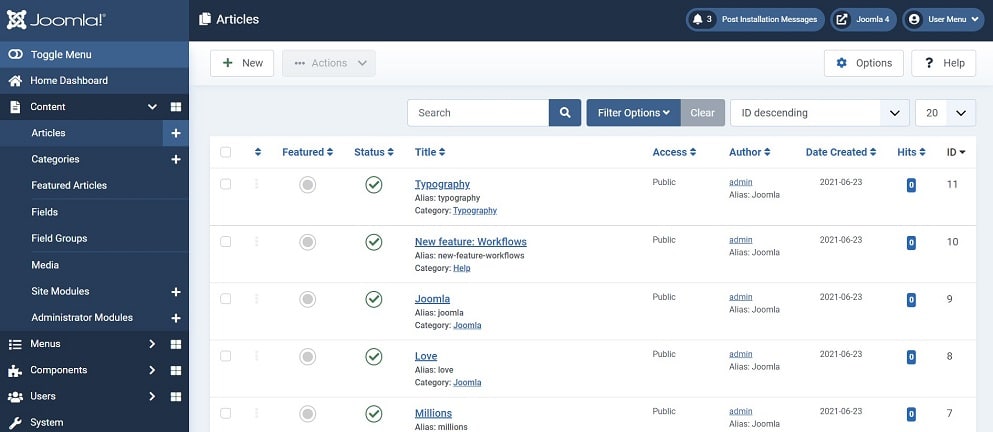 Our third option is another CMS like WordPress that in 2005 could have become the top dog. Joomla is another free open-source CMS that boasts many great features for businesses to get started with.
Joomla also has a great community behind it where you can get help when you need it, and it's been around for almost as long as WordPress. While WordPress did manage to take the crown, Joomla is the second largest CMS in the market with over 2.5 million active sites[4], so it's not going away, anytime soon.
Plugins and apps
Joomla's strengths lie in its user and community integration. The user and community support is one of Joomla's best assets, as WordPress has moved away from this.
Joomla also offers better SEO features than WordPress without the need for any extra extensions. It's also very customizable compared to WordPress; you can completely change the look and feel of your site by using different templates or alternatively even develop your own!
Maintenance
While Joomla also offers an auto-update feature, like WordPress, it isn't the ideal solution and can cause issues. Joomla does have an active developer community, but similar to WordPress, many maintenance activities are DIY.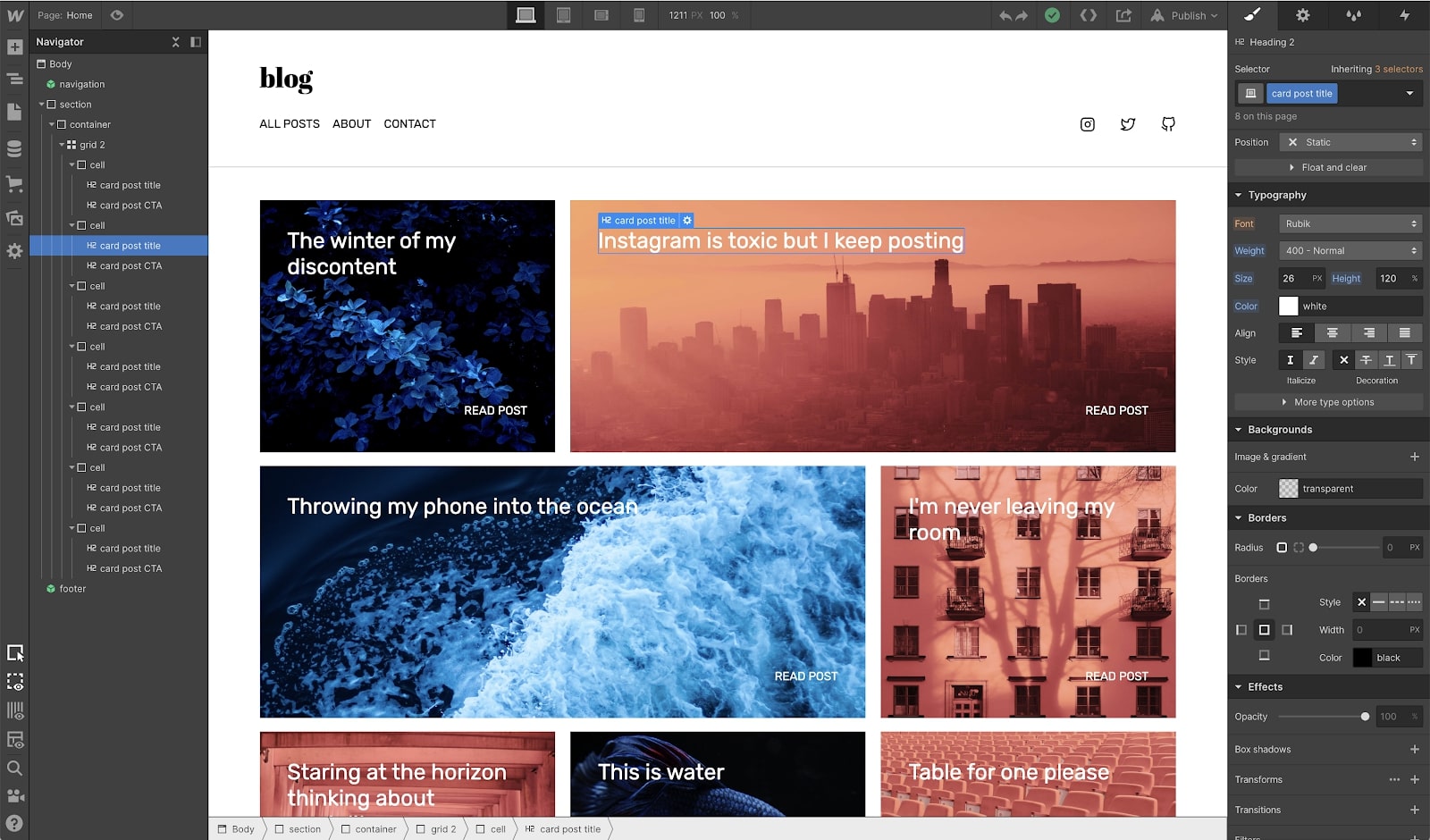 Webflow is one of the newest entrants to the market but is also one that is making its presence felt already. We have outlined its pros, cons, features, and pricing in our comparison article with Bubble, a No Code app building tool: Webflow vs Bubble.
Conclusion
WordPress can be an excellent option for many, but some of the WordPress competitors are definitely coming closer. Tools like Wix and Squarespace work to make things as easy as possible for users, while Joomla and other similar CMS-type systems focus on offering more power.
Looking at how to promote and improve your website? Get empowered with our list of the best No Code marketing tools.