These days, Low Code development vendors make it possible to build robust, fully-functional products without writing a line of code. There are several startups today that were built with[1] Low Code development platforms.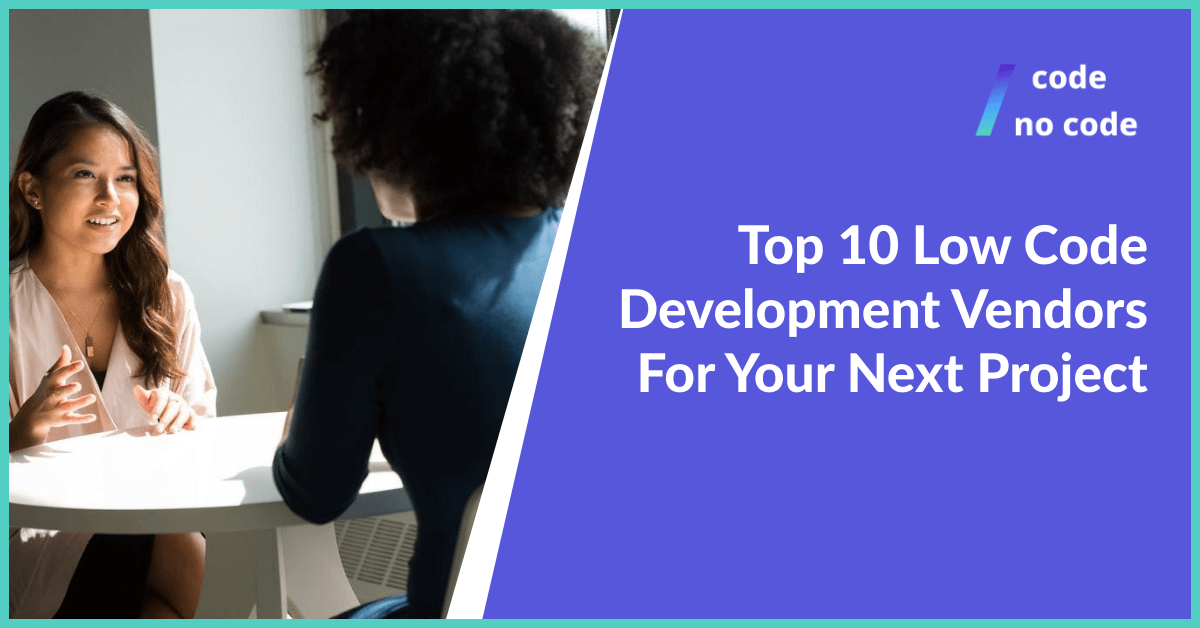 The rise in products like this is causing a major disruption in the startup ecosystem.
Although Low Code tools are often touted as intuitive and easy to learn, many Low Code development platforms have a steep learning curve as well. Finding your way around them might be a little complicated.
Also, a working product is typically a multi-component system with various tools, automation, and integrations involved in setting it up. So while Low Code development is simple, you may still need the services of expert Low Code development vendors to implement them.
Fortunately, there has been a rise in the number of such Low Code development platforms in recent times that you can consult with or hire to build your products. In most cases, this is a cheaper and more effective approach than hiring a development team for the same purpose.
In this article, we review 10 such Low Code Vendors that you can partner with on your next project.
The Best Low Code Development Vendors List 2023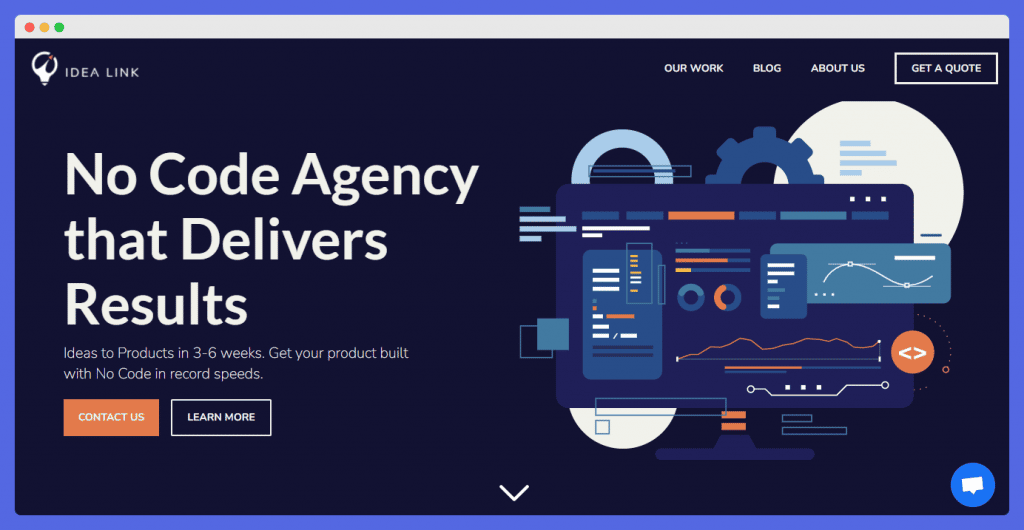 Idea Link has helped several businesses to bring their product ideas to life using No Code development. Their Low Code development specializes in native and web app development using Bubble.io or Webflow.
They also build online marketplaces to help businesses sell their products and develop MVPs (minimum viable products) to showcase and test product ideas.
The Idea Link team will help you refine your product specification and define the core features that guarantee optimal performance.
Then, using a Low Code development approach, they'll deliver a product that suits your business needs at a fraction of the cost of conventional development.
If your solution requires, the agency can also provide traditional software development services.
The app development team is capable of building complex enterprise grade applications like the ERP they made for a Scandinavian fiber cable company.
Idea Link has worked with startups, agencies, and corporations all over the world across a wide range of industries to develop internal company tools with Low Code development platforms for managing day-to-day operations in a structured and automated way.
2. 8020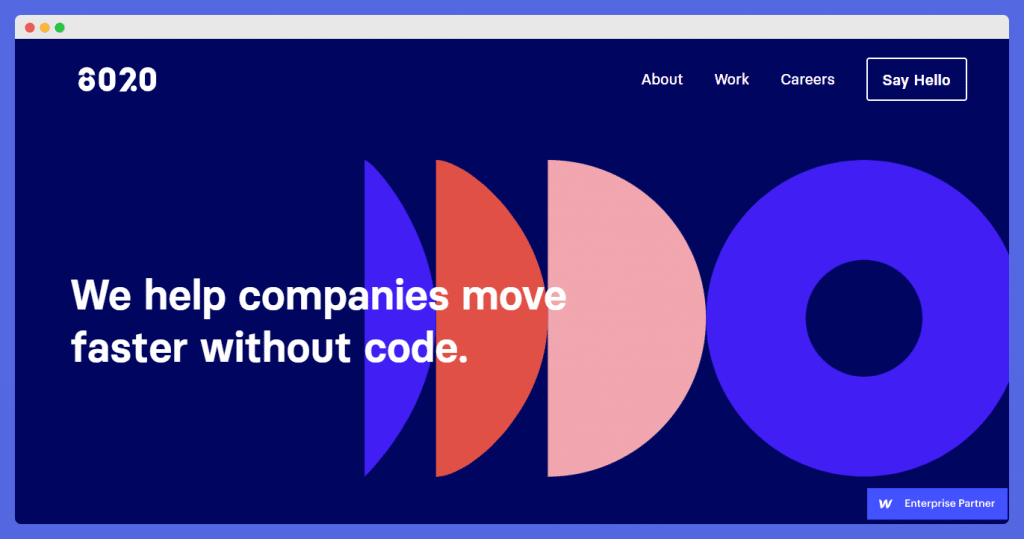 The 8020 team is made up of designers and builders that are passionate about building viable products with No Code. 8020 is primarily a design company so the emphasis is usually on delivering high-quality and well-designed products with No Code.
The company builds websites, mobile apps, blogs, and internal dashboards for automating business operations.
The 8020 team uses No Code platforms like Webflow, Bubble, and Zapier to design and build products that are customized to the specific needs of a business, easy to maintain, and completely scalable.
They also engage in Low Code application development to adapt their development process to your business processes, automate workflows, and train citizen developers to maintain the digital transformation of their companies.
8020 has worked with organizations of all sizes from fully-funded companies looking to streamline their operations to bootstrapped startups trying to create modern and attractive products.
3. 9x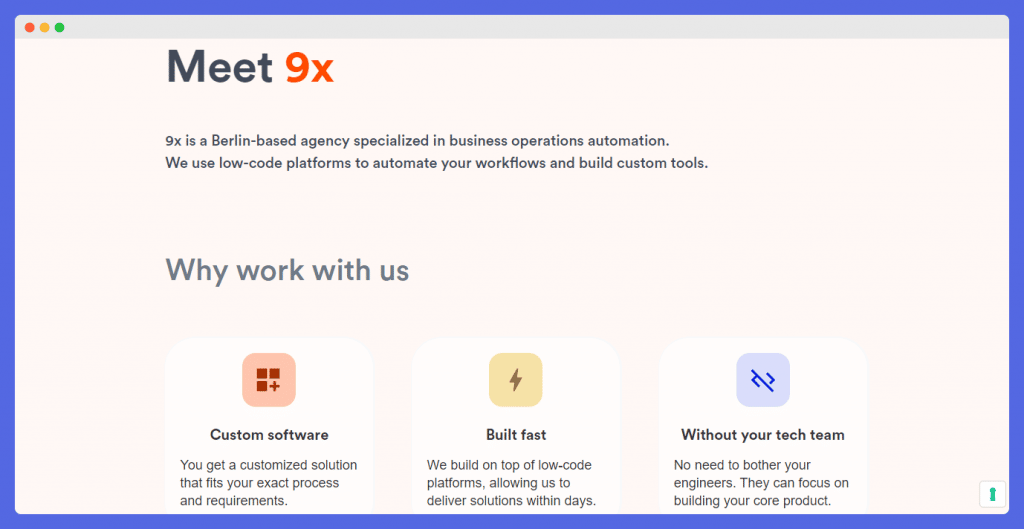 9x is a Berlin-based agency that uses Low Code development platforms and focuses specifically on building tools for automating business processes using No Code development.
This Low Code development vendor finds, implements and builds various internal tools and customized software that fix their exact business process and requirements like project management digitalization, building a business process management platform or multi-platform apps for startups looking to launch their business.
9X implements software solutions quickly using popular No Code platforms like Bubble, Airtable, Retool, and Zapier. Whether you're simply looking to consult with a No Code expert to find the right solution for you, or you're ready to implement a No Code product, 9X is suitable for you.
The company also helps with building custom integrations for existing systems or training citizen developers to use Low Code Development platforms.
4. 500dollarsMVP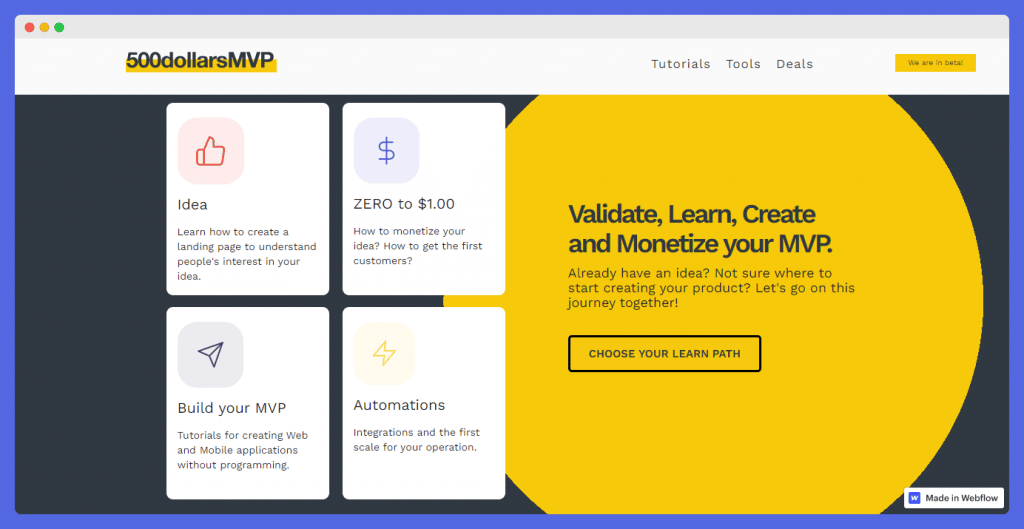 As the name suggests, 500dollarsMVP is focused on helping you bring ideas to life and testing their viability as quickly as possible. The company specializes in developing Minimum Viable Products, websites, and mobile apps within a short time and on a minimal budget.
By using Low Code development platforms and focusing on essential product features only, 500dollarsMVP can shorten the app development process to 1-2 weeks.
Their professional developers will also advise business users on whether it's better to use pre-defined templates, how to take inspiration from existing apps and monetise your product in the best way.
500dollarsMVP uses Airtable, Webflow, Glide, Zapier, and other popular No Code platforms to help companies bring their software ideas to life without complex code.
They target entrepreneurs looking to bootstrap their company as quickly as possible without hiring a professional designer or development company.
5. Ace Workflow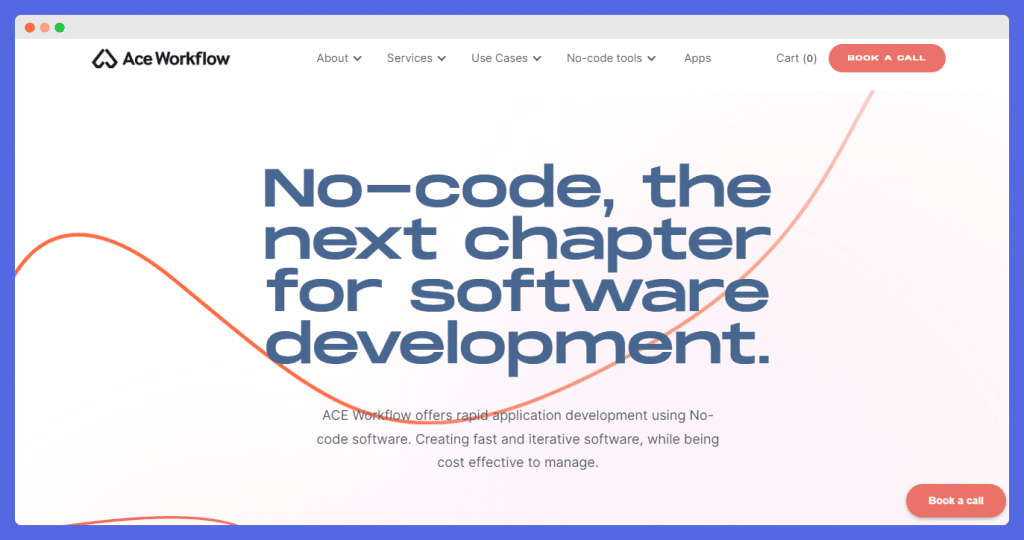 Formerly known as Airtable Agency, Ace Workflow helps organizations rapidly build and deploy custom software and apps that work. The Agency's service is targeted at business users that are looking to build internal tools for streamlining and automating their business operations.
The Ace Workflow team can create workflows rapidly using Low Code development platforms like Airtable, Zapier, Staker, and Hubspot.
The agency offers numerous pre-built templates of Low Code platforms that can be easily customized to a company's specific needs. There's also the option of building a bespoke solution from scratch.
Ace Workflow was founded in 2018 and the company has developed complex apps for hundreds of clients across various industries.
6. Airdev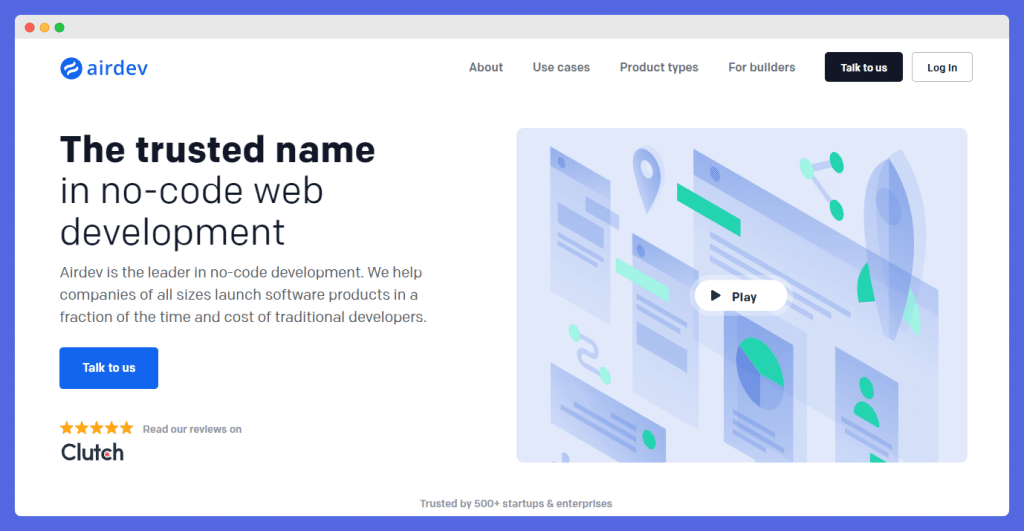 The Airdev Low Code development company offers rapid prototyping and No Code development for startups looking to launch scalable products and create apps at a fraction of the cost of conventional development[2].
Airdev also helps SMEs and enterprises to automate key business functions using Low Code development tools.
The Airdev team favors the Bubble visual development platform[3] for building prototypes and products. Other things you can build with Airdev include marketplaces, social networks, project management and analytics tools, together with sales tools.
In addition, Airdev has features that empower No Code entrepreneurs and builders to create products better and faster than ever before.
7. Build Lab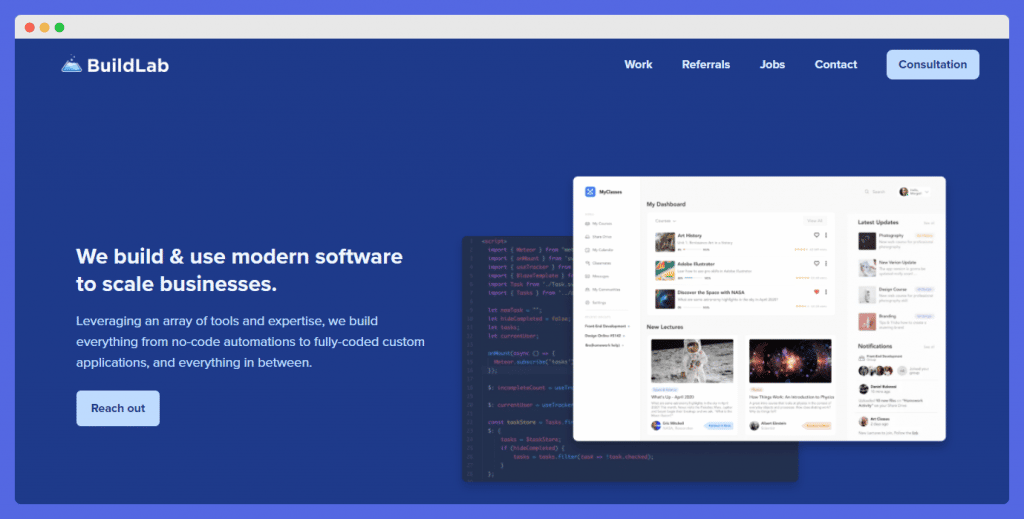 Build Lab is a Low Code app development agency that helps businesses to build automation solutions and create apps to help them grow their business and streamline their operation. Using different Low Code tools and expertise, Build Lab helps to build modern No Code automation that helps to get rid of manual processes for good.
The Build Lab team can also work with startups looking to build custom fully-coded web and mobile apps from scratch using No Code tools like Zapier and Make. In addition to the development of mobile and native apps for internal and consumer uses, Build Lab also specializes in the database architecture development process.
Unlike other Low Code development vendors, the agency can also assist enterprises with the integration of services like Firebase, Stripe, and so on in their new or existing systems.
8. Anticode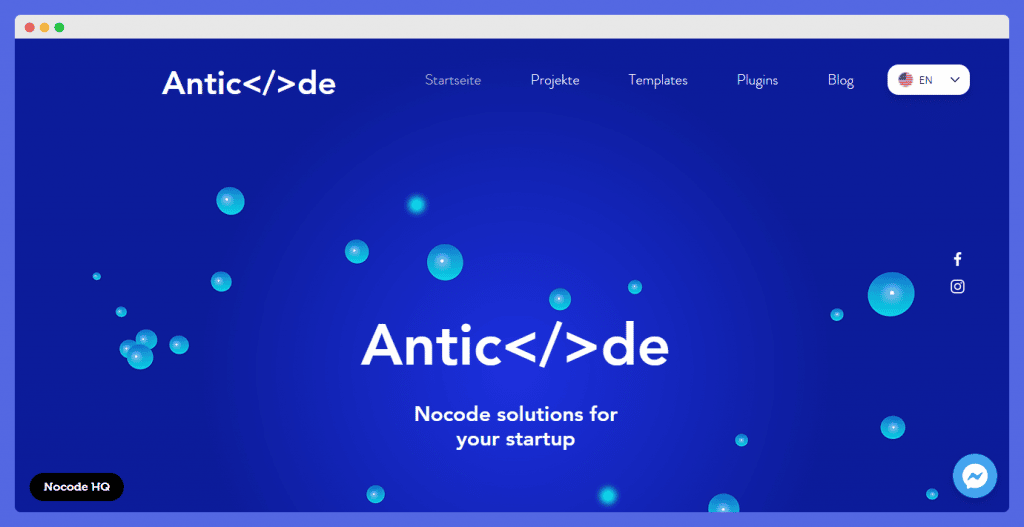 Anticode is a Low Code development company that uses visual programming to help businesses test their ideas through the development of MVPs.
This low code development vendor also specializes in the creation of fully functional, full-featured websites and web apps complete with a broad range of integrations and customized to meet the specific needs of your business.
In addition to helping businesses build low costing websites with the No Code tools, Anticode can also boost your enterprise marketing efforts through the integration of chatbots and AI-based solutions.
This helps businesses customize their platforms to offer a more tailored experience to users and improve conversion in the long run. Anticode also has a marketing team that helps organizations to supercharge their marketing efforts and design marketing solutions that are most suitable for their needs.
9. Cube App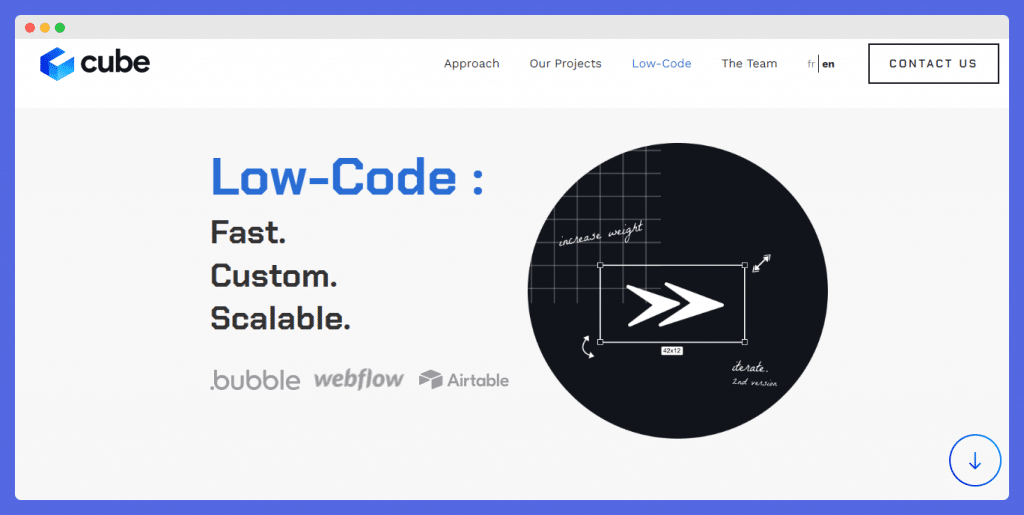 Cube App is a Low Code creative agency that offers product ideation, design, and development services for enterprises and startups.
The No Code experts at Cube App make use of modern low code software like Bubble, Airtable, and Webflow to develop customized websites and applications within a short period of time.
Cube App's team is made up of seasoned product designers, sales experts, project managers, and Low Code developers that are experts at using a wide range of Low Code technologies.
The company has worked with hundreds of founders and enterprises in France and other countries all over the world to bring their product ideas to life.
10. Huggy Studio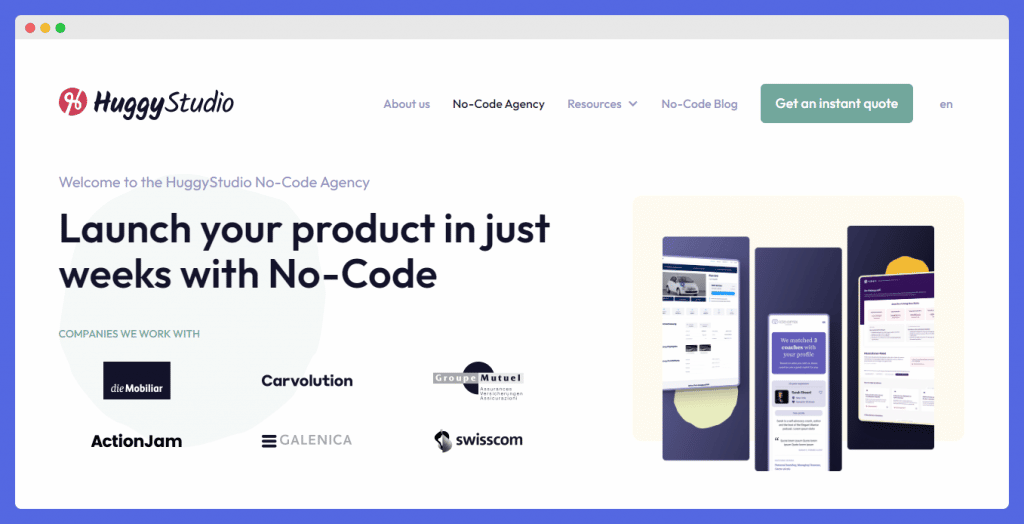 Huggy Studio is a Low Code development company that specializes in helping companies launch new products without writing codes. The deviation from conventional development helps to save cost[4] and reduce production time quite significantly.
Since the company is focused specifically on creating working versions of product ideas, Huggy studio has a robust team of product managers and UX designers that work closely with you through the various stages of the process from producing clickable prototypes to launching your first product iteration.
The company uses Bubble and other visual development tools to create fully-functional products. The Huggy Studio team is particularly experienced with Corporate innovation and they have worked with several startups to give them an edge in their industry.
Low Code Development Platforms Agencies Use the Most in 2023
The Low Code development platforms most used by agencies in this list are the following:
Conclusion
The advent of the Low Code/No Code ecosystem[5] has favored the growth of several Low Code development vendors and agencies that you can consult or hire to build a working product for your company. As you'll find, this is a cheaper and faster approach to development than hiring an in-house coding team with the promise of achieving the same result.
Partnering with any of the agencies mentioned in this review is a smart choice for anyone looking to embark on a No Code project with no idea of where to start.