Are you trying to decide whether to make a purchase decision on Elementor Pro? This Elementor website builder review will help you understand the tool a little better and provide you with a fresh perspective. This Elementor review takes into account all the latest features updated in the plugin in January 2023.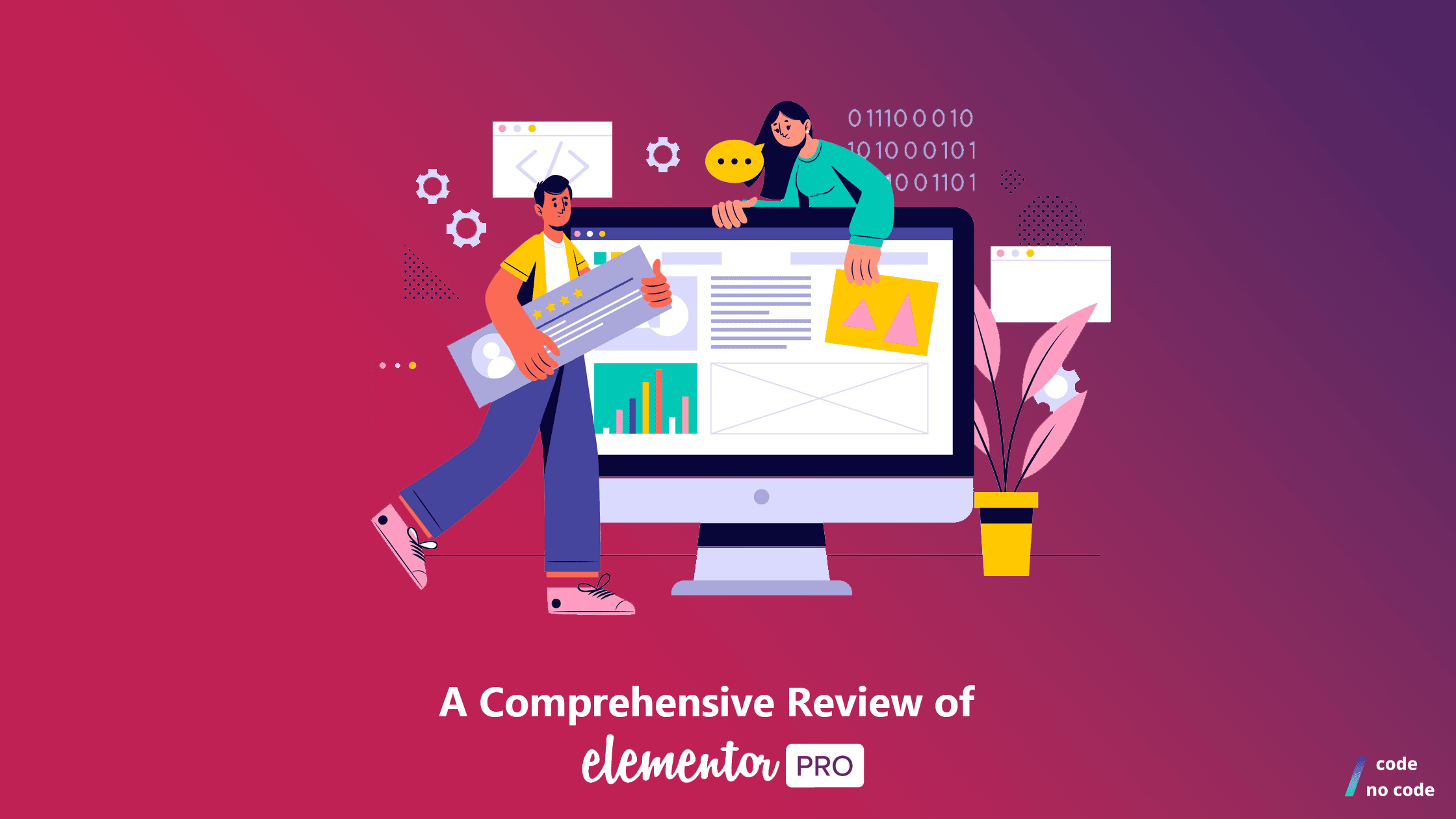 If you are already familiar with the basics of the tool, you should jump directly to the Pro Elementor review.
Elementor is a No Code page builder plugin that allows users to create web pages with drag and drop functionalities. It is a visual builder where you can insert design elements like buttons, headings, forms, or images on your website without coding.
Elementor Pro is a paid add-on for the free version of this plugin. Here is how the Elementor page builder looks like: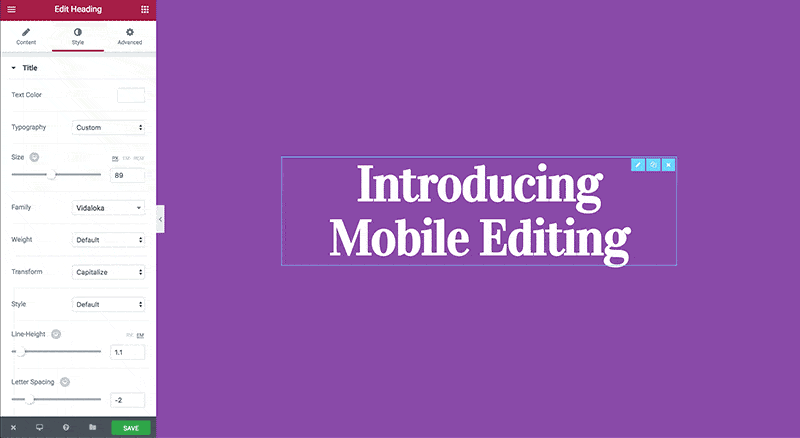 What Makes Elementor So Popular?
Elementor is the earliest and most consistent WordPress page builder since its launch. The WordPress plugin website builder shortly became a must-have in the tech stack of people who wanted to build websites without code.
The Elementor user interface is simple and designed for fast publishing. This Elementor review aims at helping you understand why the Pro version has gained popularity as well.
What is the Difference Between Free Vs Pro?
Let's have a look at a side-by-side comparison of the Free and Pro plans of the Elementor plugin. You should keep in mind that the Pro plan includes everything available in the free version and more.
| | | |
| --- | --- | --- |
| | Free | Pro |
| Widgets | Elementor free has more than 30 basic widgets that could be directly opened from your WordPress page builder. | Pro plan allows you to navigate between 60+ widgets like Call to Action, Price Table, Flip Box. |
| Pop up and Form builder | It is not available in the free version of Elementor. | You can create customized pop-ups and forms directly on this WordPress page builder. |
| Templates | You can access 30 templates in Elementor free. | You get access to more than 300 templates designed by experts at Elementor. |
| Support | There is no support available in the free version. | You get 24/7 support from your Elementor dashboard. |
| Theme Builder | Unavailable in Elementor free. | Create theme templates and edit headers, footers, and some pages on the Elementor editor. |
| Adding Custom Code | You can't add custom CSS to widgets. | You can customize widgets by adding CSS. |
Pricing Policy
The Elementor WordPress plugin is not just a page builder. The tool also offers cloud hosting for WordPress[1] sites. Therefore, there are two ways you can approach the pricing of Elementor Pro.
Elementor Cloud Website – You get Elementor Pro along with a trusted and secure cloud hosting for your entire site.
Elementor Pro Plugin – You get the Pro plugin addon (Page builder) for your hosted website.
Elementor Cloud Website
Cloud Website is a hosting platform that offers 360° access to your website directly at one fixed price of $99/year. You don't need to host a domain on a 3rd party platform, manually update the security, pay the infrastructure fee, and maintain the website since Elementor Cloud Platform does it all for you.
Here are the 3 key differences between building your entire site with a 3rd party host vs Elementor's Cloud Hosting:
Google Cloud Platform
It is based on a highly secure and trusted Google Cloud Platform which runs on the same infrastructure that Google uses internally for Google Search, Gmail, Google Drive, and YouTube.
CDN By Cloudflare
Your website will be backed by Content Delivery Network by Cloudfare that directs your visitors automatically to the closest and fastest server for a smooth user experience. You also get the free SSL certificate along with the plan ensuring your website is secure and encrypted.
Premium Support
Get assistance on your basic page builder to advanced automation queries within 24 hours from the premium support team. They have also introduced a 24/7 live chat option exclusively for this plan.
Some other noteworthy specs of the Elementor Cloud website include
20 GB storage
100 GB bandwidth
100K monthly visits
Daily backups
If you are planning to use Elementor for all the pages of your website, it makes sense to get your hosting from Elementor as well.
Elementor Pro Plugin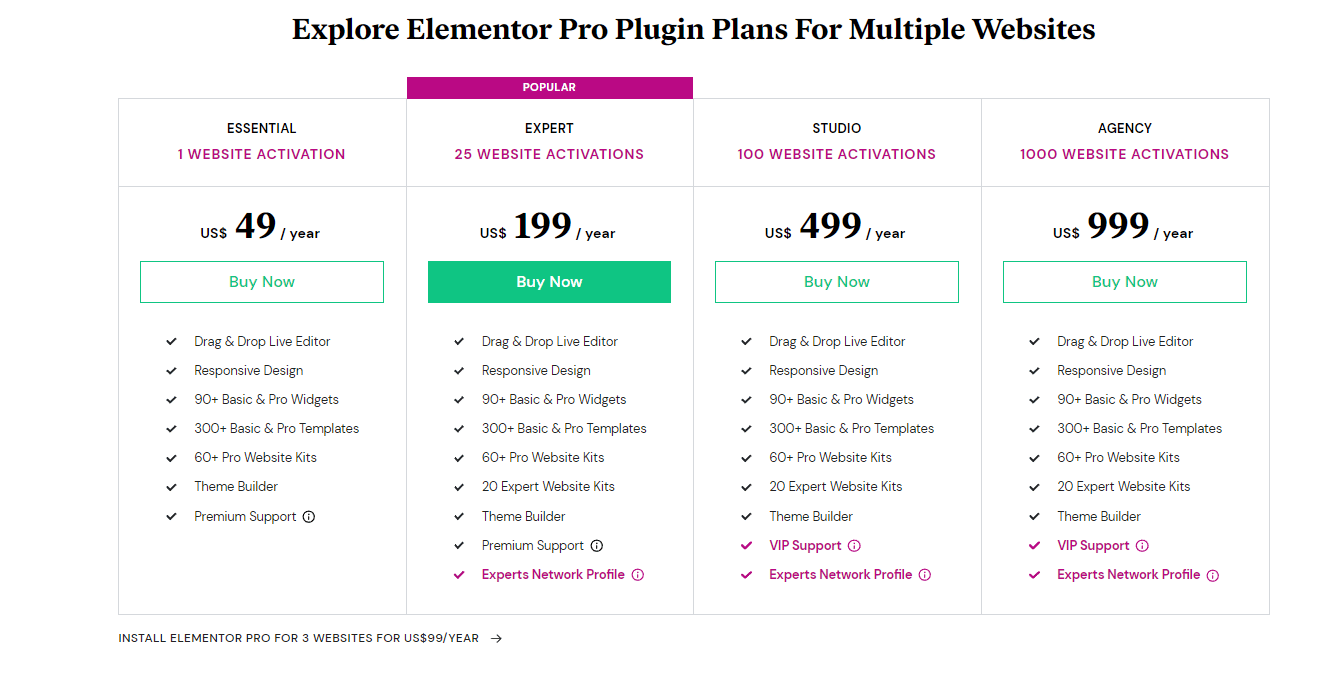 Considering you have a third-party hosting platform for your website, Elementor Pro Page builder has 5 paid plans.
Essential
$49/year
1 Website activation (You can use Elementor Pro on one website)
All of the Pro features
If you are working on your personal website, it is the plan for you.
Advanced
$99/year
3 Website activation
All of the Pro features
If you are starting out as an Elementor developer, you can choose this plan.
Expert
$199/year
25 Website activation
All the Pro Features and Experts Network Profile that helps your brand get hired.
If you are a web design freelancer or small agency, you should choose this plan.
Studio
$499/year
100 Website activation
All the Features in Expert and VIP Support that gets you priority support under 30 mins.
This plan is for brand studios and medium-sized web agencies.
Agency
$999/year
1000 Website activation
It is basically the same plan as Studio, but with more websites.
This one is designed for large corporations and agencies.
Top 5 Elementor Pro Features that Make It Great
We will start our Elementor review with the top 5 features that make Elementor Pro worth the money.
This feature is a pretty successful attempt at solving one of the biggest WordPress problems. WordPress themes were rigid and used to mess up the whole design with a tiny change. Coding was required to sort this issue out and even then it wouldn't completely solve the problem.
The Elementor Theme Builder allows users to create a customized theme for their WordPress site. Users can visually customize the headers, footers, archive pages, single post pages, and other areas of your site. Here's how you can do that.
Step 1 – Login to your WordPress site admin panel.
Step 2 – Go to Apperances>>Themes>>Select the hello theme.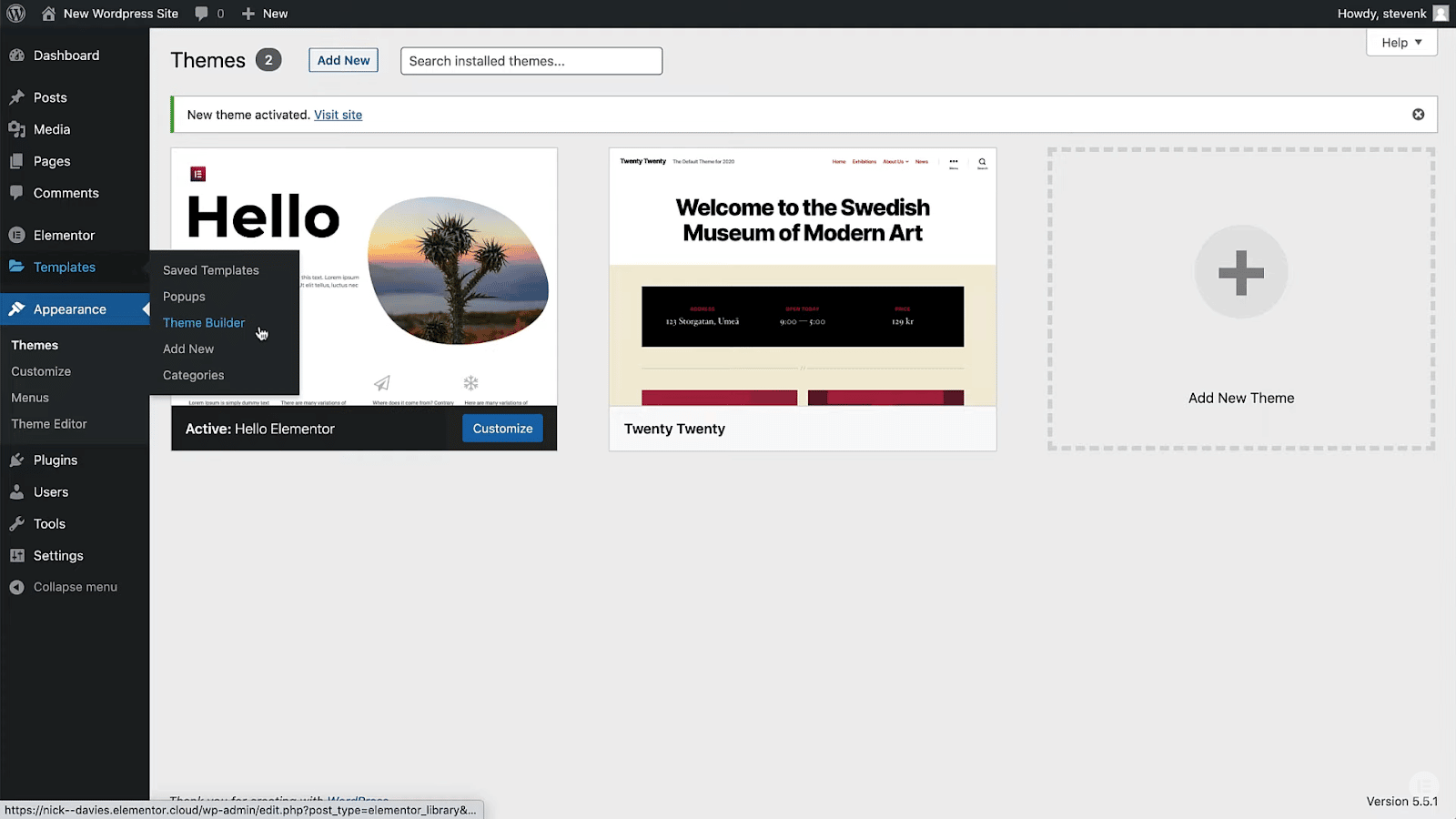 Step 3 – Go to Templates>>Theme Builder>>Click on Try it now

Step 4 – Create customizations in all the essential parts of your website like header, footer and Error 404 page.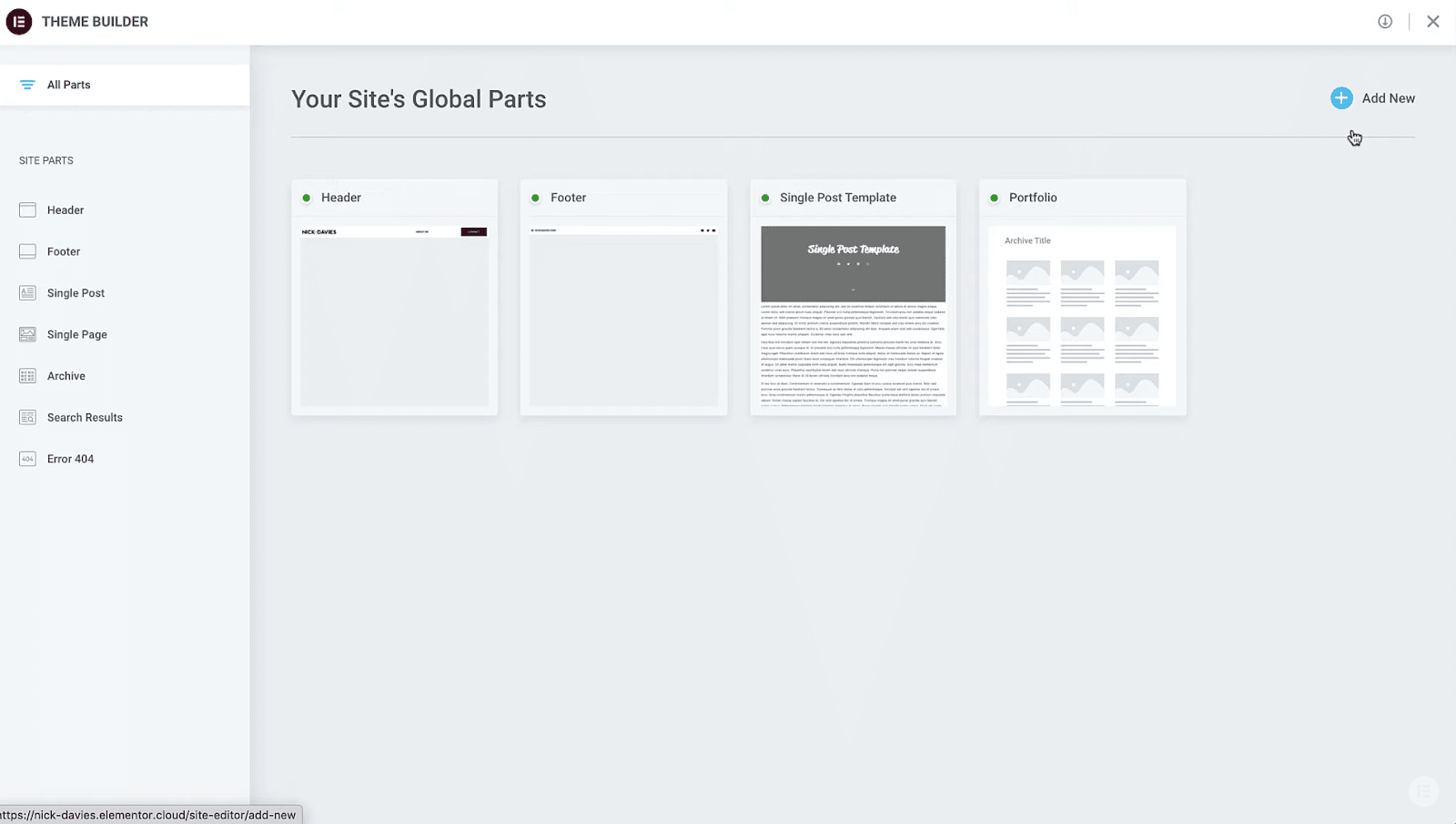 Step 5 – Click on your choice of part and you can edit it on the classic Elementor editor. This enables you to manage each part of your WordPress site from one dedicated page.
The Elementor Theme Builder is an excellent feature that allows you to customize the design of all the facets of your WordPress theme. It is a pretty advanced feature. Hence, it ranks as a top feature in this Elementor review.
Custom Forms
It is the most efficient way of collecting visitors' valuable data from your website. Our Elementor review is incomplete without mentioning their forms. Elementor Pro lets you visually design forms and integrate them on your website.
These custom forms could be used to build a mailing list or to generate leads from your website. Elementor also optimizes forms for different devices. Switching between devices like desktop, tablet, and mobile keeps the form flawless.
Here's a collage of some of these form templates created by the Elementor team.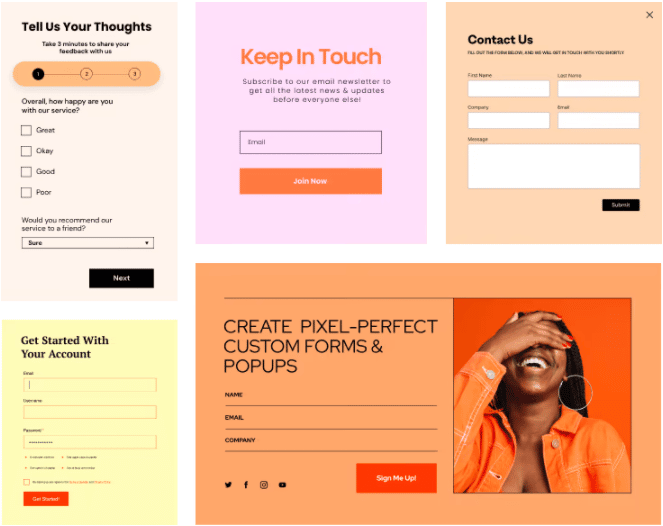 You can create these forms from the front end and integrate them with your CRM or sales software for data.
Some of the useful features like adding reCAPTCHA, images, checkboxes make it a really powerful tool, which is why it was worthy of a mention in this Elementor review. These forms will supercharge your WordPress site.
Pro Widgets in the Page builder
Apart from basic widgets like images, text, and headlines, Elementor Pro provides 30+ powerful widgets[3] that can make your website look professional and dynamic. Here is the list of all the widgets available exclusively on the Elementor Pro.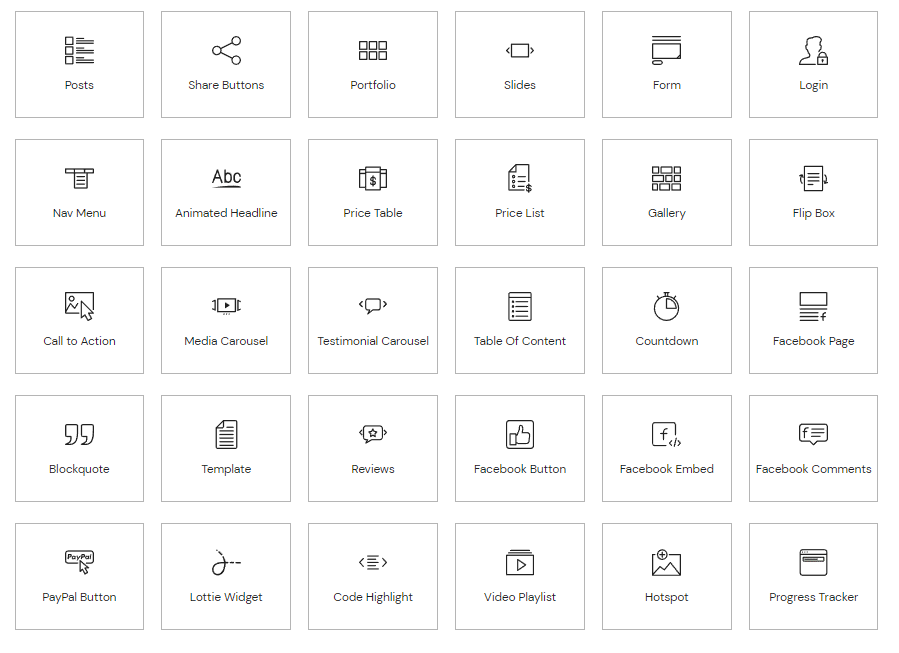 Some of the interesting ones are
Testimonial Carousel – Design testimonials from your clients and customers that drive social proof, trust & conversions directly from the wordpress page builder. It shows authenticity and love for your brand.
Animated headlines – Highlight your headline with animation effects and control the timing of the animation. You can play around with animation templates to create an engaging experience for the users.
PayPal Button – Collecting PayPal payments directly from your website is as easy as pressing a button.
Integrations
Elementor Pro can be seamlessly integrated with 20+ tools including Hubspot, Mailchimp, Slack, and Discord.
It helps you create website automation with No Code. You can integrate your form with MailChimp. Now, every time someone fills a form, they will be added to your subscriber's list or the list you selected while integrating it.
You can also toggle double opt-in which asks for an email confirmation. This prevents fake and spam email accounts from being added to your mailing list. This feature makes it an essential No Code marketing tool as well.
Pro Templates
It is safe to say that Elementor got popular in part due to its templates. It makes the page builder easy to use and understand. There are outstanding themes available in the free version but it fails in comparison when you look at Elementor Pro Templates. They are clean and well designed.
Apart from Elementor's official template library, many third-party websites curate Elementor Pro Templates. Two such famous curators for both paid and free templates are TemplateMonster and Elementorism. If you read an Elementor review online, everyone (at least once) mentions their templates library.
A Few Drawbacks / Cons of Elementor Pro
This Elementor review is completely unbiased. Hence, we want you to see some of the cons or issues with Elementor Pro.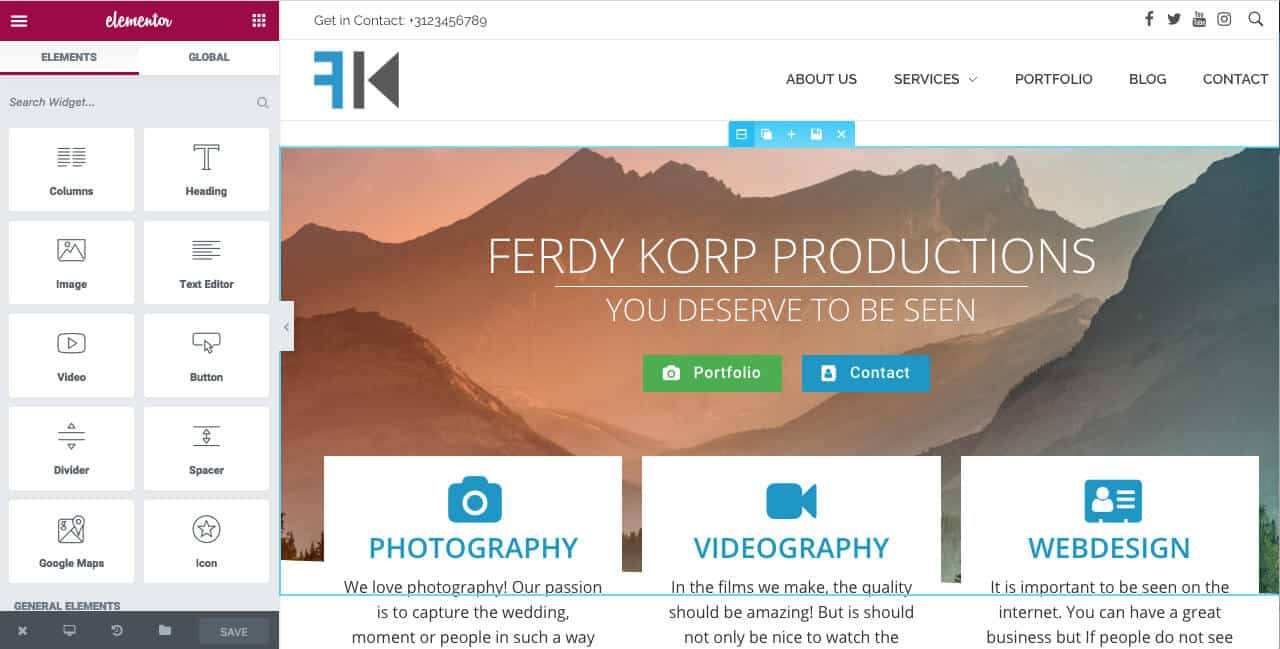 Speed issues
Performance and speed of the site have always been an issue at Elementor. Since the beginning, people have found websites developed by this page builder taking too much time to load.
This gave rise to a very hefty competitor, the WordPress-native Gutenberg block editor. Which is usually used as a replacement to Elementor to tackle speed issues. Although it helps with the speed, Gutenberg lacks some of the basic functionalities that Elementor page builder delivers.
If your visitors have high-speed internet, it should not be an issue. You can try the free versions of different marketing and website boosting tools that could suggest some changes to optimize.
No lifetime plan
As you could see in the pricing section, all the plans collect payment on an annual basis. If you build an entire site on Elementor for a client, you must keep subscribing to the annual plan. If you stop the subscription, the website won't disappear but you would stop receiving updates on WordPress.
If WordPress or Elementor receives a big update, it might damage the design or security of your website.
If Elementor Pro had a lifetime plan for one website, it would become very easy for single website owners to maintain their site without paying heavy fees every year. However, that is not the case now.
Learning Curve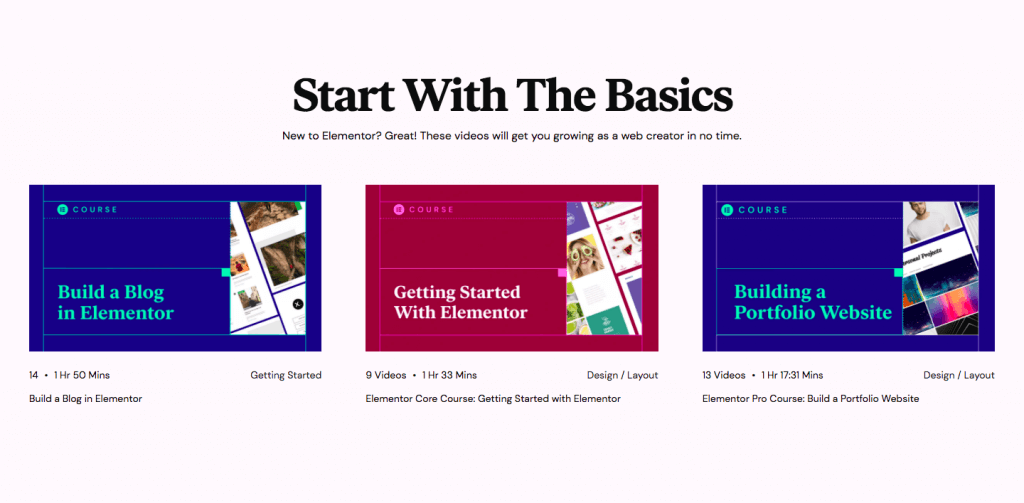 Elementor Pro has a relatively high learning curve. Since it offers a range of functionalities, it is difficult to master the platform in a short time. Although Elementor has made it easy to learn from their Academy which consists of blogs, tutorials, and webinar details to solve user problems.
The Elementor team have tried their best to make the knowledge accessible and engaging for citizen developers.
Final Thoughts
That brings us to the end of this Elementor review. If you want to create a simple website or you are just starting as a No Code developer, we would suggest you explore the free version of the page builder. Play around with the free features.
If you are getting an understanding of the basics of the tool, you can buy the essential plan. If you are already aware of the features or run an agency where you want to build websites for clients, you can consider buying Elementor Pro. You will supercharge your website with its extended functionalities.
This was our unbiased Elementor review. Follow us on Twitter to stay updated with more No Code content!