Building a website was a tough task back in 2010. But after the introduction of No Code website builder platforms like Zyro and Elementor, it has become smooth and effortless. Anyone with a computer, internet, and enough willingness can build an amazing website without writing a single line of code within a few days. [1]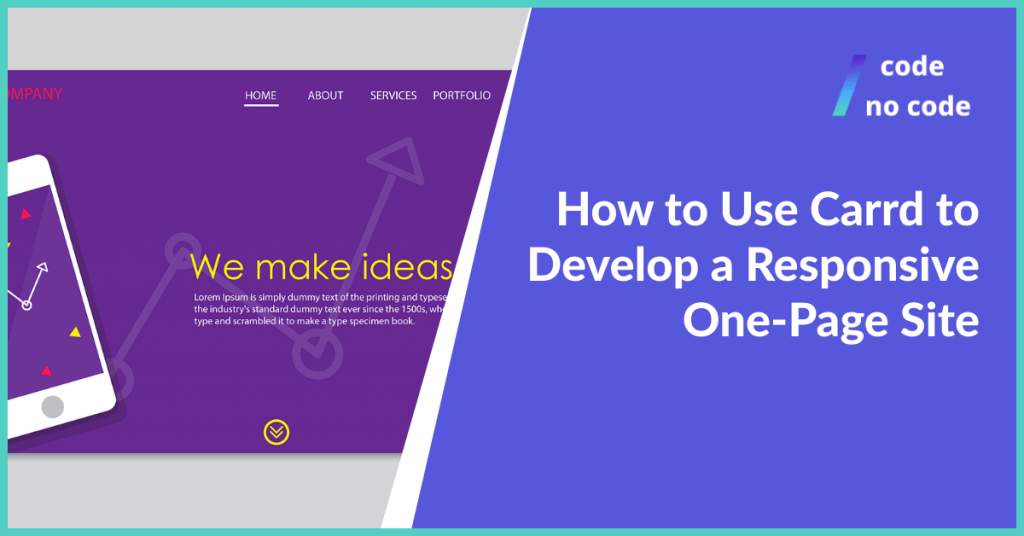 The complexity of these websites varies depending on your requirements. But if your goal is to create a one-page website with all your business information, Carrd is the perfect platform for you. In this blog, we will give you an overview of the platform and a tutorial on how to use carrd to create a one-page website.
A quick note - If you are planning to buy a paid plan of Carrd, use our affiliate link. That will help us in the pursuit of providing valuable content for free to you.
Overview of Carrd
Carrd is a No Code platform where you can build a responsive website and connect it with email marketing platforms like Converkit, Mailchimp, and MailerLite. You can also integrate payment gateways like Stripe and analytics platforms like Google Analytics to your website with simple drag and drop.
Here are a few popular types of sites that you can build with Carrd. Templates for each of these categories are available in their library.
Profile
Create your individual profile where you have all your professional information. It could be used for networking or for an employer.
Landing Page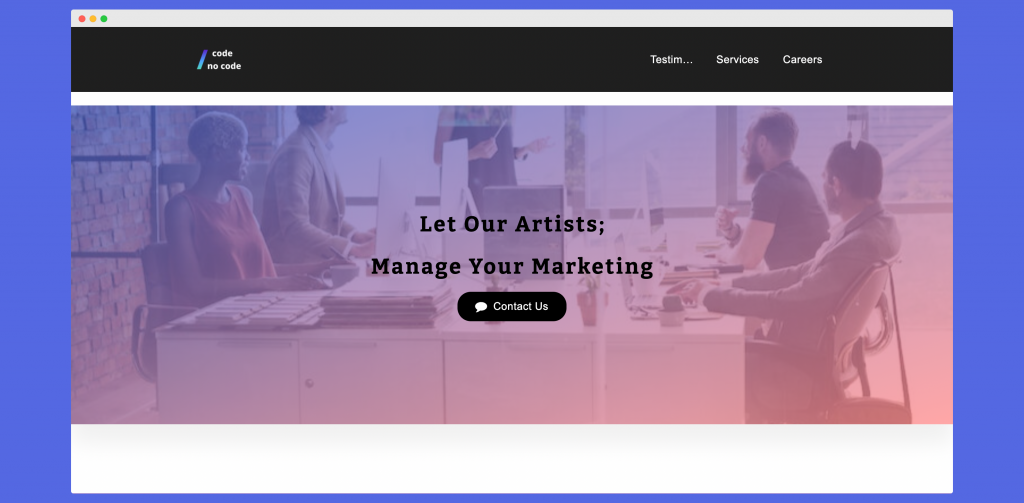 Build a page that provides information about your products or services. It would have basic info about your business. For example, how to contact you or details of the services you provide. Landing pages are best for small local businesses trying to grow their audience.
Forms
Create attractive newsletter forms to collect information from your audience. Collect contact forms, sign-up forms, or custom forms with Carrd. It seamlessly integrates with 12 email marketing platforms including ActiveCampaign, Revue, SendFox, and Sendy.
Portfolio
Showcase your work with Carrd. This kind of website is perfect for freelancers trying to make their way into the professional world. Sometimes it is style over substance. So even if you have a small amount of work in the industry, you can present it in an impressive way through Carrd.
Sectioned Website
This is a hybrid between a one-page and multi-page website. Sectioned websites are one-page websites divided into different sections that load when you click on that section. If you have a lot of information to cover, you should create a sectioned website and segregate your viewer's attention.
How to Use Carrd to Create a One-Page Website
In this tutorial, we will build a Carrd website for an agency. So keep in mind that all the references and settings will be adjusted according to an agency's needs. But if you have something else in mind, you can obviously tweak the elements and get your own layout.
The final result of this tutorial looks something like this: Carrd Tutorial Website. It is a simple one-page website that has 1 header, 1 footer, a hero section, and a contact form. Let's learn how to create each of these sections.
Here's the step-by-step process of building a website with Carrd:
Register a Domain
You need to buy a domain to host your website. It usually costs around $20- $40 for a unique domain. But if you choose a very popular name, the chances are it would have already been taken and have a high price to it.
Try and search your domain names at GoDaddy or any other custom domains provider.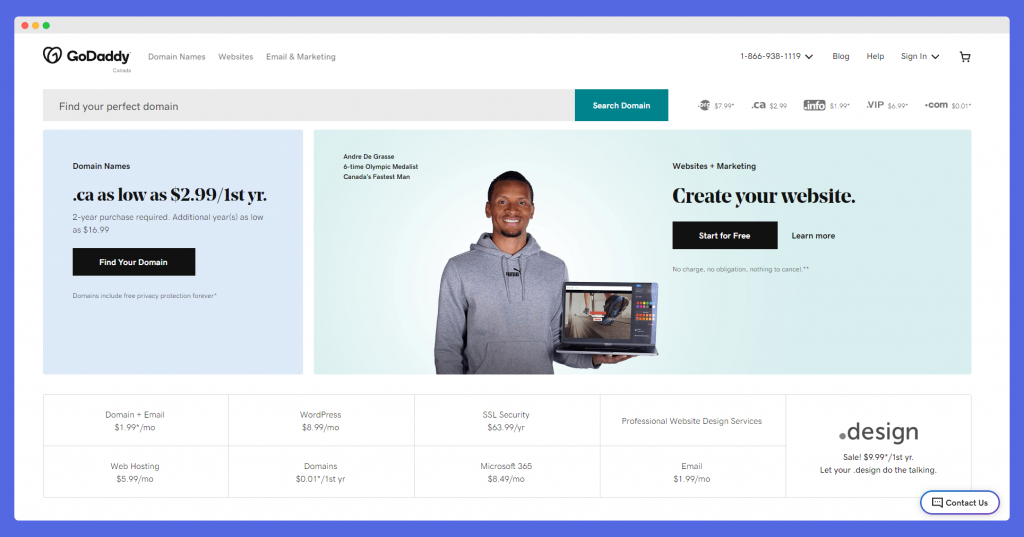 Sign up for the free trial
We suggest you buy the paid plan eventually since the free plan doesn't allow you to add a custom domain to the website.
If you are a new user, start with the 7-day free trial where you can test out all the Carrd's core features and additional ones for free. It gives you enough time to experiment with the tool.
Choose a Starting Point / Start from a Blank Canvas
There are two ways you can create your Carrd website. You can either choose a template from their template library or start from scratch.
If you want to take the template route, it is just editing the content and format changes. But it is not always easy to find a template that exactly matches your requirements.
That's when you start with a blank canvas. This will give you complete design freedom.
When you click on it, you will be greeted with a "Nothing here, yet! :)" message.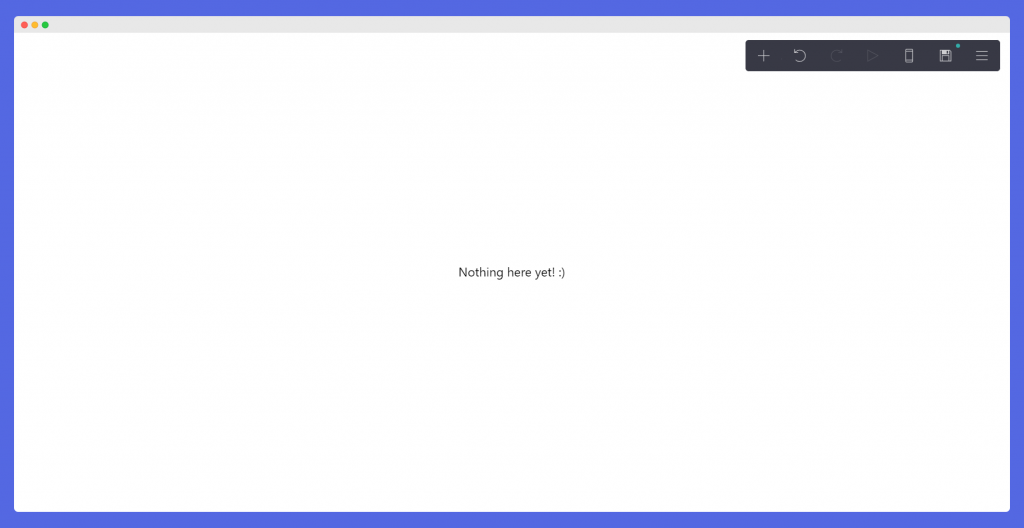 Change the Background
The background represents the color or image that will be used throughout your website. You can always customize the section background colors.
Unless you have really strong feelings about a color attached to your design, we suggest you go for white or any other lighter tone of color.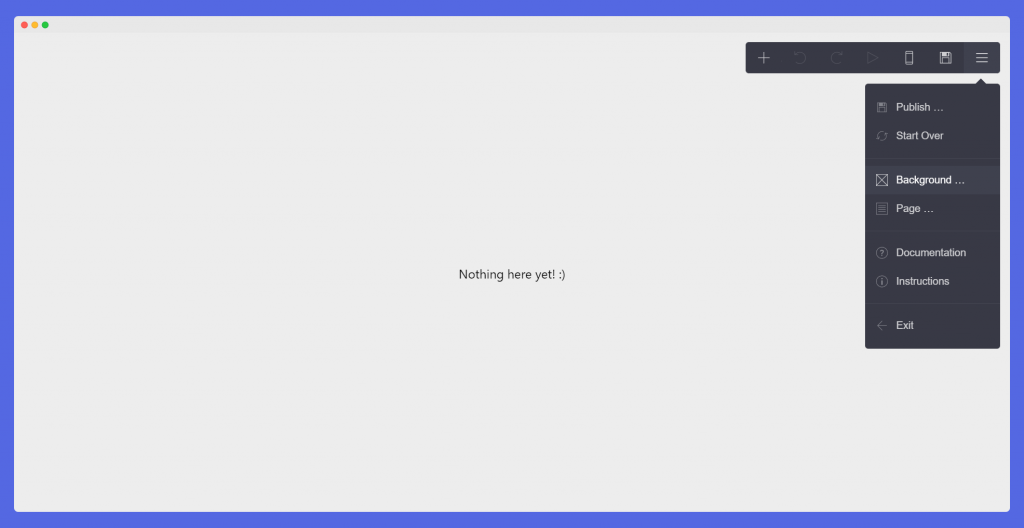 Go to Options >> >> Choose the color code - White (#FFFFFF) or a light blue color (if your design guide allows).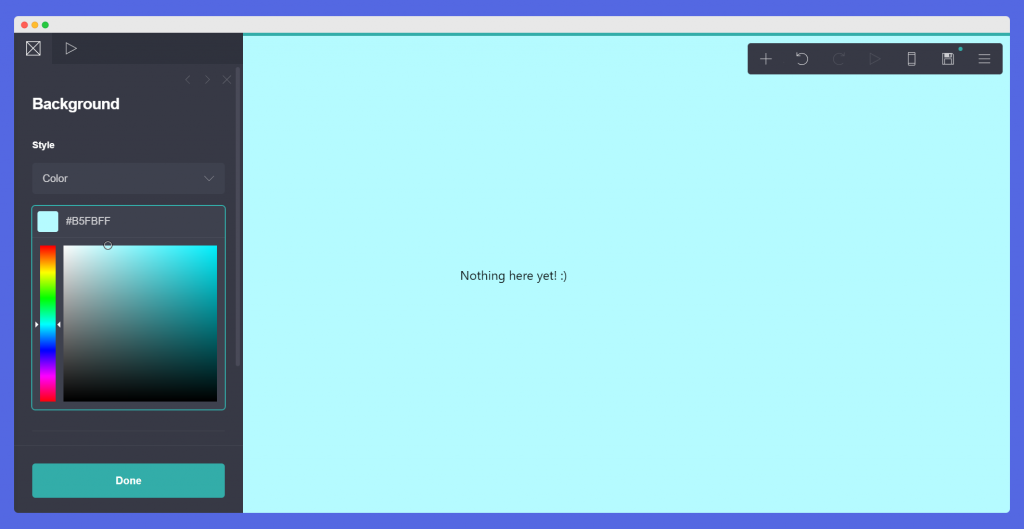 Create a Nav Bar
Navigation Bar is the UI component at the top of your page that contains links to other sections of the website. Our Nav bar will have a logo and 3 links i.e. Testimonials, Services and Careers.
Delete the 'Nothing here yet!" text.
Click on the plus icon >> Add container
Change the settings of the container as per your requirement. Here we have kept the standard. 25% left & 75 % right column.
Click on the left column >> Add image component. Click on the right column >> Add button component and duplicate it thrice.
Put your logo in the image section. Change the button layout and text according to your requirement. Keep the URLs default for now.
Your page should now look something like this.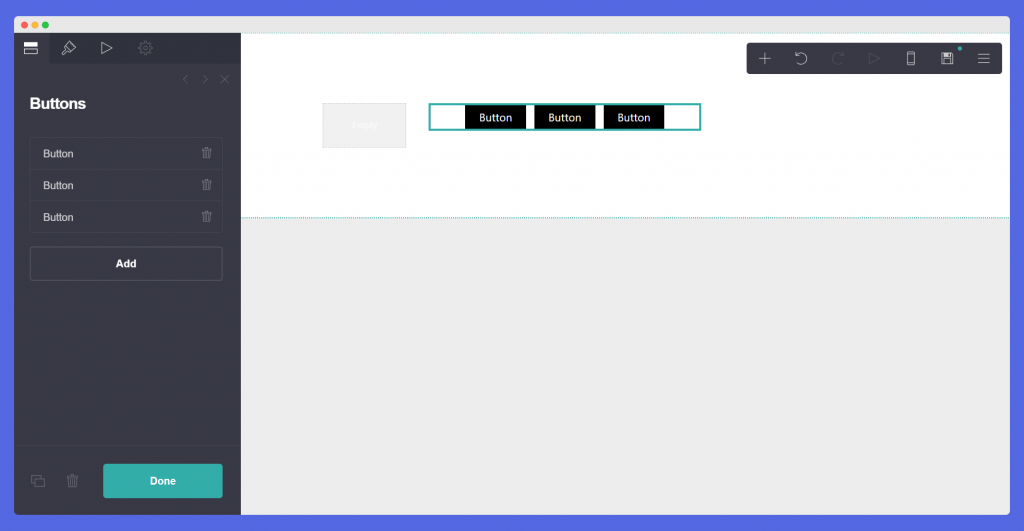 Put your logo in the image section. Change the button layout and text according to your requirement. Keep the URLs default for now.
Your page should now look something like this.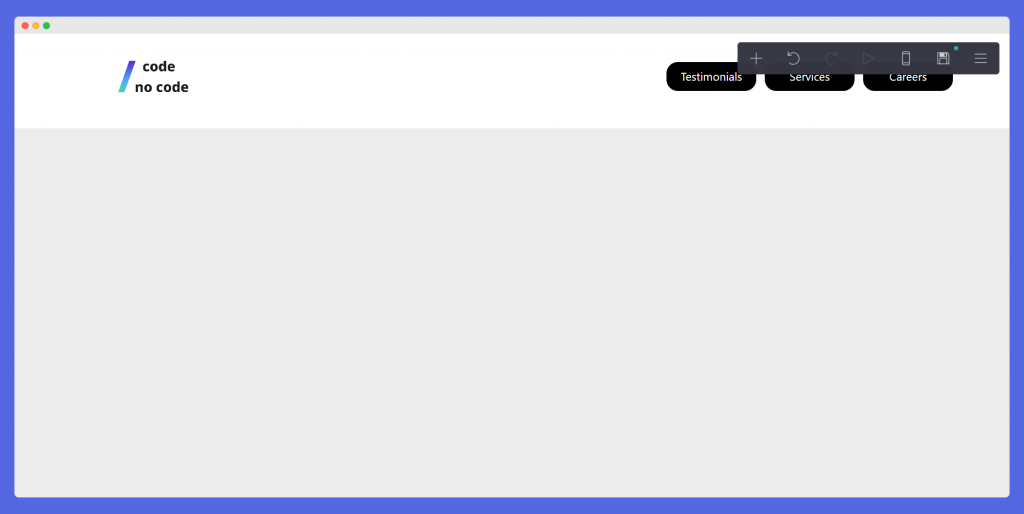 Create your Hero Section
Hero Section is the body of your page. It is the first section that can be seen immediately under your logo. The hero section is the main highlight of your website.
Add a container
Go to Appearances >> Change the height to 30.
Add a background image and gradient layout. You can add anything in the image element but we suggest you use a high-definition PNG image to get the most out of Carrd.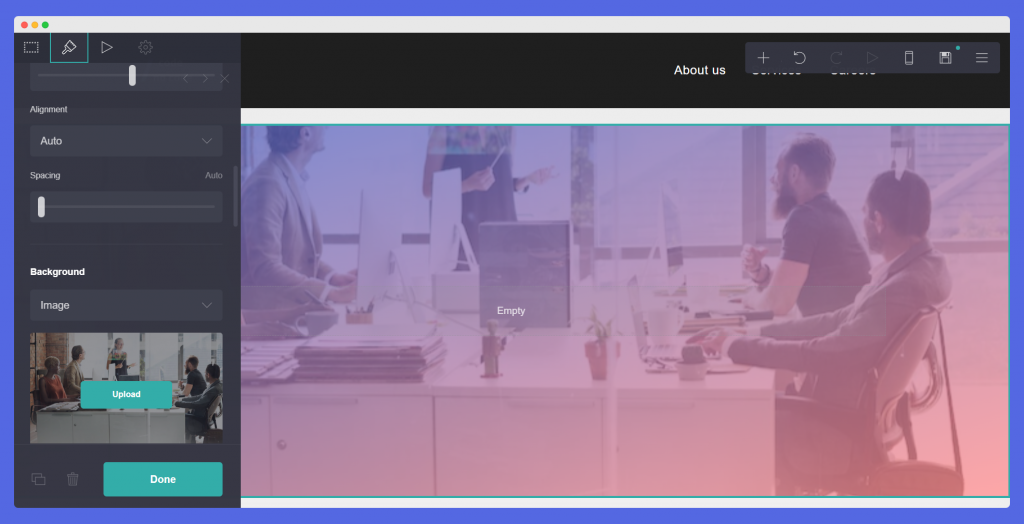 Add a text layer where you read 'Empty'. Add a catchy headline. (in our case, we will be writing - 'Let Our Artists; Manage Your Marketing'
Add color, style, and simple animation to your text.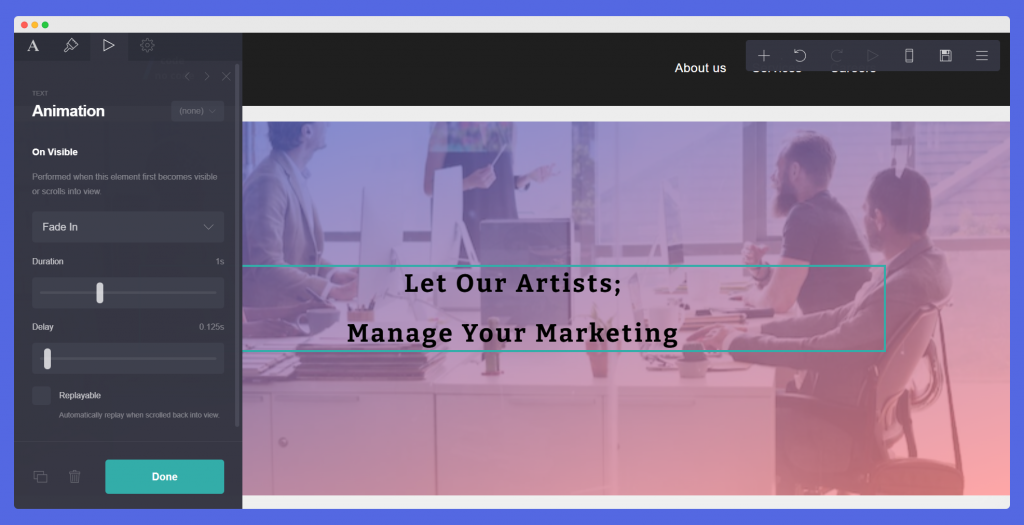 Add a button right below your headline to boost conversions directly from the landing page. In our case, we will be adding a contact us button.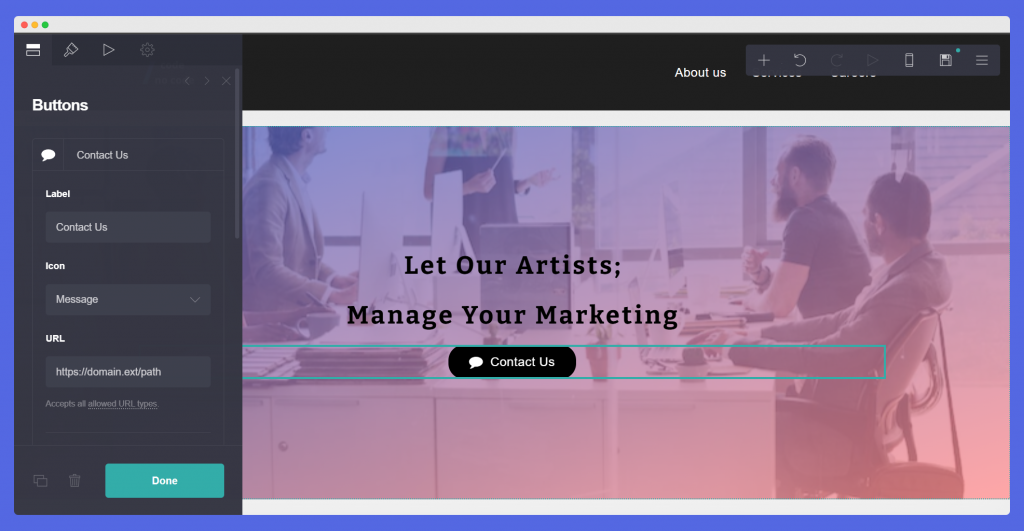 Currently, we don't have a form to link so you can keep the default URL. We will change that at the end of this tutorial.
Add Testimonials
Add a text column as a heading and label it "Testimonials"
Create a new container and change the type to column.
Add a third column. (Considering you need 3 testimonials in a single fold)
Change the background color.
Add image and text elements to all three columns.
Create a new style called testimonials in the appearance section so that when you change one column, the changes will be automatically reflected in the other columns.

I have also added the circle border to give it a little funky look. You can adjust that according to your preference.
I have also added a small shadow in testimonials just to give it a slightly premium look. You can align it according to your requirements. This is what the final result of testimonials will look like:

Add Services
Similar to the last step, we start by adding a container with two columns. The left one is for the image and the right one is for text. The service section will have information about our agency's services. Currently, we will be adding copywriting and email marketing.
Add the image element on the left and the text element on the right.
Style it according to your requirements. Here I have kept H2 and Paragraph format in the text.
Use transparent images as they look neat on a website. Choosing an image can be difficult but you can always change it. So don't shoot for perfection.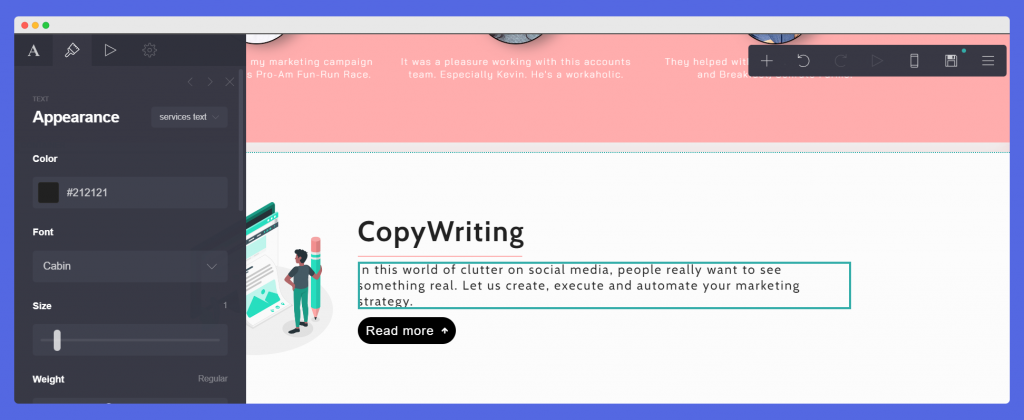 You can add a button that leads your users to a specific page of this service. For now, you can use the dummy URL.
Add a divider between Heading and Paragraph to highlight the headline a bit. (Totally optional)
Once you are done with this container, click on it and select duplicate. Change the contents of the duplicate container as many times as you want.
Your final service section would look something like this.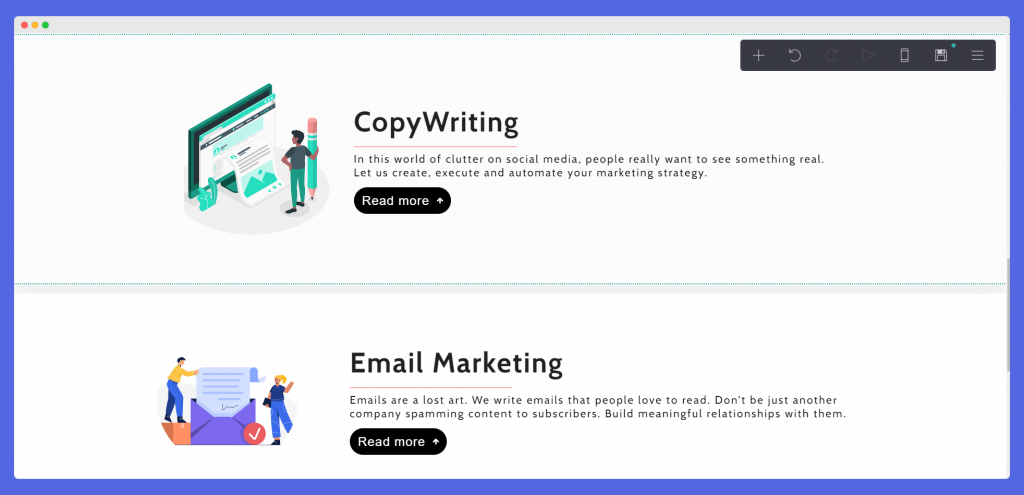 Add a Contact Form
You can add a sign-up form, contact form, and customize your form. We will be creating a contact form to collect newsletter subscribers.
Add a container and split it into 2 columns.
Add text element on the left column and form element on the right one. (You will have to unlock the 7-day free trial to access the form element).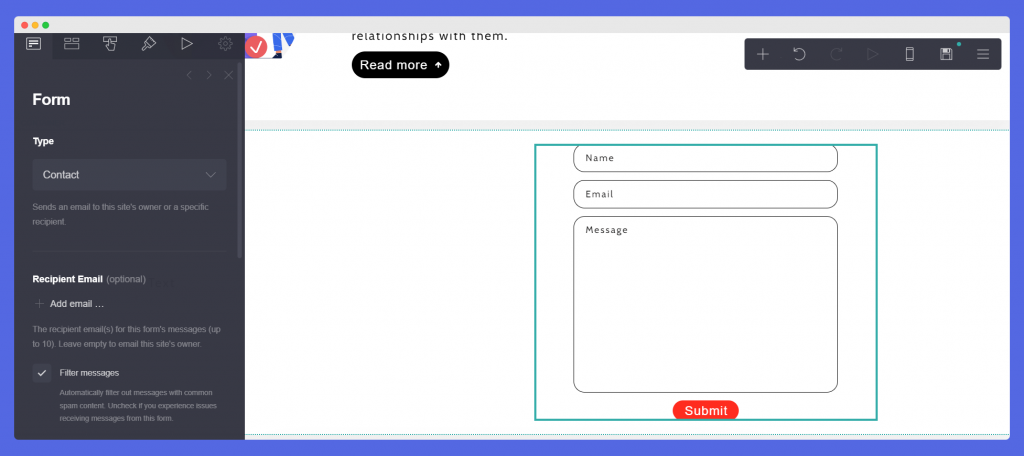 Add your text to the left column. And make layout changes in the form.
I have deleted everything except for the email address as that's all I need.
Also, go to Appearance>>Form>>Layout and change the layout to row instead of column. This is to make your form appear sideways.
Once you adjust little tweaks, here's what the form would look like:

Design your Footer
Create a footer where users can easily access all your information. This will become crucial once you create multiple pages for your websites. For example, if you have a blog, you can add links to your featured blogs in the footer to increase traffic.
Create a container and add 3 columns.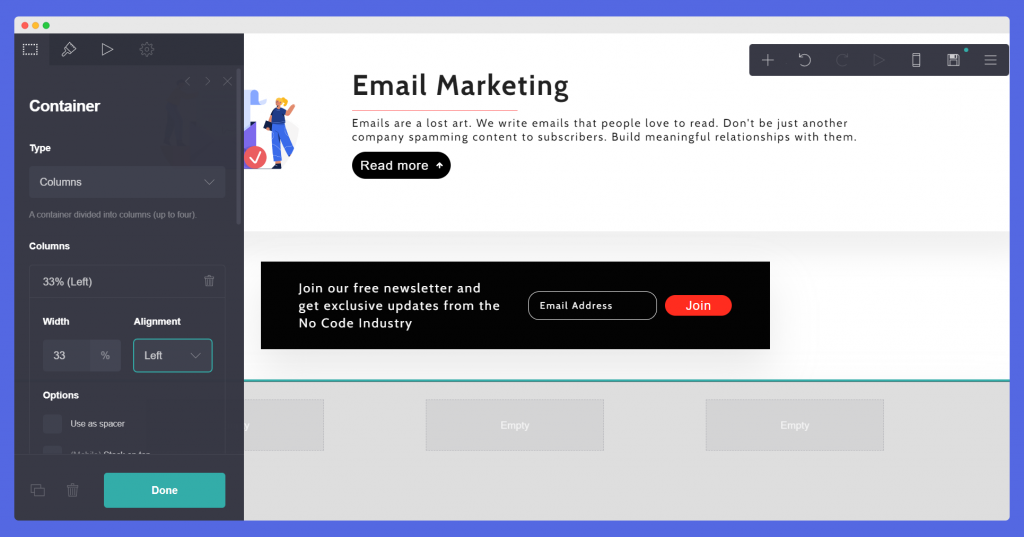 Add text layers to each of the three columns and label it 'Your company name', Blogs, and Contact.
In the blog column, add the links to any blog that you might have.
Lastly, add the text for your address and phone number. Add the icon element for social media icons. Type in the name of the social media and an icon will pop up.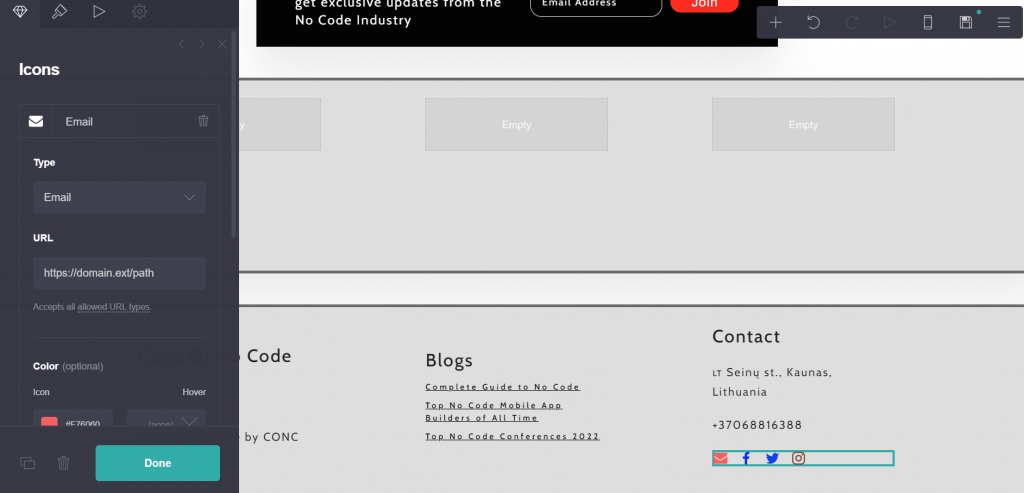 You can change the color of your social media icons however you want. I have tried to keep the original colors here.
Add Scroll Control
Your users should be able to navigate through your website smoothly. Hence, Carrd has a feature called scroll point. For example, if someone clicks the contact us button on the hero section, they should jump to the contact form. Scroll Control is how we can link these sections to a button.
Click on the plus icon and add # control.
This creates a small divider between your containers.
Change the type to scroll point and give it a name.
Put this control bar above the point where you want your users to scroll. For example, if I have services in my nav bar. When users click on it, they should jump to the services section.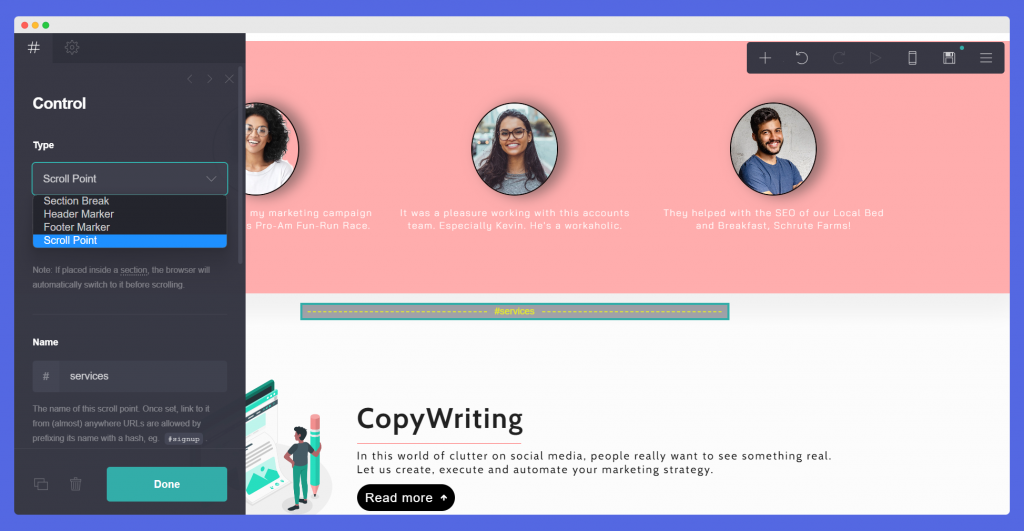 Now click on service on the nav bar and write '#services' in the link section.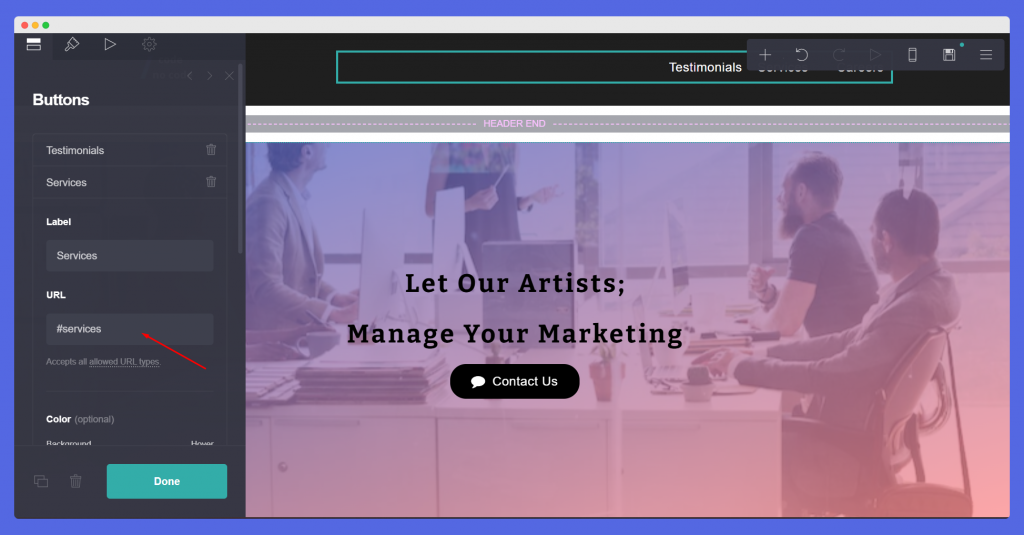 This makes a huge difference in making your website smooth.
Review the website
Baam! Congratulations. You have successfully created your first Carrd website. Review your website for any small errors like typos or potential broken links.
Publish your website by clicking on the floppy disk (Save) icon on the top right. Go to the published website and stare at your majestic creation for a while.
How to upgrade your Carrd website
Now that you have created and published the website, it is time to update it. Power up your website by adding Google Analytics to Carrd. They are experimenting with beta features a lot. You can keep an eye on their change logs for new templates and feature updates.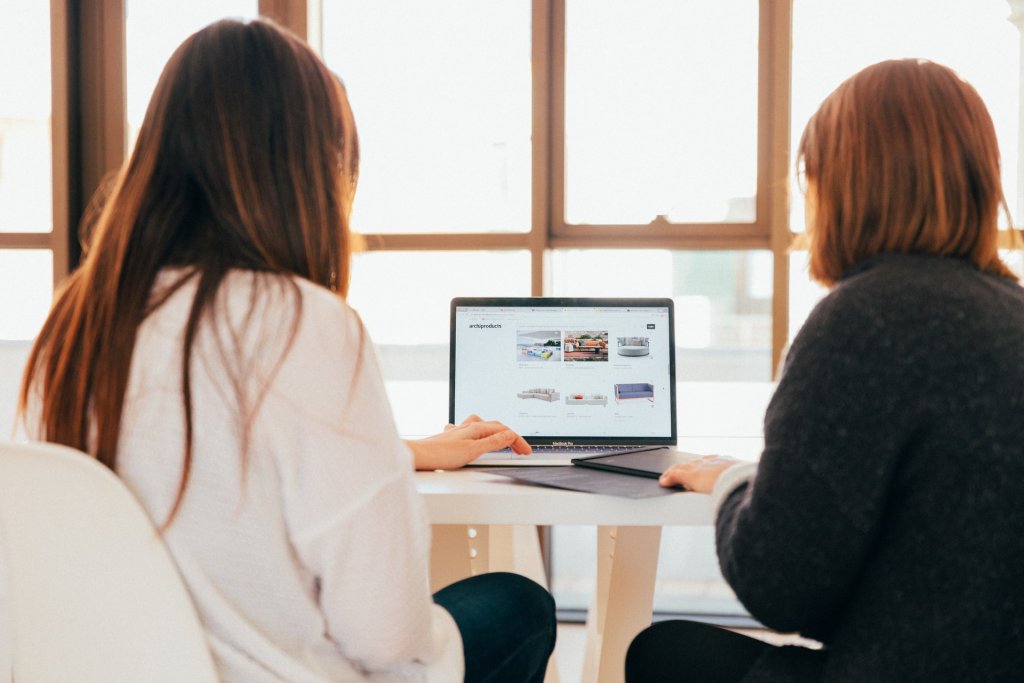 If you are ever stuck somewhere you can search your query on their docs. It is efficient and easy to navigate. Apart from that, you can also check out the mobile responsiveness of your website, if you have a lot of traffic coming from mobile users.
Key Takeaways
Building a website on Carrd is easy. Perfecting a website on Carrd might take some time. Small things like letter spacing, margins, and alignments always have room for improvement.
Have a clear goal in mind before starting this Carrd tutorial. Once you know your goal behind creating a website, you can reverse calculate everything.
If you have any queries, you can tweet us at @codeornocode. Follow us to read such informative content on No Code Tools, News, Tutorials, and Reviews.