Last week, we witnessed a huge launch on Product Hunt. Remember the black screen in the movie 'The Matrix' with raining green code? That platform is a terminal. For the past 40 years (the beginning of coding), these terminals have been pretty much the same. Until Zach Lloyd decided to come in with Warp, a fast Rust-based terminal. Their team and the Product Hunt community is calling it "The terminal for the 21st century".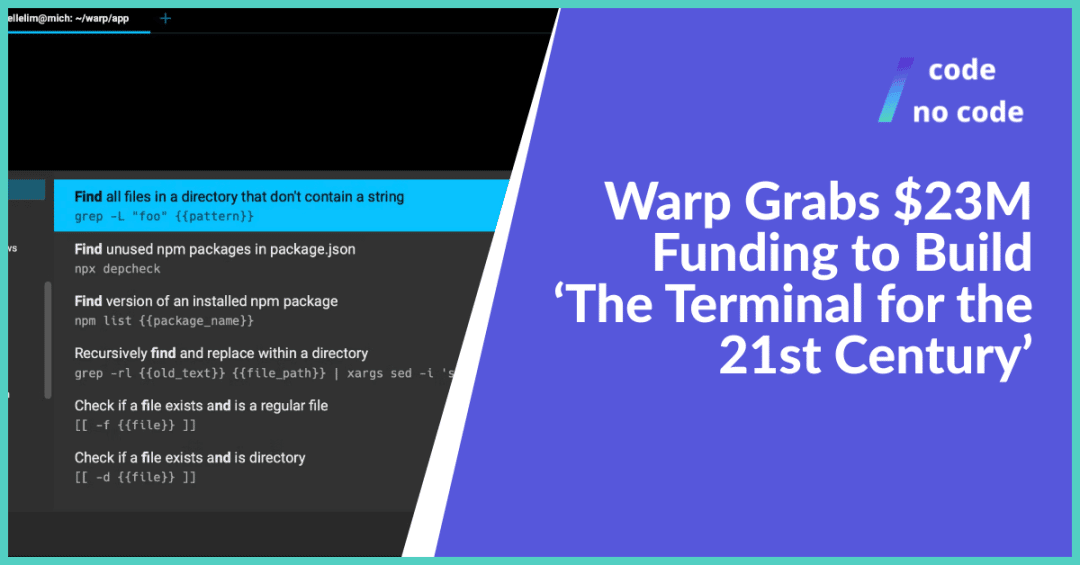 Zach announced on Twitter that they had previously raised a $6 million seed round and have now raised a $17m Series A round led by Dylan Field, the co-founder, and CEO of Figma. This money will be used to reach the vision and expand the scope of Warp.
The primary goal of Warp is to make developers more productive. When the founder was working as the lead engineer on Google Docs, he realized the power of collaboration. The functionalities of Warp are built with the same approach and problem in mind.
Check out this video introducing Warp Beta:
What Sets Warp Apart?
Terminals have existed for a long time. But Warp is a new kind of terminal with visual aids, autocomplete, documentation, and customizations for programmers. The key difference between Warp and traditional terminals is Speed. It is a fast terminal developed after keeping its audience (programmers) in mind. It includes GPU acceleration, its own UI framework, and other engineering systems to increase speed and performance[1].
What are the Features of Warp?
The features of Warp can be divided into two parts:
For Developers

[2]
Input area – It is a modern-day code editor with selections, cursor positioning, and completion menus
Grouped commands and outputs – It allows you to visually navigate command by command to copy, search, and share terminal outputs.
Community-sourced Workflows – Find useful commands with natural language without having to leave the terminal.
Command-Palette – It provides all the control to the keyboard. You can enter commands like open a new tab. (Extremely Handy)
Theme picker – It gives a subtle touch to the appearance of your editor. Warp lets you build custom themes. It will source any themes stored in this directory. You can simply type "Theme Changer" in the Command-Palette.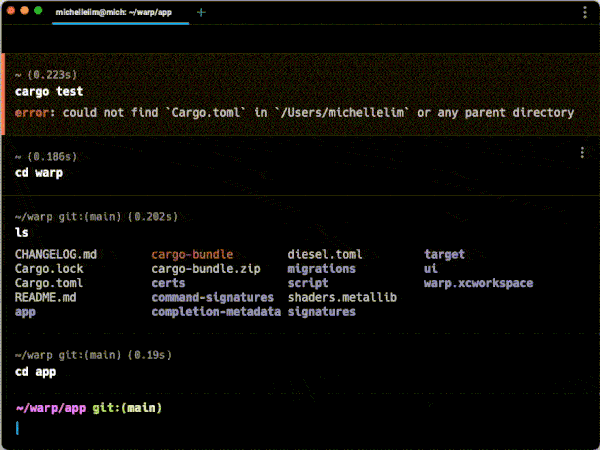 The user interface of Warp terminal
For Teams
Collaboration – The ability to share your output with your team is powerful. You can debug your work together.
Project Workflows: Create templates for long, repetitive, and hard-to-remember commands in your project so your teammates can run them from Warp
Although it looks flawless on the surface, there are some limitations that need immediate solutions. The biggest complaint of the community is that Warp is for Mac-only. The team has responded that they are currently working on the Windows and Linux versions but there is no tentative date of launch.
If you are interested in learning more about Warp, you can read the documentation on 'Getting started with Warp'. It will give you an X-ray look at the capabilities of the platform. Follow us on Twitter for the latest news, tips, and trends in the Code and No Code industry.