Years ago, email marketing used to be just a brand spamming emails to people who don't want to receive them. Throughout the years, it has evolved into an advanced marketing practice that allows users to make informed decisions. Companies have started sending educational emails, exclusive offers, and company information all from email marketing software. Mailchimp and Mailerlite are two of the top email marketing tools in the market. This review of Mailchimp vs Mailerlite will help you understand which one is better for you.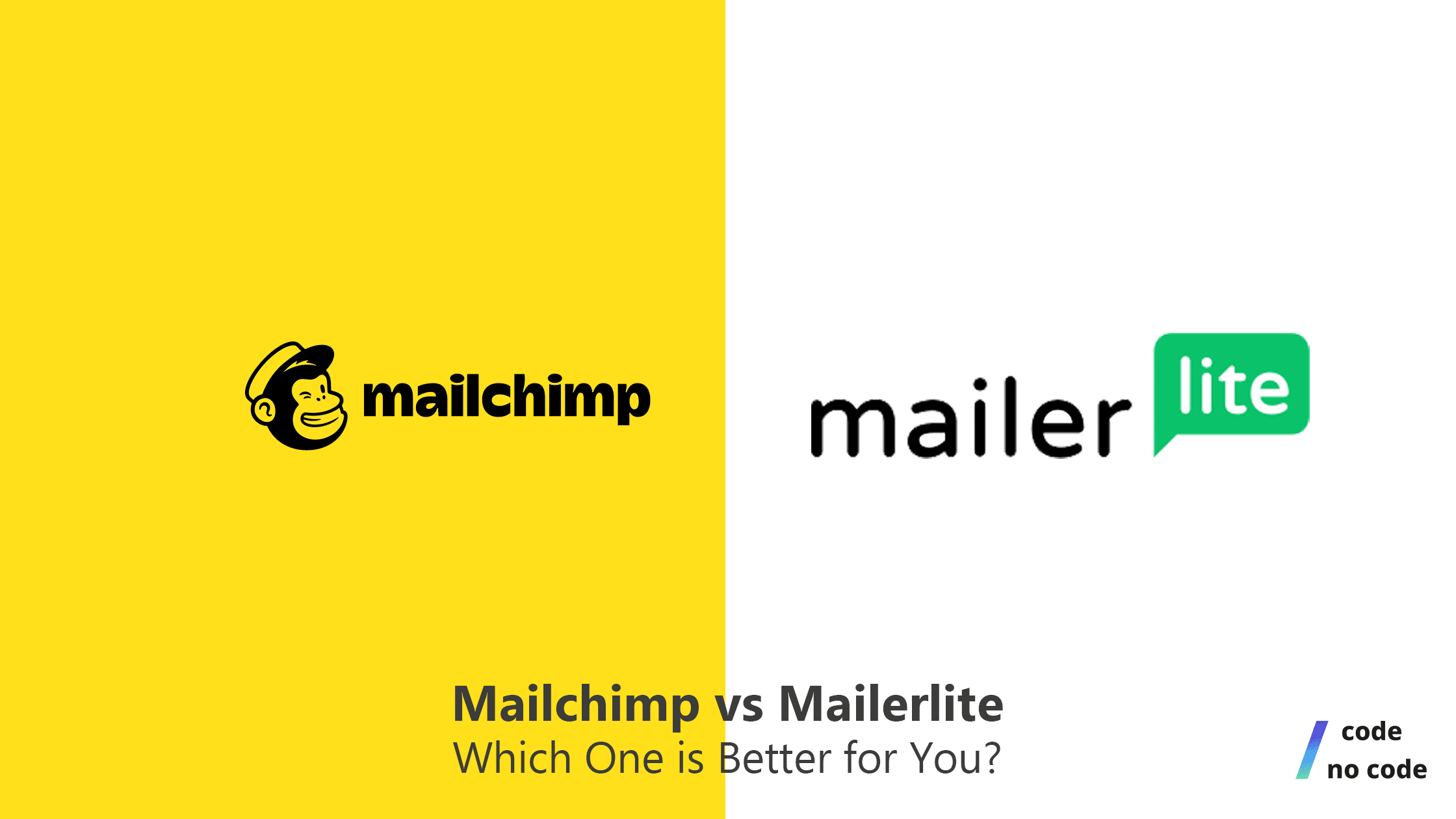 Comparing Mailchimp vs Mailerlite
We have tried both of these email marketing tools and decided to conduct an in-depth analysis. We have compared pricing, user interface, the availability of support, and many more factors that would help you make an informed decision.
Pricing
For most businesses, everything comes down to affordability. Let's have a look at who has a better value offering between Mailerlite vs Mailchimp.
Mailchimp
Mailchimp offers a free plan[2] where you can add 2,000 contacts with 10,000 emails/month. If you have a bigger emailing list but can sacrifice those additional 2000 email sends, you can choose Mailchimp's free plan.
It also gives you access to simple email automation, basic templates, and a state-of-the-art marketing CRM.
But when we look at the paid plan, the curve gets pretty steep.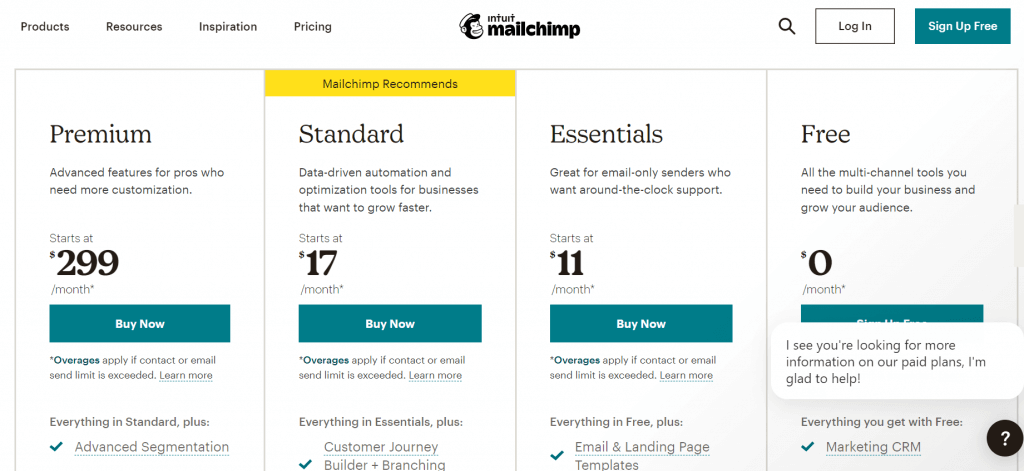 When you compare the paid plans, Mailchimp is extremely expensive compared to Mailerlite. So bottom line, if you want the free plan – Use Mailchimp. If you are planning to pay and want affordability – Use Mailerlite.
Mailerlite
Mailerlite's free plan[3] includes some advanced email marketing features like automation, landing pages, website builder. You can have up to 1000 email addresses and send up to 12,000 emails every month. You also get access to email support in the free plan.
The paid plans are Pay-as-you-go depending on the number of emails you want to send. Have a look at the exact pricing:

It is a great value offering for a scalable email marketing strategy. It gives you access to some of the great features that are gated in the free plan like customizable favicon, different time-zone delivery, promotional pop-ups, newsletter, and 24/7 live chat support.
Editor
Mailchimp
Mailchimp gives you two options to create your email marketing campaign:
Classic builder
The timeless email marketing editor of Mailchimp that's unchanged since its launch.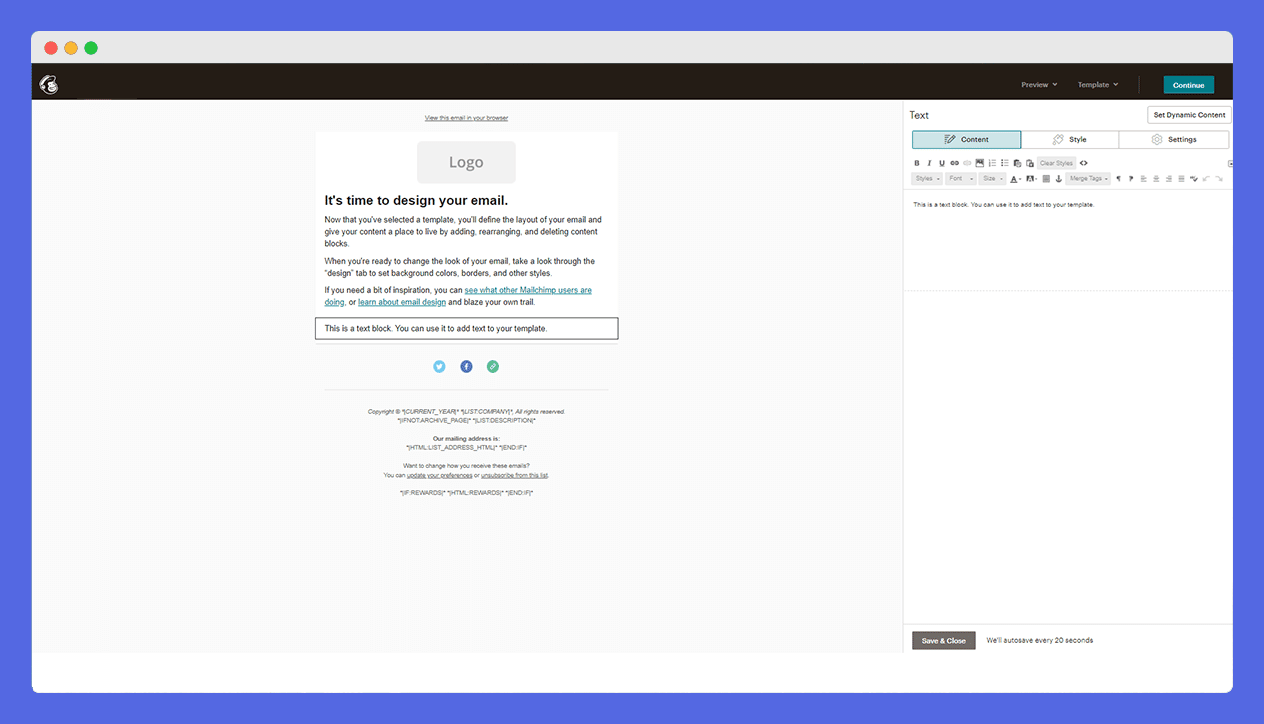 New builder
The beta builder has some new features and User Interface advancements.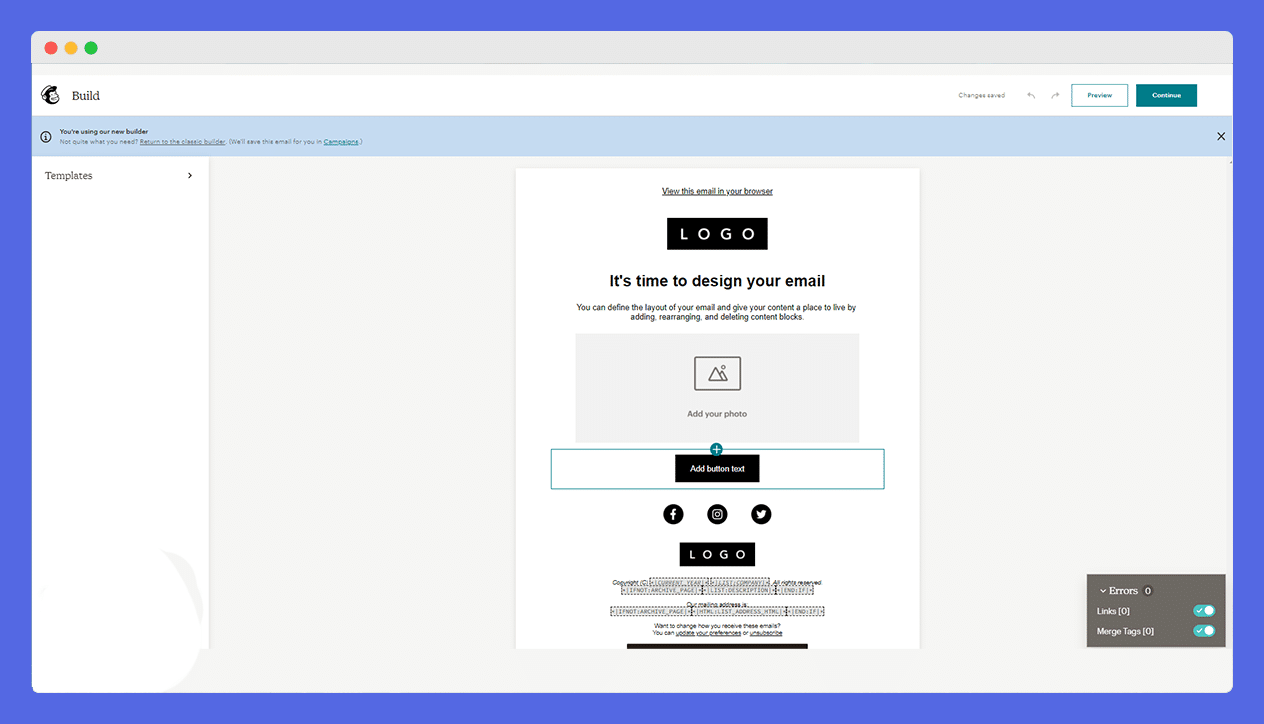 As you can see, the new builder is sleek and has more dynamic functionalities. Yet there are minor drawbacks as it is a beta feature. You can only use this builder for regular email and single abandoned cart emails at this moment.
If you want to send any other types of emails, you have to create them in the classic builder. Both of these editors are fast and simple to use provide all the popular content blocks such as video, columns, social buttons, etc.
Mailerlite
Similarly, Mailerlite has two builders in their free plan.
Rich-Text Editor
Write text and add links to your email.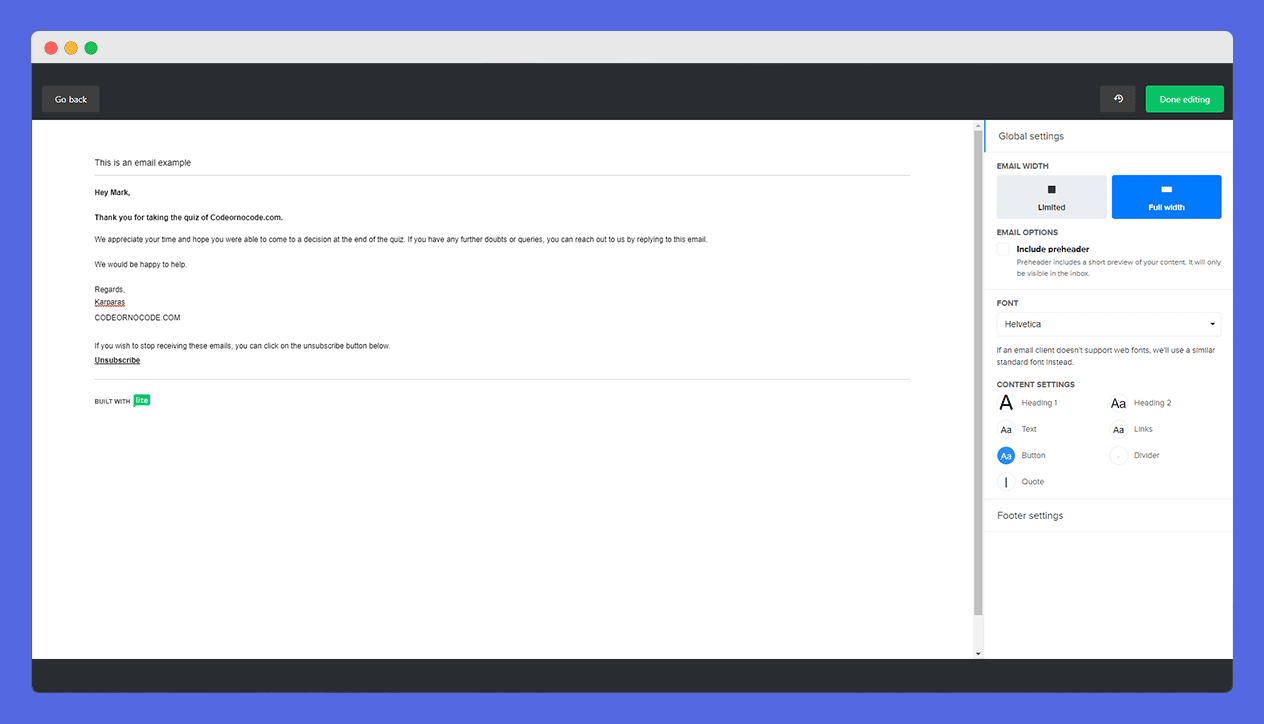 Drag & Drop Editor
Add images, logos, discounts and let your customers navigate through dynamic marketing campaigns.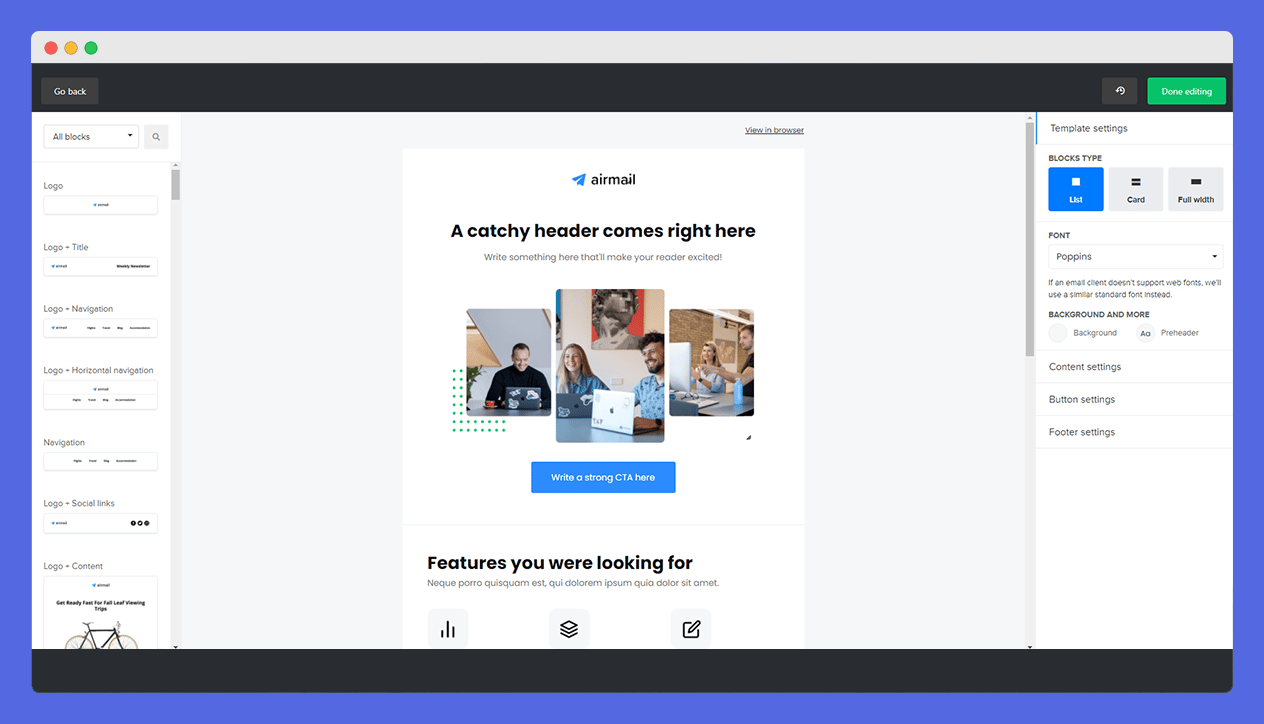 If you want to create a simple text-based email, use the rich-text editor whereas if you want to write a promotional email with images, links, and interactive elements, you can easily get it done with a drag and drop editor.
They also have a Custom HTML editor where you can access the code and add advanced features to your email. However, that is not included in Mailerlite's free plan.
Email Templates
Mailchimp
Mailchimp provides 100+ to build emails and landing pages easily. It is available in the free plan. If you need to create an email marketing campaign fast, use these email templates with all the replaceable content blocks and launch the campaign within minutes.
Mailerlite
Unfortunately, Mailerlite doesn't provide newsletter templates in the free plan. You can't even create reusable templates for your account with the free plan.
Although, if you are a paid user, you can access all the email templates, create your templates, and share them with your team to easily deliver emails in the future. The lite user interface makes it really easy to create email templates.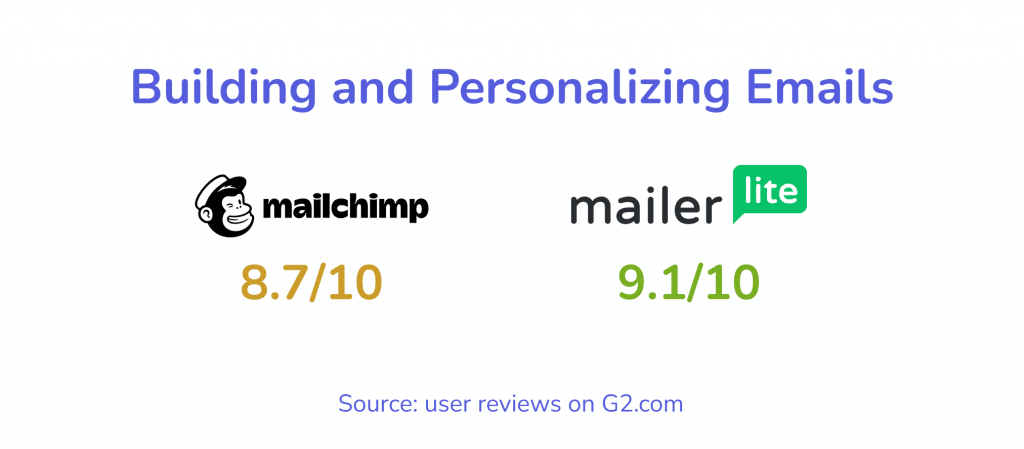 Support
Mailchimp
Here's one of the drawbacks of using the free plan of Mailchimp. If you are a free user, you will get email support for the first 30 days. After that, you can only access their help page to resolve your problems. It has 24/7 live chat support available for all the paid plans.
A plus side to this help page is that it's available in multiple languages (English, Español, Français, and Deutsch).
Mailerlite
Mailerlite has a knowledge base with video tutorials to help you navigate through apps. The free plan includes email support for a lifetime but all the paid plans starting from the minimum have 24/7 live chat support.
If you are very inclined towards getting support, you can pay for an add-on service called Mailerpro. It costs 100$/month and provides you with a dedicated partner that helps you set up your Mailchimp data and help you increase deliverability.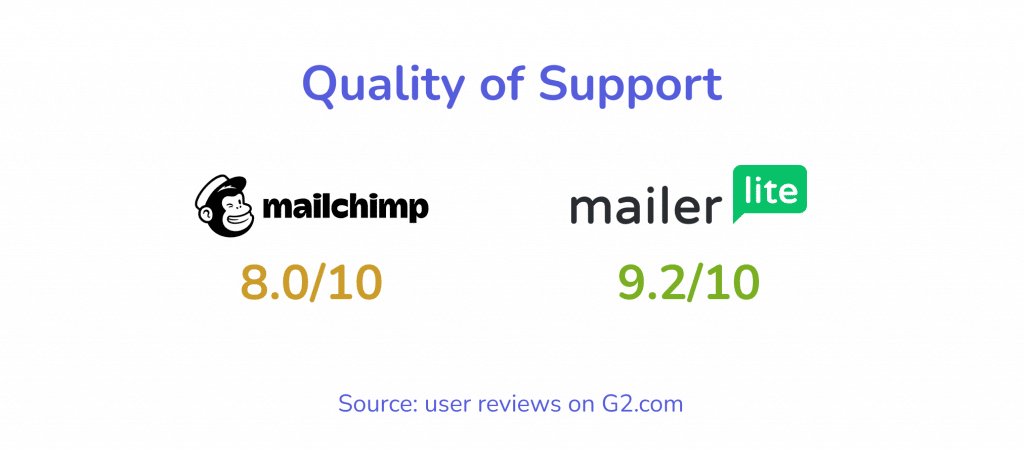 Data and Reports
Mailchimp
Mailchimp has a far superior reporting feature than Mailerlite if you are using the paid plan. Apart from simple email marketing data like open rate, click rate, and location data, Mailchimp provides:
Click maps – It shows you where people click in your email campaign
Social Post Reports – Shows you data if you post on social media through Mailchimp
Campaign benchmarking – Analyze your email data by comparing it to other businesses in your industry.
If you are a business that wants to ace email campaigns, this data-based feedback might make a huge difference in your choice of email marketing software.
Mailerlite
Mailerlite reports cover almost all the most important data. Some of the top analytics metrics of Mailerlite would include email campaign activity, engagement rate, open rate with the device info, link tracking, click maps, and opens by location.
These are pretty basic metrics that are provided by almost all the email marketing tools in the market.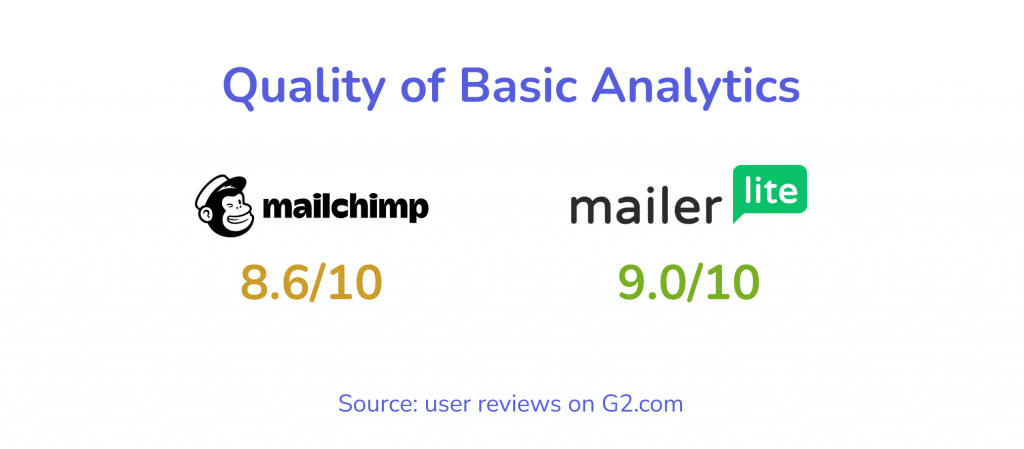 What Should I Choose?
To sort it out for you, we will tell you exactly which email marketing software between Mailerlite vs Mailchimp fulfills your email marketing needs.
When Should You Choose Mailchimp?
You Want to Upgrade Your Email Marketing Stack
Mailchimp does everything an email marketing tool does and more. It is an advanced tool that would help you take a deep dive into your email marketing efforts. It tops almost all the lists of popular email marketing tools. All the subtle yet effective features will help you take your marketing up a notch.
Your Business Is Growing Rapidly
Mailchimp is for big businesses who want to integrate email automation, email campaigns, and Google Analytics all in one dashboard. It is the right email marketing tool for you if your business is growing fast. Mailchimp has excellent features that would help you scale your strategies along with the business.
You Want Detailed Reports
Mailchimp reports are magnificent. They provide detailed analytics of your email campaigns that allows you to have a 360° view of your strategy. You can understand where exactly is the scope of improvement with actionable insights along with the data.
Having a Mailchimp account helps you make data-driven decisions.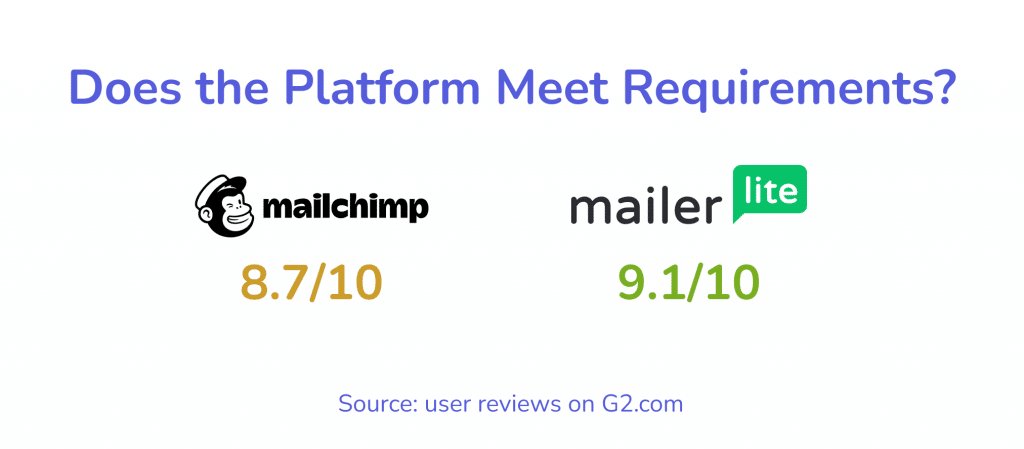 When should You Choose Mailerlite?
You Are Setting Up Your Email Marketing Strategy
It is mostly the case with small to medium-sized businesses that have no background with an email marketing tool. If you are getting started with email marketing, Mailerlite is the perfect tool for you.
You can understand the basics of email marketing without taking a deep dive into the subject. Also, the User Interface is lite and simple to use for beginners. There are some features like setting up landing pages and creating pop-up forms that would come in handy for a startup.
You Are Looking For Affordability
As mentioned earlier, everything boils down to the price of the software. We had a pretty detailed look at the pricing section of both tools. As you could see, Mailerlite is inexpensive and has a pay-as-you-go model.
If you don't want to spend a lot of money on email marketing software without seeing any results first, Mailerlite should be your choice. You can pay for their smallest plan, try all the features and decide whether you want to spend more.
You Are Looking For Support
Mailerlite is popular for having one of the greatest support teams in the email marketing industry. When we compare the support services, Mailerlite vs Mailchimp is not even a question.
Mailerlite provides email support forever in the free plan. And if you buy the add-on, you get a dedicated partner and priority support 24/7.
Final Thoughts
That was our Mailerlite and Mailchimp comparison. We hope we were able to help you decide upon which tool suits you the best. If you're still not convinced, you can consult our article on the best Mailchimp competitors too.
This blog was part of our comparisons series. Some of the other blogs in this series include Bubble vs Webflow and Coda vs Notion. If you want to stay updated with the latest news, tips, and trends on the No Code landscape, follow us on Twitter.